Best DAX ETF to Invest in Right Now – Beginners Guide 2021
Looking to invest in a DAX ETF? The DAX is Germany's most influential stock index, featuring 40 world-beating firms like Adidas, Bayer, Siemens, Deutsche Bank and BMW. A DAX Exchange Traded Fund (ETF) can give you low-risk, diversified exposure to the world's fifth-largest economy.
In this guide we look at the best brokers to use to invest in a DAX ETF. We also delve into the often-misunderstood relationship between CFDs (Contracts-For-Difference) and ETFs, as well as review the pros of cons of DAX ETFs in general.
#1 DAX ETF Broker – eToro
How to Invest in a DAX ETF – Step-by-Step Guide 2021
Here's a simple four-step strategy you can use to invest in a DAX ETF:
Step 1: Open an eToro account: eToro is a great place to start with your DAX ETF journey. Go to eToro.com. Press the blue 'Join Now' button. Fill in the simple details (name, email, password) and press the 'Create Account' button.
Step 2: Verify your Identity: Proof of Identity (passport/driving license/ID card) and Proof of Address (utilities bill, bank/ credit card statement) is required here. You can upload scans of paper documents or existing digital documents. Verification can take a few days. 

  

Step 3: Fund your account:

Once your identity is verified, you are good to go with eToro. When you enter the site, you will see a blue 'Deposit Funds' button at the bottom-left. Click it, and you can fund your account using bank transfer, e-wallet or credit/debit card.

Step 4: Invest in ETFs:

You can look around eToro's selection of ETFs by pressing the 'Trade Markets' button on the left of your interface and selecting 'ETFs' on the top toolbar. To go straight to a DAX ETF, input 'iShares MSCI Germany ETF' in the eToro search bar. Press 'Trade' to review your options.
Where to Invest in a DAX ETF – Top ETF Brokers
DAX ETFs are offered by a number of global brokers. So which broker to use? Your choice will depend on which country you live in. Many brokers offer limited access to investors on a geographical basis. Many of the big American brokers – such as TDAmeritrade – are not accessible unless you are in the USA or in Asia Pacific, for example.
1. eToro – Best Overall DAX ETF Broker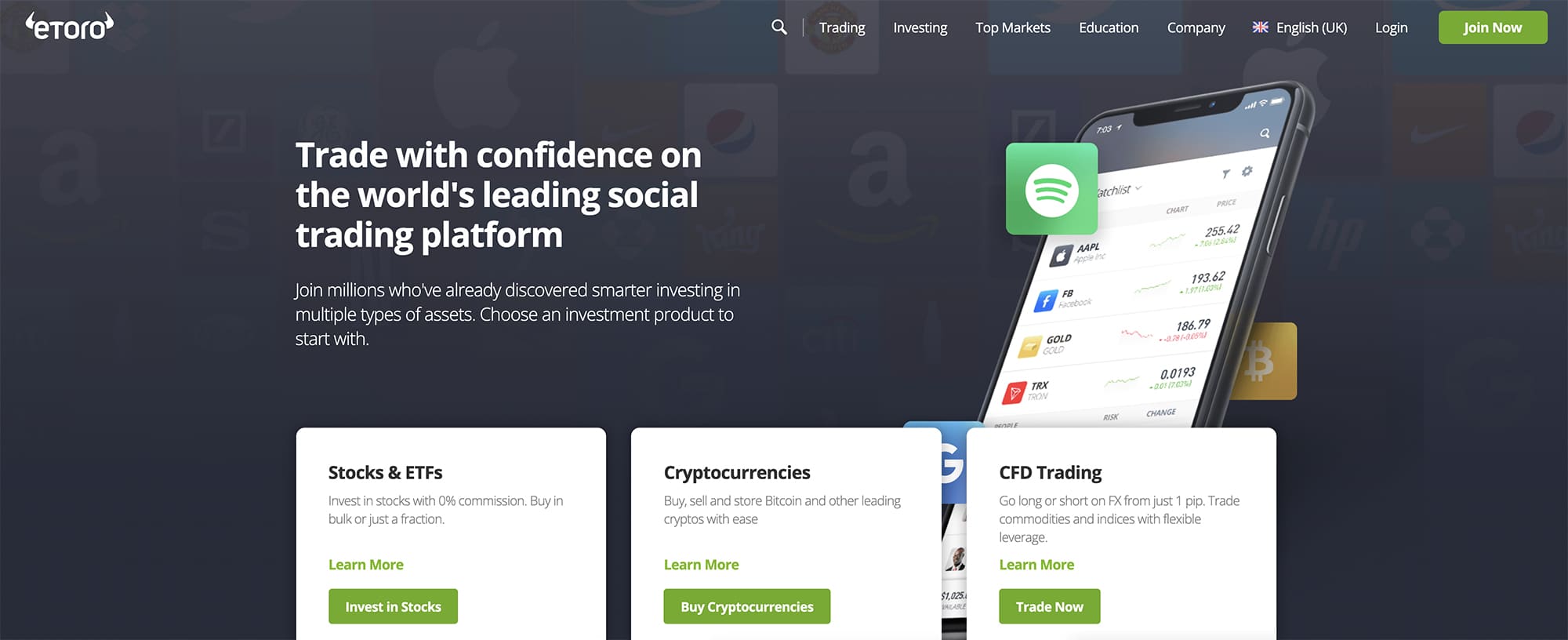 eToro serves 20 million users in 120+ countries. Since its inception in 2007, eToro has continually invested in making a safe and simple investing environment for the global community.
ETFs
250+ ETFs are offered by eToro. When you buy an ETF with eToro with the intention of benefitting from a rise in price, you buy a share of the ETF. But eToro offers a way of 'going short' on ETFs – ie. betting that their price will go down, rather than up. Then you enter into a CFD (Contract-For-Difference).
Think of CFDs as simply one way of doing business that offers more options than the straight purchase of a share. CFDs offer two crucial advantages to the investor:
You can leverage your trade. That means you can effectively borrow money to ramp up your gains (as well as any potential losses).
You can go short on a ETF – ie. you can benefit when the price of the ETF drops.
(Note that, with eToro, non-EU ETFs held inside the EU are also held as CFDs).
The downside of CFDs is that they tend to attract higher fees and the temptation to leverage your trade can get you in a mess. But ETFs, thanks to their inherent diversification of risk, are a low-risk investment. So buying an ETF as a CFD is not considered to be risky.
To access a DAX ETF on eToro, put in 'iShares MSCI Germany ETF' in the eToro search bar.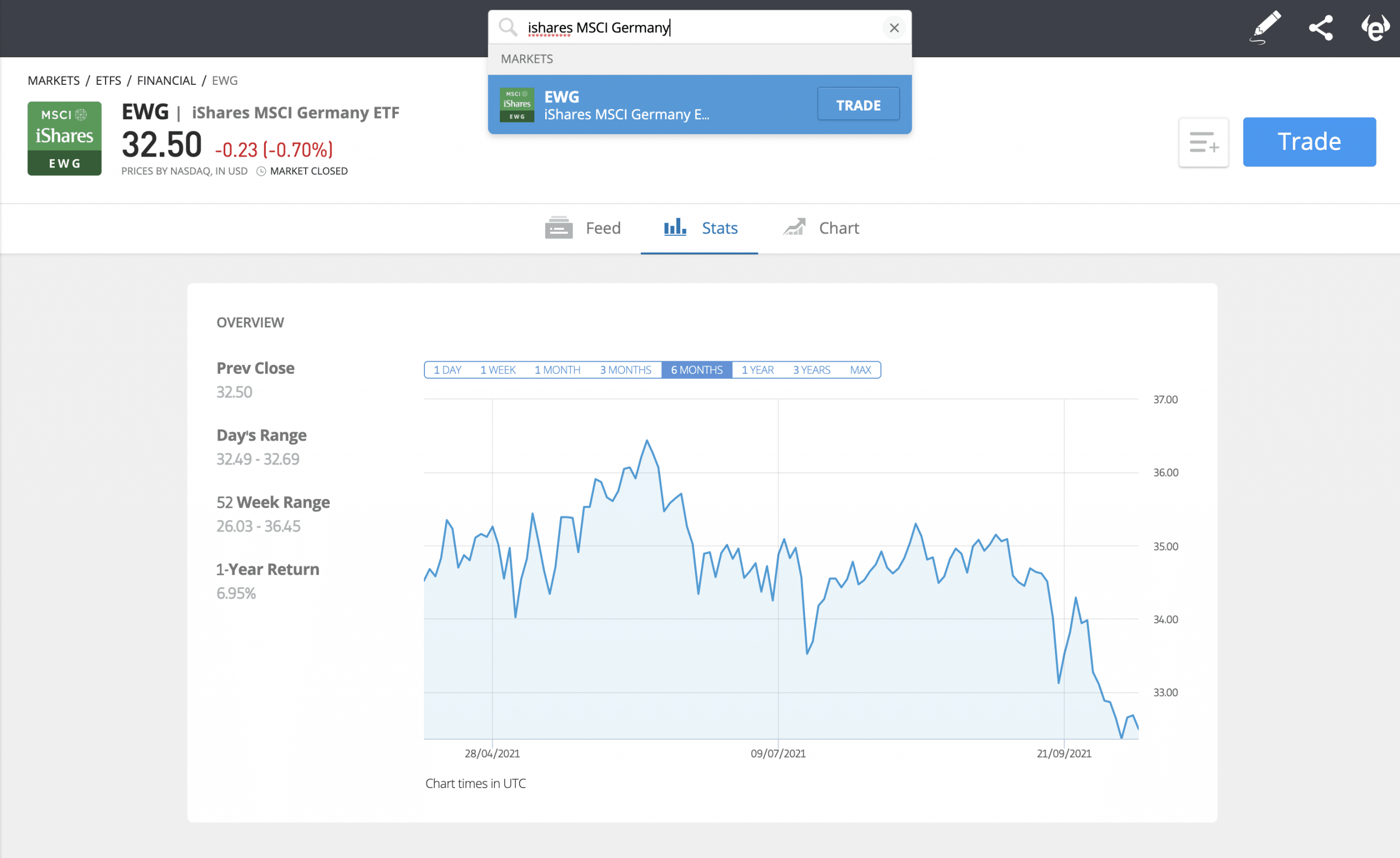 This particular DAX ETF available via eToro is managed by American giant BlackRock Asset Management. It has over $2.7 billion shares under management and trades on the NYSE. It offers expanded exposure beyond the 40 companies on the official Deutscher Aktienindex (DAX) to 62 German companies. This diversified exposure is great news for the investor, because it spreads risk. Only this year, in 2021, was the DAX itself forced to re-configure from covering 30 companies to 40 companies after fears of stock over-concentration. Disaster struck in 2020 when a €1.9 billion accounting scandal was discovered at German payments company Wirecard. The company was swiftly removed from the DAX.
As you can see from the screenshot below, you can choose to buy (go long) or sell (go short) on eToro ETFs. Usefully, you can also set a stop/loss and a price at which you want eToro to immediately take profit. Further, you can leverage your position on this ETF by x2.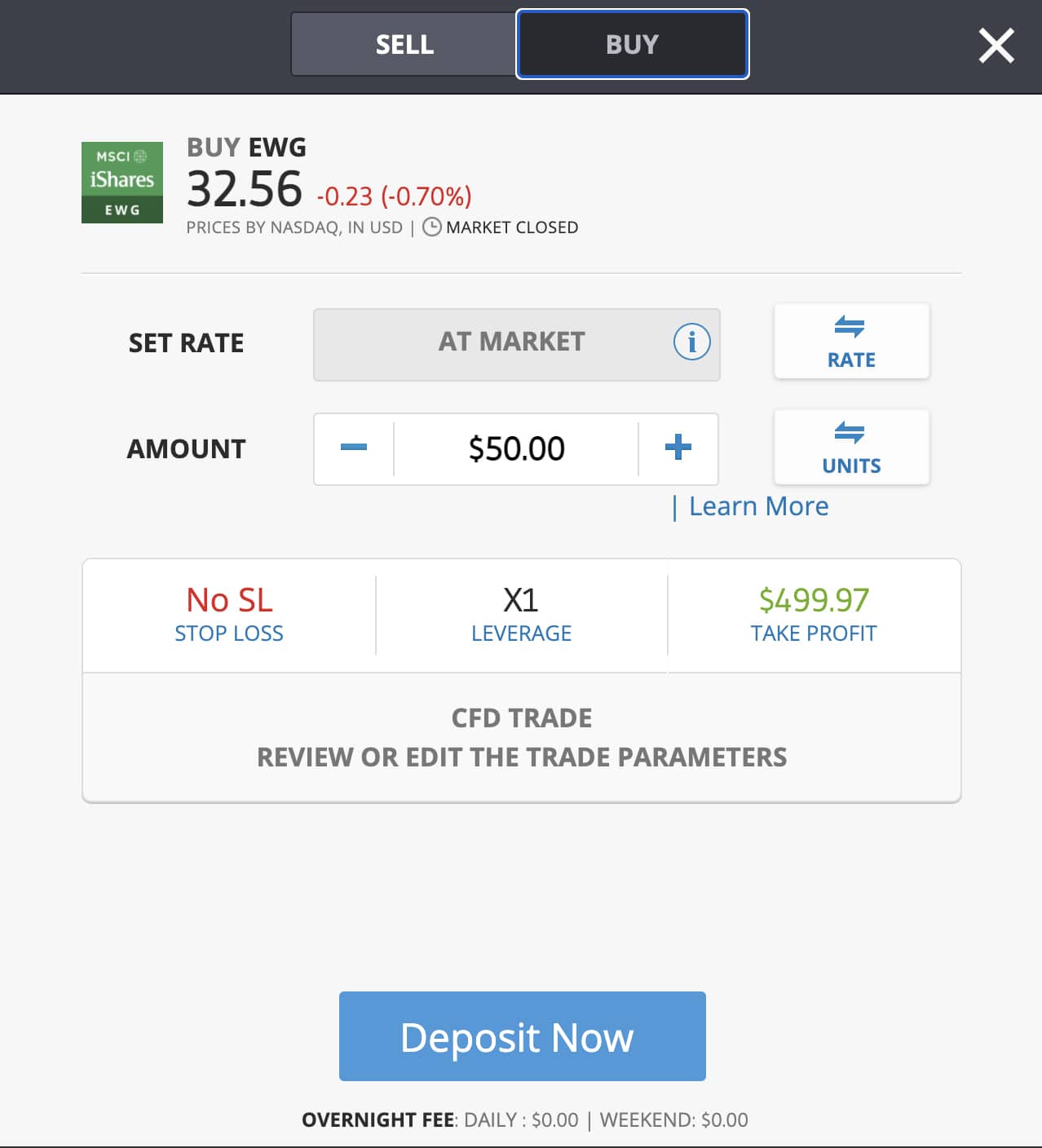 With eToro, you can also trade the DAX directly without using an ETF. A straight CFD is the mechanism to do this. Simply search for 'GER40' in the eToro search bar:

Features
One of eToro's many features that make it ideal for new investors is CopyTrader. This is eToro's proprietary system which allows you to copy the trades of more experienced investors. You can check out these investors' risk rating as well as the return on their portfolio in the last 12 months. Then you can allocate a certain amount of funds, set stop losses – and the CopyTrader system will automatically copy the trading activity of your chosen trader(s) in real-time using your allocated funds.
Copy trading is a great way for beginners to learn the ins and outs of investors. Some copied traders specialise in ETFs. eToro's CopyTrader system is a lot simpler to use than the generic copy trading platforms like ZuluTrade and DupliTrade which investors can access from a variety of brokers.

Similar to CopyTrader is eToro's CopyPortfolio function. This allows you to invest in sector-specific baskets of assets, as well as invest in a whole number of ETFs at once: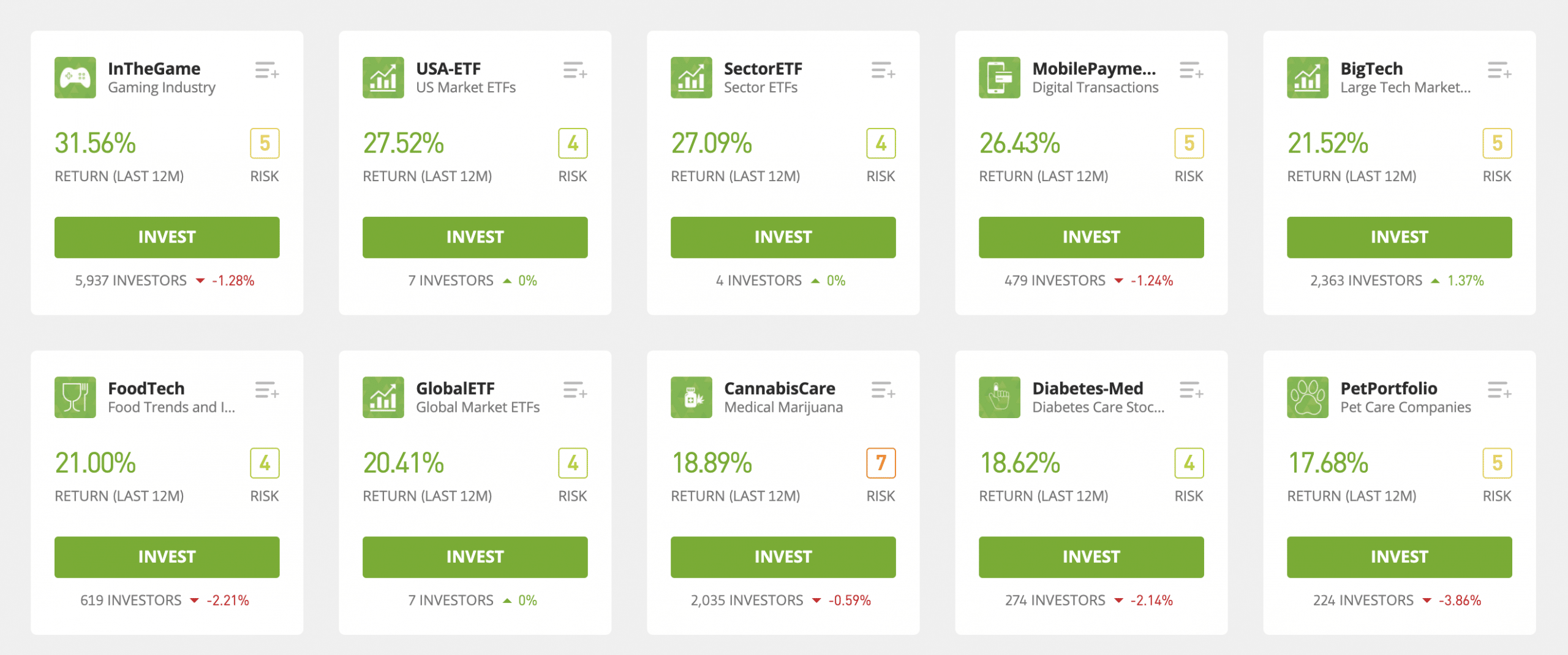 Regulation
eToro is regulated by the UK's Financial Conduct Authority (FCA), the Cyprus Securities & Exchange Commission (CySEC) and the Australian Securities and Investments Commission (ASIC).
Security & Privacy
eToro stores client funds in Tier 1 banks. It uses SSL encryption, and offers 2FA (2 Factor Authentication) for user sign-in.
eToro Fees
| | |
| --- | --- |
| Fee Type | Fee Amount |
| Commission Fee | 0% |
| Deposit Fee | $0 |
| Withdrawal Fee | $5 |
| Inactivity Fee | $10 monthly fee applies after 1 year of inactivity  |
| CFD ETF spread | 0.09% |
Pros
20 million users.

Regulated by FCA, CySEC and ASIC.

250+ ETFs to choose from.

CopyTrader – copy experienced ETF investors.

CopyPortfolios – invest in multiple ETFs at once.

2FA (2 Factor Authentication).

Transparent fees.

SSL encryption.

User-friendly interface.
Cons
No MT4 or MT5 access.

0.09% fee on CFD ETFs.
67% of retail investor accounts lose money when trading CFDs with this provider.
2. Hargreaves Lansdown –  UK DAX ETF Broker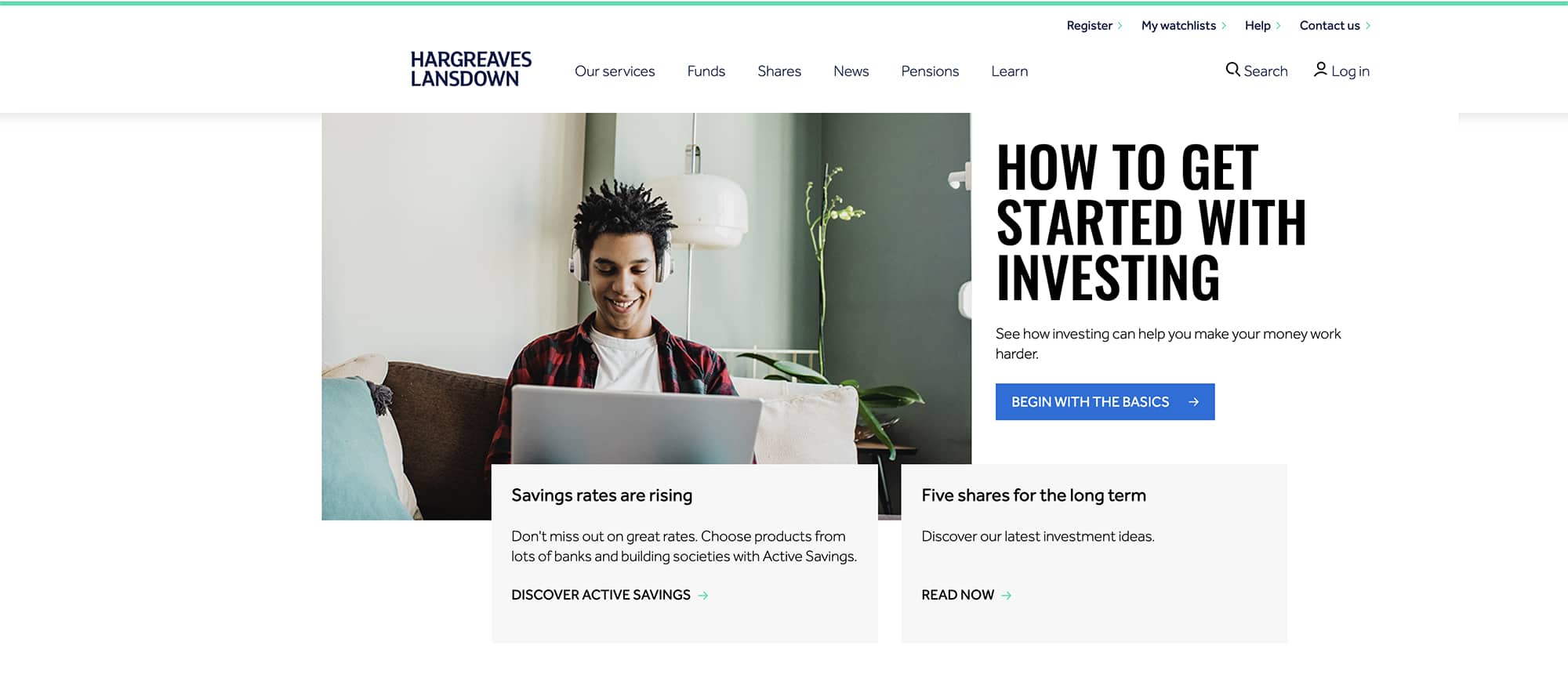 Hargreaves Lansdown (HL) provides a premium service to UK investors alone. If you are based outside of the UK, look elsewhere for your DAX ETF.
The company is a full-service investment provider, geared towards UK investors with relatively high net worth. In addition to funds and shares, HL offers retail products such as ISAs and SIPPs.
ETFs
HL offers the advantage of many DAX ETFs to choose from, including short and leveraged DAX ETF models. Reputable providers of DAX ETFs with Hargreaves Lansdown include Xtrackers, WisdomTree, Legal & General, Amundi and BlackRock Asset Management.
Regulation
HL is regulated in the UK by the Financial Conduct Authority (FCA). £85,000 of your funds will also be covered – in the event of the company going bust – by the UK's Financial Services Compensation Scheme (FSCS).
Security & Privacy
HL is very hot on personal security, offering an onsite Security Centre. Here you can access FAQs and articles on security. If you have security queries, you can also get in touch with HL direct by telephone Monday-Friday 8am-5pm and Saturday 9.30am-12.30pm. 
Features
A key feature that HL offers is personal financial advice. You can use a personal financial advisor to align your investing strategy with the bigger picture of your finances. But it will cost you.
Hargreaves Lansdown Fees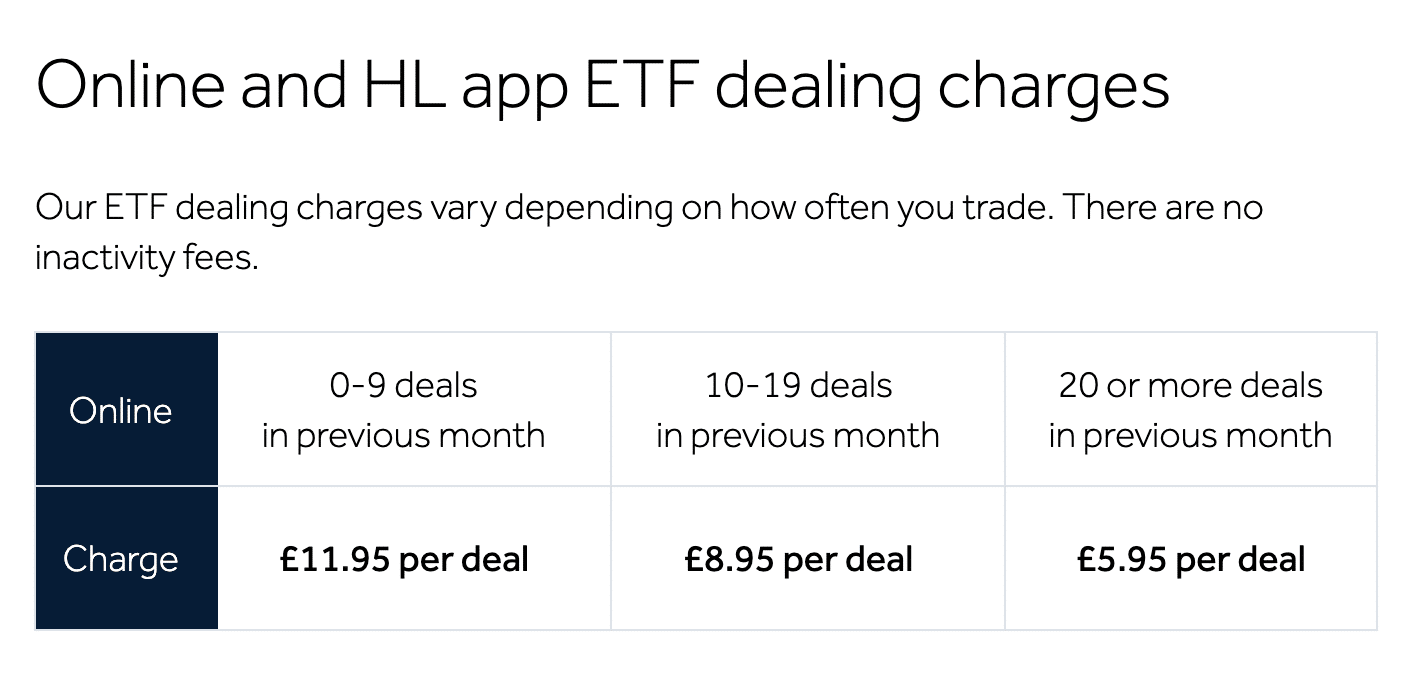 | | |
| --- | --- |
| Fee Type | Amount |
| Commission | A sliding scale depending on your trading volume in the last month. A fee of £11.95 per trade for less than 9 trades in the last month, sliding to £8.95 and £5.95 for greater volumes. |
| Withdrawal Fee | £0 |
| Deposit Fee | £0 |
| Inactivity Fee | £0 |
Pros
Telephone-based customer support (UK-only).

A premium investment platform with a good name.

Many options other than ETFs for the advanced investor, including financial advisors.

Regulated by the FCA.

Good choice of DAX ETFs.
Cons
High fees.

Only supports GBP and UK clients.
67% of retail investor accounts lose money when trading CFDs with this provider.
3. Vanguard – global fund provider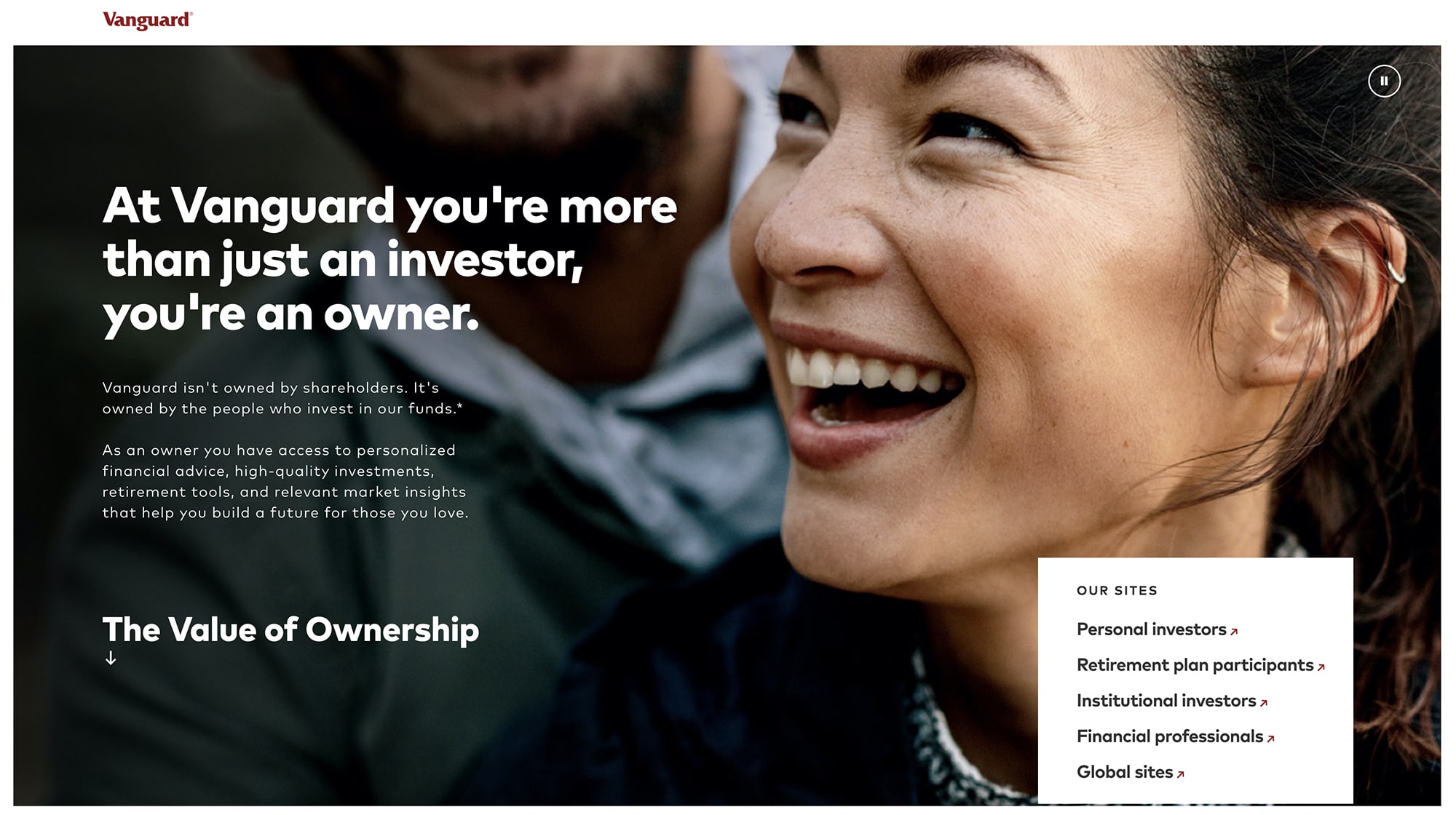 Vanguard is a US mutual fund giant with over $7 trillion USD under management and 30 million investors. Although focussed on US products, Vanguard accepts clients from numerous countries outside of the US, including the Netherlands, China, Australia, Ireland, Germany, Hong Kong, the UK, Mexico, France, Canada and Switzerland.
ETFs
Vanguard offers 200+ ETFs, and one DAX-based option. This ETF is called the Germany All Cap UCITS ETF (VGER). This offers exposure to 160 large-to-mid cap German companies. Until 2020, this ETF tracked just the DAX's 30 companies. But, after the Wirecard scandal of 2020, Vanguard followed the example of the DAX itself and expanded exposure to more German companies in order to diversify risk.
Regulation
Vanguard is regulated in the US by the Securities and Exchange Commission and in the UK by the FCA.
Security & Privacy
Vanguard offers numerous ways of protecting your personal account with them, as well as providing the usual gamut of in-house security measures such as SSL.
Features
Since it was founded by investment legend John C. Bogle in 1975, Vanguard has focussed on providing access to mutual funds. Vanguard is what we might term a fund specialist, with 209 US funds, and 230+ funds outside the US. Vanguard does offer ETF and stock trading.
Vanguard Fees
Vanguard fees are set up for the long-term investor. Essentially you can expect to pay account fees (0.15% of your balance p.a) and a small spread fee (0.02% to 0.23%) on any ETF trade – but no commission, withdrawal or deposit fees.
Pros
A global fund provider with a big client base.
400+ mutual funds and 20+ ETFs to choose from.
Cons
Account fees.

Set up for long-term fund investors.
US emphasis.
67% of retail investor accounts lose money when trading CFDs with this provider.
Invest in DAX ETFs – Broker Price Comparison
Broker
Commission
Deposit Fee
Withdrawal Fee
Inactivity Fee

eToro

0%
(But note a 0.09% spread fee on CFD ETFs)

$0

$0

$10 monthly (after 12 months inactivity)

Hargreaves Lansdown

£11.95 per trade (if less than 9 trades executed in past month)

£0

£0

£0

Vanguard
0%
(But note a 0.02%-0.23% spread fee on ETFs)

$0

$0

$0
What is an Exchange-Traded Fund (ETF)? 
Exchange-Traded Funds (ETFs) offer low-risk investment, high liquidity and low fees. This is an attractive combination for an investment asset. And that's why ETFs have exploded in popularity since they came to market in 1993. Just ten years after their debut, ETFs really started to get going. The global number of ETFs rose from 276 in 2003 to 7,602 in 2020. Assets under ETF management stood at almost $8 trillion USD in 2020.
ETFs vs. mutual funds
ETFs grew out of traditional mutual/investment funds.
Mutual funds pool together money from individual and institutional investors, and invest that money on behalf of everybody.  Investment choices are generally – but not always – made by a fund manager.
When a fund is strategically managed, it is called an 'active' fund. When no human intervention is involved – as with tracker funds – a fund is called a 'passive' fund.
The big difference between mutual funds and ETFs is that 98% of ETFs are passive funds. This means that it is much cheaper to run an ETF than it is to run a mutual fund.
A giant advantage, therefore, of ETFs over mutual funds is lower operating fees. And this is reflected in their respective Expense Ratios (or Total Expense Ratio: TER). This TER describes as a percentage how much it costs to run a fund based on its running costs divided by its assets under management. As an investor, you will be charged a fee based on your total holding in your fund multiplied by the TER.
For example, the TER for the DAX-based iShares MSCI Germany ETF available with eToro is 0.51%. So if you buy in to the tune of $1000, you will be charged $5.10 USD a year (that's excluding any transaction/spread fees).
ETFs vs. tracker funds
Many ETFs – like DAX ETFs – track a stock market index. Tracker funds do so too. One difference between the two is that tracker funds are usually organised as unit trusts or open-ended investment companies (OEICs). Another key difference is that ETFs are traded continually throughout the day on exchanges, whereas unit trusts and OEICs are priced only once a day; this difference is why ETFs are classified as 'Exchange Traded Funds'. ETFs are highly liquid, and therefore great for moving in and out of trading positions.
ETFs and CFDs
eToro provides ETFs as CFDs (Contracts-for-Difference). This allows the investor to go short on the ETF, as well as leverage their position. Other brokers, like Vanguard, provide ETFs with the standard stock model that means you buy into the stock. Either way, you are exposed to changes in the price of the index, or basket of stocks, represented by the fund.
Sometimes it confuses investors that you can choose not to use an ETF and, instead, track an index using CFDs direct. You can do this with eToro, Capital.com and Avatrade, for example.
Trading an index – like the DAX – directly using CFDs offers you more powerful tools, greater leverage potential and greater ad hoc flexibility. But it is only suitable for advanced traders who are hopping in and out of positions. Often, overnight fees apply to CFD trades on indices – and these will add up mightily if you stay in one position for long.
Is Investing in a DAX ETF a Good Investment? 
Yes, it is! The German economy is famously resilient, and tracking the DAX allows your portfolio to benefit from that resilience.
With its high proportion of industrial stocks, the DAX offers you a great opportunity to balance any tech holdings you have in your portfolio – as well as stake an investment claim on Europe's strongest economy.
Investing in a DAX ETF – What are the Risks?
Since its inception 30 years ago, the DAX has achieved an annual return of 8%. That's not spectacular, but it is steady. A DAX ETF or tracker fund offers you a very low risk profile, because you will be investing in 40+ companies at the same time. What you also get tracking the DAX is exposure to the world's fifth-largest economy. German engineering has become a watchword for practical excellence, and this is what you buying into with the DAX with its heavy industrial bias.
All stock market indices offer some risk. Like all indices, the DAX as an index took a serious hit towards the end of 2019 when Covid came onto the global scene. But, as you can see from the chart below, the index recovered swiftly.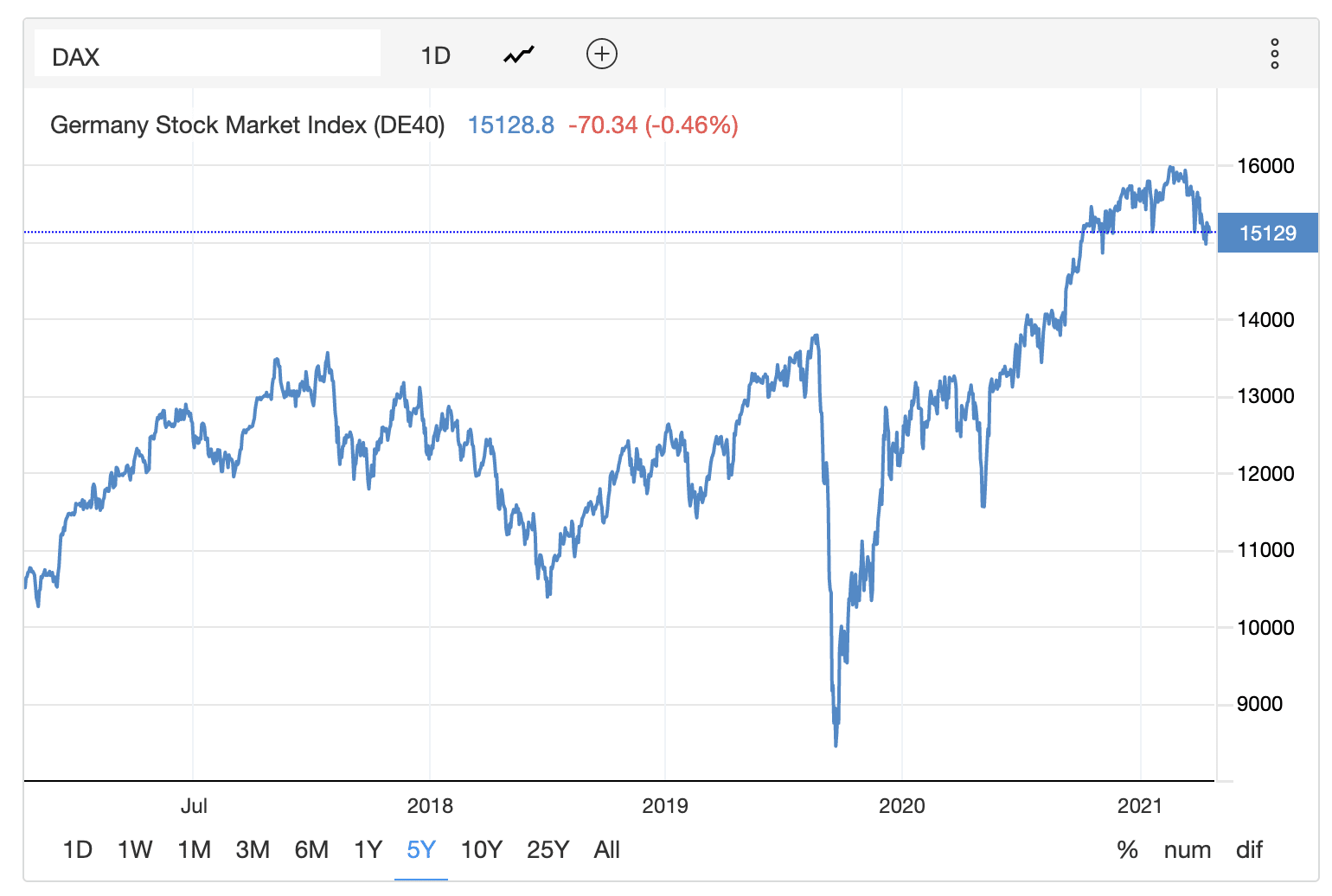 The quick recovery of the DAX was no surprise. The DAX is resilient because it is an index based on companies with conventional technologies, rather than the high-tech – and therefore more volatile stocks – of the US NASDAQ, for example. Until September 2021, the DAX comprised 30 heavyweight companies in engineering, industry and manufacturing. Now it comprises the original 30 firms (minus Wirecard) and 10 other large/mid-cap German stocks.
How to Invest in a DAX ETF with eToro
Here's your four-step strategy to invest in a DAX ETF with eToro:
Step 1: Open an account with eToro
Go to eToro.com. Supply your username, email and password. Press the blue 'Create Account' button.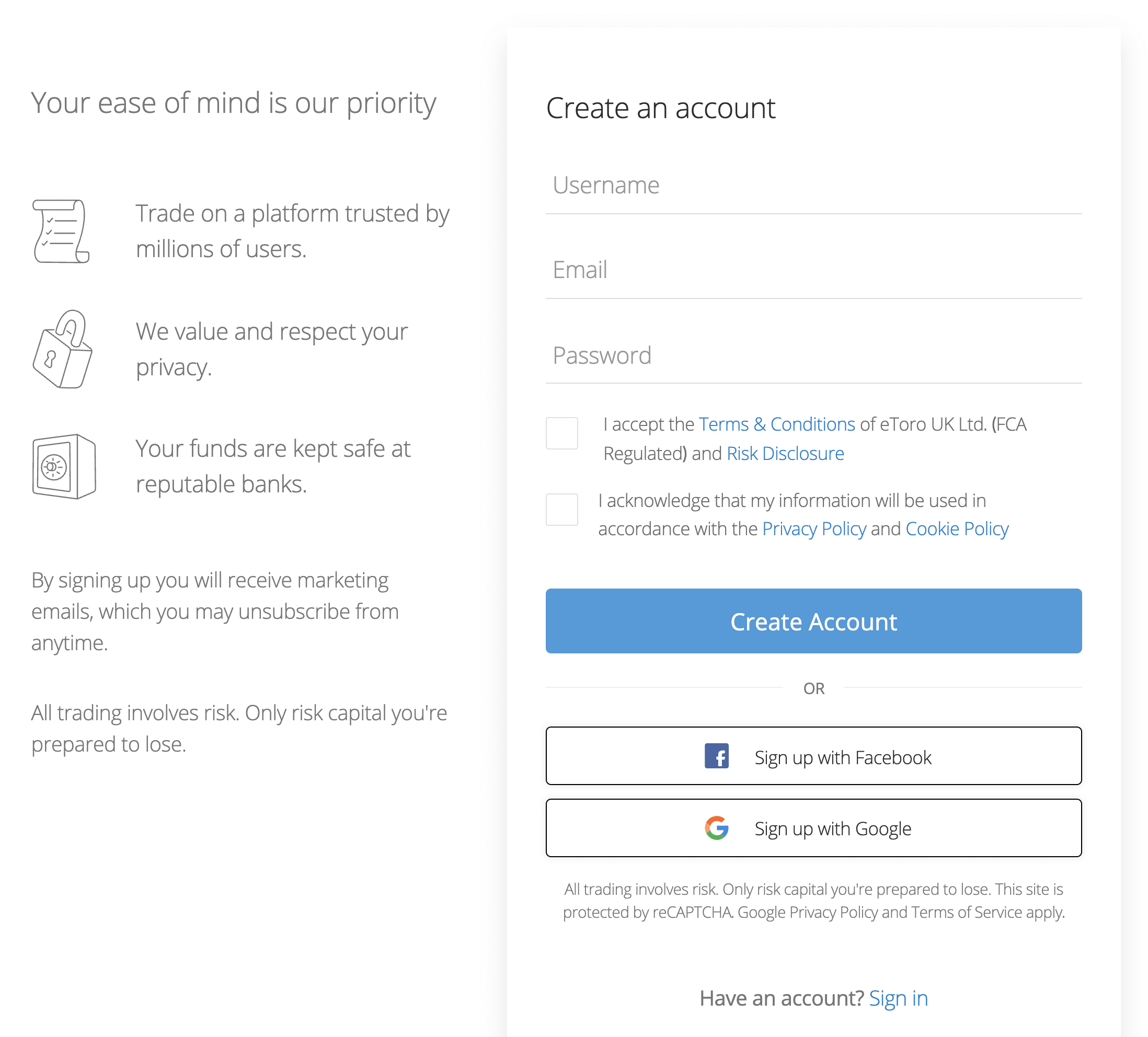 67% of retail investor accounts lose money when trading CFDs with this provider.
Step 2: Verify your account
KYC (Know Your Customer) protocols are an important part of keeping investing safe for everybody and eToro makes it easy for you to comply. To verify your account, you will need to provide Proof of Identity as well as Proof of Address.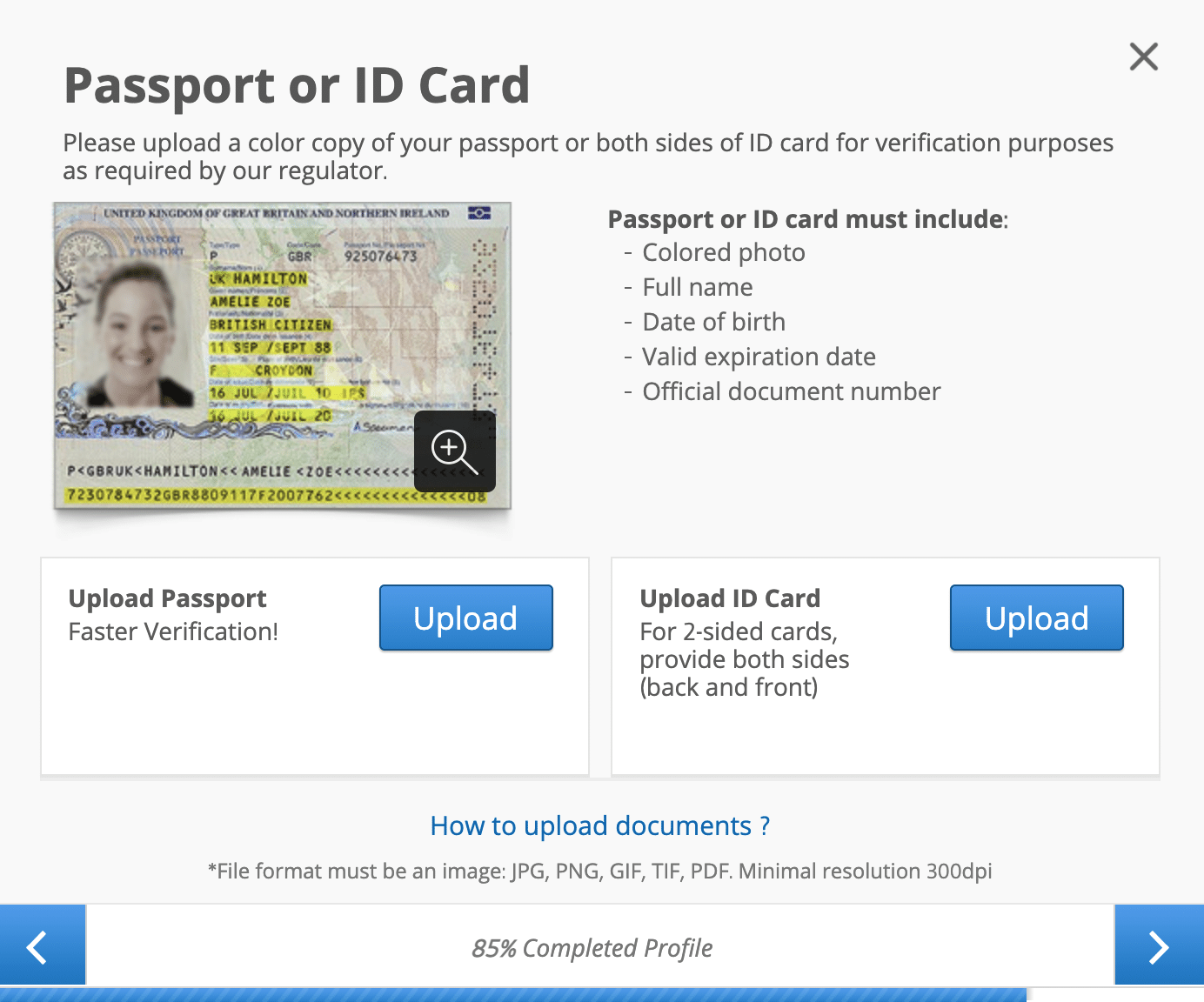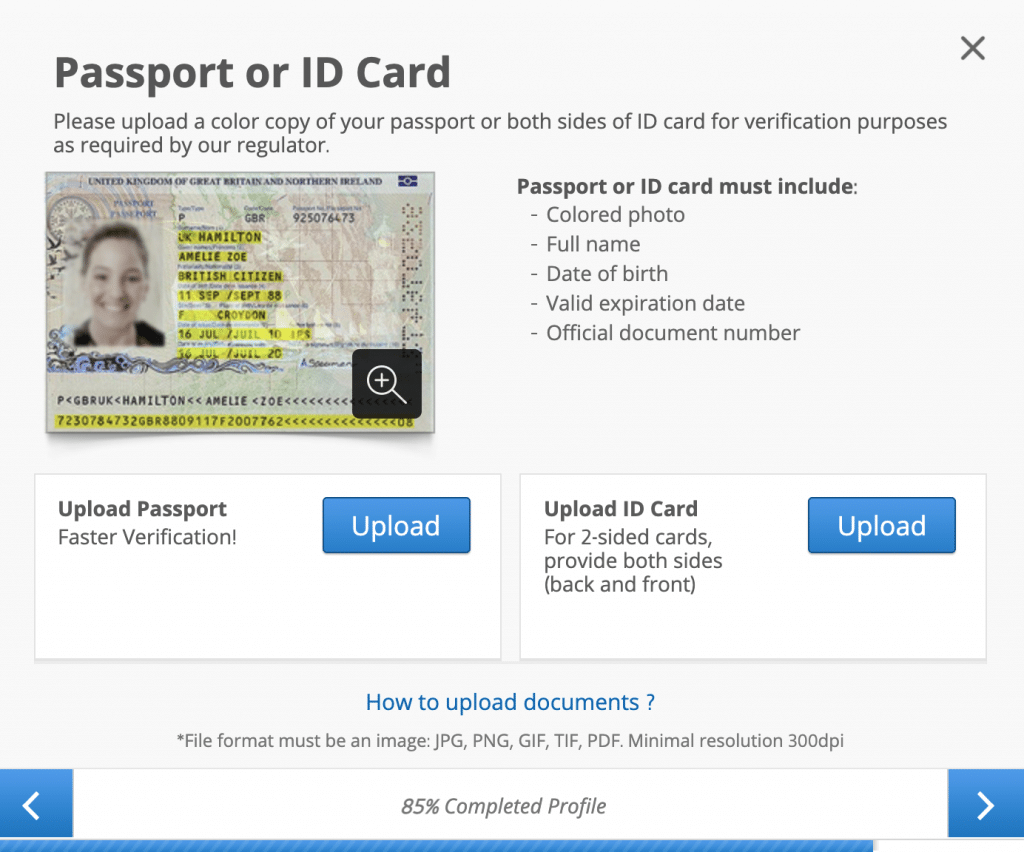 Using your passport as Proof of Identity is the quickest way to get verified. Utility bills or bank/credit card/rent statements are accepted as Proof of Address. The eToro account verification team will get back to you as soon as they can. eToro has a good reputation for investing in customer-facing operations, and getting on with things efficiently.
Step 3: Fund your account
Funding your eToro account is instantaneous generally. But the range of deposit methods varies from country to country. Available as a means of deposit with eToro are: bank transfer, credit/debit cards, PayPal, Neteller, Skrill, Rapid Transfer, iDEAL, Klarna/Sofort Banking, online banking with Trustly and POLi.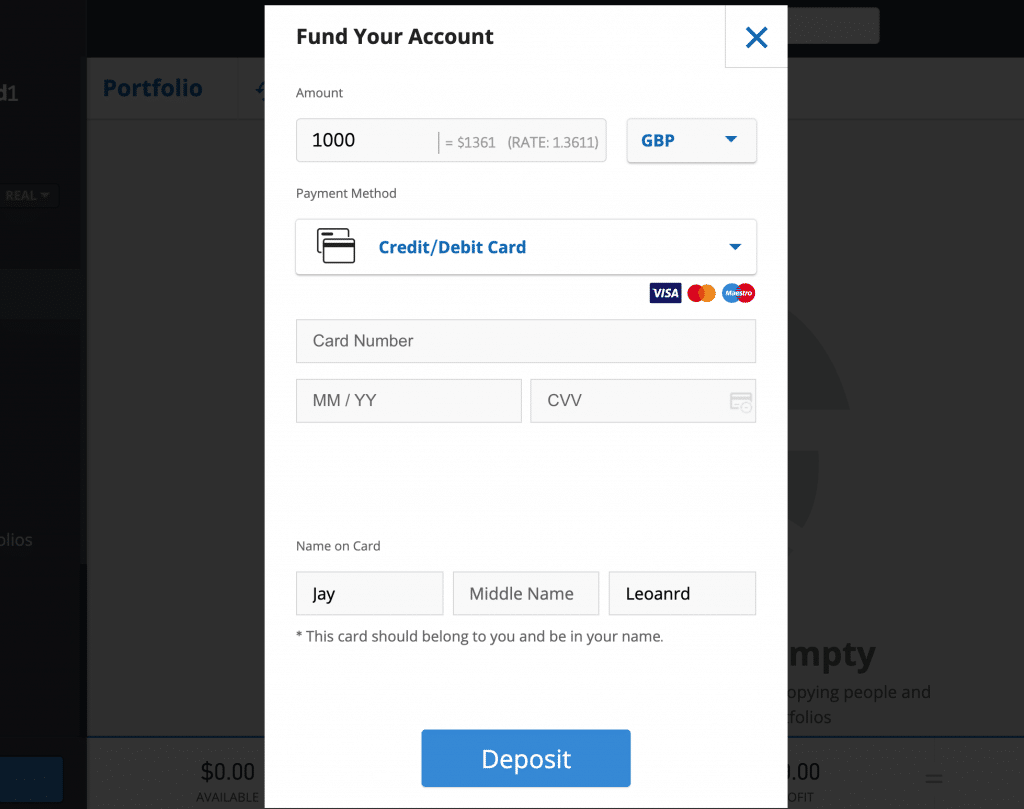 Step 4: Invest in a DAX ETF!
With eToro, one option for your DAX ETF is the iShares MSCI Germany ETF. Thanks to eToro offering ETFs as CFDs, you can go long or short on this ETF, as well as leverage your trade up to x2.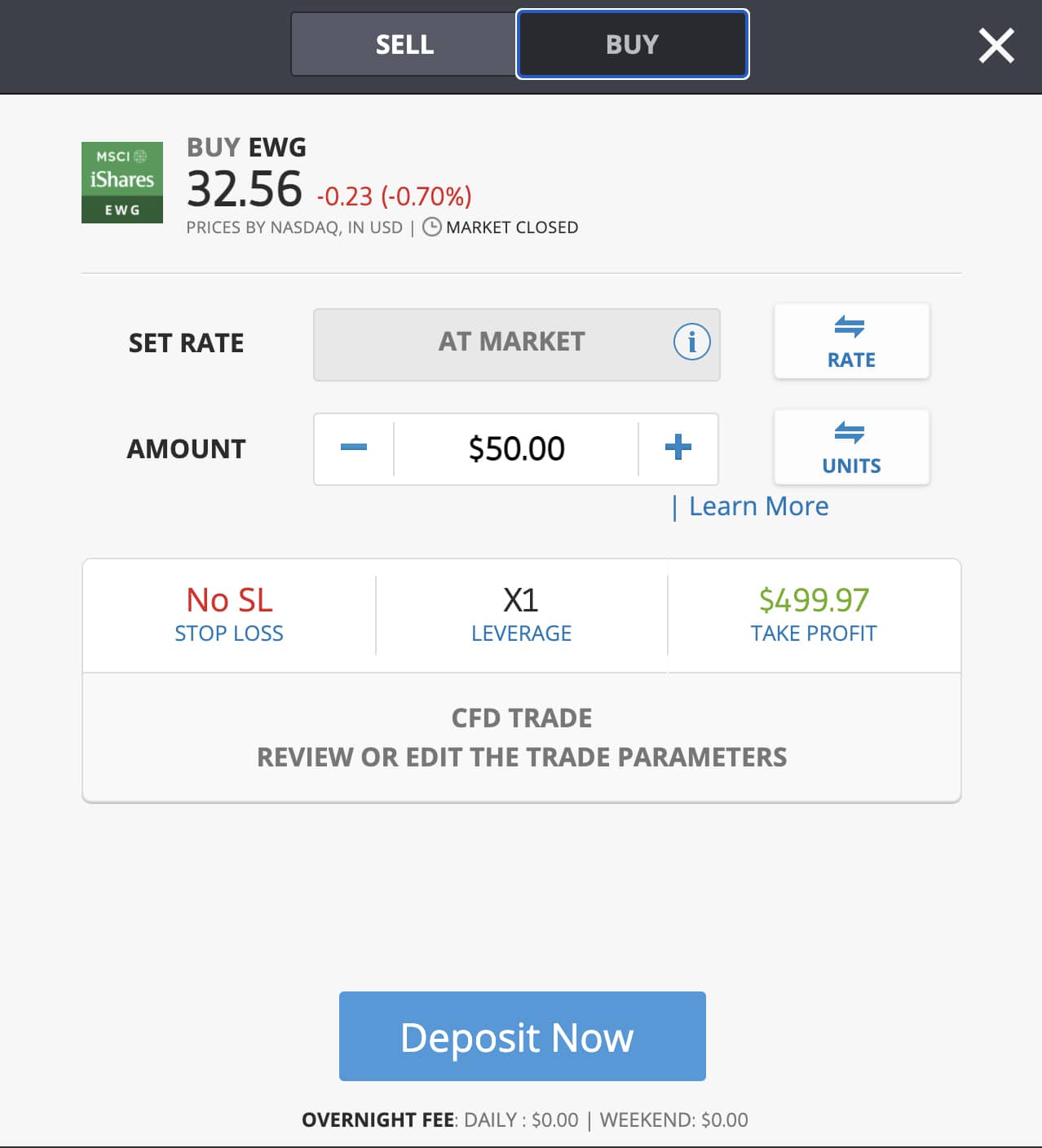 Conclusion
As the index representing the German economy, the DAX is a strong investment choice in its own right – whether you choose exposure via an ETF, a tracker fund or direct CFD trading. ETFs have proven massively popular as an investment vehicle thanks to their low fees. So a DAX ETF is a sturdy addition to your portfolio that you can count on (as far as you can count on any index or instrument) to deliver a steady return for a low-risk, long-term hold. 
Many brokers offer DAX-related ETFs, but eToro is the obvious choice to acquire a DAX ETF. That's because eToro offers so much more than other brokers when it comes to ease of use and a constantly-expanding range of options (like CopyTrader) and assets to invest in. With 250+ ETFs to choose from, eToro is certainly a great place to start your ETF journey.
Best DAX ETF Broker – eToro
FAQs
Where can I invest in a DAX ETF?
What is the future of ETFs?
Is an ETF safe in the long-term?
What is the advantage of buying an ETF as a CFD?