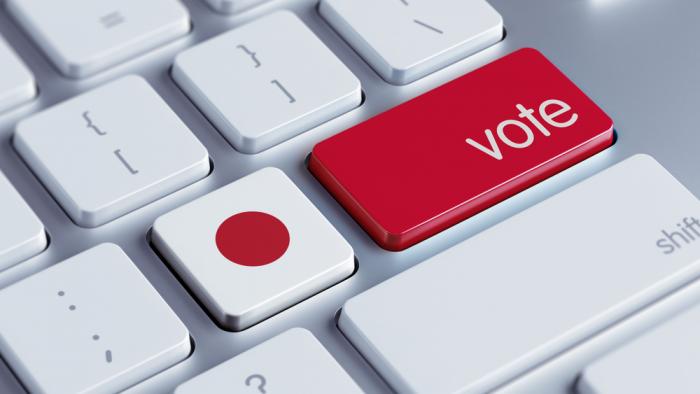 Japanese Prime Minister Shinzo Abe's Liberal Democratic Party and its junior coalition partner, Komeito, have won 70 of the 121 seats up for grabs in the upper house triennial elections held on Sunday 10 July. The seats obtained in the upper house are not only many more than the ruling coalition's 61 seat target, but deliver a two-thirds majority in the upper house for constitutional revision when taking into account other pro-revision political parties.
The ruling coalition and its political partners needed 78 seats for a two-thirds majority. Although they have won one short of 78 seats, according to a revised calculation made by Yomiuri Shimbun, the coalition actually needed only 75 seats, as there were already three pro-amendment independent members in the upper house whose seats were not up for elections this time round.
This is the fourth and most remarkable unbroken national-level electoral success for the ruling party since the second Abe administration took office in December 2012. The ruling party has gone from strength to strength and has achieved what was previously thought to be an almost unachievable political outcome — a two-thirds majority in both houses of parliament. This is partly the result of an extremely weak and directionless opposition.
The question is what's next?
During the election campaign Prime Minister Abe and Komeito's party chief Natsuo Yamaguchi remained focused on economic issues, especially emphasising the need to take the Abenomics agenda forward. Abe asked voters 'do you want to go forward [with me] or move backwards [with the opposition]?' Abe was able to sell his slogan much more convincingly and successfully than the main opposition Democratic Party's Katsuya Okada.
While he criticised the failure of Abenomics and asked voters to not let the Abe administration gain a two-thirds majority, Okada did not offer concrete policy solutions for economic reform, an issue that was on the minds of most voters.
Although Prime Minister Abe has won this election by pledging to push ahead with his economic reform agenda, it is unclear how he will achieve this. In particular, it is unclear when and how Abe will take out the third arrow of structural reform from the Abenomics quiver and how he will hit the target successfully. Structural reform is a difficult task for Prime Minister Abe because of the strong influence of entrenched interest groups within the government, which are resistant to reform.
The first two arrows of Abenomics — fiscal stimulus and monetary easing — seemed to have had some successes, but have been unable to produce the desired results on a sustainable basis. The Japanese stock market has lost much of its shine and the economic outlook does not seem to be very bright. Domestic consumption is stagnant and exports may slow down with the rising yen. The first indication of further economic reform will probably be made clear when the Abe government announces its supplementary budget later in the year.
Constitutional amendment will now definitely appear on the frontline policy agenda, despite its lack of saliency during the election campaign. Now that the ruling coalition and pro-amendment groups have the required two-thirds majority, there will be a push to accelerate this agenda, especially by conservative forces such as the Nippon Kaigi (Japan Conference).
However, the task of amending the constitution will not be smooth sailing. First, any amendment to the constitution requires an endorsement by a majority of Japanese voters after an approval by a two-thirds majority of both houses of Japan's parliament. There still is strong aversion within the Japanese public against changing the constitution, especially Article 9, the so-called pacifist clause. Second, there is hardly any consensus between the two ruling coalition parties — the LDP and Komeito — as to what clauses need revisiting and how to go about amending them.
There is likely to be vigorous debate in both houses of parliament on constitutional amendment. For Abe the positive is that he has time on his side as his prime ministership is secure at least until September 2018 or even beyond if the LDP amends its party rules to allow him to extend his term as the Party chief. Now there does not seem to be any strong leadership challenge.
Two immediate domestic political issues that require Prime Minister Abe's focus are the forthcoming gubernatorial election in Tokyo scheduled for 31 July and a cabinet reshuffle.
Although a local election, the Tokyo gubernatorial election is crucial, as Tokyo's economic and political weight in Japan, and indeed in the world, is immense. Tokyo is host to the 2020 Olympics and the Games' success or otherwise will have a considerable economic impact on Japan as a whole.
In June, Tokyo's governor Yoichi Masuzoe was forced to resign amid allegations of misuse of government and party funds. Masuzoe was a favourite of the ruling coalition and the LDP will need to be careful about who it endorses this time around. Yuriko Koike, a former LDP defence minister, has announced her candidature, though the LDP has not endorsed her as official candidate.
A cabinet reshuffle is also likely soon. A reshuffle will be necessary to accommodate some new winners in the cabinet and because two ministers — the minister for Okinawa, Aiko Shimajiri and justice minister Mitsuhide Iwaki — have lost their seats in the upper house elections. There is also speculation that Abe might appoint a new Finance Minister to replace Taro Aso, a veteran LDP politician.
One thing is clear, despite their resounding victory in the upper house elections, the task for Abe and his ruling coalition is only just beginning.
What's next after Abe's supermajority in the upper house? is republished with permission from East Asia Forum
See also:
Abe's PQI is a Win-Win for Japan and India