The vulnerability of U.S. financial markets to computerised trading programs was exposed early Tuesday afternoon after a fake tweet detailing an attack on the White House erased nearly $200 billion in stock market value in a matter of two minutes, according to the Wall Street Journal.
At 1:07pm Tuesday, a tweet from the official Associated Press Twitter account to its 2 million followers wrote: "Breaking: Two Explosions in the White House and Barack Obama is injured."
Almost immediately, the Dow Jones Industrial Average plunged from about 14,700 to around 14,570, while The S&P 500 Index also fell by about 1 percent, wiping out $136.5 billion before gradually recovering their losses.
Minutes later, AP released a statement claiming that their Twitter account had been hacked, while a White House also confirmed that there had been no attack.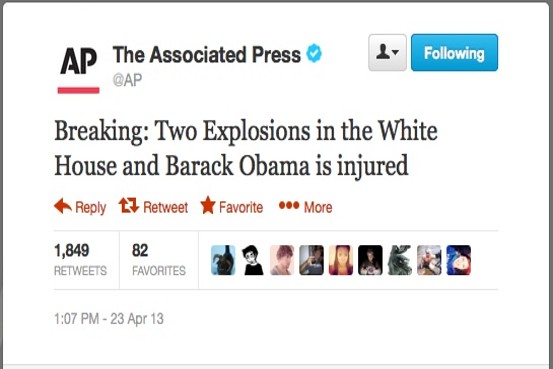 Markets quickly recovered the losses afterwards, but traders were stunned by the volatility of their computerised programs, which algorithms that automatically buy and sell shares after scanning news feeds.
"It's frustrating and scary that a tweet can erase hundreds of billions from the market in a short time, but that's the world we live in," said R.J. Grant, associate director of equity trading at Keefe, Bruyette & Woods, to WSJ.
"Trades should not be busted," told Rick Fier, director of equity trading at Conifer Securities LLC in New York, to Bloomberg. "No human believed the story. Only the computers react to something that serious disseminated in such a way. I bought some stock well and did not sell into it. Humans win."

Related: Greed On Speed: The Sins Of High-Frequency Trading
Related: High Frequency Trading (HFT): Wall Street's Latest Scam
Related: Computers To Replace Equity Traders
According to WSJ, a group called the Syrian Electronic Army, which supports Bashar Al-Assad, has since claimed responsibility for the hacking. If their claims are accurate, it would be the second time that Syrian hackers have infiltrated a news agency, after Reuters website was similarly accessed last year, publishing a story claiming that Syrian rebels were retreating from the city of Aleppo.
The FBI is now investigating the security breach, claimed USA Today.
"This is yet another reminder that social media isn't simply banal messages about breakfast between teenagers, but that it can have massive, real-world consequences," said Jeff Hancock, a Cornell University communications and information science professor.
"Our trust of social media has reached new levels. (Wall Street's) response also highlights that humans have a built-in truth bias to believe what others say. Although there is a lot of suspicion about the Internet in general, the truth bias is alive and well with social media," Hancock added.

Related: Germany Hits The Brakes On High-Frequency Trading
Related: "Speed" Traders Emerging As "Suspects" in May 6 Stock Collapse