Binance Review – Is Binance Safe? Fees & Minimum Deposit Explained
Binance – which is home to over 100 million users worldwide – has facilitated trillions of pounds worth of trading activity in the first six months of 2021 alone. The platform offers hundreds of cryptocurrencies that you can buy, sell, and trade online to via the Binance app.
But, when you consider that various financial regulators – including the UK's FCA, have since opened an investigation into the legality of Binance – you need to assess whether the exchange is right for you. As such, this Binance Review UK is a must-read.
Recommended Broker – eToro
What is Binance?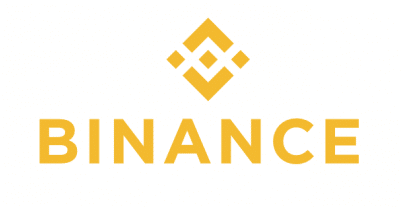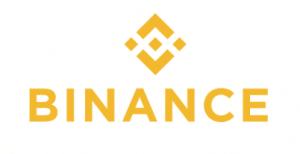 At its core, Binance is a cryptocurrency exchange that allows you to trade hundreds of digital currencies from the comfort of your home. Launched in 2017 – the platform also offers brokerage services – meaning that you can buy cryptocurrency directly with a debit/credit card or bank account transfer.
In just four years of operation – Binance is now the largest digital currency exchange globally. In fact, the platform is home to more than 100 million active users and in the month of May 2021 alone – facilitated $2.4 trillion in trading volume. On top of its main exchange and brokerage services, Binance offers a number of other key features.
This includes a cryptocurrency savings account – which allows you to earn interest on your digital currency investments. Binance is also home to a digital asset debit card that is backed by Visa, as well as a cryptocurrency loan facility. Binance is also behind the Trust Wallet, which allows you to store your cryptocurrencies safely via an iOS and Android app.
Binance UK Pros and Cons
Don't have time to read our Binance review UK in full? If so, check out the pros and cons compiled by our Binance review team.
Pros
Largest exchange in the crypto arena with more than 100 million users
Accepts debit/credit cards and bank accounts
Hundreds of trading pairs supported
Low commission rate of 0.1%
Top-rated mobile app
Cons
Charges 1.8% to buy crypto with a debit or credit card
Is currently being investigated by several financial bodies – including the FCA
Many of its trading instruments are not available to UK residents
Is not regulated in the UK
Does not support e-wallets like Paypal
No stocks or other traditional assets – crypto only
Cryptoassets are highly volatile unregulated investment products. No EU investor protection. 67% of retail investor accounts lose money when trading CFDs with this provider.
Binance Supported Assets and Markets
We briefly mentioned earlier that Binance is home to hundreds of cryptocurrency markets. This covers a wide variety of digital assets – which is inclusive of both large-cap and small-cap tokens. Binance also offers crypto derivatives – such as Bitcoin options and futures. However, as of January 2021, the FCA has since banned UK retail clients from accessing these complex financial instruments.

Nevertheless, in the section below – our Binance review UK will discuss what options you have when it comes to buying, selling, and trading cryptocurrencies at the platform.
Instantly Buy Cryptocurrency
First and foremost, Binance allows you to instantly buy cryptocurrencies from the comfort of your home. This can be achieved by using your UK debit or credit card – with both Visa and MasterCard supported. Before having access to the Instant Buy feature, you will need to upload a copy of your passport or driver's license and complete a facial verification via your webcam or mobile device.
This rarely takes more than 5 minutes from start to finish. In terms of what cryptocurrencies you can instantly buy with your debit/credit card – this covers dozens of tokens. You have large-cap digital currencies like Bitcoin, Binance Coin, and Ethereum, as well as smaller projects like Andor and Basic Attention Token.

You can also use your debit/credit card to instantly buy a selection of Defi coins – such as Maker and Yearn.finance. If the cryptocurrency you are interested in isn't listed, you won't be able to purchase it instantly. Instead, you will need to deposit cash into your Binance account and then manually buy the respective digital token.
Although we cover fees in more detail further down in this Binance review UK – instant debit/credit card purchases will cost you 1.8%. Take note, at eToro, the same transaction will cost you just 0.5%.
Fiat-to-Crypto Markets
If your preferred digital currency isn't supported by the Instant Buy feature or you want to enter a manual trade to save on fees – Binance has you covered. First and foremost, the platform is home to plenty of fiat-to-crypto markets.
This means that you will be buying a digital asset that is priced in real currency – such as euros or pounds. In fact, there are multiple markets on the Binance exchange that are priced in GBP – so you don't need to worry about FX rate fluctuations.
This includes everything from Ethereum, Bitcoin, and Dogecoin to Polkadot, Litecoin, and Chainlink. Binance also allows you to trade cryptocurrencies against the likes of Australian dollars and the Turkish lira.
Crypto-to-Crypto Markets
If you have a bit of experience in the cryptocurrency markets and wish to trade pairs that contain two competing digital assets – you'll have hundreds of options to choose from at Binance. The most traded crypto-to-crypto pairs on the exchange include ETH/BTC, BNB/BTC, and BTC/USDT.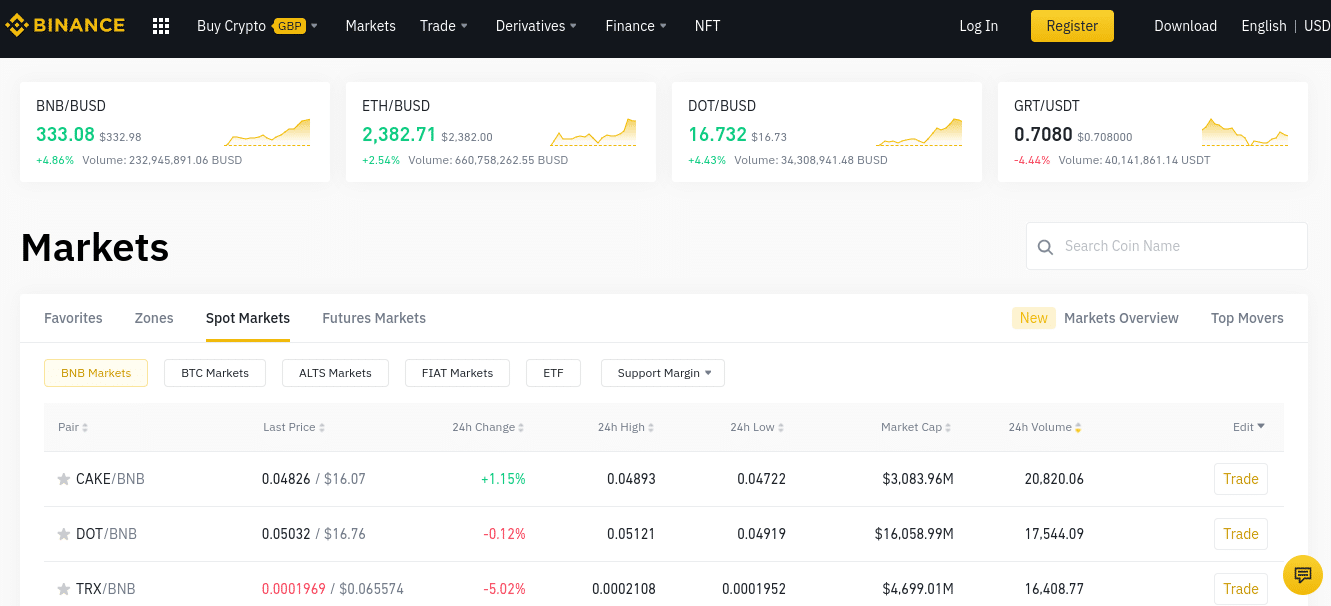 These crypto-to-crypto markets on Binance also allow you to swap one digital asset into another. For example, if you were holding Bitcoin but wanted to exchange your tokens into Ethereum – you'd simply need to head over to the ETH/BTC marketplace.
Binance Fees
Our Binance review UK found that the platform is home to an abundance of assets and markets – each of which will attract a different fee. Furthermore, Binance rewards those that trade regularly by lowering its commission rate. You also have the capacity to reduce your trading fees by holding BNB tokens – which is the native cryptocurrency backed by Binance.
Taking all of this into account, below we explain the main Binance fees to look out for when using the platform to trade.
Commission
Like most cryptocurrency exchanges in this space, Binance will charge you a commission on every buy and sell order that you place. The most you will pay is just 0.10% per slide – which is very competitive indeed.
This means that:
If you were to buy £200 worth of Dogecoin – your commission would amount to just 20p
If you then sold your Dogecoin at a nominal value of £400 – your commission would amount to just 40p
As we briefly noted above, it's possible to pay even less than 0.10% – should you own BNB tokens or trade significant volumes.
Deposit and Withdrawal Fees
When depositing digital currencies into your Binance account, the platform won't charge you any fees. This is also the case when you transfer funds from your UK bank account.
On the other hand, you will need to pay a fee of 1.8% when using your debit or credit card. Although this is cheaper than a lot of other exchanges in this space – with the likes of Coinbase charging 3.99% on debit cards, lowers fees are certainly available elsewhere. For example, eToro – which is regulated by the FCA, charges just 0.5% on debit/credit card and e-wallet deposits.
When it comes to withdrawals, Binance charges 1% should you wish to cash out to a debit or credit card. If withdrawing back to your UK bank account, the fee amounts to just £1.50.
Binance Payments
Next up in our Binance review UK is the exchange's payments department.
We found that you can use the following payment types to deposit and withdraw funds:
Debit Cards
Credit Cards
UK Bank Transfer (Faster Payments)
Cryptocurrencies
Binance also offers a peer-to-peer (P2P) platform that supports payment methods in addition to the above – such as Paypal. However, you will be transacting directly with another person – meaning that Binance is not technically involved in the payment. As such, it's best to avoid using the Binance P2P exchange to deposit funds, as you stand the risk of being scammed.
We should also note that your chosen payment method will determine whether or not you need to go through a KYC (Know Your Customer) process.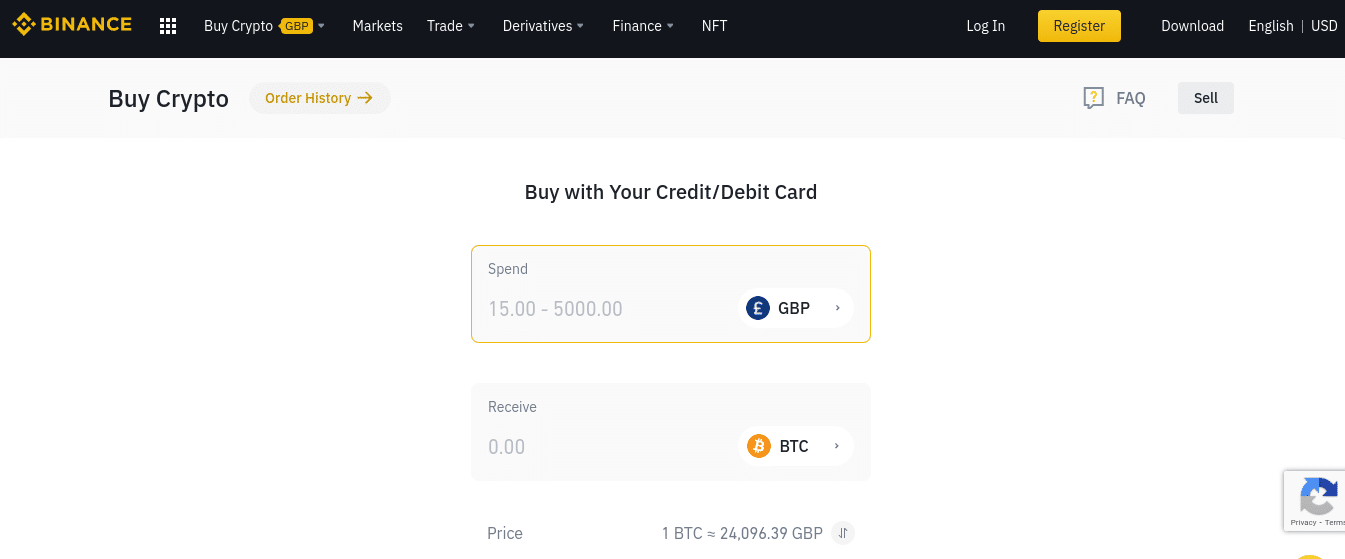 In a nutshell, if you wish to deposit funds with fiat money – which includes debit/credit cards and bank transfers, you will need to upload some ID. If, however, you are planning to deposit funds via a crypto transfer, you can do this without needing to provide any personal information at all.
Important: At the time of writing, Binance has suspended UK Faster Payment deposits – as per regulatory scrutiny. The exchange notes that this is temporary, albeit, it remains to be seen when or even if this payment facility will be restored.
Binance Minimum Deposit UK
The minimum deposit at Binance when using a debit or credit card is £15. If you are depositing funds with crypto – there is no minimum.
Binance Tools and Features
In this section of our Binance review UK – we are going to discuss what features and tools the exchange offers.
Charts and Technical Analysis
If you are an experienced cryptocurrency trader that seeks access to high-level pricing charts and indicators – Binance will likely meet your needs. In fact, by heading over to the 'Advanced' trading platform, you will be inundated with chart analysis tools. For example, you can customize your trading screen to ensure that it alligns with your personal preferences.
This includes the option to view charting data via a TradingView integration. You can switch between pricing timeframes – which is from 1 minute to 1 month. You will also find high-level orders books – subsequently allowing you to get a full birds-eye view of how the markets are moving.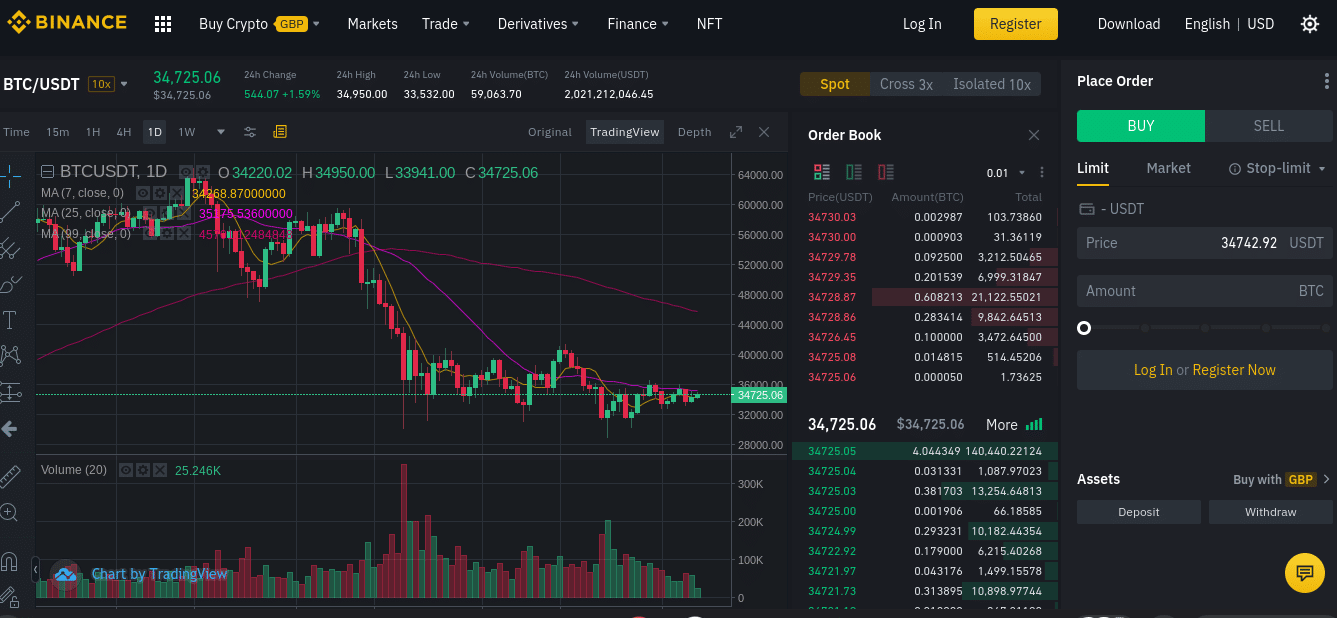 Binance also offers access to advanced chart drawing tools and technical indicators like the MACD or RSI. When it comes to orders, Binance offers plenty of options in this department. On top of basic buy/sell and market/limit orders, you can also set up stop-loss, take-profit, and one-cancels-the-other orders.
On the other hand, if you are a beginner in the world of cryptocurrencies – then Binance might appear somewhat overwhelming. In fact, the platform is most definitely more suitable for experienced traders – so the newbies reading this might want to consider looking elsewhere. If this sounds like you – eToro is a great alternative should you seek a user-friendly cryptocurrency platform.
Crypto Savings Accounts
There was once a time when cryptocurrency investments could only yield one type of financial profit – capital gains. That is to say, you would only be able to make a profit by selling your digital tokens for a higher price than you originally paid. However, Binance has taken things to the very next level by offering interest-bearing savings accounts.
Put simply, by depositing funds into your Binance savings account – you can earn interest on your cryptocurrency investments. The specific rate on offer will depend on the cryptocurrency and whether you opt for a locked or flexible account. If opting for a flexible account, you can withdraw your funds whenever you see fit.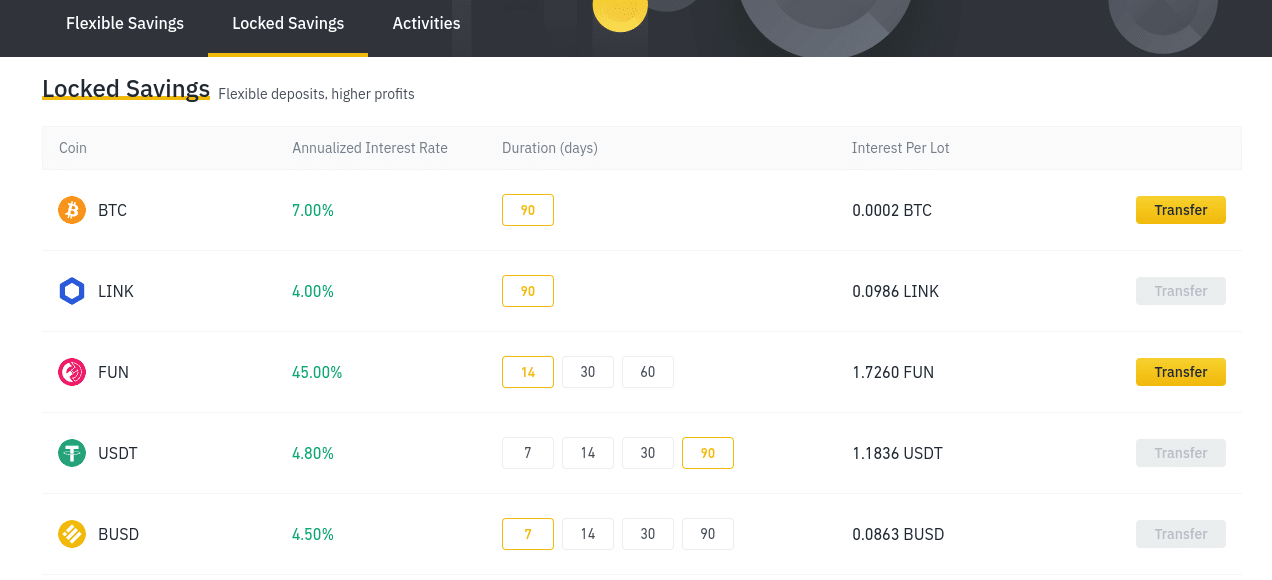 To give you an idea of what Binance offers, flexible deposits on 1INCH and Tether attract an interest rate of 3.29% and 2% respectively. Bitcoin pays just 0.80% – which is very low. If you are happy to lock your money away for 90 days, then more attractive rates are available. For example, you can get 7% annually on Bitcoin, 4% on Chainlink, and 4.8% on Tether.
Binance Visa Card
Binance also offers a Visa debit card that allows you to spend your digital tokens in the real world. For example, you can use the card at an ATM to withdraw cash, buy goods and services online, and make purchases in-store.
There are no fees to use the Binance Visa card – which is a major benefit. Best of all, your cryptocurrency holdings will only be sold at the point of the transaction – so you won't miss out on potential capital gains. The Binance debit card also comes with various cashback rewards.
Other Binance Servies
On top of the main features and tools discussed above, our Binance review UK also came across the following services that you might find of interest:
Crypto Loans: If you are currently holding an allocation of digital currency – Binance allows you to access real-world cash through a loan. Some cryptocurrencies permit a maximum LTV (Loan To Value) of up to 65%.
Staking: An additional way of earning income on your cryptocurrencies is via the Binance staking tool. This involves locking your digital tokens up for a certain period of time to help confirm cryptocurrency transactions.
Derivatives: If you are classed as a professional trader in the UK – then you will have access to complex cryptocurrency derivatives. Binance offers both options and futures on Bitcoin and a small number of other digital coins.
Perhaps the main thing that is missing from the Binance platform is a copy trading tool. This is something offered by eToro – and it allows you to replicate the buy and sell positions of a successful cryptocurrency investor. This is great for both newbies and time-starved traders.
Binance Mobile App
Binance is behind two mobile applications. First, you have the native Binance app – which is compatible with both iOS and Android devices. This is essentially a carbon copy of the main Binance website – but in a fully optimized format for smartphones.
In other words, the app offers all of the same services – such as being able to buy, sell, and trade crypto, check, your portfolio, deposit and withdraw funds, and perform technical research. Security is very good on the Binance app, with the likes of two-factor authentication, fingerprint login, and device whitelisting all supported.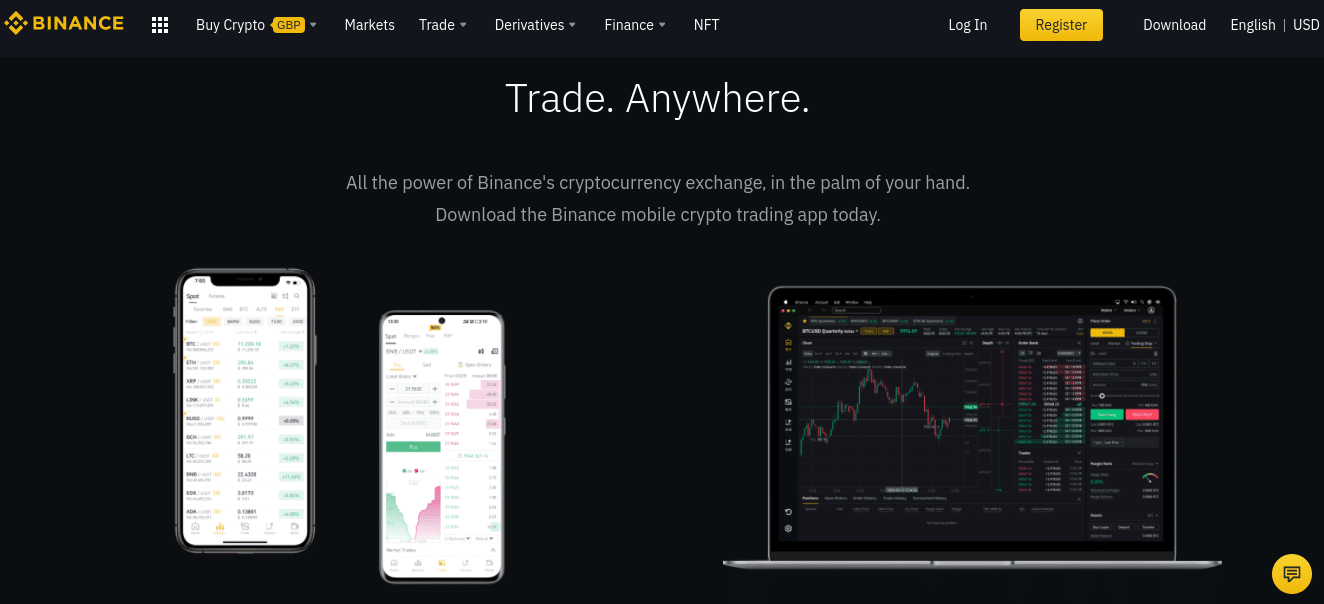 Additionally, Binance is also behind Trust Wallet. This is a mobile cryptocurrency wallet that allows you to store a wider range of digital assets. You can also deposit funds with a debit/credit card from within the app and even link your wallet to decentralized exchanges like Pancakeswap. However, the Trust Wallet is no longer compatible with iOS devices – so it's only Android users that are supported.
Is Binance Safe?
The golden question that is yet to be covered in this review is whether or not Binance is safe. This is a somewhat challenging question to answer. On the one hand, Binance is home to a significant number of security controls that ensure you are able to buy, sell, and trade cryptocurrencies in a safe manner.
This includes:
Cold Storage: Binance notes that the overwhelming majority of client cryptocurrency funds are stored in cold wallets. For those unaware, this means that the tokens are stored in wallets that are kept offline at all times – which makes a hacking attempt near-impossible.
2FA: Two-factor authentication is required whenever you attempt to log into your Binance account or you make a withdrawal. This means that Binance will send a code to your mobile phone – which will need to be entered to gain access to your account.
Email Confirmation: In addition to 2FA via your phone, you will also need to enter a code that is sent to your registered email address.
SAFU: The SAFU (Safe Asset Fund for Users) at Binance refers to an insurance pot that is funded through transaction fees. Put simply, the SAFU will be used in the event that Binance experiences a hack.
Device/IP Whitelisting: Any time that you attempt to login to your Binance account from a new device or IP address – you will need to go through an additional security step. This is usually in the form of an email confirmation.
As you can see from the above, Binance has several safety nets in place to help keep your investment funds secure. However – and perhaps most pertinently, Binance is not regulated in the UK. This should be a major red flag for you – as there is no reason why you should put your capital at risk by using an unlicensed exchange.
Furthermore, Binance has been at the forefront of various regulatory investigations in recent months – including that of the FCA. In fact, the FCA has since said that "Binance Markets Limited is not permitted to undertake any regulated activity in the UK".
Taking all of this into account – you might want to reconsider using Binance as your go-to UK cryptocurrency broker. Instead, you should focus on brokers and exchanges that are regulated by the FCA. One such example of a trusted FCA-regulated digital currency broker is eToro – which we discuss in the next section of this Binance review UK.
eToro vs Binance – Comparison
Make no mistake about it – Binance certainly stands out when it comes to the sheer number of cryptocurrency markets on offer and its super-low commission rate of 0.10% per slide. However, when comparing the platform to eToro – we found that Binance falls short in plenty of areas.

Here's why:
Regulation: Starting with the most important metric – safety, eToro is authorized and regulated by the UK's FCA. It is also licensed by CySEC (Cyprus) and ASIC (Australia). In stark contrast, Binance is not regulated by any reputable financial body – which ultimately means that your capital is at risk.
Fees: If you decide to use Binance to buy crypto with a debit/credit card – you will be charged 1.8%. At eToro, you can deposit funds with a debit/credit card, Paypal, Skrill, and other payment methods for just 0.5%.
Assets: Binance offers hundreds of cryptocurrency markets – but it doesn't support traditional investment vehicles. eToro, on the other hand, also lists thousands of UK and international shares, ETFs, forex pairs, commodities, and indices.
Copy Trading: eToro offers a copy trading tool that allows you to invest in a successful trader by automatically mirroring their positions. There is nothing similar available at Binance – meaning that passive income is not an option.
All in all, our Binance review UK concluded that eToro is by far the better option when buying and selling cryptocurrencies in the UK.
Binance Review UK – Conclusion
In summary, with more than 100 million users under its belt – Binance clearly ticks a lot of the right boxes. Not only does it allow you to trade cryptocurrencies at a commission of just 0.10% – but you can purchase digital tokens with your debit/credit card. Additionally, we like the fact that Binance supports hundreds of markets and that you can earn interest via the platform's savings account.
However, we would agure that much better options are available to UK residents – especially when you look at eToro. Crucially, eToro is authorized and regulated by the FCA – which Binance isn't.
In fact, the FCA have since noted that Binance doesn't have the legal remit to offer regulated cryptocurrency services. At eToro, you can buy and sell crypto in a safe, regulated, and super low-cost environment – which is why we think it offers the best cryptocurrency brokerage platform in the UK.
FAQ
How much does Binance charge?
What cryptocurrencies does Binance support?
Is Binance good for beginners?
How does Binance make money?