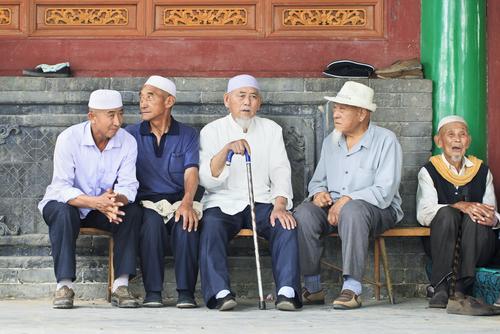 Washington sanctions on Iran have undermined the very goals that it would like to achieve. Rather than engaging Tehran, the sanctions are reinforcing the hardliners; isolating a moderate sections of Iran's community, including the business community and the middle class; dividing old U.S. allies and strengthening China's clout in the Middle East.
In the past few months, U.S.-Iranian relations have been swept by frantic, though ambivalent efforts at diplomacy. In July, 130 members of Congress sent President Obama a letter urging him to give diplomacy with Iran a chance. In August however, the House passed a new round of sanctions against Iran by a vote of 400 to 20.  In September, Iran's new president, Hassan Rouhani, declared that "peace is within reach" in a highly-anticipated UN speech. A few weeks later, the White House came away from Geneva meetings with Iran "cautiously optimistic."
In Washington, the progress is attributed to the sanctions. In reality, it is these very sanctions that are increasing the odds for further instability, division and disruption in the Middle East.
The U.S.-Iran Quicksand
After quarter of a century of diplomatic paralysis, Washington and Teheran still have no formal diplomatic relations. But it wasn't always that way.
Amidst the imperialist invasions of the late 19th century, Iran was very distrustful of British and Russian colonial interests in the region, and not without a reason. From the Russo-Persian Treaty of 1813 to the Anglo-Russian Convention of 1907, Teheran had been harmed by the "Great Game" of strategic rivalry and military conflict between the British and Russian Empires for supremacy in Central Asia.
Following World War II, Iran was invaded by the British and the Soviets. While U.S.-Iran relations remained positive, the status quo changed dramatically in the early 1950s, when Prime Minister Mohammad Mosaddegh introduced a series of progressive social and economic reforms. While the Iranian oil industry had been under British control since 1913, Mosaddegh nationalized the operations of the Anglo-Iranian Oil Company (later BP). That caused red lights to blink from London to Washington.
In 1953, Iran's democratically elected government was removed from power in a coup d'état, which was organized and carried out by the CIA at the request of the British MI6. The military intervention led to a close alliance between Washington and Shah Mohammad Reza Pahlavi. Despite modernization initiatives, polarization deepened between the narrow urban elites and the poor masses of the countryside. The status quo relied on the brutality of the Shah's notorious security regime, until the 1979 Islamic Revolution.
After another quarter of a century of diplomatic chill, the priority of the Obama Administration has been to reduce the threat of Iran's advancing nuclear program, Iran's support for militant groups in the region, as well as military assistance to Syrian leadership. But the results have been few.
Last March, the parliamentary elections reinforced the political predominance of Supreme Leader Ali Khamenei and other hardliners in Iran. In June, the somewhat unexpected presidential election victory of the moderate Hassan Rouhani opened a new window of opportunity in the region.
For two decades, neither carrots nor sticks have proven effective in the efforts to disengage and marginalize Iran. In the process, the West has effectively played itself out from Teheran's economic development.
Deeper Sino-Iranian Relations
Unlike the United States, China has maintained diplomatic relations with the pre-1979 revolution Pahlavi dynasty and the post-revolutionary Islamic Republic.
Today, most of Iran's imports come from the Middle East (UAE 32 percent, Turkey 12 percent) and Asia (China 14 percent, South Korea 7 percent). In turn, half of its exports go to Asia (China 22 percent, India 12 percent, South Korea 8 percent and Japan 7 percent), along with Turkey (11 percent). By 2012, Iran exported an estimated 60 percent of its oil to Asia (China 22 percent, Japan 14 percent, India 13 percent, and South Korea 10 percent).
As China has moved from coal to petroleum, oil imports have increased accordingly. By the early 2010s, about a tenth of China's oil imports came from Iran. In the process, China has steadily increased its investment in the modernization of Iran's oil and gas sector, while supporting Teheran's efforts to bring Caspian Sea oil and gas to Southern Iranian ports.
In 2011, Beijing and Teheran reportedly signed an extensive deal that gave China exclusive rights to several Iranian oil and natural gas fields through 2024. Under the terms of the deal, Iran gave Chinese oil companies exclusive rights to three large regions of Iranian land and to build necessary infrastructure in these resource-rich regions. In return, China promised to treat any foreign attack against these regions as attacks against its own sovereign territory.
To industrialize, Beijing needs oil; and to get oil, it needs Teheran. Hence, China's efforts to engage and cooperate with Iran.

The Sanctions Quagmire
Since oil exports fund nearly half of Iran's government expenditures, U.S.-led sanctions have actually increased Teheran's reliance on Beijing, which is now ensuring the funding of Iran's government operations.
Due to sanctions, Iran's oil exports have halved to 1.1 million barrels per day in just two years. In the process, the EU and the U.S. have become more dependent on their current energy suppliers. Meanwhile resentment in Iran has led to the production of conventional weaponry and shipments outside its borders, which contributes to regional instability.
In the past few years, Iran has suffered from the loss of oil revenues and it has been marginalized from the international banking system. As a result, the economy has been contracting, while inflation is soaring and foreign exchange reserves are shrinking. The value of rial has plunged. The consequent bitterness is increasing the support for the hardliners.
Instead of economic development and engagement, sanctions are boosting economic stagnation and insulation. Iran's unemployment rate has climbed to 12-13 percent, while youth unemployment has increased to almost 30 percent. Women's unemployment has soared to 50 percent in some cities. Every fifth Iranian has fallen below the poverty line.
Most importantly, the sanctions are diminishing the prospects of Iran's business sector, which is vital to modernization, and its nascent middle class, which is critical to democratization. Neither outcome favors U.S. or European objectives in the region.
Bilateral Affair, Triangle Tragedy?
While the sanctions are inflaming Iran's internal turmoil, progress in the U.S.-Iranian rapprochement is contributing to deterioration of U.S.-Saudi relations. Riyadh attributes the latter to U.S. inaction in Syria, lack of Israeli-Palestinian progress and U.S. withdrawal of aid to the Egyptian military.
As a result, the Saudis refused the rotating seat on the UN Security Council, while the Saudi intelligence has warned that it could cease U.S. cooperation in certain issues. In turn, the U.S.-Iran-Saudi division is used by Al Qaeda and other extremists to ignite sectarian flames in the fluid, oil-rich region.
In the aftermath of the "Arab Spring," Washington finds itself in a double-whammy. If the Obama Administration does not act according to its stated principles, it is forced to rely on the remaining authoritarian Sunni governments. If, on the other hand, it chooses to honor its stated principles, it will contribute to the Shiite-Sunni friction and divide its allies in the region.

Related: Are International Sanctions Against Iran Counterproductive?: Gail Tverberg
Related: MAD For Oil: Will US Sanctions On Iran Lead To Mutually Assured Economic Destruction?
In the former case, Washington's international credibility would take still another hit. In the latter case, it could cause a severe disruption in oil supply, which would deepen Europe's reliance on Russian oil. In both cases, Washington is inadvertently strengthening China's presence in the Middle East.
By Dr. Dan Steinbock
Dr. Dan Steinbock is Research Director of International Business at the India, China and America Institute (USA) and a visiting fellow at the Shanghai Institutes for International Studies (China). For more, see www.differencegroup.net
A shorter version of the commentary was released by China-US Focus on October 30, 2013
Get more special features in your inbox: Subscribe to our newsletter for alerts and daily updates.
Do you have a strong opinion on this article or on the economy? We want to hear from you! Tell us what you think by commenting below, or contribute your own op-ed piece at [email protected]
See also:
MAD For Oil: Will US Sanctions On Iran Lead To Mutually Assured Economic Destruction?
See also:
Are International Sanctions Against Iran Counterproductive?: Gail Tverberg