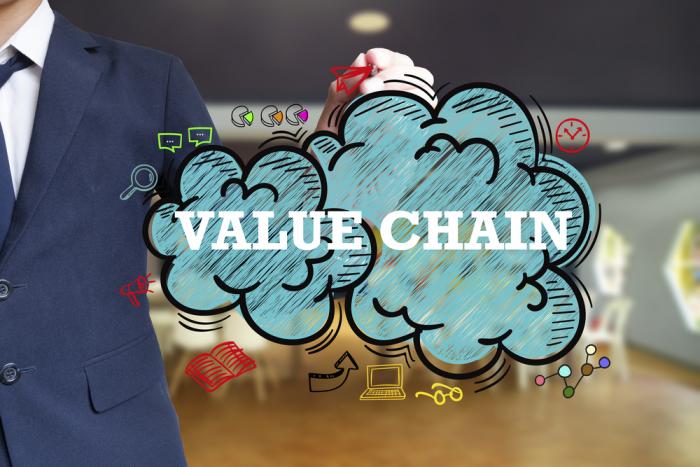 ASEAN is on the lookout for ways to accelerate trade facilitation and eliminate trade barriers by 2025 under its new 10-year ASEAN Economic Community (AEC) roadmap. Extensive research has demonstrated the vital role of global value chains (GVCs) in enhancing economic integration and liberalising trade.
According to World Bank and OECD research, GVC-driven policies have been shown to drive productivity growth, create jobs and improve living standards. So what exactly are GVCs and are they the solution that ASEAN is looking for?
GVCs are essentially the practice of vertical integration in which the various stages of a production process are located across multiple countries in order to minimise marginal costs. This process is dependent on efficient and inexpensive transportation of raw materials and intermediate inputs.
From a GVC perspective, this also means that imports are just as important as exports and that a product may undertake multiple 'value-adding' journeys across borders before reaching the market. This reality naturally rewards countries with open borders. As firms generally want to maximise their cost advantages, GVCs do not work well with discriminatory trade policies and non-tariff barriers.
Trade policymakers in ASEAN need to shift away from conventional product- or sector-specific approaches and move towards GVC-oriented policies, which measure success in terms of increased trade efficiency and reduced transaction costs. While ASEAN deserves credit for discarding sector-specific approaches from the AEC Blueprint 2015, it can take even greater steps towards embracing GVCs as its core policy focus.
The right package of complementary policies can help ASEAN maximise their participation in GVCs, but implementing them in a concerted manner requires extensive cooperation among governments. For instance, while abolishing intra-regional tariffs under the ASEAN Trade in Goods Agreement (ATIGA) was a good starting point for creating opportunities for GVCs to flourish throughout the region, the production process requires much more coordinated reform.
ASEAN also needs to operationalise the ASEAN Single Window, which would allow firms to submit all required import, export and transit documentation via a single electronic gateway. At the same time, ASEAN should finalise and rollout the regional self-certification scheme that would enable exporters to self-certify the compliance of their exports with ATIGA's rules of origin. Implementation of both these items would mark a major step towards reducing customs delays and would facilitate the movement of goods within ASEAN.
Another key step is to eliminate unnecessary restrictions on product standards and certification requirements. While human health and safety standards should not be overlooked, overly burdensome procedural requirements and domestic standards are unnecessary obstacles to participation in GVCs.
ASEAN needs to expedite its efforts towards harmonising ASEAN standards with international standards and developing more mutual recognition agreements, which currently only cover 11 priority integration sectors.
However, even more insidious incidences of protectionism in ASEAN also need to be addressed. For example, beginning in January 2017, Indonesia will require all 4G devices sold in Indonesia to have at least 30 per cent of their components made locally. This is in part a response to smartphone manufacturers locating their manufacturing and research facilities in other lower-cost ASEAN countries.
By protecting the domestic manufacturing industry, the Indonesian government is actually preventing firms from reaching true economies of scale and Indonesian consumers will end up paying a higher price.
Such measures often reflect a knee-jerk reaction to short-term adjustment costs of ASEAN economic integration. In addition, while policymakers can defend these measures as securing certain segments of the economy, they put the overall competitiveness of their country and the region at risk.
Not all GVCs are equally complex or widespread, nor are they easily captured in a simple flowchart as the technical characteristics and distribution of the GVC may evolve over time. This means that product- or industry-specific support policies are not capable of influencing specific aspects of GVCs and more often indirectly create unintended winners and losers.
Thus, trade and investment policies relating to GVCs require a more holistic approach to increase rather than distort the connection between domestic firms and global networks.
Policymakers should also avoid becoming overly fixated on the progress of one element of enabling participation in GVCs. Instead, they should consider how pursuing each element of the AEC agenda is supporting the big GVC picture. In this regard, the focus on GVCs under the AEC Blueprint 2025 warrants more attention because it could fundamentally change ASEAN's thinking around trade policy.
Enhancing participation in GVCs cannot be a single country endeavour. All ASEAN member states must jointly eliminate distortions to trade to enable the ASEAN region to shine as a participant in GVCs. ASEAN can also leverage off existing regional value chains as a way to enhance GVC participation.
The bottom line is that open, predictable and transparent trade and investment regimes are necessary for ASEAN to enhance its participation in GVCs.
GVCs provide ASEAN with the opportunity to take on a more ambitious policy agenda and become a more integral part of global trade. By committing to GVCs, ASEAN would send a strong signal to the international community that it is open for business.
Are global value chains the kickstart that AEC needs? is republished with permission from East Asia Forum
See also:
Hopes Remain High for the AEC