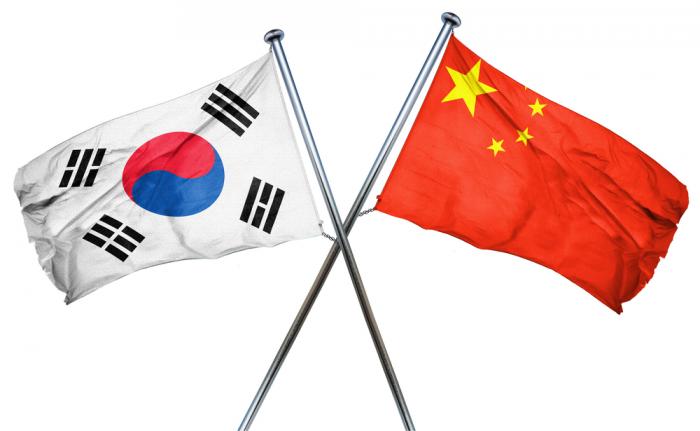 The South Korea–China Free Trade Agreement (FTA), which entered into effect in December 2015, has proved disappointing. The pact excludes too much economic activity and does too little to propel growth in both countries. As a result, South Korea and China have missed an opportunity to set a new precedent for East Asian economic integration.
Like most countries in Asia, South Korea's trade has pivoted toward China since the turn of the century. China is now South Korea's leading trading partner. South Korea–China trade sharply increased from US$31 billion in 2000 to US$227 billion in 2015, but growth has slowed in recent years and many non-tariff barriers continue to hinder bilateral trade.
South Korea sought to solidify its commercial relations with China, first by negotiating a trilateral investment pact including Japan and then a bilateral FTA with China.
The basic problem with the South Korea–China FTA is that negotiators cut too many corners in the rush to complete the deal and excluded too many products from the FTA.
Unlike South Korea's comprehensive FTAs with the United States and the EU, its pacts with China have not done much to change South Korean or Chinese policies and will therefore provide only limited impetus to boost productivity and growth.
Overall, the pace and scope of liberalisation in the South Korea–China FTA is much less ambitious than other South Korean FTAs. Under the South Korea–China FTA, South Korea and China respectively agreed to remove 79 percent and 71 percent of tariffs within 10 years.
In comparison, the South Korea–US (KORUS) FTA eliminates 98.3 percent of South Korean and 99.2 percent of US tariffs, while the South Korea–EU FTA removes 98.1 percent of South Korean and 99.6 percent of EU tariffs within 10 years.
The South Korea–China pact excludes a large number of tariff lines from full liberalisation: 960 for South Korea and 766 for China. The FTA agrees to eliminate tariffs on 64 percent of South Korean and 91 percent of Chinese agricultural products within 20 years.
However, both countries continue to impose tariffs on a significant number of key manufacturing goods such as automobiles and IT products. High tariffs on auto imports will be maintained at 8 percent and 25 percent in South Korea and China respectively. Market access negotiations on investment and services have also been deferred until at least 2018.
There were high hopes that the South Korea–China negotiation could encourage China to accept more comprehensive reforms and deeper trade liberalisation. This could have boosted both economies and narrowed the gap between the liberalisation achieved in previous FTAs and the reforms of the 'gold standard' KORUS FTA.
However, China did not import KORUS FTA standards and South Korea accepted sub-optimum results in many areas. Both sides were wary of disturbing existing trade relations and were overly reluctant to use the FTA to push domestic reform.
Therefore, South Korean President Park Geun-hye and Chinese President Xi Jinping expeditiously concluded the deal, setting important but politically sensitive issues aside. Simply put, politics trumped economics.
This has three key implications for East Asian economic integration. First, it does not bode well for ongoing negotiations on the trilateral China–Japan–South Korea FTA. Since those talks launched in 2012, there have been 10 rounds of negotiations but little progress. Since the South Korea–China FTA is the first bilateral FTA among the three countries, it could be seen as a benchmark for the trilateral FTA.
However, a trilateral agreement means the stumbling blocks facing the South Korea–China FTA will be compounded by problems complicating Sino–Japanese bilateral trade relations. It is unlikely that the trilateral pact will achieve anything comparable to the South Korea–China deal.
Second, the South Korea–China outcome suggests that the Regional Comprehensive Economic Partnership (RCEP), which involves the three northeast Asian countries as well as the 10 ASEAN members, Australia, New Zealand and India, may also fall short on key reforms.
Chinese officials initially thought that the South Korea–China pact could provide a benchmark for an ambitious RCEP. But both the poor outcome of the South Korea–China deal and the languid pace of RCEP talks — due in part to India's concerns about Chinese competition — have lowered expectations for timely and substantive results.
China, Japan and South Korea account collectively for about 74 percent of the combined GDP of the 16 RCEP countries, so their difficulties in reaching a trilateral agreement compound the challenge of reaching a meaningful deal among all 16 RCEP members. Under optimum conditions, the RCEP is unlikely to match even the modest results of the South Korea–China FTA.
Third, declining prospects for a trilateral Northeast Asia pact and the RCEP refocuses attention on two critical bilateral relationships in Northeast Asia where FTA talks have long been on the sideline: China–Japan and South Korea–Japan. It is hard to see China–Japan bilateral talks advancing quickly in the current political climate. However, South Korea–Japan negotiations, though stalled since 2004, can and should be revived.
A deal in the context of the Trans-Pacific Partnership (TPP) could have been an effective way to reinvigorate South Korea–Japan negotiations. However, South Korea made a strategic mistake when it did not participate in the TPP talks. It can now redress that problem by working with Japan and other TPP countries to reinforce its domestic reforms and bolster regional economic integration.
South Korea–China FTA falls short on reform is republished with permission from East Asia Forum
See also:
Is the U.S. Complicating TPP Ratification?