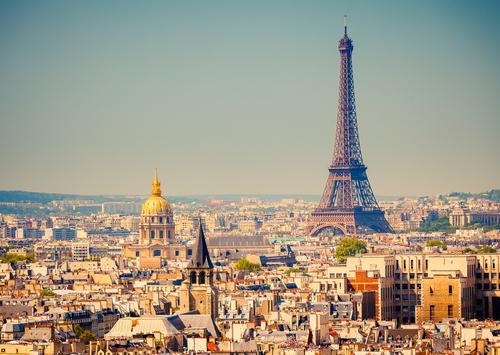 While nothing excuses the terrorist killings in Paris, the French state can no longer turn a blind eye to the marginalization of Muslims. The French banlieues are becoming a breeding ground for jihadists.
The murder of 17 people by French-born Islamic extremists has focused attention on the economic and social marginalization of Muslims in France. The country has five million Muslims - the largest number in Europe - and many of them inhabit the low-income, high crime banlieues of Paris, which are routinely stigmatized as "no go areas". The Charlie Hebdo attackers - the brothers Saïd and Chérif Kouachi - spent their young adulthoods in these bleak, high-rise housing estates, where unemployment rates hover around 25%. Orphaned at an early age and poorly educated, the Kouachis worked in soulless menial jobs and got involved in petty crime. They were perfect targets for preachers of extremist ideologies. Meanwhile, Amedy Coulibaly, who killed a police officer then several more hostages in a Paris supermarket, also lived in a Paris banlieue and was imprisoned for petty thefts. 
The concern is that these disenfranchised areas of French cities will incubate more and more terrorists. There is evidence that a growing number of French Muslims feel alienated from society and are turning to jihadist causes. More than 1,000 French citizens have left, or plan to leave, to join jihadist groups in Syria or Iraq, according to the French Interior Ministry. This is more than any other European nation. 
Meanwhile, France's prisons are full of Muslims. Although only 8% of the French population are from a Muslim background, they make up 60% of prisoners. By comparison, in England and Wales, Muslims account for 14% of the prison population and 5% of the population nationwide, according to Home Office statistics. 
Prison is the major breeding ground for jihadists in France. Chérif Kouachi was radicalized during his time at Fleury-Mérogis prison, south of Paris in 2005-06. Whilst serving time, Chérif met Djamel Beghal, a jihadist convicted for attempting to bomb the US embassy in Paris in 2001. Beghal also influenced Amedy Coulibaly during a stint in prison. Coulibaby later said in a secret 2007 video that prison was "the best school for criminality".
Pamela Jackson, a US professor of sociology and co-author of Benchmarking Muslims Wellbeing in Europe, says the French state has done little to tackle discrimination. 
"To reduce the marginalization of French minorities of colour - who have increasingly identified with Islam because of their isolation - the French state would have to focus on reducing prejudice on the part of 'native' French," she said. "This would mean ending the practice of pervasive identity checks of young men of colour, developing community policing in the banlieues and reducing the focus on keeping girls with headscarves out of public schools. Such changes would signal to the non-Muslim French that it is wrong to target minorities and treat them with suspicion. The French state has failed in that regard."

Jackson says other European nations have been more proactive. She points to the work of the Canadian political philosophers Keith Banting and Will Kymlicka whose Banting/Kymlicka Multicultural Policy Index compares the inclusion policies of 21 Western countries. On eight indicators, countries are rated 0, 0.5, or 1.0. When the eight scores are added up, the UK has an overall mark of 5.5, way ahead of Germany on 2.5 and France on 2. Most significantly, France scored '0' on six criteria. The total French failures were on constitutional affirmation, school curriculum, media, dress code exemptions, affirmative action and bilingual education. "In France, minorities can't catch a break. They don't fit in and the state is not about to make a place for them. Majority group members both contribute to this approach and learn from it," said Jackson.
In the French workplace, too, there is clear evidence of religious, as opposed to racial, prejudice against Muslims. One study from the Stanford political scientist David Laitin, and his colleagues, showed that a Christian citizen with an African heritage was two-and-a-half times more likely to get called for a job interview than an equally qualified Muslim citizen from the same ethnic background. This US study was important because France's "laïcité" laws don't allow the state to collect data on minorities, making it difficult to expose discrimination. 
"The French have a very strong belief that their republican institutions are blind to ethnicity and religion, and that these institutions are an antidote to discrimination," said Laitin. "But we can tell them that our work shows that the society is not blind to religion and their refusal to collect data will permit this discrimination to continue. Hiding behind the veil of republicanism is not a solution to the issue of discrimination in France."

Laitin had to be ingenious to collect the data on workplace prejudice. The team designed a test in which fictional job candidates competed for the same position requiring advanced education and lots of experience. The names on the CVs reflected different religious and national backgrounds. "Marie Diouf" suggested a French-Senegalese with a Christian name, while "Khadija Diouf" appeared to be a French-Senegalese with a Muslim name.
The CVs for the Dioufs were identical except for their first names and the addition of a few activities indicating their religious backgrounds: For example, Khadija had worked for Islamic Relief, whereas Marie had worked for Catholic Relief. These two competed against a third candidate, "Aurélie Ménard", who sounded like a descendant of a well-established French family. The researchers used the false CVs to apply for 300 advertised jobs, making Khadija and Aurélie compete for one set of positions and Marie and Aurélie compete for another. For every 38 call-backs for Khadija, Marie got 100 call-backs - two-and-a-half times more. 
But the vast majority of French society is unaware of such discrimination towards Muslims. They are shielded by a complacent media and a government that refuses to acknowledge the problem. Surveys show that 69% of citizens are under the illusion that French society is "sufficiently open and welcoming towards Muslims".
Part of the issue, Professor Laitin says, is that Muslims are on average less secularized and possess more conservative attitudes to women than the average French person. "The characteristics that differentiate Muslim immigrants from rooted French society, and from otherwise matched Christian immigrants, are – in their grotesquely exaggerated form – precisely those that the French associate with Jihadists: The insistence that religious principles should be the foundation of governance, and the repression of women. This false equivalency between 'Muslim" and 'Jihadist', and thus the irrational discrimination that the French harbour against Muslims, will likely only be reinforced by events like the double massacre perpetrated by those claiming to act in the name of Islam," he said.
Laitin says that both the media and the French Government have a role to play in tackling prejudice. To date, the French media has tended to shy away from analyzing Islamophobia and the major newspapers showed no interest in Laitin's studies of discrimination in the workplace. But if the media were to change tack and begin to broadcast the prejudicial tendencies of French society, it could lead to greater self-awareness and changes in behaviour. 
Meanwhile, he says, the French Government has to close the educational gap between middle-class French suburbs and the banlieues. French schools are failing to achieve what the French call "l'égalité des chances" (equal opportunities). According to the Programme for International Student Assessment (PISA), which evaluates the performance of 15-year old students in literacy, mathematics, and science in more than 70 countries, the difference between the best and worst performing students is higher in France than in many other industrialized countries. 
Professor Jackson says it is also vital to end the police discrimination against Muslims in the banlieues. They contribute to higher levels of distrust of the police among Muslims than in any other European nation.
"Muslim men are routinely stopped by the police for identity checks, to the point that prominent NGOs have taken the matter to not only the high French court, but also to high European courts," she said. "This practice is relentless. It triggered the 2005 French riots in the banlieues of Paris when police chased young men who tried to outrun them rather than submit to the identity checks and one of the young men was electrocuted while hiding in the electrical substation near the banlieue."

Jackson would also like to see the French Government begin to collect official data on ethnicity, race and religion. "Not keeping such data on individuals who come before the courts prevents the study of fairness in the justice system and is another example of institutional discrimination. It allows harsher sentencing for minorities to continue. The policing of even minor drug-related offenses is focused on minority neighbourhoods and stiffer sentences are conferred on minorities for a variety of reasons - the quality of the neighbourhood they would return to, the home situation, and the sense even among social workers that minorities are less trustworthy," she said.
But Professor Jackson fears that the French Government's reaction to the terrorist atrocities in Paris has not been sympathetic enough to the plight of the country's Muslims. "The Government is framing the killings as indicative of the 'problem of Muslim extremism in France', rather than as a consequence of widespread institutional discrimination contributing to the segmentation of people of colour in France. 
"The killings are also being presented as reflective of anti-Semitism on the part of Muslims - another indication that Muslims 'can't fit' into Western democracies. The culpability of French institutional policies in creating and perpetuating the isolation of populations of colour in France and, thereby, leaving them vulnerable to an oppositional identity is left unexamined."

See also:
France Economy