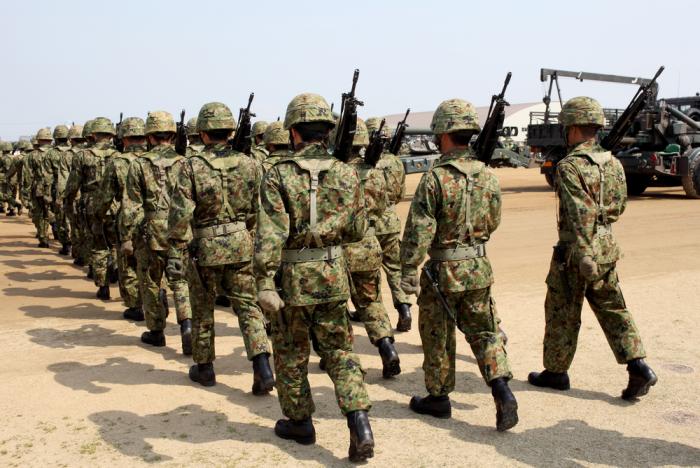 On 4 November 2014, Lieutenant-Colonel Chizu Kurita of the Japan Ground Self-Defense Force became the first Japanese military officer to be attached to North Atlantic Treaty Organisation (NATO) headquarters in Brussels. As advisor to the NATO Special Representative for Women, Peace and Security in the office of the Secretary General, she has been primarily advising the body on the how to better integrate a 'gender perspective' into its policies and activities.
Kurita's role in Brussels is a politically important gesture, but it also draws attention to the troubled condition of gender integration — or 'gender mainstreaming', as the Japanese administration puts it — in the Japanese Self-Defense Forces (SDF). Tellingly, Kurita herself is one of only a handful of high-ranking female officers.
Between 1986 and 1993, almost all branches of the SDF opened their doors to female recruits. By the year 2000, most restrictions for women had been formally lifted. The SDF's most significant remaining barrier to gender integration — its overwhelmingly male military culture — had also been targeted so as to 'modernise' the institution, which could then promote itself as providing greater gender equality than corporate Japan.
That self-promotion was articulated in such policy documents as the Ministry of Defense's multi-year Basic Plan for Gender Equality, released in 2011, and subsequently implemented in the context of the gender equality policies pursued by the administration of Prime Minister Shinzo Abe. For its part, the Ministry of Foreign Affairs' new National Action Plan on Women, Peace and Security highlighted how SDF personnel were being provided with training on gender issues, sexual violence and 'women's care needs' before their deployments.
However, although the Abe administration has widely publicised its efforts to advance gender equality throughout the public sector, the Ministry of Defense (MOD) goals for 2016 and beyond remain modest. Japan's 2015 defence white paper sets a goal that from 2016, 30 percent of all new MOD staff should be female, but it makes no concrete target for uniformed SDF personnel beyond a commitment to increase the female proportion of new recruits from its current level of 7.6 percent.
Many women are motivated to join the SDF to liberate themselves from the gender and class restrictions of their predominantly rural, working class or lower middle class communities. Their decision often faces opposition from family members who are concerned as much about the recruit's safety as their prospects for having a family of their own down the line.
Since being a service member calls for the willingness to move on to a new base every two or three years, some female recruits perceive that geographical mobility as their only shot at the social mobility they desire.
Not surprisingly, gender equality is a concern for potential female recruits. A considerable number of women who join the SDF do so with two expectations: that they will be advanced based on their performance, and that they will be treated as equals to their male colleagues. The defence white paper for 2015 does report significant advances for female uniformed SDF personnel. Their numbers have increased at SDF staff offices and headquarters. Some female members now board escort vessels and pilot both antisubmarine patrol aircraft and transport aircraft.
Yet significant restrictions based on maternity and privacy concerns still exclude women from specific assignments to tanks, submarines and fighters. As a result, in the past 20 years, the percentage of women in the SDF has risen only minimally, from just under 5 percent in the mid-1990s to 5.6 percent today — about 13,000 service members out of 232,143.
Why has the gender composition of the defence and security apparatus changed so little? For one thing, while the SDF invests heavily in the gender management of its public image, the ideal it publicises does not match its reality.
For example, SDF public relations materials eagerly feature female service members — attending to victims of natural disasters, playing with or performing for children, or simply smiling prettily while saluting in uniform — far more prominently than their numbers justify. Ultimately, the welcome that new female recruits believe they will receive does not last long.
Outdated ideas about war being only the realm of men persist in the military. Though engaging in female-exclusionary practices is constitutionally prohibited, many male service members at all levels and ranks actively resist the integration of women, who then feel isolated and marginalised.
As a result, female service members lack opportunities for the tactical and strategic-level planning and decision-making experiences that are crucial for career advancement. The numbers say it all: only 2.8 percent of current field officers or higher are female, there is only a handful of female colonels and there are no female generals.
In many ways, this situation simply reflects the state of gender affairs in civilian society, where career paths and managerial positions also continue to be overwhelmingly occupied by men. However, a different reality looms on the horizon, resulting from two significant factors. One is that the forces have endured a recruitment shortage of men for decades that only worsened when Prime Minister Abe claimed Japan's right of collective self-defence in July 2014.
The other is demographics. Japan's low fertility rate — widely believed to be the result of young women's resistance to traditional life paths that largely exclude them from serious careers — will further exacerbate the decline in numbers of young men eligible for military service.
These factors will likely lend a greater sense of urgency to efforts to further integrate and advance women in the defence and security complex.
Japan's military battles its own male-dominated culture is republished with permission from East Asia Forum
See also:
Japan's 'Womenomics' needs to Work in Business and Government