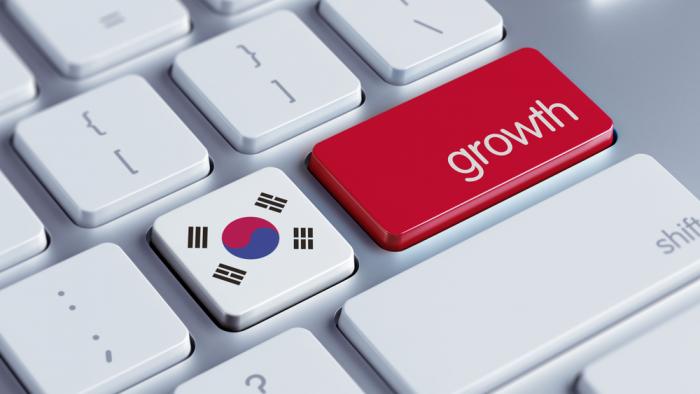 In recent years, the South Korean economy has slowed significantly. South Korea's average annual growth rate has fallen from a high of 9.8 percent in the 1980s to an average of just 2.7 percent over the last five years.
Many of the big South Korean industrial giants, such as Samsung and Hyundai, have increasingly moved their new investments abroad to low-cost regions in South Asia and Eastern Europe.
Between 1995 and 2010, South Korea's largest manufacturing firms shifted 17 percent of their production to overseas plants. As a result, total employment in such companies has fallen by 2 percent annually, while the share of workers employed at large South Korean companies fell from 18 percent to 12 percent.
According to the World Economic Forum, South Korea's international competitiveness fell to 26th in 2015 from 11th in 2007 among 140 countries surveyed, which was the lowest ranking for South Korea in 10 years. Of particular note is the South Korean banking system, which ranked only 83rd in 2015.
This dramatic slowdown has raised the possibility that South Korea might be facing its own 'lost decades', similar to those experienced in Japan. The 'lost two decades' in Japan began when the real estate bubble burst in the early 1990s, which led to asset price free fall and price deflation. This caused a sharp decline in income and consumption, which encouraged further economic depression and price deflation, leading to a vicious cycle.
When President Park Geun-hye took office in early 2013, she called for a second 'Miracle on the Han River'. On the first anniversary of her inauguration, she announced the details of a Three-Year Plan for Economic Innovation. The Park administration has made the development of a 'creative economy' the core of its strategy to achieve this goal.
The new plan reflected increasing recognition that South Korea has reached the limits of its 'fast follower' economic strategy and that it had to become a creative 'first mover' economy. It was clear that South Korea's economic future would depend upon becoming a global leader in developing and commercialising innovative techniques, products, services and business methods.
President Park defined 'creative economy' as the concept of creating new industries and employment through the convergence of science and technology with industry, the fusion of culture and industry, and the blossoming of creativity. The success of this goal would depend on how effectively the government could catalyse development of vibrant innovation ecosystems.
It would also require government and private sector cooperation to promote creative energy in technology, business ventures and new product development. It further called for a deft balance between public nurturing and private initiatives, a task not easily achieved in practice.
In this fiercely competitive and globalised business environment, it will be impossible to nurture a creative economy in South Korea if the public sector maintains its leadership role in the economy. With a globalised economy, fast-changing technology and market environment, private sector initiatives are critically important. The government should play an auxiliary role. The Three-Year Plan relies too heavily on the government to take the initiative and play the leading role.
The main challenge facing the South Korean economy now is to reduce the pervasive economic influence of the government, which is the undesirable legacy of the government-led economic development drive of the 1960s–1980s. In the initial years of South Korean economic development, this active government role was generally positive, but its negative side-effects now far outweigh the benefits.
The emerging global economic environment also poses a strong challenge for South Korea and East Asian countries in general. After the end of the Second World War, the world economy was spearheaded by the Bretton Woods institutions, which promoted an orderly and open international monetary and trading system. This global economic regime has worked rather well until recently. However, there are ominous signs that the world economy may be entering a new phase.
These signs are evident in the recent Brexit vote in the United Kingdom, which may encourage similar moves towards economic isolationism in Europe, and the rise of the anti-free trade candidacies of Donald Trump and Bernie Sanders in the US presidential election campaigns. South Korea, like other Asian countries, has benefited immensely from the open and liberal trade regime and they might be the first to suffer from the new isolationist economic environment.
The South Korean economy urgently needs to deal with this emerging global economic challenge by strengthening its domestic sector and particularly its services industry. In the services sector, South Korea needs to focus more on high value-added services — such as IT and related software industries, medical and educational services, and cultural tourism — rather than low value-added sectors such as food and lodging industries.
This shift requires bold deregulation and liberalisation of the entire economy. If South Korea is to achieve its vision of a second economic miracle, it must promote private sector initiatives instead of government-dominated economic management.
Can South Korea deliver a second economic miracle? is republished with permission from East Asia Forum
See also:
South Korea's High Growth Model has its Shortcomings