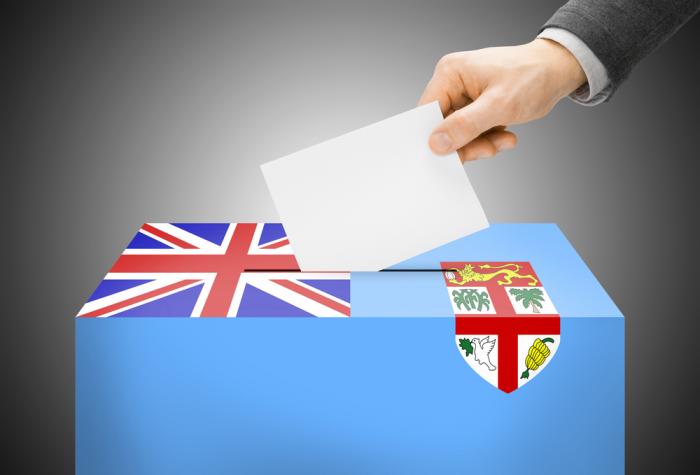 In September 2014, Prime Minster Voreqe Bainimarama's FijiFirst party swept to victory in an election that heralded Fiji's return to elected government, almost eight years after Bainimarama seized power in a military coup. In securing his position as a democratically elected leader, Bainimarama also confirmed a political truism in Fijian politics: whoever assumes power because of a coup, consolidates power through the first post-coup ballot.
In July, another election took place that has the potential to reset the political clock in Fiji. This election saw Fiji's original coup leader, Sitiveni Rabuka, become leader of the main opposition party, the Social Democratic Liberal Party (SODELPA).
Rabuka, whose political career began in 1987, is a former military dictator; civilian prime minister and chairman of the now abolished Great Council of Chiefs, but has been in the political wilderness for more than a decade. He had been rejected as a SODELPA party candidate for the 2014 election, after offering his services, and is not a current member of parliament. It was a curious reversal when he was invited to stand for party leader and won the party ballot.
Since its formation in the lead-up to the 2014 general election, SODELPA has positioned itself as an 'anti-coup' party. This is explicitly a reference to the Bainimarama-led coup of 2006 rather than to previous coups in 1987 and 2000, which were overwhelmingly supported by indigenous Fijians and their chiefs. SODELPA has lacked a broad national support base because of its strong identification with these interests.
SODELPA had viewed Rabuka's role as an instigator of the so-called 'coup culture' in Fiji as a political liability. Now Rabuka is at the helm of a party that is struggling to survive internal factionalism as well as political impotence on the national stage.
With 32 seats in the 50 seat parliament, Prime Minister Bainimarama's FijiFirst party has dominated — some would say dictated — parliamentary proceedings, sidelining the two opposition parties: SODELPA with 15 seats and the National Federation Party (NFP) with three seats.
While this has ensured the uninterrupted passage of legislation and flow of government business, it has also meant an absence of bipartisanship or constructive political dialogue between the parties on issues of national importance. On the contrary, the FijiFirst government seems more intent on belittling and demoralising its opponents.
Two years out from the next election, Bainimarama's government is riding high, both in the domestic opinion polls and in the international arena. SODELPA's power brokers are counting on the election of Rabuka as party leader to turn around their fortunes ahead of that election.
Rabuka is seen as someone who could stand up to Prime Minister Bainimarama as he shares common leadership qualities with the prime minister, if not political ethos and values. Rabuka lost his nationalist and indigenous support base — and political office — in 1999. This was after forging a political alliance with the NFP, which was then seen as an Indo-Fijian political party. Recently Rabuka has advocated national unity and declared a desire to 'unite the country like FijiFirst'.
But in order to revive SODELPA's fortunes, and provide a credible alternative to Prime Minister Bainimarama, Rabuka needs to achieve two seemingly irreconcilable tasks: to unite the party and to broaden its national support base.
The election of Rabuka as SODELPA leader has led to internal division, largely along provincial lines. This could cost SODELPA votes at the next election. To have any chance of challenging FijiFirst, SODELPA will need to appeal to a cross-section of Fiji's multi-ethnic communities. However, the core of the party remains staunchly nationalist and pro-indigenous. To move away from that political orientation risks further undermining the party's internal cohesion.
It is this dilemma that Rabuka will have to somehow resolve. This task will take all his leadership skills and resourcefulness. Since taking over the helm of the party, Rabuka has spoken of the need to 'promote indigenous interests along-side those of other races'. As party leader, his focus will be on 'healing' and working with the grassroots. Ultimately, he will need to forge a political platform that speaks to the new generation of Fijian voters.
Bainimarama's FijiFirst government is transforming the landscape and discourse of Fijian politics. Whether SODELPA can secure a future for itself in this new political order remains to be seen. However, it has important ramifications for Fiji's fledgling democracy — dominated at the moment by just one party. In this context, Rabuka's role may well prove pivotal. This underscores another political truism in Fijian politics: coup leaders may be the enemy of democracy, but they can also reinvent themselves as its strongest ally.
What Rabuka's return means for Fijian politics is republished with permission from East Asia Forum
See also:
Fiji's Latest Voting Generation has Survived Four Coups Since 1987