ChangeNOW Review – Is ChangeNOW Safe? Fees & Minimum Deposit Explained
ChangeNOW is a non-custodial cryptocurrency exchange. This platform allows you to buy, sell, and swap digital assets without requiring you to create or fund an account.
This ChangeNOW review offers you an in-depth look into the features of this platform, along with its fees, products, supported assets, and security. We also give you an overview of how this provider compares against other popular cryptocurrency exchanges in the market.
Recommended Broker – eToro
What is ChangeNOW?
Based in Amsterdam, ChangeNOW has been offering its services since 2017. Its parent company, CHN Group Limited, is incorporated in the Seychelles. In simple terms, this platform functions as a swap exchange, allowing you to trade one cryptocurrency for another, free of custody. It also gives you the option to buy digital assets using Visa or Mastercard.
To facilitate you with this service, ChangeNOW has partnered with several prominent cryptocurrency exchanges, such as Binance, Bitfinex, Huobi, OKEx, and Kucoin. When you place a trade, it chooses the best rate in the market and presents you with it. The company even integrates with DeFi platforms such as Uniswap and Pancakeswap, giving you access to DEX-exclusive cross-chain swaps.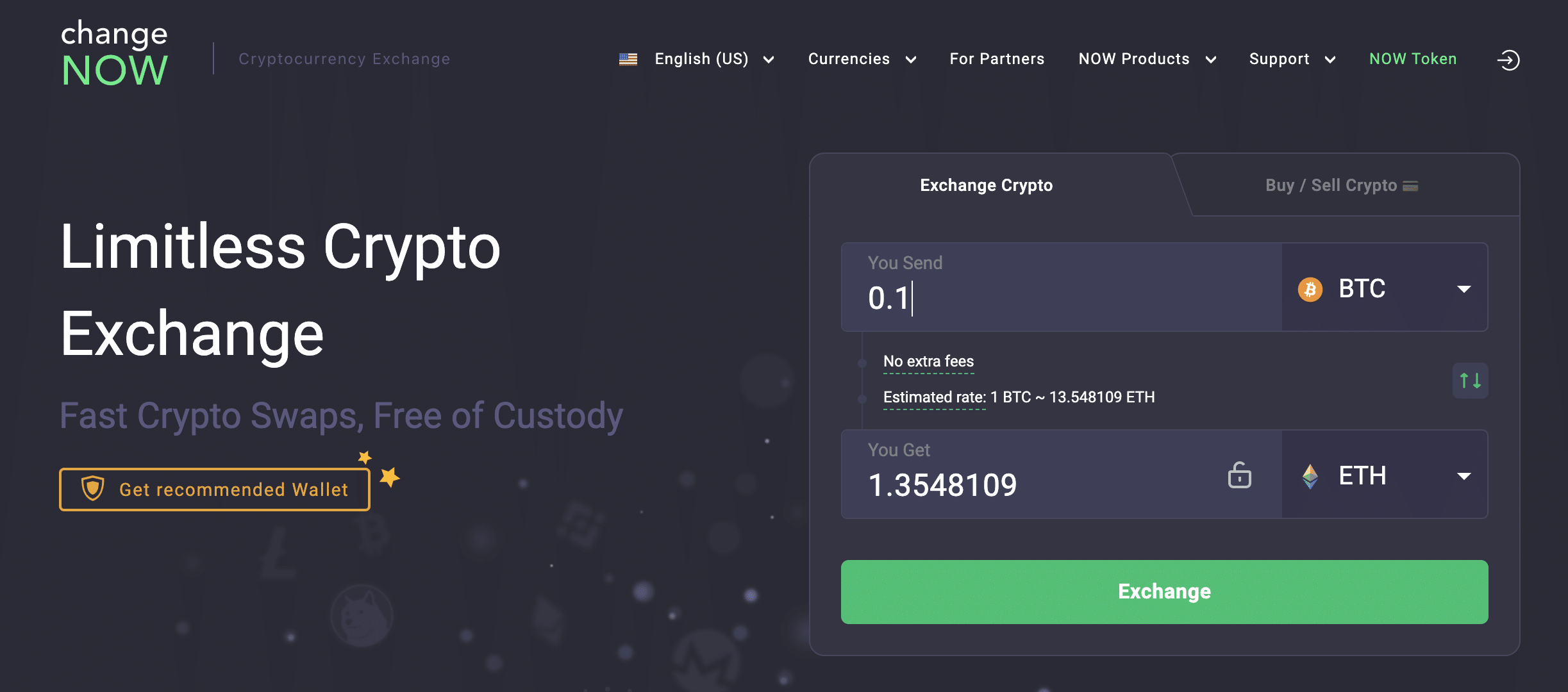 Being non-custodial, ChangeNOW does not hold your funds. Instead, you can exchange cryptocurrencies between two wallets, without having to transfer your coins into the platform. All possible fees for every transaction are included in the estimate you are shown. That said, the costs can be high if you are purchasing digital assets using fiat currencies via this provider.
Apart from the swap service, ChangeNOW has also designed a variety of products that appeals to every need of a cryptocurrency investor. You have the option to use your assets to take out a loan or store your coins in the NOW wallet. All that being said, the main drawback of this exchange is that it is not regulated by any respected financial body.
ChangeNOW Pros and Cons
As we proceed further, we will cover more of this platform's features in detail. But for those who seek a quick outline of this ChangeNOW review, here we have put together the main advantages and disadvantages to consider.
Pros
Over 300 cryptocurrencies listed
Trade 50,000 plus pairs
Supports debit/credit cards payments
No registration mandatory
Cons
No regulation
High fees for debit/credit card payments
Cryptoassets are highly volatile unregulated investment products. No EU investor protection. 67% of retail investor accounts lose money when trading CFDs with this provider.
ChangeNOW Supported Cryptocurrencies
ChangeNOW supports over 350 assets, out of which 47 are fiat currencies. This includes not only prominent currencies such as US dollars (USD), euros (EUR), British pounds (GBP), and Australian dollars (AUD), but you can also find markets that are relatively less liquid such as the Zambian kwacha (ZMW), Hungarian forint (HUF), and Israeli new shekel (ILS).
There are over 50,000 trading pairs available including several crypto-stablecoin, and crypto-fiat markets. However, not every product featured on this platform is supported for all these coins. For instance, while you can buy, sell, and exchange all listed coins, it is possible to use only a handful of these coins as collateral when taking out loans.
ChangeNOW Supported Countries
ChangeNOW is a global platform that provides its services to users across the world. However, this swap exchange is not accessible to citizens and residents of the following countries:
Cuba
Iran
North Korea
Crimea
Sudan
Somalia
Myanmar (Burma)
Yemen
Zimbabwe
Syria
United States of America (including all USA territories)
People's Republic of China
Bangladesh
Bolivia
Furthermore, ChangeNOW can also select to not operate in or deny its services in jurisdictions of its choosing. So we suggest that you make sure you have access before you register with this provider.
ChangeNOW Products
ChangeNOW features a few different products to allow you to benefit from the cryptocurrency market. Take a look below to see which ones can attend to your personal requirements.
ChangeNOW Crypto Exchange
The main function of ChangeNOW is to facilitate fast exchanges of cryptocurrencies.
Here is how you can carry this out almost instantly:
First, choose the cryptocurrency you want to exchange.
Next, choose the digital asset that you want to receive.
ChangeNOW will instantly present you with the best exchange rates available in the market.
Enter the recipient's wallet address.
You will then receive an overview of the transaction, including how long it will take to complete.
If happy, you can confirm the order.
The transaction time varies depending on your chosen blockchain and digital assets. Note that any network fees applicable, and other exchange charges are included in the estimate you receive. After confirming the order, you can also type in your email address so that you will be notified about the arrival of the coins in your wallet.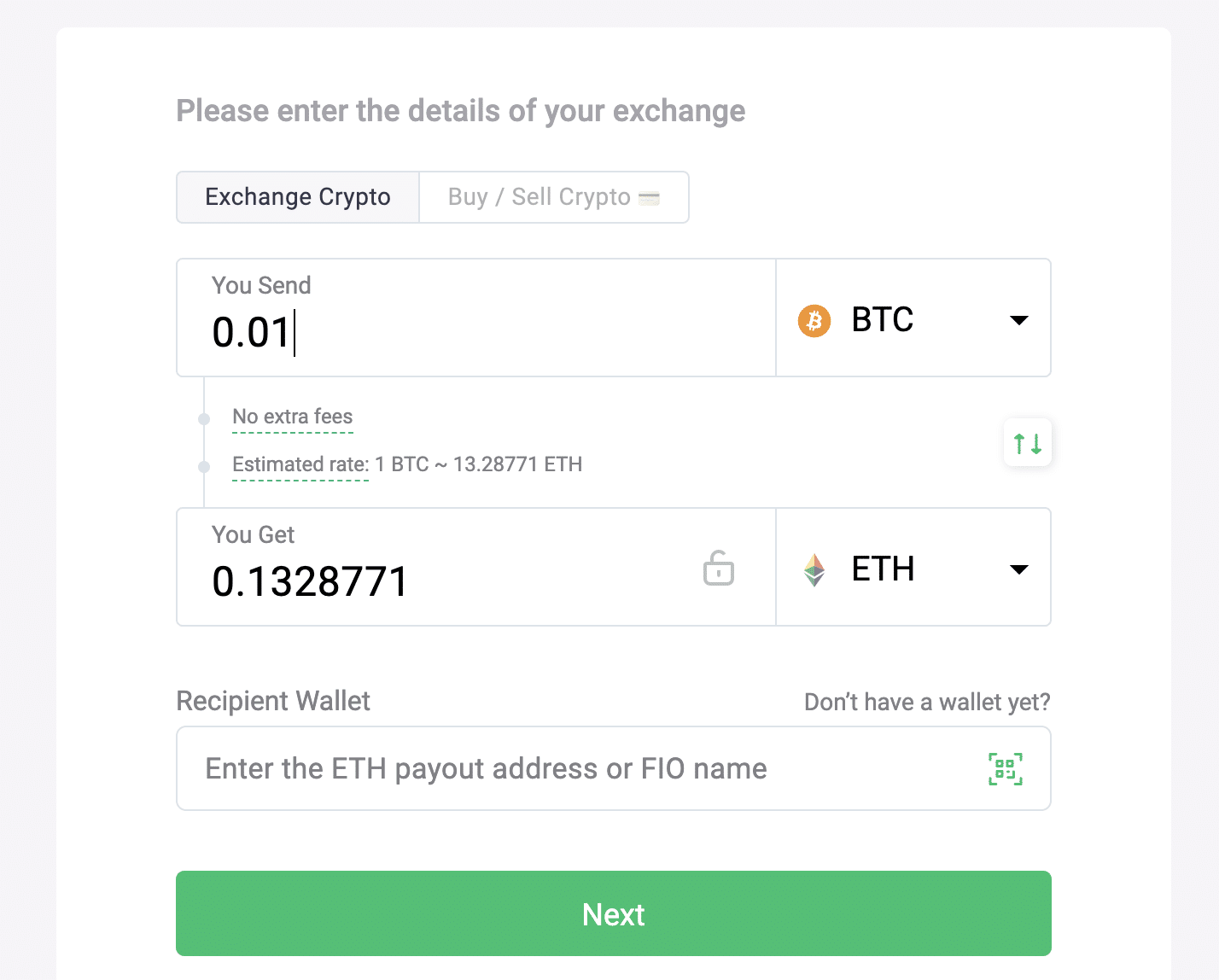 According to the platform, you can start swapping tokens from as low as $2. However, when trying out the service for this ChangeNOW review, our team found that this, in fact, depends on your chosen coin and varies from time to time. For instance, when exchanging Bitcoin for Ethereum, the minimum number of coins required is 0.0004185 – which equates to around $28 based on the market value at the time of the writing.
On the other hand, there is no upper limit on how much you can exchange, even if it is over 1,000 BTC. Additionally, it is also worth remembering that there might be some changes in the final amount you actually receive, due to the market volatility. This happens when the transaction takes too long and the price of your chosen digital asset changes. 
Buy/Sell Cryptocurrency
When it comes to buying and selling cryptocurrencies, our ChangeNOW review found that the process is more or less the same as exchanging coins on this platform. That is, you select the digital asset, and the fiat currency you want to use, and enter the recipient's wallet address. You then receive an estimate. If you are satisfied with the valuation, you can confirm the order.
As with exchanging cryptocurrencies, this service is also facilitated by third-party providers on this site, in this case, Simplex. You can use both Visa and Mastercard for this purpose. However, the fee when using this feature is 5% or at least $10. In addition to this, ChangeNOW also charges 1%. As such, this can be an expensive way to buy or sell digital assets in exchange for fiat money.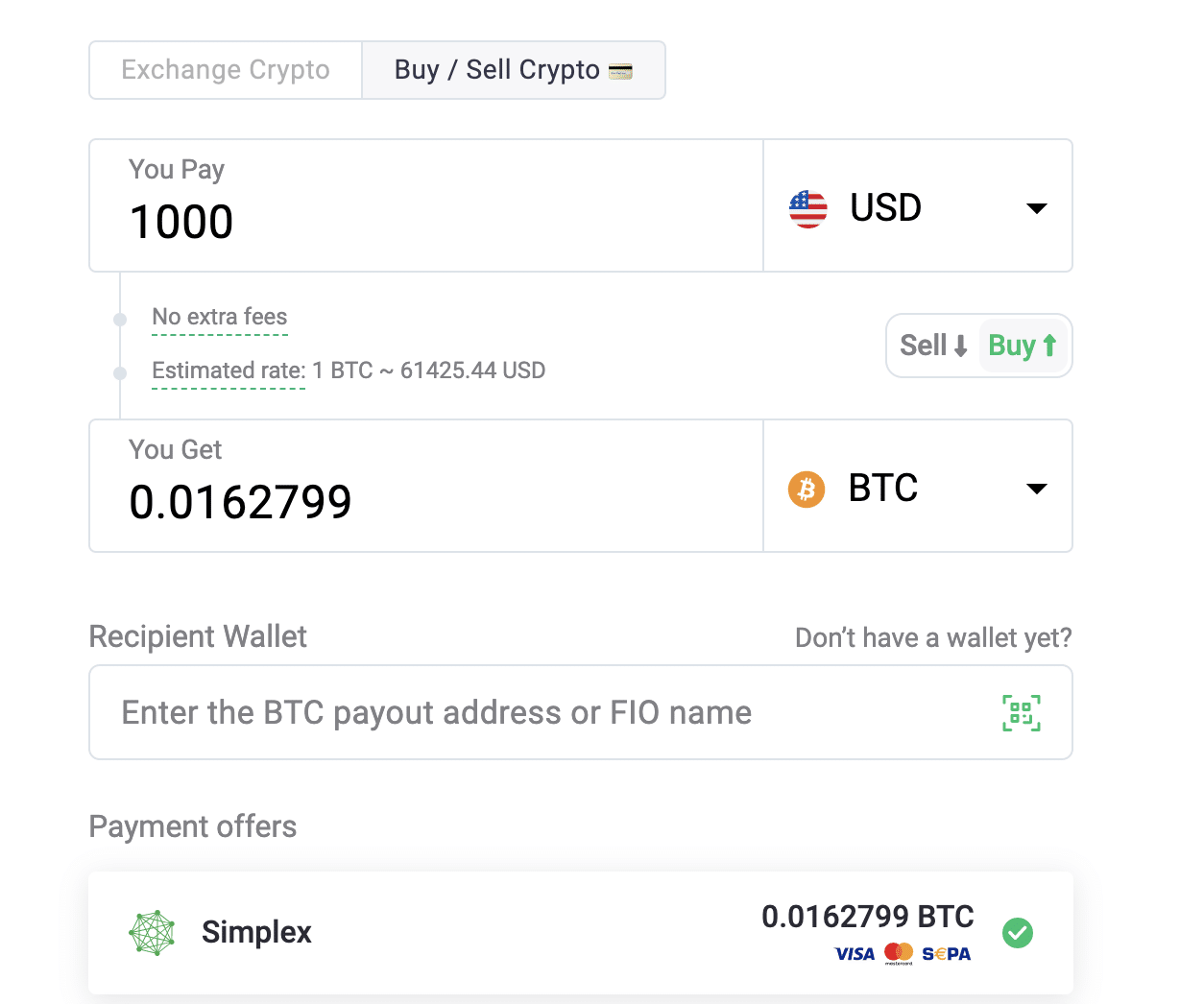 On the other hand, our ChangeNOW review found that the platform supports over 40 fiat currencies for this purpose. This makes it easier for users across the world to buy or sell cryptocurrencies without having to exchange their money for USD or EUR. However, depending on the digital asset you choose, you might have to purchase Bitcoin first, as direct purchases are supported for only a few fiat currencies by Simplex.
Instant Crypto Loan
Our ChangeNOW review also found that you can use this platform for taking out an instant crypto loan in stablecoins Tether (USDT) or USDC Coin (USDC). The service is currently supported for the following cryptocurrencies:
Bitcoin (BTC)
Ethereum (ETH)
Dogecoin (DOGE)
Digibyte (DGB)
Ravencoin (RVN)
Monero (XMR)
Ripple (XRP)
Firo (FIRO)
Bitcoin Cash (BCH)
Shiba Inu (SHIB)
Uniswap (UNI)
Chainlink (LINK)
Maker (MKR)
Chiliz (CHZ)
Enjin (ENJ)
Synthetix Network Token (SNX)
Basic Attention Token (BAT)
Sushitoken (SUSHI)
yearn.finance (YFI)
0x (ZRX)
Bancor (BNT)
Fantom Token (FTM)
You can take out loans in both bullish and bearish markets with an APR of 10%.  The Loan-to-Value offered on ChangeNOW is 50%, meaning you get half the value of your collateral as a loan. This allows the platform to reduce the risks and protect you from the volatility of your collateral cryptocurrency.
Moreover, unlike the majority of crypto loan providers, you do not have to pay monthly interest. Instead, it is accrued monthly and is collected at the time of closing the loan. You can repay and take out the collateral whenever you want, even if it is after a few hours of receiving the funds.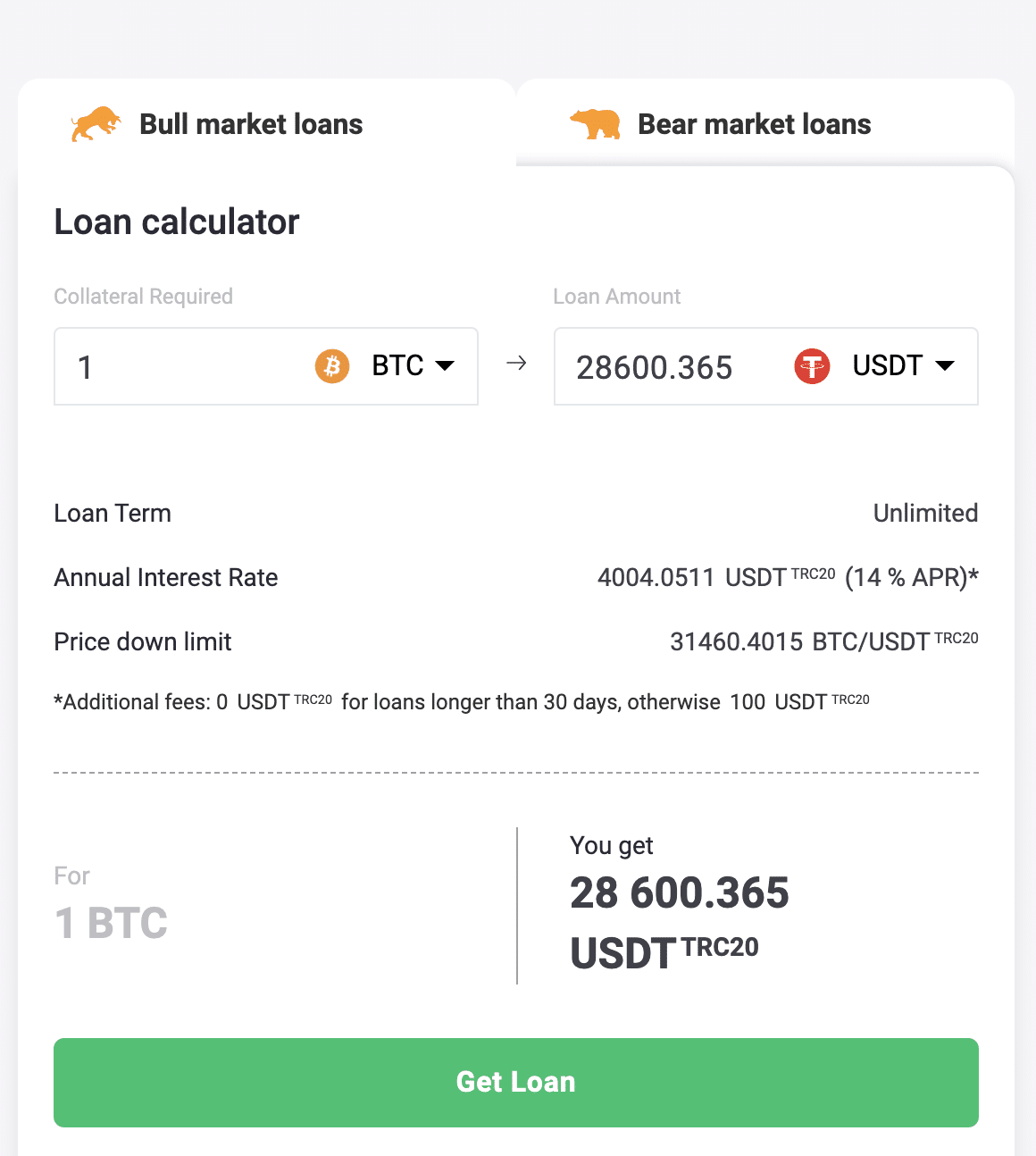 As for storing your collateral, our ChangeNOW review found that your funds are stored in special wallets with private keys there are accessed using a VPN. These passwords are also renewed every month, and the risk control system checks the balances every second. However, the website has no information about what happens if your assets are hacked.
In other words, there is no insurance offered if the platform is to lose your cryptocurrencies. Also, unlike performing the buy/sell and exchange transactions, taking loans out on ChangeNOW requires you to create an account, and become a member of the Premium Lounge. This simply means that you need to register by providing your email address and setting up a password.
ChangeNOW Wallet
Although ChangeNOW does not offer integrated storage for your cryptocurrencies, the company has released a wallet app for this purpose. This can be downloaded to both Android and iOS devices to facilitate cold storage of your digital assets. You can also use the same software to buy, sell and exchange tokens.
The app stores your digital coins in cold storage, protecting your funds with a PIN. You are also given a 12-word recovery phrase  – without which you will not be able to regain access to your cryptocurrencies in case that you lose your password. In other words, the safety of your coins falls entirely into your responsibility.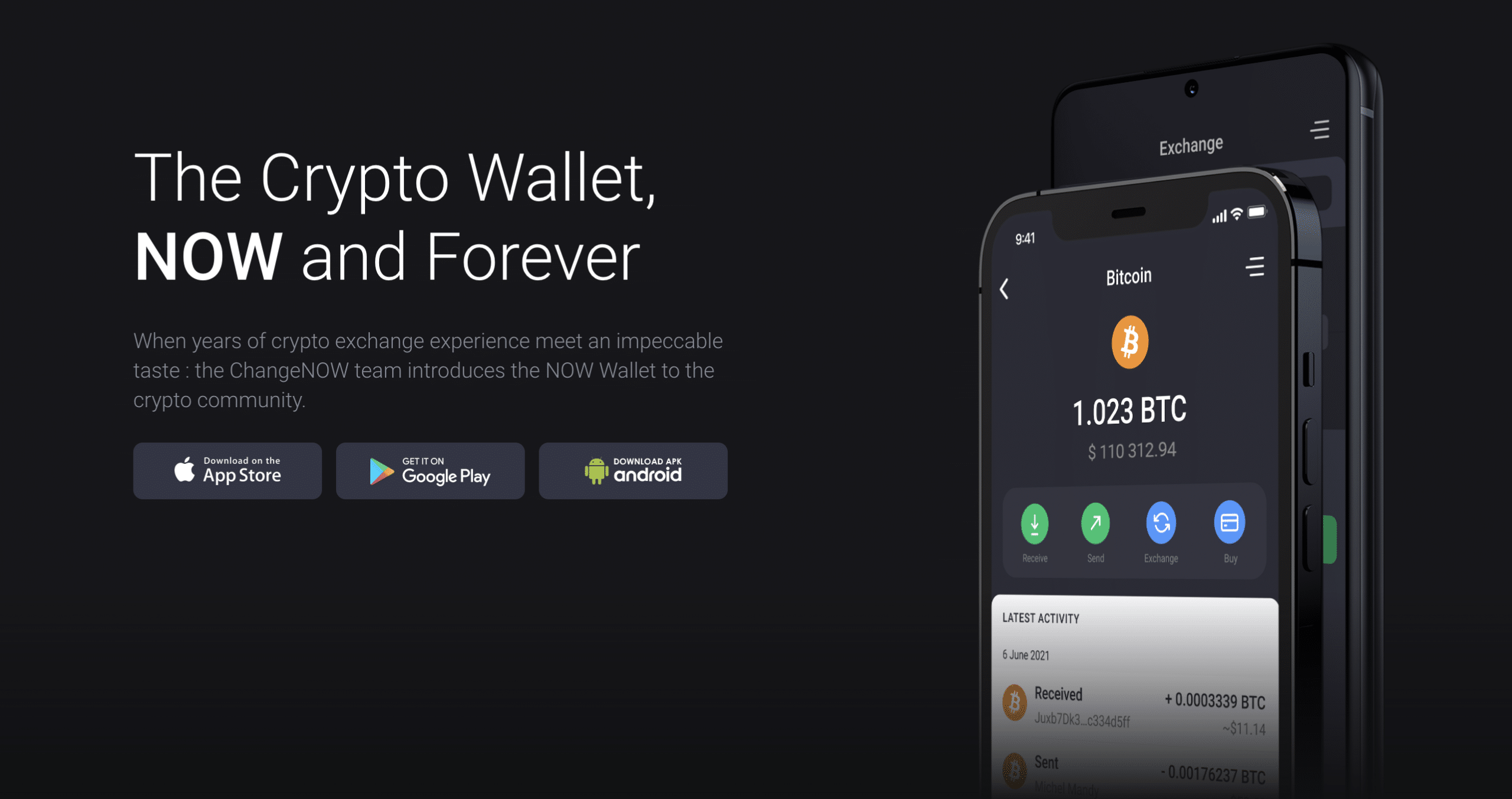 In light of this, many of you might not want to take on additional risk when it comes to the safety of your cryptocurrencies. If so, you might want to consider a custodial wallet like eToro. While the wallet is licensed by the GFSC, the brokerage itself comes with regulation from respected financial authorities such as the FCA, and SEC.
NOW Token
NOW is the native token of the ChangeNOW ecosystem. Unlike the majority of similar coins released in the market, this digital asset exists on two networks at the same time. While 50% are Ethereum-based (ERC-20), the other half are on the Binance Chain (BEP-2). Moreover, you can swap one for the other on the exchange itself.
Additionally, you can also buy NOW tokens from other cryptocurrency providers such as Forkdelta, Etherdelta, IDEX, and Binance DEX. Holding this digital asset can give you access to the following benefits on the ChangeNOW exchange:
Special rates for exchanges
Better customer support
Better rewards for affiliate programs
Option to list and feature new coins and tokens on the platform
You can also stake NOW tokens on ChangeNOW and receive up to 25% in ROI. However, to benefit from these, you need to be a registered user on the platform.
ChangeNOW Fees
One thing we noted when doing this ChangeNOW review is that the platform is not entirely transparent regarding fees. That is, when you receive the estimate for exchanging cryptocurrencies, you receive an estimate that includes the service charges. However, it isn't clear how much you are paying in each category.
As per the ChangeNOW website itself, below we list the possible fees that you might end up paying:
Network fees charged by the respective blockchain for transactions
Network fees charged by liquidity providers for transferring coins
Trading fees charged by liquidity providers
The total amount varies based on your chosen currency and the status of the respective network at the time of placing the order.
ChangeNOW Buy/Sell Service Fees
As we mentioned earlier in this ChangeNOW review, if you are using the integrated service to buy or sell cryptocurrencies via Simplex, you can expect to pay a 5% fee. This is in addition to the 1% charged by ChangeNOW, and the network processing fee. Needless to say, this is a very expensive means to get your hands on cryptocurrencies.
As such, we suggest that you consider a broker like eToro – which allows you to fund your account using not only debit/credit cards but also e-wallets and bank transfers. Most importantly, you do not have to pay any fees if depositing in USD. Other fiat currencies will incur a charge of just 0.5%.
ChangeNOW KYC
Since ChangeNOW is non-custodial and does not require you to fund your account, there is no need for you to provide any personal details. However, if the platform's risk management system finds any suspicious activity, the exchange is put on hold, and the user in question is asked to verify their identity.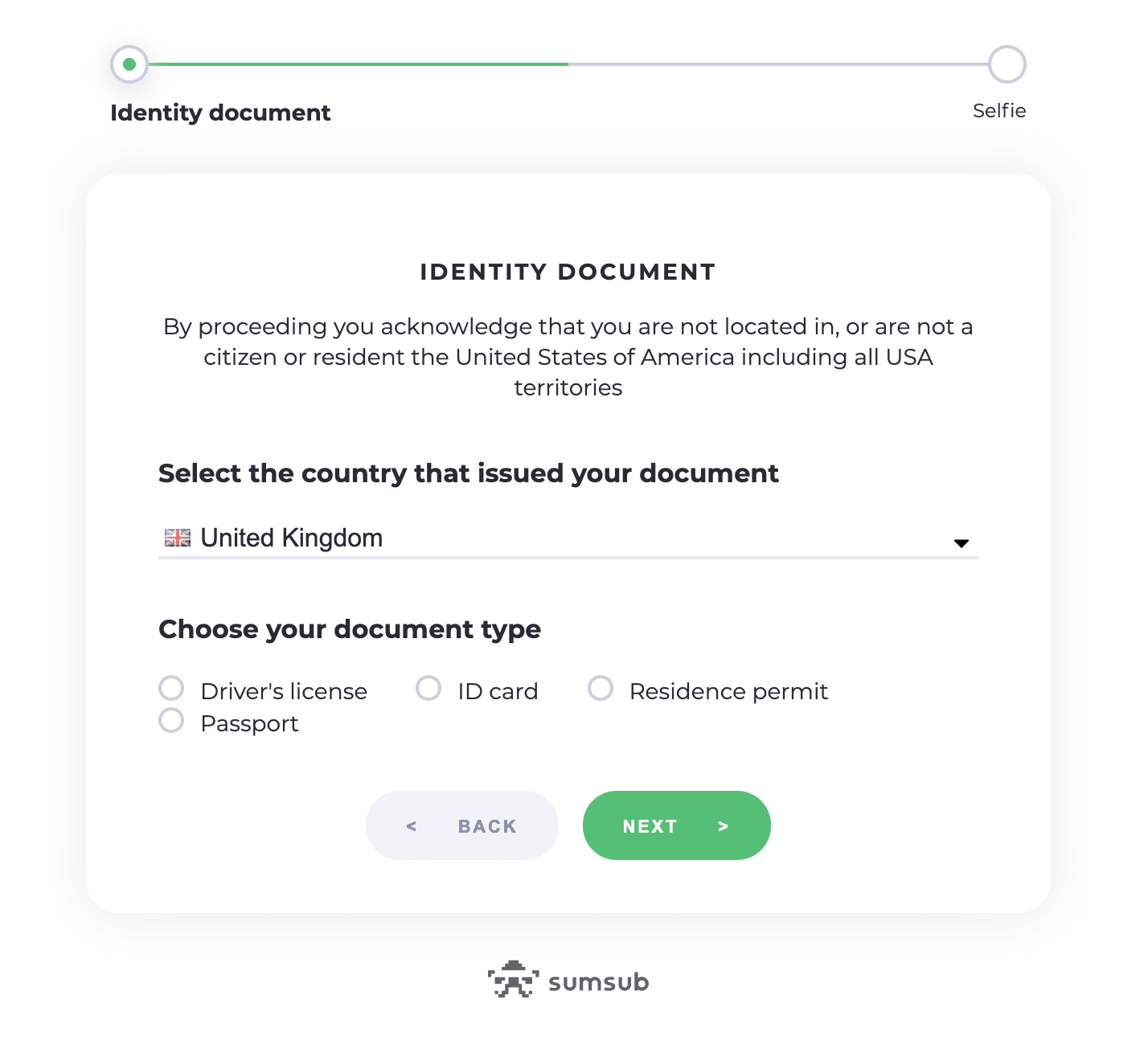 This is because, regardless of whether you sign up or not, by accepting the terms of the site when you buy, sell, or exchange anonymously, you agree to pass the KYC procedure, if it is requested by ChangeNOW at any time. Put otherwise, the provider can ask you to submit the necessary documents.
If requested, the user then has three days to complete the verification. If not, the user will be refunded. You also have the option to complete the identity verification by yourself, simply by signing up as a user on the ChangeNOW Premium Lounge. This service is offered by the provider SamSub.
As you can see from the image above, you can complete the process by submitting identity proof such as your driver's license, or passport, along with a selfie. The requirements might vary depending on your location. You might also be asked to provide additional documents if needed.
ChangeNOW Mobile
Although the website version of ChangeNOW is adapted for mobiles, the platform has also launched applications for both Android and iOS devices. You can access all features of the cryptocurrency exchange this way, but with a more streamlined design.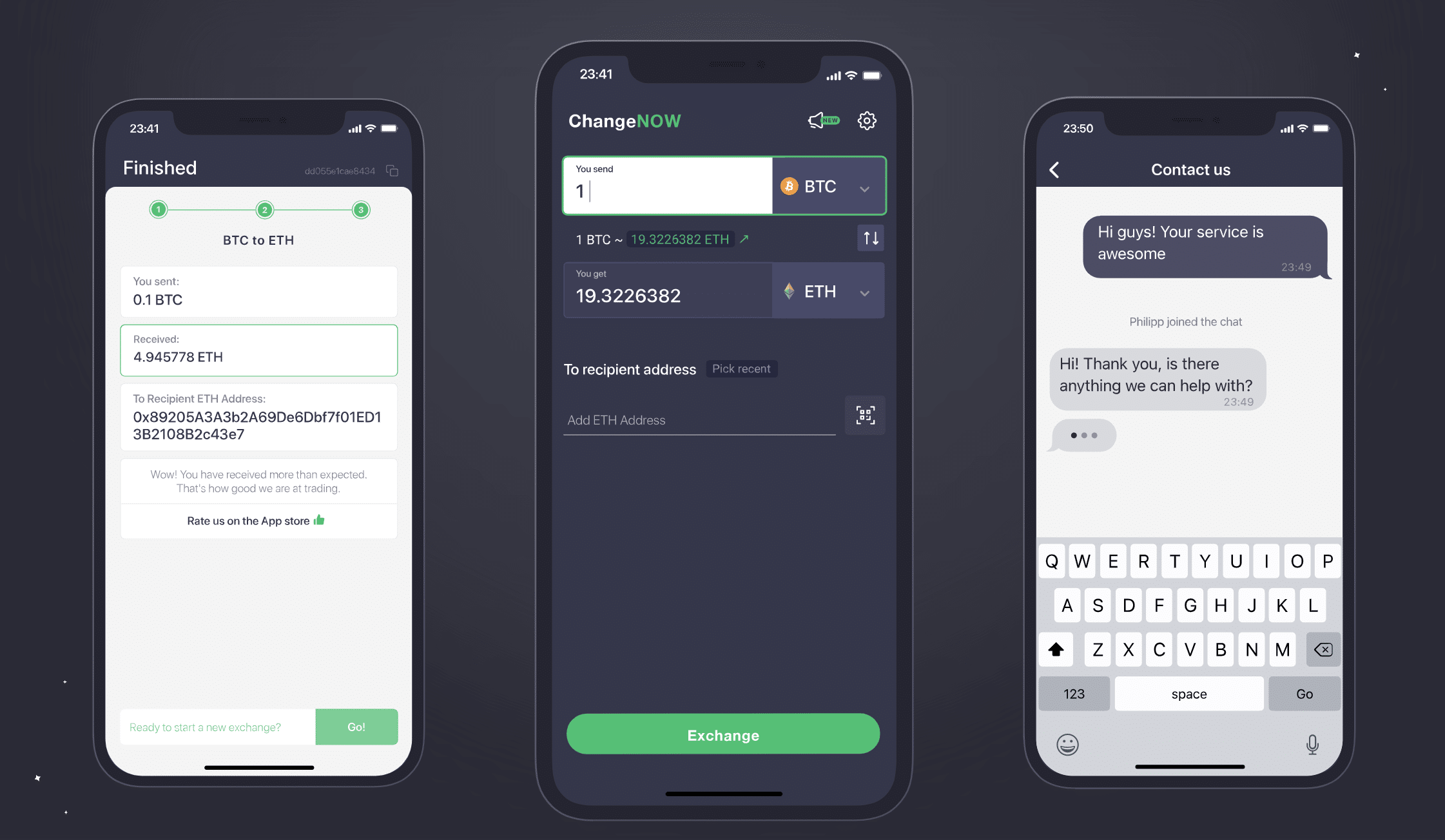 The app is user-friendly and makes it easy for you to swap your coins, or buy cryptocurrencies on the go. However, if you want to use the mobile app, our ChangeNOW review suggests that you first test out the web version so that you are thorough on how the platform works.
Is ChangeNOW Safe?
ChangeNOW does not hold any of your funds or digital assets on the platform itself, making it secure to an extent. In other words, since the provider does not have access to your details, if any security breach occurs, it will be unable to steal your crypto funds.
However, other than this, the ChangeNOW website does not indicate any other integrated security features.
Even 2FA is not available, although the platform has plans to introduce it soon.
As such, we would suggest that you consider safer options in the market, such as a regulated broker like eToro. With licenses from multiple financial authorities, eToro offers you a safe environment to invest in and exchange cryptocurrencies.
You can also use a few different fiat currencies to purchase digital assets and store them within the provider's integrated wallet. As the platform is heavily regulated, you do not have to worry about the protection of your funds.
ChangeNOW Customer Support
The primary way for you to contact the ChangNOW support team is via email. You can send a message directly on the platform. There is also a chat option integrated into the website, however, you might not always be able to get a real-time response.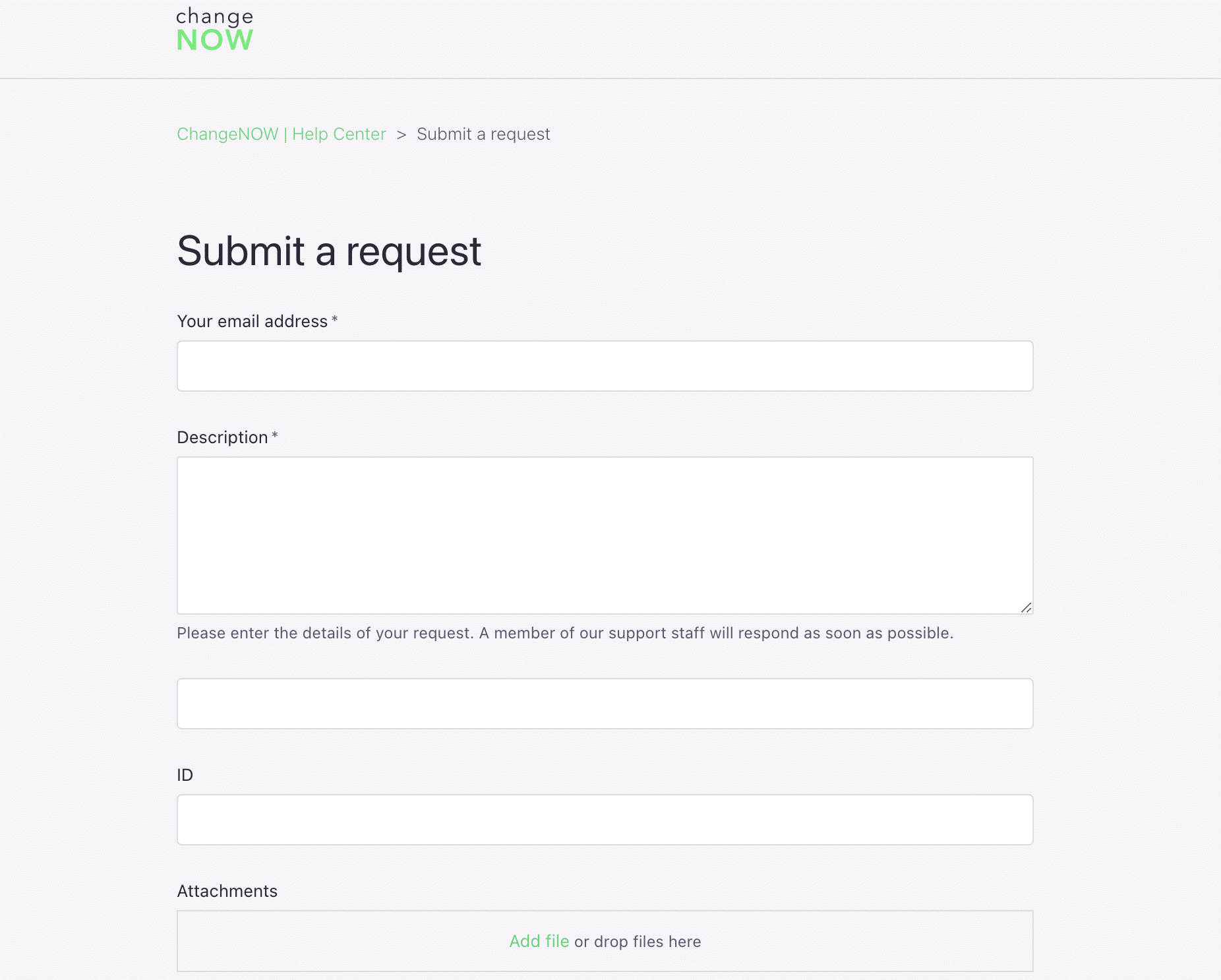 Our ChangeNOW review found that the platform is also very active on social media channels, and has set up several video tutorials to guide you on how to use the different features of the exchange. There is also a help center that provides answers to the most frequently asked questions.
eToro vs ChangeNOW – Comparison
As you should know by now, the cryptocurrency exchange market is highly saturated. Therefore, a platform like ChangeNOW will have to fight for your attention, especially when competing against regulated brokers.
One such example is eToro, a prominent social trading platform that has over 20 million users across the world. If you want to know more about how these two providers differ, this section of our ChangeNOW review presents some comparisons.
Safety and Regulation
As we covered in our ChangeNOW review, if security is a priority for you, this swap exchange should be avoided.
Since it functions as a non-custodial provider, there are no additional security features.
In other words, you are entirely responsible for the safety of your funds and assets.
If you want to find a provider that offers a safer option, look no further than eToro. This broker is regulated in the UK, US, Australia, and Cyprus, and is also approved by FINRA.
Put otherwise, this is one of the safest platforms that can facilitate the purchase and trading of cryptocurrencies. You also have access to the in-built wallet to store your digital assets.
User-Friendliness
ChangeNOW is undeniably user-friendly. After all, you do not even have to go through a KYC process in order to start using this provider. However, it is more suited for beginners. In other words, if you are looking to place advanced cryptocurrency trades, you will find that this platform is not designed with professionals in mind.

If you are an experienced trader who wants to take advantage of technical indicators and other charting tools, then eToro would be the better option. It is not only beginner-friendly but offers an intuitive platform for professionals too. You can also control your positions using a variety of trading orders – including market, limit, stop-limit, and take-profit.
Fees
As we have mentioned in this ChangeNOW review, the platform is not entirely transparent when it comes to fees in terms of exchanging cryptocurrencies. If you are buying or selling digital assets via Simplex, you are likely to be charged more than 5%, a hefty sum when compared to eToro.
This is because eToro allows you to buy and sell cryptocurrencies on a spread-only basis. Moreover, USD transfers are entirely free on this platform. If you are using any other fiat currency, the deposit fee applicable is just 0.5%.
Passive Investment Tools
ChangeNOW does not offer you any passive investment tools. One reason for this is that it functions as a non-custodial platform and does not hold your funds. On the other hand, eToro allows you to invest in a predesigned CopyPortfolio, which includes several cryptocurrencies, rebalanced regularly based on market conditions.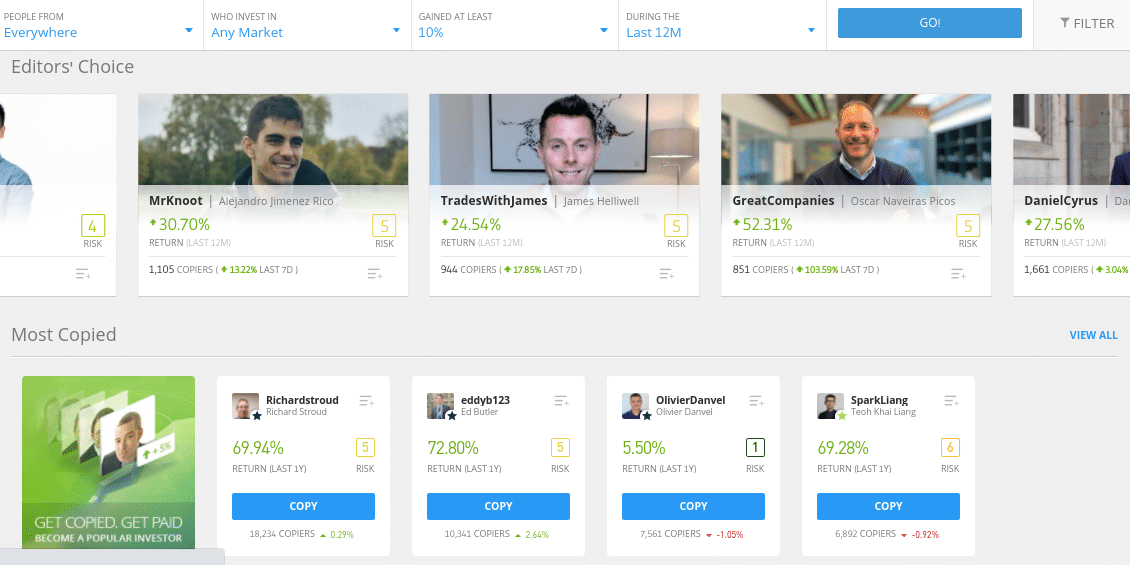 You can also choose to copy the positions of experienced traders. This means that if they open a trade, the same is carried out in your account, proportionate to your investment. And this way, you can benefit from the cryptocurrency markets in a passive manner.
ChangeNOW Review – Conclusion
As a non-custodial exchange, ChangeNOW does not store any of your funds and there is no account registration that is necessary. It allows you to buy, sell, or swap digital assets, without having to transfer anything to the platform directly. While the provider supports a long list of cryptocurrencies, its features and security tools are severely limited.
Given this, we suggest that you consider eToro. This broker serves over 20 million clients across the world and gives you access to not only cryptocurrencies, but other assets such as stocks, forex, ETFs, and commodities. You can also store your digital assets in a GFSC-licensed wallet to easily buy, sell, or exchange tokens from directly within the platform.
eToro – Best Broker to Trade Crypto
FAQ
Is ChangeNOW available in the US?
What fees does ChangeNOW charge?
How do you contact ChangeNOW?
What is the ChangeNOW minimum deposit?