ChangeHero Review – Is ChangeHero Safe? Fees & Minimum Deposit Explained
ChangeHero is a registration-free cryptocurrency platform that allows you to exchange your digital assets with ease. You can also use this service to buy cryptocurrency with a credit or debit card.
If you want to learn more about this platform, our ChangeHero review is a must-read. We offer you an in-depth guide on the different features of this exchange, supported cryptocurrencies, payment options, customer support, and more.
Recommended Broker – eToro
What is ChangeHero?
Founded in 2017, ChangeHero is an instant cryptocurrency exchange that facilitates fast transactions. However, unlike the majority of providers in this market, you do not have to sign up or undergo KYC to use this platform. Instead, it presents you with the best rate available when you place an order.
ChangeHero supports over 70 cryptocurrencies and gives you access to 4,000 trading pairs. You also have the option to buy and sell digital assets using fiat currencies such as US dollars (USD), euros (EUR), and Russian rubles (RUB). To facilitate this, the platform has partnered with Coinify and Mercuryo.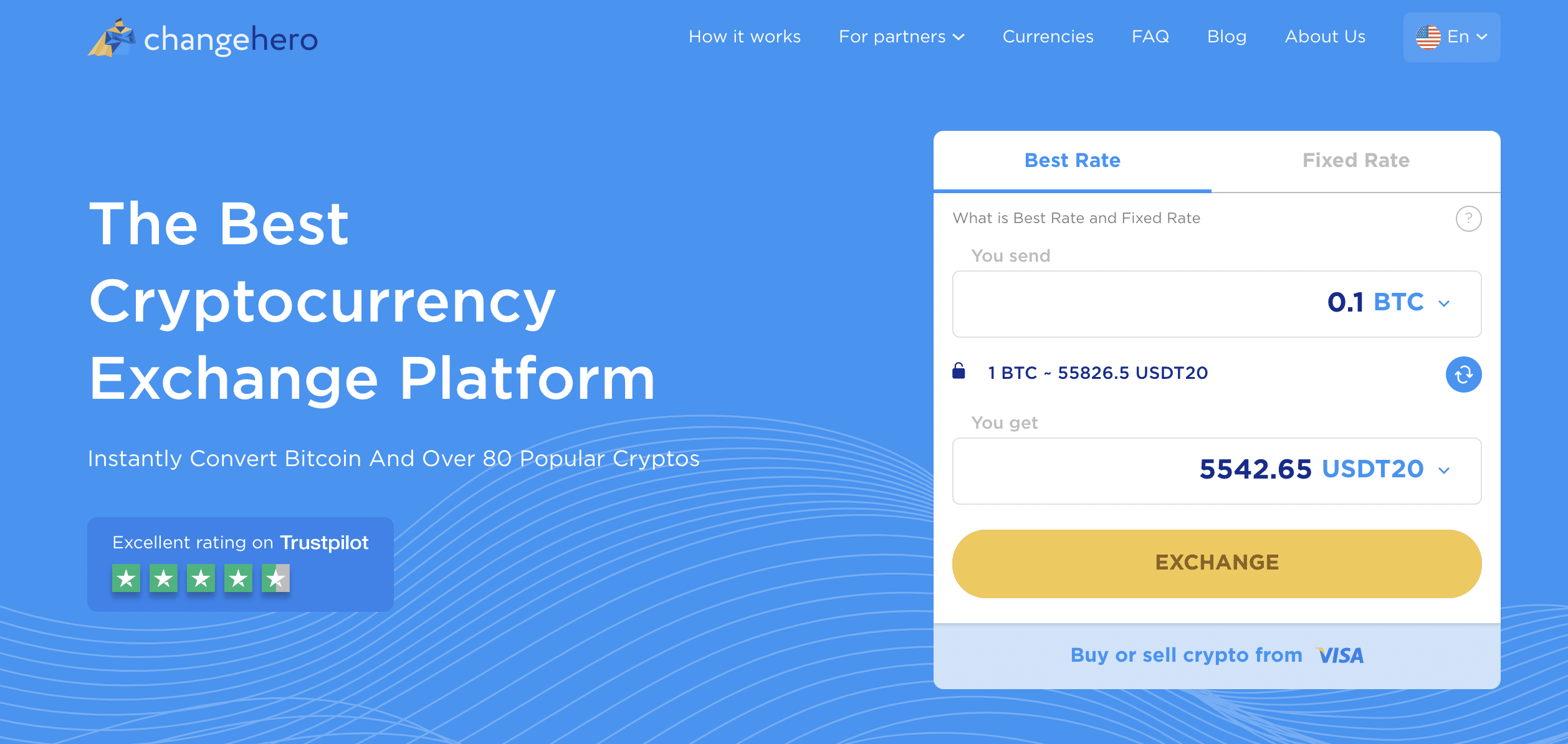 When using ChangeHero to exchange digital assets, there are no restrictions for the minimum or maximum amount required. However, in some cases, you will have to place an order worth a certain amount to cover the respective network fee. On the other hand, when using the platform to buy and sell cryptocurrencies, you need to meet the conditions set by the respective third-party provider.
ChangeHero is available in over 100 jurisdictions across the world, including the US, UK, and most of Europe. The platform is also quite user-friendly, offering you an easy, simplified way to purchase and cash out cryptocurrencies. However, the service is not regulated in any country and thus fails to provide you with any serious user protection.
Our ChangeHero review found that the platform provides its users with the following pros and cons.
Pros
Non-custodial exchange
KYC not mandatory
Support for fiat currency when buying digital assets
Cons
Not regulated
No mobile app
No advanced trading tools
No passive investment tools
No integrated wallet services
Cryptoassets are highly volatile unregulated investment products. No EU investor protection. 67% of retail investor accounts lose money when trading CFDs with this provider.
ChangeHero Products
Although ChangeHero aims to be a full-fledged cryptocurrency platform, the provider currently offers only two services – which we discuss in this section of our review.
Cryptocurrency Exchange
As our ChangeHero review pointed out earlier, this platform is primarily designed to function as a non-custodial exchange. You can swap digital assets by choosing your desired trading pair, entering the correct wallet address, and confirming the order.
However, ChangeHero allows you to choose between two different types of rates:
Best Rate: If you choose a best rate transaction, ChangeHero provides you with the most favorable price in the market. However, due to market volatility, the final amount you receive might be slightly different than the estimate.
Fixed Rate: On the other hand, fixed rate transactions allow you to avoid fluctuations since ChangeHero freezes the price for 15 minutes. In this case, the final amount will be the same.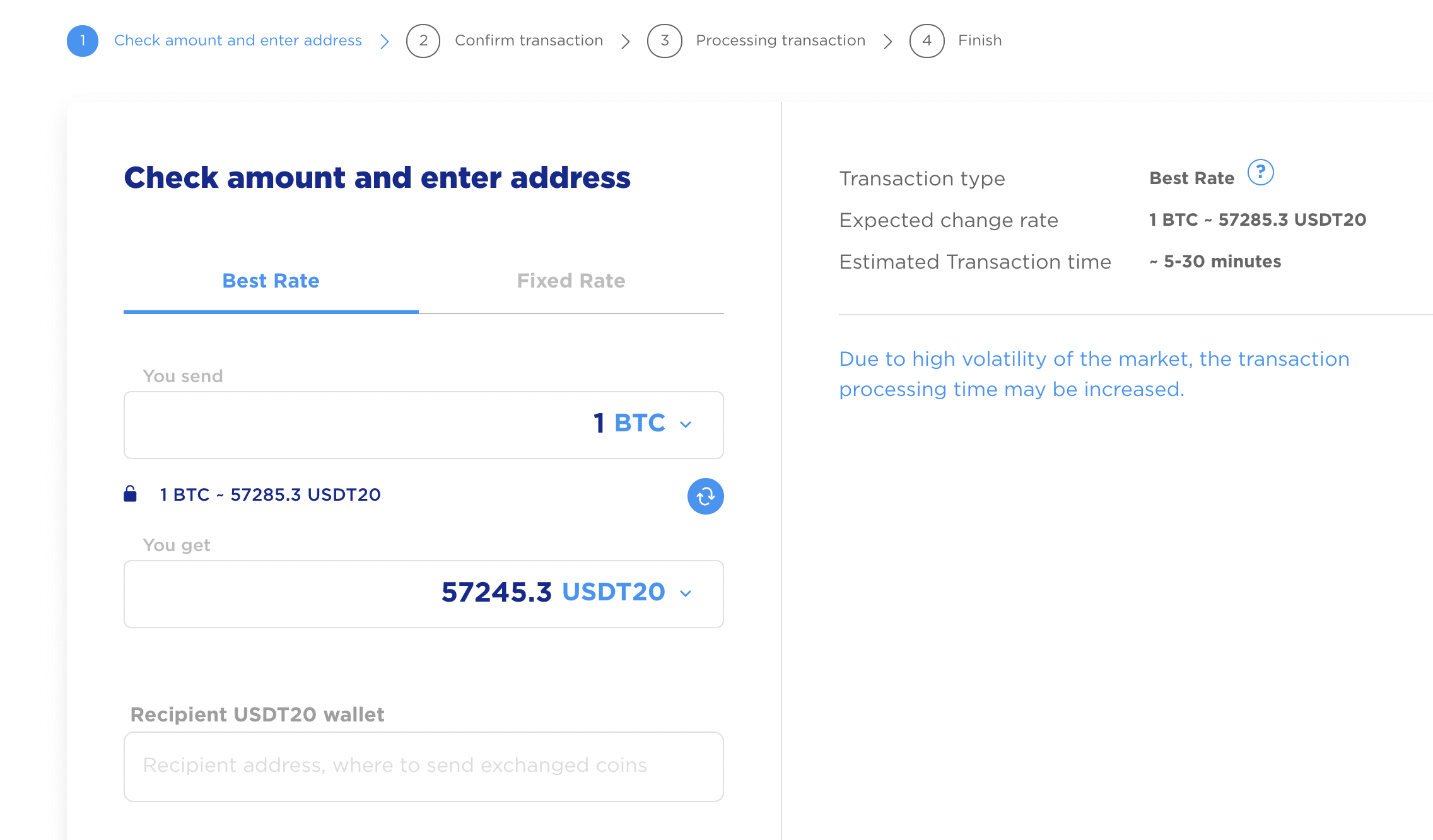 The processing time of the exchange varies depending on the status of the blockchain. However, it often averages between 15 to 17 minutes on ChangeHero, making it one of the slowest platforms in this category. Although the service has not set any maximum amount limitations, you might have to meet a certain amount necessary to cover the relevant network fee.
Instant Buy/Sell
As you can imagine, the easiest way to get your hands on cryptocurrencies is to purchase them using fiat money. And ChangeHero is one of many online providers that facilitate this service. If you have a credit or debit card, you can use this platform to buy or sell any supported digital asset. However, note that ChangeHero does not offer you this service directly.
Instead, the platform works with two third-party providers – Coinify and Mercuryo, to give you access to digital assets via Visa or Mastercard. Currently, this feature is supported for 16 different fiat currencies such as US dollars, euros, Japanese yen, Turkish lira, Pound sterling, Nigerian naira, and others.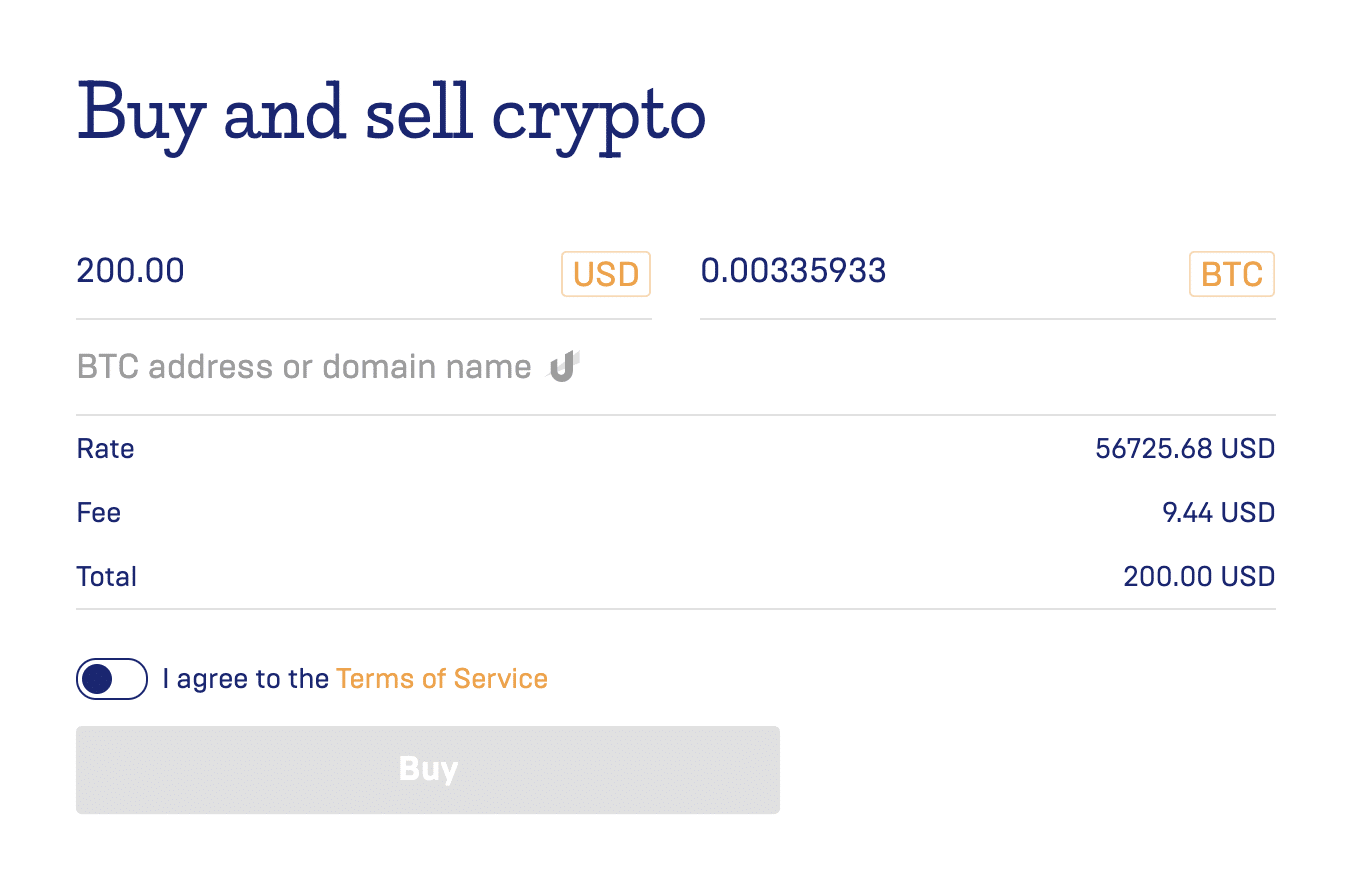 If you want to buy cryptocurrency, all you need to do is select your choice of digital asset and fiat currency. ChangeHero then provides you with an estimate of the number of tokens you will receive, along with the fee for the transaction. You can then enter the recipient wallet address and confirm the order. 
On the other hand, if you are selling cryptocurrencies, ChangeHero gives you the destination address to which you have to send the digital assets. In both cases, fees are included in the estimate you receive. There are both minimum and maximum amount requirements that you have to meet, but this depends on the provider you choose.
ChangeHero Minimum and Maximum Requirements for Buy/Sell
The minimum and maximum amount of cryptocurrency you can buy and sell on this platform are determined by the specific provider.
For Mercuryo:
The minimum buy and sell amount is 0.002 BTC
The maximum buy is around 4,000 EUR or 4,480 USD
The maximum limit per sell transaction is 1,700 EUR or around 1,900 USD
For Coinfy:
The minimum buy amount is 71.20 USD
The maximum is currently set at 1,000 EUR which equals around 1,200 USD
The minimum sell amount is 125 EUR or 140 USD
The maximum limit for sell transaction is 25,000 EUR, or around 28,000 USD
Our ChangeHero review found that it can be challenging to figure out the precise amount you pay in fees before placing an order, as it varies depending on the fiat currency you choose, and the network status at the time.
ChangeHero Fees
It is common for all online crypto exchanges to charge you a variety of fees to cover operational costs and subsequently make a profit. In this section of our ChangeHero review, we discuss what you will be charged as a user when buying, selling, and exchanging digital assets using this service.
As a non-custodial exchange, ChangeHero does not require you to move your assets or funds to the platform. Therefore, you will not come across any deposit or withdrawal fees here. However, you will still need to pay transactional charges.
ChangeHero Commissions
Although ChangeHero presents you with estimates from third-party providers for cryptocurrency exchanges, the platform also charges you commissions.
This comes to:
0.5% for best rate transactions
0.7% for fixed rate exchanges
However, the fees are included in the final rate you receive when placing an order on ChangeHero.
Instant Buy Fees
Our ChangeHero review found that you also have to pay a fee of 0.5% when buying or selling cryptocurrencies on this platform. However, it is not clear whether this is charged by ChangeHero itself or by Coinfy/Mercuryo.
ChangeHero KYC
In line with the majority of swap exchanges in the market, ChangeHero follows a risk-based KYC system. That is, if the platform detects any suspicious activity, or flags your transaction, it can request that you complete identity verification. To complete the step, you have to provide a picture of your government-issued ID, such as a resident card, valid passport, or driving license.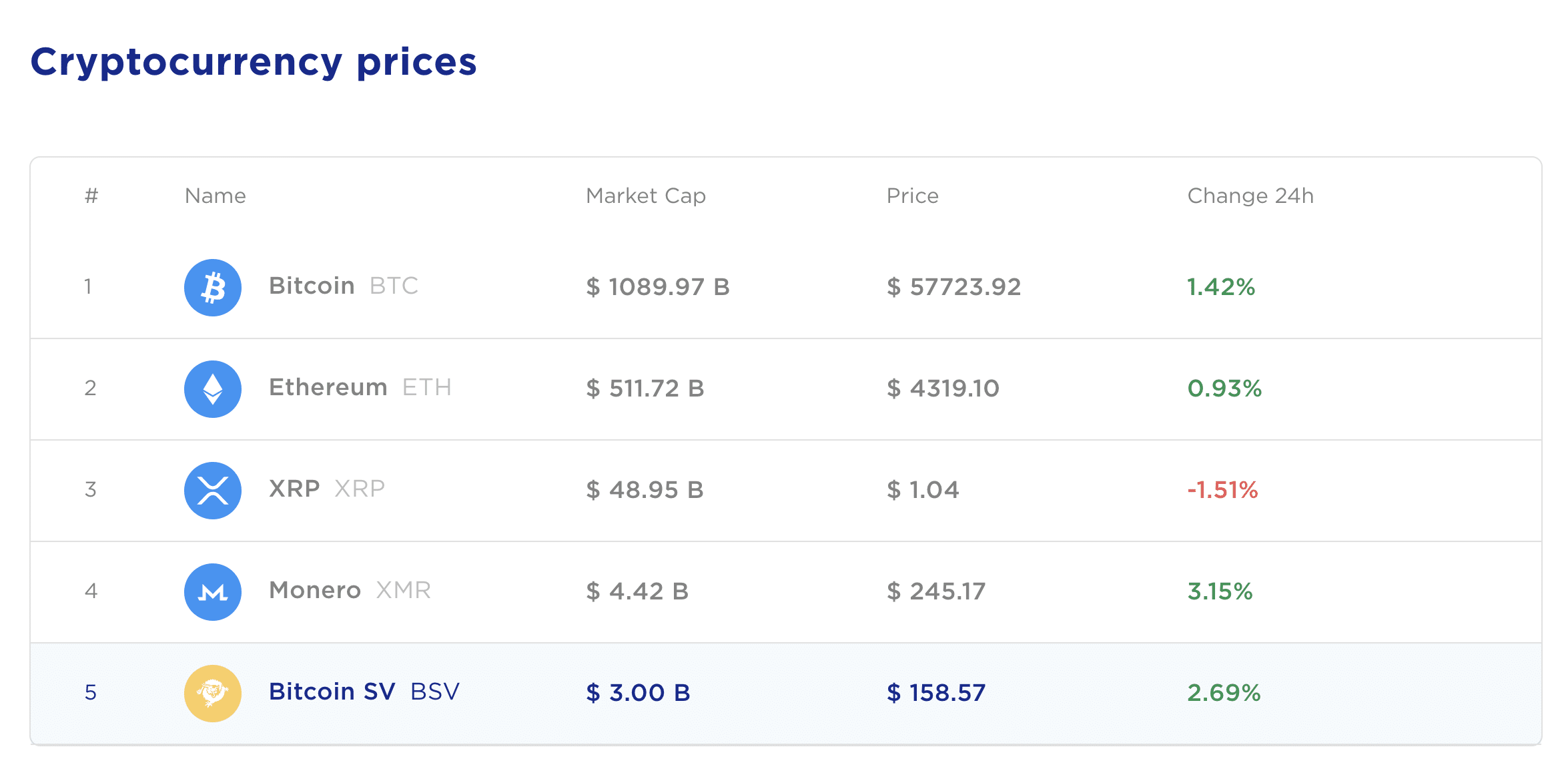 In addition to this, you also have to submit a selfie of you holding the same identity document, and a piece of paper with the details of the transaction in question.
Our ChangeHero review found that it can take up to 24 hours or more to complete the verification process. You can also choose not to complete the KYC process, and receive a refund. However, note that this means that the cost of the network transaction and ChangeHero operational fee of 10% will be deducted.
Is ChangeHero Safe?
The number of cryptocurrency exchanges is on the rise, however, only a few provide you regulatory protection. Unfortunately, ChangeHero does not fall into that category. That is, the platform is not licensed by any financial authorities to offer its services.
On the one hand, ChangeHero functions as a decentralized non-custodial service. As such, it never holds your cryptocurrency or fiat money. The platform sends your assets safely to your wallet straight after the exchange. This means that there is very little chance of your funds being stolen from this provider.

However, on the other hand, this means that you will inevitably have to choose an external wallet. This further requires you to transfer your digital assets every time you want to buy, sell, or exchange them. If this sounds like a cumbersome process for you, it would be best to choose a custodial option like eToro – which offers storage, trading, and exchange services within a single platform.
ChangeHero Customer Support
Our ChangeHero review found that the customer service offered by this platform is quite responsive. In fact, if you are using the live chat option, you can connect with a representative within seconds, and can receive support in real-time. The other alternative is to send a direct message using the email address indicated on the website.

The platform has also set up an FAQ page where you can find answers to the most common questions one might have. That said, these options work best if you are using the exchange service. If you have concerns about buying or selling cryptocurrencies, you will have to contact the respective third-party provider, be it Coinify or Mercury.
eToro vs ChangeHero – Comparison
If you have read our ChangeHero review from start to finish, you know that this swap exchange offers you very limited options. In fact, there are several other providers in the market that packs tons of features and cater to virtually every need of cryptocurrency traders and investors.
One such example is eToro – a fully regulated broker that has over 20 million users. With this in mind, our research team decided to do a comparison between this platform and ChangeHero.
Safety and Regulation
When it comes to safety and regulation, eToro is one of the best crypto brokers that you can find online. The platform possesses licenses from multiple financial authorities, including the SEC, FCA, CySEC, and ASIC. The provider is also approved by FINRA in the US.
As you can see, this is a high level of regulation in the online investment arena. In other words, you can safely purchase, sell, and swap cryptocurrencies using eToro. On the contrary, ChangeHero functions as an unregulated, decentralized platform, offering you not much in terms of security.
Supported Markets
Needless to say, ChangeHero supports only cryptocurrencies. However, if you have an option to choose a broker that gives you access to not only digital assets, but also other markets such as stocks or commodities, wouldn't that be the better alternative?

This way, eToro allows you to diversify your portfolio all in one place. Moreover, you can also store your cryptocurrencies in a GFSC-licensed wallet, and store them securely on the platform itself. This allows you to swap or purchase digital assets without any hassle.
Trading Platform
ChangeHero might be suitable for those who want to invest in cryptocurrencies anonymously.
The interface is easy-to-use and simple enough for even beginners to understand.
However, the platform is not our first pick for advanced traders.
This is because there are no charting tools, indicators, order books, or any other features sought after by professionals.
On the other hand, eToro was designed with both beginners and seasoned traders in mind. With an intuitive interface, the platform provides you with all features necessary to purchase cryptocurrencies, or capitalize on fluctuating market prices using a  strategy like 'day trading.' You can also trade digital assets using leveraged CFDs, without having to take ownership of the underlying coin.
Fees
ChangeHero offers competitive rates in the market. However, they are not the best. In comparison, eToro allows you to buy, sell, or exchange cryptocurrencies on a spread-only basis. Users can also fund their accounts using a debit/credit card without having to pay any fee – if they deposit in US dollars. (0.5% for other currencies).
Passive Investment Tools
If you are looking to invest passively, then ChangHero provides you with no such options. On the other hand, on eToro, you can choose to invest in a CopyPortfolio. This is similar to a cryptocurrency ETF, with assets selected by professionals, and rebalanced regularly to reflect the market.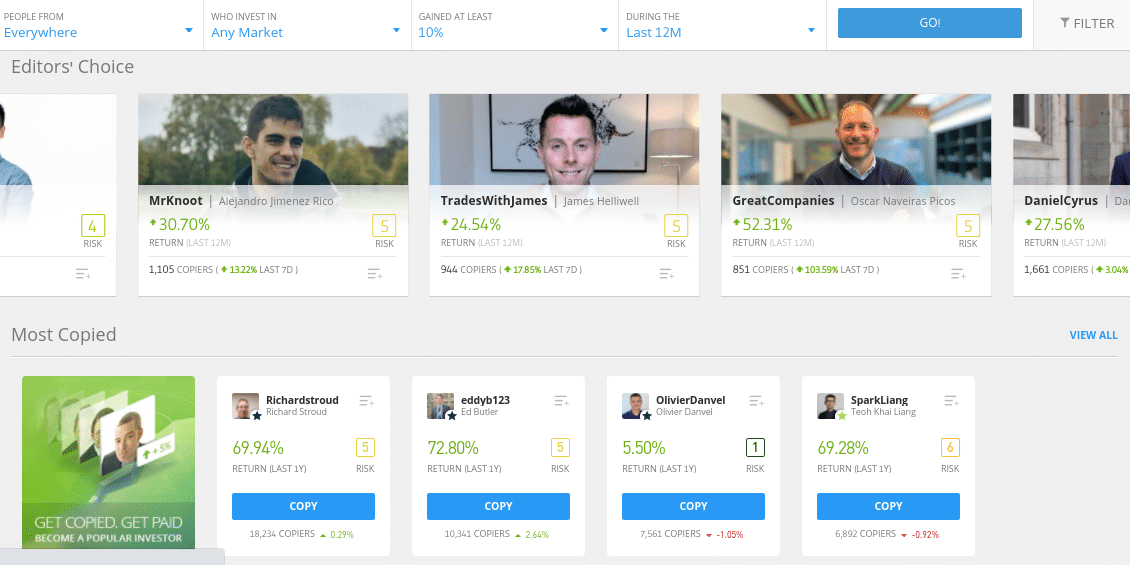 For those who are leaning towards trading, you have the option to mirror the positions of other investors via the Copy Trading tool. That is, any move they make in the market is reflected in your account, but only proportionate to the amount you have invested. Both these tools allow you to benefit from cryptocurrencies passively.
ChangeHero Review – Conclusion
When compared to other non-custodial swap exchanges in the market, ChangeHero falls short in many ways. It lists only 70+ cryptocurrencies and does not offer a wallet, or any passive investment tools.
In fact, the only benefit is that you can access the services of this platform without having to complete KYC. Given these factors, our research team suggests that you consider checking out eToro.
This regulated broker allows you to buy and sell digital assets not only using debit/credit cards but also e-wallets and bank transfers. Moreover, the platform is suitable for not only beginners but also seasoned professionals. Plus, eToro allows you to trade cryptocurrencies on a spread-only basis.
eToro – Best Broker to Trade Crypto
FAQ
Is ChangeHero available in the US?
What fees does ChangeHero charge?
How do you contact ChangeHero?
What is the ChangeHero minimum deposit?