Blockchain.com Review – Is Blockchain.com Safe? Features and Fees Explained
With a decade of experience in the fintech industry, Blockchain.com is one of the oldest cryptocurrency exchanges available in the market.
This Blockchain.com review provides you with everything you need to know about this popular cryptocurrency platform. Within it, we examine the core features of the exchange, payment types accepted, security, supported digital assets, customer service, and more.
Recommended Broker – eToro
What is Blockchain.com?
Blockchain.com is a popular cryptocurrency exchange that started in 2011. Since then, it has gained a lot of trust within the market. Over the course of these years, this service has attracted around 31 million users,  boasts 79 million wallet holders, and has facilitated more than 1 trillion USD worth of transactions. In fact, according to the Blockchain.com website, over one-third of the entire Bitcoin network activities are carried out via this platform.

Aiming to cater to both beginners and experienced cryptocurrency traders, Blockchain.com has developed a few different products. You can use this platform to buy or sell digital assets, engage in trading, and store your tokens in a secure wallet. Moreover, you can also access all these functionalities via the mobile app on the go.
When it comes to fees, Blockchain.com charges commissions based on a maker-taker model. The platform also takes security seriously and claims that 95% of all user funds are stored in offline cold wallets. However, if you take a closer look, you will notice that the provider is not licensed by any respectable financial authority.
Blockchain.com Pros and Cons
Before we dive into our detailed Blockchain.com review, here we have an outline of who this cryptocurrency exchange is a good fit for, and what its drawbacks are:
Pros
Supports multiple fiat currency payment methods
Qualified users can earn interest on cryptocurrencies
Beginner-friendly
Operational since 2011
Cons
Limited trading pairs
Lacks sufficient customer support
Cryptoassets are highly volatile unregulated investment products. No EU investor protection. 67% of retail investor accounts lose money when trading CFDs with this provider.
Blockchain.com Supported Cryptocurrencies
Although the platform has been around for over ten years, our Blockchain.com review did find that it supports only a limited number of cryptocurrencies.
This includes:
Aave (AAVE)
Algorand (ALGO)
Bitcoin Cash (BCH)
Bitcoin (BTC)
Celo Euro (cEUR)
Compound (COMP)
DeSo (DESO)
Dai Stablecoin (DAI)
Dogecoin (DOGE)
DGLD (DGLD)
Polkadot (DOT)
Efinity Token (EFI)
Enjin (ENJ)
Ethereum (ETH)
Chainlink (LINK)
Litecoin (LTC)
Matic (MATIC)
Origin Protocol (OGN)
Pax Dollar (USDP)
USD Coin (USDC)
Stacks (STX)
SushiSwap (SUSHI)
Tether (USDT)
Uniswap (UNI)
Wrapped Bitcoin (WBTC)
Wrapped-DGLD (WDGLD)
Stellar Lumen (XLM)
yearn.finance (YFI)
In addition to the above, Blockchain.com also offers support for three fiat currencies – US dollars (USD), euros (EUR), and British pounds (GBP). Furthermore, it is important to note that all services of this platform are not available for all the listed digital assets, nor in all supported countries.
For instance, some coins such as Uniswap and Efinity Token cannot be stored in the Blockchain.com wallet. As such, you will want to clearly understand which features are accessible based on your location before signing up.
Blockchain.com Products
Unlike many other providers in this space, Blockchain.com does not overwhelm you with tons of features. Instead, it offers you a few carefully-designed options that appeal to a broader market of cryptocurrency investors.
Blockchain.com Exchange
If you are looking to trade cryptocurrencies as opposed to investing in them, then our Blockchain.com review found that this platform integrates an intuitive exchange for that. It currently supports 80 pairs, which includes several crypto-to-crypto, and crypto-to-fiat markets. You also have the option to engage in margin trading, and access leverage of up to 5x, using Bitcoin, Ethereum, or US dollars as collateral.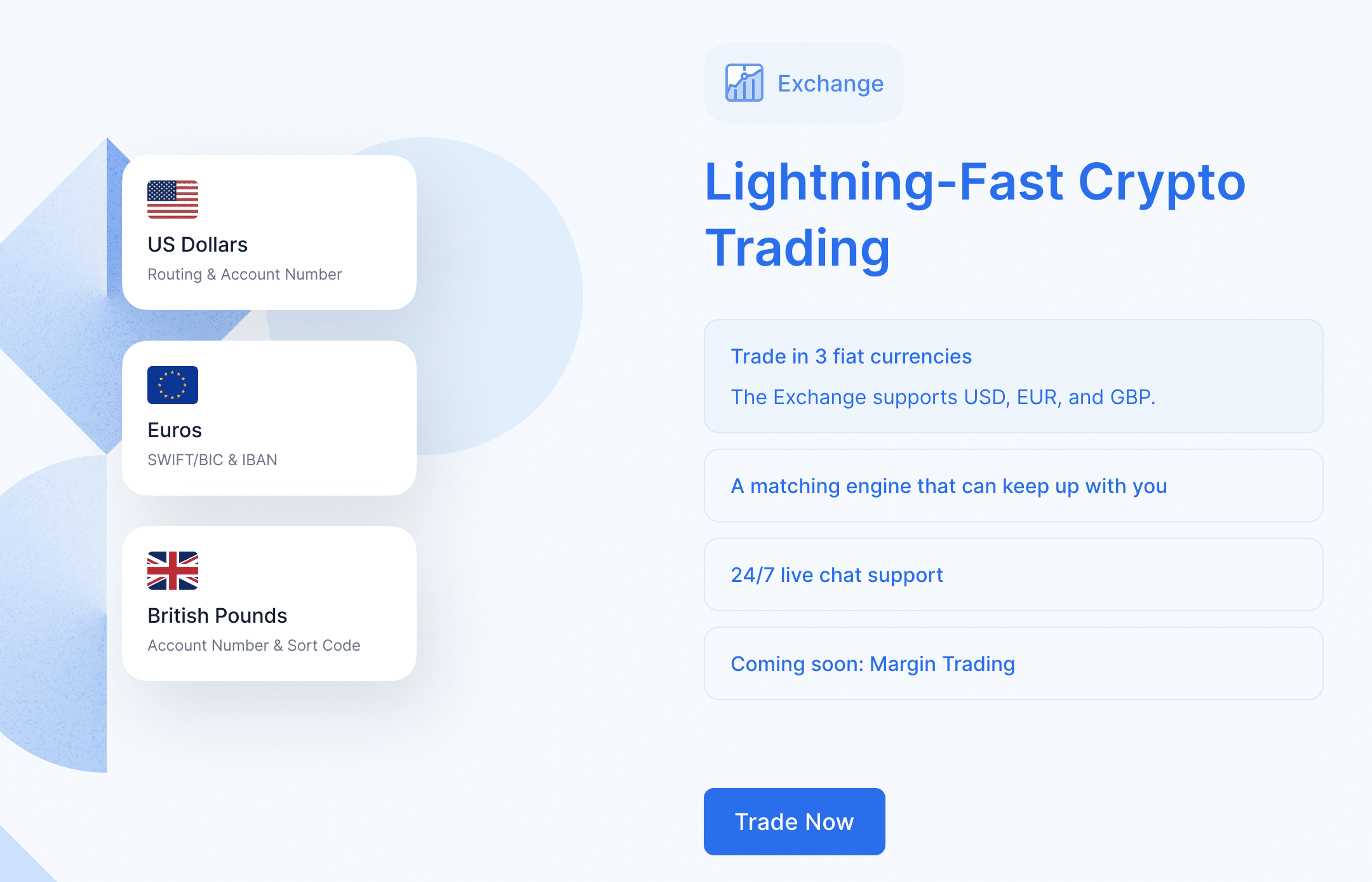 Before proceeding further, we should make it clear that you need separate accounts to access the Blockchain.com exchange and wallet. This is because these function as two different entities altogether. However, you can use the same email address and link these two to facilitate the seamless transfer of assets.
Blockchain.com Wallet
Blockchain.com offers a non-custodial wallet for you to store your cryptocurrencies. The product comes in the version of a web platform, as well as a mobile app. Not only can you use this to keep your digital assets safe, but you can also buy, sell, and swap coins directly  – without having to leave the interface.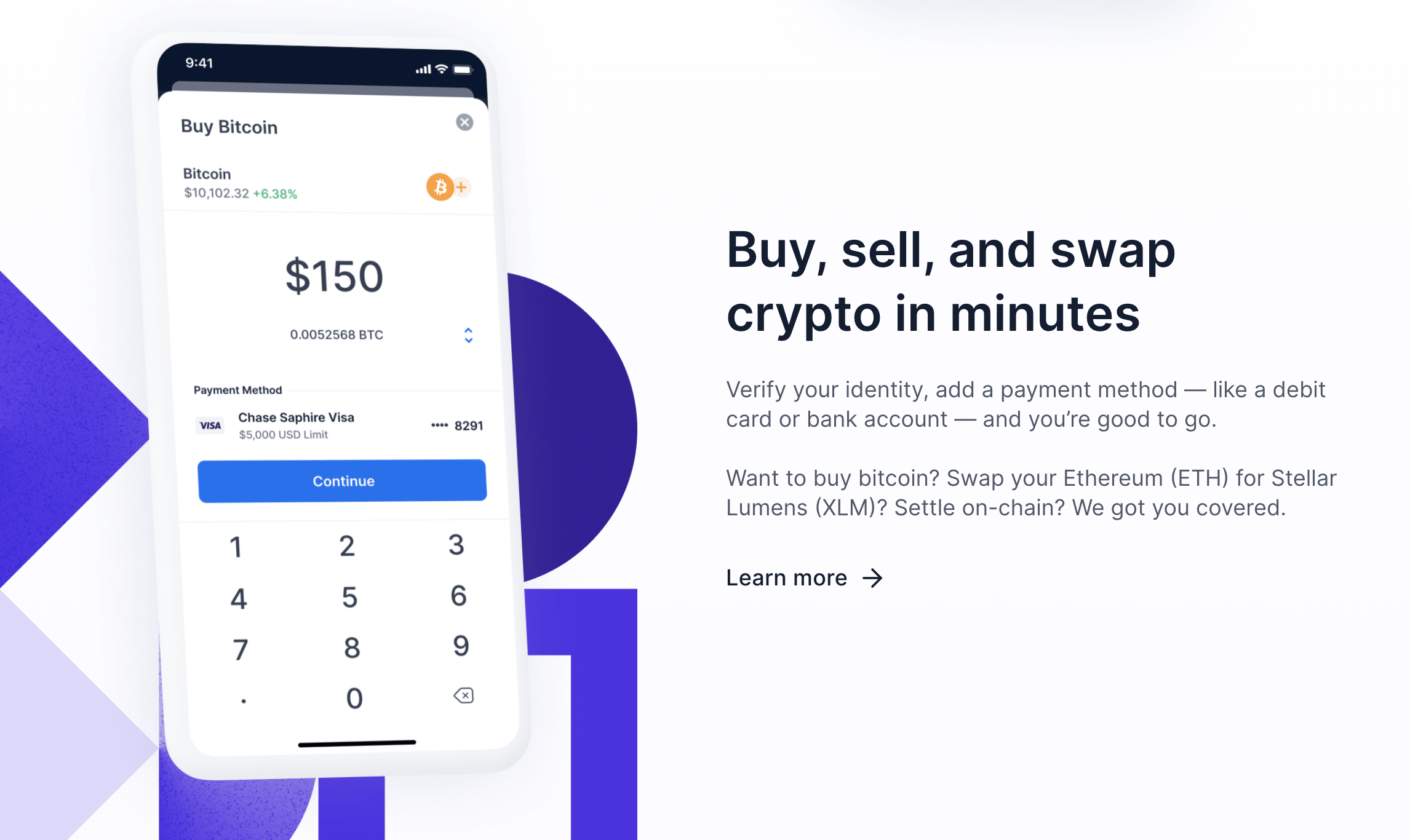 Our Blockchain.com review team found that this wallet comes with an identifier that is composed of 32 alphanumeric characters and 4 dashes. When you create a wallet, the platform sends you an email containing this ID, which functions as your username.
The Blockchain.com wallet comes with the following features:
Buy, sell, and swap cryptocurrencies from within the wallet
Add fiat currency payment methods
Earn up to 13.5% in rewards by staking cryptocurrencies such as Bitcoin, Ethereum, Bitcoin Cash, Stellar, Tether, and Paxos
Get rewarded by Airdrop with gold level verification
Set up recurring purchases of cryptocurrencies on a daily, weekly, biweekly, or monthly basis
Support for multiple languages
As you can see, the Blockchain.com wallet functions as an entity on its own and can offer you all tools necessary. And like we mentioned earlier, you can further link this to your exchange account to extend the utility of the platform.
Types of Blockchain.com Wallets
There are two types of wallets accessible on Blockchain.com:
Trading Account: This functions as a custodial wallet, meaning, Blockchain.com stores your digital assets for you. This facilitates faster transactions and thus reduces network fees. However, the private key is fully under your control.  You can also fund your trading account with a cash balance, and use it to buy cryptocurrencies.
Private Key Account: This option, on the other hand, is a non-custodial wallet, which you can use to send and receive cryptocurrencies. However, you cannot make purchases or cash out your digital coins.
Your trading wallet is what funds your Blockchain.com exchange balance. You can also choose to have your coins stored in both these Blockchain.com wallets and move your digital assets in between as needed. It is also possible to send your cryptocurrencies to a reward account to start staking them and earn interest.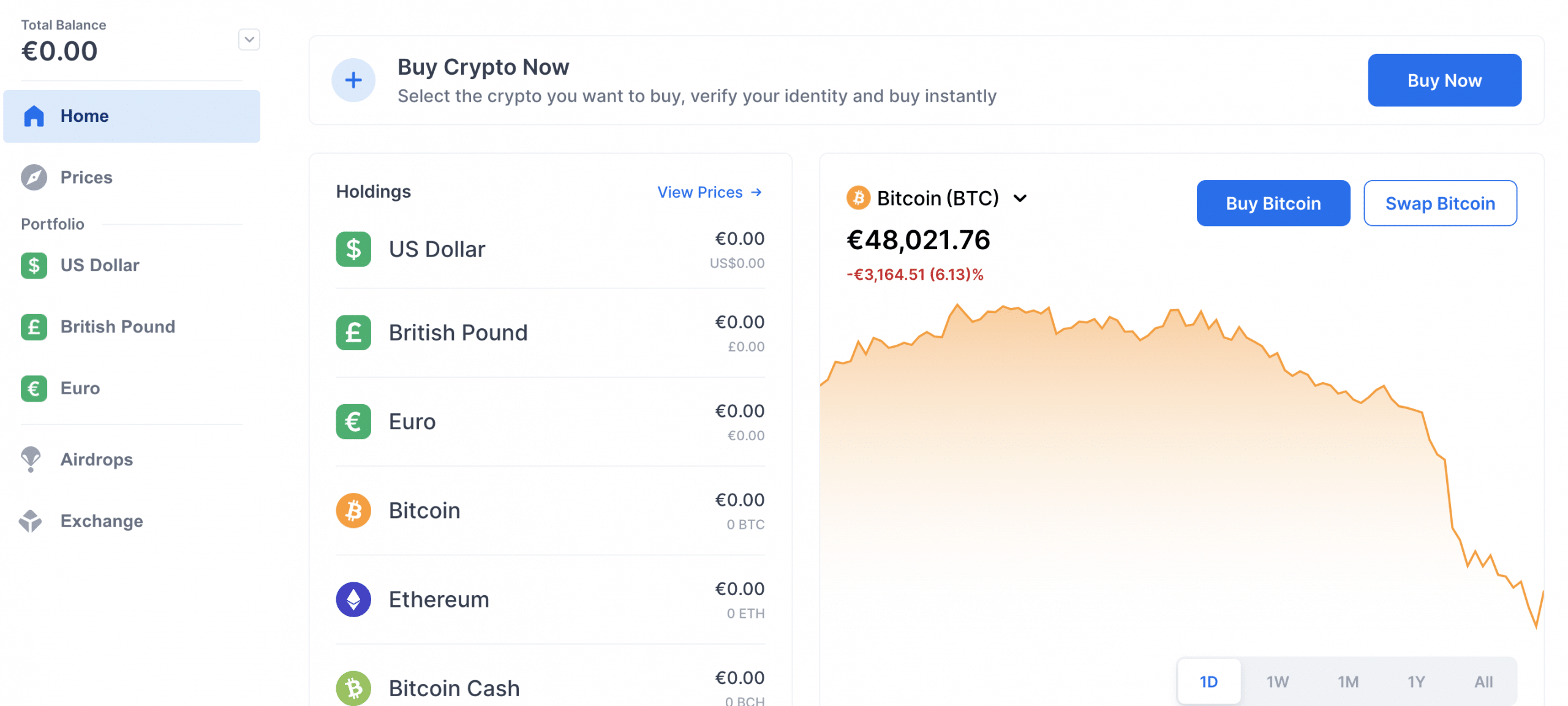 While the trading account makes it easier to buy and sell cryptocurrencies, the private key storage option allows you to retain full control of your coins. This gives you a kind of flexibility that is rarely found with other providers in the market.
Rewards Account
Rewards account is a feature offered to Blockchain.com wallet users that allows you to earn interest on cryptocurrencies stored in the facility. However, in order to be eligible, you should fulfill the following requirements:
Have completed gold level verification
Make the minimum required transfer
Must reside in an eligible country. For instance, if you are located in the UK, you cannot earn rewards on USDT, USDC, Paxos Standard, and DAI
The rewards are calculated every day, compounded, and paid out on the 1st of every month. The minimum deposit required and the interest provided for different assets are as follows:
Bitcoin – 300 USD, 3.5%
Ethereum – 100 USD, 4%
Paxos, PAX – 100 USD, 13.5%
Tether – 100 USD, 13.5%
Bitcoin Cash – 1 USD, 4%
Stellar Lumens – 1 USD, 4%
As you can see, this option is supported for only a handful of digital assets. However, this feature allows you to earn money on your cryptocurrency investments passively, without having to pay any fees.
Blockchain.com Explorer
Blockchain.com also operates an explorer that allows you to see detailed information and market data of several cryptocurrencies, and not only those supported on the exchange.
You can access historical prices, the most recently mined blocks, the size of unconfirmed transactions, and more. There are also a wide variety of charts that pertain to currency statistics, mining, and more.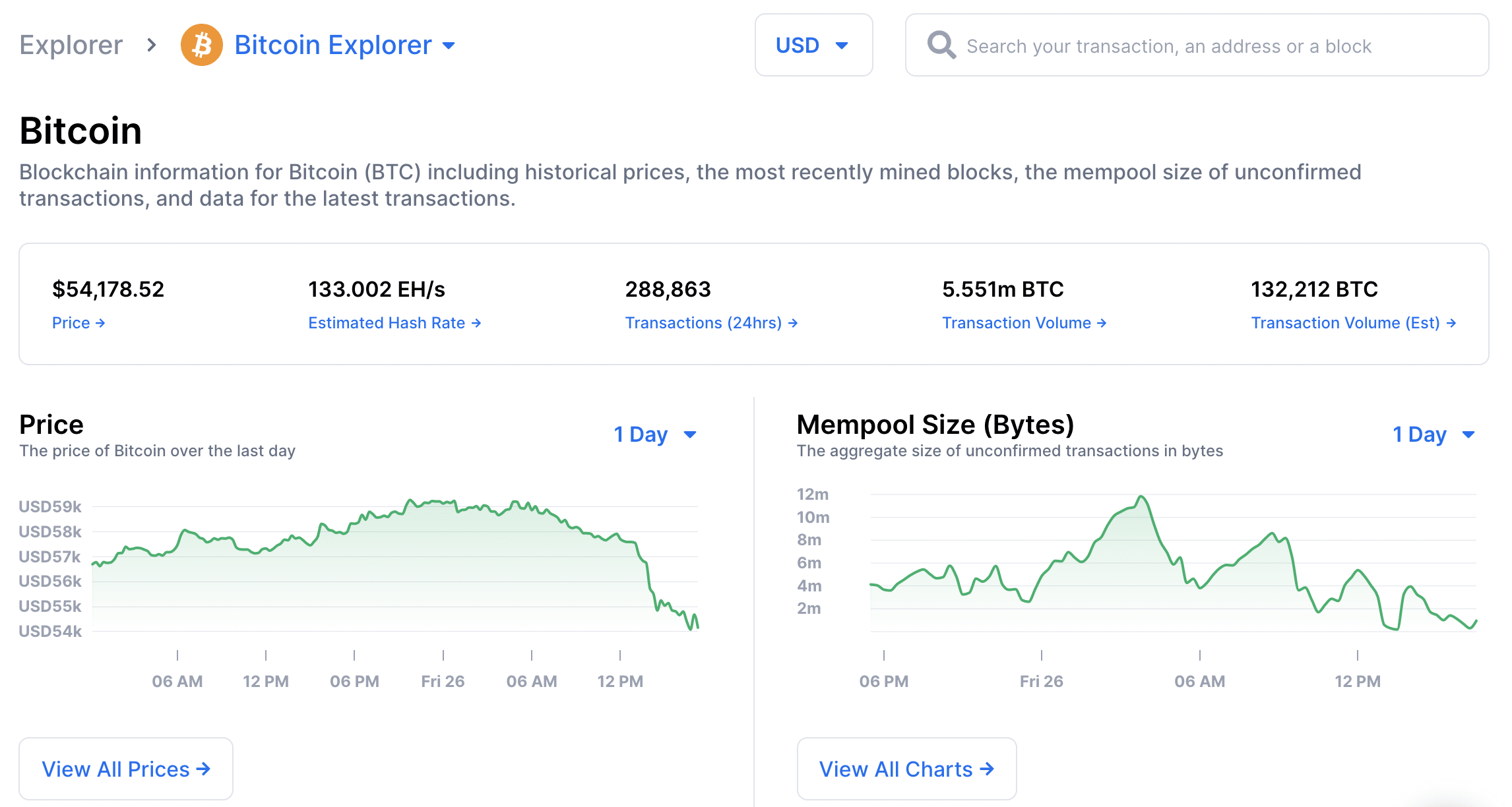 In addition to this, there is also an academy equipped to help beginners learn more about the cryptocurrency arena. If you are a trader, such an extensive amount of data can be tremendously helpful when performing analysis of transaction activity, data, and analytics. Moreover, this service is free to use, and in fact can be accessed by everyone, not only users of Blockchain.com.
Blockchain.com KYC
Blockchain.com has a strict policy when it comes to following the Know Your Customer process, to prevent fraud and add to the security of your accounts.
Based on your preferences, you can choose between two levels of identity verification:
Silver Level: If you want to exchange amounts worth less than 1,000 USD per year, then only this verification level is necessary. This only requires you to provide your email address and country of residence.
Gold Level: For those who wish to exchange more, up to 25,000 USD a day, then you need to complete the gold verification level. Moreover, this is necessary if you want to buy or sell digital assets using fiat currencies on the platform. In this case, you have to provide identity documents as well as complete a facial check.
Note that the documents required for verification might differ based on your location. For instance, national ID cards are accepted in some countries, whereas in others, you might need to submit a valid passport.
Blockchain.com Trading Platform
Our Blockchain.com review found that there are two types of trading interfaces available for users on this platform – Trade and Simple Trade.
Blockchain.com Trade
This version comes fully integrated with all features necessary for trading, and as such is best suited for professionals. You can switch between line and candlestick charts, and access several technical indicators. The order books also give you a plethora of information, such as the recent positions, and the amount.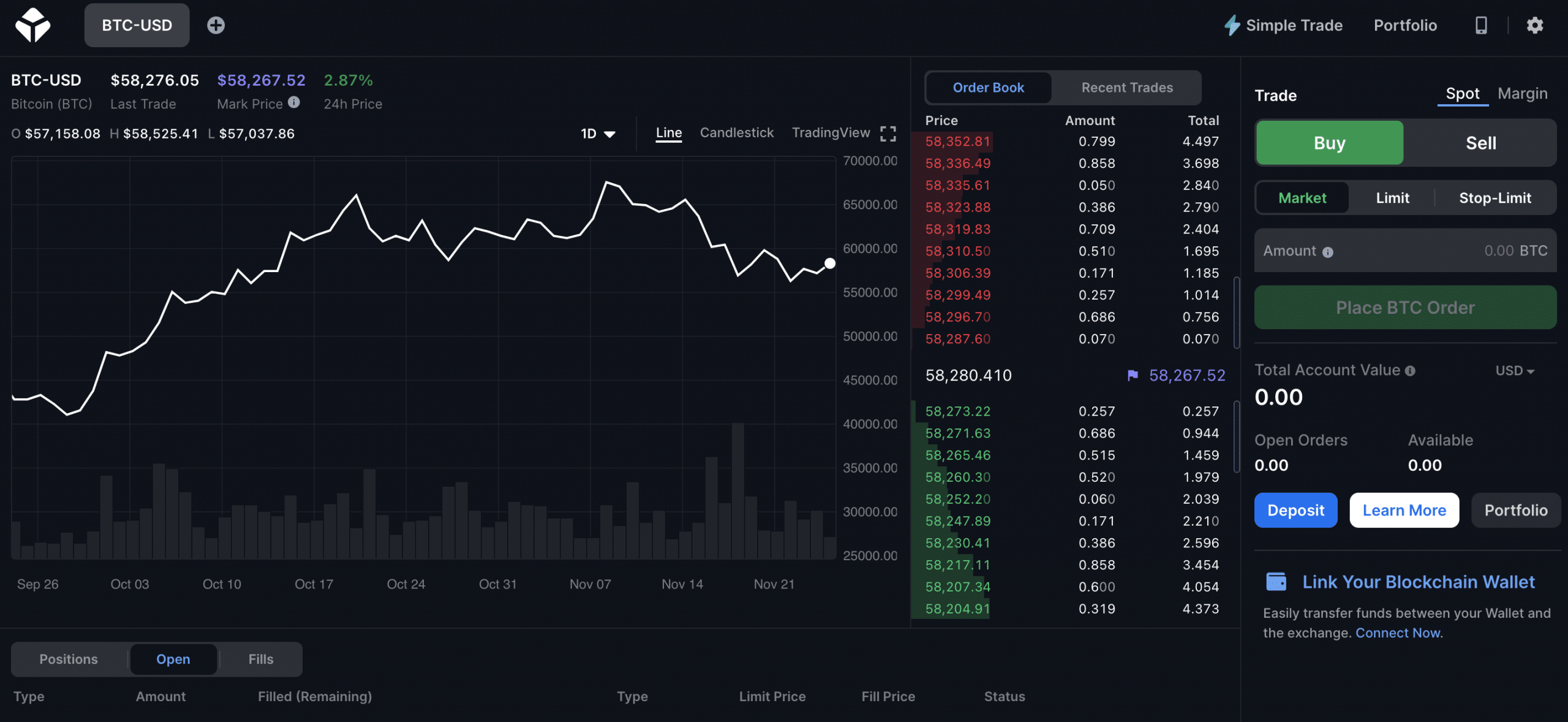 The Blockchain.com exchange also features integrated charts from TradingView, along with the option to customize the interface with hundreds of technical studies. You can also link your trading account with the platform's non-custodial wallet to facilitate easy transfers.
In addition to all this, you can also choose between market, limit, and stop-limit orders when opening your positions. Put otherwise, there is a wide range of toolsets at your disposal to pick from, based on your trading strategy. That said, if you find these features intimidating, Blockchain.com has another solution for you.
Simple Trade
If you want to use Blockchain.com to merely buy cryptocurrencies, then you do not need to use a complicated interface. If this is the case, the Simple Trade feature is designed for newbies. Here, all you need to do is choose the digital asset you want to purchase and select the amount.
However, the downside is that only a limited number of cryptocurrencies are available to buy and sell this way – including BTC, BCH, ETH, LEND, ENJ, OGN, and YFI. You can use USD, EUR, and GBP as fiat currencies to make the purchase.
Blockchain.com Demo Account
Although Blockchain.com does not offer a demo account to trade using paper money, it allows you to check out the trading interface without having to sign up. This gives you an opportunity to see what tools are available at your disposal. However, if you want to test your strategies, then you have to deposit funds and risk your own capital.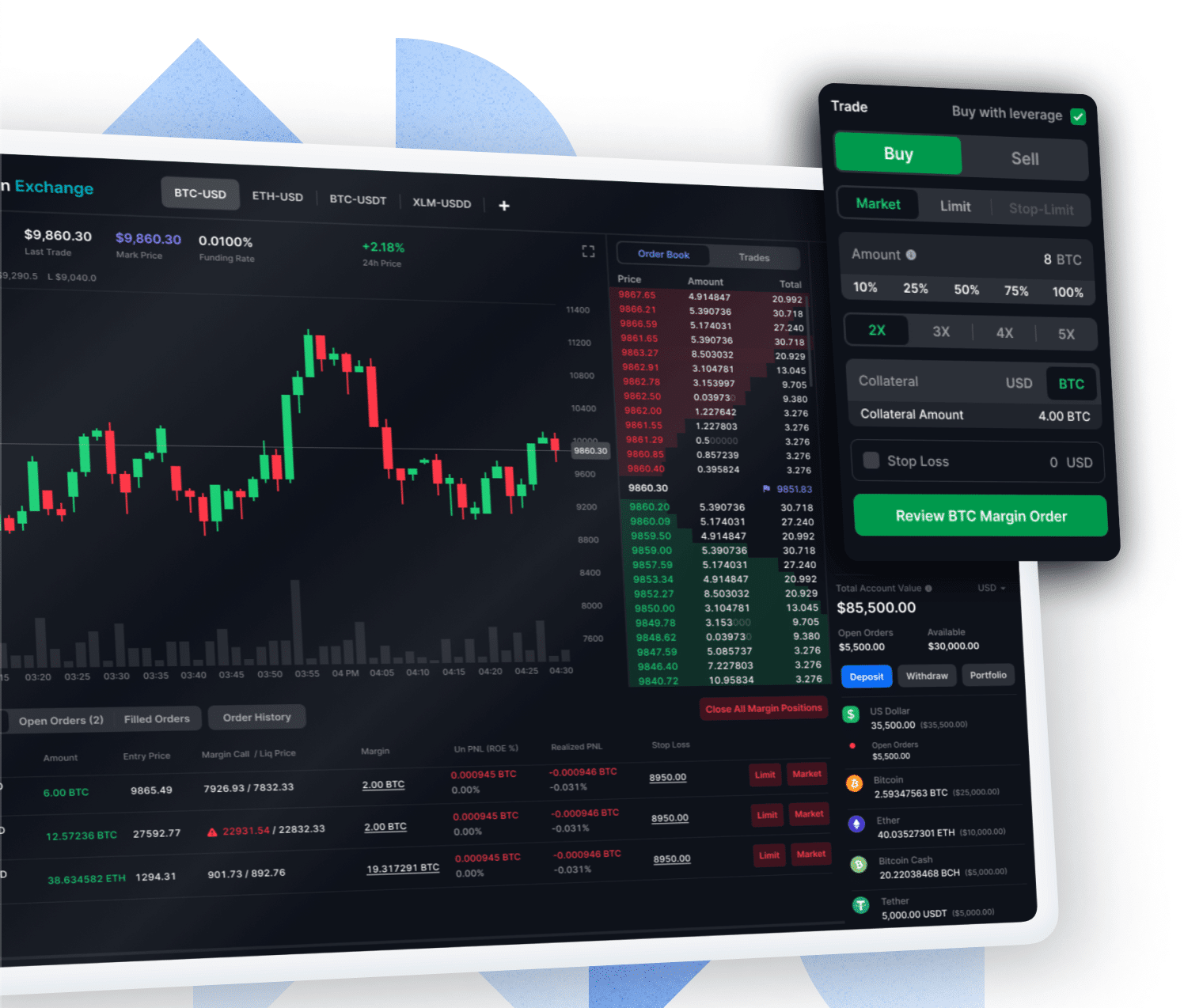 For those who want to have access to a funded demo account, eToro offers you one of the best options in the market. This broker offers all of its registered users' access to a virtual portfolio, and trading account, which comes with 100,000 USD of demo money. You can use this to learn about the market as a beginner or try out new strategies as an advanced trader.
Blockchain.com Fees
When considering a cryptocurrency exchange, the fees charged should always be considered carefully. After all, no two platforms offer you the same services for the same cost.
In this section of our Blockchain.com review, we will consider what you will have to pay when using the provider.
Deposit and Withdrawal Fees
Our Blockchain.com review found that the platform does not require any deposit fees for funding your account with fiat money, no matter the payment method, or the type of currency involved.
However, when withdrawing funds out of the exchange, this involves charges: 
0.50 EUR, 0.50 GBP, and 2,500 USD based on the fiat currency
Minimum withdrawal amount of 5 EUR, 5 GBP, and 25 USD required
On the other hand, for cryptocurrency deposits and withdrawals, you have to pay a network fee that depends on the status of the respective blockchain.
Wallet Fees
Blockchain.com charges fees in three areas when you are using its wallet service.
These are calculated as follows:
Quote price: This fee is applicable whenever you are performing transactions, and is charged as the spread – which fluctuates based on the market conditions. The quoted price is always displayed to you when you place an order.
Network fees: Any network fee that incurs when you sell or swap cryptocurrencies are also charged directly from your wallet.
Card fees: If you are using credit/debit cards to buy or sell cryptocurrencies, a 2% processing fee is applied to your order.
When making a deposit from your Blockchain.com wallet to the Blockchain.com exchange, you can customize the fees from low to priority, in order to expedite the transaction speed.
Commissions
On Blockchain.com, commissions are calculated based on a maker-taker model.
If you place an order that provides liquidity to the platform, you become a market maker.
If you take liquidity away from the exchange, you become a market taker.
The platform follows a 12-tier structure, calculating the fees based on your 30-day trading volume. Blockchain.com rewards makers with reduced commissions, starting from 0.01%. Whereas, if you are a taker, you can expect to pay at least 0.08%. The highest commission you will come across when exchanging cryptocurrencies is 0.40%.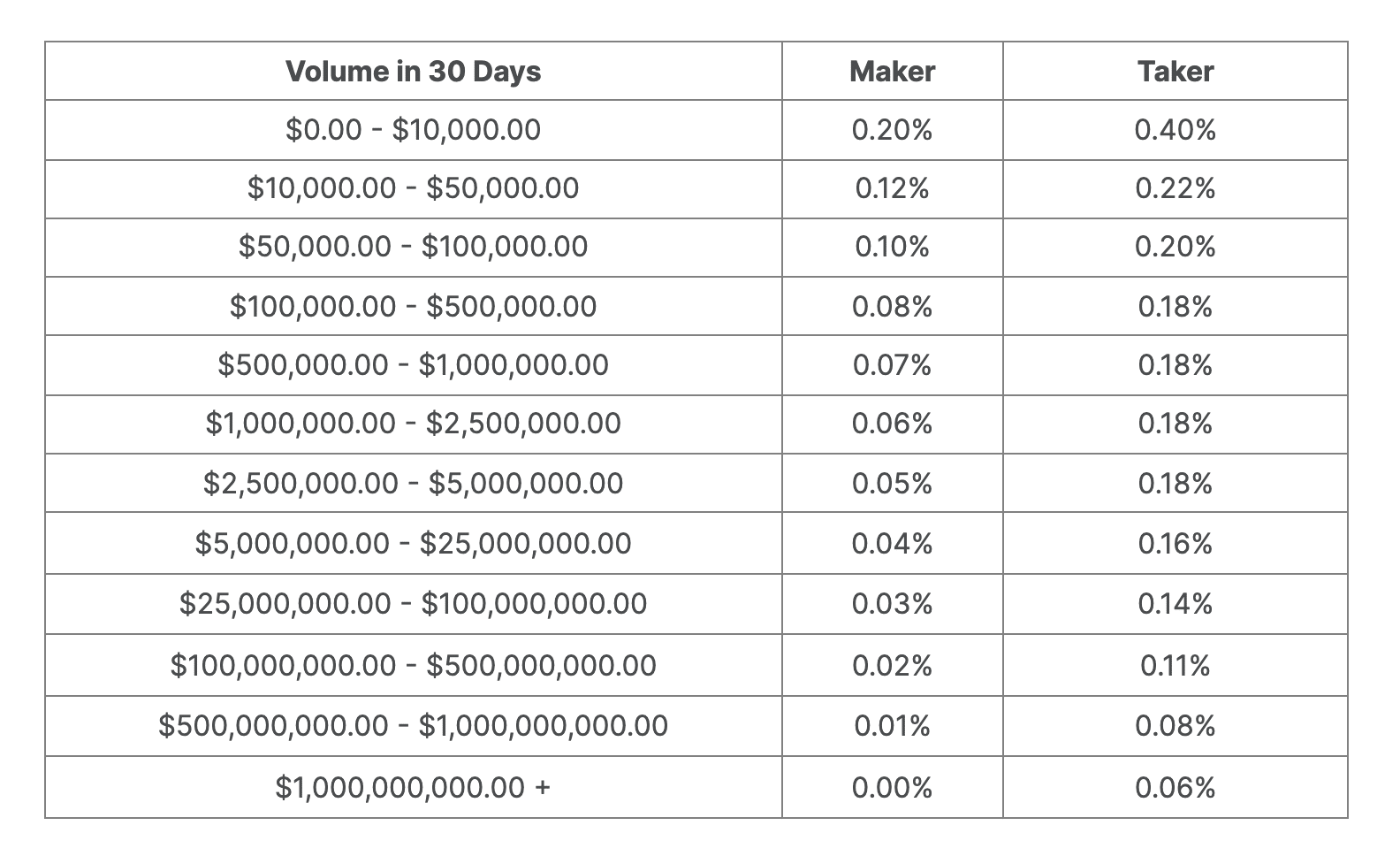 As you can imagine, the more you trade, the less the commission. In addition to this, you also have to pay a margin trading fee of 0.02% when accessing leverage on Blockchain.com. This also includes an interest rate of 0.02% charged every four hours.
Blockchain.com Supported Countries
Blockchain.com is currently available to residents in over 100 countries, including many nations in Europe, the UK, Australia, and more. However, note that the platform does not offer its services in all states of the US. Moreover, some payment methods are not accessible in all jurisdictions.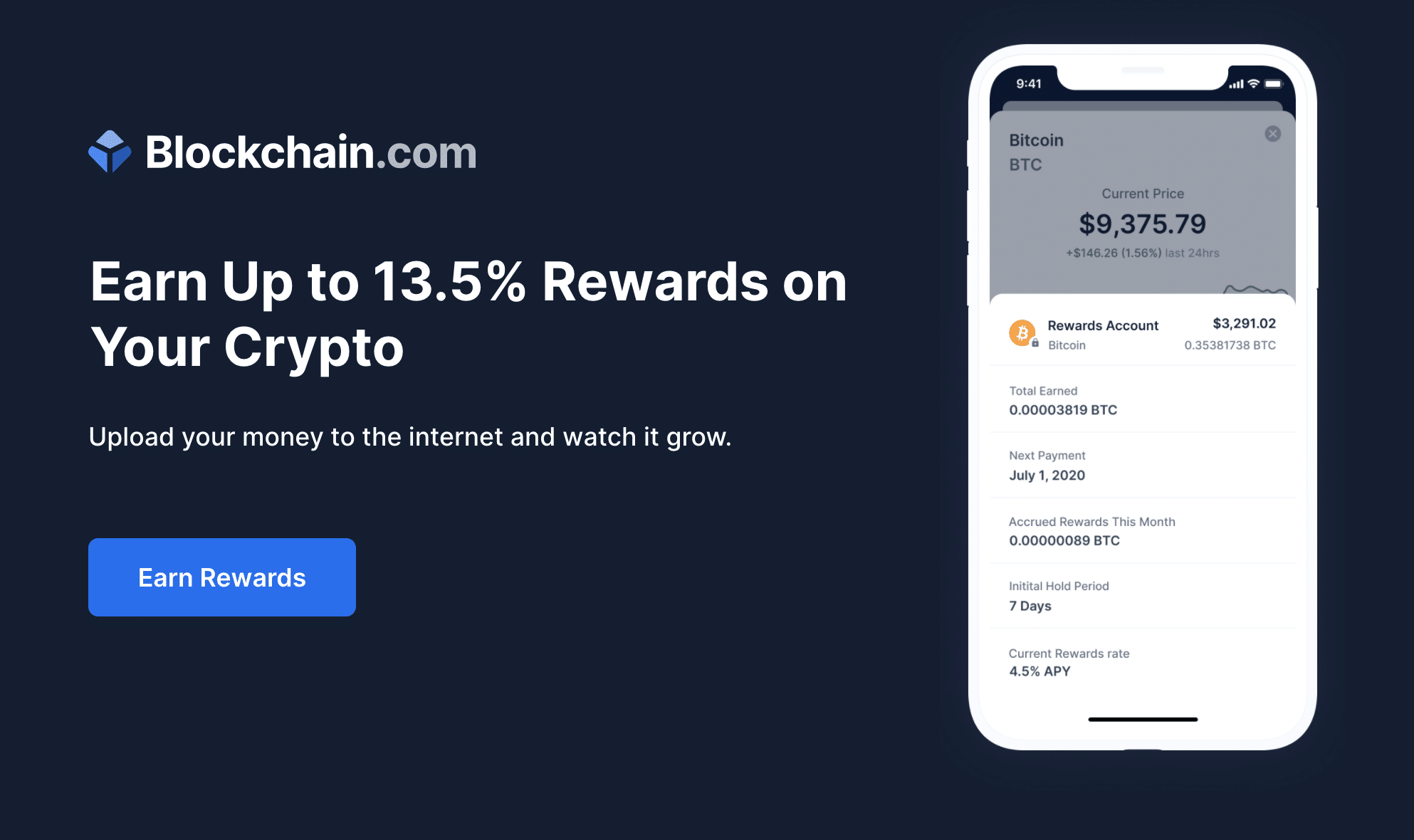 That is, while all users can fund their accounts using cryptocurrencies, fiat currencies are not supported for all nationalities, no matter the verification level. As such, before signing up on Blockchain.com, we suggest that you make sure that all features are accessible to you based on your location.
Blockchain.com Payments
In terms of funding your account, you can do so by depositing cryptocurrency or fiat currency. However, once again, which options are accessible to you depends on your location.
That is, if you wish to deposit funds into your Blockchain.com account with USD, EUR, or GBP, your ability to do so is determined by where you live.
There are three payment methods accepted – bank transfers, instant ACH, and credit/debit cards.
The mode of payments available to you will also depend on your location.
It is crucial to remember that if fiat payments are supported in your region, then you need to be a gold level verified member to access this.
Blockchain.com Minimum Deposit
When depositing cryptocurrencies, the minimum amount required depends on the type of digital asset and the status of the blockchain. However, when swapping via the Blockchain.com wallet, you need to make an order worth at least 5 USD/EUR/GBP.
Blockchain.com App
Blockchain.com offers a mobile app that is compatible with both iOS and Android devices. But this is available only for the provider's wallet. You can access all the aforementioned wallet features of the platform via the app, allowing you to buy, sell, or swap cryptocurrencies on the go.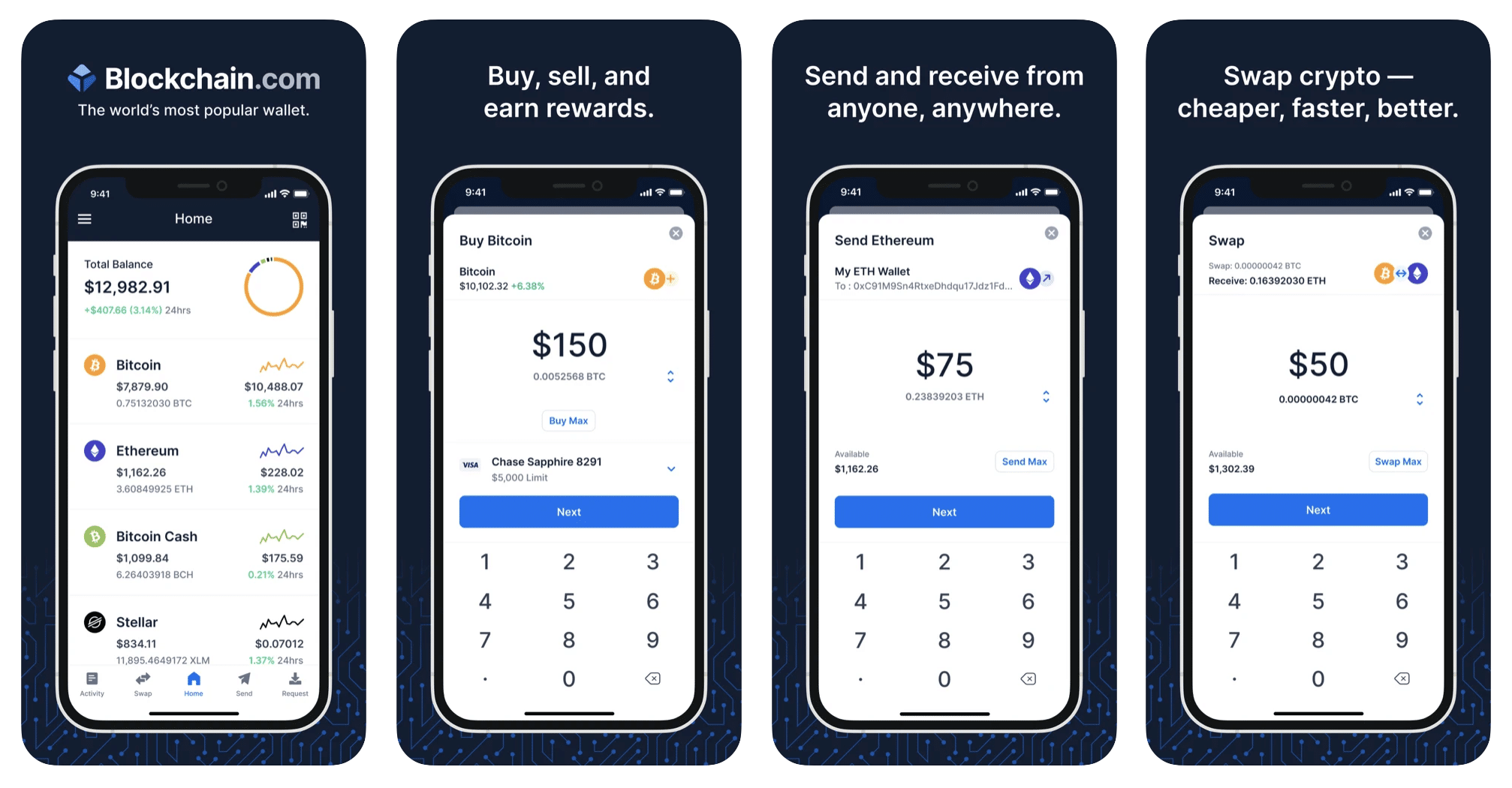 When it comes to security, you can set a 4-digit PIN or authenticate the app biometrically. You are also given your own unique 12-word phrase as a backup. It is also possible to include advanced Two-Factor Authentication (2FA) to add another layer of protection.
Is Blockchain.com Safe?
For the majority of cryptocurrency traders and investors, the decision to choose a platform often comes down to the safety provided. If regulation is a priority for you, then, unfortunately, Blockchain.com does not fit that criterion.
The cryptocurrency exchange is not licensed by any financial authority, and as such, does not convince our research team that it puts the safety of your funds first. This is especially crucial since some features are custodial, and requires you to entrust your money to the platform.
On the other hand, online broker eToro is regulated by not one but four different financial authorities. This custodial platform thus ensures that your assets are well-protected and that you have a safer environment to trade in.
Blockchain.com Security
Although not regulated, our Blockchain.com review found that it has implemented all the industry-standard measures to secure the platform, such as:
Cold wallet storage for 95% of the funds in secure locations across the world with multi-signature validation required for access
Two-factor authentication for both the wallet and exchange along with AES-256 encryption
Private keys for custodial funds stored in FIPS 140-2 certified devices
Non-custodial funds kept in private-key wallets are in full control of the user, and Blockchain.com has no access to them
All personally identifiable information is stored in Google Cloud platform
In other words, Blockchain.com has taken serious steps to ensure that your funds and data are secure under its custody.
Blockchain.com Customer Support
The only way to contact the Blockchain.com help desk is via email. Although a live chat option is mentioned on the website, it seems as if this is another way to send a message, but you won't be getting real-time support. 
However, you can find an extensive support center with articles and how-to guides on the platform. This offers insight into the many functionalities and features. But if you want to talk to a real agent, then you will have to wait till you get a response via email.
eToro vs Blockchain.com – Comparison
After reading our Blockchain.com review, you might be wondering whether there are perhaps better options out there. As it goes, it is always best to shop around to find the right platform that can cater to your specific cryptocurrency preferences.
As we have pointed out a few times, eToro outshines Blockchain.com in several areas. To provide you with a clearer picture, we have included a comparison of both of these platforms below.
Safety and Regulation
If you do not want to look past the importance of regulation, then there is no question that eToro is the better broker for you. This platform is regulated by the SEC in the US, FCA in the UK, along with licenses from ASIC and CySEC in Australia and Cyprus respectively.
In comparison, Blockchain.com is not regulated by any such entity. This means that you are taking an unnecessary risk when you put your money into this platform, which does not take the aspect of regulation seriously.
User-Friendliness
Both eToro and Blockchain.com have designed their features to attend to the needs of all kinds of investors alike. Whether you are looking to follow a long-term HODLing strategy, or trade cryptocurrencies on a short-term basis, these two platforms can provide you with an intuitive trading interface, tools, and more.

Similar to Blockchain.com, eToro accepts payments via bank transfers and debit/credit cards. In addition to this, the broker also allows you to fund your account using e-wallets such as PayPal, Neteller, Skrill.
Fees
Blockchain.com charges you a variety of fees, including commissions based on a maker-taker model. However, on eToro, you only have to pay the spread when buying, selling, and exchanging cryptocurrencies.
Furthermore, credit/debit card transactions incur a 2% fee on Blockchain.com. Whereas on eToro, US clients can fund their accounts for free, and other users only have to pay the forex rate when depositing fiat currencies – which is a mere 0.5%.
Passive Investment Tools
Blockchain.com offers you the option to stake your cryptocurrencies to earn interest passively. However, this option is provided only for a handful of digital assets. On eToro, you can access the Copy Trading feature that permits you to mirror other successful traders on the platform. Meaning, any position that these experts open will be mirrored in your own account, in line with your investment.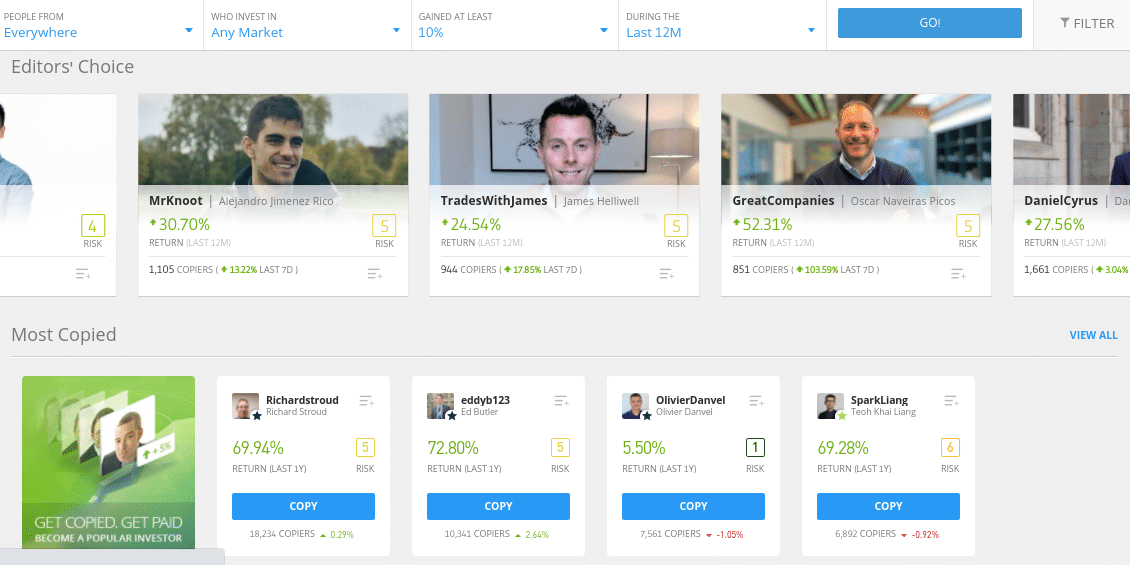 There is a second passive investment tool for you to consider on eToro, which is called CopyPortfolio. In this case, you will be investing a number of cryptocurrencies, selected by professionals at various weights. The portfolio is rebalanced regularly in order to align with the wider market sentiment.
Blockchain.com Review – Conclusion
Our Blockchain.com review team found that this platform is suitable for those who don't need access to a wide selection of cryptocurrencies and are not looking for any lending or borrowing tools. Although the wallet service is somewhat attractive, other than that, this provider does not stand out from the others in the market – especially in terms of security, fees, and features.
As such, our research team prefers brokers that can offer you more favorable trading conditions alongside regulatory protection. And eToro fits this criterion perfectly. This top-rated platform is licensed by multiple reputable authorities and allows you to profit from the cryptocurrency market in several ways, whether you are a beginner or a professional.
eToro – Best Broker to Trade Crypto
FAQ
Is Blockchain.com regulated?
Is Blockchain.com available in the US?
What fees does Blockchain.com charge?
How do you contact Blockchain.com?
What is the Blockchain.com minimum deposit?