Bittrex Review – Is Bittrex Safe? Fees & Minimum Deposit Explained
Bittrex is an online cryptocurrency exchange that is home to hundreds of coins, over 1,000+ markets, and huge levels of liquidity.
If you're thinking about using the platform to buy, sell, and trade digital currencies – this Bittrex review is for you. Within it, we review core metrics surrounding fees, safety, payments, markets, trading tools, customer support, and more.
Recommended Broker – eToro
What is Bittrex?
Founded in 2014, Bittrex is one of the oldest and most recognized cryptocurrency exchanges in this space. The platform provides a home for millions of daily users across a wide variety of services. For instance, the Bittrex exchange is best known for its trading platform – which allows you to buy and sell hundreds of cryptocurrencies. In fact, you will find over 1,000+ markets on this platform – which is huge.
With the view of attractive less experienced cryptocurrency investors, Bittrex has since created a gateway for instant purchases. That is to say, you can use your debit or credit card to instantly buy digital currencies at the click of a button. With that said, instant buy transactions are charged at 3% – which is expensive.

Plus, standard commissions at Bittrex start at 0.75%, which is much higher than other platforms in this arena. Additionally, you do need to consider the regulatory status of Bittrex. Sure, the exchange is licensed under the Bermuda Digital Asset Business Act 2018. But, what this offers you in the way of investor protection and fund segregation remains to be seen.
Bittrex Pros and Cons
Our Bittrex review concluded that the platform offers the following benefits and drawbacks to cryptocurrency traders.
Pros
Hundreds of digital currencies supported
More than 1,000+ crypto markets listed
Supports debit/credit cards in some regions
Operational since 2014
Cons
Regulated in Bermuda
3% fee of debit/credit card payments
Customer support is lacking
High commissions
Exchange isn't very user-friendly
No passive investment tools
Cryptoassets are highly volatile unregulated investment products. No EU investor protection. 67% of retail investor accounts lose money when trading CFDs with this provider.
Bittrex Supported Markets
Although the platform is both expensive and lacking in the regulatory department, our Bittrex review did find that you will have access to a significant number of markets.
Instant Buy
If you are looking to invest in cryptocurrencies as opposed to trading them on a short-term basis, our Bittrex review found that you can purchase digital assets directly. Through the Instant Buy feature, you can complete your purchase with a debit or credit card. Take note, Bittrex doesn't offer this service to all nationalities, so be sure to check this before proceeding.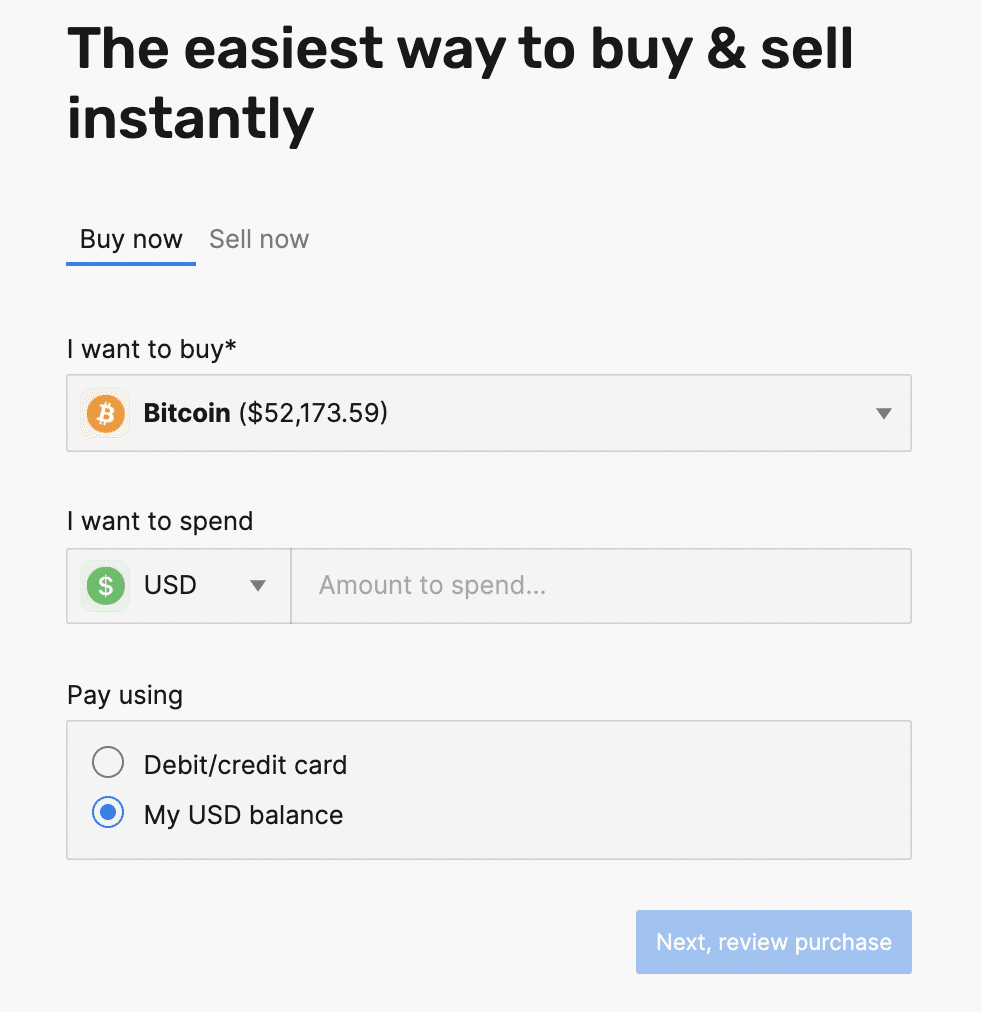 Notably, if you're from the US, you won't be able to use your Visa or MasterCard to buy cryptocurrencies at Bittrex. You can, however, use eToro for this purpose – as the broker is regulated by the SEC. Plus, eToro charges no fees on debit/credit card deposits and you can buy cryptocurrency on a spread-only basis!
Crypto-to-Fiat
Most investors at Bittrex will trade crypto-to-fiat markets. This simply means that you will be trading your chosen digital asset against a leading fiat currency, like the US dollar. In terms of daily volume, BTC/USD is by far the most traded crypto-to-fiat pair at Bittrex. This is followed by ETH/USD, USDT/USD, DOGE/USD, and ADA/USD.
Crypto-Crosses
If you are a bit more experienced in the digital asset trading scene and wish to buy and sell crypto-cross pairs – Bittrex has you covered. With that said, the vast majority of crypto-crosses are paired with Bitcoin. Some of the most traded markets in this department include ETH/BTC, DOGE/BTC, ADA/BTC, and XYM/BTC.
Leveraged Tokens
If you have a higher appetitive for risk, you might be interested in leveraged token markets at Bittrex. Put simply, this allows you to increase your exposure to a particular market, without needing to have the required capital in your account.
These leveraged markets are identified by 'Bull' or 'Bear', alongside a multiplier.
For example, if you were to trade DOGEBULL 3x at Bittrex, you are essentially going long on Dogecoin at a leverage ratio of 1:3.
In other words, if Dogecoin increases in value by 10%, your profit margin is increased to 30%.
It is important to tread with caution when you trade leveraged tokens at Bittrex. This is because leverage will boost both your profits and losses.
Tokenized Stocks
In addition to cryptocurrencies, our Bittrex review found that the platform has since entered the tokenized stocks scene. In a nutshell, this allows you to speculate on the future value of popular stocks without taking ownership of the underlying shares. In this scene, tokenized stocks at Bittrex operate in the same way as CFDs (contracts-for-differences).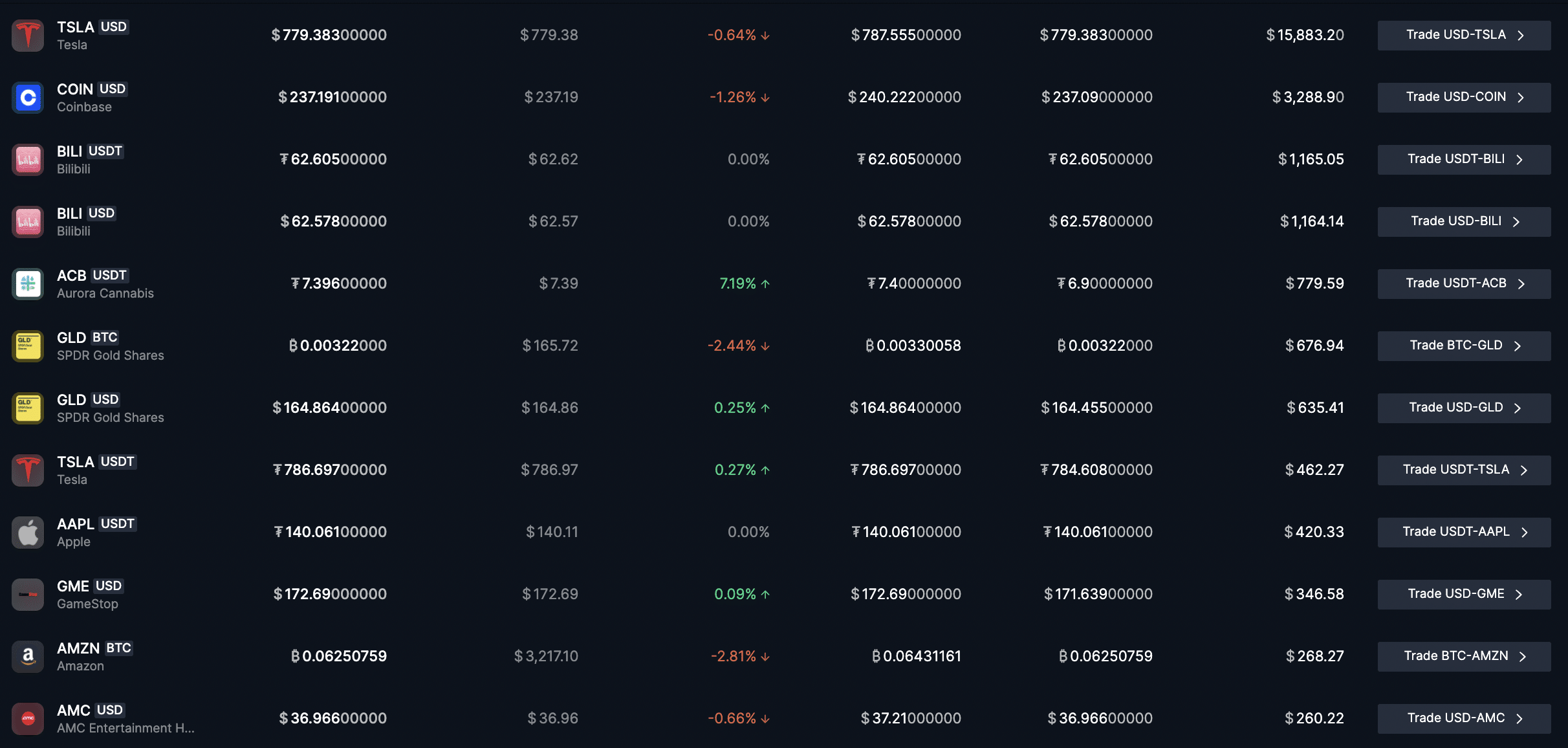 In total, you will find over 700 tokenized stocks – all of which are listed on the NYSE or NASDAQ. This includes everything from Tesla, Coinbase, and Apple to Amazon, Facebook, and GameStop.
Bittrex Fees
When searching for the best cryptocurrency exchange for your needs, fees should be at the forefront of your priorities. After all, fees can and will vary quite considerably depending on the platform you choose. As such, this section of our Bittrex review will cover each and every fee that you might come across when using the platform to trade.
Deposit Fees
If depositing funds into your Bittrex account with cryptocurrency, then no fees will be charged. This is also the case for bank wire deposits.
Instant Buy Fees
If you want to benefit from the convenience of investing in cryptocurrency with your debit or credit card, the Instant Buy feature at Bittrex comes with a 3% fee. This fee is calculated against the size of your purchase.
For example, if you elect to buy $1,000 worth of Bitcoin with your card, you will be charged a fee of $30.
On the one hand, this is much lower than other leading exchanges in this space, with Coinbase and Coinmama charging 3.99% and 5% respectively for this service.
However, you then have brokers like eToro, which charge no fees on debit/credit card deposits if you're a US client and just 0.5% for other nationalities.
With this in mind, if you're keen to use your Visa or MasterCard to invest in crypto assets, Bittrex isn't the best option in the market.
Commissions
Like all cryptocurrency exchanges, Bittrex makes the vast bulk of its revenues by charging trading commissions. Our Bittrex review found that the platform operates a market maker/taker pricing structure.
For those unaware:
Market makers provide Bittrex with liquidity
Market takers use the liquidity already available at Bittrex
Now, as a market maker, you will pay an entry-level commission of 0.75% per slide. This means that you will pay this commission when you both enter and exit a position.
To get your commission down to 0.50%, you will need to trade at least $5,000 within a 30-day period. The most competitive commission available at Bittrex for market takers is 0.05%. However, you would need to trade more than $100 million in a 30-day period to be eligible for this rate!
Bittrex Payments
In terms of funding your account, you do this with any of the hundreds of cryptocurrencies that are supported on the platform. For this, you simply need to log into your account, find the respective coin, and then copy the unique wallet address that Bittrex provides you. Then, you'll need to visit your private wallet and transfer the tokens over.
If, however, you wish to deposit funds with fiat money, your ability to do this will depend on where you live.
That is to say, some nationalities have the option of depositing funds with a debit/credit card, while others can opt for a bank wire.
Some regions have no access to fiat currency deposits at all.
The two supported fiat currencies at Bittrex include the US dollar and euro. By depositing funds in another currency, expect to incur FX fees.
Bittrex Minimum Deposit
As per the Bittrex website, the minimum fiat currency deposit at Bittrex is $50 or €20 – depending on the currency. If depositing in digital currency, the minimum will depend on the token. You find this information by logging into your Bittrex account and assessing what minimum you need to meet.
Bittrex KYC
If you are planning to deposit funds into your Bittrex account with fiat money, you will first need to go through a KYC (Know Your Customer) process. This is now industry-standard in the cryptocurrency exchange arena and it ensures that platforms comply with anti-money laws.
In order to complete this process at Bittrex, you will first need to complete your profile by entering your country of residence, full name, home address, and date of birth.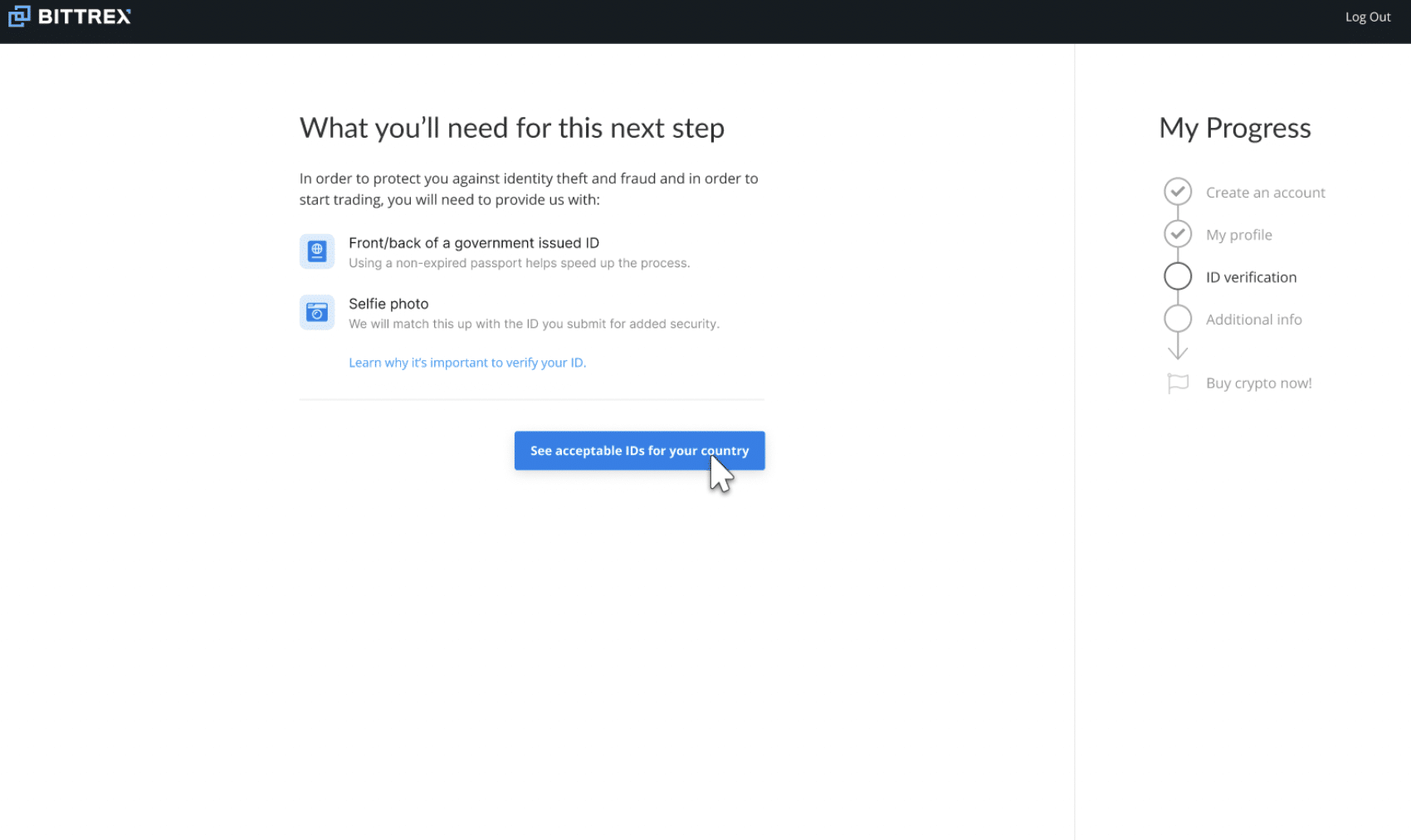 Next, you will be required to upload some documents. This will include a copy of a government-issued ID – such as your driver's license or passport. You also need to take a selfie of you holding the document next to your face.
Although this process might seem somewhat cumbersome, our Bittrex review found that the platform is typically able to verify your documents within 10 minutes. This will then allow you to deposit and withdraw funds with fiat currency.
Bittrex Trading Platform
Make no mistake about it, if you are relatively new to the world of cryptocurrency trading, it is likely that you will find the Bittrex platform complex to use. For instance, as soon as you land on the relevant page for the pair that you wish to trade, you will be inundated with market data and in-depth charts.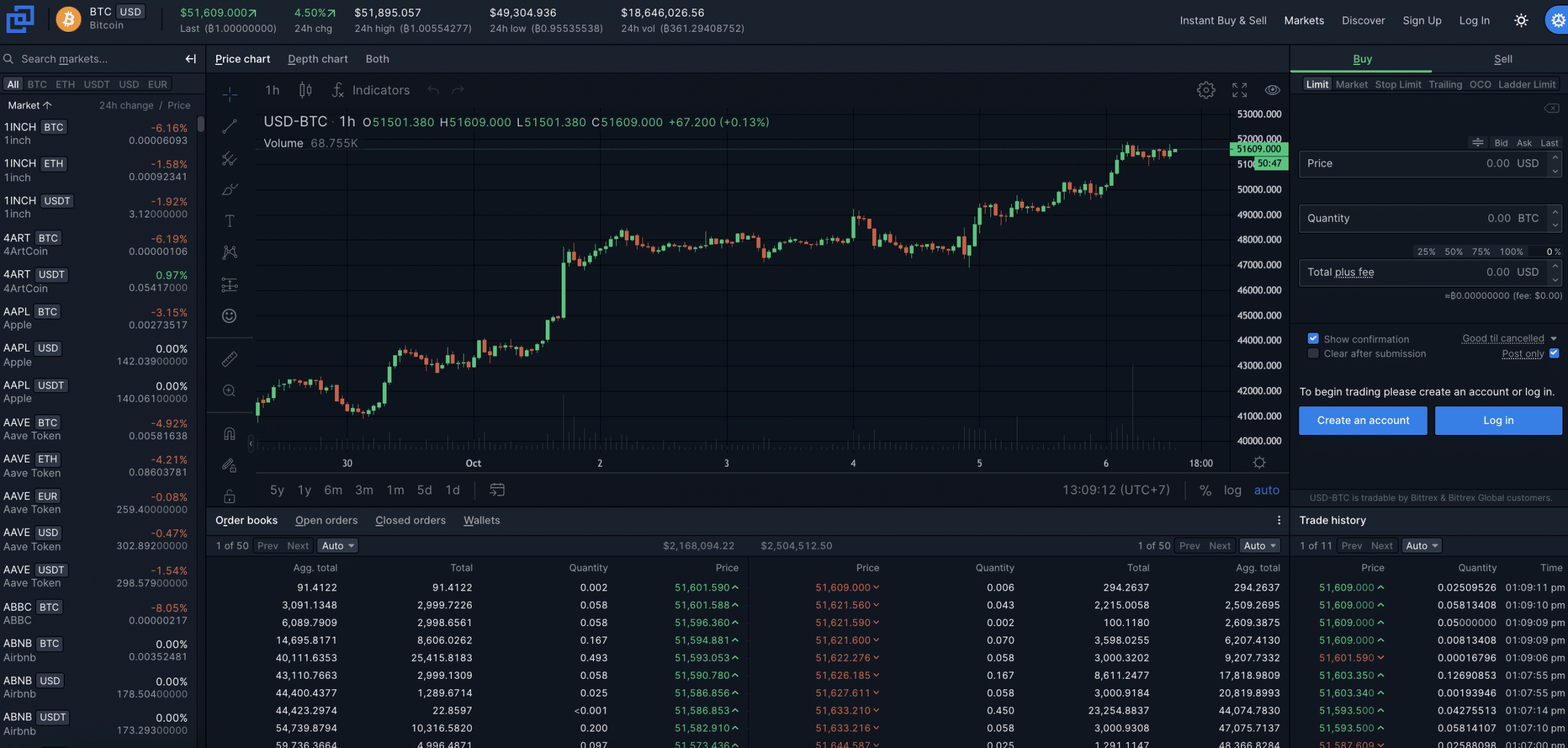 On the other hand, if you are looking for an advanced trading platform that comes packed with tools and features, you might find that Bittrex is a good fit for your skillset. For instance, you will have access to a huge number of technical indicators and chart drawing tools. This will allow you to scan the markets and find suitable trading opportunities around the clock.
You will also find a plethora of information linked to the Bittrex order book. This includes the size of each order at the respective price and the specific time that the position was entered. You can also view information on open and closed orders, and which wallet addresses they are related to.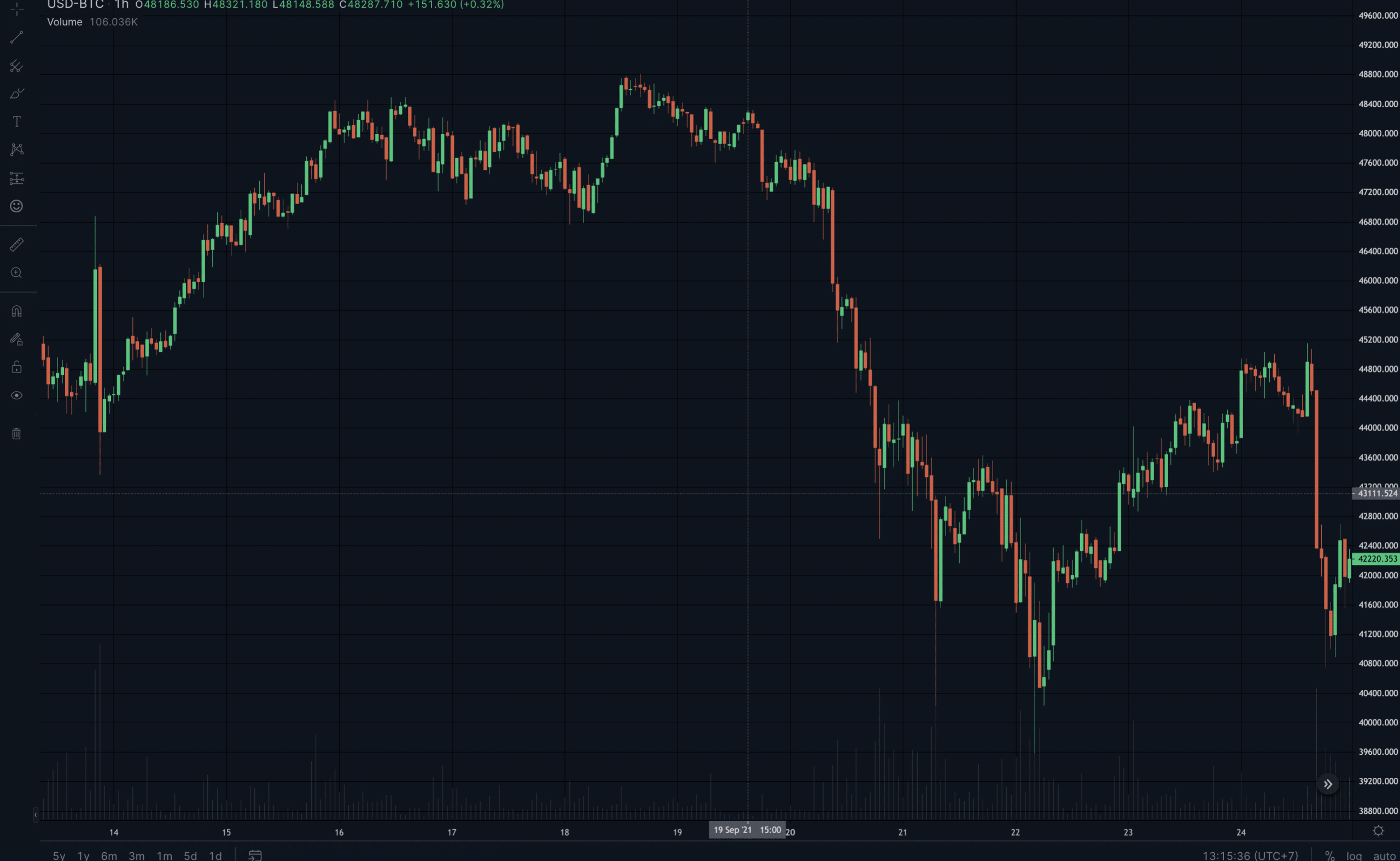 When it comes to placing orders, Bittrex gives you plenty of options in this department. For example, you can enter a position with a market or limit order, depending on your trading strategy. You can also install stop-limit, trailing, ladder-limit, and even one-cancels-the-other (OCO) orders.
If you find the aforementioned trading tools intimidating, then you will be much better suited for a beginner-friendly cryptocurrency platform like eToro. As we cover later on in this Bittrex review, eToro allows you to buy, sell, and trade digital assets in a simple and burden-free way – making the platform ideal for newbies.
Bittrex Demo Account
Another major pitfall that our Bittrex review came across is that the platform does not offer demo accounts. This means that you won't be able to test the platform out without first depositing and risking your own capital.
Bittrex App
Bittrex offers a mobile app that is compatible with both iOS and Android devices. The Bittrex app connects to your main account, so all features and tools will be accessible on the move. For example, you can elect to deposit and withdraw funds, check the value of outstanding positions, and place new buy and sell orders.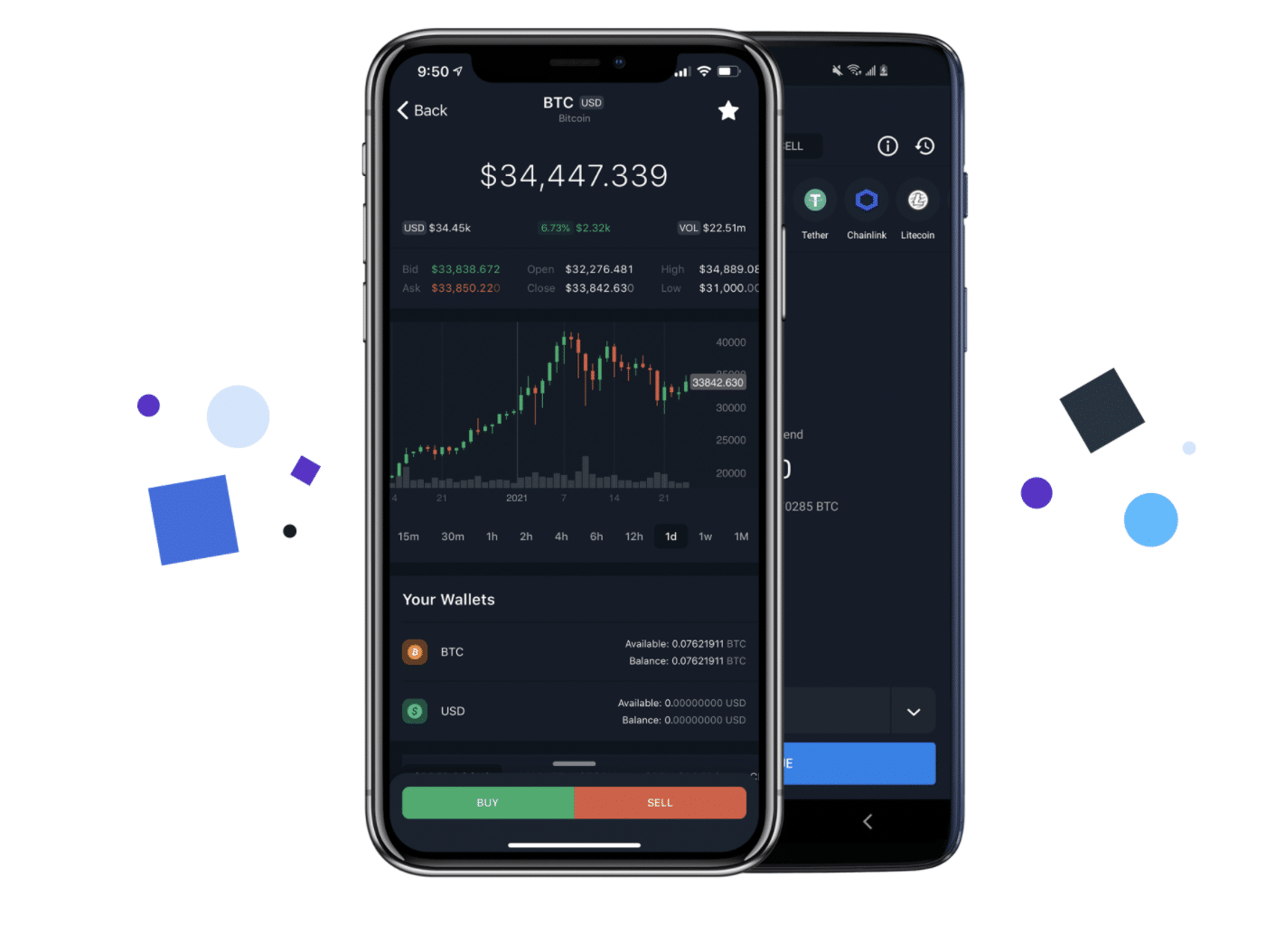 In testing out the app ourselves, we would argue that once again – Bittrex is best suited for experienced traders. This is because, at times, the app can appear overly complicated – largely because of the sheer amount of data and tools that you have at your disposal. Equally, if you are an experienced cryptocurrency investor, then the Bittrex app might be just what you are looking for.
Is Bittrex Safe?
This is perhaps the most important section of our Bittrex review, as our research team spent ample time assessing the safety of the platform.
First and foremost, Bittrex is not regulated by a reputable financial body – such as the SEC in the US or the FCA in the UK.
On the contrary, Bittrex notes that the exchange is licensed under the Bermuda Digital Asset Business Act 2018.
Put simply, this doesn't really fill us with much in the way of confidence.
After all, it remains to be seen what investor protections from you will benefit from when the only regulatory oversight you have is from authorities in Bermuda.
On the Bittrex website, the provider claims that it meets and complies with all relevant laws surrounding anti-money laundering. This means, as noted earlier, when you attempt to deposit or withdraw funds with fiat money – you will first need to go through a KYC process.
Bittrex Security
In terms of security features, Bittrex gives you the option of installing two-factor authentication onto your account. This means that you can elect to receive a unique code via Google Authentication or SMS – which will be required on each login attempt. Bittrex also claims to keep the majority of client digital funds in cold storage, albeit, we were unable to verify the exact figure.
Bittrex Customer Support
Our Bittrex review found that the exchange is extremely lacking when it comes to customer support. For instance, although there is the presence of a live chat box, this is operated by a bot. As such, you cannot actually speak with an agent in this way. On the contrary, you only have two options to receive help from the Bittrex team.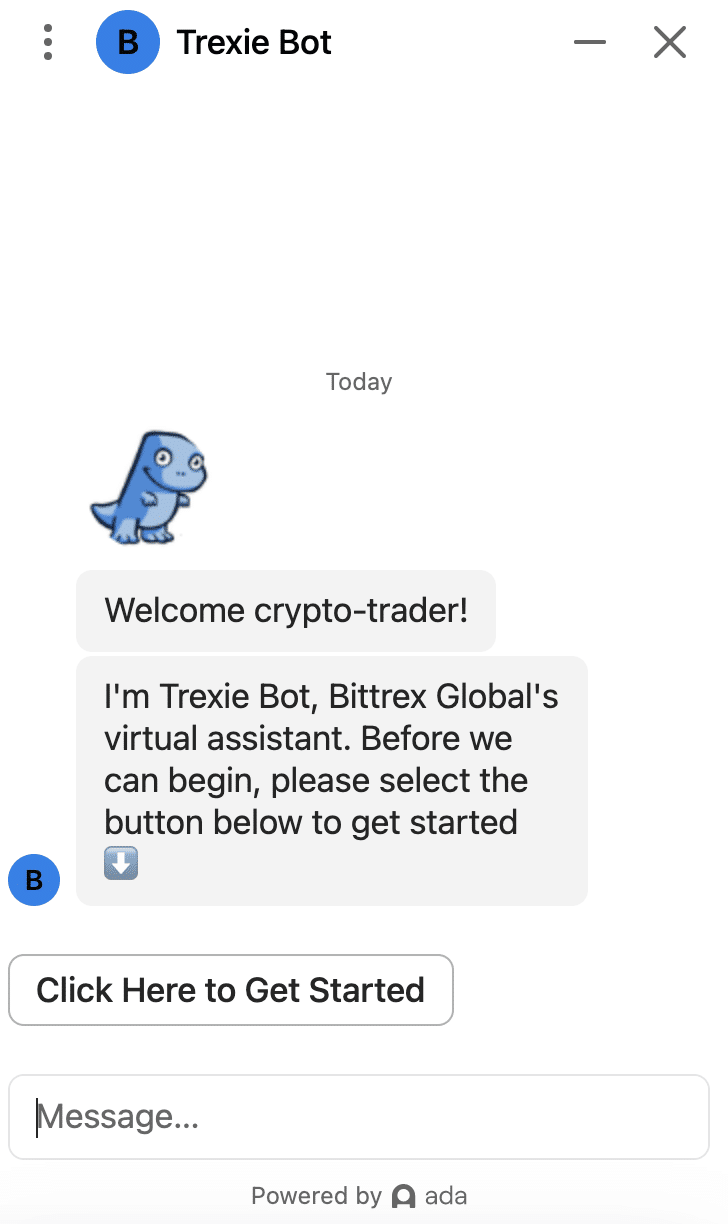 First, you can raise a support ticket via your account dashboard. Response times can take several days, which is why the customer support department is so poorly rated. The only option is to try and contact Bittrex via its Telegram channel. However, there are a plethora of reports in the public domain that messages often go unanswered
eToro vs Bittrex – Comparison
If you have read our Bittrex review all of the way through, then you might have noticed that the exchange falls short in several departments. With this in mind, we decided to do a market comparison between Bittrex and eToro – a heavily regulated online broker that is used by over 20 million clients.
Here's what our research team found:
Safety and Regulation
Make no mistake about – eToro is as safe as it gets in the online investment arena. Not only is the broker regulated by the SEC and approved by FINRA, but it is also licensed by financial bodies in the UK, Australia, and Cyprus.
This ensures that you can buy, sell, and trade digital currencies in a safe environment. On the other hand, Bittrex is simply approved by regulators in Bermuda – which offers virtually nothing in terms of investor protection.
User-Friendliness
Another major drawback that our Bittrex review team found is that the platform is best suited for advanced traders. This is because you will be inundated with advanced pricing charts, trading terms, data, technical indicators, and more. As such, this won't be suitable for newbies.

If you are a beginner in the cryptocurrency arena and wish to use a more newbie-friendly platform, eToro fits the bill perfectly. In fact, it takes just five minutes from start to finish to invest in a digital currency – even if you have never traded previously.
Fees
This is yet another department that eToro wins hands down. First and foremost, eToro operates on a spread-only basis, which means that its trading fees are very competitive. Bittrex, however, charges an entry-level market taker commission of 0.75%.
In terms of deposits, US clients at eToro can fund their accounts with a debit/credit card for free (0.5% for other nationalities). At Bittrex, the same payment method attracts a surcharge of 3%.
Passive Investment Tools
If you're looking to invest or trade in a passive way, you will be out of luck at Bittrex. But, at eToro, you have two options at your disposal. First, the Copy Trading feature permits you to mirror successful eToro investors like-for-like. So, any cryptocurrencies that the trader buys and sells will be reflected in your own eToro account – at a proportionate sum.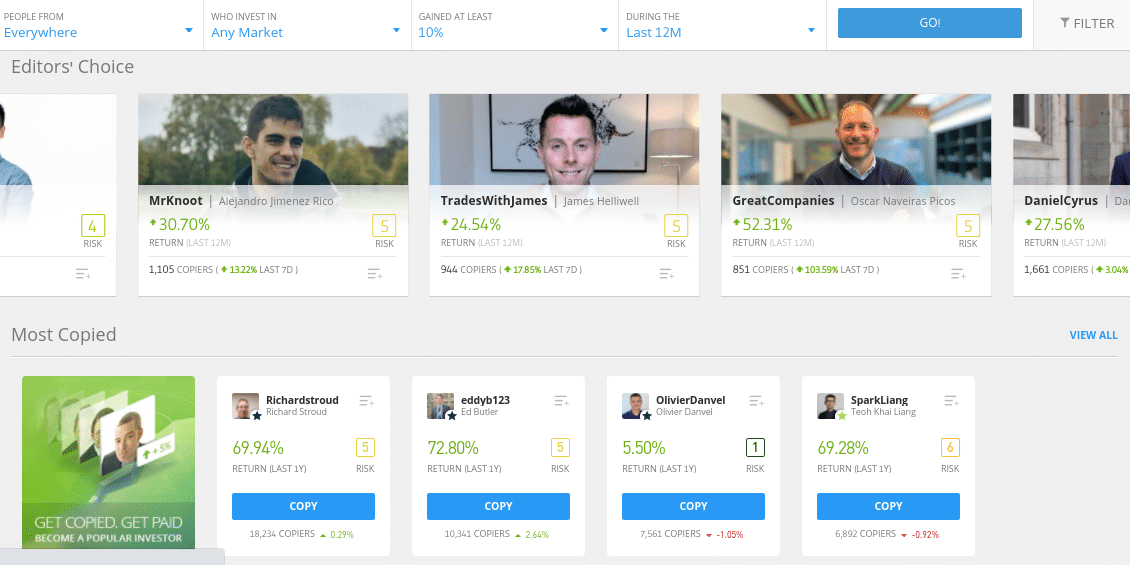 You also have the CryptoPortfolio too. This operates like a conventional ETF, insofar that the eToro management team will personally select a basket of cryptocurrencies at various weights. This will be rebalanced on a regular basis to ensure the CryptoPortfolio stays aligned with the wider markets.
Bittrex Review – Conclusion
-font-secondary); font-size: var(–global–font-size-base);">This Bittrex review has covered everything you need to know about the exchange-font-secondary); font-size: var(–global–font-size-base);">. We established that the provider was first launched back in 2014 and now hosts over 1,000 cryptocurrency markets – which is great.
-font-secondary); font-size: var(–global–font-size-base);">However, Bittrex is expensive when it comes to commissions debit/credit card fees – and the trading platform itself will be far too complex for beginners. Most importantly, Bittrex isn't the safest of exchanges in this space, as the platform is only licensed by bodies in Bermuda.
Instead, our research team much preferred eToro. This top-rated brokerage firm is regulated by the SEC and three other reputable bodies, allows you to deposit funds for free if you're based in the US (0.5% elsewhere), and the platform is ideal for both newbies and seasoned pros alike!
eToro – Best Broker to Trade Crypto
FAQ
Is Bittrex available in the US?
What fees does Bittrex charge?
How do you contact Bittrex?
What is the Bittrex minimum deposit?