Bitpanda Review – Is Bitpanda Safe? Features and Fees Explained
Please note that we are not authorised to provide any investment advice. The content on this page is for information purposes only.
With a competitive fee structure and a robust interface, Bitpanda claims to be one of the best cryptocurrency exchanges in Europe.
In this Bitpanda review, we provide you with a detailed analysis of this platform. We discuss the services offered, fees and commissions, the different functionalities, and other aspects that you need to consider before using this site to buy, sell and trade digital assets.
Recommended Broker – eToro
What is Bitpanda?
Established in 2014, Bitpanda is a 'trade-everything' exchange that is based in Vienna, Austria. According to the team, the goal of this company is to provide easy-to-use financial products and investment opportunities for everyone. The platform is regulated in Austria and France, offering a high level of protection for all EU users.
Initially launched as a cryptocurrency exchange, Bitapanda later added a wide range of derivative products to the site – making it a one-stop-shop solution for all your investment needs. Over the span of seven years, this fintech trading platform has attracted over 3 million users and offers a streamlined experience for all levels of investors and traders alike. This site allows you to invest in over 100 digital assets – including stocks, metals, and ETFs via 'derivate contracts.'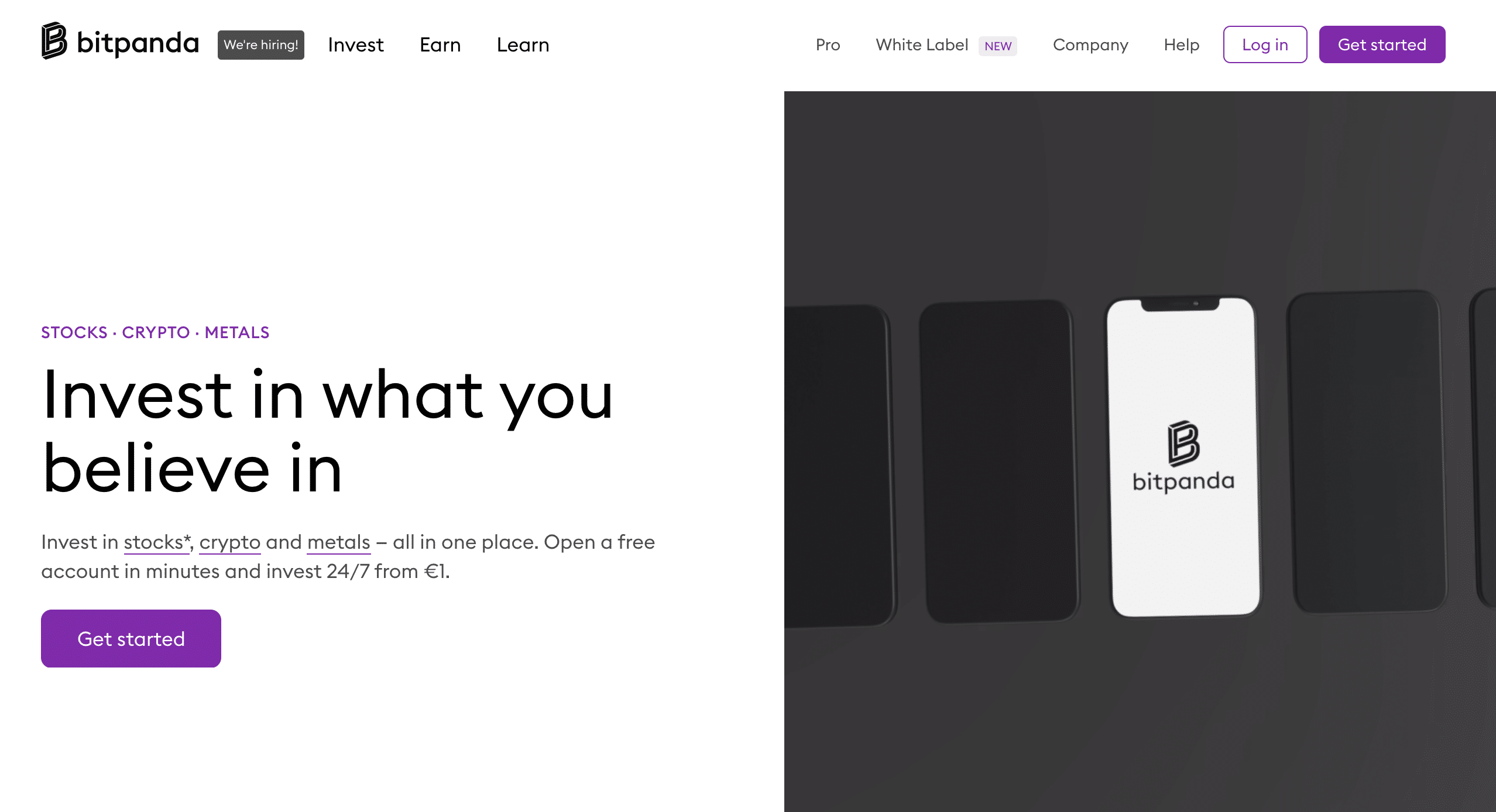 On Bitpanda, you will be able to buy any of the supported financial products or cryptocurrencies from just €1. The site also accepts a number of alternative fiat currencies for this purpose – including US dollars and British pounds. Moreover, this platform also allows you to automate your investments by setting up regular purchases of assets. 
At first glance, Bitpanda comes across as a secure platform that allows you to easily create a diversified portfolio of digital assets. As we progress with our review, we will cover all of its features in detail and evaluate whether this site can be a trustworthy partner for your cryptocurrency investments.
Bitpanda Pros and Cons
Based on our detailed Bitpanda review, we concluded the platform comes with the following advantages and disadvantages.
Pros
Hundreds of digital assets supported

Flat 1.49% commission for buying and selling cryptocurrencies

Start investing in digital assets from

€1

Multiple deposit and withdrawal options

Operational since 2014
Cons
Regulated only in Austria and France
2.5% fees for transactions in currencies other than euros
No passive investment tools
Slow verification process
Cryptoassets are highly volatile unregulated investment products. No EU investor protection. 67% of retail investor accounts lose money when trading CFDs with this provider.
Bitpanda Supported Markets
Butpanda supports a wide range of markets from different regions and industries across the world.  The platform allows you to buy and sell digital assets directly, instead of having to interact with traders. That said, it is worth noting that if you are looking for an advanced trading interface, there is a separate version of the site named Bitpanda Pro – which is geared towards experienced professionals.
With this in mind, let us take a look at the different financial products offered by Bitpanda.
Instant Buy
Bitpanda is one of the few regulated platforms in Europe that facilitates the instant purchase of cryptocurrencies. In other words, you will be able to fund your 'Fiat Wallet' and purchase your desired assets with this money right away. This 'Instant Buy' feature is available for cryptocurrencies, crypto indices, stocks, ETFs, and metals.
All you need to do is to sign in to your Bitpanda account and search for the asset you want to buy. You can then choose the fiat money you want to use before entering the amount you want to invest.
The platform will then show you a summary of the details you have entered so that you can verify everything before you confirm the order. Bitpanda will then complete the purchase and you will be able to find the newly-purchased assets in your account portfolio.
Bitpanda Crypto Index
As you likely already know, cryptocurrencies are highly speculative – which increases the risks associated with this asset class. For those who are exploring ways to diversify their investments, Bitpanda also offers three different crypto indices.
These are balanced portfolios consisting of the biggest cryptocurrencies by market cap. You can choose to invest in the top 5, 10, or 25 digital assets and Bitpanda will take care of the rest. The three crypto indices available on Bitpanda are:
Bitpanda Crypto Index 5 (BCI5)
Bitpanda Crypto Index 10 (BCI10)
Bitpanda Crypto Index 25 (BCI25)
Moreover, these index portfolios are automatically rebalanced every month to reflect trend movements in the market. This allows you to diversify your risk when investing in cryptocurrencies that are inherently volatile.
Bitpanda Stocks and ETFs
Apart from cryptocurrencies, Bitpanda also offers a wide range of stocks and ETFs from different international markets. The platform allows you to invest in these using a 'derivative contract' that tracks the value of the underlying assets.
To facilitate this, Bitpanda buys stocks and ETFs and holds them in secure locations in custodian banks. The platform then issues fractional shares to users based on this portfolio. As such, you can buy these assets by investing any amount you like, starting from € 1.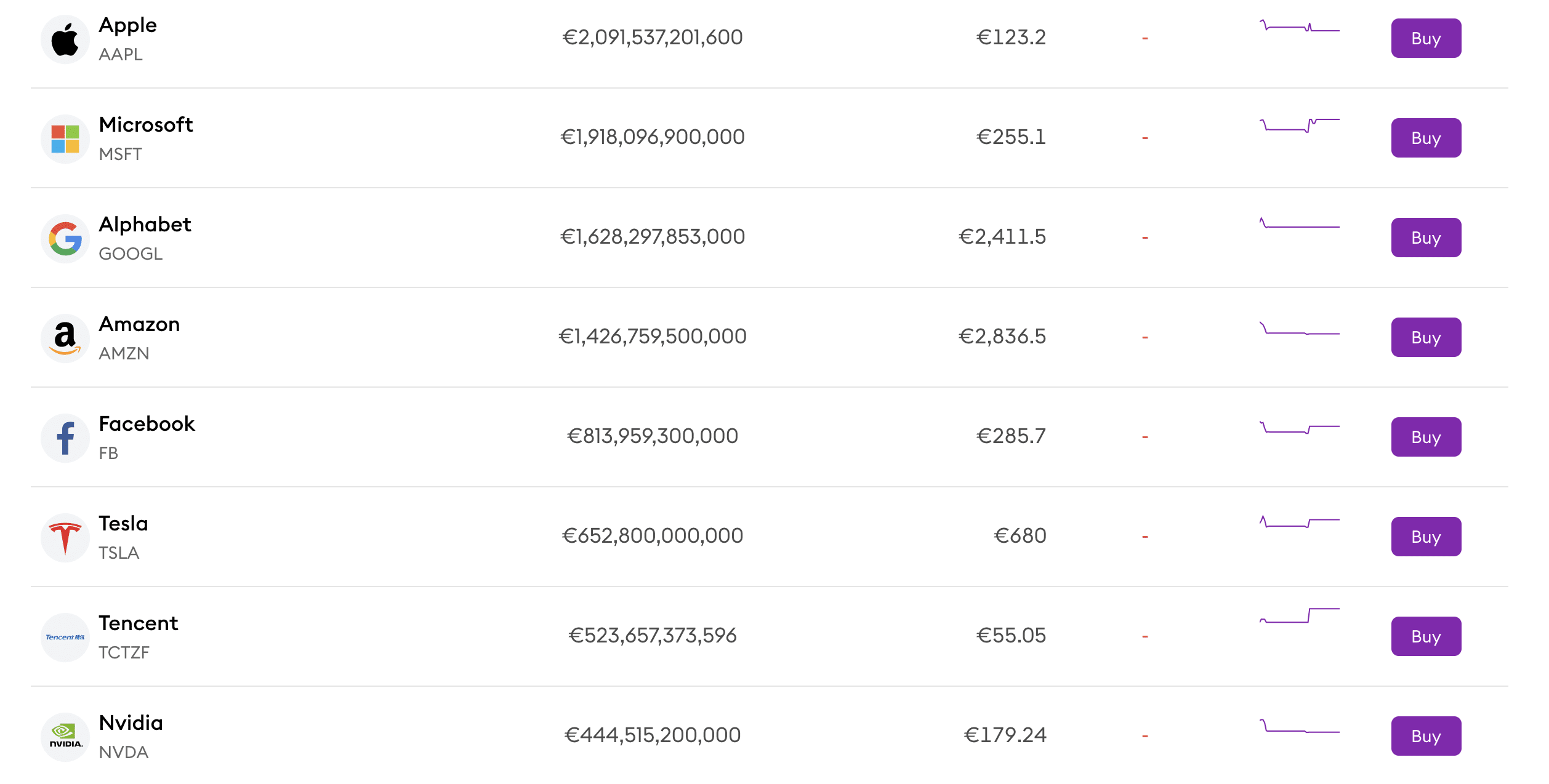 If you invest in these stock and ETF derivatives, you will be participating in the rise and fall of the asset's value. This also allows you to benefit from dividend payouts proportionate to your holdings, which will be deposited directly to your account. However, you will be able to buy and sell them only to Bitpanda and not to anyone else.
It is also important to note that some stocks listed on Bitpanda are available only in the form of depositary receipts. In other words, when you invest in these assets, you will be receiving a certificate representing your holdings. This is often the case when you buy shares of companies listed outside Europe or the US. However, you will still possess ownership of the respective asset and will be able to buy and sell as you wish.
Bitpanda Metals
You will also find that Bitpanda supports four different markets for metals, allowing you to invest in gold, silver, palladium, and platinum. However, these come in the form of digitized tokens.
Meaning:
For each token that represents any of these metals, there is one gram of the same asset safely stored in a vault in Switzerland.
So when you buy a single gold token on Bitpanda, it means that you now own one gram of gold.
This makes it possible for you to capitalize on the price movements of these assets without having to think about the logistics. Instead, you will only be trading tokens that are backed by physical gold, silver, palladium, and platinum – which are insured and kept safely by Bitpanda.
Moreover, similar to stocks, you are not limited by the market hours of these commodities. On Bitpanda, you will be able to buy and sell these metals anytime you want, including on the weekends. You also have the option to swap these digitized tokens for other assets on the platform.
Bitpanda Swap
Apart from making purchases and selling your investments, Bitpanda also allows you to instantly swap any supported digital asset for another. This feature is available for all assets available on the platform, including cryptocurrencies, stocks, ETFs, and metals.
Bitpanda Savings 
If you are an investor who makes regular purchases of digital assets, Bitpanda has designed a tool that allows you to automate these investments. Instead of having to do this manually, you can schedule the time and date to buy your chosen token, and the platform will execute your orders for you.
You can also set up recurring purchases of an asset, making it possible to benefit from a dollar-cost averaging strategy.
Bitpanda Ecosystem Token (BEST)
BEST is the native digital token of Bitpanda, which is designed to provide users with rewards and benefits within the platform. By investing in this cryptocurrency, you stand to benefit from the following aspects:
Discount of up to 20% on trading premiums and access to tighter spreads.
Guaranteed value for BEST when using the token to pay premiums on Bitpanda.
Access to exclusive VIP votes by holding a minimum of 5,000 BEST tokens in your Bitpanda wallet.
Lower deposit fees when making payments via SOFORT or credit cards.

The platform is also planning to incorporate additional features to attract more investors to this digital token. Currently, you can buy this cryptocurrency on Bitpanda or Bitpanda Pro, paying for the coins using Bitcoin or euros. At the time of writing in October 2021, a single BEST coin is valued at $0.907 in the market.
In addition to the above-mentioned perks, you can also hold BEST in your Bitpanda wallet to earn an interest of up to 12.68% a year. All you need to do is place at least one monthly trade to be eligible for this reward.
Bitpanda Pro
While Bitpanda was designed with beginners in mind, the team has also created a pro version of the platform for advanced traders, professionals, and institutions. Bitpanda Pro provides you with a highly liquid marketplace, fully equipped with charts, indicators, and other tools.
Currently, this platform supports only crypto-fiat markets including BTC/EUR, ETH/EUR, XRP/EUR, MIOTA/EUR, PAN/EUR, BTC/CHF, XRP/CHF, ETH/CHF, and more.

You will also be able to find two markets for BEST tokens – BEST/BTC and BEST/EUR on this trading platform. However, please note that Bitpanda Pro follows a different fee structure to that of Bitpanda, which we will discuss later in the review.
Bitpanda Mobile App
The platform's mobile app comes in two different variants – Bitpanda and Bitpanda Pro. Both of these applications allow you to buy, sell and trade digital assets on the move while giving you access to all the features available on the respective web versions.
Bitpanda To Go
This is another feature that makes Bitpanda more accessible to users in Europe. The platform has partnered with Austrian Post AG to facilitate easy purchases of cryptocurrencies on the move.
Anyone can purchase these 'Bitpanda To Go' vouchers from one of the postal partners in the country by paying with cash or other methods.
These vouchers come with coupon codes that you can use to purchase cryptocurrencies on Bitpanda.
Note that this service is currently available only for digital tokens and not other assets such as stocks, indices, or metals supported on the platform.
While this can be a convenient option, note that choosing Bitpanda To Go for your cryptocurrency investments will cost you a hefty fee of 2.99%.
Bitpanda OTC
Bitpanda also has an OTC desk for investors who want to buy or sell digital assets worth over € 1 Million. This highly specialized service is tailored to the needs of each individual. If you want to take advantage of this, you can fill out a form on the platform detailing your requirements and the team will get back to you.
Bitpanda Card
The Bitpanda Card is a recent initiative of the platform that allows you to spend your investments online and in shops across the globe. The card offers support not only for cryptocurrencies but also metals, stocks, and euros. In other words, you can even pay for your purchases using a metal or stock.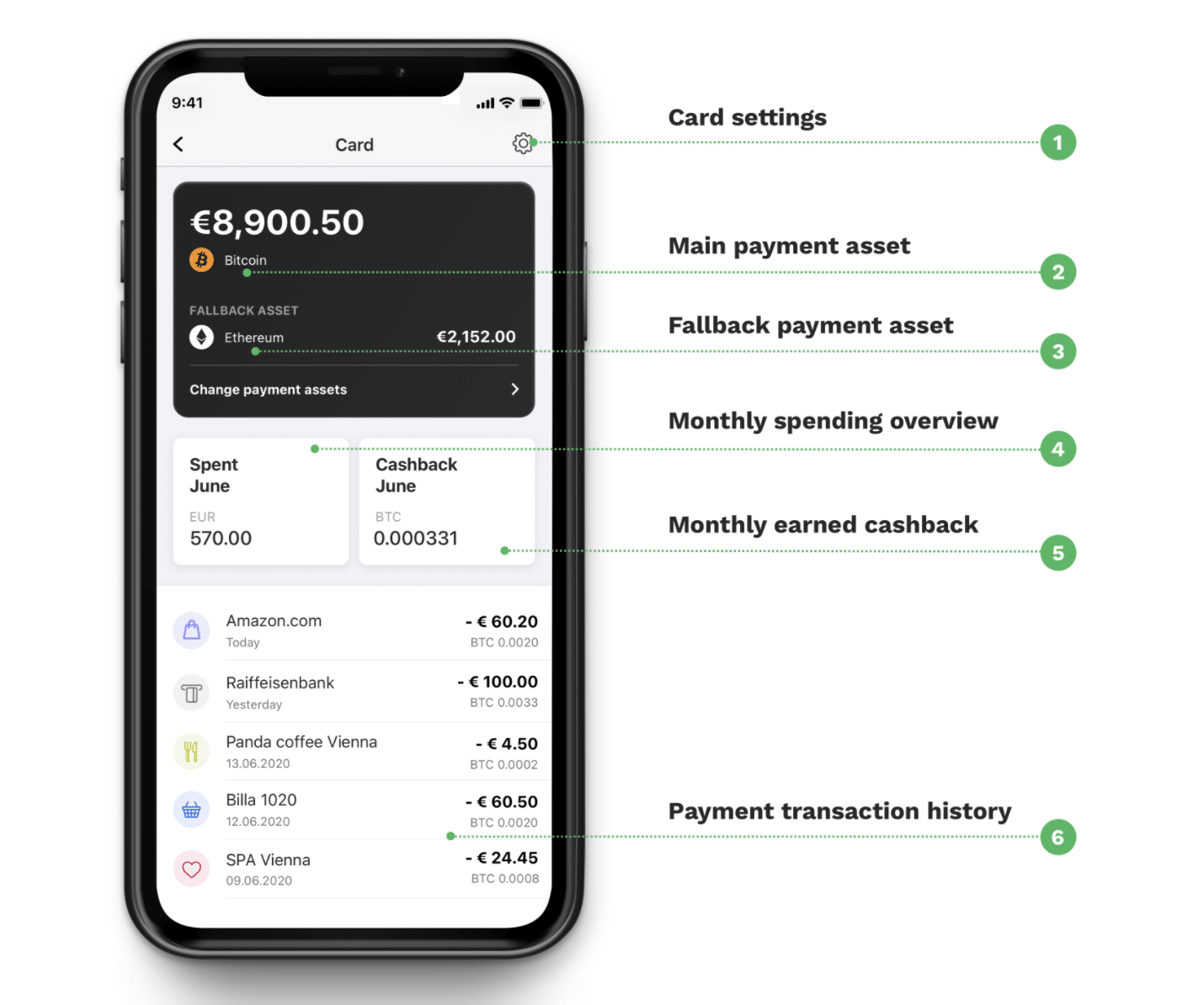 However, you need to be based in an EU country in order to be eligible for a Bitpanda Card. You also have to possess a verified Bitpanda account and have at least €100 worth of investments. You can access the details of your card and related tools from the Bitpanda mobile app.
Bitpanda Fees
If you are considering Bitpanda as your digital investment platform, then you should pay close attention to its fee structure. After all, this factor can be crucial in deciding whether this site is fit for your needs.
In this section of our Bitpanda review, we provide you with an overview of the types of fees and commissions charged by this platform to facilitate your investments.
Premium and Commission
On Bitpanda, you will have to pay a premium when buying or selling digital assets. However, how these are calculated varies sizably depending on the tokens you are purchasing.
For cryptocurrencies, you will have to pay a standard commission of 1.49%. This will be incorporated into the price of the digital token you purchase in real-time.
For precious metals, the premiums vary depending on the asset, and on whether you are buying or selling. To give an example, for gold – you will pay 0.5% when making a purchase, and 1% when cashing out. Whereas for platinum, the fees for the same transaction increase to 2.5% and 2% respectively.
For stocks and ETFs, you will not be charged any commissions. However, you will have to take into account the spread – which is the markup between the buy and sell price of your chosen asset.
That said, you also have the option to reduce these premiums by up to 20% when paying your fees with the BEST token.
Storage Fees
Bitpanda also charges you storage fees for securely holding your precious metals. These are calculated daily and reduced from your respected Metals wallet every week.
The storage fees for the four metals supported on Bitpanda are as follows:
Gold – 0.0125%
Silver – 0.0250%
Palladium – 0.0250%
Platinum – 0.0250%
Deposit Fees
If you are funding your Bitpanda account in euros, then you will not be charged any fee – no matter which payment method you choose. However, if you are making a deposit with a foreign currency such as US dollars or British pounds, then it will incur a charge of 2.5% on the platform.
On the other hand, if you are want to fund your account with cryptocurrency, then Bitpanda charges you a deposit fee that varies based on your chosen digital asset.
Fees on Bitpanda Pro
Unlike Bitpanda, Bitpanda Pro follows an entirely different fee structure, based on the maker and taker system.
For those unaware:
You become a 'maker' if you create an order that does not match with an existing one in the order book. Since you will be providing liquidity to Bitpanda, you will be charged a 'maker fee.'
On the other hand, you become a 'taker' if your order matches an existing one. In this case, you will be paying the 'taker fee' instead.
Bitpanda Pro calculates maker and taker fees based on your 30-day trading volumes. The maker and taker fees start at 0.1000% and 0.1500% respectively, which will reduce as your 30-day trading volume increases.
Bitpanda – Available Countries
Bitpanda is a global platform that caters to users across the world – including Europe, the UK, Canada, Egypt, Oman, South Korea, and more.
However, before you sign up on this site, there are a few things that you should be aware of.
In order to be a Bitpanda user:
You must be at least 18 years of age.
You must possess a valid identity document which is issued by one of the countries where Bitpanda services are available.
You must reside in one of the countries where Bitpanda services are offered.
Since the platform is constantly expanding its service locations, we suggest that you check their website before signing up, to ensure that you are eligible to be a verified user. In fact, if you do not meet all of the aforementioned conditions, Bitpanda will not be able to verify your account.
Furthermore, Bitpanda does not offer its services to US citizens or residents due to regulatory reasons.
Bitpanda KYC
If you tick all of the boxes listed above, then you can sign up on Bitpanda by providing your email address. Next, you will also need to fill in a form that asks for your personal details as you can see in the example below.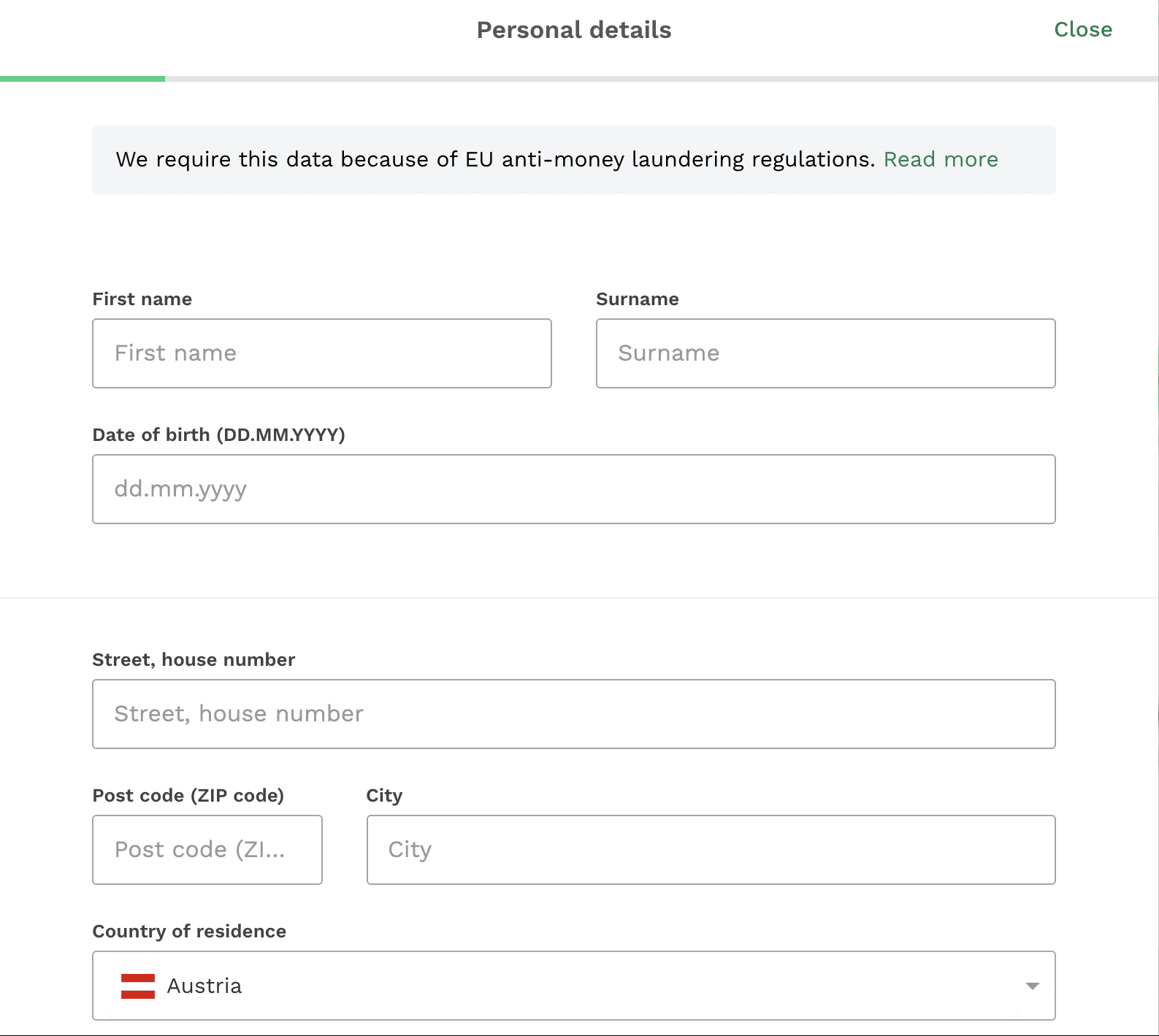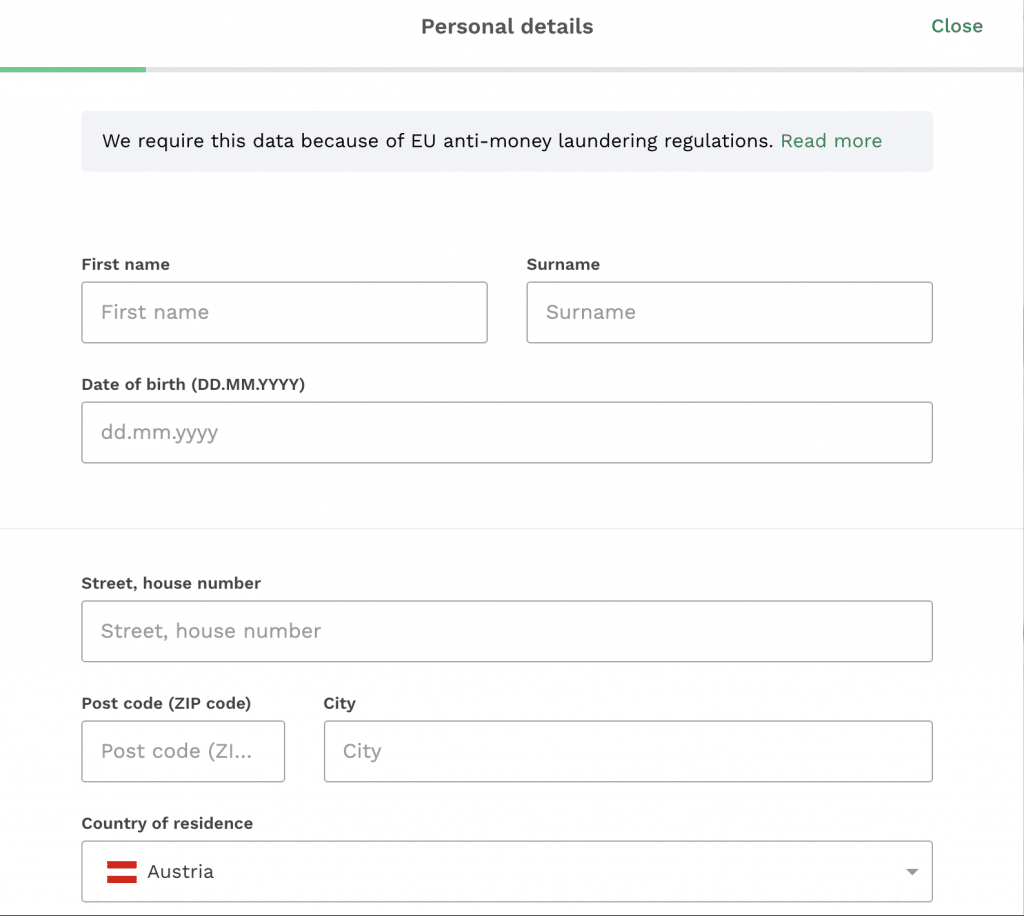 In order to start with your investments,  you will need to complete the KYC procedure before you can gain access to the full suite of Bitpanda features. The process is automated, and you will have to do the following:
Submit a copy of your passport or government-issued identity card (driver's license not accepted).
Complete video identification procedure.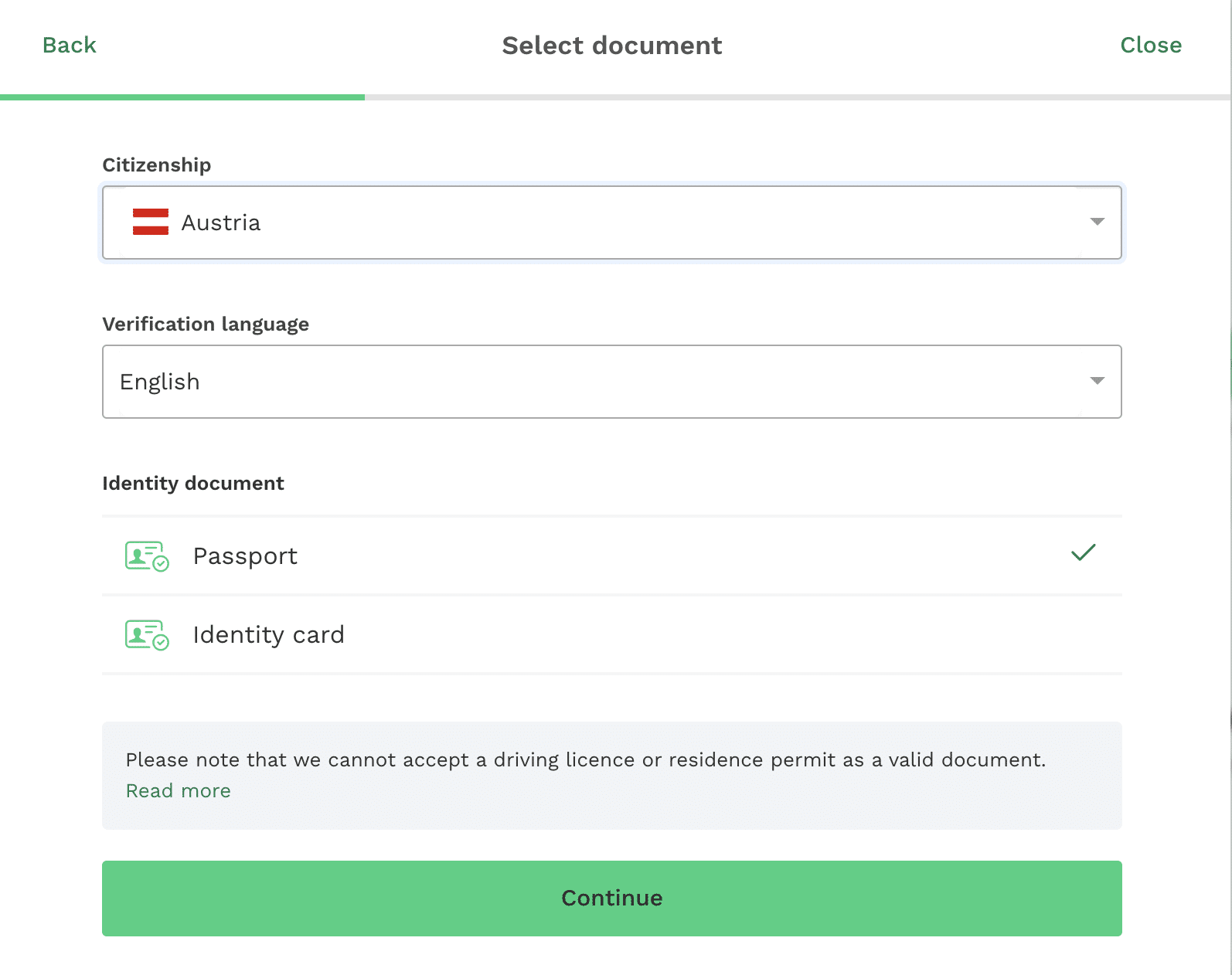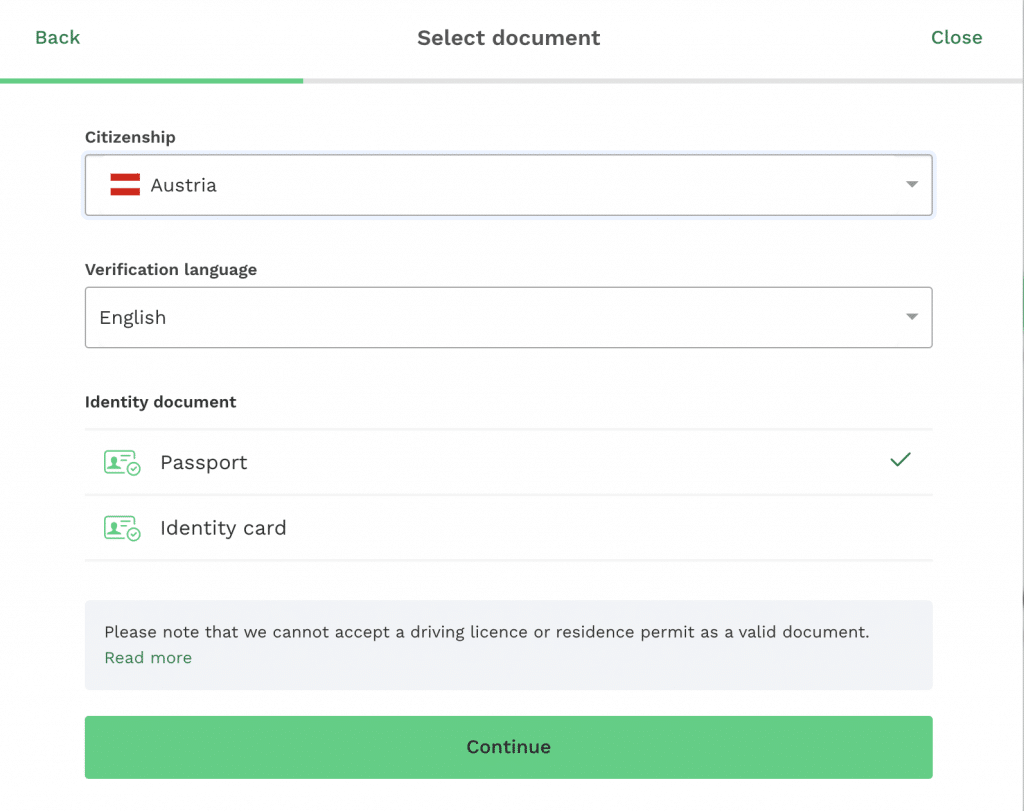 Bitpanda has partnered with third-party verification companies to complete this step. And as such, you will be directed to the next provider. And as per the platform, all your personal data will be protected under the guidelines of European GDPR.
Once you are verified, you can proceed to make your deposit and start investing in your chosen digital assets.
Bitpanda Payments
Bitpanda allows you to make payments on the platform by depositing either fiat currencies or cryptocurrencies.
Below is a list of the different payment methods available on the platform:
Bitpanda Fiat Deposits
Bitpanda accepts fiat deposits of euros, US dollars, Swiss Franc, British pounds, and Turkish lira. The platform supports a variety of payment methods, including:
Mastercard
Visa
Sofort
EPS
Giropay
Neteller
Skrill
SEPA transfer
However, it is important to note that the specific methods available to you will depend on your chosen fiat currency and your location. For instance, if you are making a deposit in euros, then you can do so using any of the aforementioned modes of payment. On the other hand, if you are transferring Turkish lira, you only have the option of making a bank transfer at your disposal.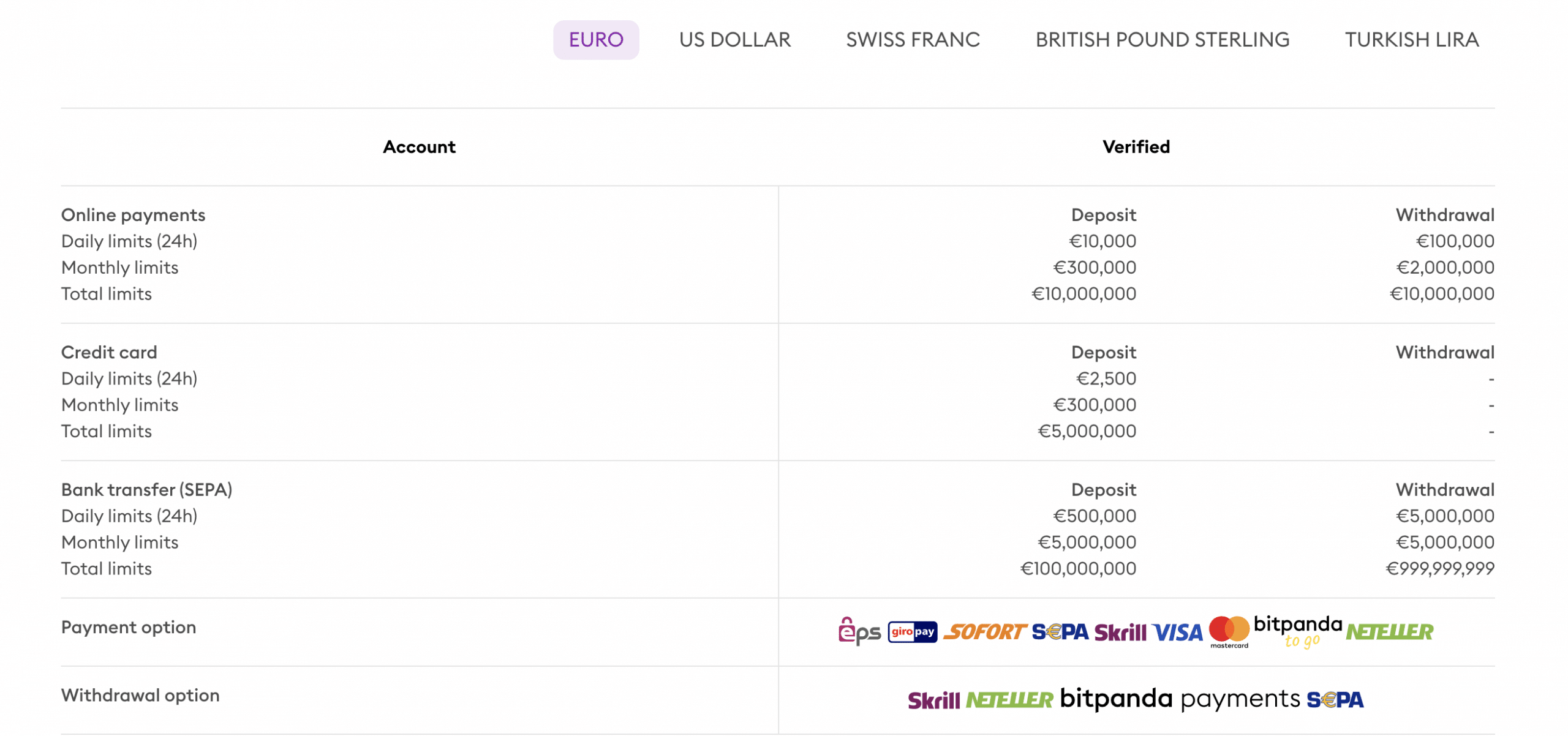 The platform also imposes daily deposit and withdrawal limits for fiat money that varies depending on the chosen currency and the payment method.
Bitpanda Cryptocurrency Deposits
If you want to pay for your assets using another digital token, Bitpanda also accepts direct crypto deposits. Currently, the platform supports over 45 different digital coins for this purpose.
This not includes only large-cap coins such as Bitcoin, Ethereum, and Ripple but also those in the DeFi category – such as Chainlink, Compound, AAVE, and more.
That being said, the transaction costs and minimum deposit requirements can vary widely between each supported cryptocurrency. There will also be a considerable waiting period involved if you choose Bitcoin or Ethereum transactions, depending on the network traffic.
Bitpanda Minimum Deposit and Investment
When it comes to making fiat deposits and withdrawals, the minimum amount required is €25.
If you try to make a transaction that is below this limit, then it will not be credited to your account.
If you would rather fund your account with a cryptocurrency, then the minimum deposit and withdrawal amounts vary depending on your chosen digital asset.
In terms of the minimum investment amount, Bitpanda allows you to buy and sell all supported digital assets from just €1, making this platform suitable for those on a budget. 
Is Bitpanda Safe?
When it comes to choosing a cryptocurrency exchange, it often comes down to the aspect of safety. After all, you are entrusting this site with your hard-earned money, so it only makes sense that you invest some time evaluating the security offered by the platform.
With this in mind, here is what you need to know regarding the safety of the Bitpanda platform.
Bitpanda Regulation
Since December 2020, Bitpanda is regulated by the AMF (Autorité des marchés financiers), which is the Financial Markets Authority of France.
The company is also registered as a digital asset service provider with the Austrian FMA (Financial Market Authority).
However, the exchange still lacks regulation from other prominent financial authorities such as the FCA in the UK – especially when the platform continues to offer its services in the United Kingdom.
As a part of its commitment to regulatory compliance, Bitpanda requires you to complete a KYC procedure. This step is mandatory for every user on the platform.
All these considered, one can say that Bitpanda appears to be safe for users who are residing in Europe.
Bitpanda Security Features
As a company registered in Europe, Bitpanda is also required to comply with the EU's General Data Protection Regulation (GDPR). This means that the platform has to keep your personal data secure and use it only for the purposes permitted by GDPR guidelines.
In the case that the platform needs to use your data, Bitpanda will ask for your consent.
Additionally, Bitpanda has also made it clear that the platform stores your funds in secure offline wallets with state-of-the-art technology.
In addition to this, users can also secure their accounts using two-factor authentication to avoid any risk.
Bitpanda also gives you the option to freeze your account in case you spot any suspicious activity.
Bitpanda Customer Support
When it comes to customer support, you will find that Bitpanda offers a comprehensive online knowledge base that can answer virtually every question you will have about its supported markets, fees, or how to use the platform itself.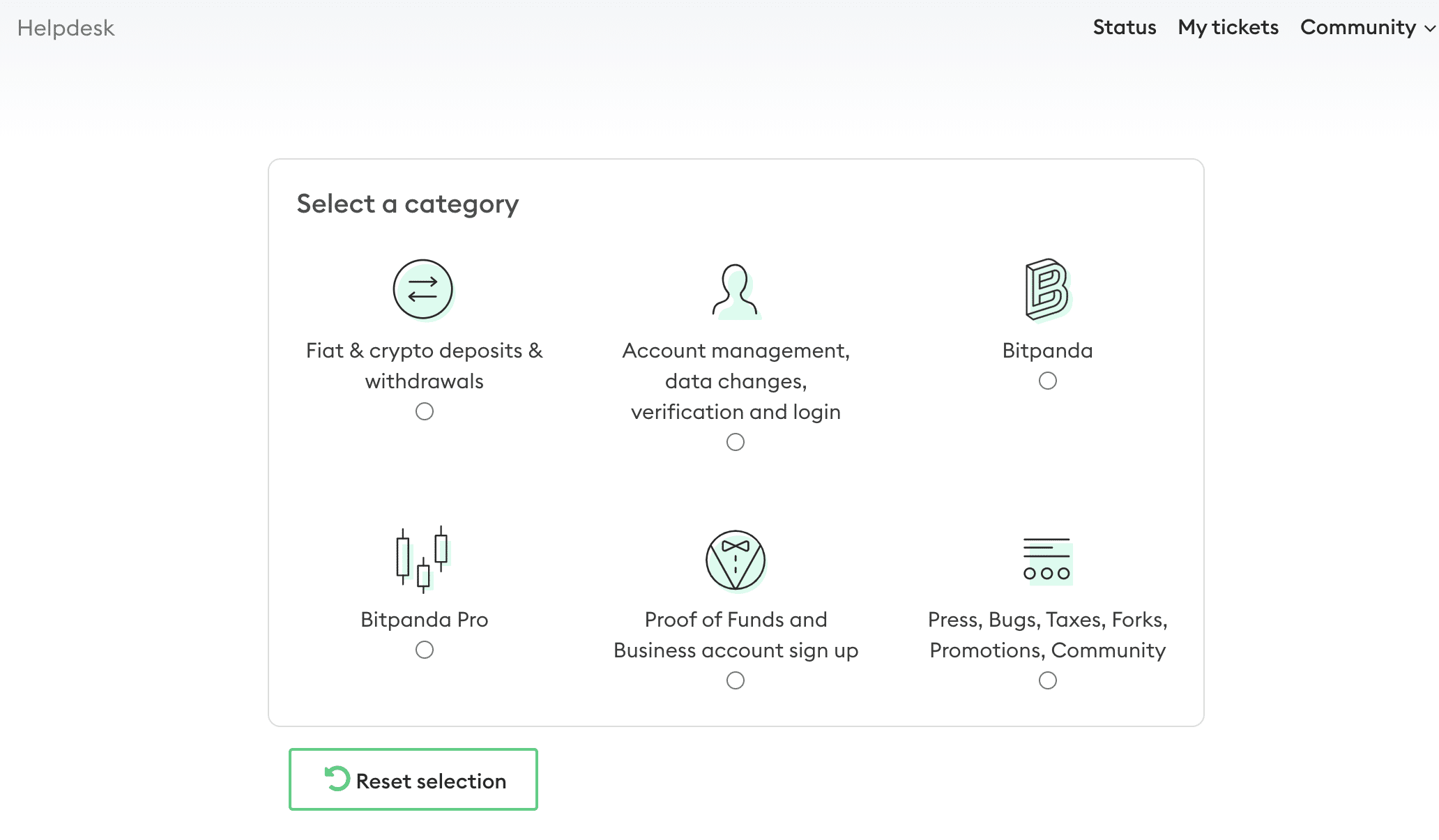 You can also reach out to the Bitpanda community or customer support using email if needed. However, we did not find any phone numbers listed, nor a direct chat option – which might be a disappointment for many users.
Bitpanda Academy
It is worth noting that Bitpanda has also set up a learning academy to educate investors about the various investment markets, opportunities, and how to use them. There are several guides that cater to the needs of beginner, intermediate as well as experienced traders.
eToro vs Bitpanda – Comparison
In this Bitpanda review, we aimed to provide you with a transparent and detailed assessment of this investment and trading platform. However, we also found that there are a few areas where this site falls short, especially when compared to a prominent cryptocurrency broker like eToro.
As such, we thought it best to present you with a comparison of the two platforms to provide you with a clearer picture. Here are the main aspects of why eToro comes out ahead.
Safety and Regulation
When it comes to the safety of your investments and funds, there is no room for error.
And unquestionably, eToro is one of the most secure cryptocurrency brokers that you will find in this regard.
This site is regulated by four of the most respected financial authorities in the UK, US, Australia, and Cyprus.
This includes the FCA, SEC, ASIC, and CySEC.
In comparison, Bitpanda is regulated only in Europe, and as such is not a wise choice for every investor. Not only that, this platform is not available in the US, and if you are a citizen or resident of this country, you will have to look elsewhere to buy and sell cryptocurrencies.
Available Markets
Another area where eToro wins hands down is in the list of supported markets. Although Bitpanda offers access to stocks, ETFs, and metals, these are in the form of 'derivative contracts'. In other words, you are investing only in a financial product that represents these assets.

On the other hand, when you buy stocks, ETFs, or commodities via eToro, you are making a direct investment. As such, you maintain the ownership without any strings attached. You will be able to buy and sell them as you wish, or trade them via CFDs (Contract for Differences).
Moreover, eToro offers support for thousands of assets, all available from a minimum investment amount of just $25.
Fees
Be it cryptocurrency, commodities, stocks, or indices, eToro allows you to trade these assets by charging you only the cost of the spread. On the other hand, on Bitpanda you will have to pay commissions for investing in all digital tokens – except for stocks and ETFs.
In addition to premiums, Bitpanda also requires you to pay the spread. Moreover, if you are investing in metals, then you will be charged a storage fee too.
When it comes to deposits, users who prefer to buy or sell assets using any fiat currency other than the euro will face a 2.5% transaction fee on Bitpanda – which is huge.
Whereas, on eToro – payments in US dollars are absolutely free. Needless to say, when it comes to charges and commissions – eToro is much more preferable.
User-Friendliness
Perhaps, the one aspect where Bitpanda is on par with eToro is in terms of user-friendliness. The platform is easy to use and allows you to buy and sell assets in a hassle-free manner.
Unless you are using Bitpanda Pro, there is no sophisticated interface, charts, or indicators to worry about. This way, experienced traders can take advantage of advanced tools, whereas new investors can stick to the simple interface.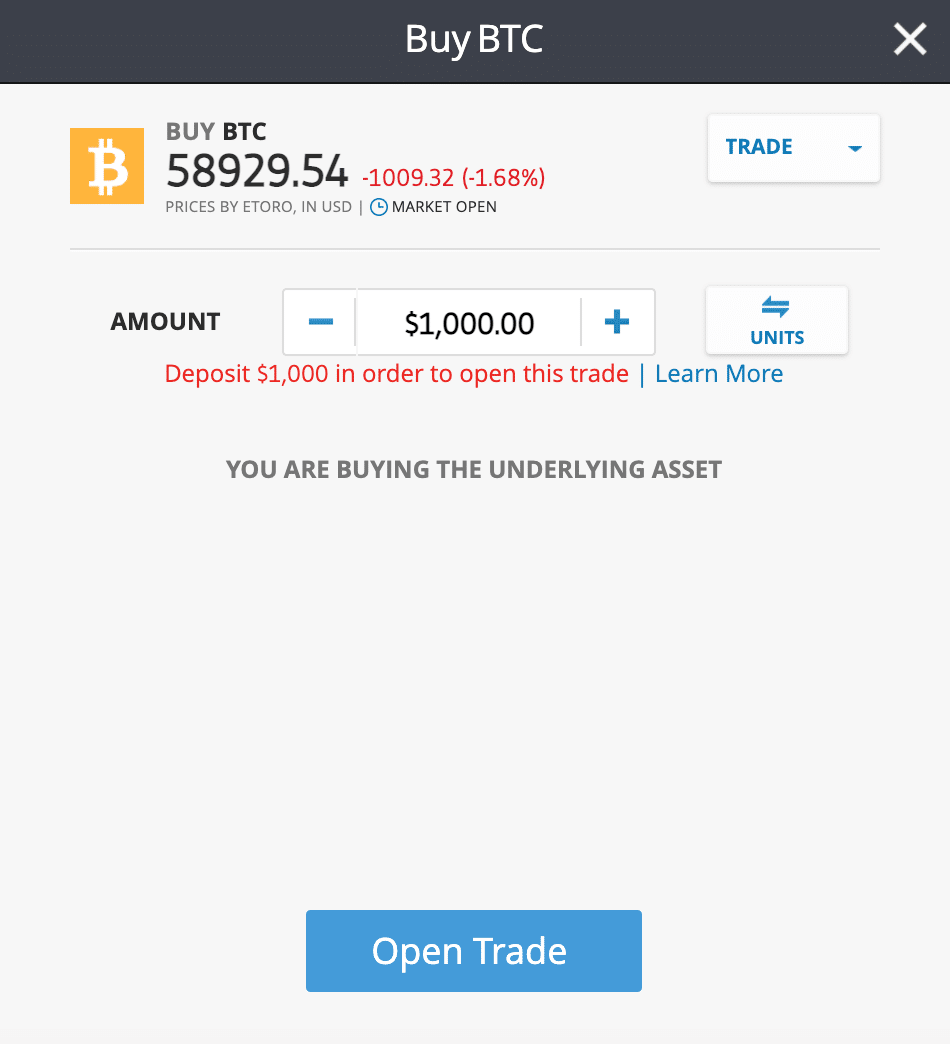 eToro is also great when it comes to user-friendliness. The trading platform is easy to navigate and its tools and indicators do not hinder your ability to place buy and sell orders on the site. However, there is one factor that works in favor of eToro here, which is the demo version.
eToro gives access to a demo market, where investors can practice trading and even test their strategies using paper money. Bitpanda, on the other hand, has so such feature.
Passive Investment Tools
Lastly, eToro also sets itself apart by providing passive investment tools on the platform. There are two options that cater to this purpose. The CopyTrading feature allows you to mirror the trades of experienced professionals. In other words, if your chosen trader buys or sells an asset, the same will be replicated in your account, in proportion to your investment.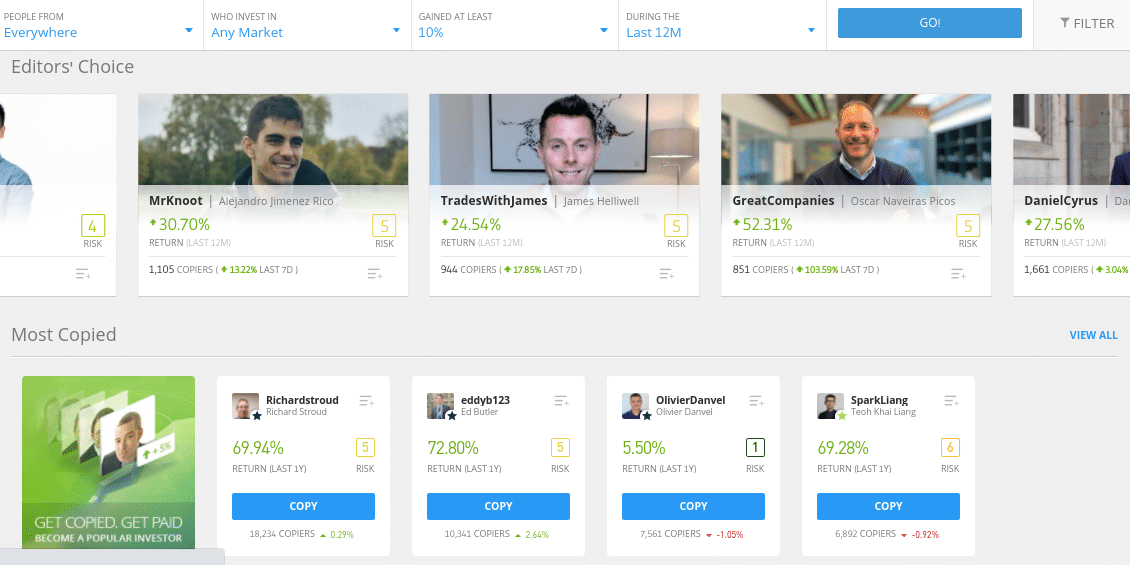 This way, you can profit from the skills of an expert without having to lift a finger. The second option is the eToro CopyPortfolios, which is a passive investment service. In this case, eToro's management team will select a basket of assets based on your risk appetite and handle your portfolio. This will also be rebalanced regularly based on market assessments.
Both of these tools can be immensely useful for new traders and investors, allowing you to learn from experts as well as capitalize on their experience in a specific niche of the market. However, on Bitpanda, you will find no such tools. Although the platform is beginner-friendly, you still have to educate yourself and place trades manually – which might not be suitable for newbies.
eToro – Best Broker to Trade Crypto
Bitpanda Review – Conclusion
Bitpanda is a reputable investment platform that gives you access to a wide range of digital assets. The company has built a credible reputation in Europe and is regulated in both Austria and France. The trading site is easy to use – which makes it simple for complete beginners to invest in its supported markets of cryptocurrencies, stocks, metals, and more – from a minimum amount of just €1.
However, all that being said, Bitpanda has a significant downside from the fact that it does not support enough countries, including the US. Additionally, when compared to the likes of eToro – the platform falls short in terms of regulation, fees, as well as passive investment tools.
After carefully considering all these aspects, our research team came to the conclusion that eToro is the better alternative for your cryptocurrency investments. This popular cryptocurrency broker is regulated by the SEC, FCA, and other reputable bodies – and allows you to invest in digital assets from $25 and on a spread-only basis. Plus, eToro allows you to trade crypto passively.
eToro – Best Broker to Trade Crypto
FAQ
Is Bitpanda available in the US?
What fees does Bitpanda charge?
How do you contact Bitpanda?
What is the Bitpanda minimum deposit?