BitMEX Review – Is BitMEX Safe? Features and Fees Explained
Please note that we are not authorised to provide any investment advice. The content on this page is for information purposes only.
BitMEX is an advanced cryptocurrency exchange that facilitates peer-to-peer trading of derivative products. The platform is best known for giving traders access to 100x leveraged products.
If you are considering this cryptocurrency exchange, then this BitMEX review is a must-read. Within it, we provide you with a fully comprehensive analysis of what to expect when using this trading platform –  including services offered, security, and fees.
Recommended Broker – eToro
What is BitMEX?
Bitcoin Mercantile Exchange, popularly known as BitMEX is a cryptocurrency trading platform highly preferred by advanced traders. Established in 2014, this site is known for providing users access to leveraged and derivative products.
In fact, BitMEX was the first exchange to launch the XBT/USD Perpetual Swap – a derivative product that continues to remain the most traded cryptocurrency instrument in this industry. Following its success, the platform has continued to add new markets for Perpetual Swaps, and Traditional Futures Contracts.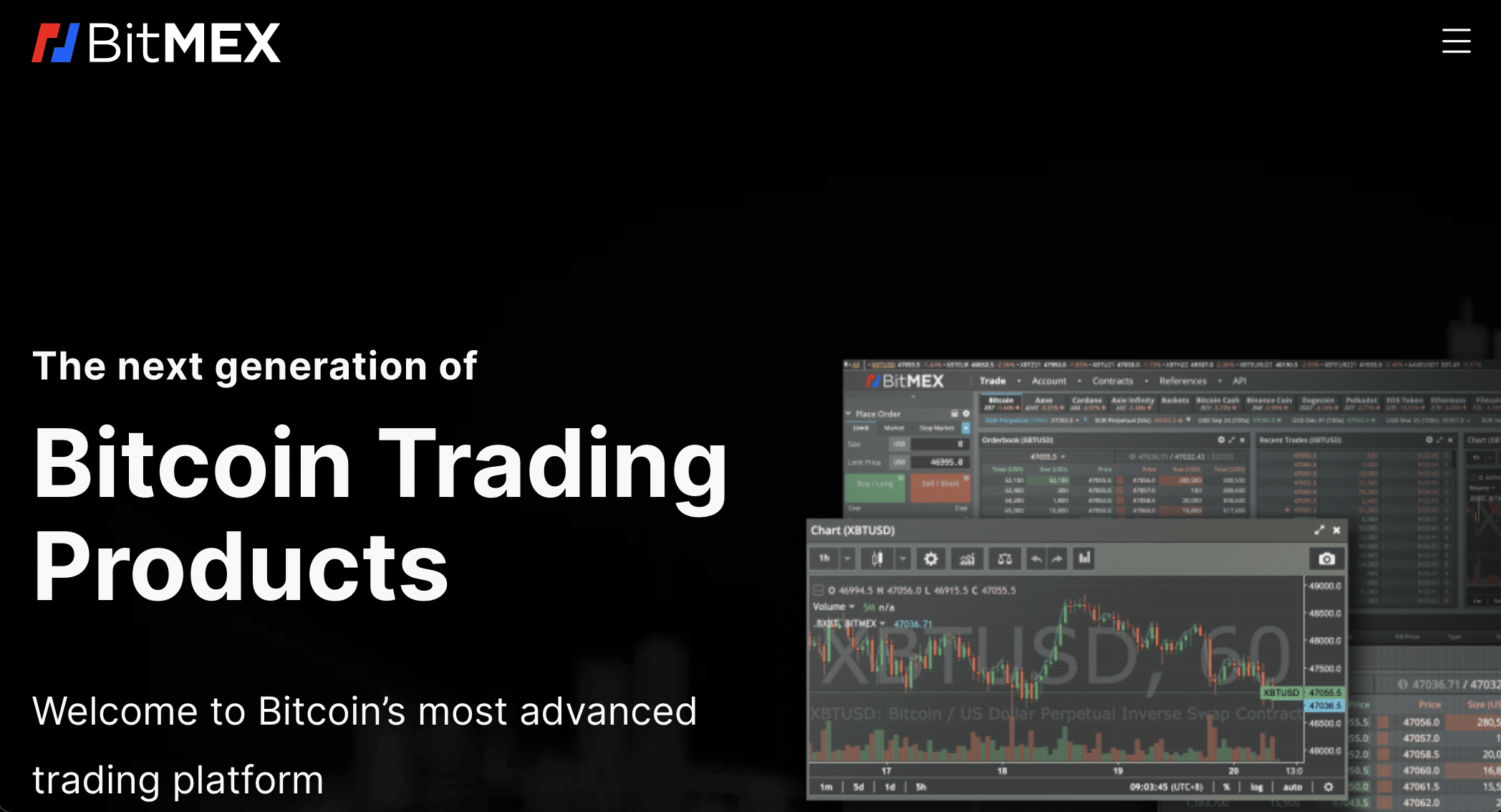 Another crucial factor that sets BitMEX apart is that it allows cryptocurrency trading with high leverage. On some products, this can go as high as 100x. However, you will not be able to buy or sell digital assets directly on this platform using a fiat currency such as US dollars or British pounds. Instead, you can only fund your trades using Bitcoin.
Overall, BitMEX gives the initial impression of being a cryptocurrency trading platform that is primarily geared towards advanced traders. If you are here for a quick review of this site, you can find the advantages and disadvantages of this exchange listed below. For those who have more time, we suggest that you read our entire analysis to get a clearer picture.
BitMEX Pros and Cons
According to our research, this BitMEX review found that the platform comes with the following pros and cons.
Pros
Access to derivative products such as Perpetual Swaps and Futures Contracts

Up to 100x leverage, starting at 1% initial margin

Advanced trading platform and multiple order types

Operational since 2014
Cons
Only regulated in the Seychelles
No fiat deposits accepted
Fund your trading account only in Bitcoin and Tether
Trading interface is not suitable for beginners
No passive trading tools
Cryptoassets are highly volatile unregulated investment products. No EU investor protection. 67% of retail investor accounts lose money when trading CFDs with this provider.
BitMEX – Markets
As a cryptocurrency platform, BitMEX caters mainly to experienced and advanced traders. Instead of allowing you to exchange cryptocurrencies directly, this platform only offers products in the form of derivate instruments.
BitMEX – Cryptocurrency Trading Pairs
While BitMEX allows funding only via Bitcoin and Tether, you will still be able to trade several crypto-fiat and crypto-crypto pairs on the platform using a variety of derivative products.
These are available for the following cryptocurrencies:
Bitcoin
Litecoin
Tezos
Aave
Avalanche
Axie Infinity
Binance Coin
Polkadot
Filecoin
Chainlink
Terra
Solana
Sushi
Uniswap
Serum
VeChain
Stellar
Matic Network
Unlike several other prominent cryptocurrency exchanges of today, BitMEX is a niche platform that focuses on leveraged trades for its listed markets. If you are looking for greater variety, then it would be best to consider a regulated broker like eToro.
BitMEX – Types of Products
In the previous section, we mentioned that BitMEX gives you access to a long list of cryptocurrency markets and trading pairs. Crucially, these are facilitated via different derivative products.
BitMEX – Futures Contracts
Futures Contracts were one of the first products to be added to the BitMEX exchange.
For those unaware:
A traditional Futures Contract is an agreement between two traders to buy or sell an asset at a predefined time and price in the future – in this case, a cryptocurrency.
BitMEX allows you to trade cryptocurrencies in the form of Futures Contracts using cash settlement.
One of the main advantages of using BitMEX for Futures trading is that you do not have to put up a 100% margin amount. Instead, the platform allows you to access leverage of up to 100x.
That being said, how much leverage you can access varies dramatically between any two markets. For instance, if you are trading Bitcoin, you can multiple your margin by up to 100x. On the other hand, Futures Contracts for Cardano or EOS allow you to gain a maximum of only 20x.
Within the category of Futures Contracts, you can choose between Quanto, Linear, and Inverse Futures on BitMEX.
BitMEX – Perpetual Contracts
The concept of Perpetual Contracts for trading cryptocurrencies was first introduced by BitMEX. Although these are similar to Futures in some ways, there are also some notable differences.
Unlike a Futures Contract, a Perpetual Contract does not have an expiry date or settlement.
These contracts trade close to the Index Price of the underlying asset.
BitMEX uses a Funding Mechanism that binds these Perpetual Contracts to their underlying spot price. This means that you will only be able to pay or receive funding if you hold a position open during a specific time slot on this platform.
As with Futures, BitMEX allows you to trade Perpetual Contracts without having to post 100% of collateral as margin. As such, you can get up to 100x leverage on some of these products – depending on the trading pair in question. You can also choose to trade Linear, Inverse, or Quanto Perpetual Contracts on this platform.
BitMEX Baskets
Aside from cryptocurrency pairs, BitMEX also gives you the option to speculate on crypto baskets – which is a collection of digital assets. This is done using Perpetual Contracts on the platform. In simpler terms, this product allows you to diversify your exposure in the market.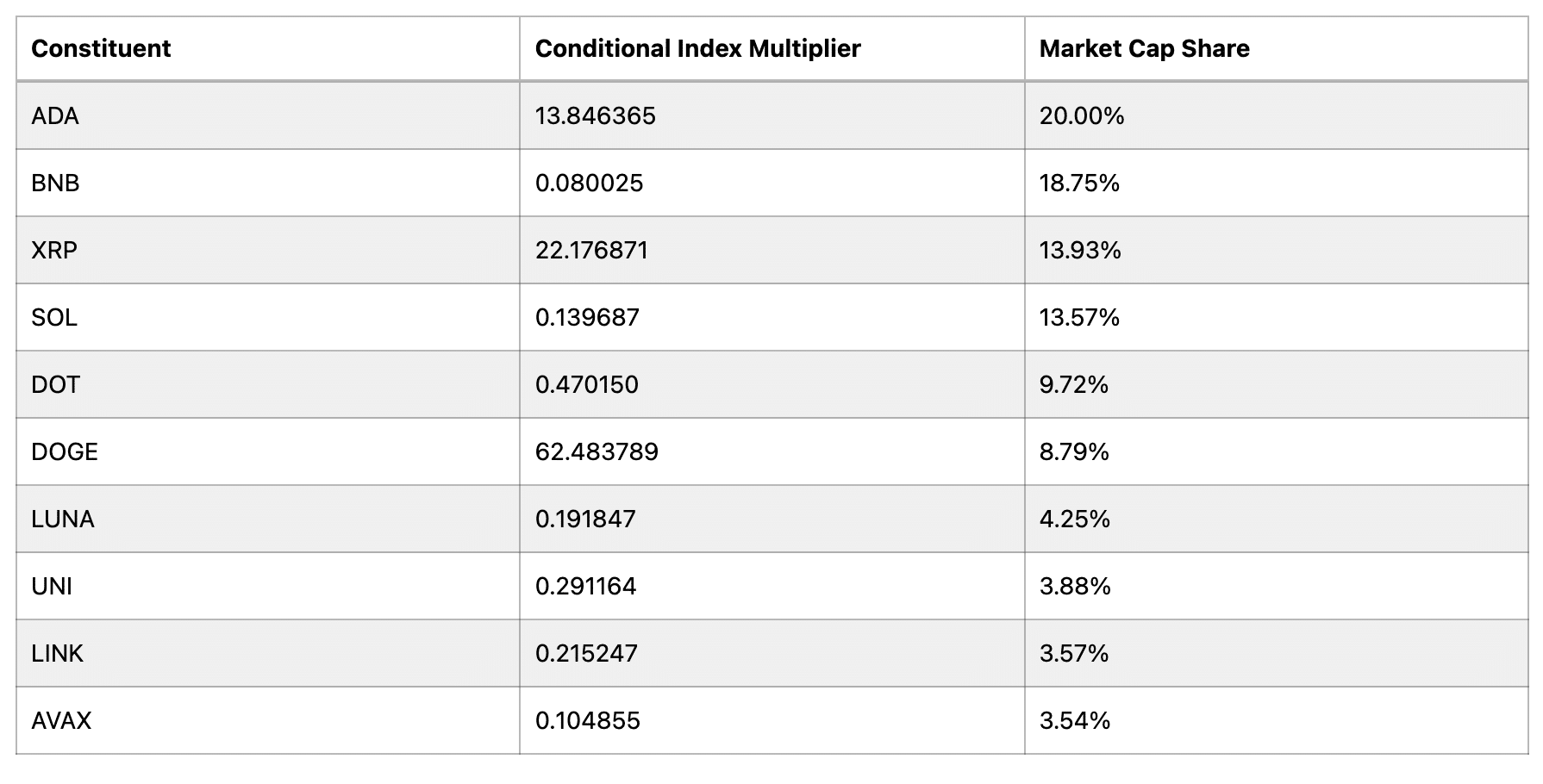 There are two crypto baskets currently available on BitMEX:
BitMEX ALTMEX Basket Index tracks the performance of the top 10 Altcoins based on market capitalization.
BitMEX DEFIMEX Basket Index includes the top 10 DeFi tokens based on market capitalization.
Both of these baskets are rebalanced periodically on a quarterly basis.
BitMEX – Upside  and Downside Profit Contracts
BitMEX also allows you to speculate on the cryptocurrency markets using Upside Profit Contracts or Downside Profit Contracts for Bitcoin.
The key benefit of buying this product is that there is a potential for a high profit, but a limited loss. There is no liquidation, no leverage, or any fees associated with trading this instrument. The only cost that you pay is the contract price.
These contracts often have a settling period. You will need to close the trade above your 'Strike price' for you to make any profit. As you can imagine, these are sophisticated products that come with a high risk-reward ratio.
BitMEX – Contract Loss Mechanism
When dealing with such high-risk and speculative markets, it only makes sense that BitMEX has a system in place to mitigate any potential losses. This is done using an elaborate Liquidation Process created by the platform.
For those unaware – in cryptocurrency markets, liquidation occurs when the exchange has to forcefully close a leveraged position due to a partial or complete loss of the initial margin.
If you are considering BitMEX for leveraged products, it is best that you are aware of the following aspects before you sign up:
In order to open larger positions, you will need to put up a higher amount as your initial and maintenance margin.
The platform has laid out a Liquidation Process that will cancel any existing open orders in case they are starting to take up the margin amount.
In an event that liquidation cannot be avoided, an Automated Delevarging System will attempt to close the highly leveraged positions first.
In addition, BitMEX also offers Negative Balance Protection. That is, if a position goes wrong, only your account balance will be used to cover any potential losses. You might lose all the money you have deposited, but it will not go under zero – thus safeguarding you from going into debt.
BitMEX Trading Platform
Now that you know what kind of derivative products are available on BitMEX, let us consider the core features of its trading platform. The notable difference you will find here is that instead of exchanging cryptocurrencies directly, you will be speculating using contracts instead.
This can be much more volatile and speculative in comparison to a standard spot trading exchange. As such, it goes without saying that the interface is designed with traders who know what they are doing.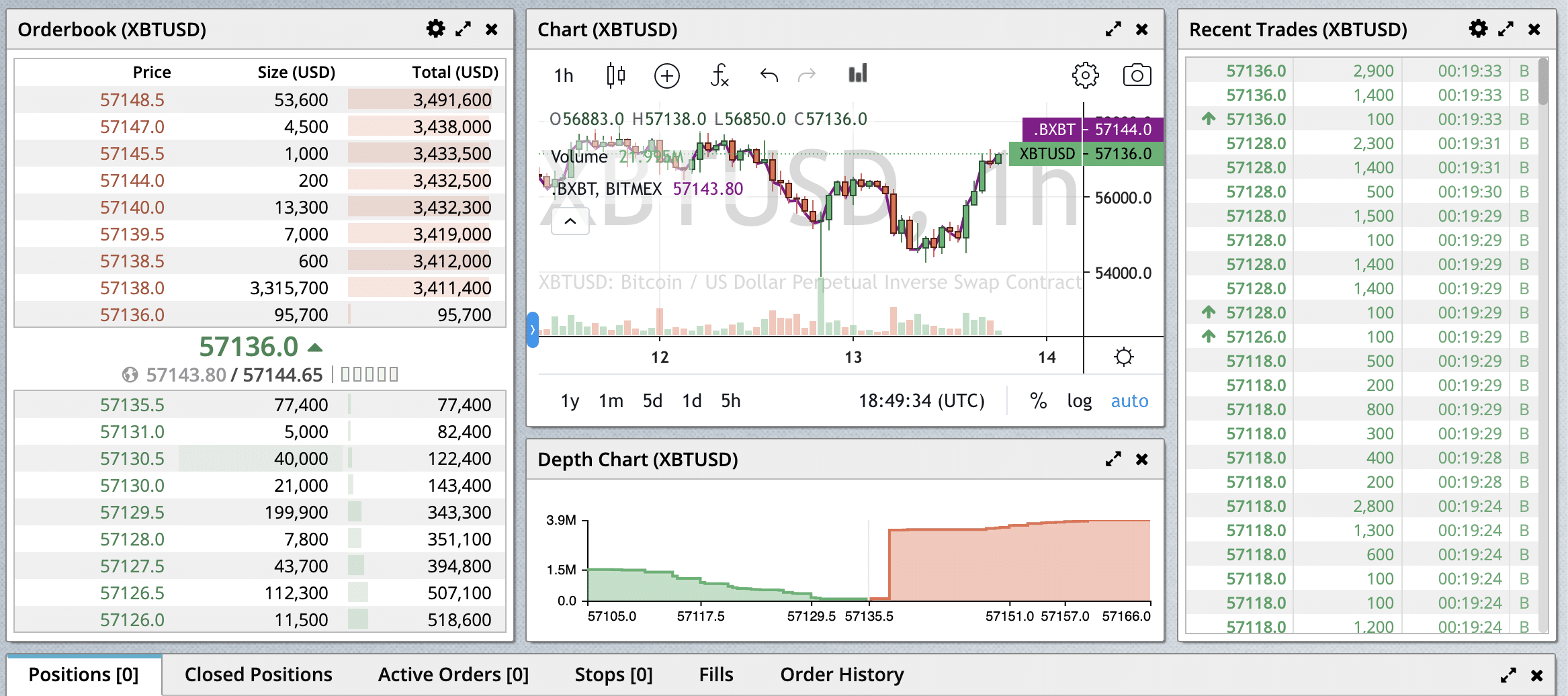 Although the trading platform is functional, it appears to be sophisticated and quite advanced. There are several widgets available, such as order books, charts, contract details, markets, and more. You also have the option to customize the interface based on your personal preferences.
There is also a separate order management area where you can watch over your open positions, or cancel any ongoing trades as needed. While the interface is usable and offers tons of features, it has to be said that it is neither innovative nor user-friendly for newbies.
BitMEX Testnet
For those who would want to practice trading, BitMEX also gives you access to a demo version of the platform. The exchange has partnered with Testnet to enable users to practice placing trades, executing them, and canceling orders of different types and sizes.
In this demo version, BitMEX provides you with a test market with the same interface as that the main trading interface of the exchange. You can use Testnet coins that do not have any monetary value. This allows even the most experienced traders to experiment with their strategies without having to use their own capital.
BitMEX Mobile App
BitMEX Mobile is the dedicated app that gives you remote access to its full range of derivative products. Some of the notable features of this tool include:
Option to create different types of trading orders, including limit, stop and take profit.
Manage open positions and find a summary of all your order information.
Access to real-time market data and candlestick charts
Make deposits and withdrawals.
Protect your account using biometric authentication and login notifications for added security.
As you can see, BitMEX provides you with the full palette of its features via its mobile version. In other words, the platform has made it easier for you to place trades, close your positions, and even make withdrawals on the go.
BitMEX Payments
BitMEX allows you to trade exclusively using digital assets. In other words, you will not be able to make any deposits into your account using fiat currencies such as US dollars, British pounds, or euros. Instead, you can only fund your trades using either Bitcoin or Tether. That is to say, any deposit or withdrawal you make on the site has to be in BTC or USDT.

To deposit your cryptocurrencies, BitMEX provides you with respective wallet addresses. The platform also carries out network confirmation before the funds are credited to your account. There is also manual verification involved before the platform approves your withdrawal requests. Moreover, it is important to remember that this exchange processes withdrawal only once a day.
Since these are processed manually for approval, you will need to make sure that they are placed before the cut-off time. Fortunately, there are no limits to how much you can withdraw from your account on a given day.
BitMEX Minimum Deposits
BitMEX only requires a minimum deposit of 0.0001 XBT to process your transactions.
However, the minimum amount needed to start your trading journey on BitMEX depends on the product you choose and the initial margin.
For instance,
If you want to trade XBT/USD, the minimum amount required is $1.
At a 1% margin, this comes to $0.01.
If the XBT/USD pair is priced at $600, then this means that you will need to put up a stake of 0.00001667 XBT.
That said, BitMEX continues to be one of the most recognized cryptocurrency exchanges in terms of offering a low minimum deposit requirement. In fact, when you consider that you can access leverage of up to 100x, a small deposit can quickly turn into a significant amount of trading capital.
BitMEX Fees
Since BitMEX supports a variety of markets and instruments, the costs associated with using this exchange come with several determinants. To make things simpler, the platform has enforced standard charges that applies to all its products, unless specified otherwise – a Maker Fee of 0.01%, and a Taker Fee of 0.05%
However, for those who have a high trade volume of over $5,000,000, the fees are calculated differently.
There is a total of five different levels that classify users based on their 30-day trading volumes. If you belong to one of these, then you will find that the more you trade, the cheaper the Taker Fees are – with the lowest being 0.025%.
BitMEX Fees – Perpetual Futures and Traditional Futures
When trading derivate products such as Perpetual Futures and Traditional Futures, BitMEX charges 0.01% to Makers and 0.05% to Takers.
Additionally, you will also have to pay extra fees for long funding and short funding in the case of Perpetual Futures – which varies depending on the specific crypto pair you are trading.
Since the charges can differ drastically between two cryptocurrency markets, it is in your best interest to thoroughly study the fee structure before you start trading on this platform.
Moreover, it is important to note that BitMEX fees apply for the entire leverage and not just the margin.
BitMEX – Deposit and Withdrawal Fees
Fortunately, there is no fee for making any deposits on BitMEX – regardless of whether you are funding your account using Bitcoin or Tether. However, when it comes to making withdrawals, you will find that the fees vary depending on the blockchain network load.
You can also pay additional charges in order to increase the transaction speed. Overall, when compared to other cryptocurrency exchanges in the market, BitMEX offers a competitive fee structure – which attracts traders who want to access high leverage at low costs.
Is BitMEX Safe?
BitMEX advertises itself as a legitimate platform that is committed to the safety of the users. And in doing so, the exchange makes sure that it does not compromise the safety of its features to provide you with more convenience.
Here is what you need to know about BitMEX if you are considering this platform to trade cryptocurrencies.
BitMEX Regulation
BitMEX is owned by HDR Global Trading Limited, a reputable company registered in the Seychelles.
However, this platform is not regulated by any credible financial authorities such as the FCA in the UK, or SEC in the US. As such, you cannot be sure about the safety of your funds.
If BitMEX is to go out of business for some reason, you are unlikely to regain the funds you have transferred to the platform or any financial compensation.
This lack of regulation has since resulted in BitMEX being investigated by the CFTC in the US for breaching anti-money laundering laws.
And consequently, following its verdict, the platform had to pay a hefty penalty and cease all its trading operations in the country – subsequently making it less trustworthy in the eyes of traders.
BitMEX User Verification
Since August 2020, BitMEX has also made it mandatory for all its users to go through a verification process. This involves you completing five steps of ID checks, including:
Identity – You will need to upload an image of your passport or driver's license.
Presence – You will have to take a photo or video of yourself.
Location – You can either provide proof of your residence document or enable your browser to access your current location.
Funding – You will have to answer a few questions regarding your experience with cryptocurrency trading and about the source of your funds.
Declaration – You will then need to declare your citizenship.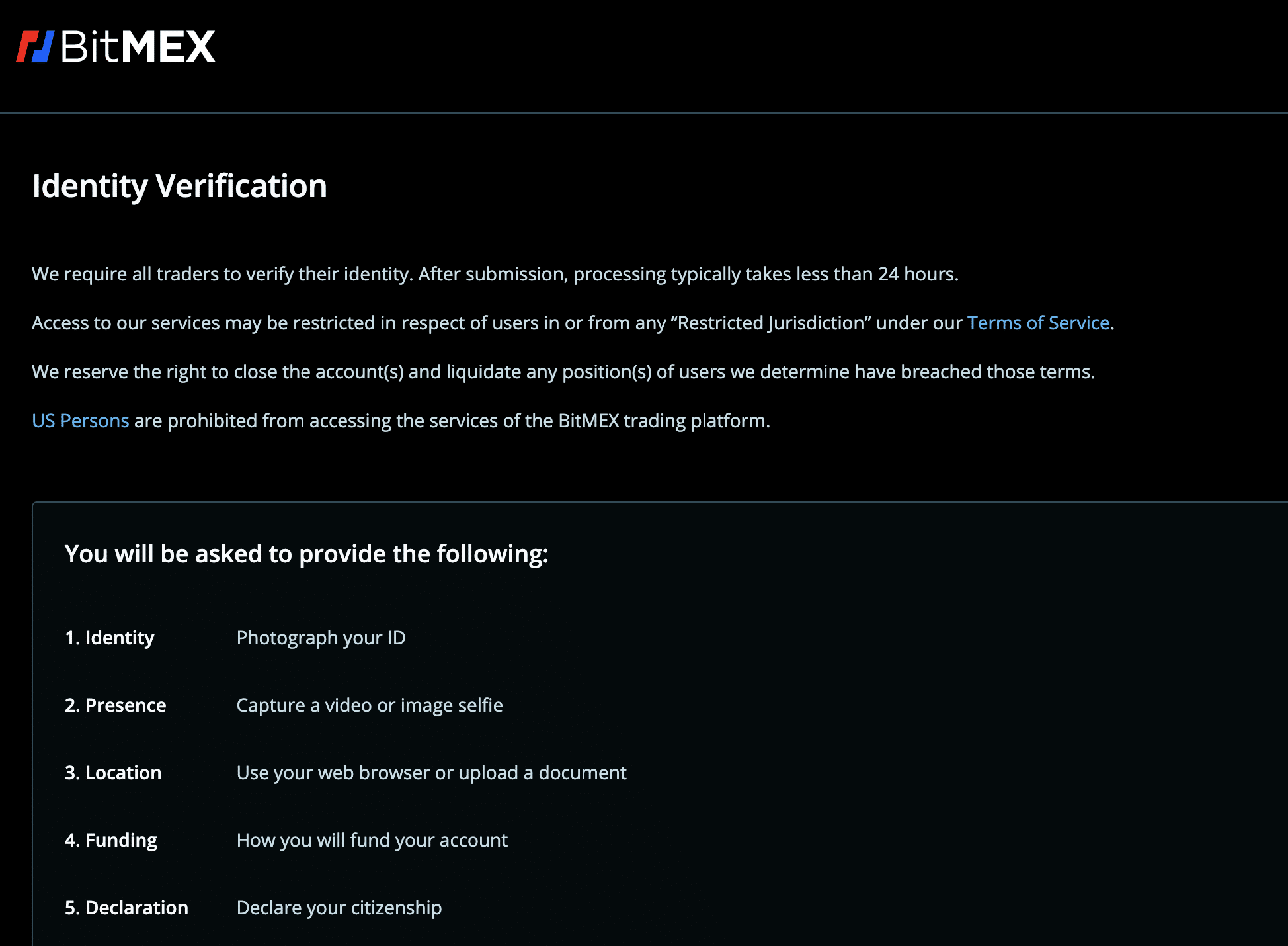 The end-to-end verification process should take about only five minutes on BitMEX.
BitMEX Security Features
According to BitMEX, the following security features are implemented on the platform:
BitMEX uses a multi-signature system for all its wallets, which are kept offline. This means that you will need two or more private keys to set up a transaction. In addition, every withdrawal request made on the platform is audited by at least two employees before approval.
Moreover, all deposit addresses are also verified by external services. If there is a hint of any discrepancy, the trade will be halted. Similarly, in the event of a full-system compromise, BitMEX ensures that there will not be enough keys accessible to attackers to get any hands-on user funds.
BitMEX utilizes Amazon Web Services and requires multiple forms of authentication to access. The system has been designed in such a way as to prevent communication between two individual channels unless approved. The IP pinning tool will immediately notify you of any login attempts from other devices.
The BitMEX trading engine is built on a fast and reliable database called kdb+, which is frequently used by major banks and other financial organizations.
Users on BitMEX are also encouraged to enable two-factor authentication in order to access both the web and mobile versions of the trading platform.
Aside from all these, BitMEX has also set up a bug bounty program on HackerOne, where you can report security issues on the website and receive rewards in return.
BitMEX – Available Countries
BitMEX is a global cryptocurrency exchange that offers its services to individuals and entities across the world.
However, due to the platform's current standing with the US financial authorities, BitMEX is prohibited for users who are citizens or residents of the following countries:
United States of America
Québec (Canada)
Hong Kong
Republic of Seychelles
Bermuda
Cuba
Crimea
Sevastopol
Iran
Syria
North Korea
Sudan
It is also important to note that the mobile version of BitMEX is not available across all supported countries.
BitMEX Customer Support
BitMEX allows you to contact the customer support team directly via their platform by sending an email. You will be able to receive services in English, Chinese, and Russian. The exchange also has an active Reddit community where you can post your queries and concerns.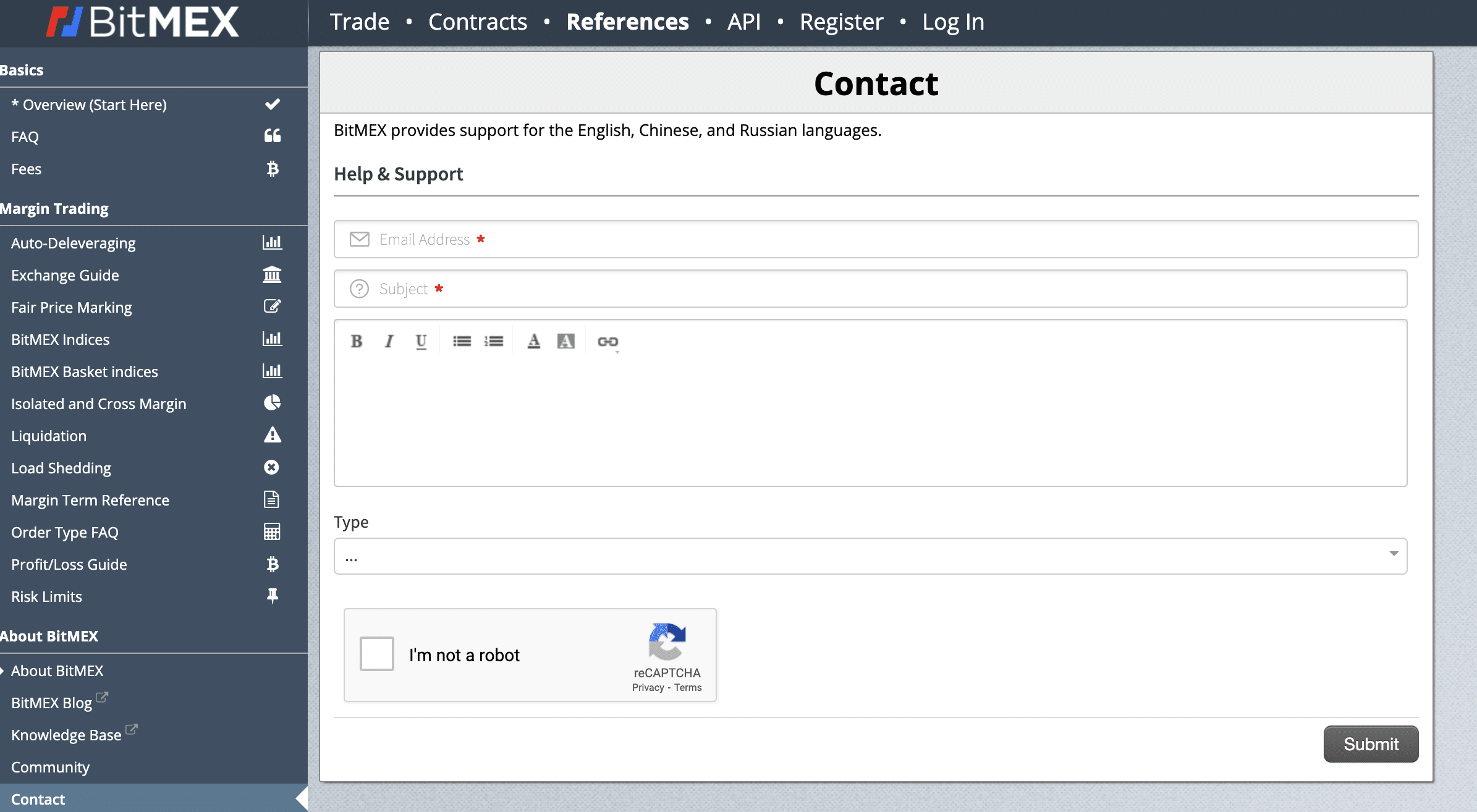 You will also find a comprehensive database that offers you more detailed explanations of the products and services offered by the platform. However, if you are looking for a direct communication channel via a chat window or a phone number, you will not find them on the BitMEX website.
eToro vs BitMEX – Comparison
While BitMEX has gained considerable popularity in the cryptocurrency trading circles, our research team found that the platform leaves a lot of room for improvement. This exchange has several disadvantages when compared to the likes of regulated brokers such as eToro.
If you are in the market for a cryptocurrency exchange, you should have a clear idea of what your options are. With this in mind, we have prepared a detailed comparison of BitMEX with eToro – a regulated online broker that serves over 20 million clients across the world.
Safety and Regulation
If you are confused between choosing a regulated broker vs an unregulated exchange, the answer should be a no-brainer. Although BitMEX has implemented some security measures, this platform is not licensed by any reputable authority. And as such, your funds will always be at risk.
In comparison, eToro can give you the safety that comes with not just one, but multiple licenses issued by respectable financial authorities across the world. The broker is regulated by licensing bodies in the UK, Australia, the US, and Cyprus.
In other words, you will be able to trade cryptocurrencies in a much safer environment when using eToro.
Available Markets
As we have already established, BitMEX is a cryptocurrency exchange that gives you access to derivative products. In other words, you need to be an advanced trader in order to make the most of this platform. Moreover, your options of available assets on this site are severely limited.
At the other end of the scale, eToro allows you to not only trade but also invest in cryptocurrencies with ease. This means that you can buy and sell digital assets directly using fiat currencies such as US dollars and euros. All this is possible by making a minimum deposit of $50 on the platform.

Additionally, the broker also gives you access to thousands of other assets, such as stocks, ETFs, commodities, forex, and more. If you would rather trade cryptocurrencies like BitMEX, you will also be able to do so via crypto CFDs.
The only area where eToro slightly falls behind is in terms of leverage – which is much lower when compared to what BitMEX offers. However, this is because the broker is heavily regulated and as such, the platform is not legally allowed to provide exponential leverage limits to retail clients.
Fees
On BitMEX, the fee you pay depends entirely on your trading volume and the derivative product of your choosing. Additionally, all the deposits you make are also free.
Whereas on eToro, you only have to consider the spread when placing trades on cryptocurrencies or any other assets.
This platform also allows you to invest in stocks and ETFs at 0% commission.
The minimum deposit to start investing with eToro is only $50 and you do not have to pay any deposit fees when using US dollars.
While BitMEX might appear to offer competitive rates, the markets available at this exchange are somewhat thin.
User-Friendliness
For many users, the decision of choosing a broker often comes down to how easy its interface is. After all, even the most sophisticated features can be useless if the platform isn't intuitive enough to cater to your needs.
In that regard, eToro is, perhaps, the best broker you will come across.
The interface of this platform is designed with beginners in mind, without compromising on any features sought after by advanced traders.
Buying, selling and trading assets on this site is extremely easy and can be completed in a couple of minutes.
Even with access to tools and charts, the interface is sleek and clean.
There is also a demo version at eToro that comes loaded with paper money for beginners to get familiar with the markets.
On the other hand, BitMEX caters only to advanced traders. The products offered are complex, and the interface makes it incredibly challenging for beginners to navigate. It goes without saying that if you are new to the cryptocurrency space, it would be in your best interest to choose a platform that can offer you access to easy trading tools as well as diverse markets.
Passive Trading Tools
By now, you know that BitMEX is far from a beginner-friendly platform. As such, you will not find any educational resources that you can use to familiarize yourself with the products offered.
However, on eToro, the platform has an entire section dedicated to beginners with guides, tutorials, and webinars. But the most impressive feature is the passive Copy Trading tool – which allows you to invest in an experienced trader and copy their positions in your portfolio proportionately. In other words, you do not need years of expertise to capitalize on cryptocurrency market movements.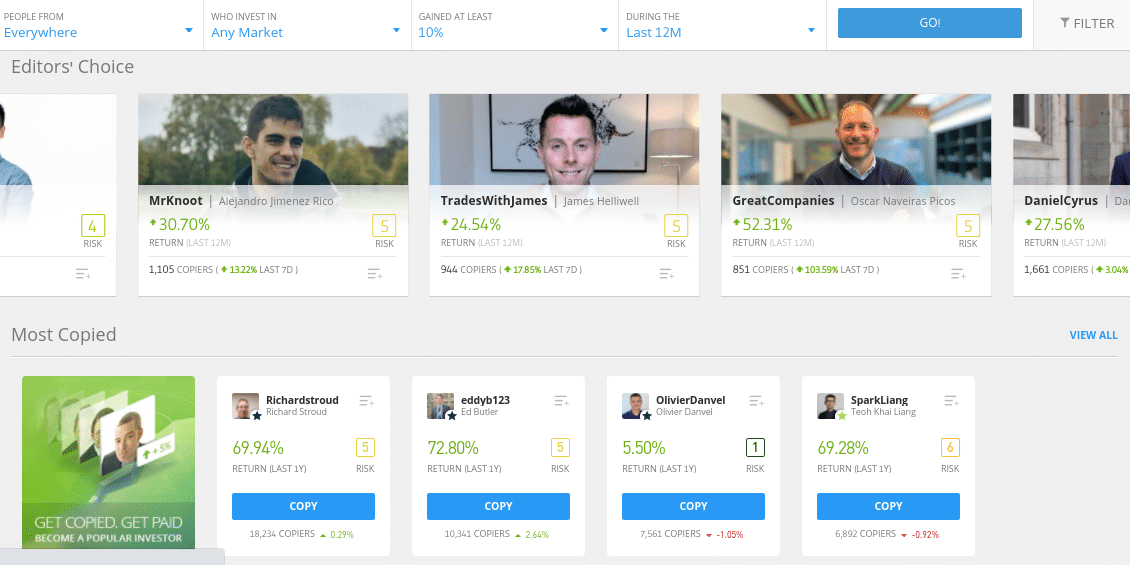 If you are leaning more towards a diversified long-term investment, eToro also has a passive tool dedicated to that. Using the CryptoPortfolio feature, you can benefit from the expertise of a team of experienced professionals to manage your assets. Your funds will be invested into a basket of cryptocurrencies at different weights, which will be regularly balanced to align with the markets.
BitMEX Review – Conclusion
After considering its core features, and looking at BitMEX objectively, we find that the platform falls short when it comes to the key aspects of safety and security. Moreover, this cryptocurrency exchange is a fit only for experienced traders who are familiar with dealing with leveraged and derivative products.
Given these factors, our research team finds eToro more suitable for investing and trading in cryptocurrencies and other assets. This broker is heavily regulated in Europe, the US, and Australia, and also allows you to buy and sell digital currencies with fiat money. And most importantly, the platform's interface is intuitive enough for not only experienced professionals but also beginners.
eToro – Best Broker to Trade Crypto
FAQ
Is BitMEX available in the US?
What fees does BitMEX charge?
How do you contact BitMEX?
What is the BitMEX minimum deposit?