bitFlyer Review – Is bitFlyer Safe? Features and Fees Explained
Please note that we are not authorised to provide any investment advice. The content on this page is for information purposes only.
Over 2.5 million customers across the globe use bitFlyer to buy and sell cryptocurrencies. The firm is behind regulated exchanges in various locations – such as the US, Japan, and Europe, all of which permit access to one of the largest Bitcoin markets in the world.
In this bitFlyer review, we take a closer look at what this platform has to offer – including supported payment methods, available markets, trading tools, fees, and security.
Recommended Broker – eToro
What is bitFlyer?
Founded in 2014 in Tokyo, Japan, bitFlyer has since emerged as one of the largest cryptocurrency exchanges globally. The firm has gone on to open multiple platforms to cater to users across the world, by offering a regulated and safe environment to buy and sell digital assets.
In the US, bitFlyer launched its crypto trading platform in 2016, and later in 2018, the company also expanded its services to the EEA. As such, you can only use this exchange if you are residing in one its supported jurisdictions.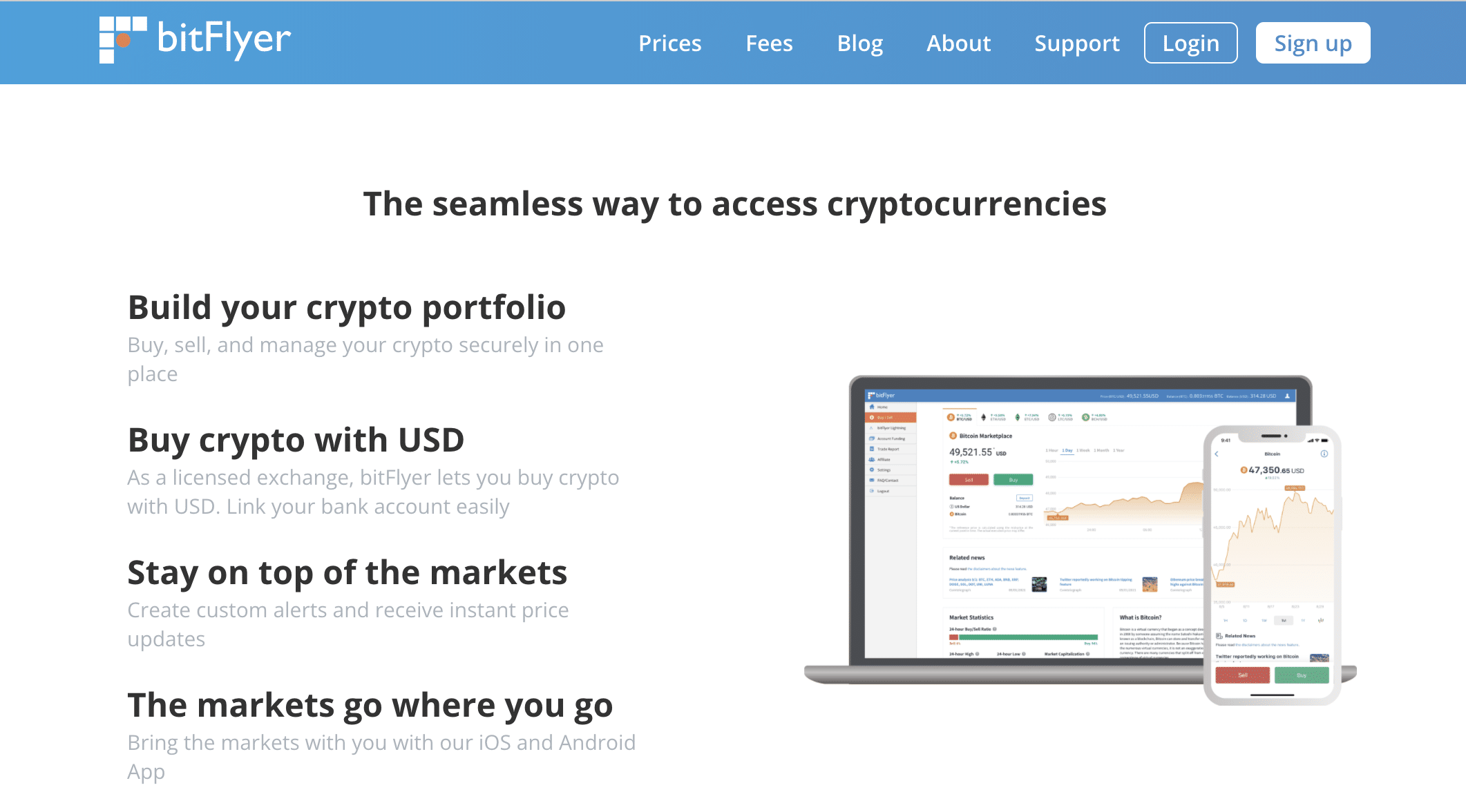 What set's this platform apart is that it is licensed in all the three above-mentioned regions. Put otherwise, users in EEA or US can gain access to one of the biggest Bitcoin markets in Japan, while still using a regulated platform in their own country.
However, in spite of being one of the. most prominent Bitcoin exchanges, the platform has only a handful of cryptocurrencies listed on its site. Moreover, its supported markets will vary depending on your location. You can get started on bitFlyer with as little as 1 USD, 1 EUR, or 100 JPY. The exchange accepts payments in the form of bank transfers, or via PayPal (only in EEA).
bitFlyer Pros and Cons
After doing a thorough bitFlyer review, we find that the platform offers the following advantages and drawbacks.
Pros
Start buying cryptocurrencies from 1 USD, 1 EUR, or 100 JPY

Regulatory protection

High trading volume
Operational since 2014
Cons
Only a few supported markets
Available only in EEA, US and Japan
No passive investment tools
Cryptoassets are highly volatile unregulated investment products. No EU investor protection. 67% of retail investor accounts lose money when trading CFDs with this provider.
bitFlyer Supported Markets
One of the main advantages of bitFlyer is that this platform allows you to buy and sell cryptocurrencies using fiat money – such as USD, EUR, and JPY. However, although the exchange reports a high trading volume, you will find that there are only a few supported markets.
For instance, on bitFlyer US, you have access only to the following markets:
BTC/USD (Bitcoin)
ETH/USD (Ethereum)
ETC/USD (Ethereum Classic)
LTC/USD (Litecoin)
BCH/USD (Bitcoin Cash)
BTC/JPY
The available trading pairs in bitFlyer EEA are:
BTC/EUR
ETH/EUR
ETC/EUR
LTC/EUR
BCH/EUR
MONA/EUR (Monacoin)
LSK/EUR (Lisk)
BTC/JPY
When it comes to bitFlyer Japan, the supported markets barely on offer are:
BTC/JPY
ETH/JPY
ETC/JPY
LTC/JPY
BCH/JPY
MONA/JPY
LSK/JPY
BAT/JPY (Basic Attention Token)
XLM/JPY (Stellar)
XRP/JPY (Ripple)
XTZ/JPY (Tezos)
DOT/JPY (Polkadot)
XEM/JPY (NEM)
As you can see, in each of these jurisdictions, you can only buy or sell the listed tokens against the respective local currency. Additionally, our bitFlyer review found that the platform does not allow you to trade any crypto-to-crypto or crypto-to-stablecoin pairs.
bitFlyer Instant Buy
bitFlyer used to offer an Instant Buy feature, where you could easily purchase digital assets using your debit/credit card. However, while conducting this bitFlyer review, we found that this feature is temporarily unavailable, with no notice of when it will start functioning again. That being said, it is still listed as a product of this platform.
And as such, if you are looking to buy or sell cryptocurrencies instantly, you won't be able to do so using bitFlyer. However, you can use a broker like eToro for this purpose, which is regulated by the SEC and several other reputable bodies. Moreover, you will not have to pay any deposit fees when funding your purchase in US dollars (0.5% for other currencies).
Recurring Buy
Recurring Buy is another feature that lets bitFlyer users set up scheduled purchases of their desired cryptocurrencies. You can create these on a daily, weekly, bi-monthly, or monthly basis. Once you do, your chosen digital asset will be bought regardless of its price – as long as there are sufficient funds in your account.
However, the one crucial point to note here is that this option is available only on the bitFlyer App.
That is to say, you will not be able to use the main bitFlyer website to set up a Recurring Buy.
An advantage is that there are no additional fees to use this feature.
You will also be able to invest as little as 10 USD or 10 EUR to get started. The maximum order limit is set at 10,000 USD and 10,000 EUR.
In case you do not have sufficient funds in your account, bitFlyer won't buy any assets on those dates. Once you add more money to your account, the platform will continue with the scheduled purchases. Regardless, you will also be able to cancel this option or make changes any time you want.
bitFlyer Buy/Sell Interface
The buy/sell interface of bitFlyer is extremely beginner-friendly to the point that you might find it a bit outdated. The charts are simple and useful enough to show you the price movements of your chosen digital tokens over a period of time.

You will also see market statistics of each cryptocurrency, and can easily switch between one pair to another. If needed, you can also set up alerts for specific digital assets, so that the platform will notify you if the price meets your predefined level.
bitFlyer Lightning Pro Exchange
The bitFlyer platform is designed to allow you to buy and sell cryptocurrencies with fiat money. However, if you are a trader who would prefer to speculate on the price movements, then you can choose to trade on the Lightning Pro version.
This comes with all the enhanced tools that you will need to engage in trading, including high-speed execution, a clean interface, charting tools, and more. You also have access to several order types, such as limit, market, stop, stop-limit, and trailing.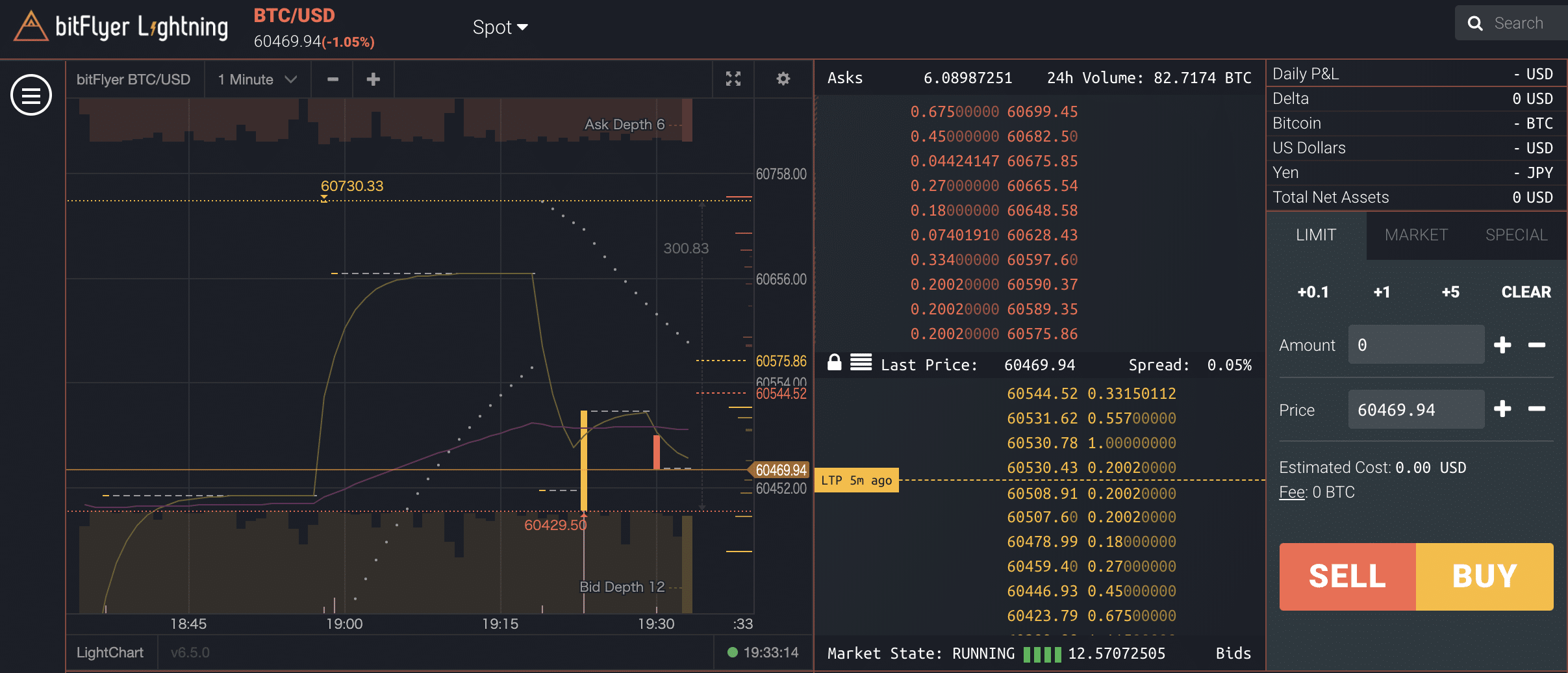 The interface is customizable, allowing you to select the specific windows that you want to see. However, the bitFlyer Lighting Pro exchange is currently available only for BTC/USD, BTC/EUR, and BTC/JPY trading pairs.
bitFlyer Payments
Our bitFlyer review found that the payment options available to you are based on where you are located:
bitFlyer US – Users can deposit and withdraw USD via ACH or a bank wire transfer.
bitFlyer Europe – You can deposit EUR through SEPA transfers or by signing in to your PayPal account.
bitFlyer Japan – The only option to deposit JPY is through a traditional transfer via selected banks.
You can also fund your account using cryptocurrencies, which are supported for all listed digital assets on the platform.
bitFlyer Minimum Deposit
As we mentioned previously, one of the major attractions of using this cryptocurrency exchange is that it allows you to start buying and selling digital assets from just 1 USD, 1 EUR, or 100 JPY.
bitFlyer KYC
Since bitFlyer is regulated, the platform requires the submission of personal information for each and every registered user.
At the most basic level, you will need to complete some KYC info – such as providing your full name and address. However, if you want to gain access to unlimited trading, you will need to provide additional documents such as a photo ID and a bank statement showing proof of address.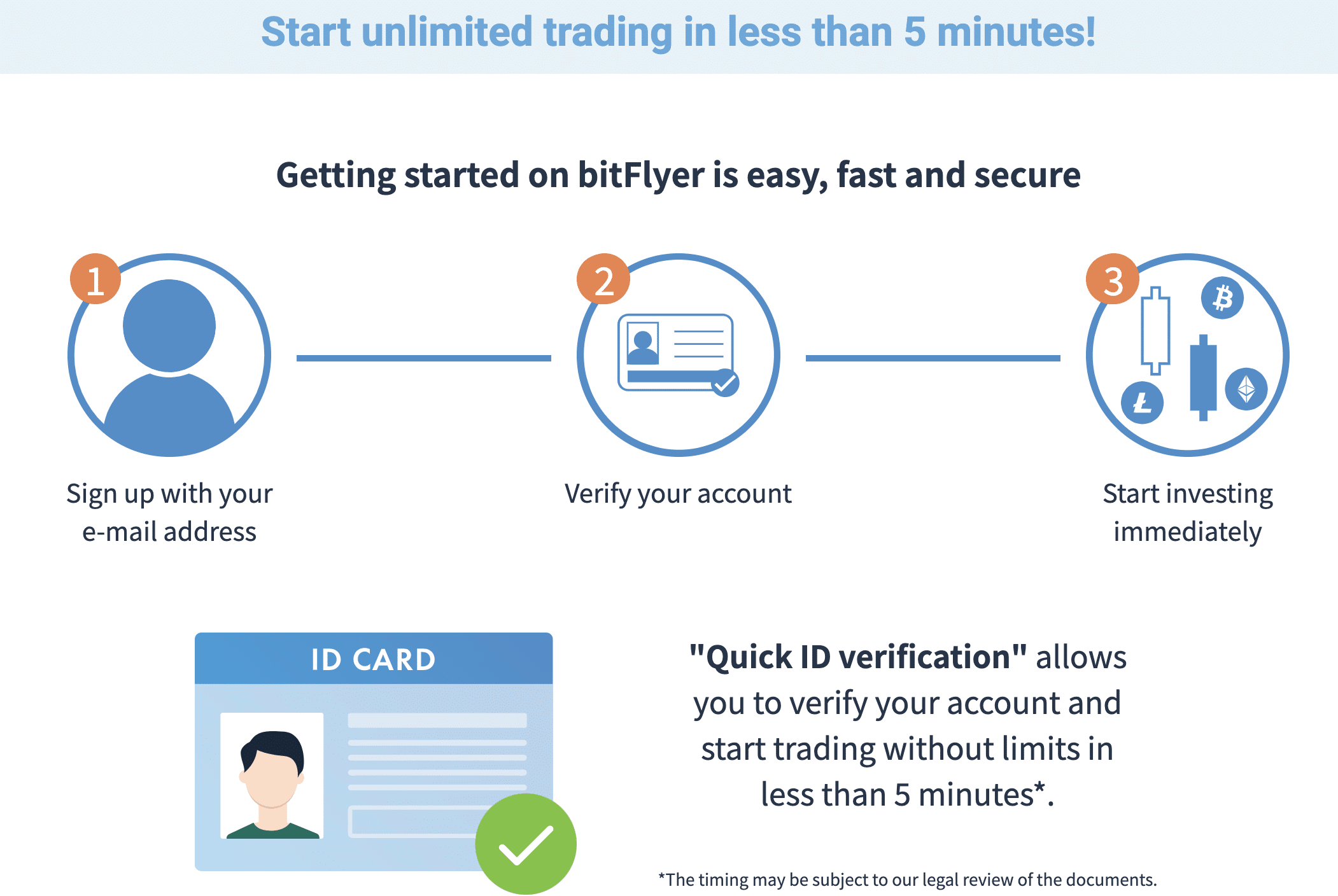 You will also have to submit a selfie to complete the process. bitFlyer has partnered with third-party solutions for this part of customer onboarding, which makes the verification process automated and less time-consuming.
Remember that the specific requirements for completing the KYC process can vary depending on which bitFlyer platform you are using. Moreover, when signing up, you will be able to use the same email address across the different versions of the site.
bitFlyer Account Classes
Our bitFlyer review found that the exchange categorizes its users into two account classes for US and Europe- Trade and Trade Pro. The main difference between the two lies in the daily maximum trading/purchasing limit.
For instance, if you belong to the Trade Class, you can only receive/send USD or other cryptocurrencies worth up to $50,000 per day (€249.99 per transaction in Europe).
When you move to Trade Pro, you will place trades and orders with no daily limit.
However, in order to get upgraded, you will need to contact the bitFlyer team directly.
bitFlyer Fees
Choosing the right cryptocurrency exchange is one of the most important decisions you will make in your investment journey. And the fees structure of your chosen platform can play a significant role here.
When considering bitFlyer, here is what you need to know about the costs and charges involved.
Fiat Deposit Fees
The fees charged by bitFlyer are dependant on which country you are assessing the platform from.
bitFlyer US – ACH and Wire deposits are free. For withdrawals using Wire transfer, you will have to pay $20.
bitFlyer Europe – SEPA deposits are free. But withdrawals will cost you €0.30 for transfers less than or equal to €250,000. Above that, the fee will increase to €10.00. You can also use PayPal as an option, which will cost you 4.9%
bitFlyer Japan – Deposits are free if you are making a traditional transfer. But withdrawals can cost you up to 770 JPY, depending on the amount and the bank you use.
Cryptocurrency Deposit Fees
bitFlyer also accepts cryptocurrency deposits on a fee-free basis. But withdrawing the tokens to your private wallet will cost you extra – depending on your chosen digital asset.
For instance, the withdrawal fee for Bitcoin is set at 0.0004 BTC whereas, for Litecoin, you will have to pay only 0.001 LTC.
Buy/Sell Commissions
One of the main reasons why bitFlyer is so popular is that charges absolutely nothing in fees when you buy or sell cryptocurrencies. No matter which asset you are purchasing, or how many tokens you are cashing out, the platform allows you to do it for free.
bitFlyer Lightning Pro Trading Fees
With that said, if you are using the Pro exchange to trade cryptocurrencies, then you will have to pay some fees. The platform determines how much you will be charged based on your 30-day trading volume.
Regardless, the most you will pay on this platform when trading cryptocurrencies is 0.10% – which is highly competitive in the market.
bitFlyer Demo Account
bitFlyer does not offer a demo account for the buy/sell option. However, you will be able to explore what the Lightning Pro exchange looks like. But you will not be able to engage in paper trading via the demo version.
bitFlyer App
bitFlyer also offers an app that comes with all the features of the platform built into it. You will be able to make fiat and crypto deposits and complete purchases of digital assets directly. You can also use the Recurring Buy feature via the mobile app.
However, according to customer reviews, the app can be quite slow, and completing verification can take a while. Nevertheless, if you are looking for an easy way to purchase cryptocurrencies on the go, then the bitFlyer app might offer the right solution for you.
Is bitFlyer Safe?
bitFlyer claims to be one of the only cryptocurrency trading platforms that is regulated in all its operating jurisdictions.
In the US, bitFlyer operates as a money transmitter in most states.
bitFlyer Europe offers its services as a payment institution regulated by the FSA of the Grand Duchy of Luxembourg. The platform is regularly audited and offers a good level of protection to its users.
The platform has also obtained licenses to offer its services in Japan.
bitFlyer also has the advantage of being a platinum member of the Japan Blockchain Association (JBA). This means that this platform complies with security guidelines devised by this association. 
This high level of regulation itself offers protection to users, which is rare in the cryptocurrency industry.
bitFlyer Security
Apart from regulatory protection, bitFlyer has also added the following security measures:
SSL Communication network to protect personal information
Two-factor authentication
Account locking tools
Mandatory multi-signature required to process transactions
80% of BTC tokens are stored in a cold wallets
Segregated management of assets
Overall, the platform has kept its promises in delivering a high standard of security to all its users.
bitFlyer Customer Support
Contacting the bitFlyer support team is only possible by sending a message via the inquiry form available on its website. However, the platform has added an extensive FAQ section that offers answers to most of the general questions you might have.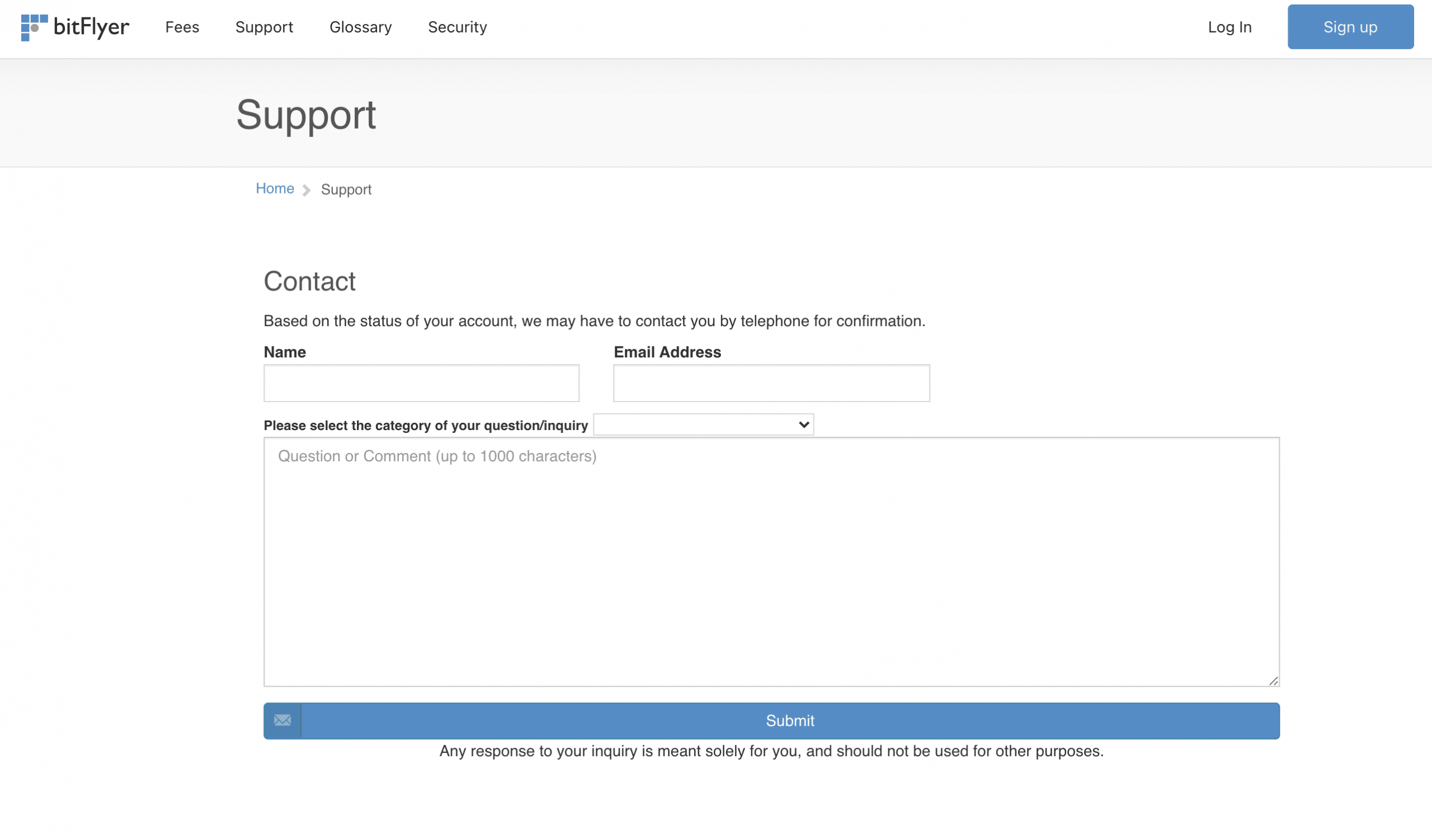 However, you will not find any direct phone number or live chat option to receive an instant response.
eToro vs bitFlyer – Comparison
While there are a few areas that bitFlyer stands out, our research found that this platform cannot offer you a wholesome cryptocurrency trading experience – especially when compared to the other brokers in the same arena.
So, we have put together a detailed comparison of bitFlyer and eToro, so you can see for yourself where the former falls short.
Safety and Regulation
bitFlyer is indeed one of the few regulated cryptocurrency platforms out there. But eToro takes things to the next level.
For example, eToro is regulated by four of the most reputable financial authorities, namely, the SEC in the US, the FCA in the UK, ASIC in Australia, and CySEC in Cyprus. This offers an unparalleled level of protection to you as a user.
In other words, you can buy, sell and trade cryptocurrencies in a highly secure environment.
Moreover, eToro offers its services not only in the US, Europe, and Japan but over 100+ other countries across the world, by providing you a safe platform to engage in trading.
Supported Markets
bitFlyer makes it easy for you to buy and sell cryptocurrencies with fiat money. However, the platform supports less than ten markets, thus limiting your opportunities to diversify.

On eToro, you will find dozens of cryptocurrencies listed. This includes not only the most prominent digital assets such as Bitcoin, Ethereum, and Litecoin but heaps of more recent additions – such as Enjin. Moreover, you will also be able to access leverage for your crypto trades, which gives you an opportunity to magnify your profits.
User-Friendliness
When it comes to the trading platform, both eToro and bitFlyer offer an easy and user-friendly interface to beginners. Moreover, both platforms integrate enough options for advanced traders to gain more control over their positions.
If you are a complete beginner in the cryptocurrency area, either of these platforms will allow you to buy and sell digital assets in less than five minutes. However, in order to use bitFlyer, you need to be based in the US, EU, or Japan. On the other hand, eToro caters to users across the world.
Fees
eToro allows you to trade cryptocurrencies on a spread-only basis, while bitFlyer follows a 30-day trading volume model to determine the charges. Furthermore, eToro allows you to deposit funds with a debit/credit card, e-wallet, or bank wire at just 0.5%, or 0% if you're a US-based client.
Passive Investment Tools
One thing you will find missing with bitFlyer is a passive investment tool. Although you can set up Recurring Buys, it still requires you to have some basic knowledge of the digital assets and their respective markets.
On the other hand, on eToro – you can pick a trader to copy, and the positions they open will be reflected in your account, in proportion to the amount you invest. This means that all you need to do is choose the right expert, based on their performance history, risk appetite, and other factors. In other words, you will not need any first-hand knowledge of the cryptocurrency markets to engage in passive trading.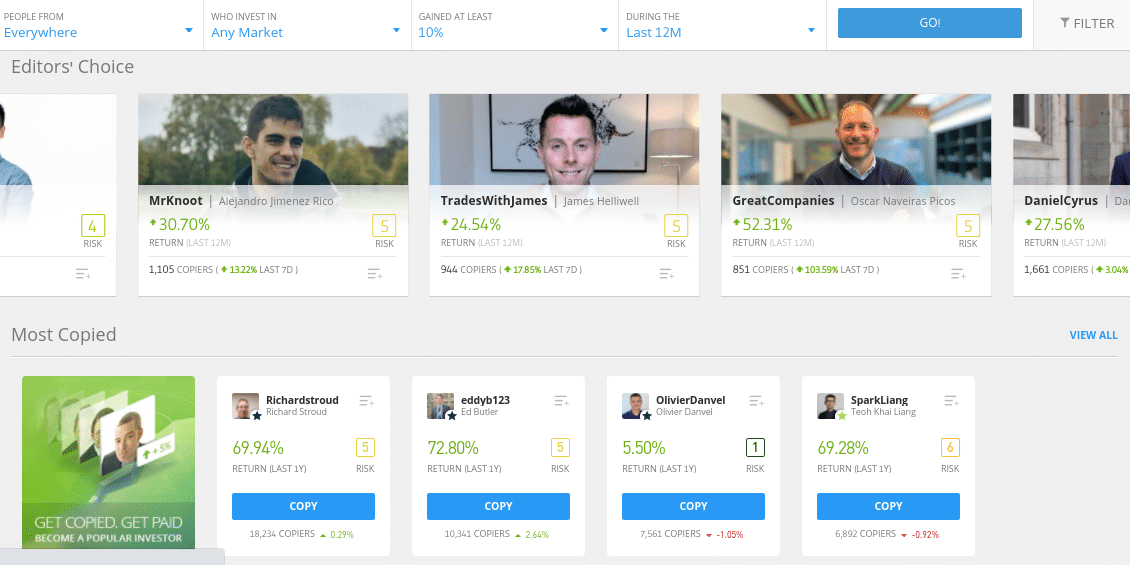 In case you have a long-term investment mindset, eToro also gives you the option of assigning the platform with the responsibility of picking the right assets for you. The team will manage your digital tokens and rebalance them as per current market conditions. In return, you will be able to benefit from a diversified portfolio of cryptocurrencies without having to do any research. 
bitFlyer Review – Conclusion
bitFlyer is, undeniably, one of the most secure cryptocurrency platforms that you will find online. It provides you with a user-friendly interface, allowing even complete beginners to buy and sell digital assets with ease. However, there are two main drawbacks to using this exchange for your cryptocurrency trading needs.
For one, you need to be residing in the US, EU, or Japan to gain access to its services. Secondly, there are only a few cryptocurrencies supported, which can be a dealbreaker for many advanced traders.
With this in mind, you might want to consider an alternative broker that can provide you with access to a diverse array of cryptocurrencies and other assets. In this regard, your best option would be to choose eToro – a heavily regulated broker that offers dozens of digital tokens on a spread-only basis.
eToro – Best Broker to Trade Crypto
FAQ
Is bitFlyer available in the US?
What fees does bitFlyer charge?
How do you contact bitFlyer?
What is the bitFlyer minimum deposit?