Ally Invest Review – Is Ally Invest Safe? Fees and Minimum Deposit Explained
Ally Invest is a popular US-based online investment platform that attracts users with a variety of products, commission-free trades, and no account minimums.
If you want to know more about this online brokerage, our Ally Invest review can help with that. Within it, we cover in detail the different markets offered, the security of the platform, funding options, and fees.
Recommended Broker – eToro
What is Ally Invest?
Ally Invest is the online investment arm of Ally Bank. Previously known as TradeKing, this fintech platform was acquired by Ally Financial Inc. and rebranded in 2016. Today, this broker handles over 400,000 customer accounts and has more than $13 billion in assets under management.
As an investment platform, Ally Invest offers its users a wide spectrum of products. You can trade stocks, ETFs, and options on a commission-free basis, while also getting access to margin, mutual funds, and bonds at competitive prices. Crucially, there is no need for you to meet any minimum account requirement to get started with self-directed trading on this brokerage.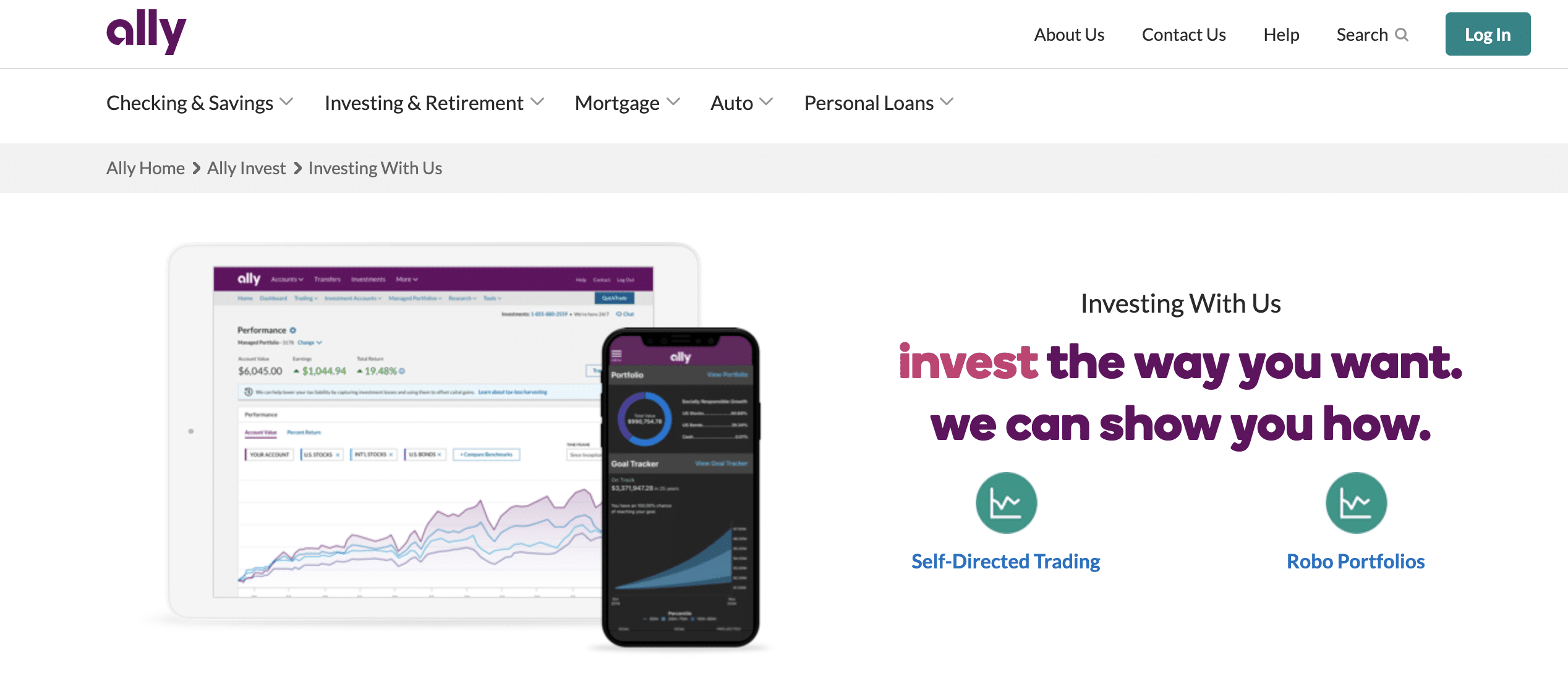 Ally Invest is also known for providing passive financial solutions to its users. The broker offers you access to managed portfolios, wherein you will receive the expertise of financial consultants as well as intelligent tools. In other words, once you make an investment, you can sit back and relax while having a team of professionals manage your assets.
In terms of security, this platform is regulated by the SEC and is registered with FINRA. The costs associated are also low, especially considering that it offers no-commission trading for stocks and ETFs. As we proceed with our Ally Invest review, we will look at each of its products in detail, and how it compares against other popular regulated brokers in the market.
Ally Invest Pros and Cons
To offer you a quick glimpse of this Ally Invest review, we have put together the pros and cons of this brokerage platform below.
Pros
Zero-commission trading for stocks and ETFs

Integration with Ally Bank
Passive investment with Robo Portfolios
Regulated in the US
Cons
No cryptocurrency trading
No direct access to fractional shares
Accessible only to US residents
No EU investor protection. 67% of retail investor accounts lose money when trading CFDs with this provider.
Ally Invest Self Directed Trading
The investment products offered at Ally Invest can be largely categorized into two – Self-directed and Robo Portfolios. When you sign up on the platform, you will be asked to choose which type of account you want to open.
Ally Invest Stocks
Our Ally Invest review found that this broker only allows you to directly invest in companies listed on US stock exchanges. There are hundreds of equities accessible, and at zero commissions. However, the main downside here is that you will not be able to purchase fractional shares directly. This option is only available if you have signed up for the Dividend Reinvestment Program (DRIP).
That is –  if you have purchased any NASDAQ-listed US equities or American Depository Receipts that are priced $4 or more, then you are eligible to benefit from DRIP on Ally Invest. This means that any dividends you earn from these stocks will be reinvested on your behalf to buy more whole or fractional shares.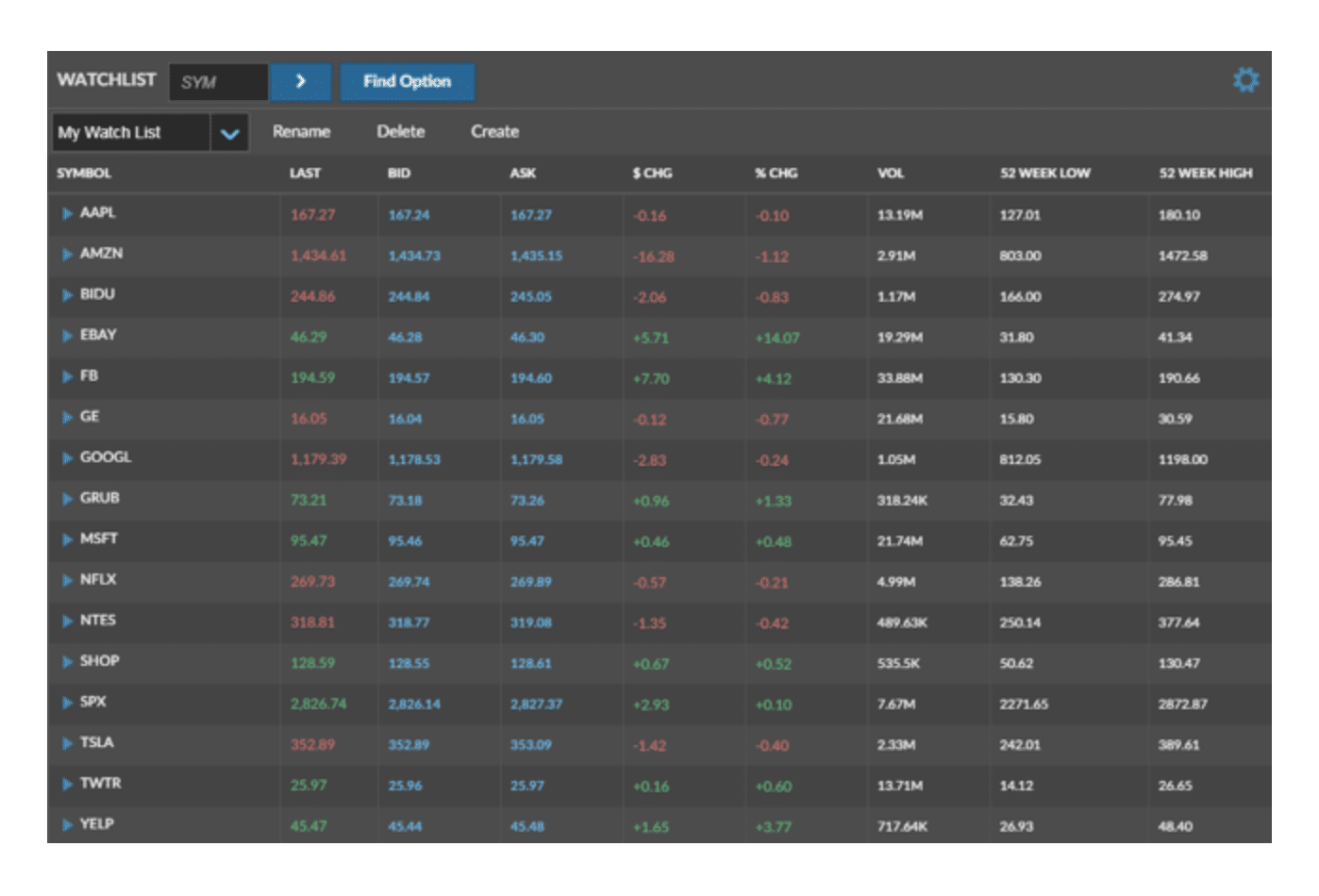 Once you opt-in for this option, any eligible securities you buy are automatically enrolled in DRIP. If you have set up this service with another provider, you can also transfer your assets to this platform. Ally Invest does not charge you any additional fees for dividend reinvestments. You will also be able to see the new purchases made on your behalf in your monthly account statements.
Ally Invest ETFs
Ally Invest lists dozens of ETFs from different sectors. You can start by selecting a fund from the predefined categories or by choosing one that tracks indices like the S&P 500.
The most interesting feature here is that Ally integrates third-party professional analyst ratings from Morningstar™, giving you access to the latest news. As with stocks, this market is also available at zero commission on this platform.
Ally Invest Options
The options market offered at Ally Invest is one of the cheapest that you will find in the online trading space. In fact, this broker charges you only $0.50 per contract and no additional commission for processing your trades. You can also gain access to intelligence tools such as profit/loss calculator, probability calculator, and research data.
Ally Invest Mutual Funds
Ally Invest has one of the largest collections of mutual funds, with over 12,000 markets listed on the platform. Since these are diversified across different securities, they can be a way to invest with lower risk, but trading these instruments can come with an additional fee. Furthermore, you can also access a range of fixed income products such as bonds on this brokerage.
Ally Invest Margin
While doing research for this Ally Invest review, we also found that this broker allows investors to borrow money against the securities that are held in their accounts. In return, you will have to pay margin interest rates. The prerequisite is that you need to maintain a minimum of $2,000 in equity at all times.
Ally Invest Robo Portfolios
Previously known as 'Managed Portfolios', this feature of Ally Invest allows you to build a diversified portfolio, designed by a team of specialists and managed with Robo technology on a daily basis. Unlike self-directed trading, getting started with this account requires a minimum deposit of $100.

Ally Invest offers four different types of Robo Portfolios:
Core: Highly diversified portfolio with a mix of domestic, international, and fixed-income assets – with an adjustable degree of risk.
Income: Offers higher dividend yield while maintaining a low-risk profile.
Tax Optimized: Best suited for those belonging to higher tax brackets by investing in securities that can maximize yields.
Socially Responsible: Focuses on companies with ethical track records or actively participate in environmentally-friendly initiatives.
Within each of these categories, you can choose between a cash-enhanced portfolio or one with lower cash allocation. In the former, 30% of your funds will be reserved for earning interest, whereas, in the latter, only a fraction of your money will be set aside for instant liquidity. And as such, you will also pay a 0.30% annual advisory fee.
Ally Invest Forex
Ally Invest also comes with a forex trading facility, however, this is an altogether different entity. This platform lets you trade over 80 pairs, along with silver and gold. You can also gain access to margin, but the minimum requirements will depend on the specific currency that you are trading.
If you want to engage in forex trading, the Ally Invest Advanced Desktop version is the way to go. This platform comes with an intuitive user interface and plenty of customization options to adjust the layout and make it fit your style. You also get access to robust drawing tools, integrated order management, and the ability to track and modify your positions.

The Ally Invest forex trading platform also comes as a mobile app – compatible with both iOS and Android. Alternatively, you can also trade these markets via MetaTrader4. However, remember that in order to gain access to the foreign exchange, you will need to create a separate account.
And moreover, unlike the typical self-directed trading account, the minimum deposit is not set at zero for forex. Instead, you need to transfer at least $250 to gain access to this market. In fact, the broker recommends starting with $2,500 or more to take full advantage of its products and for better risk management.
Ally Invest Investment Platform
The trading interface of Ally invest integrates several features that appeal to experienced traders using the platform.
This includes:
Eight different chart types, along with 36 drawing tools and 117 study models.
Option to customize your watchlist to view market data of different securities.
Profit/loss calculator to understand the potential of a position before placing it.
Probability calculator that uses implied volatility to determine whether or not your trade will hit your targets.
Receive market stats, news, and detailed metrics of the securities you are interested in. You can also conduct peer performance comparisons, and find dividend dates of stocks and ETFs.
Use ETF screeners to research and analyze price data for different equities based on criteria that fit your requirements.
Access to basic order types, market, limit, stop, and stop-limit.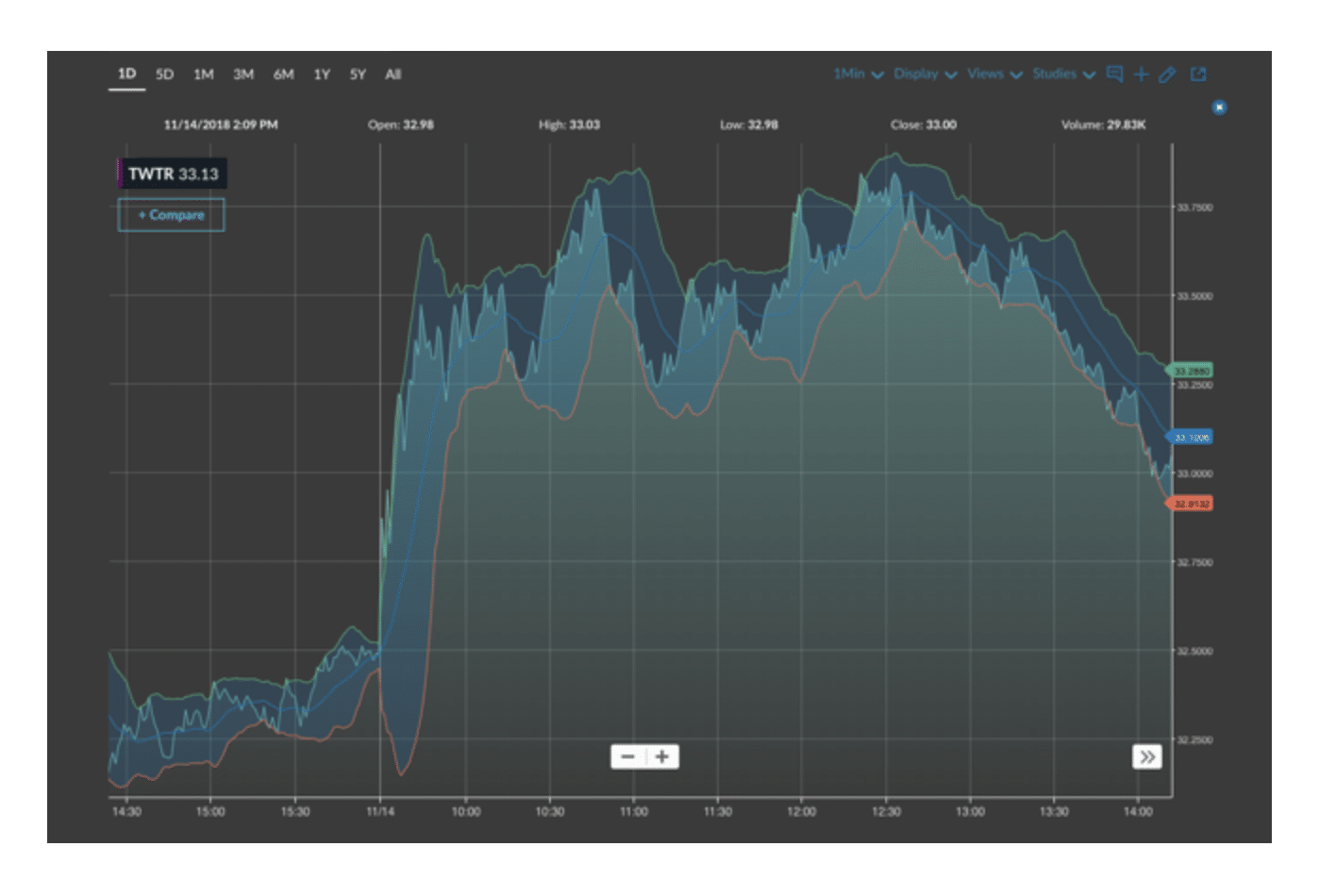 In addition to the above, you also have the option to customize the platform interface and arrange the features to your taste. However, in spite of all these tools offered, if you are a beginner, the platform might be not user-friendly enough for you. If you are looking for a broker that facilitates easy trading, then eToro would be the better alternative.
Ally Invest Supported Countries
When conducting research for our Ally Invest review, we found that this platform offers its services only to legal residents of the US. This means that most foreign citizens who have a valid Social Security number in the country can open an account.
The only exception is for active military personnel stationed abroad.
In other words, unless you live in the US, Ally Invest is virtually useless to you.
Even if you are a resident, you will have to look for other platforms to trade cryptocurrencies, a market that is growing tremendously in the online investment arena.
Given these aspects, it would be in your best interest to choose a broker that gives you access to all markets, without compromising on security or charging you higher trading fees – such as eToro. Moreover, this platform is not only regulated in the US but offers you the same level of protection to users across the world with valid licenses from the FCA, ASIC, and CySEC.
Ally Invest Payments
When it comes to funding your account, Ally Invest provides you with the following options:
ACH Transfer: You can make payments by linking your bank to your Ally Invest account. However, processing the initial deposit might take up to three business days – with the exception of Ally Bank, which is completed instantly.
Wire Transfer: Perhaps, the fastest way to make a deposit into your account. This payment method typically takes anywhere from a few hours to one business day to process.
Account Transfer:

You can also get started on Ally Invest by moving your assets from another broker. This usually takes between five to seven days to complete.

Check: You can deposit a check to your Ally invest account via the mobile app, or by mailing it. The transfer will be processed as soon as verification with your bank is finished.
In addition to the above methods, you can also directly deposit stock certificates in your Ally Invest account by mailing them to the company, along with a request for a return receipt for confirmation. You will also have to attach a stock power form to complete the process.
Ally Invest Minimum Deposit
As we have already mentioned in this Ally Invest review, there is no minimum deposit required to open a self-directed brokerage cash account on this platform. However, if you want to trade on margin, then you need to make a transfer of at least $2,000. Alternatively, you can also set up a Robo Portfolio with just $100.
Ally Invest Account Types
Whether you choose self-directed trading or Robo Portfolios, you can elect to open one of the following types of account:
Individual
Joint
Custodial
Traditional
Roth IRA
Rollover IRA
Coverdell (only for self-directed)
And as we mentioned earlier, you can also transfer a brokerage account from another platform to Ally Invest. If you choose to get started this way, you will receive a fee reimbursement of up to $150, given that you have funds worth $2,500 or more.
Ally Invest Identity Verification
Our Ally Invest review found that in order to open an account on this platform, you need to meet the following requirements:
You must be 18 or older
Have a legal U.S. residential street address
Give your personal information such as full name and date of birth
Provide your Social Security or Tax Identification number
Submit a copy of your driver's license or other identifying documents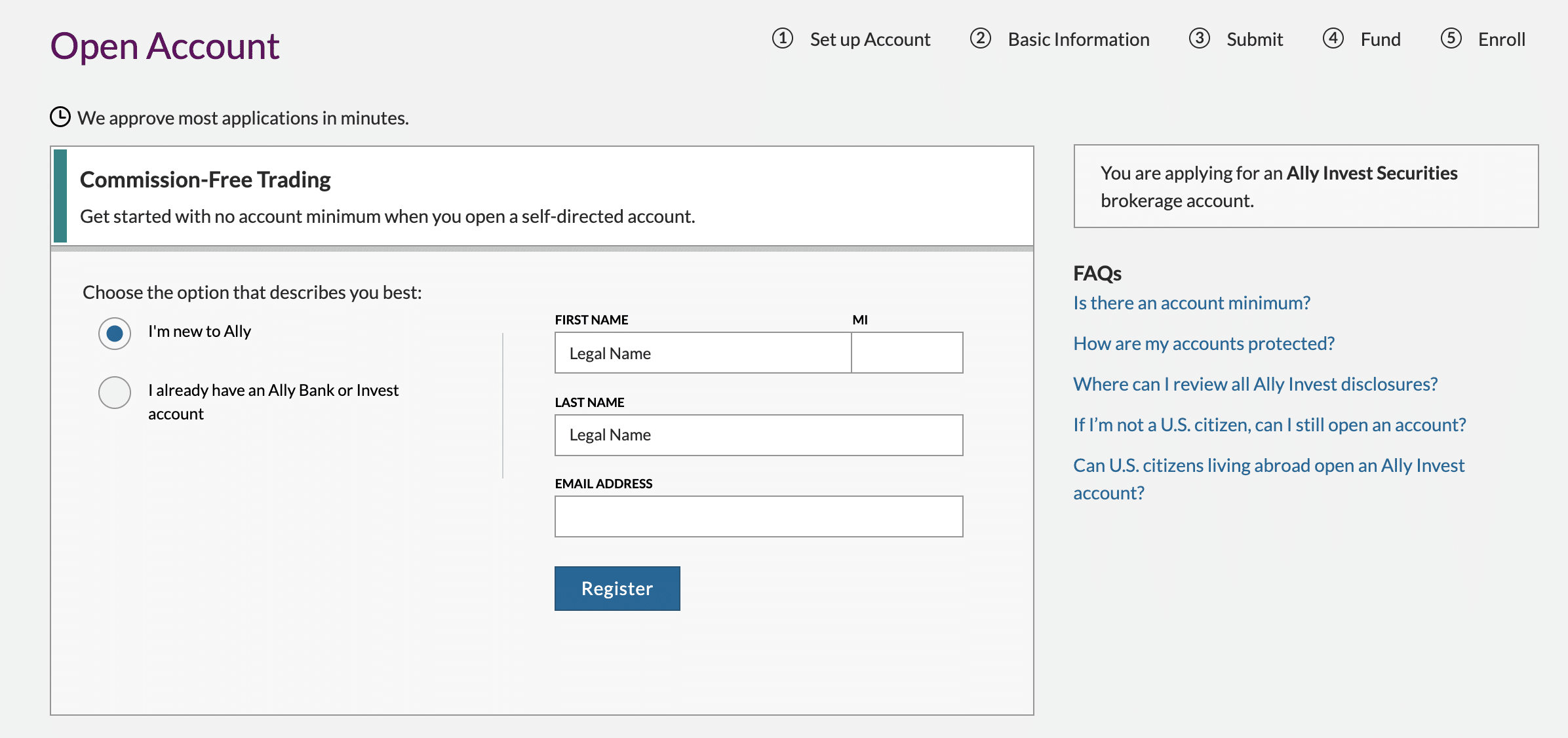 These requirements are standard, and in alignment with the guidelines set by US anti-money laundering laws. You will also have to specify your funding options when you create an account.
Once Ally Invest verifies the information you have provided, you will receive an email confirmation so that you can get started with the platform. In most cases, your application will be approved within a few minutes.
Ally Invest Fees
When it comes to trading fees, our Ally Invest review noted that this broker charges competitive rates for investment products. However, you should be wary of other costs that might incur when using the platform, such as when processing account transfers.
Ally Invest Commission
The commission you pay on Ally Invest depends on your chosen investment product:
Stocks and ETFs: You can trade these securities on a zero-commission basis on Ally Invest.
Low-Priced Securities: If the value of the equities you trade is less than $2, then you will pay a $4.95 base commission plus one cent per share on the entire order.
Forex: There is no commission to trade forex, however, you will be compensating the broker by paying the spread – which is the markup between the buy and sell price.
Options: No commission when trading options, but you will have to pay $0.50 per contract.
No Load Mutual Funds: These can be purchased and sold at a price of $9.95.
Bonds: Trading bonds come with a standard fee of $1, with a minimum of $10.
If you choose to trade on margin, you will have to pay interest, which is based on your loan amount. In simple terms, the more you borrow, the lower the rate – starting from 3.25% to 7.75%.
Ally Invest Deposit and Withdrawal Fees
Our Ally Invest review found that this broker does not charge you any fees for processing transfers between this platform and Ally Bank or to accounts at other institutions. However, there are some other costs involved in the following circumstances:
If an ACH transaction fails, you will have to pay $30.
If you have opened an Ally Invest IRA account, then you will have to pay a closing fee of $25 upon the full distribution of the funds.
In case you are transferring the assets to another firm, the charges will come to a total of $75.
When it comes to withdrawals, a wire transfer will cost you $30. The second method is to request a check, which will cost you $5. If you want the money to be overnighted, then the charge increases to $50.
Ally Invest and Ally Bank
As mentioned earlier, Ally Invest and Ally bank are two different products of Ally Financial, and to the advantage of users, they offer a few features that go hand-in-hand. In other words, together, these two platforms combine banking and investing, allowing you to consolidate your fiscal accounts in one place.

For instance, it is easier for users to transfer money between the two platforms, and reduce any transaction delays. This can also turn out to be highly beneficial when tax time arrives. You can also link your Ally Invest account to Ally Bank and gain interest on cash balances.
Ally Invest Demo Account
Our Ally Invest review found that if you want to get an idea of how the trading platform works, you have to open a self-directed account with this broker.
Since there is no minimum deposit required, you will be able to view the features and tools available without having to transfer any funds. However, remember that you cannot place any trades with paper money.
That said, if you are interested in forex, the trading platform is entirely different, and you can open up a new practice account that comes with $50,000. This will get you access to all supported tools for 30 days. You can also test out the Ally Invest forex department via MT4 this way, to plan your strategies in a risk-free manner.
Is Ally Invest Safe?
As a US broker, Ally Invest is regulated by the SEC and is registered with FINRA, In addition to this, the platform is also a member of the SIPC, which means that you get coverage of up to $250,000 for cash claims. The company also works with Apex Clearing, which provides insurance of up to $37.5 million, including up to $900,000 in cash with an aggregate cap of $150 million.
Our Ally Invest review also found that the parent company of this online fintech platform, Ally Financial Inc. is listed on the NYSE, which adds to its credibility.
Support for two-factor authentication when using the web platform
Biometric login for the mobile app
Instant alerts for failed login attempts
Firewall and Secure Socket Layering (SSL) technology
However, Ally Financial has also reported data breaches in the past and as such, it is evident that these security measures are not sufficient to protect your personal information from getting into the wrong hands.
Ally Invest Mobile App
The mobile version of Ally Invest works well, but it offers less overall functionality when compared to the web platform. You can trade stocks, ETFs, options, and other equities. However, the forex market is not supported – as this comes as an entirely different app. You will also be able to monitor your positions and see the recent activities.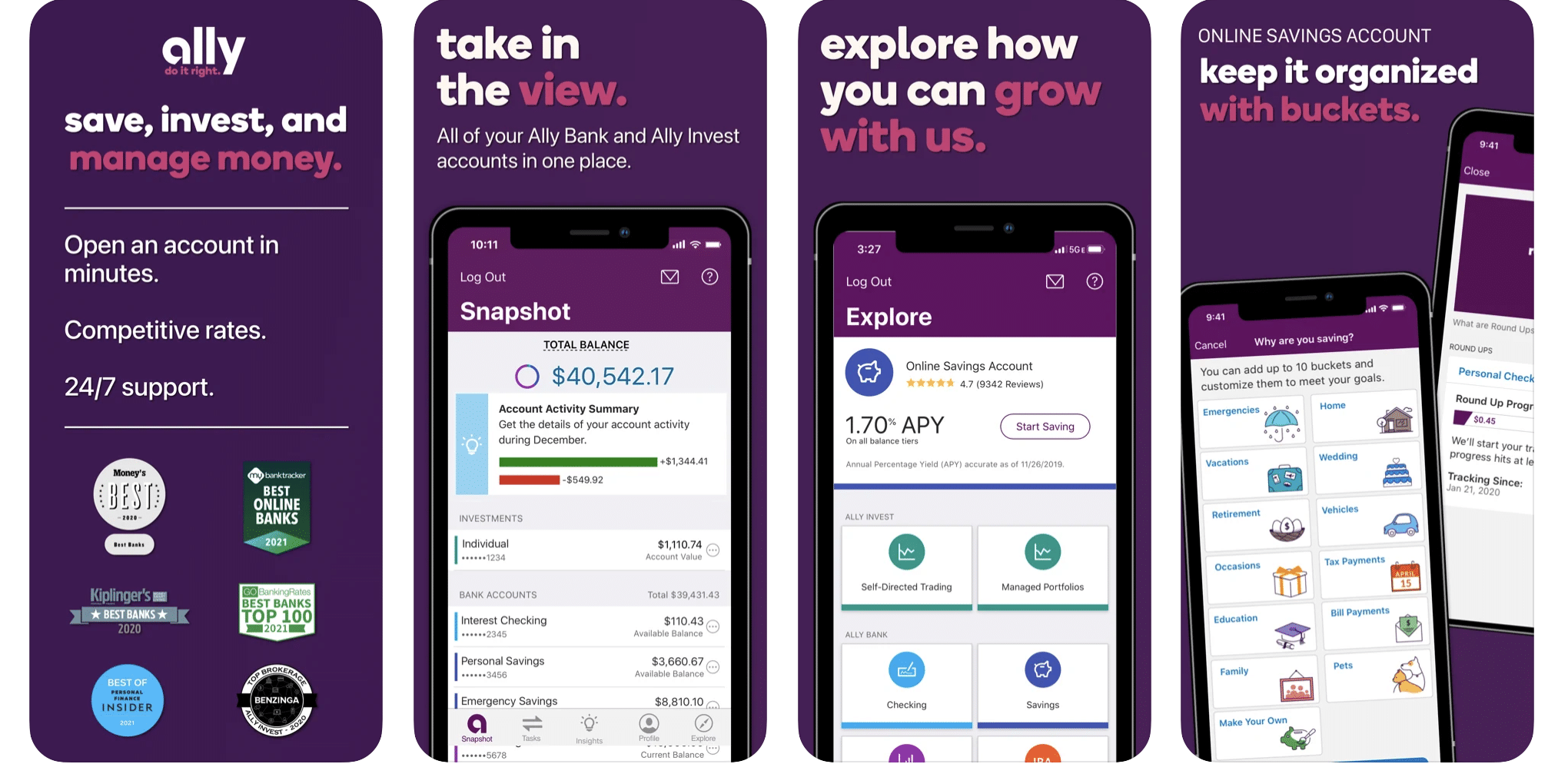 Other functionalities include the option to upload checks with Ally eCheck Deposit and make transfers between your investment account and Ally Bank. However, charting tools and other trading features are limited. All that being said, our Ally Invest review found that the mobile app is not entirely smooth to use, and there are glitches when accessing the different features.
Ally Invest Education and Research
Our Ally Invest review found that even though this broker has an education section for each of its investment products, these are not entirely fit for a newbie.
You will find plenty of information, such as quick guides on how to get started on the platform, or introductions to different features. \
However, these are very limited and do not offer much insight for a complete beginner.
In fact, if investment education is a priority, then Ally Invest is not the obvious choice.
On the other hand, if you are already familiar with trading and are seeking a platform that can offer research tools, then this broker might fit your needs.
You also get access to screeners, indicators, and dozens of charts that will help you strategize and make calculated moves.
Ally Invest Customer Support
When it comes to assessing customer service, Ally Invest offers you plenty of communication lines. The broker provides 24/7 phone support, along with a live chat option. You can also reach out to a service representative by email.
eToro vs Ally Invest
Are you still undecided if Ally Invest is the right choice for your trading requirements? If so, you might want to consider whether another broker can offer you a better package.
Before concluding this Ally Invest review, we have prepared a detailed comparison to show you how this platform fares against another regulated broker, eToro.
Safety and Regulation
Given that Ally Invest offers its services only to US residents, the broker provides sufficient regulatory protection. This includes licenses from SEC and FINRA. In comparison, eToro is a global trading platform that caters to over 20 million users across the world.
This broker offers an unparalleled level of investor protection and is regulated in the UK, Australia, and Cyprus – not to mention the US. It is worth noting that there are only a few other online trading platforms that can provide you with the same degree of security.
User-Friendliness
If you are entirely new to the online investment arena, then you might have a tough time learning to trade with Ally Invest. There is no paper trading account available, and there are no tutorials to help you familiarize yourself with the different features.

eToro, on the other hand, caters perfectly to the needs of beginners. You can easily set up your account and start buying or selling assets in less than 10 minutes. The trading platform is also intuitive enough for advanced traders, with plenty of charting tools and different order types. 
Supported Markets
eToro also wins when it comes to the different types of investment markets offered. This platform can give you access to both domestic and international stocks.
You will also be able to buy or sell fractional shares, without having to opt-in for a DRIP program. In other words, you can start investing with as little as $25 with this broker.
Ally Invest also lacks support for cryptocurrency markets, where eToro gives you access to over 30 different digital coins, including many DeFi tokens.
Payment and Fees
eToro is also ahead in terms of the number of payment methods supported. Not only does this platform accept bank and wire transfers, but you can also make instant deposits via debit/credit cards. It is also advanced enough to facilitate transactions via e-wallets like PayPal and Neteller.
Similar to Ally Invest, eToro operates on a spread-only basis. Meaning, trading fees are very competitive on both platforms.
Passive Investment Tools
For those who are seeking passive investments tools, both brokers are viable choices. On eToro, you have the Copy Trading feature, which you can use to mirror the trades of experienced investors on the platform. This means that any positions opened by your chosen trader will be reflected in your account, in proportion to the amount you have invested.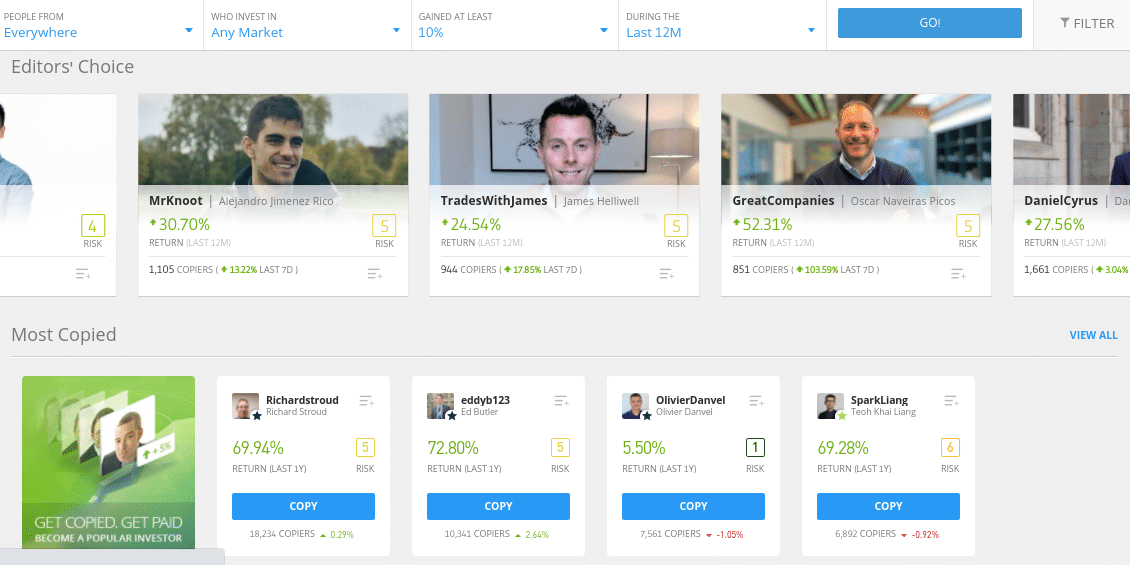 Similar to Robo Portfolios on Ally Invest, eToro also has its own version called CopyPortfolios – designed by the financial experts behind the brokerage. In addition to this, a machine-learning algorithm rebalances portfolios regularly to reduce risk and increase profit.
In simple terms, eToro offers you access to more markets, better safety, and competitive rates when it comes to trading and investing. Moreover, this broker is suited for all investors and traders alike, no matter what your level of expertise is.
Ally Invest Review – Conclusion
To sum up our Ally Invest review, we found that this broker offers you competitive commissions, and plenty of analysis tools for trading and investing. The Robo Portfolios feature can be a particularly useful tool, especially for those who are seeking to trade in a passive manner. It also bodes well for investors that this platform is regulated by the SEC and FINRA.
However, Ally Invest still falls short when compared to eToro. This broker is not only regulated in the US, but also in numerous other jurisdictions like the UK and Australia. You also get direct access to fractional shares, as well as cryptocurrency markets. Overall, this platform is a better fit for both beginners and advanced traders that are looking to build a diversified portfolio.
eToro – Best Investment Platform
FAQ
Is Ally Invest regulated?
Is Ally Invest available in the US?
What fees does Ally Invest charge?
How do you contact Ally Invest?
What is the Ally Invest minimum deposit?