Abra Review – Is Abra Safe? Features and Fees Explained
Abra is a cryptocurrency investment app that allows you to buy, sell, hold, and exchange tokens from anywhere, anytime. It comes integrated with a digital wallet, providing you with secure storage of your funds.
This detailed Abra review will provide you with some insight into what to expect when using this platform – based on the features offered, fees, ease of use, and security.
Recommended Broker – eToro
What is Abra?
Abra is a mobile platform that leverages blockchain technology to allow users to invest in, trade, and store crypto and fiat currencies. Founded in 2014 in Silicon Valley, the company has grown to accommodate 155,000 monthly customers and manages assets worth over $1 billion.
Abra is available in over 150 countries and supports more than 100 digital assets. The app is designed in the form of a wallet and is protected by a PIN which is not stored anywhere on the device itself. This ensures that you hold complete control over your funds. Aiming to be a one-stop-shop for investors and traders, Abra packs a few different products under its umbrella.

Not only can you store your digital assets in the Abra wallet, but you can also make purchases and cash out your investments directly from within the platform. You also have the option to borrow stablecoins against your cryptocurrencies or earn interest by staking them.
Abra implements state-of-the-art security measures into its app, providing users with a safe interface to engage in trading. That said, you will also encounter high fees to use certain services – such as when making credit card payments on the platform. Additionally, the company is also not regulated by any prominent financial authorities and therefore lacks any investor protection.
Abra Pros and Cons
If you are in a hurry, here we have put together the highlights of this Abra review, divided into the advantages and drawbacks of using this platform.
Pros
Beginner-friendly interface
Buy digital assets with fiat currencies
Supports credit cards payments
Cons
High fees for Visa and Mastercard transactions
Not transparent regarding spreads on buy and sell orders
Cryptoassets are highly volatile unregulated investment products. No EU investor protection. 67% of retail investor accounts lose money when trading CFDs with this provider.
Abra Supported Assets
As a global platform, Abra offers its services in 150 countries, spread across most regions. In total, it supports over 100 cryptocurrencies and 54 fiat currencies for international users. This list also includes several stablecoins such as StableUSD, TerraUSD, and USD coin. However, our Abra review found that the specific assets and services you can access depends on your location.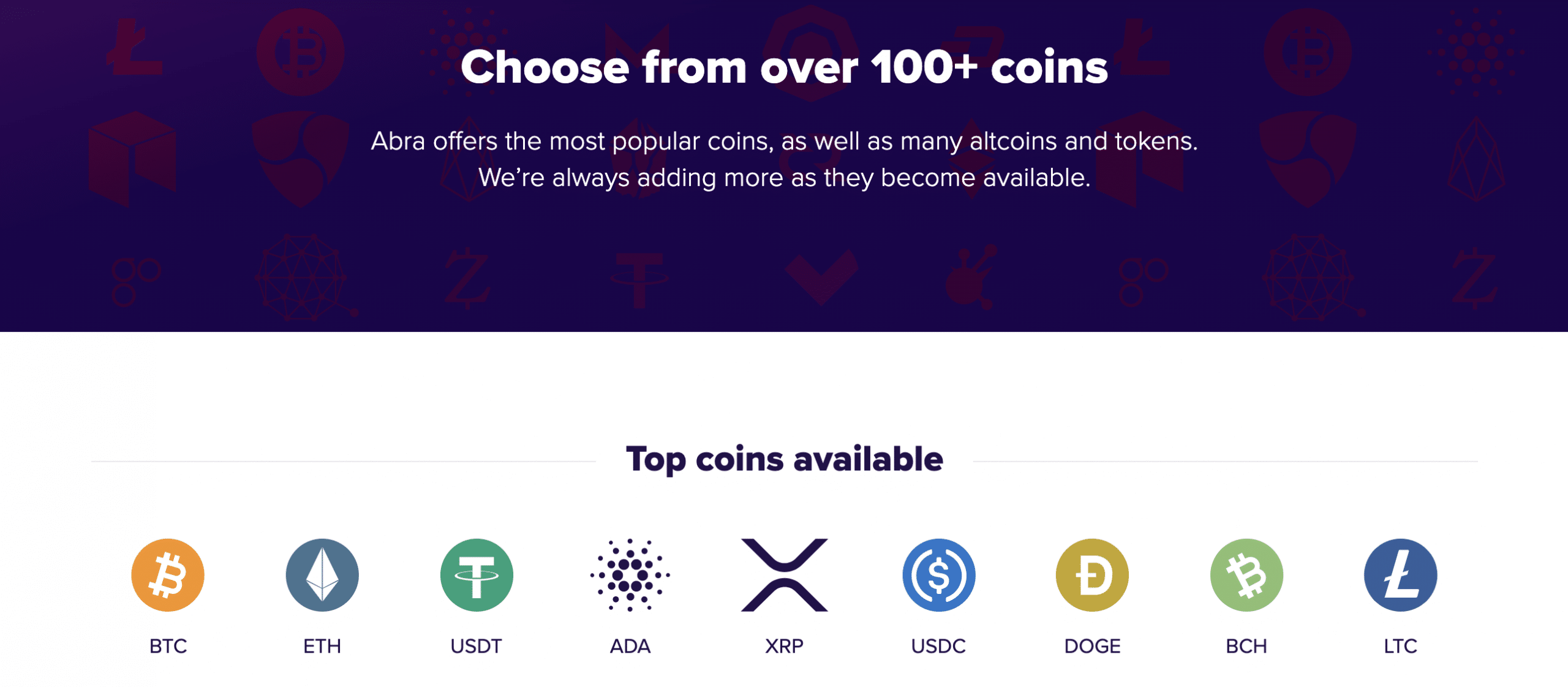 For instance, if you are in the US, you will find support for only 50 cryptocurrencies. Moreover, for New York residents, using this platform is completely prohibited due to state laws. Similarly, the 'Abra Tellers' feature is exclusive to the Philippines.  Given this characteristic of the platform, we suggest that you find out which cryptocurrencies are accessible in your location before you sign up on the app. 
Setting Up Abra
Unlike the majority of cryptocurrency platforms, our Abra review found that this provider comes as a mobile version only. This way, Abra functions like a wallet, from which you can buy, sell, or trade your digital assets.
Here is a quick overview of how Abra works:
To get started with Abra, you need to download the app on your phone from Google Play or the Apple App Store.
Next, you have to set up the wallet by providing your full name, phone number, and email address.
Abra then verifies your phone number by sending a code.
You are then required to create a 4-digit PIN for your wallet.
Abra then shows you a recovery phrase that you need to note down. However, you also have the option to save this step for later and access the password from your account if needed.
At this stage, your account is ready to use. However, we found that in order to start using its products, you need to complete the identity verification process and fund your Abra wallet. We will cover this in more depth in the later sections of this Abra review.
According to Abra, the platform is designed to give its users the freedom to invest in multiple crypto and fiat currencies. To facilitate this, this provider has created the following products.
Abra Trade
Abra Trade essentially functions as a cryptocurrency exchange, allowing you to swap digital assets via the app. The platform supports over 100 coins, which includes popular projects such as Bitcoin, Litecoin, and Ethereum, as well as many altcoins and  ERC0-20 tokens.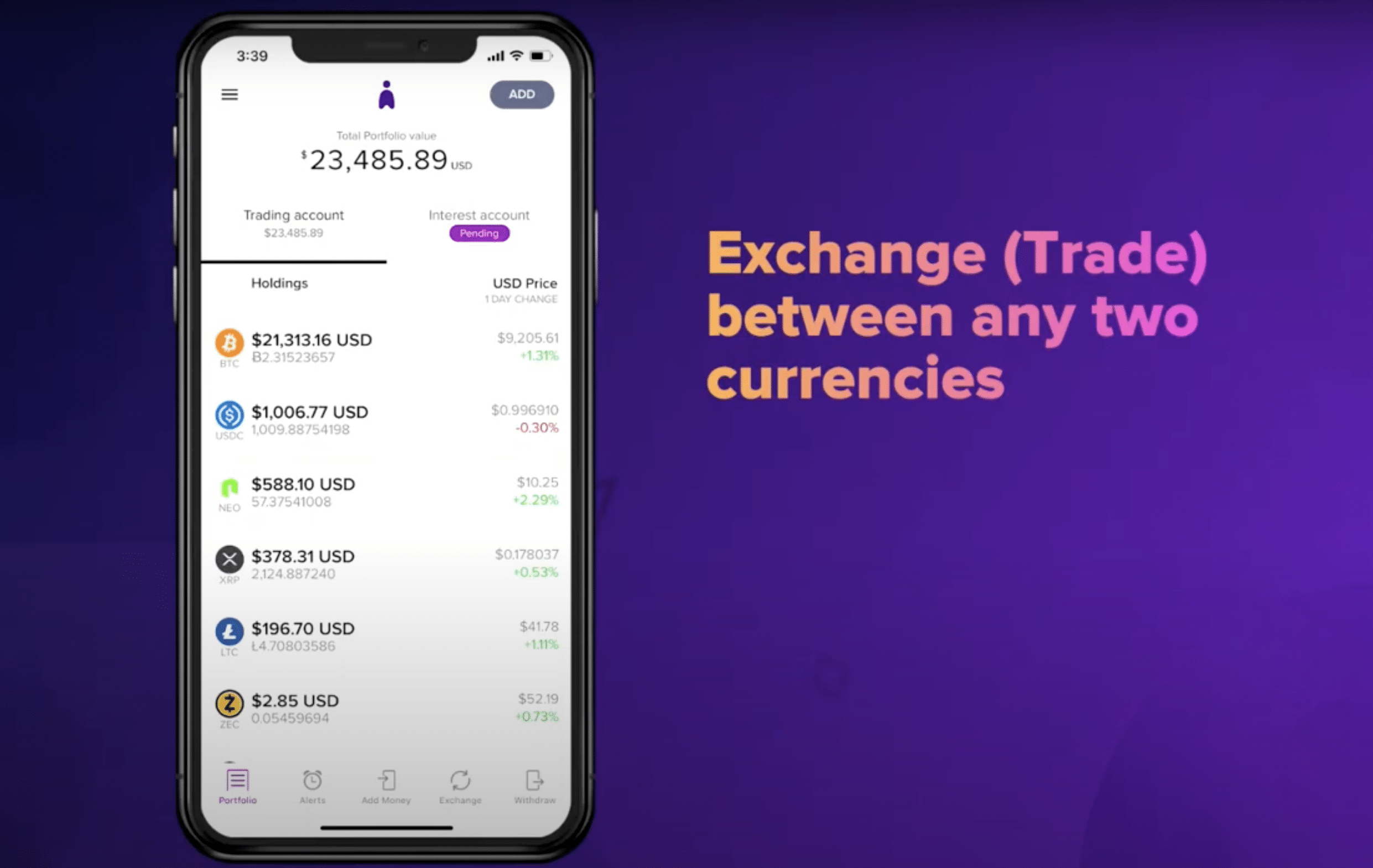 Here is a quick rundown of how you can exchange cryptocurrencies on Abra:
Open your Abra wallet by entering your PIN and going to the 'Exchange' tab.
Choose the cryptocurrencies that make up the pair that you want to trade.
Enter the number of coins you want to exchange, and confirm the transaction.
When completed, your Abra wallet will reflect the exchange. You can also set up personalized alerts on your favorite digital assets to follow the price movements. It is also possible to subscribe to notifications to receive real-time updates about the coins you are interested in.
Abra Earn
Abra Earn is a product that provides eligible users with the opportunity to collect returns on cryptocurrencies and USD stablecoins. To avail of this, you need to transfer your funds from your Abra trading account to your Abra interest account.
Currently, Abra offers this service for the following crypto assets:
Bitcoin (BTC) – 3%
Ethereum (ETH) – 3.65%
Stellar Lumens (XLM) – 4%
Litecoin (LTC) – 3.25%
Cardano (ADA) – 3%
Bitcoin Cash (BCH) – 2%
USD Coin (USDC) – 9%
Tether (USDT) – 9%
TrueUSD (TUSD) – 9%
Paxos (PAX) – 9%
As you can see, you can earn the most by staking USD stablecoins. Moreover, the interest you receive on your funds is calculated daily. The payout process occurs every Monday and is compounded to maximize your returns.
However, before signing
up for Abra interest accounts, you should know that the rate you receive can change in the future.
This is because interest rates are adjusted periodically based on the performance of the asset in the market. That said, there are no fees in order to use this service – which makes it a great way to earn on your crypto investments without having to actively trade.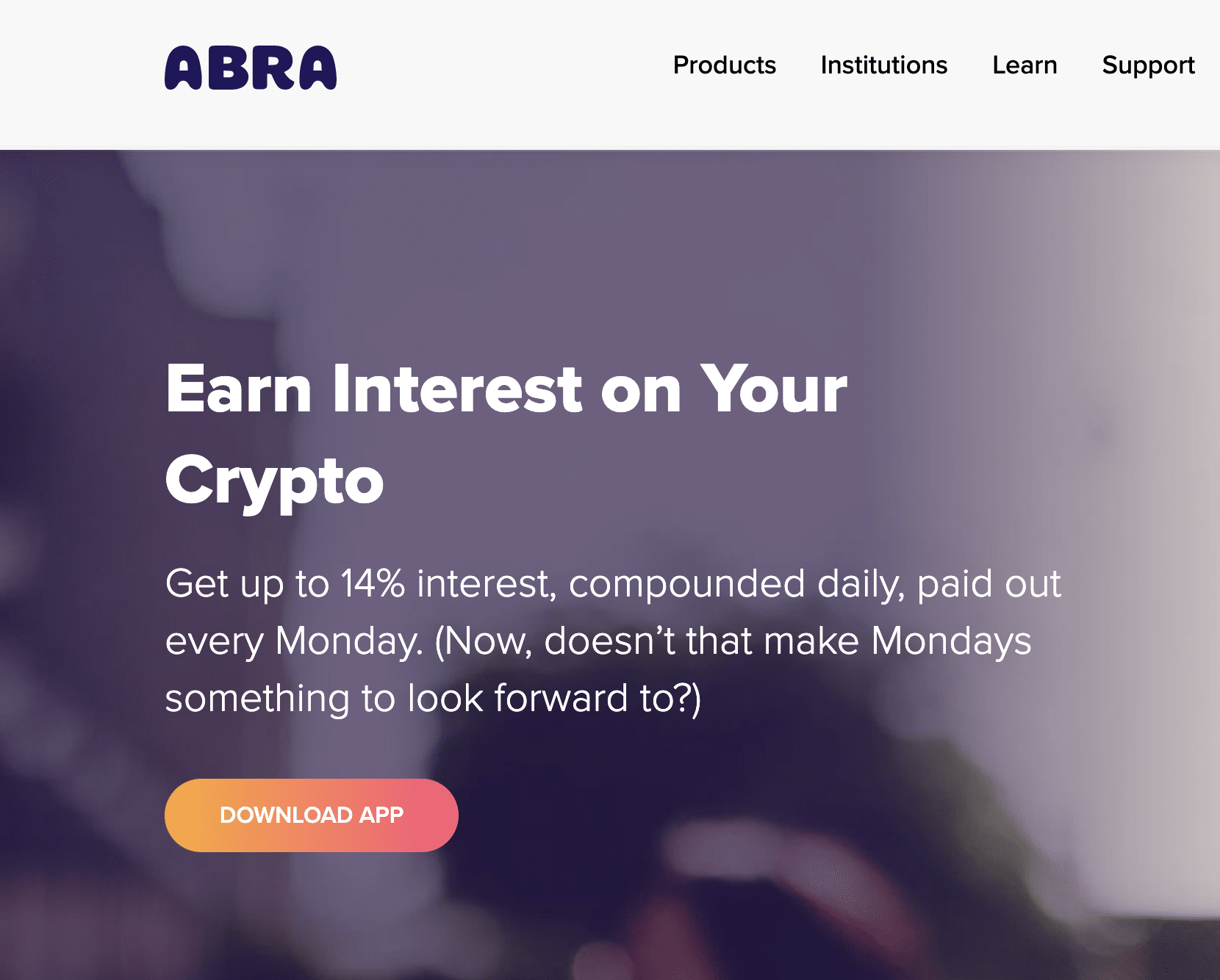 However, it is important to be aware that Abra interest accounts are custodial and are facilitated by a third-party named Prime Trust. Our Abra review found that this company then handovers the funds to Abra, which ultimately manages the lending of your investments to gain interest. Moreover, you need to make an application and wait for approval before you can stake with Abra Earn.
After applying,  you will receive a response within a minute, or a few days – depending on your location. Once approved, you can transfer funds to your Abra interest account. However, if you are making a deposit, it has to go through the trading account first.
At the time of writing this Abra review, our research team found that the platform has launched a utility token called CPRX. This gives you the opportunity to receive increase of 5% via Abra Earn, which will be paid out in CPRX. For example, the original interest offered for TUSD is 9%. But,  you will receive an additional 5% in CPRX – totaling your returns to 14%.
Abra Borrow
Abra Borrow is a scheme where you can use the Bitcoin or Ethereum that you have in your trading account as collateral for a loan. This way, you can borrow the stablecoins TUSD, USDC, and PAX. You also have the power to choose the duration between 6, 12, 18, or 24 months.
As it goes, the more funds you use as collateral, the lower the interest you have to pay. Apart from this, there are no service fees or closing costs when using this feature. You have the liberty to close the loan anytime you wish within the terms, and with no penalties.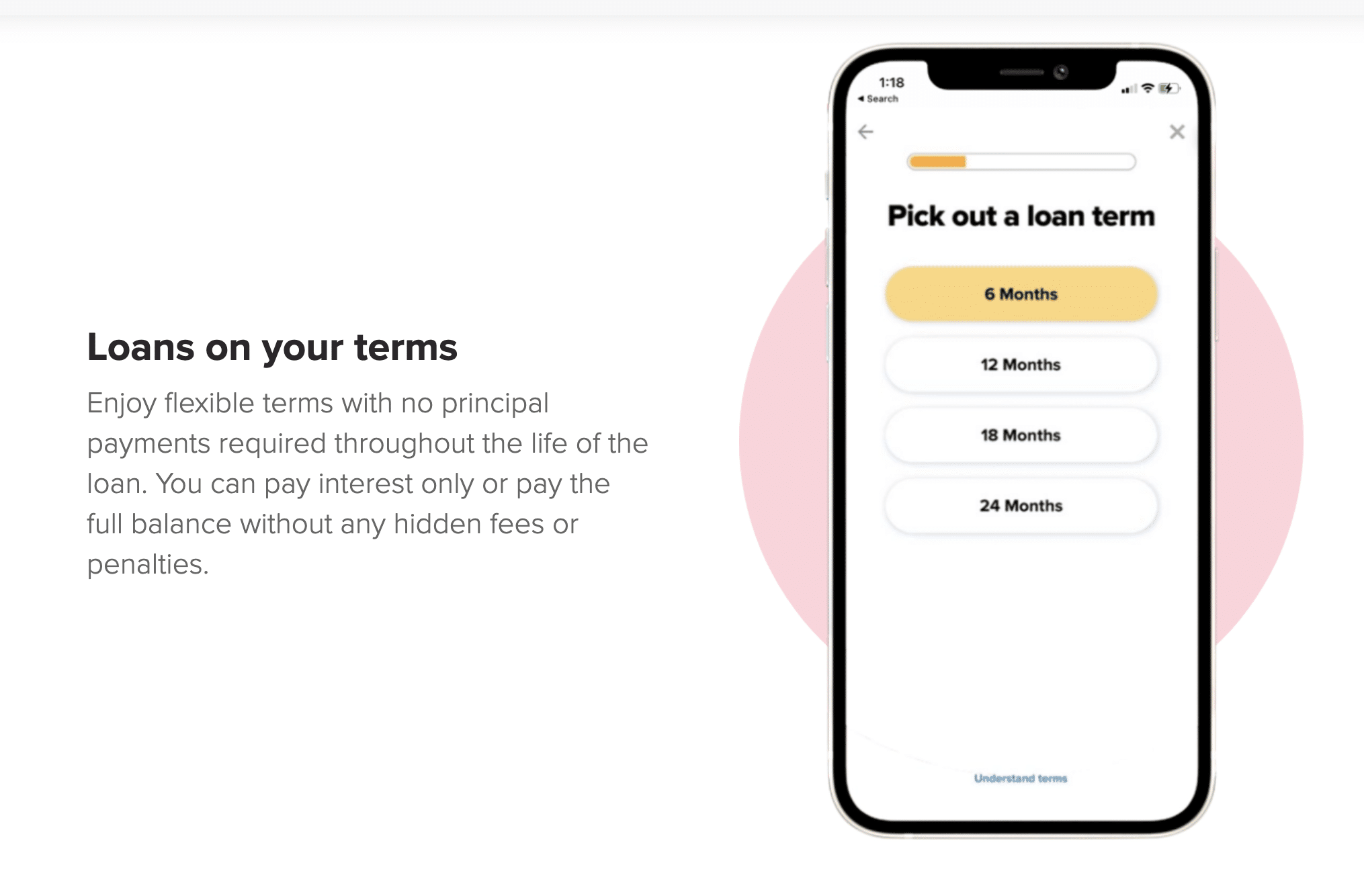 When you apply for a loan, you can choose the duration you want, specify the stablecoin you wish to borrow, and which one you want to collateralize. Depending on these factors, Abra suggests interest rates and the corresponding Loan-To-Value. The higher the LTV, the more you have to pay in APR.
However, before you post collateral and receive funds in return, our Abra review found that your loan application needs to be approved by the platform. It usually takes between 1 and 3 days for the verification process, and the stablecoin will be directly deposited into your trading account.
Abra Marketplace
Although Abra is primarily used as a mobile app, this platform has also created a web version of one of its services. This allows you to buy, sell, or swap cryptocurrencies without having to sign up. However, this service is not provided by Abra itself.
Here is how Abra Marketplace works:
Abra functions as an aggregator to provide you with the best options among third-party exchanges.
All you need to do is choose the cryptocurrencies that you want to buy, sell, or exchange, select your preferred payment method and the country.
You can simply choose the platform you want to use, enter your email, and the destination wallet address.
Depending on your chosen cryptocurrency and payment method, you can expect the transfer to be completed between five to 30 minutes.
However, if using Abra Marketplace, you need to know that you are agreeing to the terms of use of the respective third-party exchange. This means that you acknowledge potential triggers of AML/KYC of your chosen platform. In addition to this, you will also have to pay fees.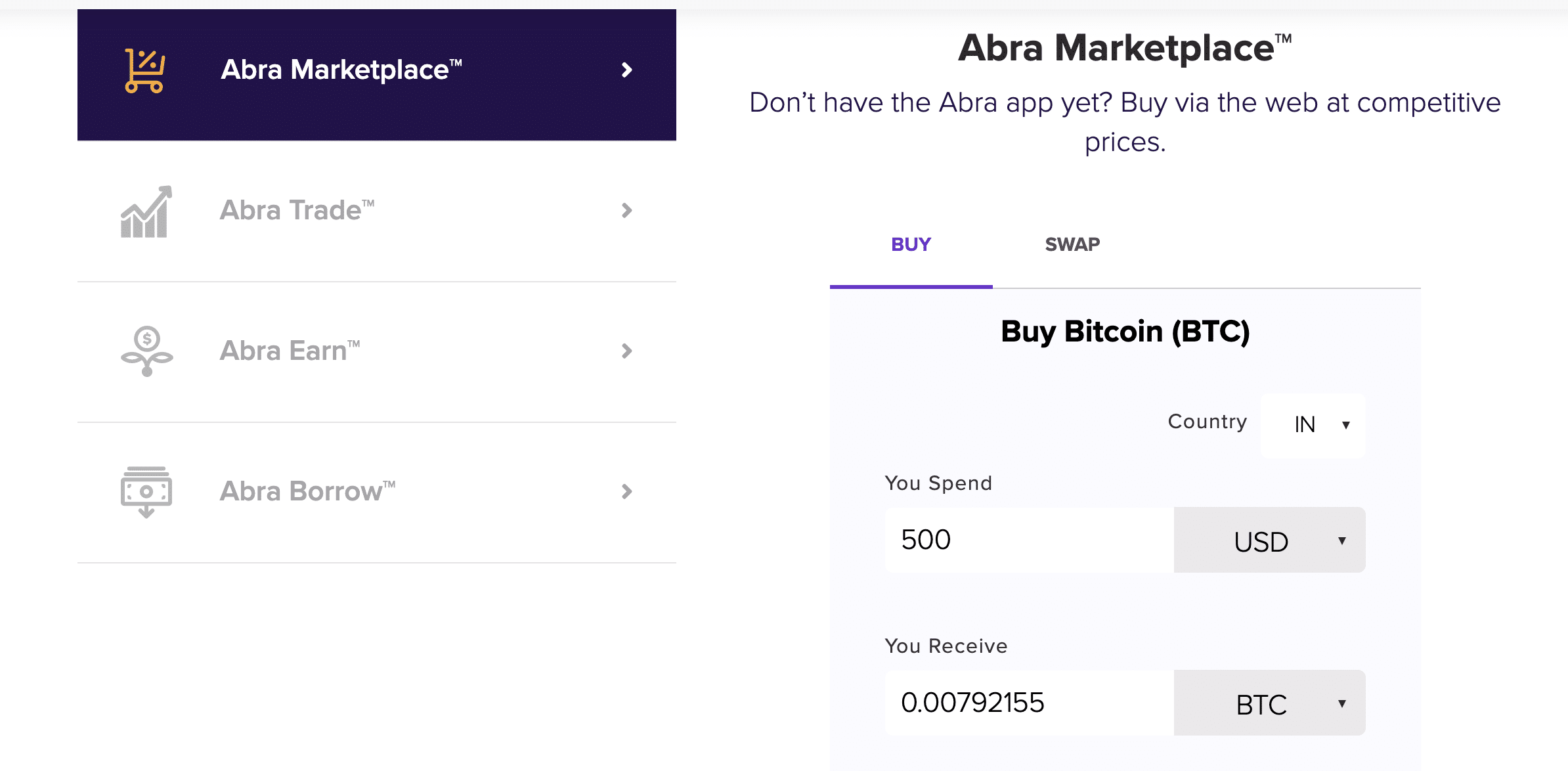 The quote provided by the platform includes the charges of using the exchange, but the cost of blockchain transactions is subtracted from the final amount. The main advantage here is that you do not have to be an Abra user, or use the wallet itself to avail of this service.
Abra Marketplace is available for over 200 digital assets, such of which are not accessible via the Abra app. As such, while you can withdraw crypto coins from your Abra account to process a transfer, you should be careful not to deposit a token that is not supported. You will have to use another wallet to make withdrawals in this case.
Abra Platinum Services
Abra Platinum is set up to provide OTC services for individuals and institutions that want to deposit or trade large amounts of crypto assets. If you are interested in this service, you can sign up on the platform by giving personal information and details such as your net worth. Once submitted, a dedicated account manager will reach out to you to assist you with onboarding.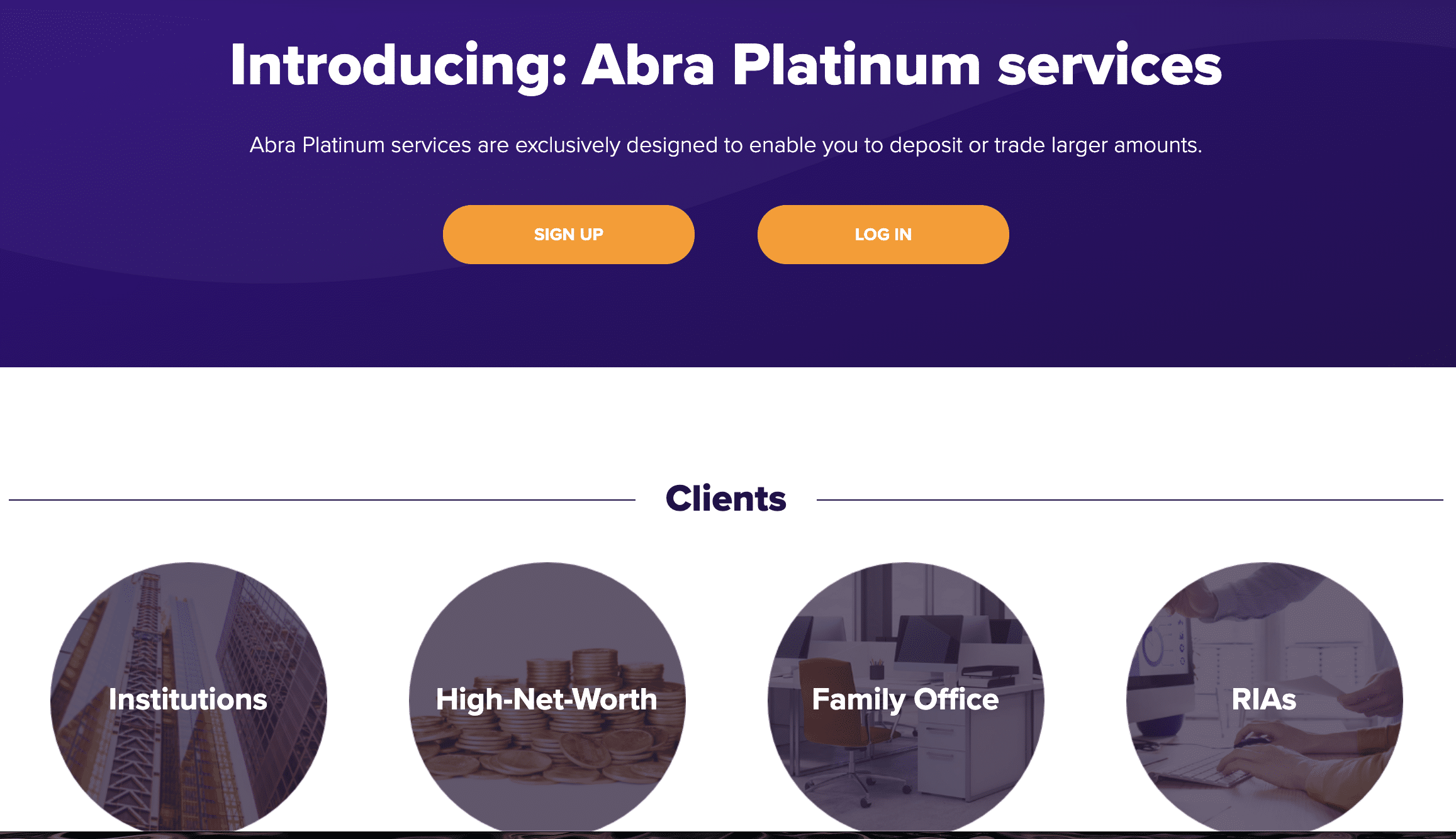 As a platinum user, you have access to your account director at all times via Telegram. Whether you are looking to get an estimate or place a trade, this person can help you with it. What our Abra review team found most interesting is that, if you qualify for this program, the services offered are for free.
Abra Perx and Crypto Perx Token
On November 15, 2021, Abra announced that it will start airdropping its new utility token, Crypto Perx (CPRX) to its customers. This is part of the recently launched reward program Abra Perx, which incentivizes users of the platform in the following ways:
2.5% Cashback on Abra Trade
5% extra interest on Abra Earn
5% Loan interest on all Abra Borrow
However, this seems to be a promotional offer and in the future, Abra is to adopt a tiered structure for its loyalty program. Users will be categorized into Ignite, Launch, Cruise, Orbit, and To The Moon – based on the number of CPRX tokens they own. The rewards on the platform will also differ depending on the level you are at.
Abra Learn
If you are altogether new to the cryptocurrency arena, then Abra provides you with an extensive set of resources to learn along the way. You can listen to podcasts from experienced investors, watch videos of interviews with leading industry experts, and even take an entire course.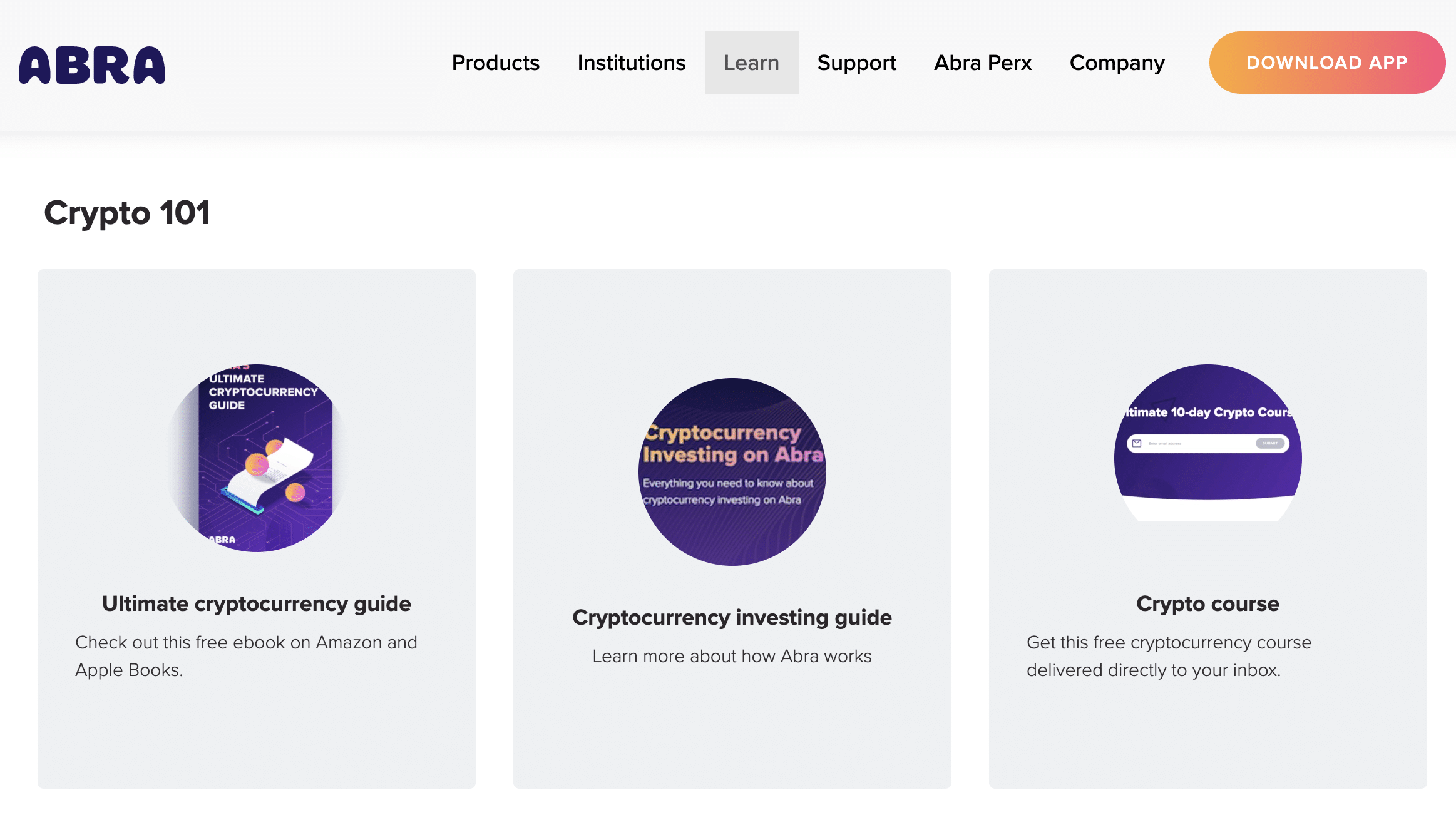 Abra Payments
Our Abra review found that this platform allows you to fund your wallet using multiple payment methods. However, the ways in which you can make deposits or withdrawals into your account vary from one country to another.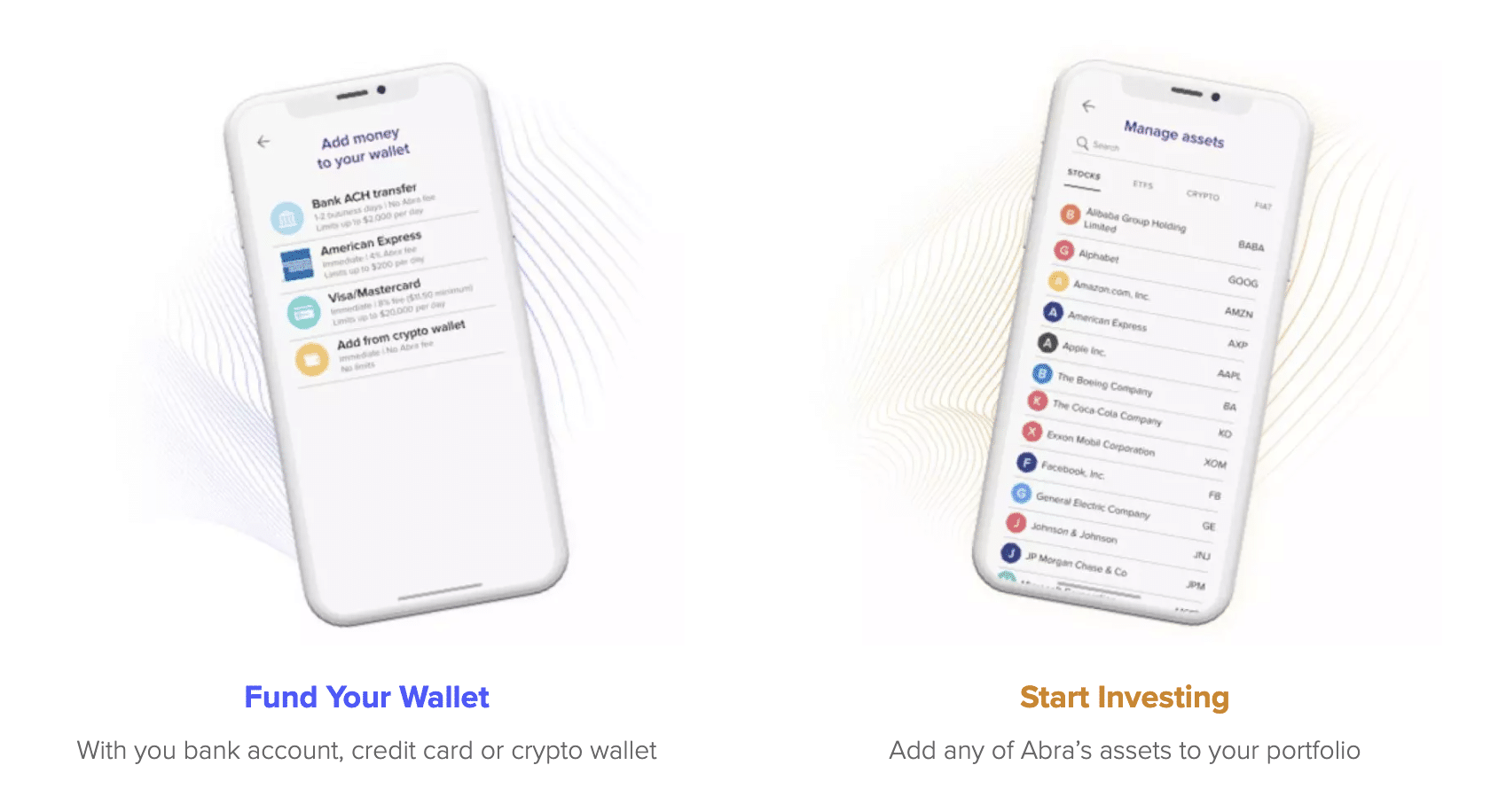 In a nutshell, here are the different ways for you to fund your Abra wallet:
Cryptocurrency: Deposits and withdrawals are supported for all listed coins.
Credit card: Support for Visa, Mastercard, and American Express.
Local bank transfer: Support for ACH and SEPA (deposits only
Wire transfer: Accessible only to US users.
Cash: Supported only in the Philippines where users can convert cash into cryptocurrencies via Abra Teller.
Interestingly, Abra Teller is a service that is provided only in the Philippines where users can visit authorized locations, and conduct face-to-face transactions. This way, you can add funds or withdraw them from your Abra wallet directly, and not necessarily via the app.
Abra Minimum Deposit and Withdrawals
The minimum deposit required on Abra depends on the payment method or cryptocurrency you choose.
Fiat currency deposits: A minimum deposit of $5 is required.
Fiat currency withdrawals: $5 for ACH and $5,000 for bank wire.
Cryptocurrency deposits and withdrawals: Depends on the chosen digital asset.
These minimum requirements can also be amended anytime by Abra, so you need to keep yourself updated with the latest specifics.
Abra Transaction Limits
As with the majority of cryptocurrency platforms, you will find that Abra has also enforced several limits when it comes to processing transactions via its app.
US bank wires – Varies depending on the provider. For instance, if you choose Synapse, the maximum is set at $40,000k daily. On the other hand, Prime Trust has no limits.
ACH bank deposits and withdrawals: Up to $20,000 with W/Prime Trust.
Cryptocurrency exchange: You can buy or sell up to only 5 BTC worth of crypto transactions over a 24-hour period.
Cryptocurrency withdrawals: 100 coins for Bitcoin; 100,000 for Cardano, COVAL, and Dogecoin; and 10 million for all other digital assets.
There are no limits on making any cryptocurrency deposits or sending money between users on Abra.
Abra Fees
As with any other online cryptocurrency platform, Abra charges fees to its users. However, our Abra review found that the costs associated with exchange services are one of the most competitive you will find in the market.
Here is the breakdown of the charges you can expect when using Abra.
Abra Deposit and Withdrawal Fees
The deposit fees on Abra is calculated based on your chosen payment method:
ACH transfers – Free
Crypto deposit – Free
Credit card transfer – The fees depend on your chosen provider such as Simplex, or MoonPay which often ranges between 3.5 to 5%
Fiat currency withdrawals via bank transfer – Free
If withdrawing cryptocurrencies, you are to pay network fees calculated at the time of making the transaction and determined by the respective blockchain.
Abra Exchange Fee
Abra does not charge you any commission to facilitate exchanges. However, you will have to pay a spread, which is built into the quote. For those unaware, this is the markup between the buy and sell price of an asset.
The spread depends on market conditions and varies from one currency to the other. In other words, there is no way of knowing how much you are paying when using Abra – which is a major red flag.
Is Abra Safe?
Our Abra review found that this platform is legitimate. Abra is registered as a money services business with the U.S. Department of Treasury Financial Crimes Enforcement Network. It is also regulated by the SEC Philippines, and with other respectable entities in the country.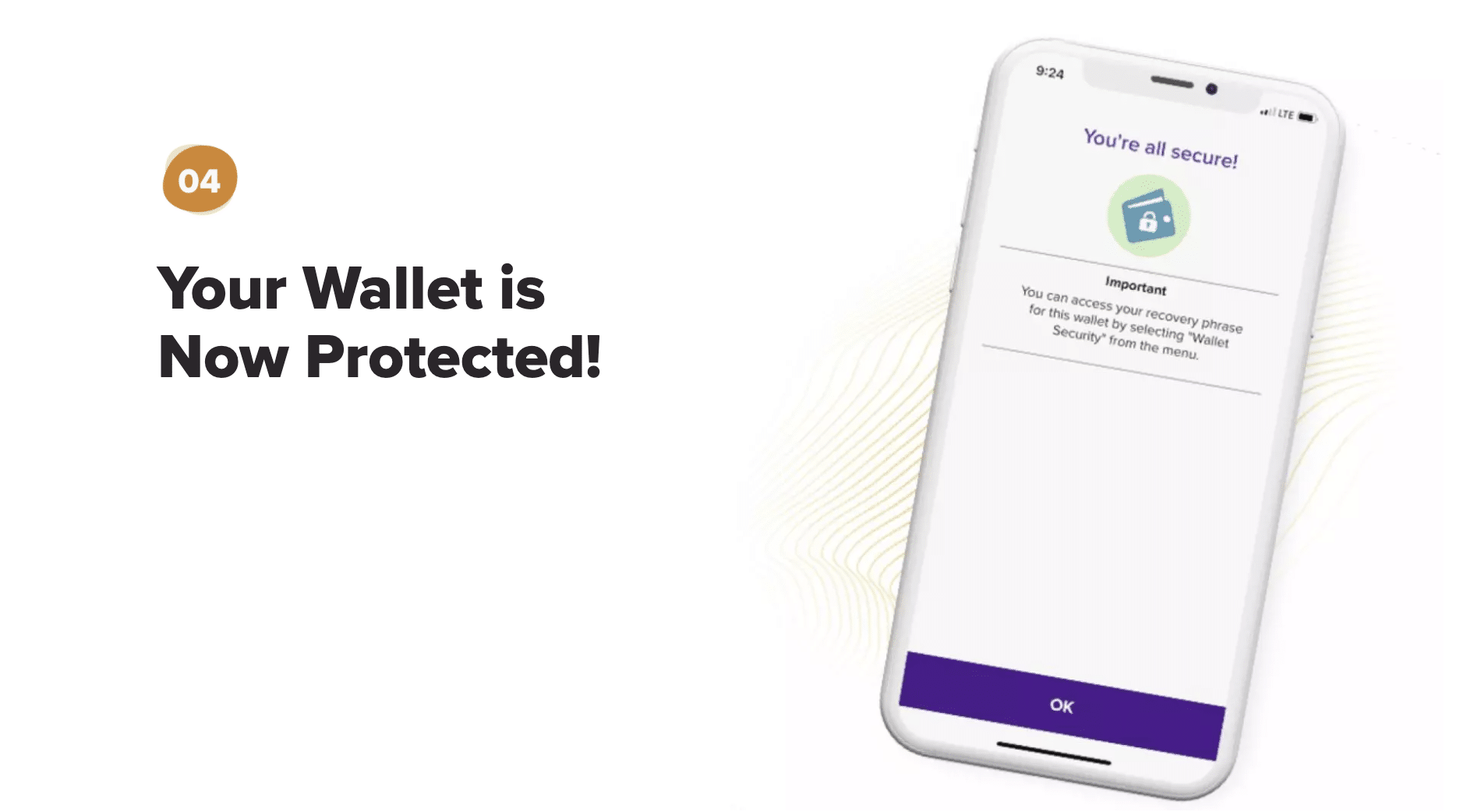 However, our Abra review discovered that If you are to read the fine print, the platform has made it clear that clients' funds are not covered by the FDIC or SIPC insurance protections. In other words, as an investor, you do not have anything to fall back to – in case the company goes under, or your account is hacked.
In light of this, you might want to consider another crypto provider that offers more in terms of regulatory protection – such as eToro. This is a regulated broker governed by the SEC in the US, FCA in the UK, CySEC in Cyprus, and ASIC in Australia. In addition to this, the platform is also registered with FINRA.
Abra App Security Features
As a mobile wallet, Abra allows you to access your funds only after entering your PIN code. Furthermore, during the initial setup, you are given a thirteen-word recovery phrase, which is unique to your device. Although you can find this password later from your account, nobody else can obtain this via the app.
Therefore, it is crucial that you note this down carefully, and preferably offline. If you lose this, Abra can't be of any help to restore or recover your wallet – and thus will result in total loss of your funds stored with the platform.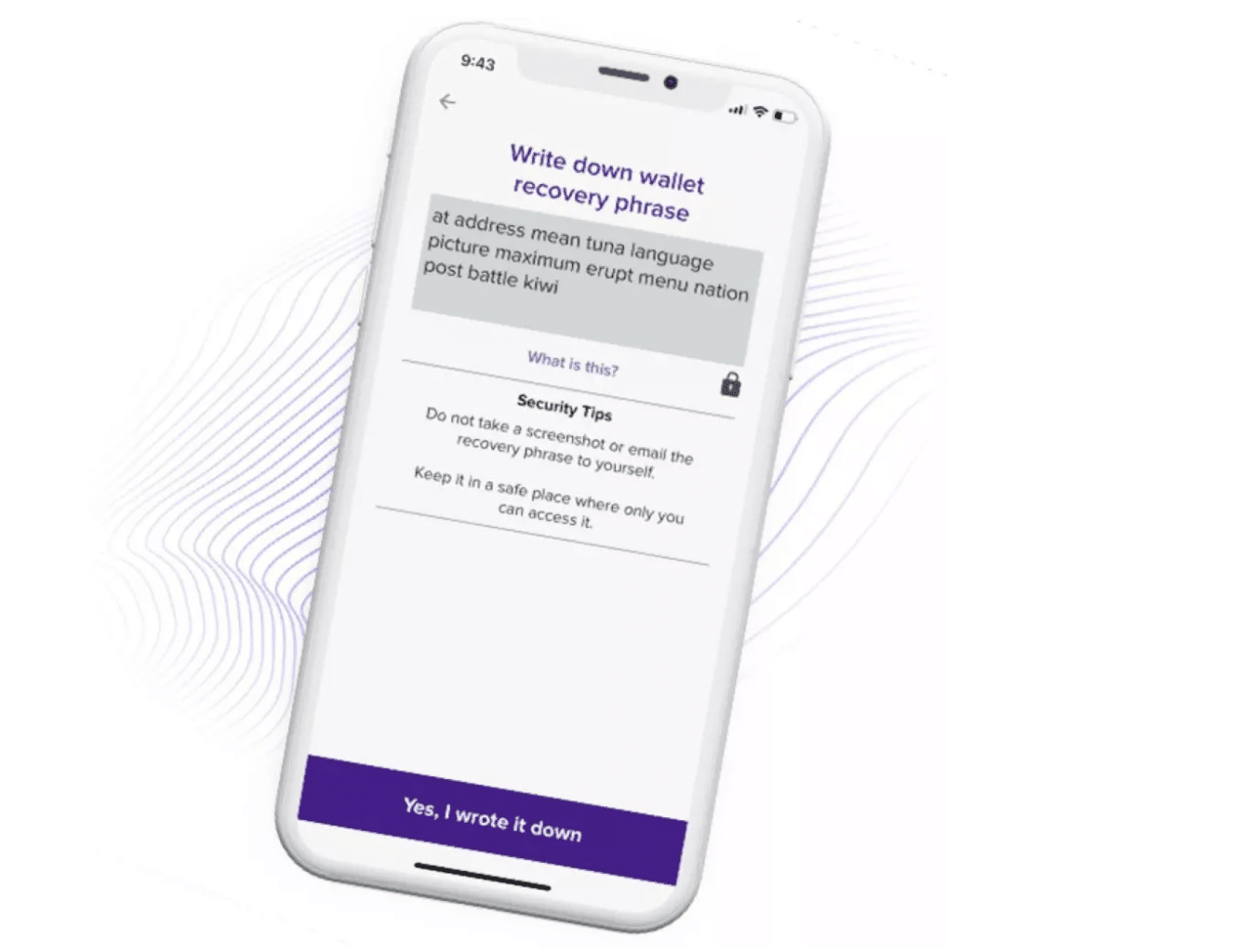 If you do not want to take full responsibility for the security of your cryptocurrencies, you might want to go for a custodial wallet like eToro. The wallet is licensed by the Gibraltar Financial Services Commission, making it a secure means to hold your digital assets.
Abra Customer Support
Our Abra review found that customer support on this platform is not the best you will come across. The only way to contact the team is by sending an email. And it might take several days or even months before you get to resolve an issue – as per online reviews.
eToro vs Abra – Comparison
Gone are the days when you have to scour the internet to find a legitimate cryptocurrency provider. Today, the options are both plenty and overwhelming. Finding the right service is not only a challenge for beginners in this space, but it also means that those who are currently using one platform constantly have to wonder whether you have the best deal.
While Abra has plenty of attractive features, the question remains whether this is the best crypto exchange out there. For instance, you might want to use a broker like eToro that can offer you access to multiple markets, and a safer environment to trade.
In this section of our Abra review, we compare eToro to this exchange, so that you can decide which platform is more suited for your needs.
Safety and Regulation
When it comes to security, Abra is regulated in the Philippines and registered as an MSB in the US. However, this does not go far in terms of investor protection. And when you are dealing with financial platforms, it is best not to take any unnecessary risks, especially when you have safer options in the market.
For instance, eToro is one of the safest crypto providers that you can find. This broker is regulated by respectable financial authorities across various regions, offering you an exceptional level of safety. The wallet is also licensed by the GFSC, adding another layer of security for storing your digital assets.
Available Markets
Abra is suitable only for cryptocurrency investments. Whereas on eToro, you have access to multiple assets, spread across domestic and international markets.

Some of the supported markets available at eToro include not only cryptocurrencies, but also stocks, commodities, forex, indices, and ETFs. This gives you the opportunity to diversify your investments across different asset classes.
User-Friendliness
The Abra app offers a beginner-friendly interface to its customers, making it easy for anyone to understand the services available and how to use them.
However, if you are an advanced trader or investor, the platform lacks several features that you might want in a cryptocurrency exchange, such as trading tools, technical indicators, and charts.
The eToro platform, on the other hand, is designed to be intuitive to the needs of both beginners and professionals.
The eToro interface is easy to use while providing you with all the necessary tools you need to make informed trading decisions.
Moreover, you also have access to a variety of orders such as limit, market, stop-limit, and take-profit to gain more control over your positions.
Fees
On Abra, the deposit fees are often determined by third parties, depending on the payment method you choose. As such, this can be unpredictable, and go as high as 5% for credit/card payments. There is also very little transparency when it comes to the spread on this platform.
On the other hand, on eToro, it is clear that the spread for cryptocurrencies starts at 0.75%. Moreover, deposits in USD are free, no matter the payment method you choose. If you want to transfer another fiat currency, you only have to pay an FX fee of 0.5%.
Passive Investment Tools
In terms of passive investing, Abra allows you to stake your coins on the platform to earn interest in return. On eToro, you will find not one, but two ways of benefiting from cryptocurrency investments without having to actively trade.
With the eToro Copy Trading tool, you can choose an experienced trader on the platform, and mirror their moves in your own account. Meaning, every time they open or close a position, the same will be carried out in your portfolio, in proportion to the amount you have invested.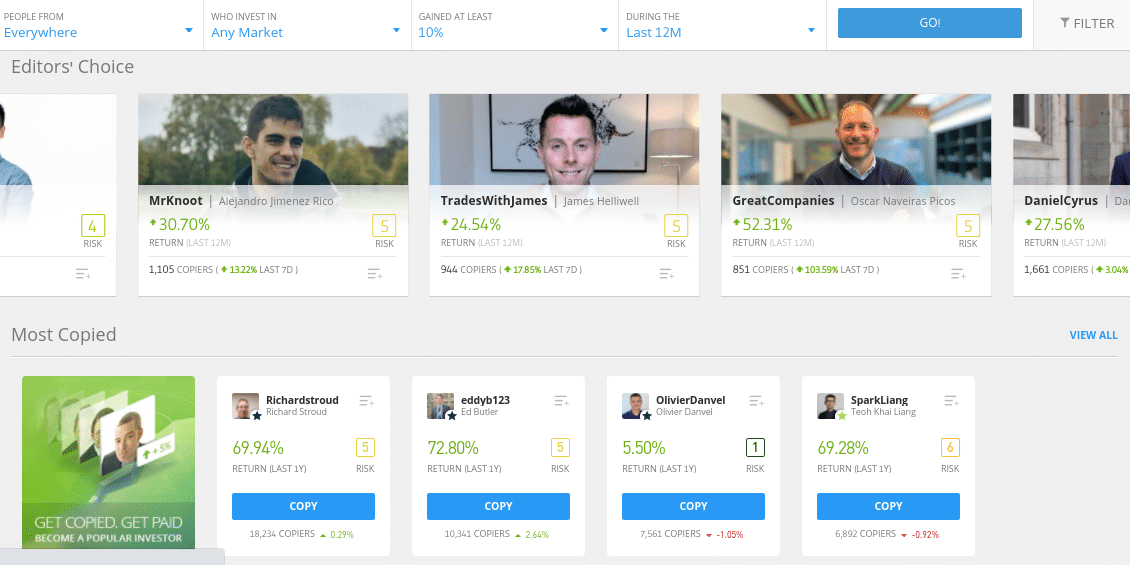 In addition to this, you can also choose to invest in one of the predesigned CopyPortfolios on eToro. This allows you to diversify into a basket of different digital tokens in one go, reducing the risks associated with this volatile market.
Abra Review – Conclusion
If you are looking for an all-in-one app to store your cryptocurrencies, and trade them, Abra is worth your attention. Within this mobile wallet, you not only have the option to invest in digital assets, but also to borrow against them, or engage in staking.
However, when it comes to the safety and protection offered, Abra is certainly not our first choice. Instead, we suggest that you consider a broker like eToro, which provides you with secure means to access cryptocurrency markets. The platform offers low fees and allows you to invest in digital assets on a spread-only basis.
Additionally, you can also use the licensed and in-built wallet to store your funds. And best of all – instead of paying up to 5% to deposit funds with a debit/credit card at Abra, eToro charges nothing if you're from the US.
eToro – Best Broker to Trade Crypto
FAQ
Is Abra available in the US?
What fees does Abra charge?
What is the Abra minimum deposit?