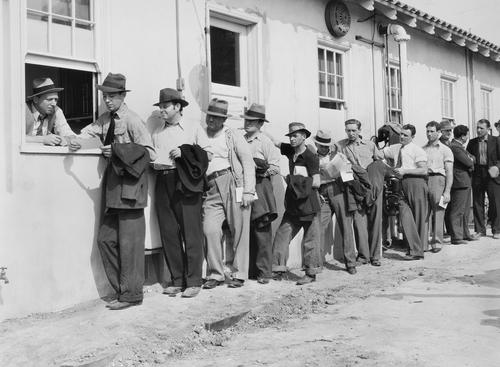 While the United States had added more jobs in recent months than economists had been expecting, several studies suggest that the U.S. labour market has lost at least 3 million well-paid "good jobs" forever. The bulk of new jobs being created is in fact a huge swathe of part-time work which offers no long term security and is generally low paid work – nothing there to fuel a consumer-led recovery.
If you want to experience a real sense of dislocation and dizziness, try focusing one eye on a chart of the S&P 500, marching to ever higher highs, and another on a chart showing full time jobs in the US over time (hint, it goes down, not up). Unless you assume that somehow technology has rendered large numbers of jobs superfluous, quite where the productivity is coming from to support the onward and upward march of the S&P is not apparent and squinting at the chart doesn't help. "Wait a moment," you might say. "The news from the US was that unemployment is going down and more jobs are being created."
True, but also false. What is being created, to a worryingly large extent, is a huge swathe of part-time work which offers no long term security and is generally low paid work - nothing there to fuel a consumer-led recovery.
John Mauldin quotes an article by Mort Zuckerman in the Wall Street Journal, where Zuckerman points out that there by June 2013 there were just over 28 million part time jobs in the US economy, which is three million more part time jobs than at the start of the recession in 2008. President Barak Obama's Healthcare legislation, known as Obamacare, has had an impact on this surge in part time jobs since part of the legislative rule set around Obamacare is a stipulation that employers have to pay for the health insurance of employees who work more than 29 hours a week.
Related: Obama Proposes "Bold" Plan To Boost Middle Class
Related: US Health Care System Wastes $750 Billion Annually: Report
Related: Infographic: The Cost Of Healthcare Fraud – $70-250 Billion Per Year
With a rule like that in place it is a no-brainer to see employers shifting their employment strategies to favour sub 29 hour week part time work over full time work. Forbes recently picked up on a Reuters story about Walmart, which seems to have shifted its recruitment policy towards hiring part time workers only:
"A new hiring policy uncovered by Reuters (which surveyed 52 Walmart stores, Walmart being the largest private employer in the US) shows that nearly half its stores are only hiring part-time employees, thus avoiding the mandate to provide health care or pay a fine..."
Moreover, the full time jobs that are coming to the market in the US are not, in general, going to the vast pool of unemployed who are between the ages of 24 and 50. As John Mauldin points out, a large number of the "good" jobs are going to the over 55s. Mauldin includes a chart in his analysis, based on data from the St. Louis Federal Reserve, showing a pretty straight line from bottom left to top right in terms of the number of new jobs going to the over 55s. In fact looking at the chart, there is no discernible dip in its onwards and upwards march through the notorious 2007-2009 time frame. Looking at this particular chart you wouldn't know there had even been a recession.
Related: Will America's Middle-Class Crisis Diminish Its Global Superpower Status?: George Friedman
Related: 600 Million New Jobs Needed Over 15 Years To Sustain Global Economy: World Bank
Related Infographic: Evolution of the American Economy
Many of these jobs, Mauldin points out, although full time, are medium to low skill, such as working as a check-out clerk. Employers in the US have come to prefer mature workers who can project friendliness and competence and who need little training, over young workers who would, in the past, have used these jobs as "fillers" on their way to gaining competencies and moving onwards and upwards. Jobs for new entrants are just not happening any more, or not in sufficient numbers to matter. Some 7 million new jobs have been created in the US since the crash, but the employment chart for the 24-50 age range shows almost no gains in the last five years.
All this could change, of course, if the US economy really does pick up and the competition for employees heats up. As the Forbes article notes, "a dwindling labour pool and competition for employees does wonders for worker's rights". However, for now the boom in part time jobs in the US is a real dampener on consumer spending, and without more consumer spending the US economy is unlikely to pick up the pace any time soon. The US is perilously close to being caught in a vicious spiral here and whatever it might do to healthcare in the US, Obamacare is already having a pernicious impact on the search for real jobs, it seems...
Related: Obama – The Harbinger Of A New Era For Politics In America?: Jeffrey Sachs
By Anthony Harrington
Anthony Harrington is an award-winning business and energy journalist, writing regularly for the Scotsman newspaper, the Glasgow Herald newspaper, Financial Director magazine, Pensions Insight magazine, CA Magazine, and a number of other publications. He won Business Finance Journalist of the Year 2006, Institute of Financial Accountants, and Journalist of the Year, State Street 2006 Institutional Press Awards, and was runner up in 2007 and 2008.
Where have all the good jobs gone? Gone to part-time... is republished with permission from the QFinance Blog.
Get the QFinance Dictionary of Business and Finance iOS app for a comprehensive guide to financial terms and expressions.
See also:
Obama – The Harbinger Of A New Era For Politics In America?: Jeffrey Sachs
See also:
600 Million New Jobs Needed Over 15 Years To Sustain Global Economy: World Bank