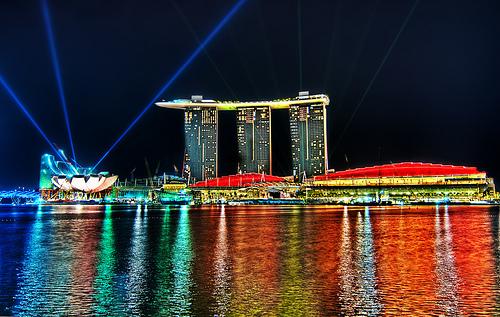 Asia, as a whole, has witnessed tremendous growth in the past decades and city-states such as Hong Kong and Singapore have since joined the ranks of advanced economies. Asian giants are not only home to the largest number of millionaires in the world; Asian millionaires are also becoming increasingly wealthier. With US and European economics stuck in doldrums, could it be Asia's turn to shine now?
Two recent speeches featured on the Monetary Authority of Singapore website give a pretty good indication of the momentum building up in Asia's desire to become a global financial super centre. By comparison with the established centers in the West, such as the City of London or Wall Street, Asia suffers from being a highly fragmented "zone". Indeed, it is so fragmented that it barely qualifies to be considered a zone, despite all the hype about the shift of financial power from West to East. The lack of a pan-Asian settlements infrastructure, the absence of a pan-Asian bond market and capital controls scattered like confetti across the region, all speak of the infancy of the Asian bloc by comparison with its Western rivals. However, it will not be ever thus, and things are changing fast.
Speaking on the occasion of the opening of the second Raffles Tower in Singapore (Raffles Tower One, opened in 1988, is still the third tallest building in Singapore) Finance Minister Tharman Shanmugaratnam spoke both of the rising affluence of Asia's middle classes and of the opportunities for Asian banks: "Asian banks, which are moderately leveraged, largely deposit-funded and generally conservative in lending, have in recent times, stepped-up their financing activities. As traditional European lenders continue to deleverage, there are opportunities in corporate funding, trade finance and infrastructure finance which Asian banks are well placed to take hold of."



 Asia has also seen rising affluence amongst its population and increased interest from international investors as an investment destination. This has presented greater investor demand, paving the way for the growth of Asia's capital markets and asset management sectors. These developments will help drive a new chapter in Asian finance.

Related News: Singapore Home To World's Top-Earning Expats: Study
Related News: Singaporean & Canadian Banks Dominate List of World's Strongest Banks
Related News: Asia To Hold World's Top Financial Centre By 2022: Survey
Those opportunities in trade finance, corporate funding and infrastructure finance highlighted by the Minister are going have a hugely transformative impact on Asian finance in the decades ahead. It seems pretty obvious that the major western investment banks are not going to sit on their hands while this happens. They are already actively forging joint ventures with and investing in Asian players, positioning themselves to share in what promises to be an extremely profitable few decades for Asia - provided, of course, the continent doesn't fall prey to internecine quarrels, the recent saber rattling between Japan and China over a few rocks protruding from the ocean being a case in point.
While the active involvement of top Western investment banks will undoubtedly bring management skills to Asia, there is always the danger that these bankers will also import that "gotta dance when the music's playing" attitude that gave us the 2008 global financial smash. So Asian regulators are going to have to keep a sharp weather eye out for incipient bubbles fuelled by advanced economy banksters playing high wide and handsome in developing markets.
The second speech, by Ng Nam Sin, Assistant Managing Director, Development, was given at the OCBC Global Treasury Forum in September 2012. The theme of the forum was "Winds of Change Affecting Asia", with the larger gales coming, unsurprisingly, from the ongoing European sovereign debt crisis and the fiscal deficit issues in the US. Ng Nam Sin would probably have added QE3 to the list if his speech hadn't pre-dated the Federal Reserve Chairman's announcement. As he pointed out, despite all the talk of decoupling, Asia is far from immune to what happens in advanced markets:



Despite our deepening domestic markets, Asia is not insulated from the rest of the world.   Outcomes in the developed markets have a profound global impact through trade, commodities prices, and in the valuation of currencies and financial instruments. Through these channels, global winds of change can shake Asia from its long-term path of growth and development.

On top of this, of course, there is regulatory change, which Asian markets are having to ponder and to decide whether to follow suit exactly, or instead amend to Asian circumstances and risk encouraging regulatory arbitrage. Above all, he wants to see Asian capital markets moving forward and reaching the kind of maturity where indigenous capital can be put to work furthering Asian growth. That is now the Holy Grail of Asian investment initiatives and we can expect to see a continued flurry of developments in this area. Should make for an interesting next 10 years!
Related News: Asia Now Home To Most Number Of Millionaires In The World: Report
Related News: Asia's Millionaires Overtake Their European Counterparts
Related Story: Asia Moving Beyond Manufacturing, to Innovation
By Anthony Harrington
Anthony Harrington is an award-winning business and energy journalist, writing regularly for the Scotsman newspaper, the Glasgow Herald newspaper, Financial Director magazine, Pensions Insight magazine, CA Magazine, and a number of other publications. He won Business Finance Journalist of the Year 2006, Institute of Financial Accountants, and Journalist of the Year, State Street 2006 Institutional Press Awards, and was runner up in 2007 and 2008.
Singapore and the growing power of Asian finance is republished with permission from the QFinance Blog. Get the QFinance Dictionary of Business and Finance iOS app for a comprehensive guide to financial terms and expressions.
See also:
Asia Moving Beyond Manufacturing, to Innovation
See also:
Asia's Millionaires Overtake Their European Counterparts