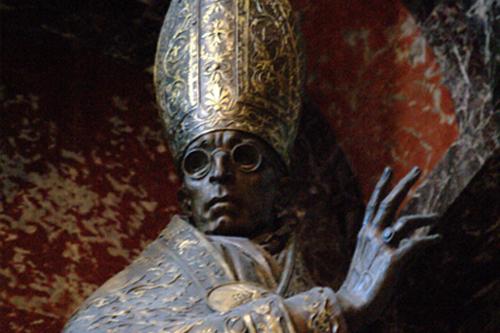 The Vatican Bank has been plagued by corruption and criminality ever since it was established in 1942. Yet this is hardly a surprise, given that no bona fide legal system is currently in place to ensure check and balances for the bank of God.
The scandals surrounding the Vatican's finances strain credulity. At the heart of the Catholic Church, we find murder, collusion with violent crime, bribery and money laundering.
But the Church has, and will, never admit to any financial wrongdoing. With an image of sanctity to protect, the Catholic Church simply cannot admit to any illegality or immorality. In this respect, there is a parallel with the Holy See's persistent denials of sexual abuse among the clergy. This pretence of moral purity can be maintained because the tiny Vatican state is not subject to Italian law enforcement. 
Jason Berry, author of Render Unto Rome: The Secret Life of Money in the Catholic Church, said: "The Vatican has a systematic aversion to transparency. Its power structure is honeycombed in secrecy. With the abuse scandal, the bottom line is that the Pope will not punish complicit Bishops and Cardinals."
"The crux of the Vatican's problems – whether in finance, or the abuse crisis – is they are an international state without a bona fide legal system. The Vatican cannot police itself and that's why we see so many scandals."

Related: Vatican City (Holy See) Economic Statistics and Indicators
Related: Holy See (Vatican City) Economy
The Sins Of The Fathers
Financial controversy has dogged the Vatican Bank ever since it was formed in 1942. There is strong evidence today that the Bank accepted tainted funds and riches from the bank accounts of deceased Jews in Europe during World War II.
But the modern era of the Vatican's financial misadventures only truly began in the late 1960s, after the Vatican Bank started to develop strong ties with violent crime. At the heart of this story was a Sicilian banker named Michele Sindona who laundered heroin money for the New York Mafia family, the Gambinos. With his proceeds, Sindona bought up banks across Italy during the 1960s. 
"Then, Sindona was hired by Pope Paul VI in 1969 to become chief Vatican financial advisor after the Italian Government said all the Vatican's holdings in Italian banks would be taxed. That's when the trouble started," said Paul Williams, author of The Vatican Exposed: Money, Murder and the Mafia.
"Sindona moved the Vatican's holdings into the international market place where it could not be taxed…Through Sindona's Mafia connections, dirty money flowed into the Vatican Bank."
They laundered money from gun running and drugs. Sindona began the process, and it's not stopped to this day. New York's five Mafia families launder their holdings through the Bank."

But one unblemished character was determined to stamp out the corruption. He was Albino Luciani - the future Pope John Paul I - who became Archbishop of Venice on December 15, 1969. In 1972, Luciani began investigating transactions at "the priests' bank", Banco Cattolica del Veneto, in which the Vatican Bank owned a 51 percent interest.
Luciani had become suspicious after the bank was sold by Vatican Bank President, Paul Marcinkus, to Roberto Calvi, Chairman of Banco Ambrosiano in Milan. Calvi was known as a crook who had laundered Mafia money through his bank.
Marcinkus, on the other hand, had been an American-born Catholic priest whose nickname was "the Gorilla" because of his huge bulk. Despite having no experience of banking, he was the Vatican Bank's President from 1971 to 1989.
But Marcinkus soon became the central figure in Vatican Bank corruption. As soon as he was appointed as the Vatican Bank President, financial irregularity started to emerge. In 1972, the US federal department questioned Marcinkus about US$14.5 million in counterfeit US Bonds delivered to the Vatican. He refused to answer, citing confidentiality, and the US government opted not to pursue the matter.
Around the same time, Albino Luciani's investigations of Marcinkus and Calvi had led to Sindona, who turned out to be a friend of Calvi's. Luciani quickly realised all three men were dealing with the Mafia, and in cahoots. But, for now, there was little he could do.
Then, in 1978, Luciani became Pope John Paul I and began an immediate investigation into the financial aberrations at the Vatican. On the evening of September 28, the Pope told his Secretary of State, Jean Villot, that he was going to remove Marcinkus from his post the following day. But the Pope didn't get to make the order because he never woke up. 
"I'm convinced he was murdered," said David Yallop, who wrote the bestselling In God's Name about the alleged crime. "It was largely to do with money. There were a number of parties who wanted him dead. Chief among them was Marcinkus, who knew he was about to be ousted. Then there was Calvi, who was in league with Marcinkus on a fraudulent business deal. Everyone in the inner circle knew about the Pope's plans. I'm sure he was poisoned, although because the Vatican refused to carry out an autopsy, or release a medical report, we cannot prove it."

He added: "The Vatican said he died of a heart attack, but you would normally assess that. The Venetian doctor who'd looked after him for 15 years and came down every two weeks to the Vatican said he was in excellent health."
Pope John Paul I's reign had lasted for a mere 33 days. The only Pope to serve less time in the entire papal history was Leo XI who ruled for just 17 days in 1605 before dying under mysterious circumstances as well. Yallop believes that the probable method of Pope John Paul I's murder was tampering with his medications for low blood pressure – either through liquid Effortil, or Cortiplex injections. 
With the Pope's timely death, Marcinkus stayed on and continued his rackets. In 1982, Banco Ambrosiano went bust with debts of US$1.3 billion. Embarrassingly for Marcinkus, the Vatican Bank had been a major partner in Calvi's illicit deals, which included laundering, Mafia money and facilitating unlawful payments from corporations to Italian politicians. The Vatican bank lost US$500 million.
In June 1982, Calvi fled Italy to escape jail and landed in London. He began threatening to tell everything he knew if he was imprisoned, and was found hanging under London's Blackfriars Bridge just days later. Few people have accepted the official police verdict of suicide.
"Of course, he was murdered," said Jason Berry. "He was deeply in bed with Cosa Nostra. I never heard of anyone committing suicide by putting rocks in his own shoes!"

The Vatican Bank claimed innocence, though in 1984 it made a US$240 million goodwill payment to creditors of Banco Ambrosiano. The gesture however failed to satisfy Italian magistrates who issued a warrant for Marcinkus's arrest in 1987. This would result in a long tussle between the Vatican and Italian judicial authorities, which resulted in Marcinkus spending weeks holed up within the Vatican – fearing arrest if he ever set foot on Italian territory.
Finally, the Italian Court of Cassation had to rule that the Italian courts had no jurisdiction over Marcinkus. They said major officials of the Church were exempt from Italian state law under the terms of the 1929 Lateran Pact, which had granted independent statehood to the Vatican. 
Marcinkus survived once again and his influence continued to grow. He became Pro-President, the third most powerful person in the Vatican. In 1990, Marcinkus finally retired to Arizona.
"At one time, everyone was trying to arrest him," said Williams. "But he escaped prosecution and lived a long, happy retirement on a palatial estate, playing golf every day on, smoking expensive cigars, dining in chic restaurants."
"I could never understand why Interpol, or the US authorities didn't extradite him. He was the number one guy at the centre of the Banco Ambrosiano scandal, which devastated hundreds of thousands of Italians. I think powerful Catholic interests would have cried 'foul' and 'sacrilege' if he'd been prosecuted."

Continue Reading The Next Page...The Blind Eye Of The Holy See
See also:
Vatican City (Holy See) Economic Statistics and Indicators
See also:
Holy See (Vatican City) Economy
See also:
The Vatican Is Now A Money-Laundering Risk, Says US