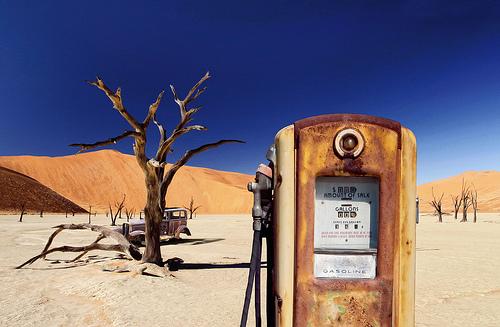 World markets appear to be hovering over a precipice as Europe's sovereign debt crisis, slowdowns in India and China and further bank downgrades threaten to send stocks and commodities down even further. Falling oil and gas prices may offer some respite to consumers but are they enough to help the economy or are they a symptom of deeper problems?
To help Oilprice.com look at these issues and more, we are joined by the well-known investor, adventurer and author Jim Rogers.
Jim is the creator of the Rogers International Commodity Index and he also recently completed a book called: A Gift to my Children – which helps people learn from their triumphs and mistakes in order to achieve a prosperous, well-lived life. Please click on the following link to find out more information on A Gift to my Children.
In the interview Jim talks about the following (interview conducted by. James Stafford of Oilprice.com)
Why recent oil price falls are a good buying opportunity
Why oil prices could fall to $40 a barrel
Investment opportunities with the renewable energy sector
Why he is optimistic about Nuclear energy
Why agriculture offers good opportunities to investors
Why Myanmar is the best investment opportunity in the world right now
Why there could be further unrest in the Middle East
Why we should let Greece fail
OP: Jim, thanks for taking the time to join us today.
JR: I'm delighted to be here, James. My pleasure. 
OP: It's been an interesting period in the energy world as we've seen oil prices steadily decline over the past few months and with the problems in Europe and slowdowns in India and China do you expect this trend to continue? 
JR: Well, there is certainly a correction going on for various reasons. I think Saudi Arabia's trying to help re-elect Mr. Obama. There are also stories that JP Morgan has problems in its London office with a lot of unauthorized positions they're having to liquidate. I don't know what's going on, but I do know that corrections are normal in the industrial world. There's nothing unusual about it. If it continues, there's an opportunity to buy more.
OP: I read a report by the Economist Phil Verleger who thinks that the Saudi's massive increase in oil production along with other economic problems could cause oil prices crash to $40 a barrel oil and $2 a gallon gasoline by November. Do you think this is a reasonable forecast and we could see oil at these levels?
JR: We could see anything. We certainly saw lower prices than that back in 2008 when there was a collapse. When things are collapsing, all sorts of strange things happen. We found that out in 2008 and we will probably find out in the future, as well. If oil does go to $40, that means it'll just be setting up an even more bullish scenario for the duration of the bull market.
JR: Oh, I don't see that having much effect at all. Everybody already knows about that - nothing new to the markets. They have long since adjusted to this news, whether it be stock markets, smuggling, etc. The Iranian sanctions are a non-event as far as I'm concerned. 
Now, an attack on Iran would not be a non-event, but this is just more noise.
OP: The Middle East Petrocracy's, along with Venezuela and Russia must be nervously watching the price of oil. Can you see potential problems developing in these countries and other oil producing nations if prices continue to fall?
JR: That's part of what I was saying before. The lower prices go for the fundamentals, the price of fundamentals improve, but for these countries the money they have available to buy peace is running out and there are going to be problems, because a lot of people have been lead to believe that the government can solve their problems and if the government runs out of money, it makes people upset.
OP: Crude oil has dropped from $108 a barrel in February to $84 today. Do you think low oil prices could provide an economic stimulus?
JR: Certainly, it's an economic stimulus for everybody who buys oil. There's no question about that. On the other hand, for people who produce oil, it's a negative. Now obviously more of us buy oil than produce oil, but it's important to remember it does cut both ways.
OP: Less than 0.1 percent of U.S. cars and trucks run on natural gas and with falling natural gas prices and America's dependence on oil and vulnerability to oil price shocks - I was hoping to get your thoughts on natural gas usage for transportation?
JR: Well, If natural gas stays this low compared to oil prices, it does give an incentive to develop natural gas powered vehicles and I think we are going to see more and more developments here. Is it going to end the use of oil, combustion engines? Probably not any time soon. Someday it could, but someday is a long way away.
OP: Do you believe natural gas prices are near to a bottom, or do you think they have further to fall?
JR: U.S. natural gas is somewhere near its bottom, in my view. The problem is I expect to see serious economic problems in 2013 and 2014 in the U.S. If and when that happens, we're going to see a final panic in the markets and the economy and everything will have a crescendo and a selling climax. We're certainly a lot closer than we were. Although, when you have a selling climax in markets, you go to levels much lower than most people believe possible and that may happen. Whatever that bottom is, it's not too far from the recent lows in natural gas.
Natural gas in many other places such as the UK are much, much higher than they are in the U.S.
OP: The Arab Spring shook energy markets in 2011 - are there any potential geopolitical events taking place apart from the Iranian situation that could cause oil prices to skyrocket?
JR: There are always geo-political possibilities. If oil goes down, Saudi Arabia's going to have more trouble buying peace. Any country's going to have more problems buying peace.
Iraq is being driven into the arms of Iran. America has spent staggering amounts of money in this region, and what we're getting for it is a possible alliance between Iran and Iraq.
All sorts of things could happen in the future, especially if Iran and Iraq get closer together. That's going to put America in a terrible situation, the world in a terrible situation. The good news is the world is always changing dramatically. The bad news is, the world is always changing dramatically.
OP: The media has gotten behind shale gas and it's being promoted as a worldwide energy saviour. What are your thoughts on shale gas? Do you think it's been oversold or it really is the cheap and plentiful oil extender we have been hoping for?
JR: I don't know how cheap it is. The technology's getting better, apparently. The cost too because the environmentalists and politicians are getting worried about it. But I don't know enough about the technology to know for sure. I do have confidence in mankind and someday we will have the technology and expertise to fully exploit these resources. Someday's still a long way away though, and in my case, I don't know how long life the fields are. If these are short-lived fields and short-lived wells this is nothing more than a flash in a pan, which may last for a few years.
OP: Moving away from fossil fuels - I was hoping to get your opinion on renewable energy. Do you see this as a sector investors should be avoiding - or are there opportunities here in the future?
JR: That is your premise, if oil stays high alternatives become more competitive. Most alternative energy is not competitive at this moment in time but that could change.
If oil prices go down and stay down the subsidies for alternatives are going to have to be pretty massive to make it even viable.
However, having said that, if you can find competent companies that can make money in the field, they'll make a fortune. Find the right companies and you'll do well.
OP: Are there any alternative sectors you're more bullish on than others? Say solar, wind, geothermal, hydro?
JR: No, no. They all have pluses and minuses. I'd be most optimistic about the ones that are economically competitive. I guess atomic energy is most economically competitive.
OP: What are your thoughts on nuclear energy? Is there a future for this power source or due to public safety perceptions is it something politicians will feel forced to abandon or sideline?
JR: I don't think people will abandon atomic energy. It is competitive, it is economic, it is very clean if controlled. If it's not controlled it's a disaster of course. I suspect you're going to see another revival of atomic energy. The French, the Koreans, the Chinese, many countries are going forward with their nuclear power development plans.
OP: I've seen in other interviews that you've predicted that 2013 and 2014 will be bad years for the economy. What is an investor to do? Are there any commodities, stock or instrument people can go to for safety and capital preservation?
JR: No such thing as safe when you talk about it. Even if you put your money in cash, if you put your money in the wrong cash, you lose a lot of money. As the people in Iceland have found out, as the people in Europe on the Euro have found out. So, no such thing as safe.
What I have done is I own commodities on the theory that if the world economy gets better, I'll make money because of shortages. If the world economy does not get better, people will print money. The best way to save yourself when money printing is going on is to own commodities.
It does not mean between here and there, they can't go down in a panic. In the meantime, commodities will be the thing to rally once that happens, but they can go down. Therefore, I have also short stocks as a hedge against myself. If the world economy doesn't get better, you're going to be losing a lot of money in stocks.
OP: Now are there any commodities you're particularly bullish on at this moment in time?
JR: I'm more optimistic about agriculture than anything else, just because of the price. Most agriculture, I feel very depressed on the risk side basis. Sugar is 75 percent below where it was 38 years ago. There's not much in the world that's as depressed as agricultural current prices. So, I would say agriculture.
(interview continues on next page...)
See also:
Are Global Energy Supplies In Jeopardy? – An Interview With Jellyfish
See also:
The Fear Premium Is Driving High Oil Prices: Nouriel Roubini