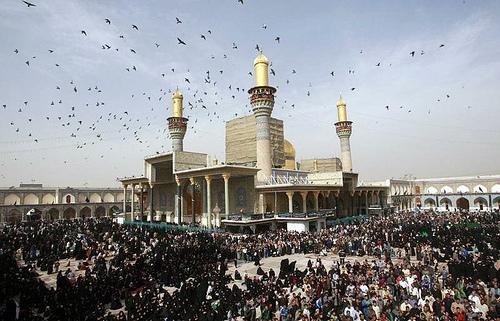 6 September 2011
Iraq's economy is recovering fast. Despite ever-present threats to its political, social and economic stability, the IMF still expects its GDP to grow by 12.5 percent in 2011 – largely on the back of increased oil exports, and high energy prices – after growth of just 1 percent last year. So, is this the right time to invest in Iraq?
When fund management group FMG invited me to a seminar to promote their Iraq Fund, I thought they must be joking. After all the Middle Eastern country has barely recovered from the 2003 Iraq War and, from media reports, still appears to continue to be plagued by car bombings, each claiming scores of civilian casualties. Surely putting money into such a place would be a recipe for disaster?
Yet, having spent two hours with FMG in Edinburgh last week, I have been disabused of most (if not all) of these notions. Although the violence does continue, it has abated in recent months. And even though its economy faces plenty of lurking dangers, (including a fragile democracy, that the carnage will again escalate once US troops pull out towards the end of this year, high levels of corruption and over-dependence on oil), the omens for Iraq do seem good.
The Future of Iraq
Iraq is widely seen as having turned the corner when it successfully auctioned off the rights to develop its vast oil and gas fields in 2009-10. The move is not without controversy, but it enabled Iraq to boost its targeted hydrocarbon production from the current level of 2.7 million barrels per day to a massive 12 million barrels per day by 2017, meaning it would be nipping at Saudi Arabia's heels as the world's largest oil producers (though experts are arguing this target should be reduced to a more realistic 7 million barrels a day).
Related: Iraq Economic Statistics and Indicators
Related: Iraq Economic Forecast
A recent article in The Jerusalem Post said that Iraq's economy is recovering fast. The IMF expects its GDP to grow by 12.5 percent in the current year – largely on the back of increased oil exports, and high energy prices – after growth of just 1 percent last year. Foreign direct investors are flocking into the war-torn country, with US$45.6 billion invested in the first half of 2011, twice what was invested in the whole of 2010. Favoured sectors include hotels, property, infrastructure, soft drinks and telecoms.
The Jerusalem Post's David Rosenberg wrote:
"Where others see carnage, chaos and corruption, investors see a potentially oil-rich economy whose population of some 30 million is desperate for housing, roads, consumer products and services."

Henrik Kahm, the Swedish-born manager of FMG's Iraq Fund, brims with enthusiasm for the country and has great faith in its future. He believes Iraq's proven oil reserves – the third largest in the world – more or less guarantee long-term success and ensure a stock market boom in the coming years.
"Over the last year there has been a strong performance of the Iraq Fund thanks to the successful efforts to stabilise and rebuild Iraq. The fund offers investors an easy way to participate in the Iraqi growth story and is positioned to take advantage of the growth derived from post-war reconstruction and massive oil production expansion."

The Oil Reserves
He said that if Iraq were to pump out all its proven oil reserves at an average of US$100 per barrel, the coffers of the Baghdad government would be filled to the tune of US$10 trillion, equivalent to one-fifth of global stock market capitalization. Kahm also pointed out that Saudi Arabia's stock market has a total value 85 times greater than that of the Iraq's, even though the monarchy's oil reserves are only 1.9 times greater.
Related: What it Means For Iraq to Become The World's Largest Oil Producer
Related: Iraq: Economy Recovering, Iraqi Property Market Booming
Kahm believes increased investment by global corporations in local Iraqi companies bodes well for share prices; he points out that, when it emerged Citigroup was eyeing a stake in the Bank of Baghdad, the latter's share rallied by 30 percent. He also highlighted HSBC's purchase of a 70 percent stake in Dar Es Salaam Investment Bank of Iraq, and France Telecom's acquisition of a 20 percent stake in Iraq's Korek Telecom. Kahm is also enthused by the prospect of IPOs in Iraq's mobile telecoms sector.
The Iraqi stock exchange first started trading soon after the toppling of former dictator Saddam Hussein in June 2004 but it remains small and relatively illiquid, with a total market value of less than US$4 billion. Banks and other financial institutions make up some three-quarters of the capitalization. Kahm said that, given the country's growth trajectory and demographics, Iraqi banks represent a fantastic investment proposition – especially when compared to their moribund and zombified counterparts in the west. The string of deals signed by the oil ministry to develop the oil and gas sector in the last couple of years is widely expected to boost lending.
The Arabic country's government is banking future oil revenues and is willing to run a budget deficit for the next few years to give the economy a jolt. It has launched a US$186 billion infrastructure programme to develop new roads, bridges and schools, increase access to electricity and open new ports and pipelines for the oil and gas industry.
The Potential
Kahm believes that Iraq is immune from contagion from rolling sovereign debt crises in the developed world, stressing that its stock market and economy are "uncorrelated" and not susceptible to the flows of "hot money". Overall, he portrays it as the most undervalued and under-researched stock market in the world. "The opportunities are immense."
FMG's Iraq fund has been a strong performer so far, generating a cumulative return of 29.1 percent in the 15 months since it was launched in May 2010. It now has total assets of £18 million and Kahm said it would be soft-closed when it reaches £50 million.
However, it is unlikely to be suitable for widows and orphans – there is no getting away from the fact that Iraq is still a deeply troubled country and there will be some bumps in the road as it transforms itself into a more prosperous nation.
Related: World Corruption Special Report
The World Bank says Iraq is one of the worst places in the world in which to do business, ranking Iraq 166th out of 183 economies for "ease of doing business". It ranks 175th out of 178 for corruption.
By Ian Fraser
Ian Fraser, a journalist since 1988, is working on programmes about the banking and financial crisis for the BBC. He writes about business and finance for the Financial Times, the Sunday Times, the Independent on Sunday, the Daily Mail, and the Mail on Sunday. Since 2009, Fraser has been a visiting lecturer in financial journalism at the University of Stirling.
Buoyed by massive oil reserves and uneasy peace, Iraq is not such a crazy place to invest is republished with permission from the QFinance Blog.