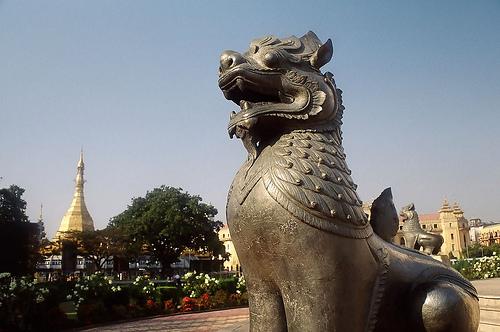 The opening of the once-reclusive country has been met with a flood of interest from the international community. Downtown Yangon is teeming with foreigners keen to get a piece of the rapidly expanding economic pie. But teething problems are visible as Myanmar still lacks a strong regulatory framework to manage its transition.
YANGON – The air was thick with excitement at the People's Park, Yangon, where Myanmar's first international marathon was due to flag off. More than a thousand runners, of which half were foreigners, stretched their legs in anticipation of being part of the once-reclusive country's first major sporting event. For many of these runners, this was truly a moment in history.
"The marathon is a representation that Myanmar is opening up. Two or three years ago, it would have been impossible to organise an actual marathon in Myanmar," said David Shin, Director of Sporting Republic, the organiser of the marathon held on Jan 27. "We didn't expect to have such a great response overseas."
As the race flagged off from the foot of the majestic Shwedagon Pagoda, one could scarcely believe that only five years ago, Yangon's main tourist attraction bore witness to a brutal clampdown inby the military junta on unarmed Buddhist monks leading protests against rising prices. The 2007 Saffron Revolution, as it was widely termed by the international media, left at least 31 dead, hundreds wounded and thousands of others jailed.
Such instances of human rights abuses by the Burmese armed forces, known as the Tatmadaw, which took over the country in a 1962 coup, have been widely documented in decades, and in turn, have been responded to by the international community with economic sanctions and diplomatic isolation.
Fast forward to 2013. Myanmar, known to its political dissidents as Burma, is currently undergoing massive reform: since it took over two years ago, the civilian government under President Thein Sein has freed more than a thousand political prisoners, repealed laws aimed at political criticism, expanded media freedom and signed an agreement with the International Monetary Fund (IMF) to pursue economic reforms and to clear its international debt.
Most significantly, Nobel laureate Aung San Suu Kyi, who was detained under house arrest for more than 20 years until her release in 2010, is currently serving as an opposition politician in parliament. The national icon's entry into government remains symbolic of the current regime's transition away from military rule.
Related: Myanmar Clears Overdue Debt With World Bank, ADB
Related: World Bank Offers $245 Million In Aid To Myanmar
Related: Billionaire Investor George Soros Sets Up Philanthropic Arm In Myanmar
The Gold Rush
Traffic jams are a new, annoying occurrence in the crowded downtown area around the Sule Pagoda. The cars are in relatively good shape despite being second-hand imports from Japan and, according to local sources, prices are on a decline due to a glut in supply. Hotel prices too have doubled from the year before due to the surge in demand for accommodation.
---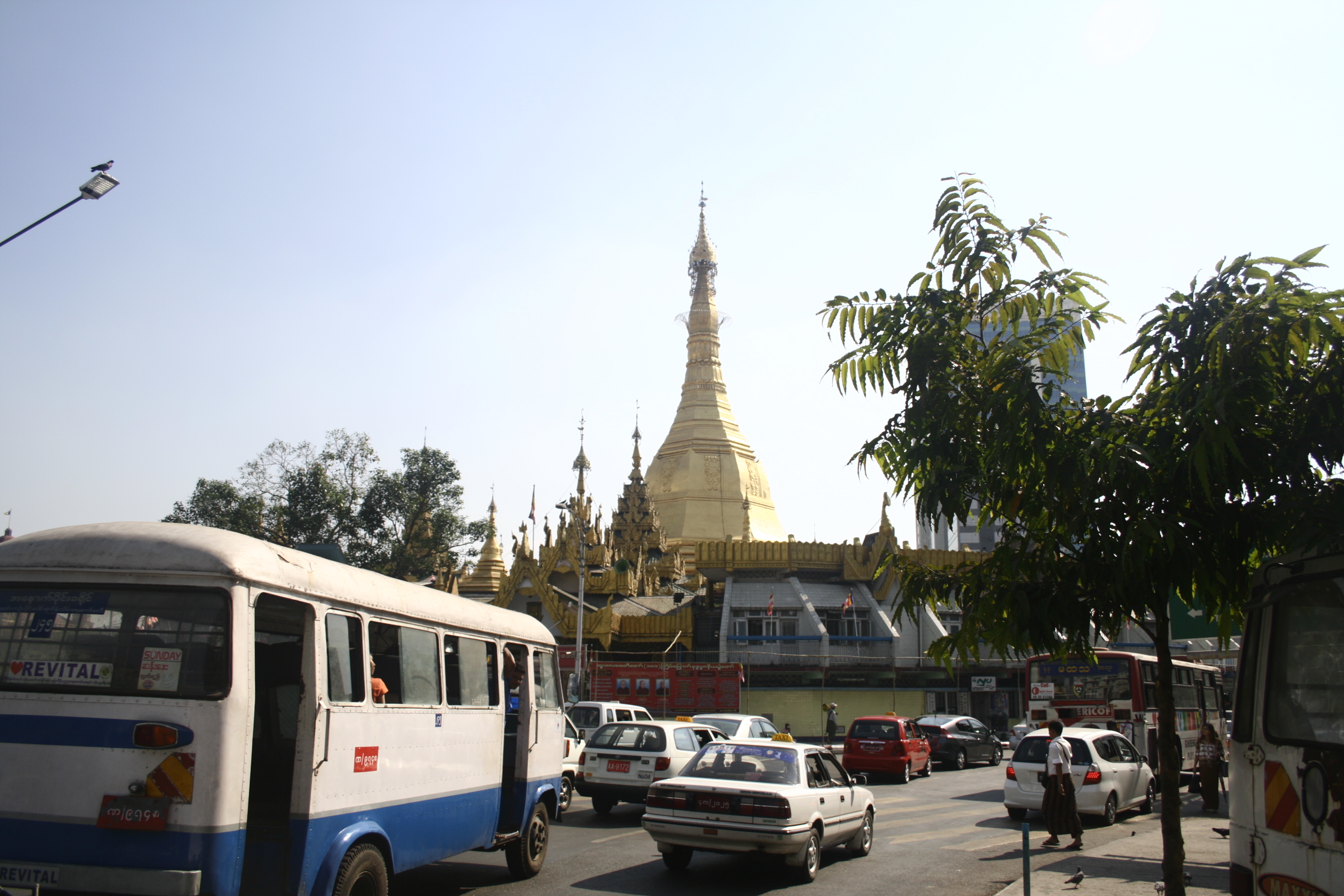 Traffic jam in downtown Yangon near the Sule Pagoda – photo credit: Fang Shihan
---
This is hardly surprising considering the number of conferences held in Yangon, and the number of emerging market specialists exploring business opportunities in the resource-rich country. From hedge fund manager George Soros and one of Southeast Asia's largest law firms Rajah & Tann, to smaller players in the burgeoning tourism industry, there is a sense of a "gold rush" in Myanmar.
According to the IMF, the pace of economic growth is likely to hit 7 percent over the next couple of years, from around 6.3 percent this year. Though it cautioned that Myanmar's transition to an open market economy will take time, the IMF rated Myanmar's short-term outlook "favourable" and the medium-term "promising".
"This is the chance for Myanmar's middle class to grow," said Zaw Win Khaing, General Manager at Allsum Myanmar Trading & Construction. A retired military officer, he is currently studying for a Masters in Business Administration (MBA) while managing a growing number of projects in downtown Yangon.
Like many other Burmese, he smells opportunity in the real estate sector and invited me on a trip to the Shwe Nat That Orchid Special Zone 50 miles outside of central Yangon. In a largely undeveloped area zoned for industrial use surrounded by a tobacco factory and brewery, more than 200 plots of land measuring an average of 1.5 acres each were up for grabs.
Also on the outskirts of Yangon is the Muditar Condominium, a low-cost housing complex catering to low-income earners who are increasingly being squeezed out from downtown Yangon. The city of more than five million residents (and growing) is beginning to get cramped, leaving many low-income earners with two choices — to endure a long journey to work daily or to sacrifice a large chunk of their income just to live close to town.
---

The Muditar Condominium: a low-cost housing complex on the outskirts of Yangon – photo credit: Fang Shihan
---
Khin Saw Myint, who works as a car showroom salesperson, has just bought a two-room apartment for 13,500,000 kyat (US$15,200) and reckons that she can sell it off for 20,000,000 kyat, a healthy 48 per cent profit.
Foreigners are currently not allowed to purchase property though there is talk that laws might change in the future. If it does, property prices, which are already rising rapidly, are likely to go through the roof.
Reality Check
"The Burmese government has many challenges — including inherent structural obstacles — but it is also being held up to unfair standards," said Kyaw San Wai, a former Research Analyst with the External Programmes at the Singapore's Rajaratnam School of International Studies (RSIS).
"The Burmese government is expected to pursue liberalisation at the pace and direction of developed first world countries, and to achieve what others took decades or centuries to do so in a matter of months or a handful of years," he warned.

While most Burmese are optimistic about the changes, they are also realistic about the limitations of the reforms after decades of kleptocracy.
The new Foreign Investment Code that was released in November last year, for example, was lauded by international businesses seeking to enter Myanmar. One key clause states that an enterprise formed under the new law will not be nationalised during its contract term or its extension, and that joint-venture partners can determine the share of ownership in the enterprise among themselves.
But the devil lies in the details, which have yet to be published; and on the ground, setting up a small business in Yangon can prove to be a frustrating experience.
Foreign citizens are not allowed to set up personal bank accounts, nor business accounts without an existing business license, which must be registered with the relevant ministry in Naypyidaw. Even then, rules for bringing in capital appear to differ from bank to bank; though according to at least one bank, only foreign currencies transferred through OCBC Bank or the United Overseas Bank (UOB) in Singapore are accepted, with a minimum sum set at US$100.
The practice of "paying respects to the elderly", an euphemism for bribing government officials, remains rampant according to local sources, corroborating Transparency International's ranking of Myanmar as one of the worst offenders in the world in terms of public sector corruption.
Related: World Corruption Special Report
Related: World Bank Publishes List Of Corrupt Companies & Individuals
There is also apprehension that economic development would leave Myanmar's new riches in the hands of a few, instead of among the wider public and especially those in poverty.
"The reforms we're seeing now could lead to an increase in the overall pie, though Myanmar has structural and institutional impediments which could mean those who could be made worse off by reforms do not receive any compensation," said Elliott Prasse-Freeman, an Associate Research Fellow at Harvard University.
"The state is making a lot of promises, both explicit and implicit, the question is whether they will be able to deliver on these promises."

The international business community has also responded to this uncertain regulatory environment, as well as the government's limited capacity to fully implement economic social reforms in the short term, with an equal amount of reservation.
"I am definitely an enthusiast about the reform process, but I am also realistic about its limits. There has been a rush of visitors, including businessmen and tourists, but not yet a rush of capital committed to projects on the ground," said Romain Caillaud, Managing Director, Myanmar, at Vriens & Partners.
Increased Militarisation?
Vacant government buildings in Yangon mark the conspicuous absence of the Tatmadaw, which has since moved to Naypyidaw. The military, together with the accompanying culture of fear, is notably absent from day-to-day life in the city where public discussion of politics — something that could get one thrown in jail before 2011 — is now commonplace.
It is only by reading news reports of the clampdown on protesters at the Monywa copper mine, or by haggling with the local jade dealer who lets on that the civil unrest in the resource-rich Kachin state has let to a temporary halt in jade mining, that one remembers that Myanmar is still very much dominated by the military, sans fatigues, via the ruling Union Solidarity and Development Party.
Last year, the military budget increased by 60 percent in absolute terms to 1.9 trillion kyat (US$2.3 billion) due to an overall increase in the total budget. In comparison, the severely under-funded healthcare sector, where public doctors still make a paltry US$150 a month, was earmarked to receive 368 billion kyat (US$400 million) even after a four-fold increase from the year before.
This disparity is despite the military's share of the national budget decreasing to 14.4 percent from 23.6 percent the year before. Flush with newfound wealth and power, it appears that despite its civilian facade, the military has never been more enriched.

Indeed, the balance of power stands in a precarious equilibrium between the military's hardliners and the reformists, brokered by the shared wealth in Myanmar's growing economy.
Yet the military's firing tear gas and smoke bombs on protestors at the Monywa copper mine, who were demonstrating againstt unjust land appropriation, is an indication that this balance between political opening and the protection of military interests — the mine is a joint venture between a military-owned holding company and a Chinese arms manufacturer — may be a rather awkward one.
"President Thein Sein is facing a two-sided policy in Kachin: on one hand he's anxious to make peace through talks, but on the other hand he is also reinforcing the attacks," said political observer Aung Aung Hliang, an independent political analyst in Myanmar whom I met at the Khayar Kyi (Big Kettle) tea house on 37th Street downtown, a regular meeting place for Yangon's intellectual circle.
Of Changes To Come
"People have been waiting for these reforms for a long time," said Aung Than Toe, medical graduate working as a brand manager for a sportswear firm. Like many other Burmese though, he wishes that the reforms could be pursued to a larger extent.
Changes are already visible in Yangon, where even Aung San Suu Kyi's house gets blocked by traffic and dust during peak hour. According to a local real estate firm, Japanese and Chinese businessmen have already begun scouting for places to build KTV lounges and massage parlours.
Without strong institutions and regulatory frameworks in place, one imagines that Yangon, once developed, could look much like Bangkok, where sleaze and success exist in equal parts, surrounded by a sea of urban poverty.
"Now that Burma is opening to the world, you should see it before its natural beauty is disrupted by development and commercial activity," said Shin.

By Fang Shihan
Fang Shihan is a freelance journalist based in Singapore, covering business and sports.
Got something to say about the economy? We want to hear from you. Contribute your article and be part of the the world's largest independent online economics community today!
See also:
Myanmar Clears Overdue Debt With World Bank, ADB
See also:
International Sanctions May Ruin Myanmar's Opportunity For Change: Joseph Stiglitz