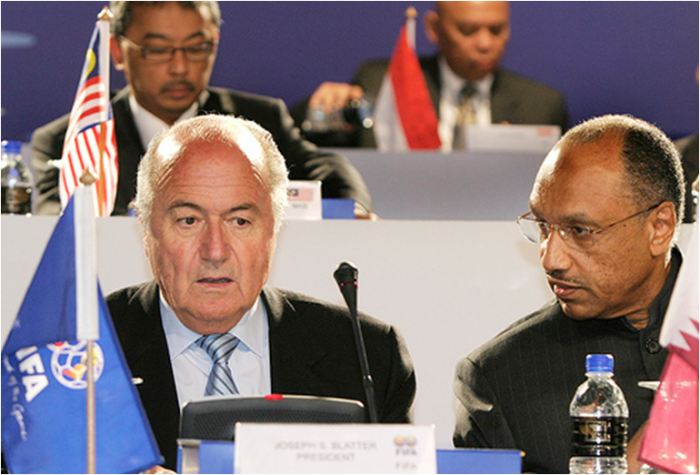 30 June 2011.
See the Slide Show >>> 10 Disgraceful Bookmaking Scandals
Fifa is corrupt and everybody has known about it for years. The most recent allegations against executive committee members Bin Hammam and Jack Warner – which involved bribes totalling hundreds of thousands of dollars in return for votes - are merely the latest developments in a long-running saga.
But, as much as everyone knows about the corruption, no one seems willing, or able, to do anything about it. Political scientist Andrei Markovits, the author of Gaming The World: How Sports are Reshaping Global Politics and Culture, explains why the Fifa delegates are almost untouchable.
Related: Illegal Bookies, Crooked Players & Asian Gangs
He said:

and "Fifa is a completely closed oligarchy, which is the perfect form for mischief. They are lording over the greatest good in the world, but they are completely independent of political rule. These guys could be child molesters, or mass murderers, and fans would still want to watch their beloved Manchester United, or England. So, apart from a few eggheads, investigative reporters and political scientists, no one really cares about the corruption."

The immense global popularity of football makes it a special case, as opposed to the more obscure sports in the Olympic Games. "That is the crux of the difference with the International Olympics Committee (IOC), which is far more accountable.

With the Olympics there is a different threshold of shame because most fans don't care about shot-putting or pole vaulting. As Jerry Seinfeld once said 'all the fans are doing is rooting for laundry' – in other words, the colours of their nations on the jerseys.

As a result, the Olympics could lose a lot of popularity if there were corruption allegations as people would refuse to watch."
The long list of corruption allegations against Fifa dates back at least as far as 1998, when Blatter was elected president amid accusations that the previous incumbent, Joao Havelange, had bought support for him. In a recent expose on the BBC programme, Panorama, broadcast on 16 May 2011, it was alleged that in 1997 Havelange took a $1 million bung, which Blatter knew about. It is, therefore, alleged that Blatter came to power through corrupt patronage.
The controversy surrounding Blatter has not abated. In May 2002, with the Fifa presidential election looming, he was the subject of a formal legal complaint by 11 Fifa colleagues, comprising five Fifa vice-presidents and six other ExCo colleagues. Amid many allegations, Blatter was accused of paying $100,000 to a former ExCo member Viacheslav Koloskov, president of the Russian football union, to buy his influence. Blatter admitted he'd paid the cash, but denied wrongdoing.
The most recent controversies have concerned bin Hammam, former president of the Asian Football Confederation, and another Fifa official, Jack Warner, of Trinidad and Tobago. They have been accused of offering cash payments of $40,000 apiece to about two dozen officials from Caribbean nations, with the understanding that they vote for bin Hammam over Blatter in June's presidential elections.
Warner resigned his position before Fifa could investigate him, although he is still under investigation by Trinidadian police. Bin Hammam has denied all wrongdoing, but the evidence against him is strong. The report of the Fifa ethics committee headed by Namibian judge Petrus Damaseb said there was "comprehensive, convincing and overwhelming" proof that bribes had been paid to officials to support bin Hammam's campaign for the Fifa presidency, and that Warner had facilitated this.
Controversy also surrounds the awarding of the 2018 World Cup to Qatar, which is bin Hammam's country of origin. Warner, before resigning from Fifa, revealed that he had received an email from Fifa's general secretary, Jerome Valcke, saying: "Hammam thought you can buy FIFA as they bought the World Cup."
Valcke later confirmed the private email, amid allegations that the Qatari bid team had secured the tournament through bribes involving bin Hammam. But Valcke claimed to have used "a 'lighter way of expression" in the email, and that his remarks were "taken out of context". Not everyone believed him.
Markovits said:

"The Qatar bid involved egregious corruption. It's crazy and megalomaniacal to take the game to a country the size of Connectitut. They will have to change the whole country into football pitches. And we don't even know the reasoning behind the decision because Fifa doesn't have to explain its decisions."

Only after the decision was made, did Fifa executives admit that the tournament might have to be switched from June to January. Having accepted Qatar's promise to build 12 air-conditioned stadiums, the fear is that players or spectators could fry in the 50-degree desert summer temperatures. 
But moving the tournament would have major repercussions for competitions like England's Premier League, Spain's La Liga and Italy's Serie A. Those leagues would need to shut down for about two months, requiring a complete re-organisation of the whole world's football fixtures.
With Fifa making absurd and unaccountable decisions about the World Cup, as well as being mired in accusations of corruption;