Best Ethereum Staking Platforms – Top 5 Ethereum Staking Sites Compared
With the recent wave of crypto adoption, many investors are interested in the best Ethereum staking platforms for returns this month. But, what makes Ethereum special? The Ethereum network is host to all these dapps and currently has over 3,000 permissionless applications changing the very face of finance. Crypto staking allows you to generate passive revenue by just locking your funds for a set period using one of the best crypto staking platforms. This activity is largely used by proof-of-stake (PoS) consensus protocol, the Ethereum network's blockchain architecture. It enables the security of the network and provides much-needed liquidity.
#1 Ethereum Staking Site – eToro
Best Ethereum Staking Sites – Quick Pick
Here's our list of the top five best Ethereum staking sites to sign up on.
eToro – Overall Best Crypto Staking Sites in 2022
Binance – Top Staking Platform With Large Staking Crypto Repository
Coinbase – Best US Platform For Staking Crypto
OKEx – Best Low-Cost Broker to Buy Ethereum UK via a Crypto Deposit
Poloniex – Great Platform For Crypto Staking

Crypto Staking: Generate Passive Income
Before its introduction, crypto investors had two options to own cryptocurrencies like Ethereum. Either they buy to hold or trade them. However, a third option is now popular with the investing public–staking. Crypto staking is a smart way to earn passive income by locking up ETH in a crypto wallet for a specified time. This sees you support transactions as a designated validator and strengthen the security and integrity of the network.
Several blockchain platforms are now embracing this approach as a way of gaining popularity for their protocols and as a way to gain a user base.
Meanwhile, your returns are only dependent on how much you have staked or "locked," meaning the higher you stake, the more you make in returns.
Ethereum is the largest dapps platform and is working towards a PoS system with a 30% completion so far. If you want to tap into the expected massive gains this could potentially bring, we explore some of the best Ethereum staking platforms you can stake ETH this month.
5 Best Ethereum Staking Platforms
1. eToro – Overall Best Ethereum Staking Platform in 2022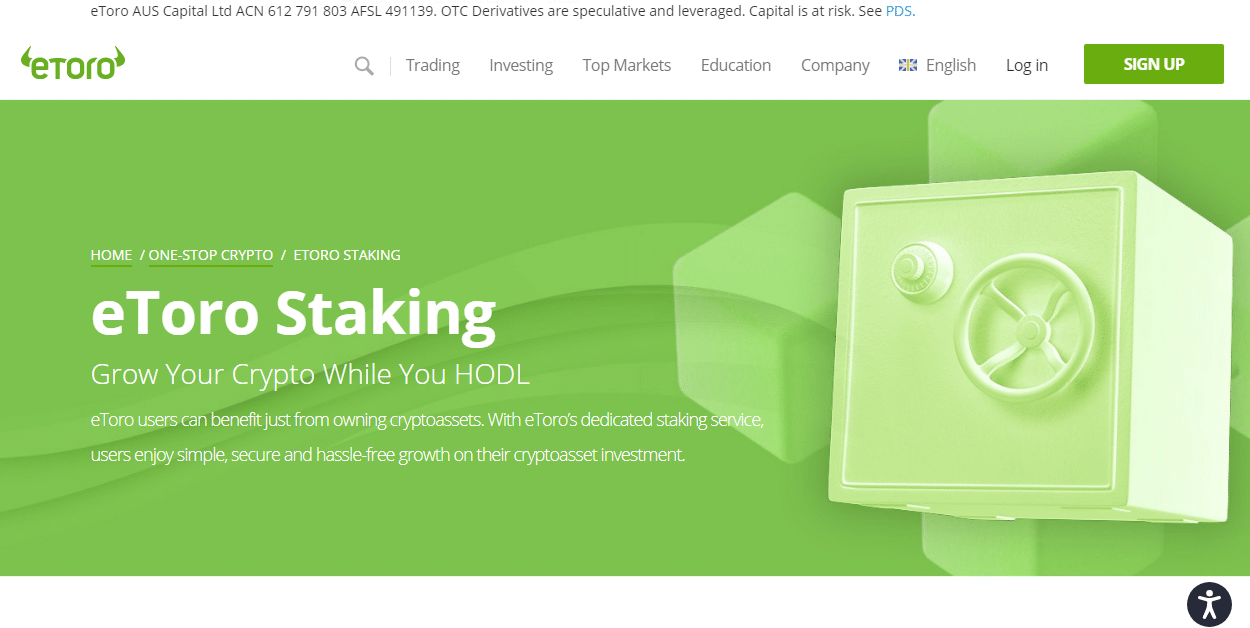 eToro has been rebranding its financial services recently as the popular social trading platform has gone all out for cryptocurrencies. With a vibrant and thriving community of 20 million active users, eToro is one of the top brokerage firms which has shifted its business to accommodate cryptocurrencies.
You can buy and sell over 20 digital assets with the added option of trading these nascent financial instruments as contracts for differences (CFDs). Further enabling more crypto exposure, eToro now runs a staking-as-a-service offering where you can make juicy returns on your crypto holdings. All you need to do is stake your Tron (TRX), Cardano (ADA), and Ethereum (ETH), sit back and earn monthly yields.
All offerings will see you earn monthly yields from eToro staking between 75% to 90% based on the tier system you fall into. You can choose between Bronze, Silver, Gold, Diamond, Platinum, and Platinum+ membership groups.
Regarding Ethereum staking, you also get a guaranteed return of a minimum of 5% and a maximum of 6.25%. This is one of the highest annual percentage yields (APYs) in the crypto industry, making eToro Staking one of the best Ethereum staking platforms for returns.
eToro offers a daily snapshot of your crypto holdings so you can keep an eye on your returns. You will get newly minted new ETH tokens at the payout period.
Pros
Heavily regulated by top bodies
User-friendly and easy-to-use
High paying rewards for staking crypto
Offers support for multiple asset class
Home to over 20 million users globally
Top-performer in the social trading niche
Cons
Supports only two digital assets for now
67% of all retail investor accounts lose money when trading CFDs with this provider.
2. Binance – Top Ethereum Staking Platform With Large Repository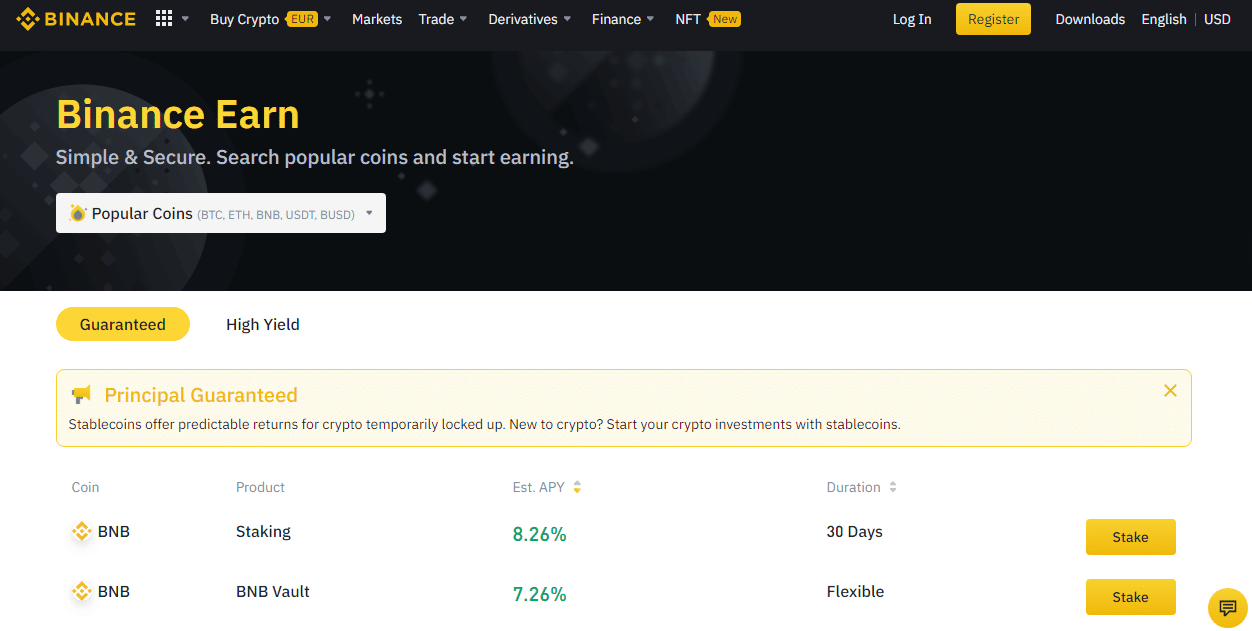 Binance is the world's largest crypto exchange with an average daily trade worth over $50 billion. Its discount token Binance Coin (BNB) is one of the most heavily traded digital assets and currently sits on the fourth spot on the most valuable cryptocurrencies in the world.
Aside from enabling trading of large-cap cryptocurrencies like Bitcoin, Ethereum, and Cardano, Binance also offers staking services through its Binance Earn program.
The initiative, which seeks to allow users to turn a profit from holding an asset, offers flexible savings, locked, and DeFi staking. Flexible stakings are easily broken and attract little interest. Locked savings takes much longer, with the maximum lockup period being three months.
Binance's DeFi staking is more robust and is broken into "guaranteed" and "high yield." "Guaranteed" has a high return on investments but is somewhat conservative in risk management. However, high yields foster more output but come with a commensurate level of risk.
As the name denotes, Binance DeFi staking focuses on DeFi-enabling protocols, with some of the most notable digital tokens up for grabs. However, the earnings are variable and are changed alternatively by Binance.
As regards Ethereum 2.0 staking, Binance has one of the most secure and attractive offers in the staking industry. The top Bitcoin exchange would redistribute all on-chain rewards to customers at no extra cost. Binance's plethora of staking options makes it one of the best Ethereum staking platforms for returns available in the market.
Pros
Large pool for staking crypto
Multiple earnings on offer with varying interests rate
Secure crypto staking sites
Insurance coverage for user funds
Cons
Not regulated
Varying interests for digital assets
67% of all retail investor accounts lose money when trading CFDs with this provider.
3. Coinbase – Best Staking Crypto Platform USA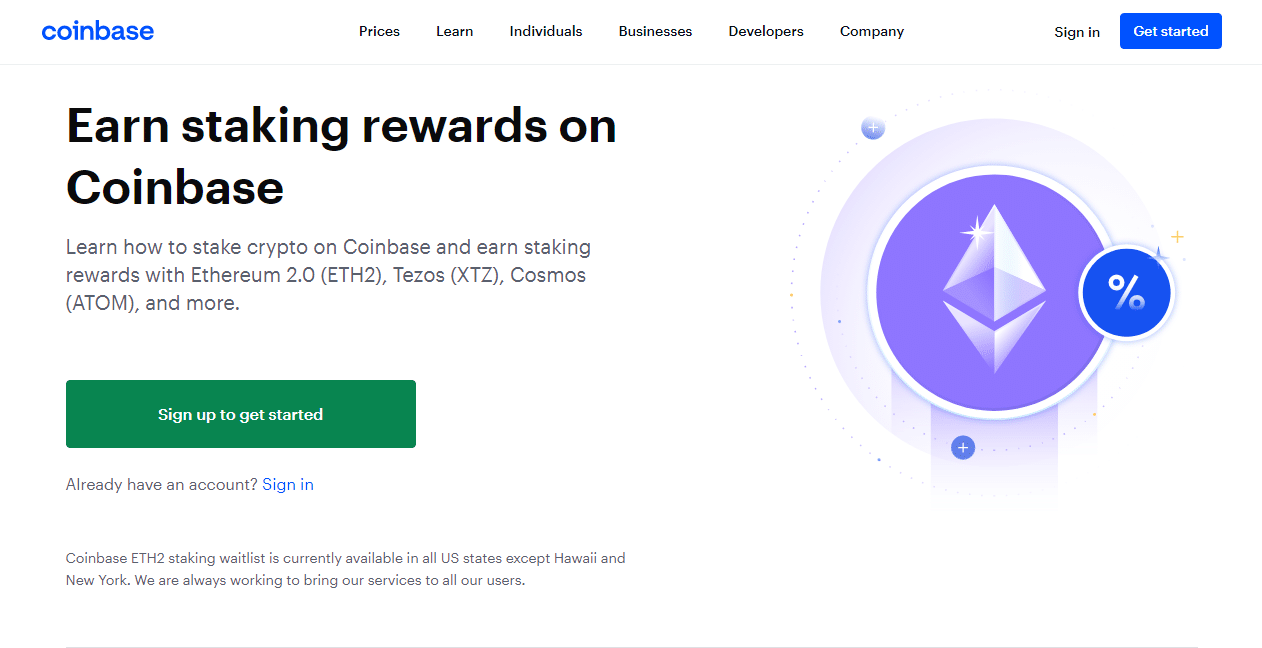 Another best Ethereum staking platform for returns is the top US Bitcoin exchange, Coinbase. Founded in 2012 by current CEO Brian Armstrong, Coinbase is on a mission to enable crypto adoption globally. Coinbase is a top destination for US investors looking for exposure to cryptocurrencies with its highly intuitive and user-friendly platform.
It enables the buy and selling of a plethora of digital assets and also offers custodial services for institutional clients who are making the leap to owning virtual currencies. Aside from these, Coinbase offers users the opportunity to generate revenue by just staking their digital tokens. So far, the public exchange allows staking of ETH, ATOM, XTZ, DAI, USDC, and ALGO.
ETH users get a guaranteed flat annual percentage rate (APR) of 5%. What sells for the exchange is the guaranteed safety of funds Coinbase offers as a public company and its user-friendly interface.
Pros
User-friendly and intuitive platform
Offers custodial services for large institutions
Public company reflecting that it is regulated
A good library of eligible crypto up for staking
Cons
Expensive staking fees
Few crypto assets for staking
67% of all retail investor accounts lose money when trading CFDs with this provider.
4. OKEx – Best Low-Cost Broker to Buy Ethereum UK via a Crypto Deposit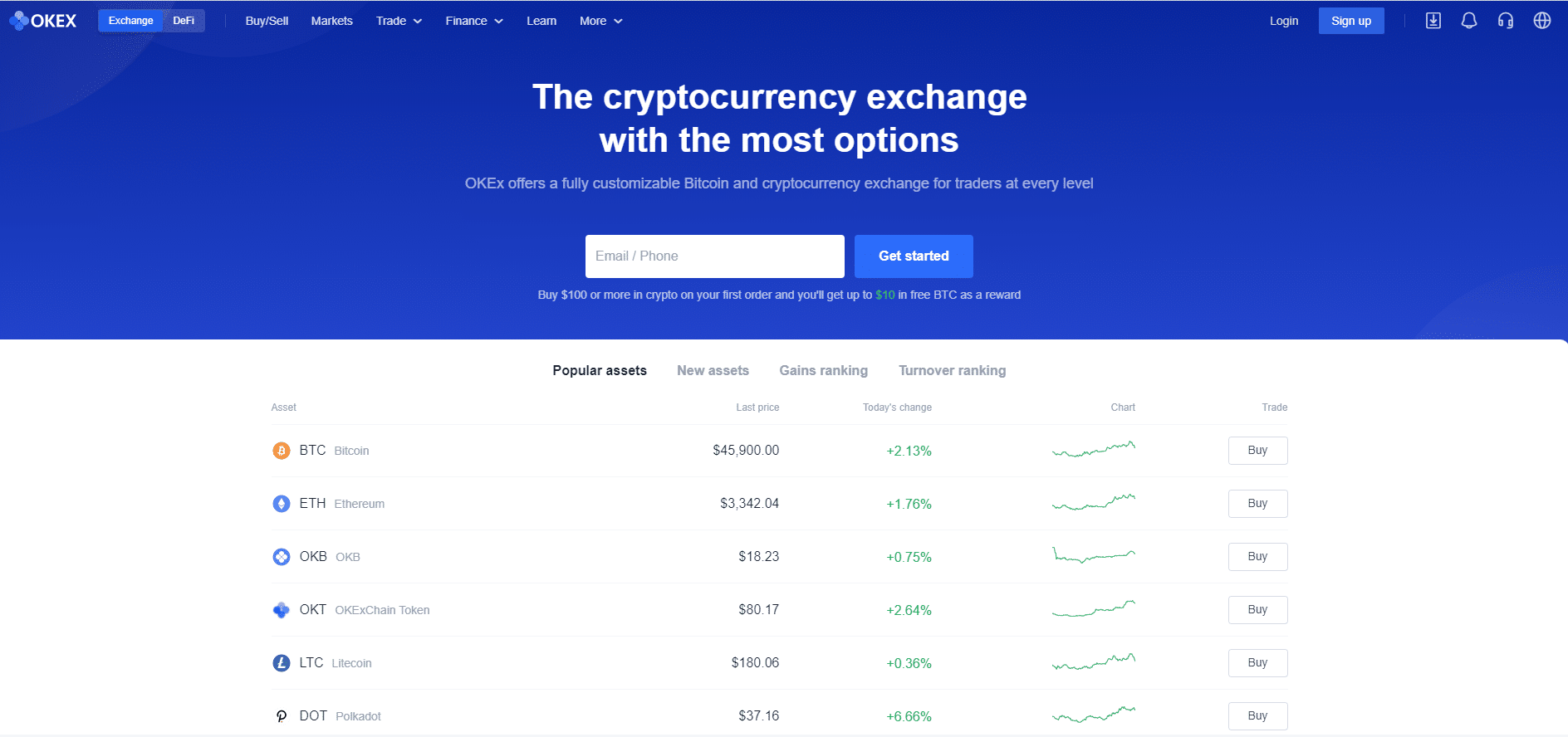 OKEx is a very popular cryptocurrency exchange and broker that currently serves more than 20 million clients. The platform is often used by those wishing to trade digital currencies and Ethereum can be staked with ease.
For those that already own another cryptocurrency, on OKEx, it is very easy to exchange it into Ethereum to begin staking. If this is an option for you, you won't need to provide OKEx with any personal information or contact details and can remain anonymous. This also helps to avoid the Know-Your-Customer (KYC) process.
ETH 2.0 staking can be easily participated in for all OKEx users via OKEx Earn. This allows ETH holders to steadily earn passive ETH income currently estimated at a rate of 14.10% APY.
Pros
Trusted crypto exchange with over 20 million users
More than 400+ digital currency pairs
Buy and sell cryptocurrencies with a debit/credit card or bank transfer
Low commissions that start from 0.1%
Fully-fledged mobile app on Android and iOS
Great reputation and highly secure
Cons
Debit/credit card fees could be more competitive
Derivative products too complex for beginners
67% of all retail investor accounts lose money when trading CFDs with this provider.
5. Poloniex – Great Platform For Crypto Staking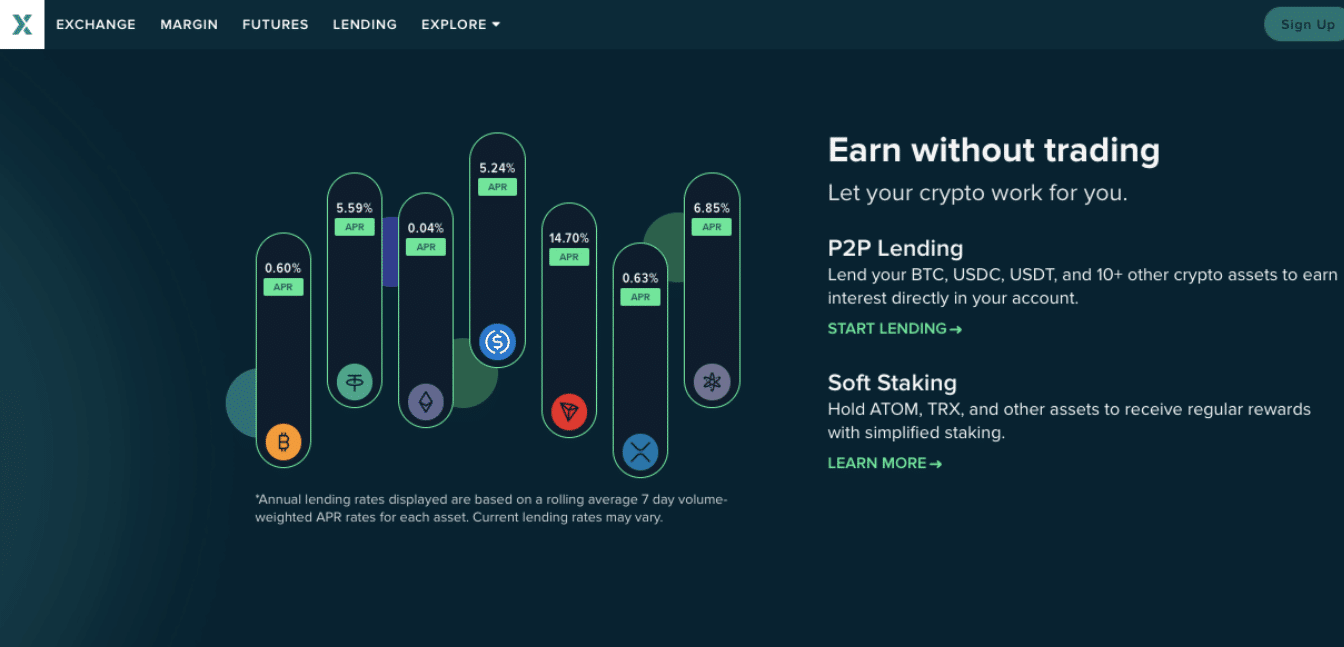 Rounding up our top five best crypto staking sites countdown is San Francisco-based cryptocurrency exchange Poloniex. Founded in 2014, Poloniex has established itself as one of the largest Bitcoin exchanges in the world, occupying the sixteenth position. It has a 24-hour trading volume worth over $150 million with a 7.3 trust score.
Poloniex, alongside several others, offers crypto investors an easy means to stake cryptocurrencies while earning rewards. According to its website, Poloniex supports a limited number of digital assets for staking rewards, including TRX, BTT, and WIN.
When staking ETH, the added bonus of using Poloniex is that there are no lock-up periods. This means that trading can continue with your ETH all while it generates you returns.
Pros
Feeless staking
High staking rewards
Cons
Supports only three cryptos for staking
67% of all retail investor accounts lose money when trading CFDs with this provider.
Best Ethereum Staking Platform Compared
Below you can see a few key aspects that highlight the similarities and differences between the best Ethereum staking platforms.
| | | | |
| --- | --- | --- | --- |
| Platform | Number of eligible assets | Fees | Interest rates (max) |
| eToro | 2 | Low | 90% |
| Binance | 100+ | Nil | Varies |
| Coinbase | 6 | 25% | 5% |
How to Use the Best Ethereum Staking Platform
In our review, we recommend you begin your Ethereum staking experience through eToro. In this section we will talk your through a step-by-step guide on how to get started.
1. Open your Account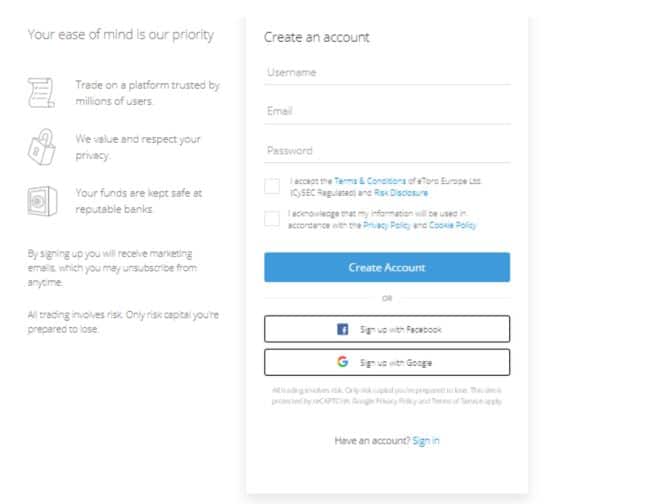 Navigate to the eToro website and click on the 'Join Now' button to sign up. You will need to provide a valid email address, username, and password. You can also fast-track the process by connecting your Google or Facebook account.
2. Verify your ID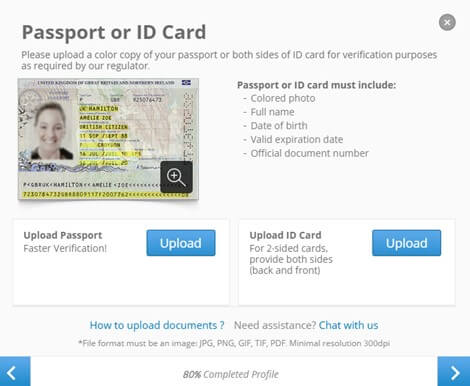 The next step is to verify your identity by completing eToro's know-your-customer (KYC) process. You will need to upload a copy of your driver's license or official passport and proof of residence. A recent bank statement or utility bill should do. Once this is complete, your documents will be verified, and you can proceed to the next step.
3. Deposit Funds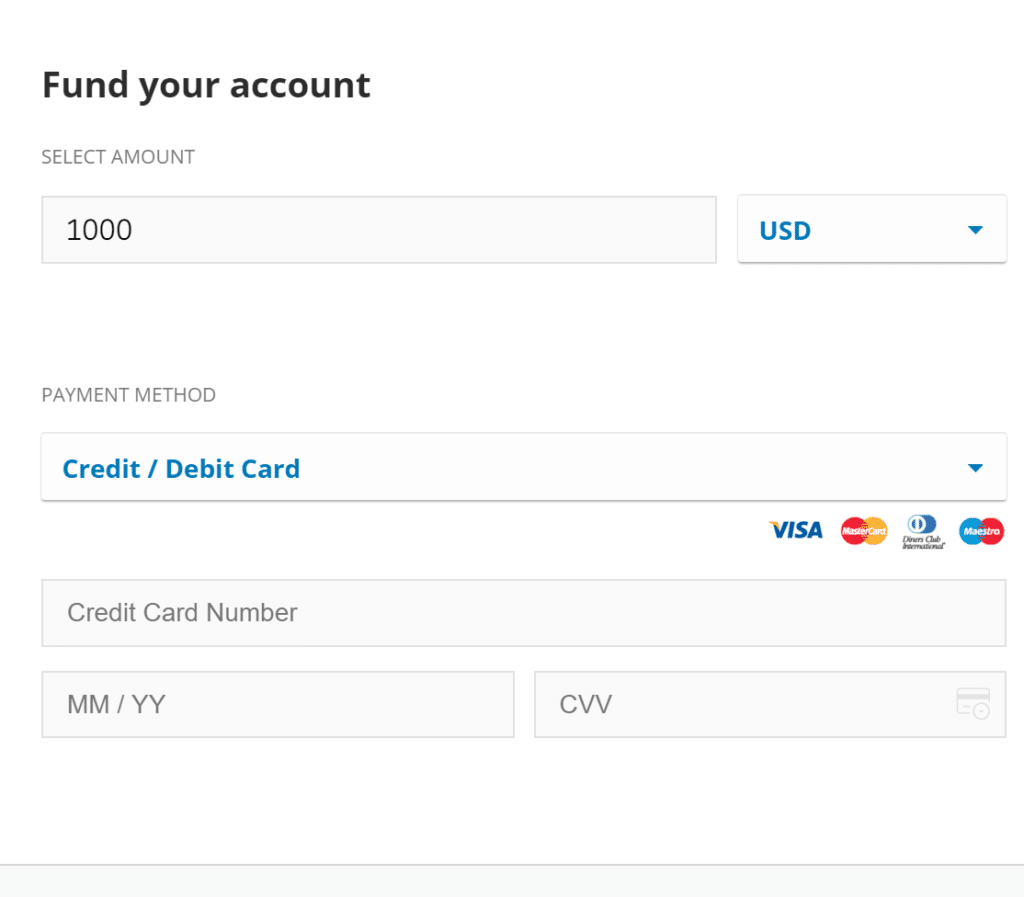 You can get started by depositing $50 for US residents and $200 for other countries. You will also pay a 0.5% conversion fee to denominate your fiat currency to dollars.
You can pay using any of the following payment methods:
· Bank transfer
· Debit card
· Credit card
· PayPal
4. Start Staking Ethereum
Once your deposit is confirmed, you can begin staking Ethereum. To do this, click on the search bar and type in the crypto asset you want to stake. Click on the first result that appears and follow the listed instructions.
Which Platform is Best For You?
Determining which Ethereum staking platform is best for you can be difficult when starting out. In this section we look at the key questions to ask when deciding upon which Ethereum staking platform is best for you.
1. Is it Regulated?
When seeking the utmost security for your funds, choosing a regulated entity ensures the platform is genuine and recognized by government bodies. Some of the top regulated bodies you should look out for in a staking platform's regulatory page include the FCA, SEC, FinCEN, FINRA, CySEC, and ASIC. Being regulated by such regulatory bodies confirms that your funds remain safe and protected.
2. Fees
In the trading space, fees are everything. Choosing a low-cost staking platform will result in more earnings with your investment. In contrast, a high-fee Ethereum staking platform will inevitably diminish your returns and steadily erode your profit margins. To overcome this, we recommend eToro as one of the best Ethereum staking platforms due to its low fees – especially when compared to other platforms that can witness fees as high as 25%.
3. User-friendliness
Anyone entering the crypto/staking space for the first time can easily be put off by over-complexity. When choosing an Ethereum staking platform, user-friendly interfaces and platforms make the journey far more manageable. When looking for the ideal Ethereum staking platform, it is far easier to choose a user-friendly experience that requires just a few clicks to begin staking your Ethereum.
4. Great Customer Support
If your chosen platform is regulated, the fees are low and the interface is user-friendly, the next consideration should be for customer support efficiency. When encountering challenges on your chosen platform, great customer support can make the most complex issues seem simple. If your chosen platform has poor customer support, you should consider it a red flag and reconsider your platform choice.
5. Multiple Payment Methods
Finally, the last consideration when choosing the best Ethereum staking platform should be accessibility to multiple payment methods. With multiple payment options available, your means of purchasing Ethereum and other crypto on your chosen staking platform remains unrestricted. Platforms with fewer payment methods can often come with higher withdrawal and deposit fees. As such, debit cards should be the one payment methods to look out for, given the method's inexpensive transactional fees and ease of access.
Conclusion

Having highlighted and considered the five best Ethereum staking platforms, we have made it simpler to differentiate between the five. Consider each platforms pros and cons and determine which platform suits your needs the most. We do, however, recommend using eToro as the best Ethereum staking platform. This is due to its low costs, high yield and user-friendly staking experience. Furthermore, eToro is a regulated entity and as such, your funds are completely safe.
To begin staking Ethereum on eToro today, click the link below.