Best Cardano Staking Platforms – Top 5 ADA Staking Platforms Compared
With the recent release of the Alonzo hard fork (Cardano smart contracts), there has been a lot of hype around Cardano and its token ADA. Cardano investors have been waiting patiently for the release of the Alonzo hard fork and it's simple to understand why, until now the use case for the Cardano network was predominantly speculative, but now developers can begin actively working on Cardano dApps. 
ADA was already the 3rd largest cryptocurrency by market cap, and now with the release of smart contracts, the amount of active users on the Cardano network is only set to grow. As more and more people begin exploring all the features the Cardano network has to offer, it stands to reason that lots more people will begin staking their ADA, so why not get in early and start reaping the rewards of ADA staking.   
#1 Cardano Staking Site – eToro
Best Cardano Staking Sites – Quick Pick
Here are our quick picks for the top 5 Cardano staking platforms:
eToro –

Overall Best Cardano Staking Platform

Binance –

Best for Staking a Range of Assets

Yoroi –

Best for Staking in a Range of Pools

Crypto.com –

Best Cardano Staking for beginners

KuCoin

– Best for Fixed Rewards
67% of all retail investor accounts lose money when trading CFDs with this provider.
What is Staking Cardano?
Before learning how to stake your Cardano, it's important we first understand what it means to stake crypto. In short, staking is essentially earning interest for holding your crypto assets. Typically, you'll have to choose between fixed and flexible staking, the main differences being you'll receive a higher reward with fixed staking, but you'll have to keep it 'locked' for a certain amount of time. With flexible staking, the rewards tend to be lower, but you have the ability to un-stake whenever you want. 
Cardano uses a PoS (proof of stake) algorithm to validate all transactions and data going through the network; this differs from the more commonly utilized PoW (proof of work) system used by Bitcoin and a myriad of other cryptocurrencies. Without getting too complex a PoW algorithm validates transaction data with the use of miners, these miners solve complex cryptographic puzzles in order to validate data. While this is an extremely secure system, the need for ever-increasing computing power results in high costs from needing to constantly upgrade hardware and extremely high electricity usage. A PoS system, on the other hand, does away with miners and instead relies on people staking their crypto to validate transaction data, this doesn't require constant hardware upgrades and therefore reduces electric usage. While with a PoW system, the whole network has to be involved in validating a transaction, with a PoS system this isn't the case, increasing scalability, and therefore potentially being the better option for the long-term.
Prior to staking any ADA, you should know the differences between staking and delegating your ADA, while both are very similar concepts, there are a few key differences between the two. Cardano staking requires more ADA, more technical know-how, and more time, you'll need to run a pool that supports the network. Delegation, on the other hand, does not require you to operate a pool, instead, you support the network by allocating your ADA to one or more staking pools. When delegating your ADA you're not technically "staking" anything but letting those running pools stake ADA on your behalf. 
5 Best Cardano Staking Platforms
When it comes to choosing a platform to stake your ADA, you have a plenty of options, each with a variety of different returns and requirements. Due to the vast amount of options, it's easy to get confused when trying to select the best platform for staking Cardano, which is why we've crunched the numbers to bring you this list of the best Cardano staking platforms.
1. eToro – Overall Best Cardano Staking Platform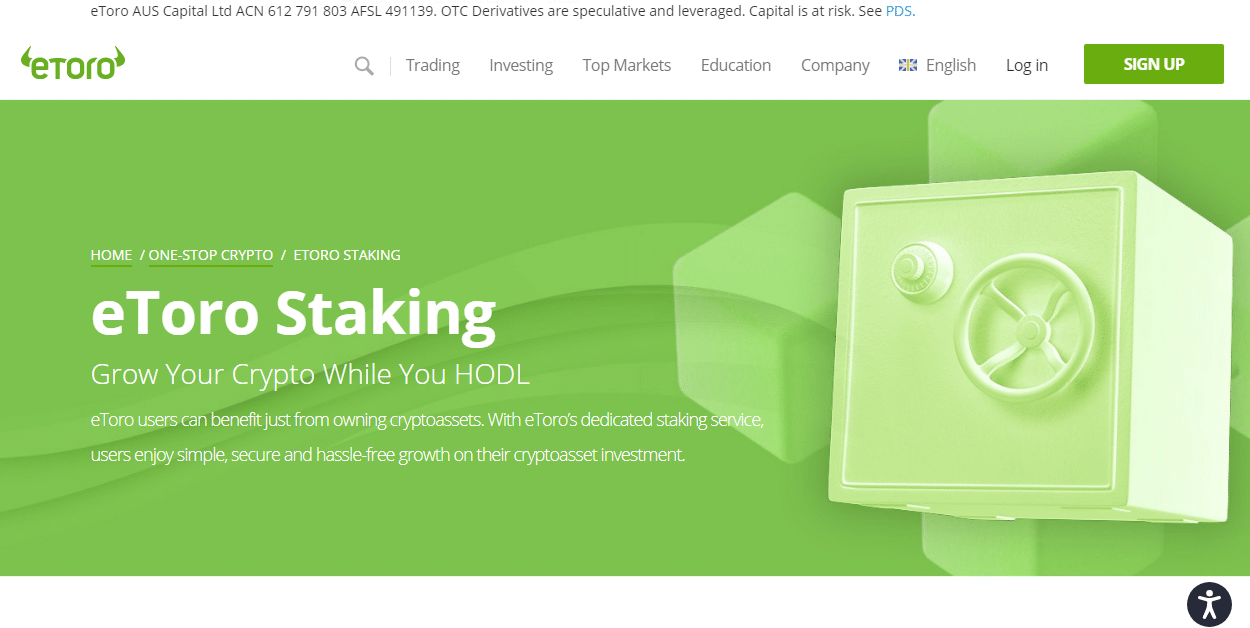 eToro is a popular name in the crypto space, thanks to its excellent mixture of security, features, and ease of use. With over 20 million users and a track record of around 15 years, eToro predates most cryptocurrencies currently on the market. If you're worried about security, as eToro is fully regulated, it's subject to strict data protection laws and encrypts all personal information. 
Earlier, we discussed the difference between staking and delegating your ADA, with eToro you're spared all the hassle of running or picking the right pool, instead eToro takes care of all the complicated stuff for you. You will earn rewards in the same currency you stake, meaning if you stake ADA you will get rewarded in ADA once a month, based on the average amount of ADA held.
As eToro executes the entire staking procedure on behalf of its users, they take a portion of your monthly rewards as a fee to cover the costs associated with staking. While this may be disparaging, it's commonplace for any exchange that provides a staking service. The fee charged by eToro varies depending on which level your account is, with silver, gold, and platinum charging a 15% fee, and platinum+, and diamond charging only 10%. 
As a fully regulated exchange, security is paramount on eToro. When signing up you'll have to complete a simple KYC (know your customer) questionnaire, all your data is SSL encrypted, so you don't have to worry about anyone trying to fraudulently access it. On top of this, eToro keeps all your private keys locked away in cold storage meaning your keys are safe from network attacks.
If all that wasn't enough to convince you, eToro also offers a wide variety of features that will keep everyone from a beginner to a pro trader busy. Copy trading and managed portfolios provide new users an on-ramp to get started with investing. Copy trading allows you to automatically mirror the trades of some of the best traders on the platform, essentially providing users with a passive income opportunity. Managed portfolios allow beginners to invest in a diversified and well-thought-out portfolio without having to do any extensive research, something that is massively beneficial for beginners. 
Pros
Low minimum investment

Copy trading

Managed portfolios

Range of technical indicators

Industry-leading security

Low Fees
Cons
Only 3 assets available to stake

Fee reduction requires significant capital 
67% of all retail investor accounts lose money when trading CFDs with this provider.
2. Binance – Best for Staking a Range of Assets
Binance is a very well-known platform and offers users a huge range of assets to choose from. With more than 500 supported coins, users are spoilt for choice when trading on Binance, and this is also true in regards to staking. Binance is all about choice, and this is evident with the number of different staking tools they offer, with over 70 coins available for locked staking, over 100 coins available for "flexible savings", and even mining pools for PoW coins.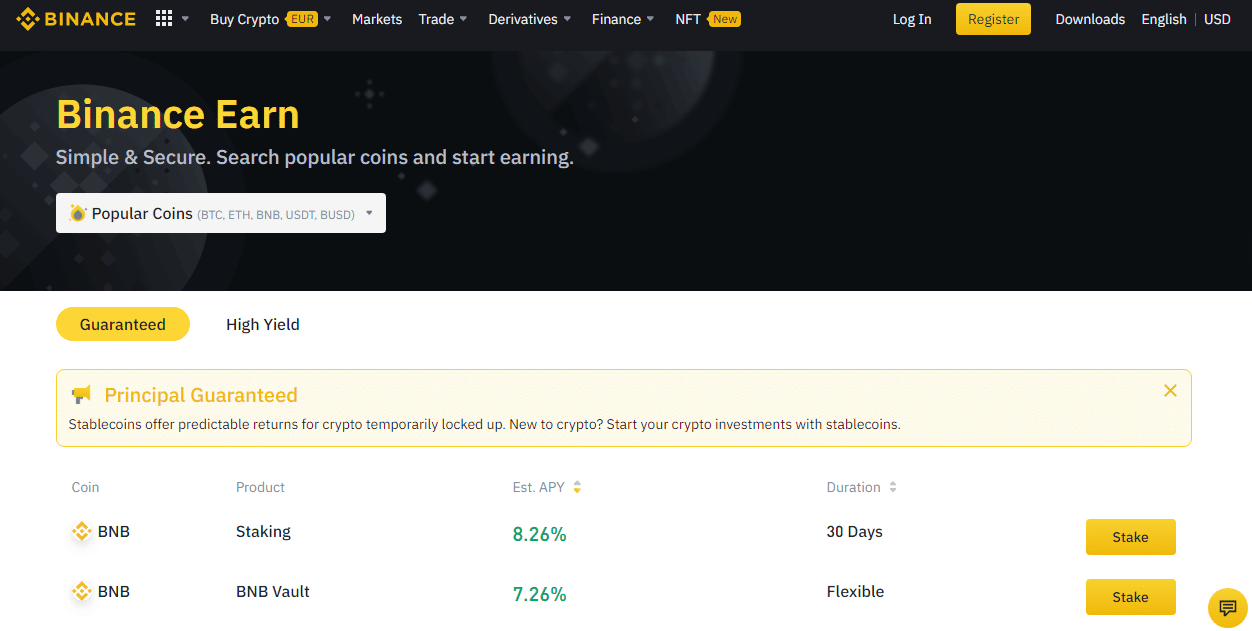 Because Binance offers so many coins the amount of interest you get varies hugely depending on what you want to stake, ranging from 0.5% to over 180%. When it comes to staking ADA on Binance, you'll have to use locked staking which provides a variable rate based on how many days you lock the tokens for; for ADA this is 5.09% for 30 days, 7.79% for 60 days, and 8.38% for 90 days. 
When it comes to security, Binance has all the benefits that come with being a fully regulated exchange, these include insurance on USD balances up to $250,000 as well as strict data protection rules. While Binance is a relatively safe platform, as it's a custodial wallet you should make sure to set up 2FA as an additional layer of protection. You should also keep in mind Binance has been facing a few regulatory issues and as such, depending on your country of residence, there are limited deposit/withdrawal options. 
Pros
Massive user-base

Wide range of indicators

Huge variety of staking tools

Low fees

Lots of different assets
Cons
Limited on deposit/withdrawal options

Has had some security issues in the past

Can be confusing for new users
67% of all retail investor accounts lose money when trading CFDs with this provider.
3. Yoroi – Best for Staking in a Range of Pools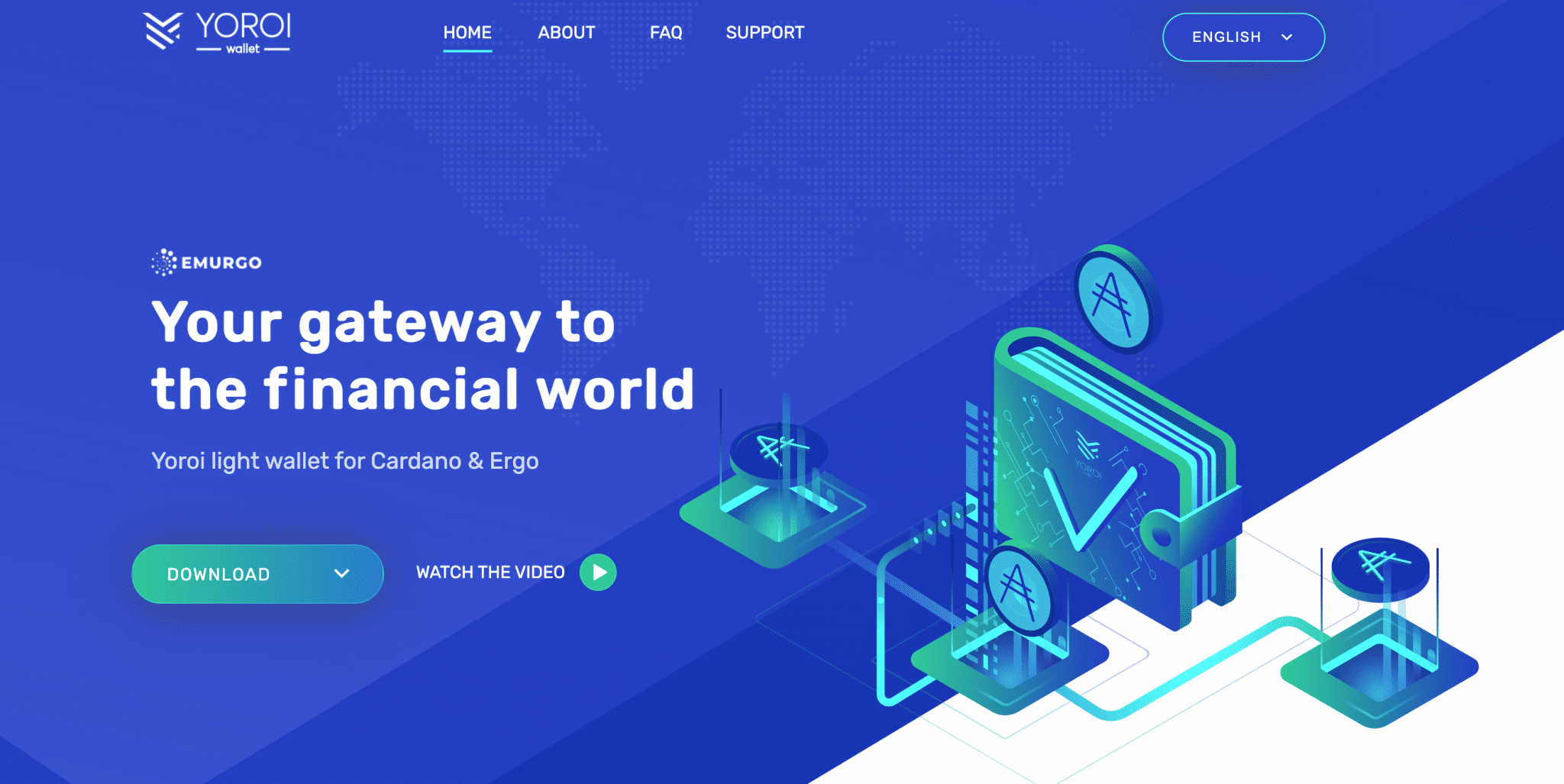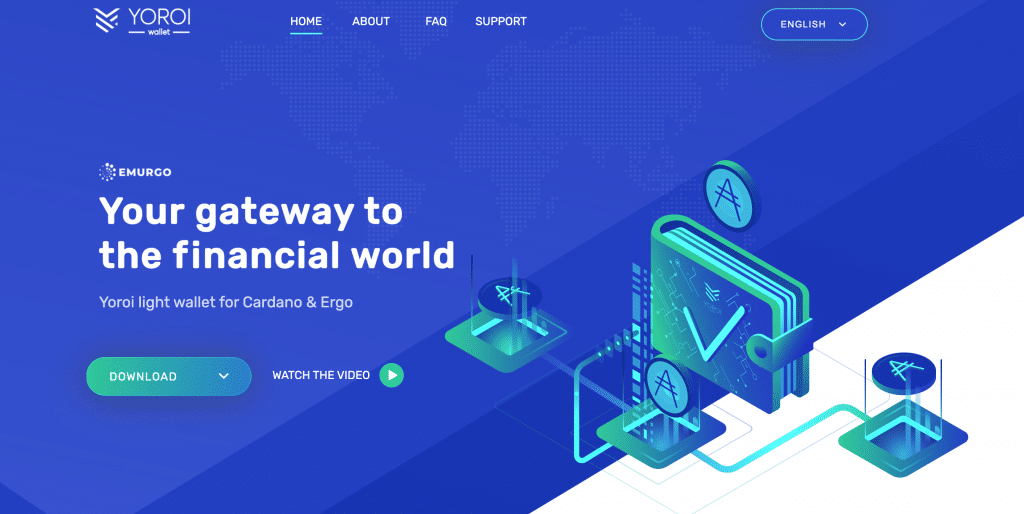 Yoroi is a light Cardano wallet, meaning that unlike full node wallets such as Daedalus, you don't have to download the full blockchain. It's perfect for anyone not wanting to spend the time downloading a 6GB+ file but does come with some issues of its own, primarily reliance on a 3rd party company (Emergo) to serve requests for your individual transaction history. Yoroi can be used on desktop or mobile and doesn't require any advanced knowledge, making it accessible for everyone.
Staking on Yoroi also works slightly differently from the exchange wallets we previously mentioned. You get to select the pool you want to delegate your tokens to, while you will have to do some additional research on the pros and cons of each pool, it does give you a great deal of additional choice. Yoroi provides a few statistics to help you decide which pool to choose, with these being; ROA, share/pool size, costs, average cost, pledge, and how many blocks have been minted in this epoch. 
When using Yoroi on a desktop, you'll have to install a browser extension and set up a separate chrome profile. Emergo, the company behind Yoroi, and also Cardano's commercial venture arm, stated it used a browser extension to alleviate the issue of web best wallets sending important information in a way that's easily intercepted by hackers. On top of this it has also been stated that by creating a browser extension-based wallet, they protect users from DNS hijacking and phishing attacks.
Pros
Browser extension based

Developed by Cardano

Lets you choose pools

Supported on mobile & desktop
Cons
Only supports ADA

Picking which pools to delegate ADA to can be confusing
67% of all retail investor accounts lose money when trading CFDs with this provider.
4. Crypto.com – Best Cardano Staking for beginners
Crypto.com is a huge player in the crypto space, it was founded in 2016 with headquarters in Hong Kong, as of 2022 they serve over 10 million customers, making it one of the world's largest crypto platforms. They have an app that allows you to manage your crypto on the go, as well as a web-based exchange with additional trading features for desktop users, making it convenient for the majority of people.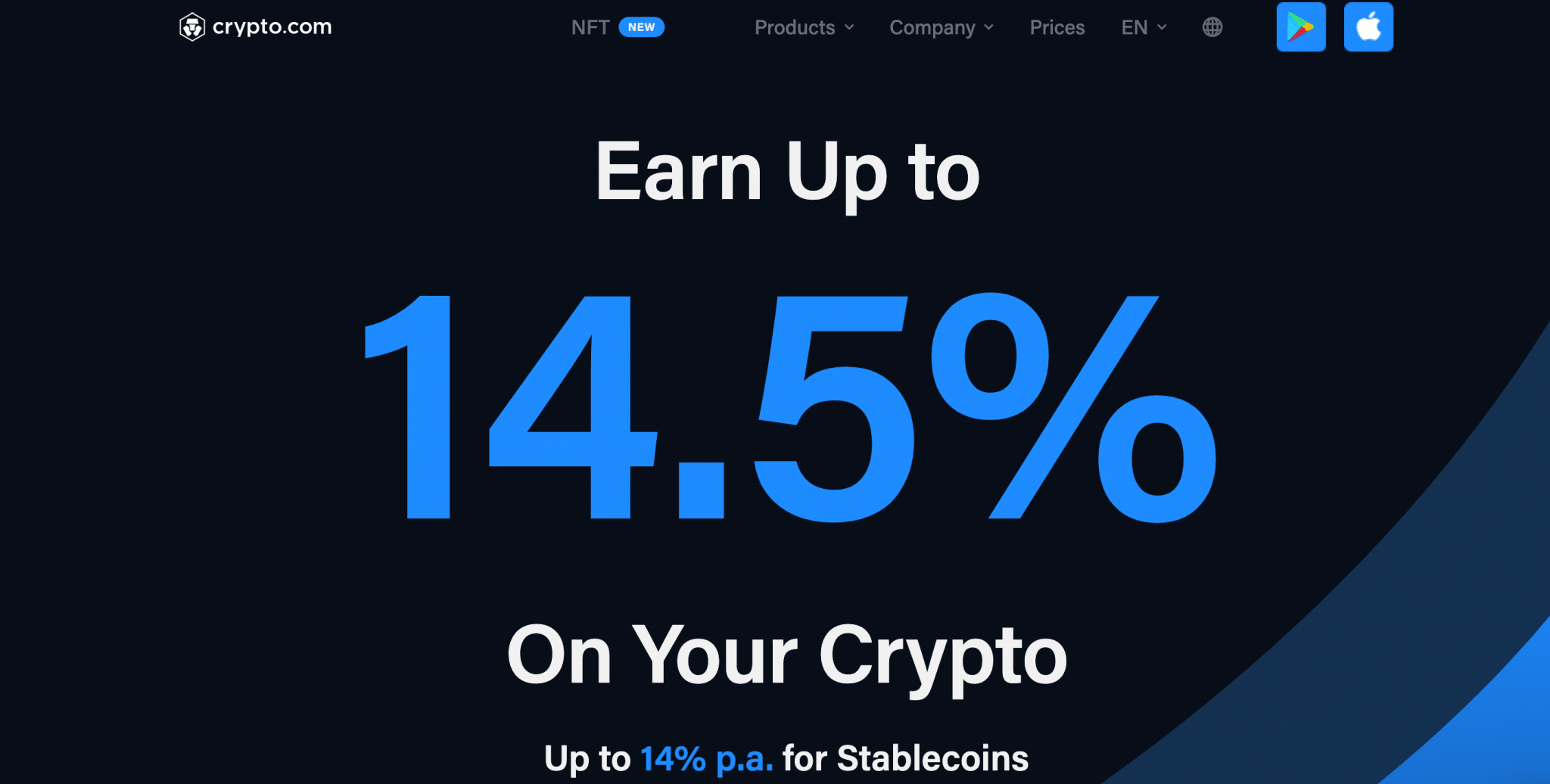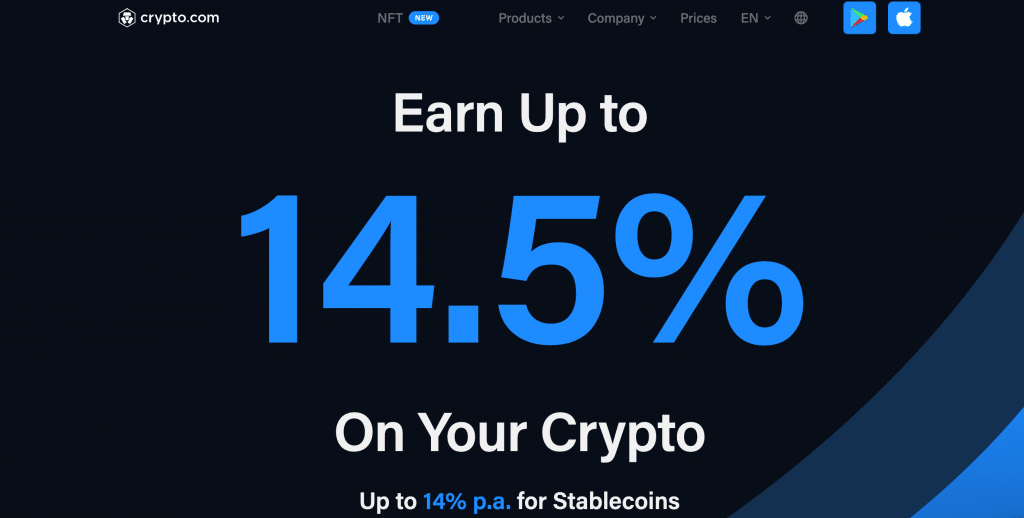 When it comes to staking, Crypto.com has a lot of coins you can stake, with this, however, comes a great deal of variation when it comes to rewards. This is in part due to each coin having a different staking reward, but also based on how much CRO (Crypto.com's token) you're currently staking, making the reward structure slightly confusing. For example, if you stake $1000 worth of ADA for 3 months while not staking any CRO you will earn 2% interest per annum, if staking over 4,000 CRO you'll get 3%, and if you're staking over 40,000 CRO you will be rewarded with 5% (although 2% of this will be paid in CRO)
Once again, Crypto.com is a fully regulated platform, meaning that it complies with all financial regulations, as such you can rest easy knowing your crypto is well protected. As with any regulated exchange, you won't be able to use it anonymously and will have to go through the KYC (know your customer) process. While for the majority this shouldn't be a problem, anyone looking to purchase anonymously should look into a peer-to-peer platform like Bisq. 
Pros
Easy to use

Great security

Available on mobile & desktop

Great rewards for CRO investors
Cons
High fees

Confusing reward structure

If you don't hodl CRO you won't get full staking rewards
67% of all retail investor accounts lose money when trading CFDs with this provider.
5. KuCoin – Best for Additional Features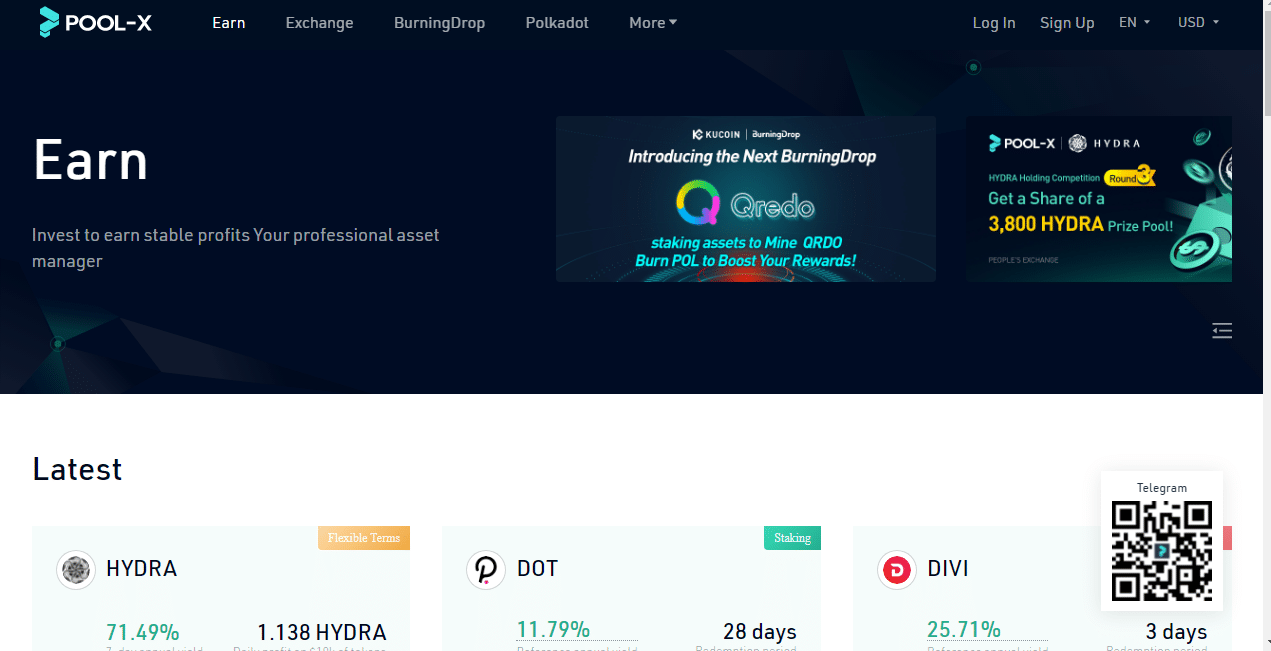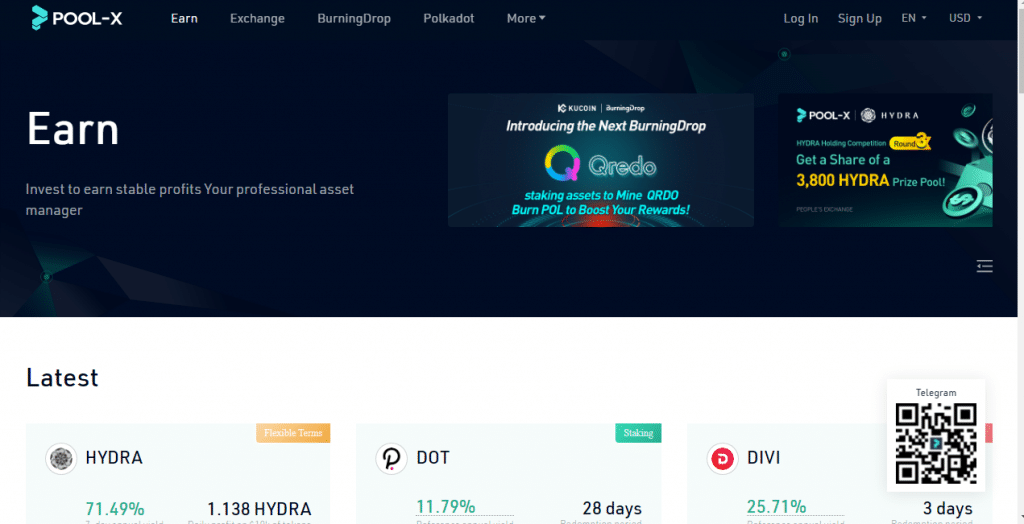 KuCoin was launched in 2017, and since then has gained massive popularity, thanks in part to the range of tools they offer. They do things a little differently from most other exchanges, by focusing on making their platform easy to understand and putting useful tools in the hands of their users. KuCoin has its own version of staking called "pool-X" which does away with long locking periods.
If you want to stake ADA on KuCoin you have two choices, flexible or standard staking. Flexible staking lets you take out your coins whenever you want, but in turn, will yield lower returns. Staking, on the other hand, is locked and has greater rewards, that being said on KuCoin most coins are only locked for a single day, so it's almost always a better idea to not use flexible staking. With this in mind, if you're the type of person that doesn't like being locked in for long periods, KuCoin may be the best Cardano staking platform for you.
The additional features that KuCoin offers could be quite useful to more advanced traders. One aspect I like is the "trading robot". The trading robot has 4 main settings, "Spot Grid" which allows users to make a profit from volatility in the market, "Smart Rebalance" which automatically buys low and sells high, balancing your portfolio based on the current ratio of coins, "Futures Grid" similar to spot grid but also opens short positions, and lastly "DCA" which helps minimize risk by letting you invest at regular intervals. On top of the trading robot, KuCoin also features a lottery-like system allowing people to bet their crypto.
Pros
Trading robot

Lots of additional features

Easy to understand

Staking only locked for 1 day
Cons
Some features more suited toward advanced users

No bank deposits
67% of all retail investor accounts lose money when trading CFDs with this provider.
Best Cardano Staking Platform Compared
Here's how each staking platform stacks up against each other:
| | | | |
| --- | --- | --- | --- |
| Platform | Amount of Assets | Fees | Interest Rates  |
| eToro | 3 | 10-15% of reward | Variable |
| Binance | 100+ | 0% | 5.09-7.79% |
| Yoroi | 1 | 0% | 5-6% |
| Crypto.com | 17 | 0.4% | 2-5% |
| KuCoin | 25 | 8% | 3.53% |
How to Use the Best Cardano Staking Platform
If you're asking the question "how to stake Cardano" then we recommend getting started with eToro. We've created the step-by-step guide below, so you can get set up on the best Cardano staking platform.
1. Sign Up
The first step to getting started with the best Cardano staking platform is to navigate to the eToro website and click the "Join Now" button. Then you will have to provide some basic details about yourself.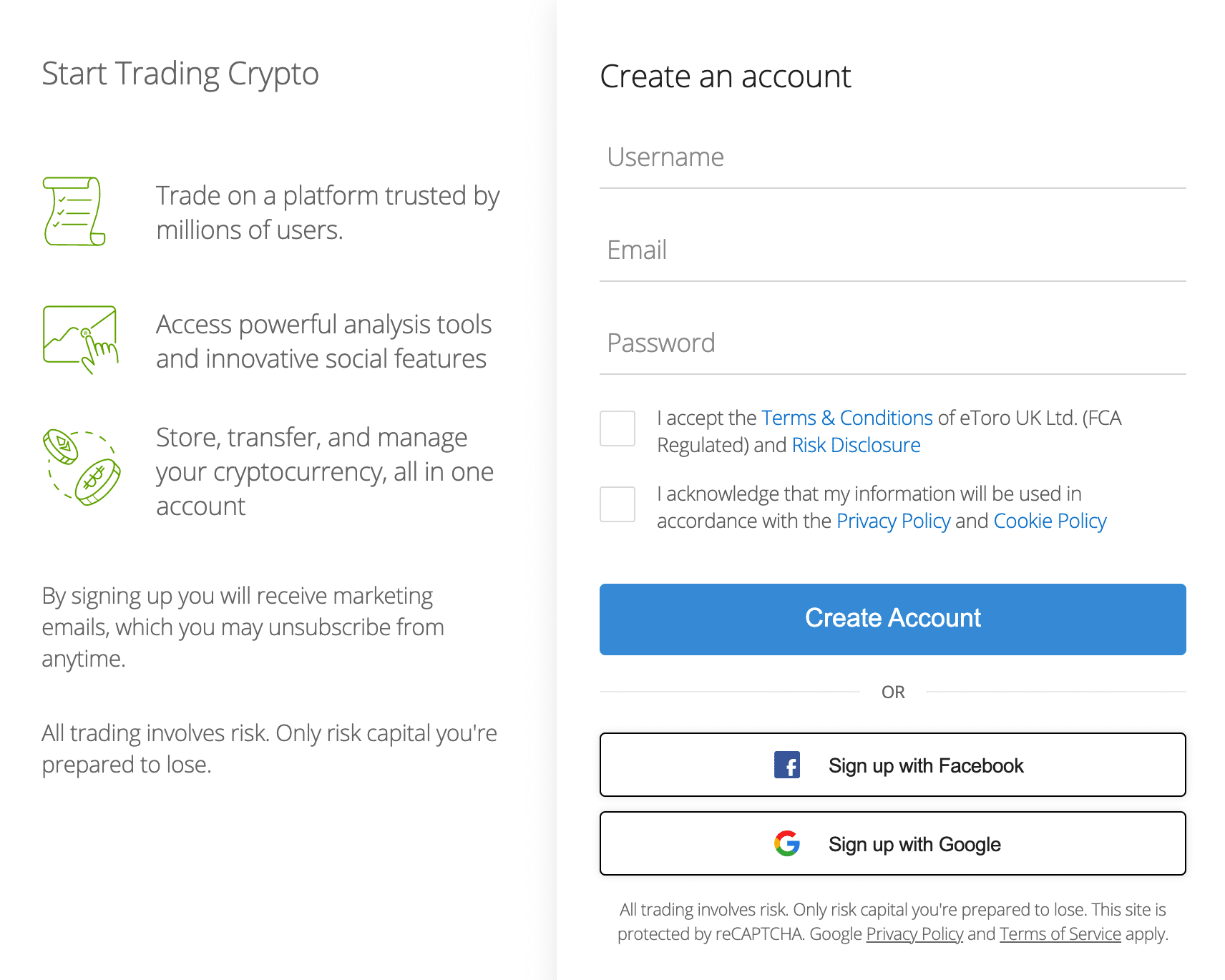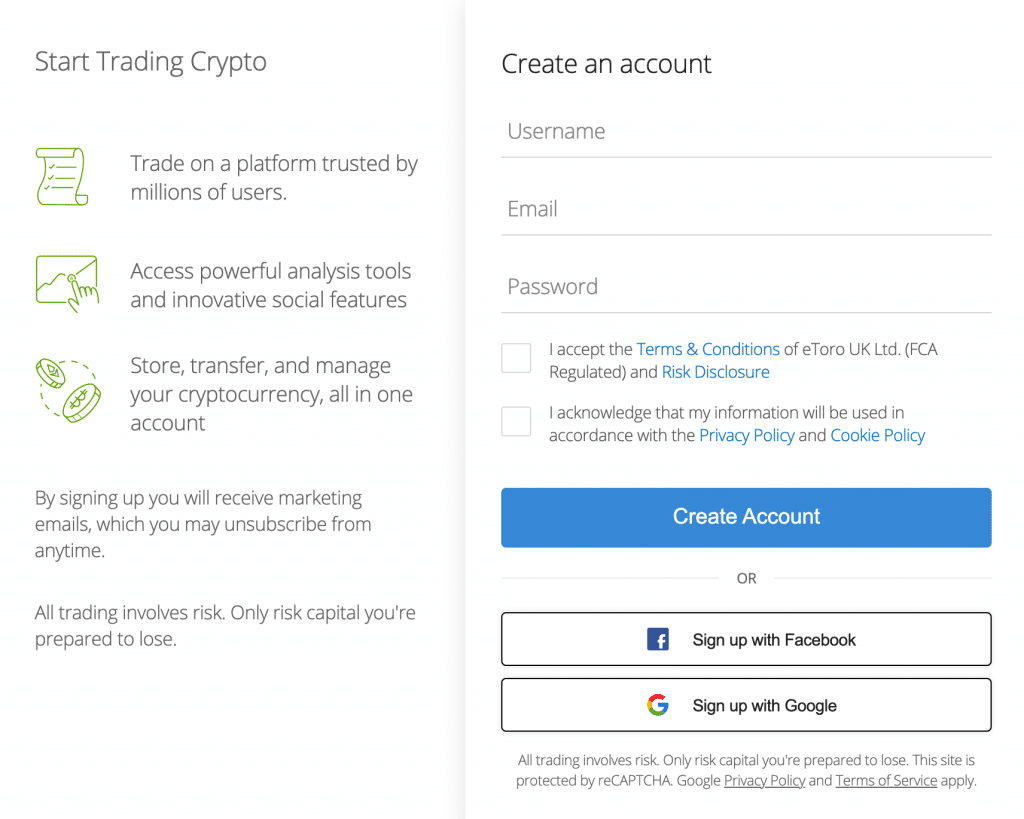 67% of all retail investor accounts lose money when trading CFDs with this provider.
2. Verify ID
After you've signed up you'll have to verify your ID before you can start staking your ADA. To do this you'll have to upload a photo ID (passport, driving license, etc) and also proof of address (bank statement, utility bill). After verifying your identity you will be required to complete a brief KYC (know your customer) questionnaire to prove you understand the risks associated with trading.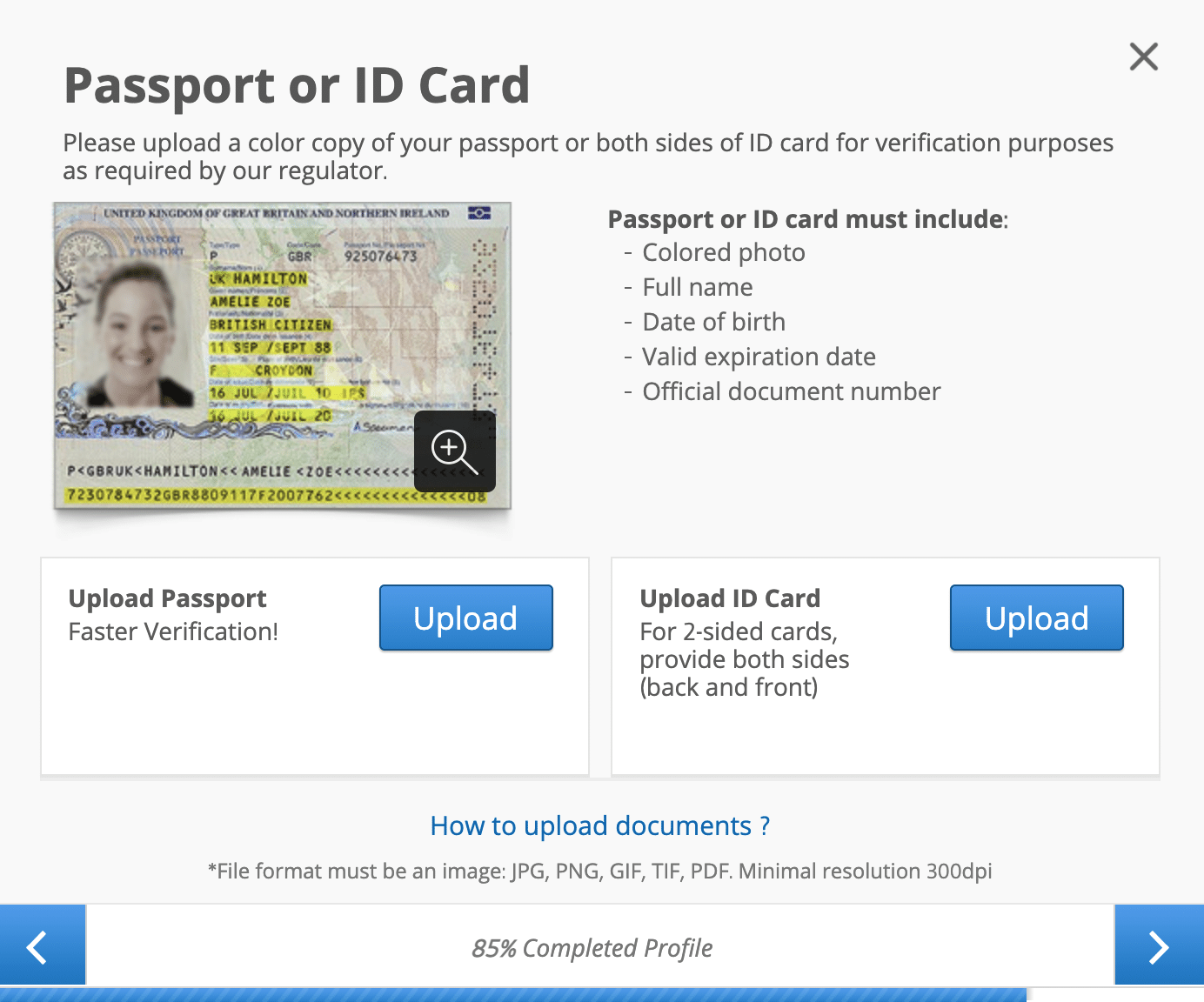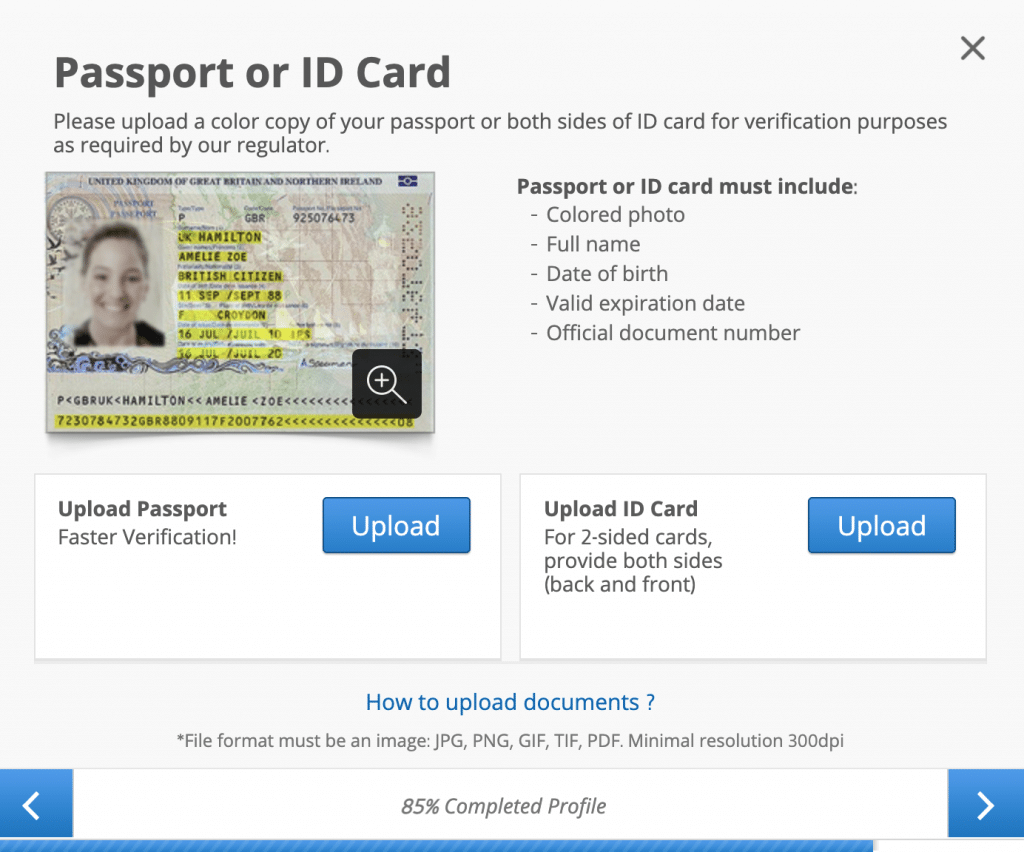 3. Fund Account
After verifying your identity, you'll need to fund your eToro account. You can do this one of two ways, by depositing fiat using a credit/debit card, a bank transfer, or PayPal. Alternatively, if you have any crypto stored in a separate wallet, you can fund your account with it. 
4. Start Staking
Once you've added funds to your account you're ready to stake your ADA! Simply navigate over to the staking section and choose how much ADA you want to delegate.
Which Platform is Best For You?
With all the available options it can be hard to pick which platform is right for you, this is why we've broken down some key factors you can use when selecting the best Cardano staking platform for your needs.
1. Regulations
If you're using an exchange to stake your ADA it's important to make sure they're regulated and have a good track record as on some platforms your funds will be locked in for 1-3 months, so if you wouldn't want to keep your coins on a platform for an extended period, it's best to look elsewhere. Look out for anything showing the platform is regulated by any of the main bodies for example the FCA, SEC, CySEC, and ASIC. 
2. Fees
It's important to consider how much the fees will be to stake your ADA, if you're only wanting to stake a small amount, any profits you earn could easily be eaten up by fees. If the fees required to stake your crypto is higher than the yearly interest rate it might be worth looking elsewhere. That being said, a lot of exchanges take a small percentage of your reward rather than any direct fees, which is a lot more reasonable.
3. Ease of Use
Regardless of if you're just starting or are a professional trader, nobody wants to have to spend hours just to get used to the layout of a platform. For new traders an overly complex interface can be disheartening, it's easy to get lost in features that aren't relevant to your needs. This is where it's important to choose a balance of features and an easy-to-navigate UI. 
4. Customer Support
The only time you'll notice bad customer support is when you need it, which is why it's important to make sure the platform you choose has a dedicated support team that can assist you in event of anything going awry. 
5. Multiple Payment Methods
If you want to regularly deposit fiat, you'll have to look for a platform that supports your chosen deposit method. It's important to also look out for how much you'll be paying in fees, as this can quickly lose you money. Generally, we recommend using bank transfer or PayPal, as both of these offer some additional protection and far lower fees than debit/credit cards.
Conclusion
In summary, the best platform to stake your crypto will depend on several factors, it's important to choose one that is right for your individual needs. After reading this guide you should have all the knowledge required to sift through the pros and cons of each platform and make an informed decision on which platform is best to stake your ADA. If you're going to be doing any additional tasks, like trading, it's also crucial to factor this in as you don't want to be caught out after depositing your funds. eToro is our choice for the best Cardano staking platform, it offers users a great blend of security, ease of use, low fees, and additional trading features.