ETF Brokers – Best Online ETF Brokers in 2021
The stock market has long been an investor's pick for choosing options that help them grow their personal revenue. Though the stock market is still alive and flourishing, investors now have more options to choose from, able to diversify their portfolios more easily. One of these options is Exchange trade funds, better known as ETFs.
These little bundles function similar to stocks in many aspects, though they come with stocks, indexes, and more linked into one single buy. Because there is no need to buy into multiple options, management is simpler and risks are much lower. If that's not enough, ETFs also give investors a low-cost option for diversification, something that everyone is on the lookout for.
Because there are so many great options to choose from, we did some digging and compiled a list of the best 8 ETFs on the web. No matter what kinds of options or fees you're looking for, you can find them here, along with our in-depth and honest review so that you make the best pick for yourself.
Best ETF Broker: #1 Stash
Best ETF Brokers – Top 5 ETF Brokers List
Below you will find a list of the best ETF brokers in the market right now.
1. Stash – Overall Best ETF Broker
2. Interactive Brokers – Buy US-Listed ETFs at 0% Commission
3. TD Ameritrade – Best ETF Broker for Asset Diversity
4. J.P. Morgan: Best ETF Broker for Self-Directed Investing
5. E*Trade – Best ETF Broker for Beginners
What are ETFs?
Exchange-traded funds function by tracking an index. These indexes can be bought, sold, and traded within the stock market, making them an option for investors. Due to the flexibility and variety of ETFs, investors can enjoy diversification while buying into one single ETF with stocks, bonds, indexes, and more included. Before buying into an ETF, you should pick a broker that knows the market like the back of their hand, and stands by their methods of investing.
ETFs: Know your Type
ETFs are all over the place. One of the reasons why they are like an investment goldmine is that they offer investors a long list of different options. All of these options work a little differently, and the types of ETFs you can find are listed below.
Diversified Passive Equity ETFs
This type of ETF follows big names in the stock market like the S&P 500 and the Dow Jones. These are specifically designed to follow the same pattern and generally have a constant positive influx or bounce back if there happens to be a dip.
Niche Passive Equity ETFs
Instead of spreading things around too far, Niche Passive types keep things pretty tight-knit. Much like investments that follow the big names in the stock market, these too closely follow top stocks.
Active Equity ETFs
In these types of ETFs, those that are managing or investing call the shots on which stock options, bonds, or indexes to choose from. Unlike the two ETFs above, these have a bit of a higher risk attached to them but, like most investments of this kind, come with higher money-growing potential.
Fixed-Income ETFs
Taking the focus away from stocks, these kinds of funds go all in for bonds. For these types, there is also a very low active management of stocks, something that makes them much more stable than other ETF options out there.
Best ETF Brokers in 2021
As you've probably realized by now, ETFs come in all shapes and sizes. That's a good thing, as no two investors are quite alike. Before choosing your preferred ETF broker, it's a good idea to think about two things, your goals, and your budget. Though ETFs don't come with a huge buy-in in most cases, you still may have to drop initial finds, something that you should keep in mind.
We'd like to note that all of those that made it to your list of top 8 ETF brokers were checked for quality, affordability, and safety. After those three boxes were checked and verified, we started getting into the small details, finding those with features and options that investors will love. So, with all of that said, let's dive in. Here's a look into our top 6 picks for best ETF brokers on the web.
1. Stash: Best ETF Broker 2021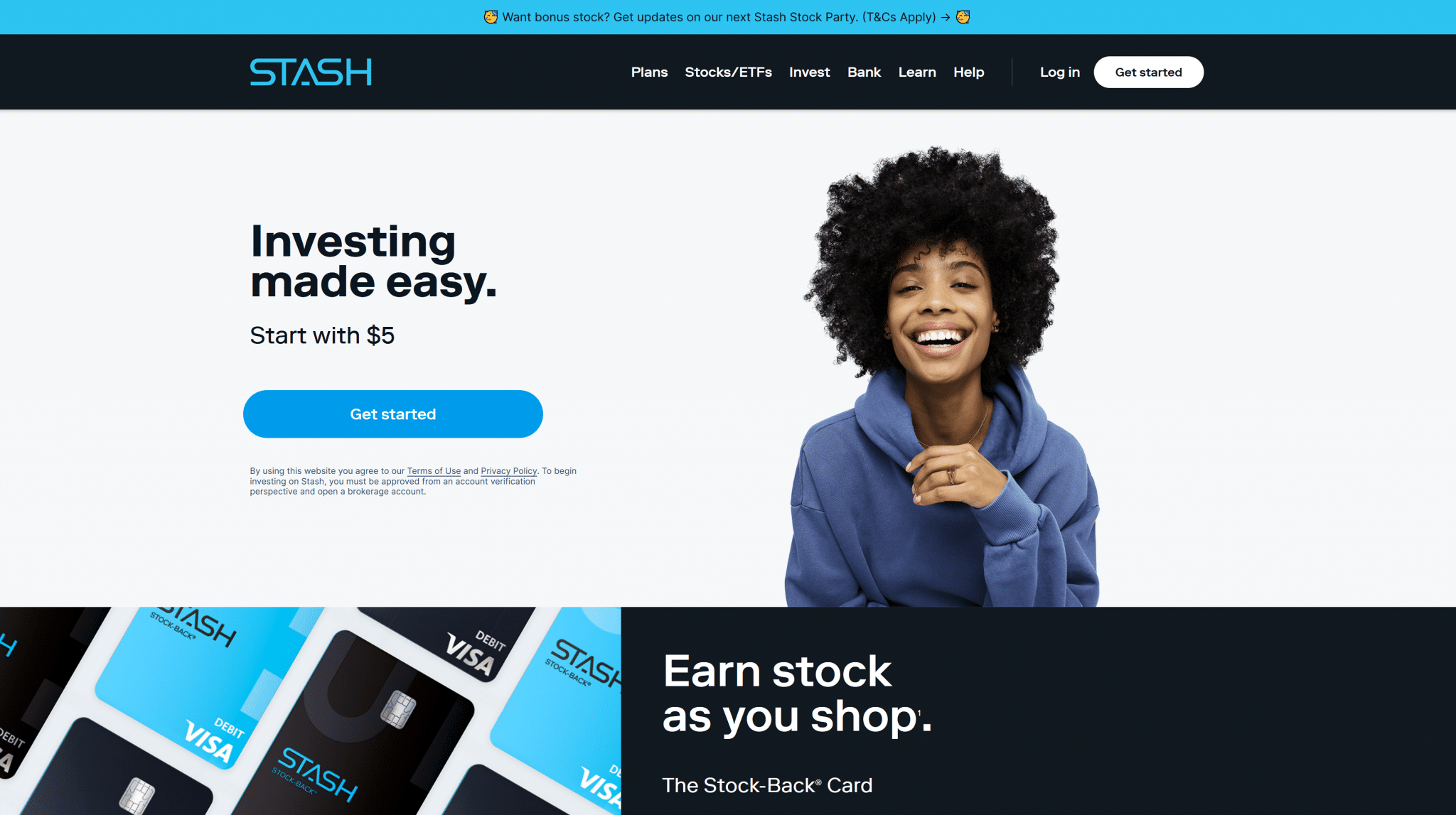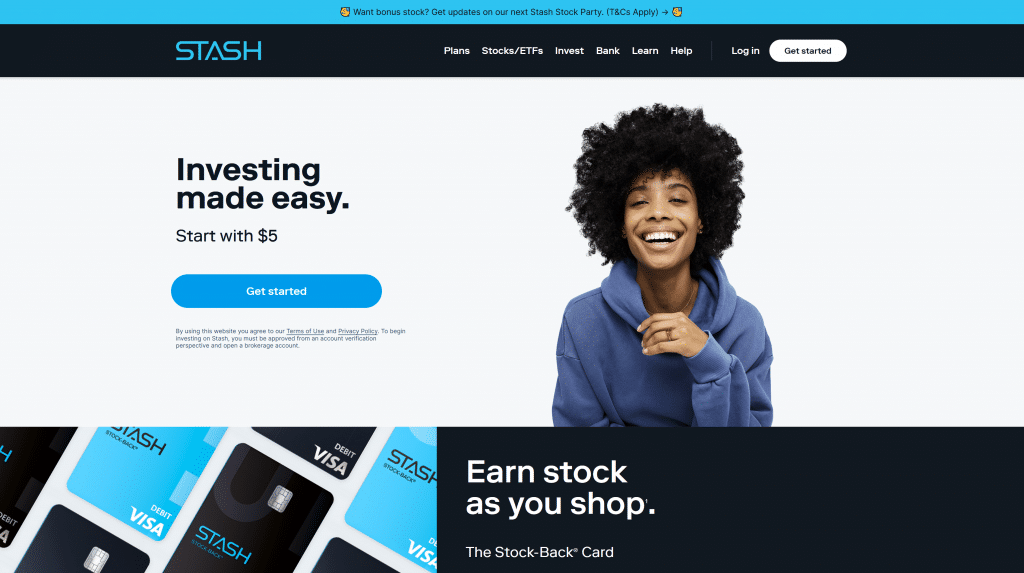 For as little as $1 per month, investors of all levels can create an account with Stash and start selecting their pick of investments and ETFs. There is no minimum fee that must be kept in the account and users can partake in all kinds of investing including penny stocks, ETFs, and more. Depending on the investment types you want, you can choose your account type, only paying for what you use.
Stash is not just all about stock options but, has options to score retirement accounts along with them too. There are numerous reward opportunities right online and options for a deeply diversified portfolio right online. Technology plays a big role in all of the accounts at Stash, some of them with automatic rebalancing when you take money out or put any money in.
When you find an investment that piques your interest, all you'll need to do is click on it to find all the details. Check out the level of risk that you can expect along with the expense ratio to see if it's the best option for you. Find answers to all of your questions before you invest anything and only go with investments that you believe will give you the best return.
This Broker is Best For:
Anyone looking for guidance on investments and investing options
Brand new and first-time investors
Investors that like profitable risks
The Good
Lots of resources on available for new investors
Investments in fractional shares are an option
No Account minimum, ever
Score one year of free account management at sign up
The Not So Good
ETF expense ratios are high
No tax-loss harvesting
Management fees tacked on
67% of all retail investor accounts lose money when trading CFDs with this provider.
2. Interactive Brokers – Best ETFs to Buy and Hold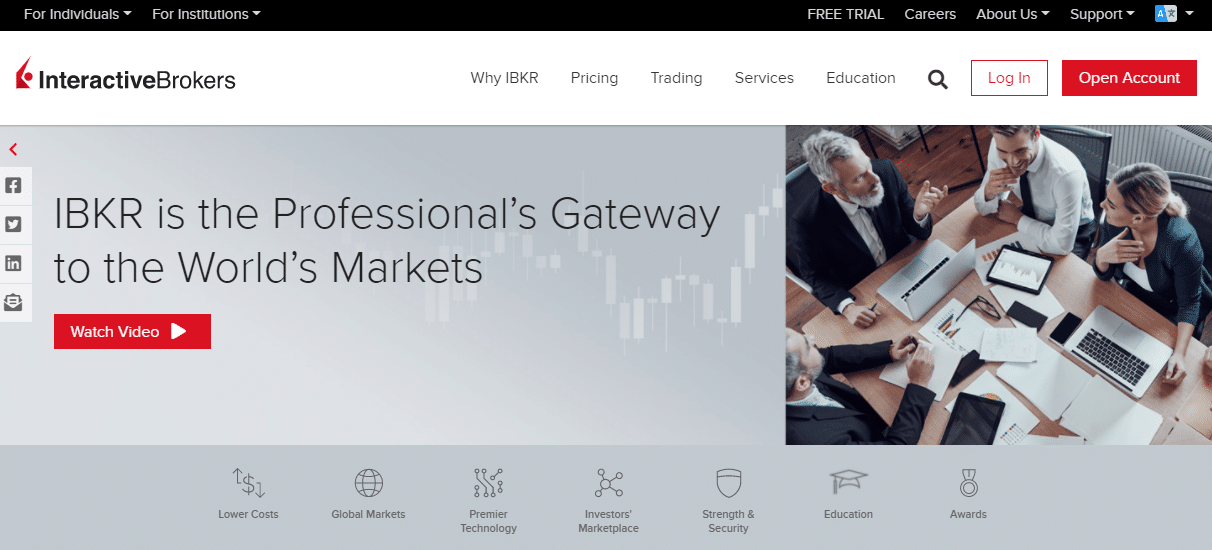 If you're into unlimited free trades, low per-share pricing, and virtually no fees, then IBKR Lite could be the option for you. IBKR has long had the reputation for catering to the most seasoned traders out there, breaking down their complex software to suit a wider range of investors.
This is a good broker for learning the ropes, as there are no tacked-on fees from trades within the US stock exchange. Options to invest in other types of accounts like mutual funds and fixed income are there, though they come with the IBKR Pro account fee.
With either account, there are no base commissions and access to the broker's Trader Workstation platform. This platform combined with Client Portal trading will help you take your trading game to all new levels and get a feel for the market like never before.
This Broker is Best For:
Day Traders
Traders new to the market and looking to learn the ropes
Those looking to bump up their stock research skills
Investors outside of the US looking to trade in the NYSE
The Good
Choose from a large number of investment options
Score access to innovative research tools
Enjoy zero fees on most trades
Find discounts for qualifying banking partners
The Not So Good
The website is all over the place
If you choose PRO, you will have a few inactivity fees
67% of all retail investor accounts lose money when trading CFDs with this provider.
3. TD Ameritrade: Best ETF Broker for Asset Diversity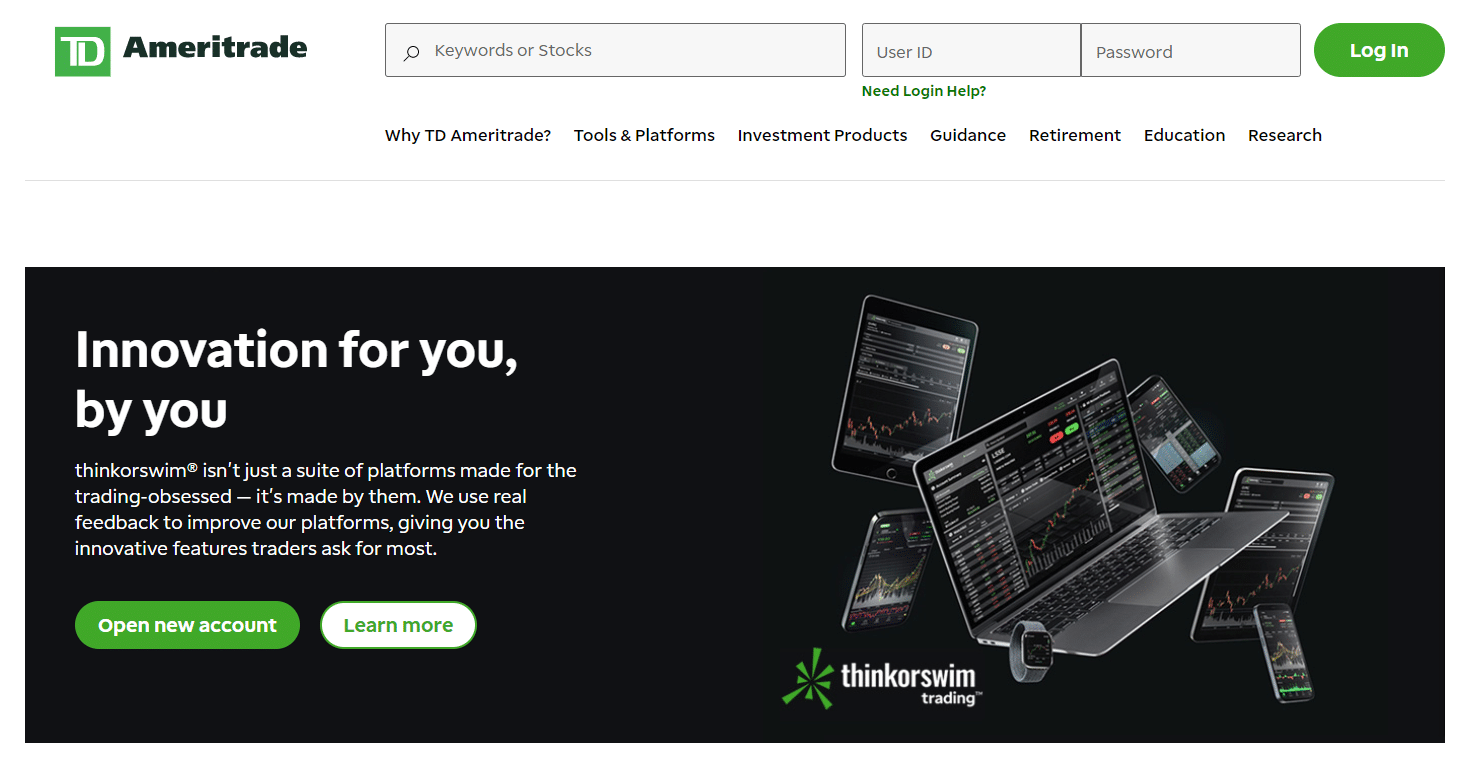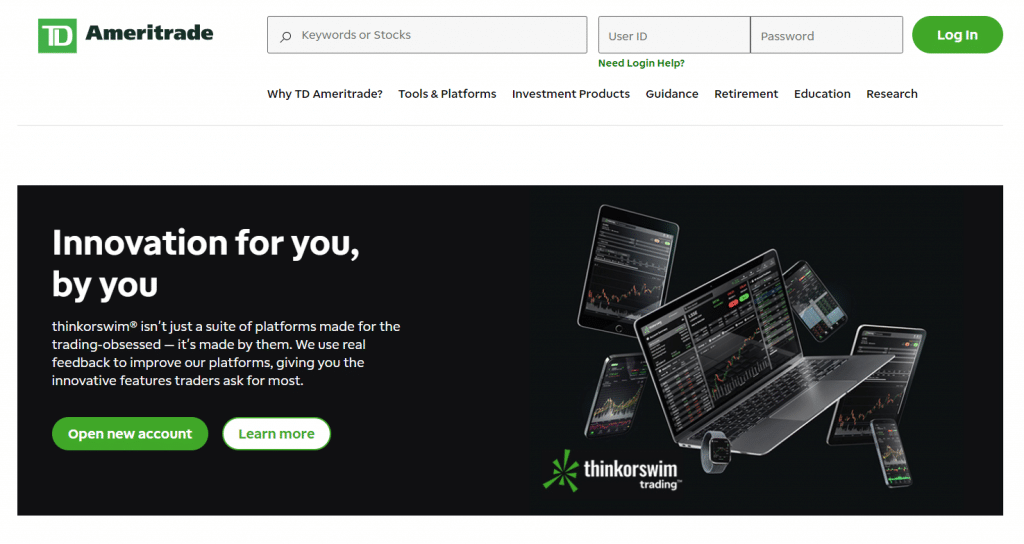 TD Ameritrade has been around for years, working up its reputation as one of the best brokers around. Their recent buy-out by investment firm Charles Schwab is sure to take them even further up the ladder, as two brokerage giants become one. Though the platform is packed full of stuff, investors that are just beginning can still find educational tools and sophisticated platforms that will help them with their trading.
There is nothing hidden here, with TD Ameritrade all around the social atmosphere with active accounts on Facebook and Twitter. They have improved their 'Thinkorswim' platform with numerous upgrades to help traders of all levels get a good idea of what they're investing in and how their trades will affect their overall amount.
Investors are not bound to their computers and can get a look at all that's happening at any moment of the day on their mobile phones. Options for mutual funds, penny stocks, Forex, and Robo-advisory are all on the web, helping to make the trading experience innovative, interactive, and easier to manage.
This Broker is Best For:
Investors of all levels
Anyone looking to learn more about trading
Investors looking for both long-term and short-term investments
The Good
Tons of technologies on the site for research
Videos, articles, and tools to help new investors understand the market
Opportunities to connect with other investors
Customer service that's hard to beat
The Not So Good
The website can be difficult to navigate
TD Ameritrade experienced platform interruptions back in 2020
67% of all retail investor accounts lose money when trading CFDs with this provider.
4. J.P. Morgan Self-Directed Investing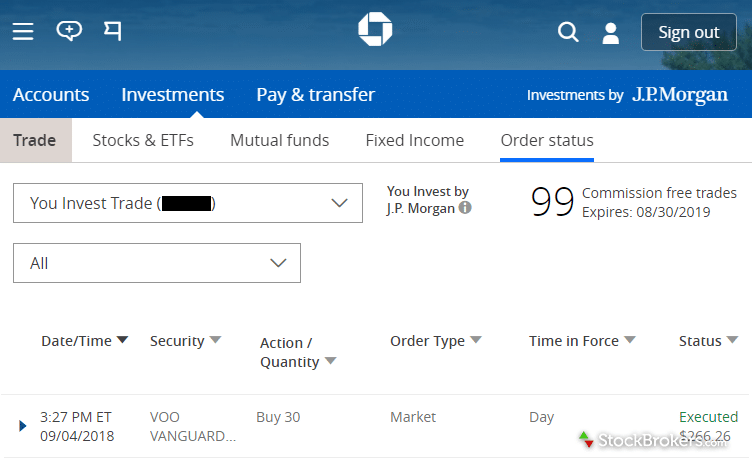 With self-directed investing, newcomers can try out what they've learned and finally start to spread their wings. The DIY style of this platform hosts a long list of educational tools and resources so that newcomers can get into the mix quickly. Self-directed investing is a good option for the diversification of any portfolio through the purchase of ETFs, especially without the need to pay a large number of fees.
Apart from interactive platforms and tools, investors can take advantage of the Robo-advisors on the website, allowing them to take the reigns and make trades based on your preferences. Check-in with your investments throughout the day with the mobile app and find customer support from 8 am to 9 pm throughout the workweek.
There are no account fees attached, investments as little as $1 for some mutual funds, and zero transaction fees for trades.
This Broker is Best For:
Those looking to learn the ropes
Mobile investors
Lower-risk investments
Anyone looking for a low-cost option to start investing in ETFs
The Good
The platform is super easy to use
You'll never pay commissions for trades
If you bank with Chase, enjoy all your accounts on one platform
Create an account and start trading without any initial amount necessary
The Not So Good
Not as many tools for research as other ETF brokers
Some tools require a large minimum balance
Transfers will cost you $75 a pop
67% of all retail investor accounts lose money when trading CFDs with this provider.
5. E*TRADE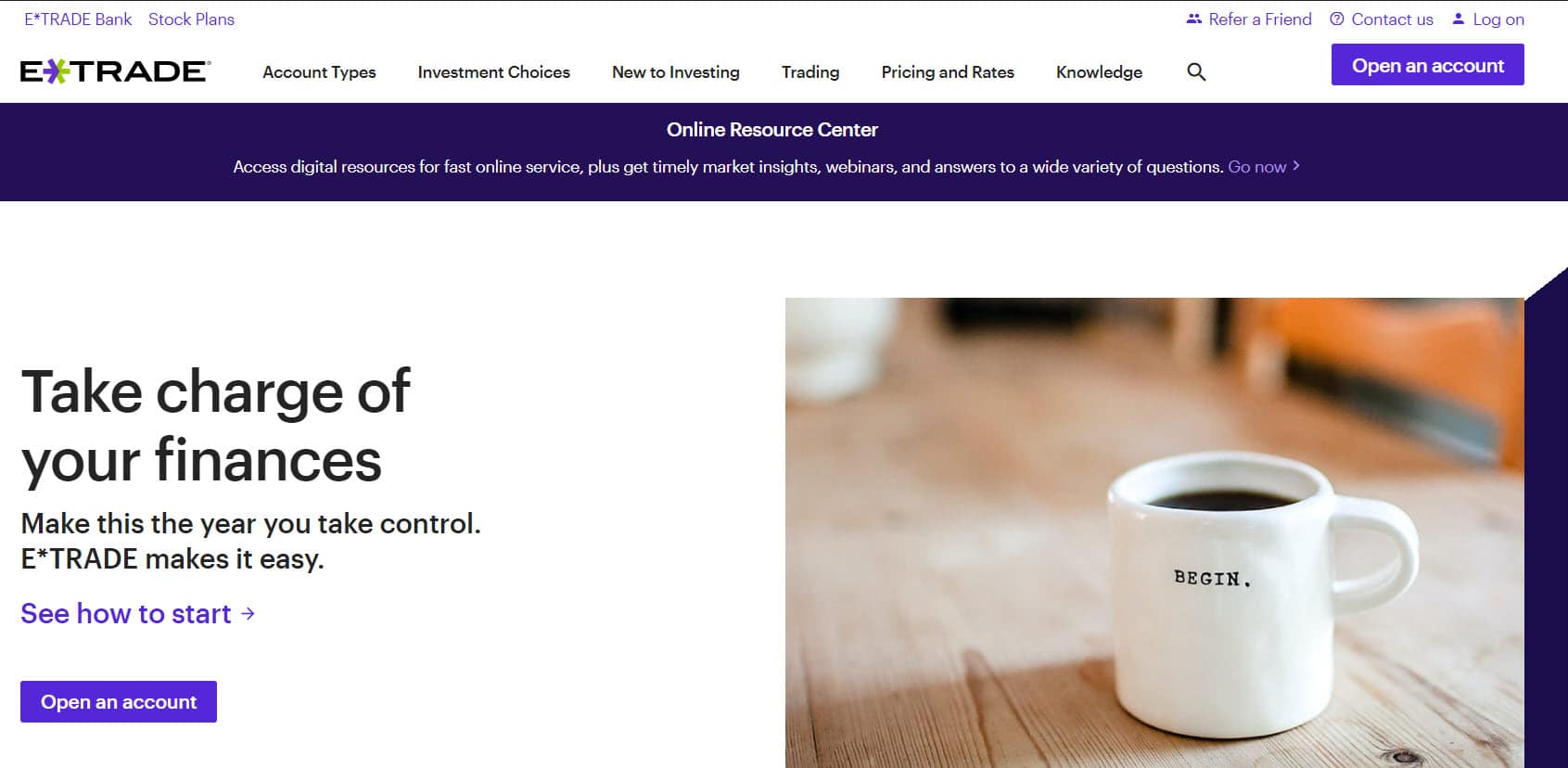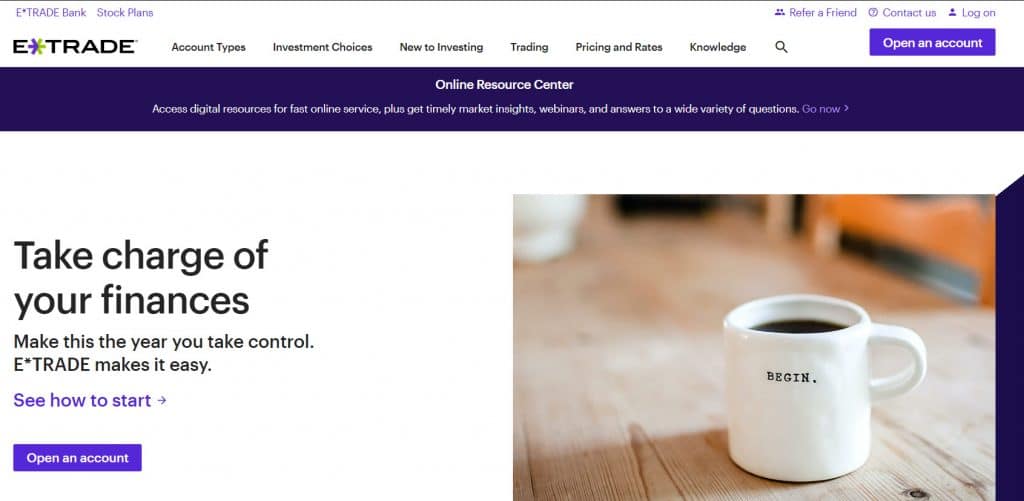 E*TRADE is a big name in investing, perfect for investors with all types of budgets. From small to large and everything in between, this investment firm has something to offer for everyone, including a state-of-the-art trading platform. Traders that join can enjoy $0 commissions for all ETFs and choose from more than 4,000 mutual funds that come without any transaction fees.
Though the name will start the same, E*TRADE was recently bought out by Morgan Stanley, another huge name in the world of personal investments. Whether it's on the app or the home page, you can enjoy point-in-time market data to get the best out of each trade and learn from a large number of tools and services.
If you're brand new to investing, you can sign up for free courses that are filled with juicy trading information. You'll be walked through each and every step, able to get a feel for what trading will be like from day to day. When first starting out, the more you know, the better, which is why this platform gets a big thumbs up.
This Broker is Best For:
Investors looking for free commissions
Traders that trade frequently
Investors without much experience
Anyone looking to plan their retirement along the way
The Good
All of the tools are easy to use
Choose from a ton of different investment account
Enjoy customer care that is always there when you need them
Find research and other useful investment tools
Use the mobile app for investments in just one click
Enjoy zero commissions on some ETFs
The Not So Good
The website is difficult to get around
Some extra options are pricey
67% of all retail investor accounts lose money when trading CFDs with this provider.
6. Betterment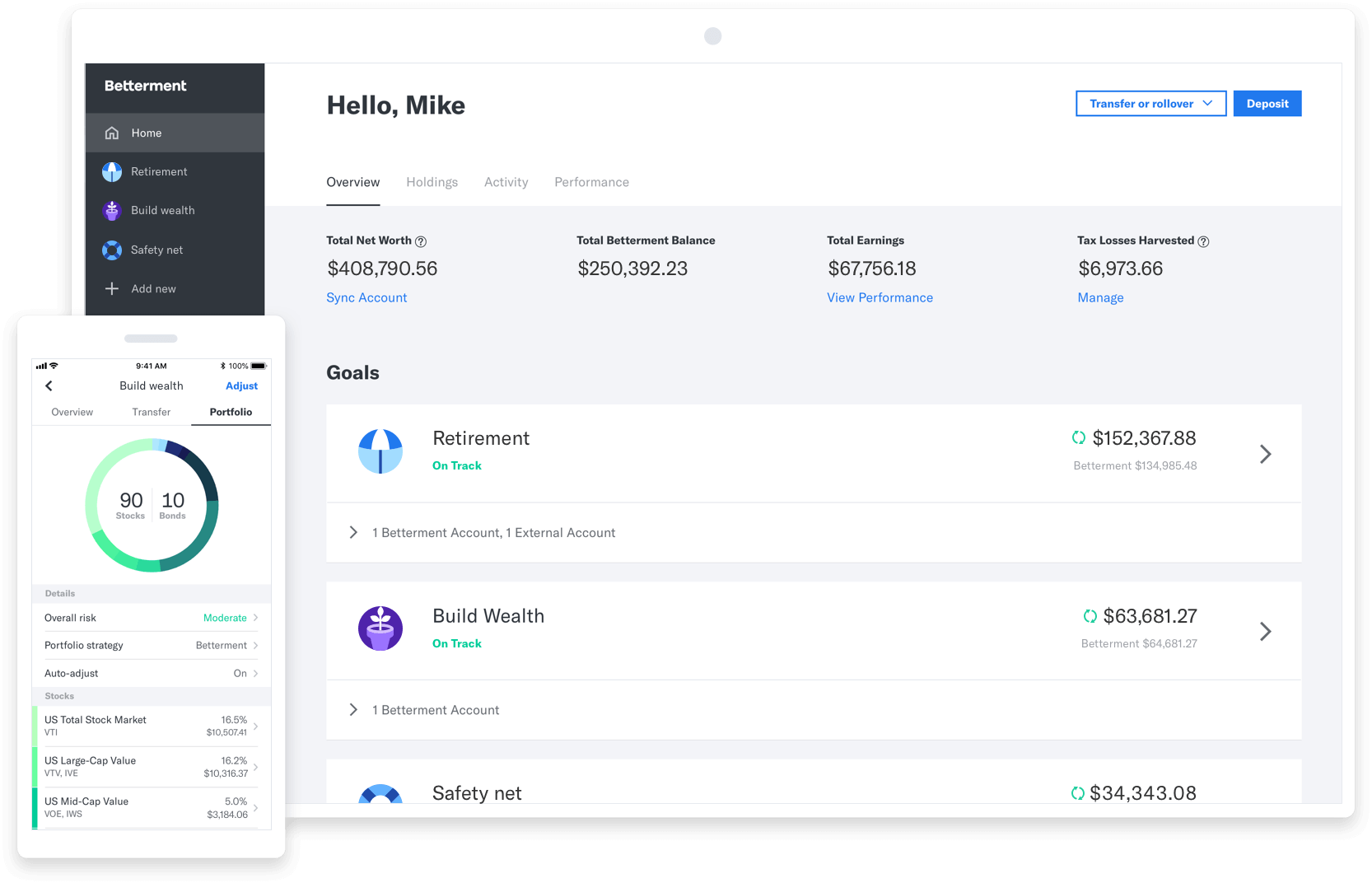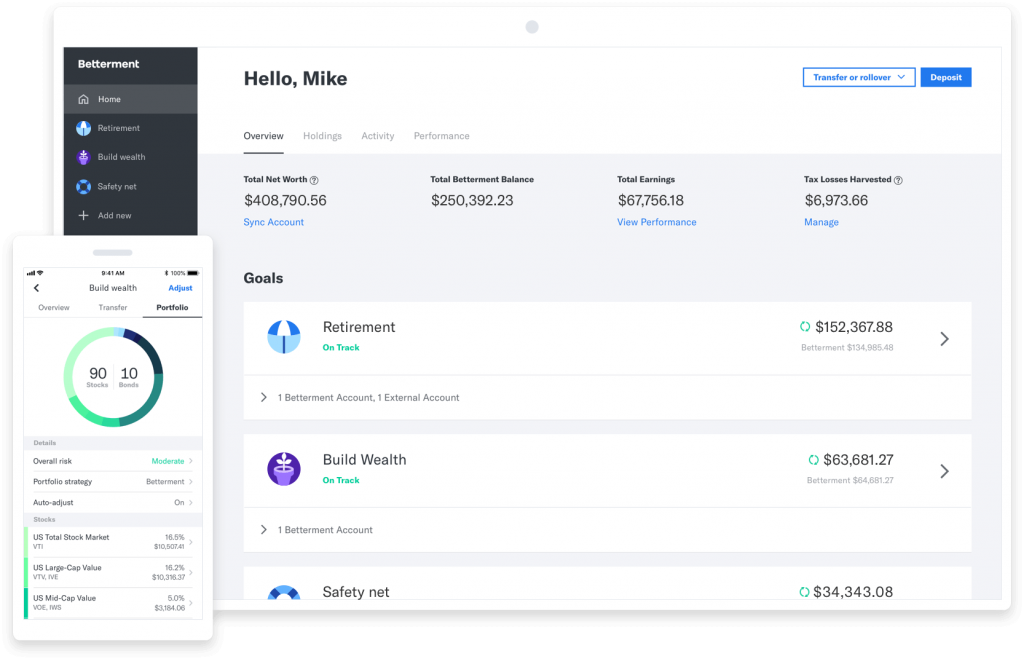 Due to their use of Robo-advisors, Betterment is able to slash a lot of the fees and other charges compared to the competition. Their service options are limited and have a large gap in between but, as a newcomer, you'll want to stick with their Digital plan. With this account, there is no minimum that you have to keep in your account and charges are as low as 0.25%.
As far as diversification, you can choose ETFs from 13 different classes and sprinkle in a mix of things including SRIs and REITs. Investors can add retirement accounts into the mix, link up internal and external accounts, and even opt for a high-yield savings account that comes with no extra fees.
Included along with active customer service you'll find automatic rebalancing, a look at your account daily, a tax impact preview tool, and even a detailed look at your finances daily. Investors can link multiple accounts, enjoying advice from online advisors. With help from the platform's algorithm, users can enjoy all of the perks of diversification and more.
This Broker is Best For:
Investors looking for a more hands-off approach to investing
Anyone looking to invest in retirement
Those without a substantial amount to invest
Those who like automatic rebalancing
Anyone who likes to work with innovative tools
The Good
Choose from a large number of investment options
Enjoy little to no fees
Keep your cash invested
Work with tools made to help you reach your investing goals
The Not So Good
No direct indexing
Next in line account comes with a very high minimum
67% of all retail investor accounts lose money when trading CFDs with this provider.
7. Vanguard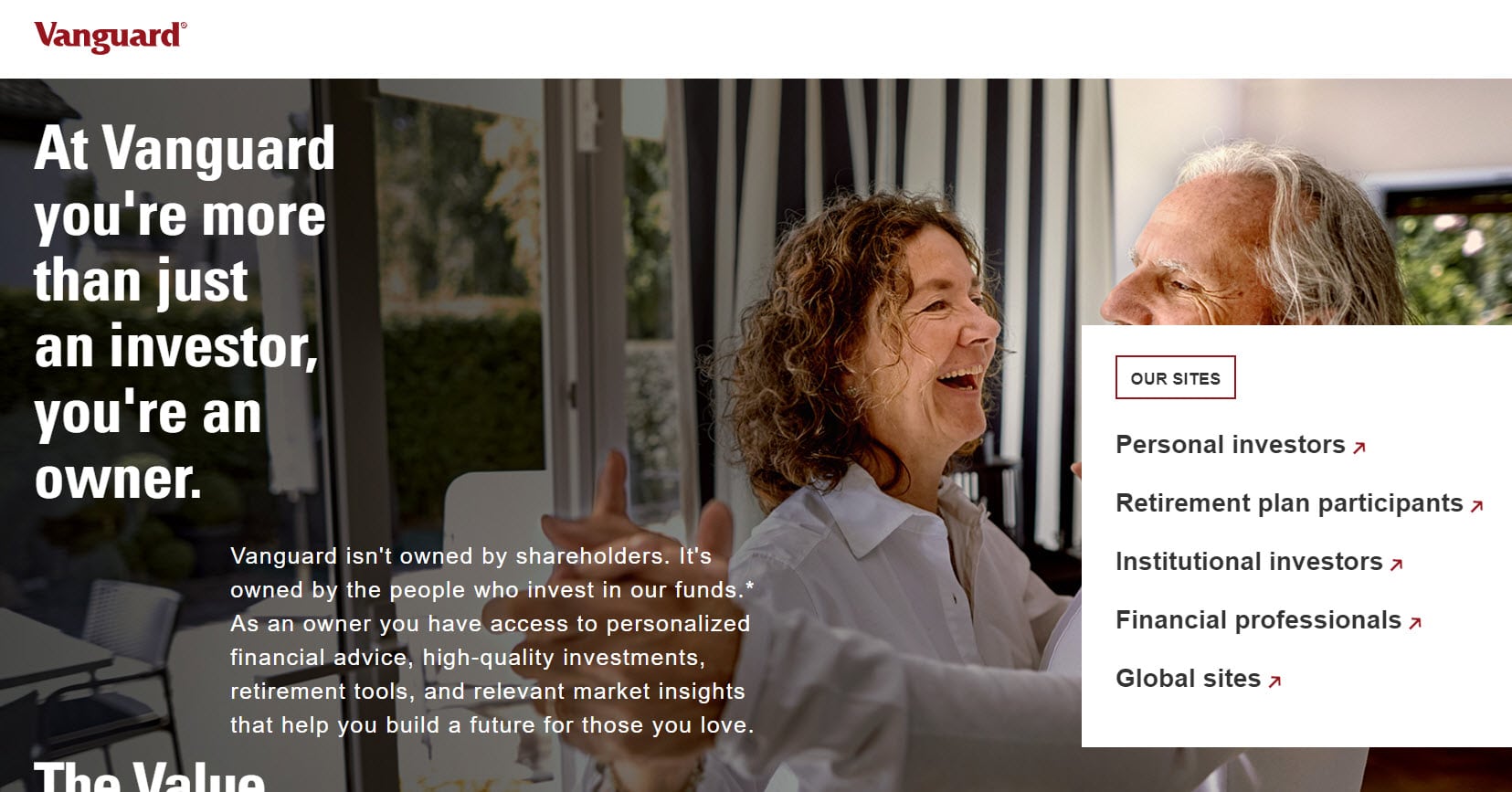 Known for its low-cost options for trading, Vanguard is a solid choice for many newcomers looking to start investing. The expense ratios are the best around but, many investors choose to go for the long run and find long-term investments to be the best with Vanguard. When browsing through their long list of ETF options, investors can choose from more than 3,000, most of them low-cost and socially responsible.
Their ability to charge no commissions and have $0 in trading costs got them on the map, seeing their biggest boost in loyal followers back in 2020. Though the cost changes, there hasn't been much else in terms of upgrades, especially the platform. When put up against other platforms, there are not enough tools and learning opportunities on-site.
Still, they are known for their investment options on retirement accounts and do have a lot to offer in terms of active investments and trading in stocks all throughout the stock market. Plus, if you set your account up and forget it, you won't have to pay any other fees for inactivity or transfers, ever.
This Broker is Best For:
Those looking for a long-term investment
Any investor that enjoys low-cost investments
Those with an interest in a mix of ETFs and index funds
The Good
Investors have a long list of investment options to choose from
There are no commissions on trades for both stocks and ETFs
Vanguard is one of the lowest options on the market
Their customer support is supreme
The Not So Good
The platform isn't filled with educational tools like most
You won't find very much data or research to learn from
67% of all retail investor accounts lose money when trading CFDs with this provider.
8. Merrill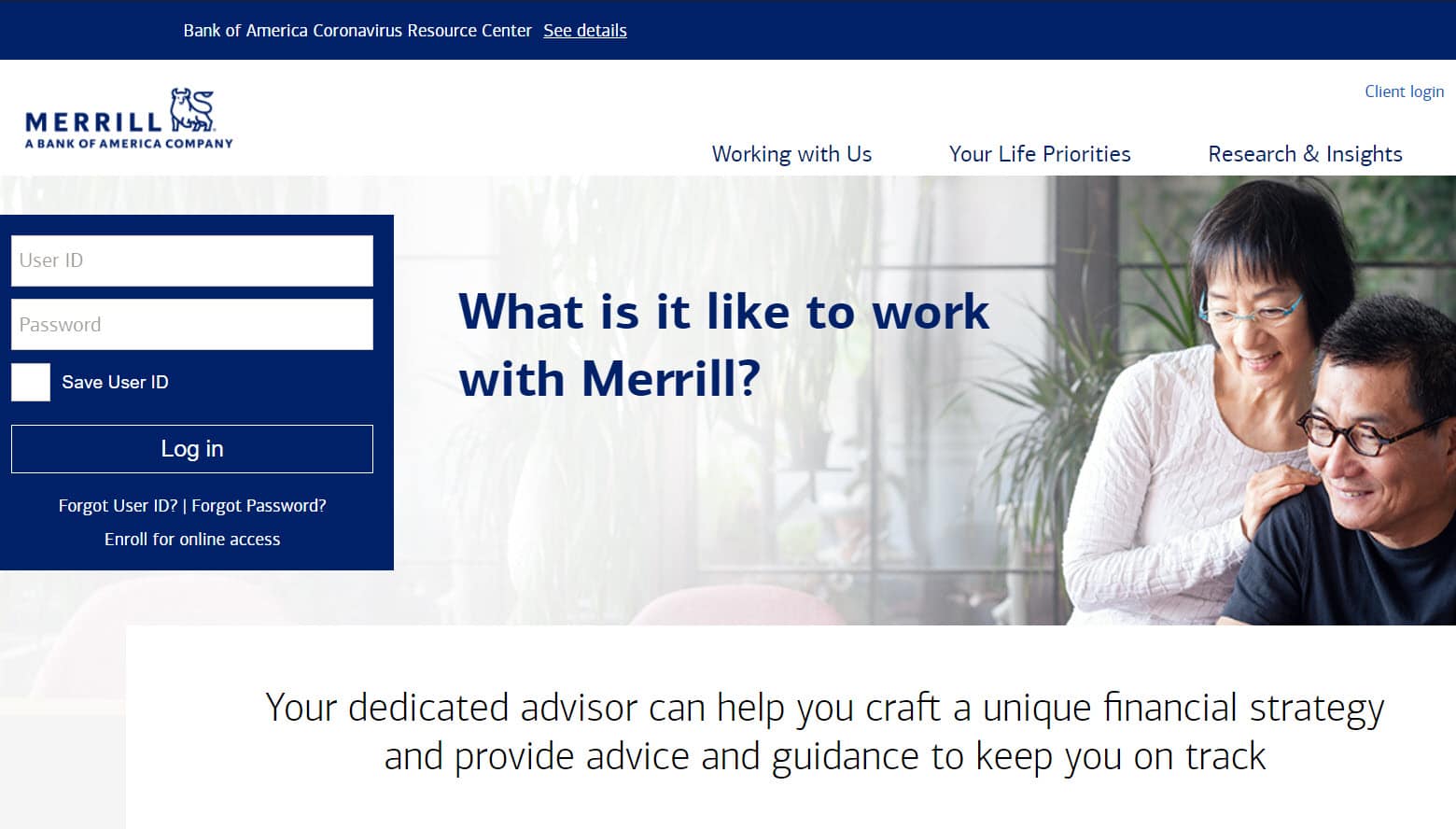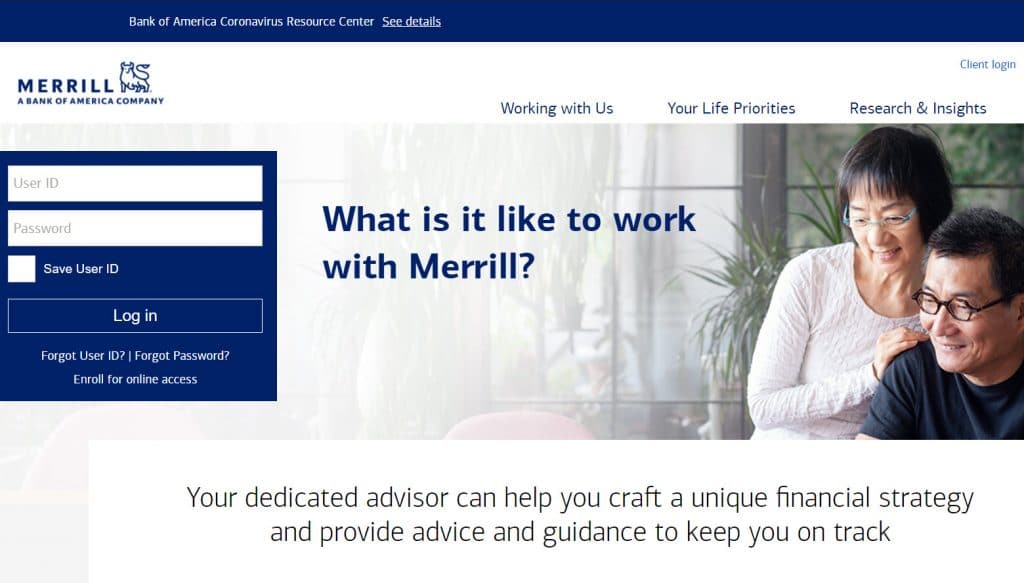 Merrill offers investors competitive pricing for their platform. With the help of all of their online services and tools, more advanced investors will have all that they need to make better investments. The fact that this broker is attached to Bank of America is also something worth bragging about, with investors having a solid entity that they can rely on.
With Merrill, there are no fees for trading stocks and a $0 minimum account balance. Plus, for most of their accounts, they don't charge fees typical of other brokers like inactivity fees and transfer fees. For investors that sign up with the platform, they can have access to rewards programs tied into Bank of America, something that could grow investor money even more.
One of their key features is called Fund Story, where users can find out about what they are investing in. It goes into detail about several things within each fund, making investors more aware of where their money is going. On top of that, the entire historical pattern is integrated, something that could help you decide if it's a go or an investment you should skip.
This Broker is Best For:
Customers who already have a Bank of America account
Best for investors who have a lot of money to spend
Big accounts for investors in environmental stocks or government
The Good
Score tons of research so that you can invest wisely
Goes hand in hand with Bank of America
Perfect for investors looking for long-term big investments
The Not So Good
Not a lot of security for more complex investments
Lack of first-time investor tools to learn from
67% of all retail investor accounts lose money when trading CFDs with this provider.
How ETFs Work? Begin Trading with Best ETFs Broker in the USA
ETFs are a great option for investors of all kinds. Some of the biggest benefits include lower fees and tax efficiencies, all while being transparent. Understanding how they work is a key part of the process of choosing an option that works best for you. Learn how they work and see how they can help you invest more securely and grow your funds more rapidly.
The Creation
The creation of ETFs starts with a large investment group. Together, they and the ETF sponsors will create shares, eventually turning them into an ETF filled with options that others can jump in on. After a company decides to create a new fund, it must complete a transaction with an authorized participant (AP) for official setup.
ETFs In Action
Once everything is set up and ready to go, they are ready for action, collecting dividends or reinvestments from all of the stocks in one single package in one go. Investors can buy into the group of funds in the same way that they are buying a small group of shares.
On top of that, they can trade them just the same, making it simple to deal with for investors that already know the tricks of the trade. Much like stocks, there won't be really high fees to watch for while trading, making them a good bet for small-time and rookie investors.
ETFs have a lot of liquidity, a term that refers to the ease of converting ETFs to cash. While stocks are a bit simpler ETFs are right there along the lines, especially when using a solid broker. That's why you should choose not only a good broker but also choose a good ETF to be a part of, making sure that you get the best return and can turn it into cash quickly.
Pros and Cons of ETFs
After reading up on our top 6, you might still have some doubts about whether or not it's a good investment for you and your funds. While each individual broker has its pros and cons, so do ETFs as a whole. So, we'll line up some key pros and cons for you to consider before you make your first investment.
The Pros
ETFs knock mutual funds and other common investment types out of the water for several reasons, a few of which are listed below. While reading along, think about these pros and how they would benefit you in your investing journey. Then, don't forget to take a look at the cons.
Diversify your Portfolio
The number one best thing about ETFs is the ability to diversify your investment portfolio. Instead of relying on the growth of one stock, bond, or index, all of them are grouped together for a stronger hold that really makes a difference when trying to see a daily difference.
Like a Stock, But Better
An ETF is all grouped together, which is where the diversification comes from. But that doesn't mean anything when it comes to trading. They trade like a single stock, with investors not having to deal with complicated percentages or pieces. When trading, a few things you can enjoy include:
Purchasing on margin and selling short
Prices are updated throughout the day and fluctuate, your can trade at a higher piece than anticipated in that way
They are generally less risky than other investments and allow investors to trade futures, just like stocks.
The great thing about stocks is that, at any given moment, anyone can look up the price and the way it changes by the second. That means that, even though there is a lot tied up into one place, investors will still know the exact price of their ETF and trade it when they see fit.
Little to No Fees
ETFs are generally much lower to maintain, taking little to no management to keep them up and rolling. It is this ability for low management that slashes fees when compared to other types of investments. Even expense rations are cut down more than half, with no shareholder accounting fees or payment to a board of directors for allocating and managing the entire fund.
Dividend Reinvestment
Unlike other options out there, investors can sit back while dividends are automatically reinvested. That means that money is always growing and investments keep going up too. It's the perfect way to grow from a starting amount to one that makes investing worthwhile.
Limited Tax
Anyone that's ever invested knows a thing or two about taxes. Some accounts can be difficult to pay, dipping into earnings and taking away from hard-earned and invested cash. In terms of capital gains, investors can enjoy a much bigger break than mutual funds, able to avoid active management of accounts that usually mean higher taxes in the long run.
Based on Supply and Demand
ETFs, fluctuate up and down based on supply and demand in the market. Because this happens automatically with some brokers, you can see differences in your final balance. Instead of seeing huge differences before you buy, you'll see a lot of adjustments at the end of each day with help from arbitrage.
The Cons
On the other side of things, ETFs are not flawless, coming with a few drawbacks that may send investors looking in the other direction. Still, when put head-to-head with stocks and mutual funds, ETFs could have a lot to offer and be a better choice for your investment goals.
Less Diversification
Just because portfolios are diversified doesn't mean that they are the most highly diverse. As a matter of fact, some investors may find that their ETFs are less diverse than if they had created their own portfolio. If you're a seasoned investor, you may do better picking your own stocks, bonds, and indexes.
Best for Short Term
ETFs are not the best for those looking to grow their money over time. Due to the swift nature of the market and quick changes of numbers throughout the day, investors will find that sometimes trading in a few hours is better than keeping stocks in their possession for months or years. While you can find brokers that offer long-term and ETF, you'll have to pinch your pennies to get into both.
Costs Can Add Up
ETFs are not costly when comparing them to portfolios where investors have a lot of different stocks. However, if investors only choose one stock, this could be the most cost-effective option. As an investor, if you have a stock in mind that is stable, set to grow over time, and has a buy-in price that you're comfortable with, then it could be a better option than an ETF.
Lower Dividends
Because of the type of fund that they are, ETFs generally come with lower dividends than stocks. Some stock options out there offer competitive dividends that really payout, something that all investors are sure to be happy with.
How to Invest in ETFs – Learn How to Trade ETFs 
Now that you have the scoop on ETFs and the best brokers to start with, it's time to get things rolling. If you're ready to start investing in ETFs, then now's the time, and we're here to show you how in just a few easy-to-follow steps.
Step 1. Choose a ETF Broker and Open an Account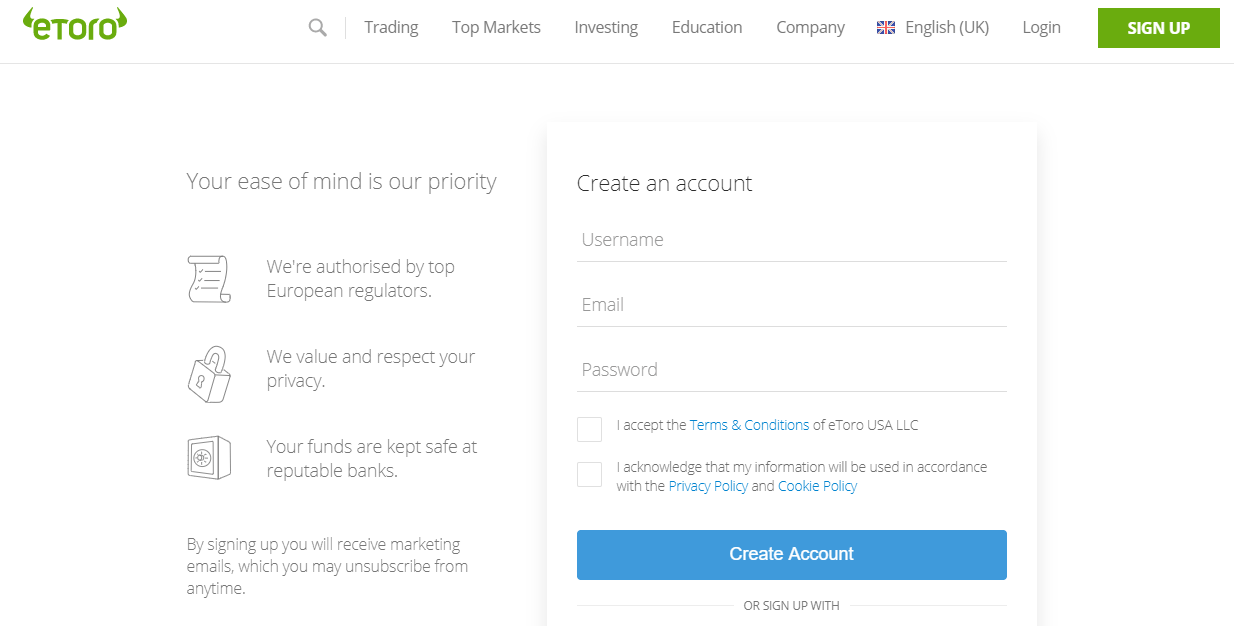 First thing's first, you have to open an account. Luckily, we've already done a lot of the legwork for you, breaking down the top 8 out there on the web. After choosing one, set up an account and invest the required amount to keep your account open. Remember, there are a lot out there that come with little to no fees and no minimum deposit, two things that you should want in a brokerage account.
Step 2. Pick your ETF(s)
No matter if you're a beginner or you've learned the ropes already, you'll have to find and pick your preferred ETF. If you're the new kid on the block, keep your eyes open for passive index funds. These bad boys are easier to manage and come with a smaller price tag than some of the other options you'll find around. If you're unsure of what to choose, check out these five top-rated ETFs to start off:
Vanguard S&P500
Schwab U.S. Mid-Cap ETF
Invesco QQQ Trust
Vanguard High Dividend Yield
Schwab U.S. Aggregate Bond ETF
Step 3. Let the ETFs Do their Thing
ETFs are designed to not take much in terms of maintenance. This is especially true if the broker that you're working with has automatic transfers, Robo-analyzers, and more. The last thing that you want to do is overtrade, something that could get in the way of your financial goals. One of the key pointers that long-time ETF investors give is that you should just leave your funds alone, letting them run their course and not losing money due to overtrading.
Conclusion: Best ETFs to Invest In
ETFs have a lot of great things about them. Though they are not short of faults, they are great for first-time investors or anyone who has some extra cash to set and forget for a while. Nowadays, thanks to automatic investing, investors can find several options to program trades automatically and enjoy reinvesting funds without having to lift a finger.
ETFs, bring a lot of opportunities to investors of all kinds, which is why you should take a look at all these kinds of accounts have to offer. So, take your pick from one of our top brokers, choose a top-rated ETF, and start watching as your money grows. Plus, learn as you go, using help from automated trading programs and more.
Best ETFs to Buy Now – Stash
FAQs
Are ETFs a safe investment?
How do stocks differ from ETFs?
Do I have to make minimum investments for ETFs?
What is the cost of ETFs?