City Index Review – Is City Index Safe? Fees & Minimum Deposit Explained
City Index is a UK-based spread betting and CFD trading platform. It supports several asset classes including stocks, indices, forex, commodities, and even rare markets such as interest rates derivatives.
This City Index review will discuss everything you need to know about this broker, including supported financial instruments, trading tools, fees, and regulation.
Recommended Broker – eToro
What is City Index?
Founded in 1983, City Index began offering its services as a spread-betting brokerage based out of London. By 2001, it added CFD instruments to its platform, allowing users to speculate on multiple markets. Today, it is a part of StoneX Group Inc. (NASDAQ: SNEX), one of the largest retail and institutional trading providers in the world.
City Index supports over 12,000 markets spread across nine categories of assets. This includes shares, indices, forex, metals, interest rates, bonds, options, oils, and commodities. In order to facilitate trading, the broker integrates your account with three platforms – MT4, web trader, and a mobile app. Each comes with advanced charting tools and research-backed analysis for you to strategize.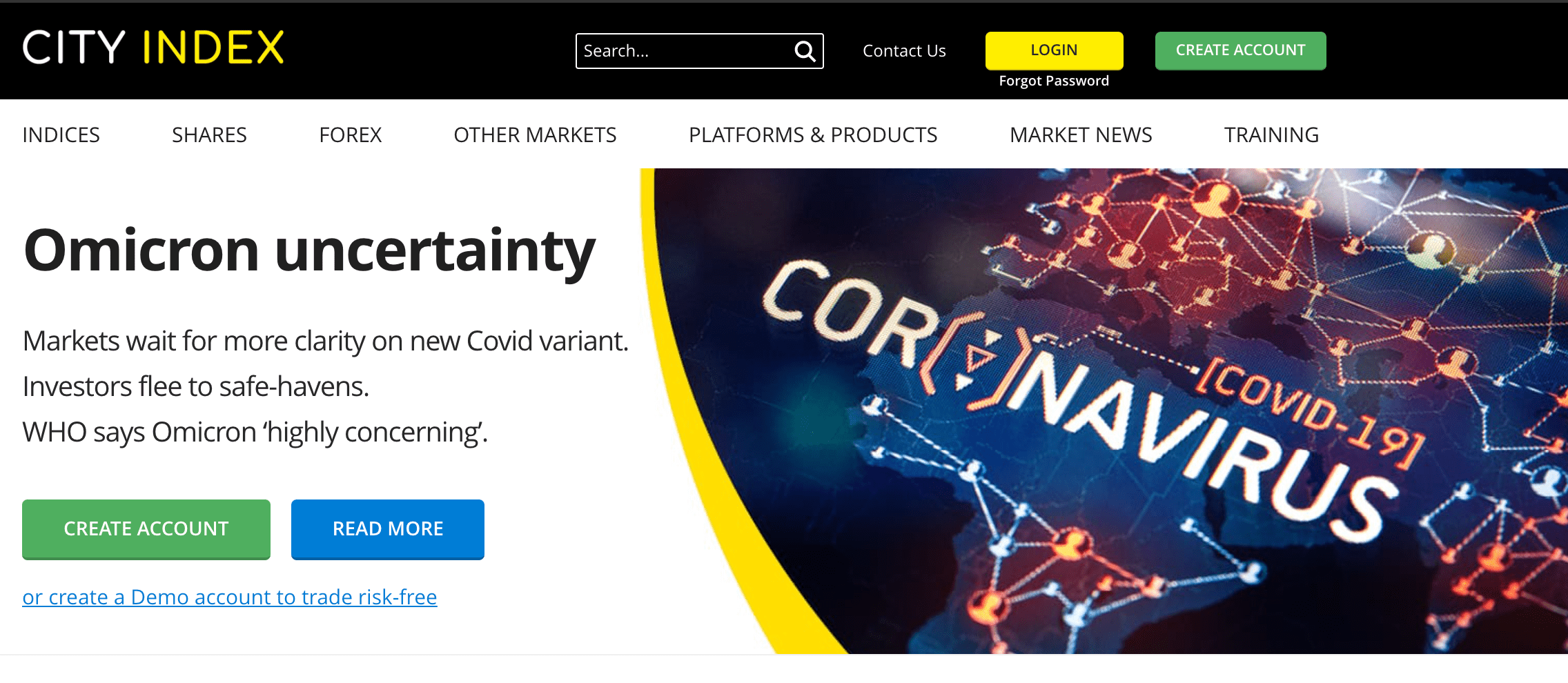 Our City Index review also found that this broker does not have a minimum deposit requirement for you to open an account. Most importantly, the provider is authorized by the FCA in the UK. Meaning, this is a fully regulated platform that abides by the guidelines of a highly respected financial governing body. This also grants you access to insurance of up to 85,000 GBP in case the company is liquidated – should you reside in the UK.
City Index Pros and Cons
At first glance, City Index seems to be a legitimate platform that provides you with a plethora of tradable markets. To give you a complete picture, we have compiled the pros and cons of this broker below.
Pros
Supports over 12,000 trading markets 

Plenty of research tools
Advanced trading platform
Regulated in the UK, Singapore, and Australia
Cons
No cryptocurrency trading
CFDs and spread betting markets only – no traditional investments
No EU investor protection. 67% of retail investor accounts lose money when trading CFDs with this provider.
City Index Account Types
As we discussed in the introduction of this City Index review, this broker supports trading via spread betting markets and CFDs. However, this requires you to open two separate accounts with the platform.
If needed, you can link these together and use one login step to access your funds and assets.
City Index Spread Betting vs CFD Accounts
Many of you might be entirely new to the online investment arena, and might be unaware of the key differences between the different derivative products offered by City Index.
To give you some clarity – spread betting and CFD trading offer you a means to speculate on a market without owning the underlying asset. Both of these financial instruments come with the following advantages on City Index:
You can speculate in both bull and bear markets
You can access leverage
You can trade across all the supported markets and platforms
Spread betting and CFD trading are both exempt from UK stamp duty
Now, since there are these similarities, you might be wondering what is the difference between spread betting and CFD trading markets on City Index.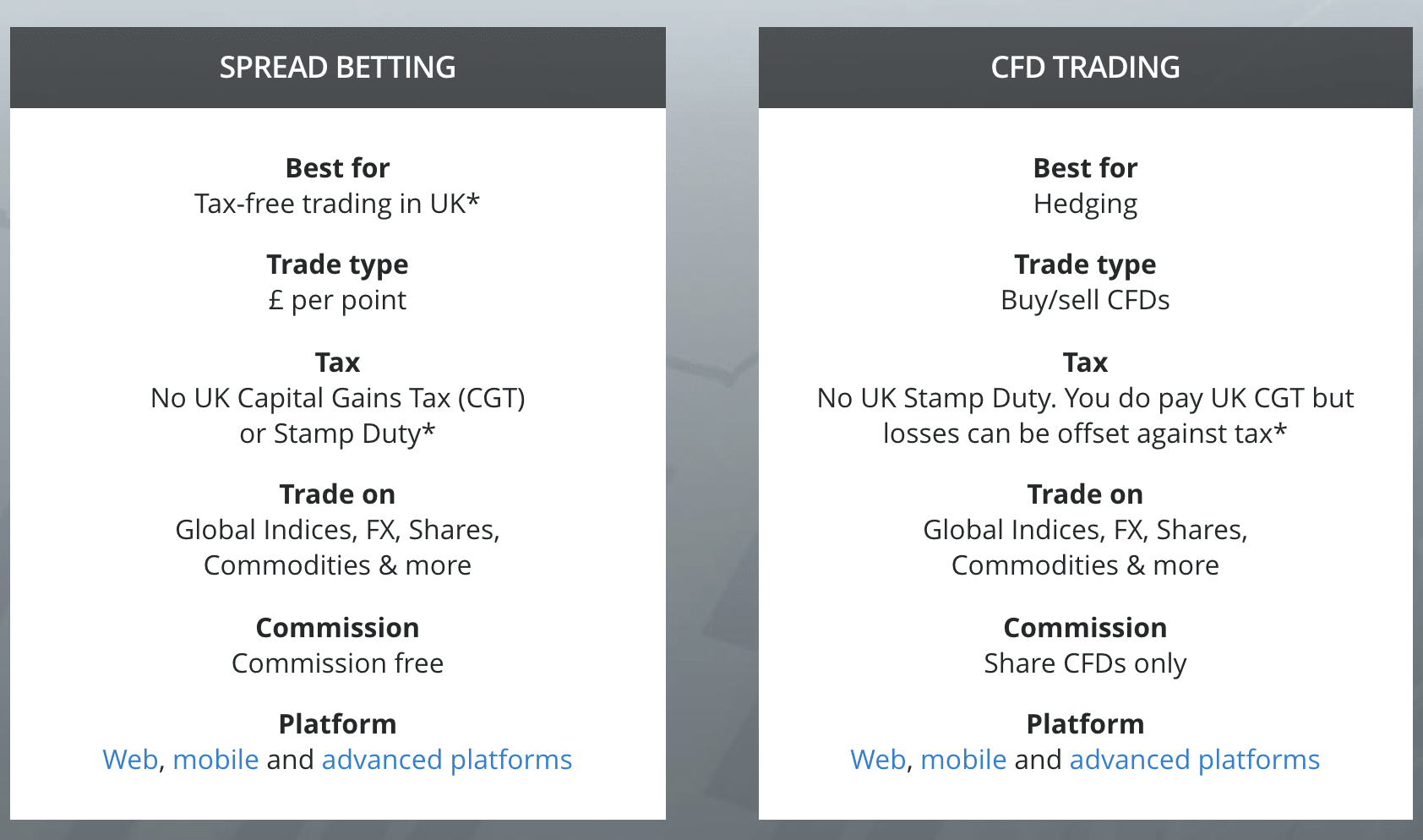 As you can see from the imaghe above, the main differences are as follows:
Any profits you make from spread betting are also free from UK capital gains tax.
You do not have to pay commissions on spread betting, but this marketplace incurs a wider spread.
Spread bets are traded in terms of pounds per point, and CFDs as the number of units.
Now that you know these differences and similarities, you can choose between spread betting and CFD trading on City Index – based on which style suits you the best.
City Index Supported Markets
City Index is a broker that supports a wide variety of markets. However, note that access to these markets can differ based on your country of residence.
City Index Indices
Our City Index review team found that this broker gives you access to indices listed across international markets including the UK, US, France, Netherlands, Hong Kong, and Germany. You can choose to trade CFDs or place spread betting positions when speculating on the value of this asset class.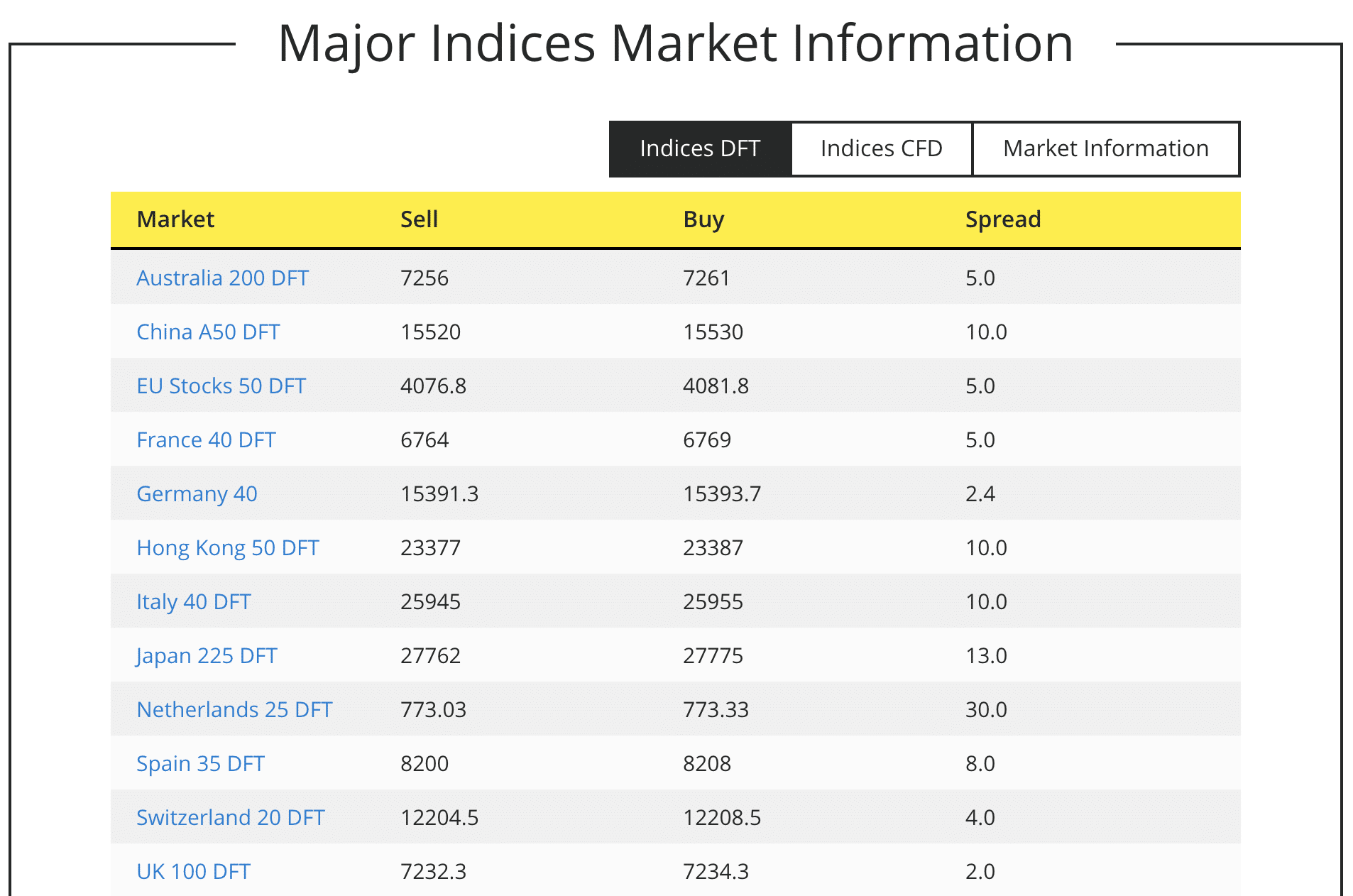 There is a total of 21 indices listed on City Index across different sectors and countries. And importantly, if you choose to trade during standard market hours, selected assets such as the UK 100, Germany 40, France 40, and Australia 200 can be traded at a fixed 1 point spread, and with a minimum margin requirement of just 5%.
City Index Forex
When it comes to the forex market, City Index supports 84 trading pairs. You can trade a wide variety of currencies against USD, EUR, and GBP. This also includes a wide range of exotic currency pairs. However, forex trading is facilitated via the broker's integration with MT4.
City Index Shares
City Index lists over 4,500 stocks on the platform, allowing you to choose between spread betting and CFDs. Similar to indices, this also gives you access to shares of international markets from the UK, Europe, Asia, and Australia. However, the margin requirement is slightly higher, set at 20%.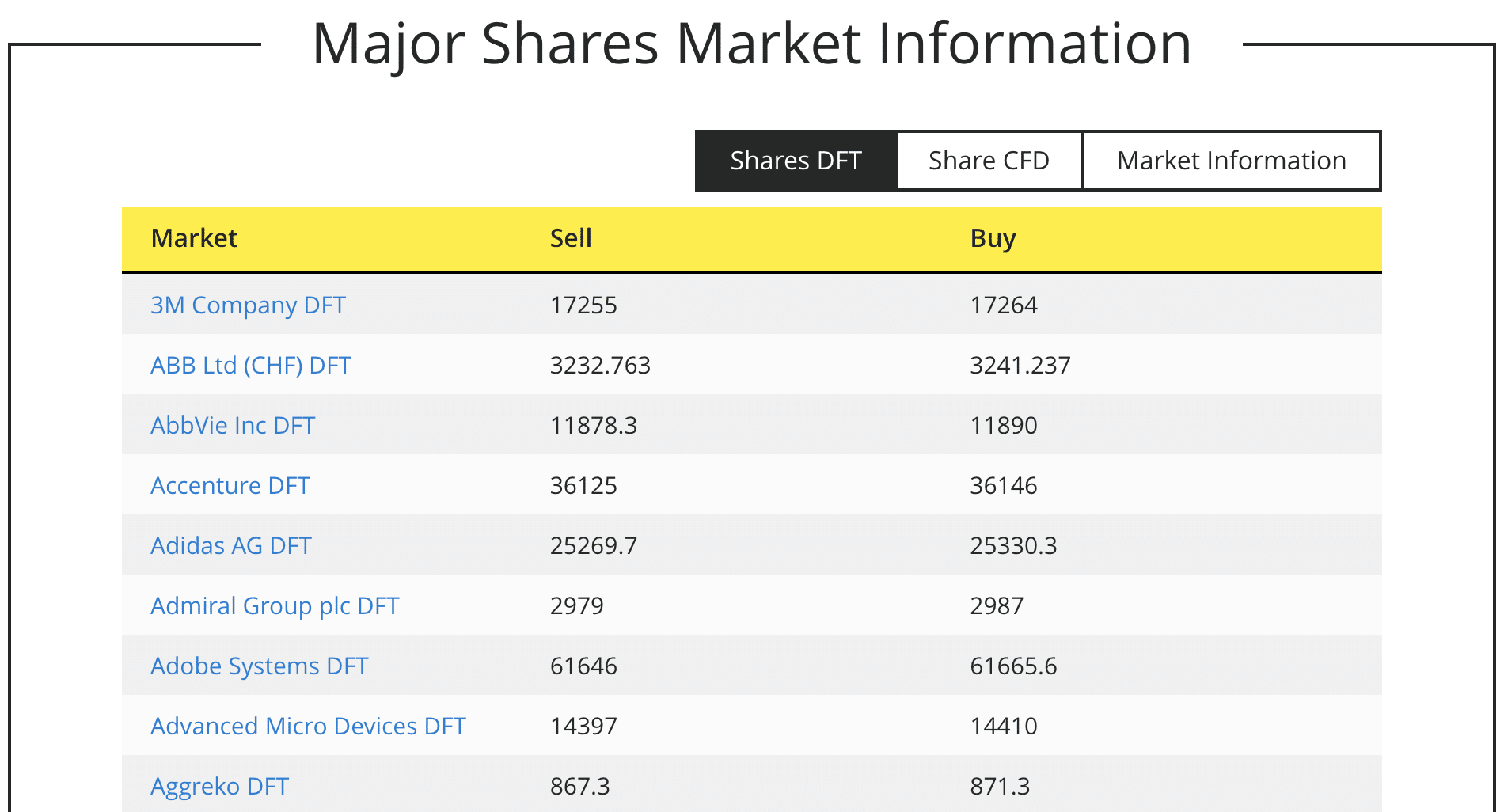 Furthermore, both CFDs and spread betting accounts are subject to dividend adjustments. These are credited to long positions and debited from short positions on the day before the ex-dividend rate. However, you might want to take note that this is calculated differently for each international market.
City Index Other Markets
City index also supports a few other asset classes, available to trade via its web trader and mobile platforms.
These include:
Commodities such as US crude oil, UK crude oil, coffee, and sugar with margin requirment from 10%.
Metals including gold, silver, copper, and platinum, all of which are available with margin starting from 10%, except for gold (at 5%).
Interest rate markets for Short Sterling, Eurodollar, Euribor, with margin available from 10%.
Options trading on indices such as the UK 100, German 20, and US SP 500, available with margin of 5%.
Bonds including UK Long Gilt, Euro Bund, US T-Bond, and US T-Note, with margin from 20%.
Since you are trading via derivative instruments such as spread betting and CFDs, you can go both long and short on all these markets.
City Index Trading Platforms
Our City Index review found that this broker provides three different trading platforms for you to use, depending on your preferences.
City Index MetaTrader4
MetaTrader4 (MT4) is often deemed one of the best trading platforms out there for active traders. And City Index gives you free access to this tool via your brokerage account. Needless to say, MT4 is feature-rich and comes with an extremely customizable interface. It also integrates advanced charting functionalities, and order management tools, enabling you to monitor your positions quickly.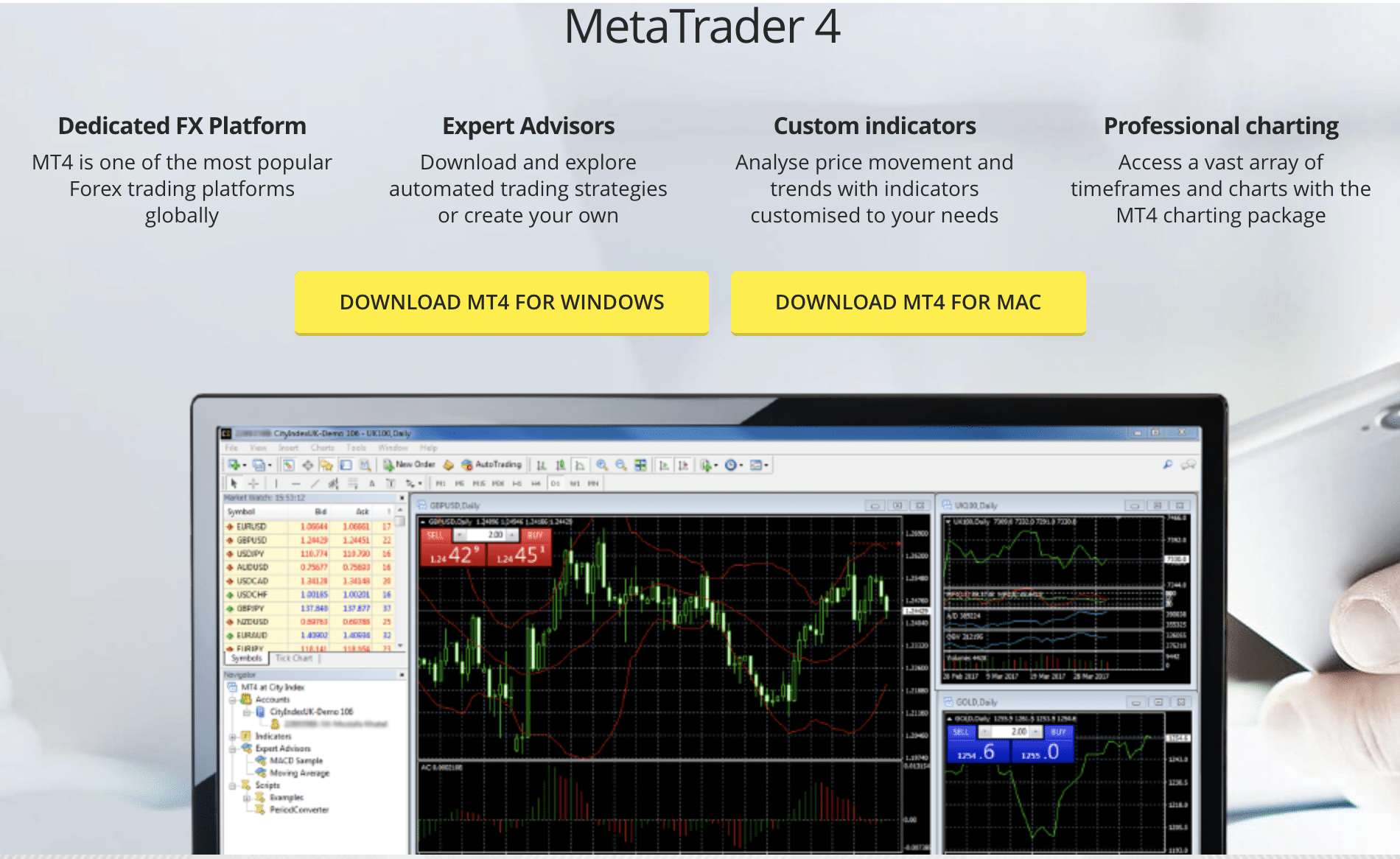 That being said, you need to create a separate City Index account for MT4. Even if you are already a user of the brokerage platform, your login details will not work with MT4 – unless you sign up separately. You are also required to make a minimum deposit of 100 GBP to get started with MT4. Moreover, you can only trade City Index forex markets via MT4, and not any other asset classes.
City Index Web Trader
While MT4 is for forex trading, City Index offers a web platform to speculate on other markets. There are several tools integrated into the provider's native platform, including charts, a news feed, order books, an economic calendar, and details of your positions. Being built on fast and reliable HTML5 technology, the City Index platform puts forth advanced charting instruments and curated data at your disposal.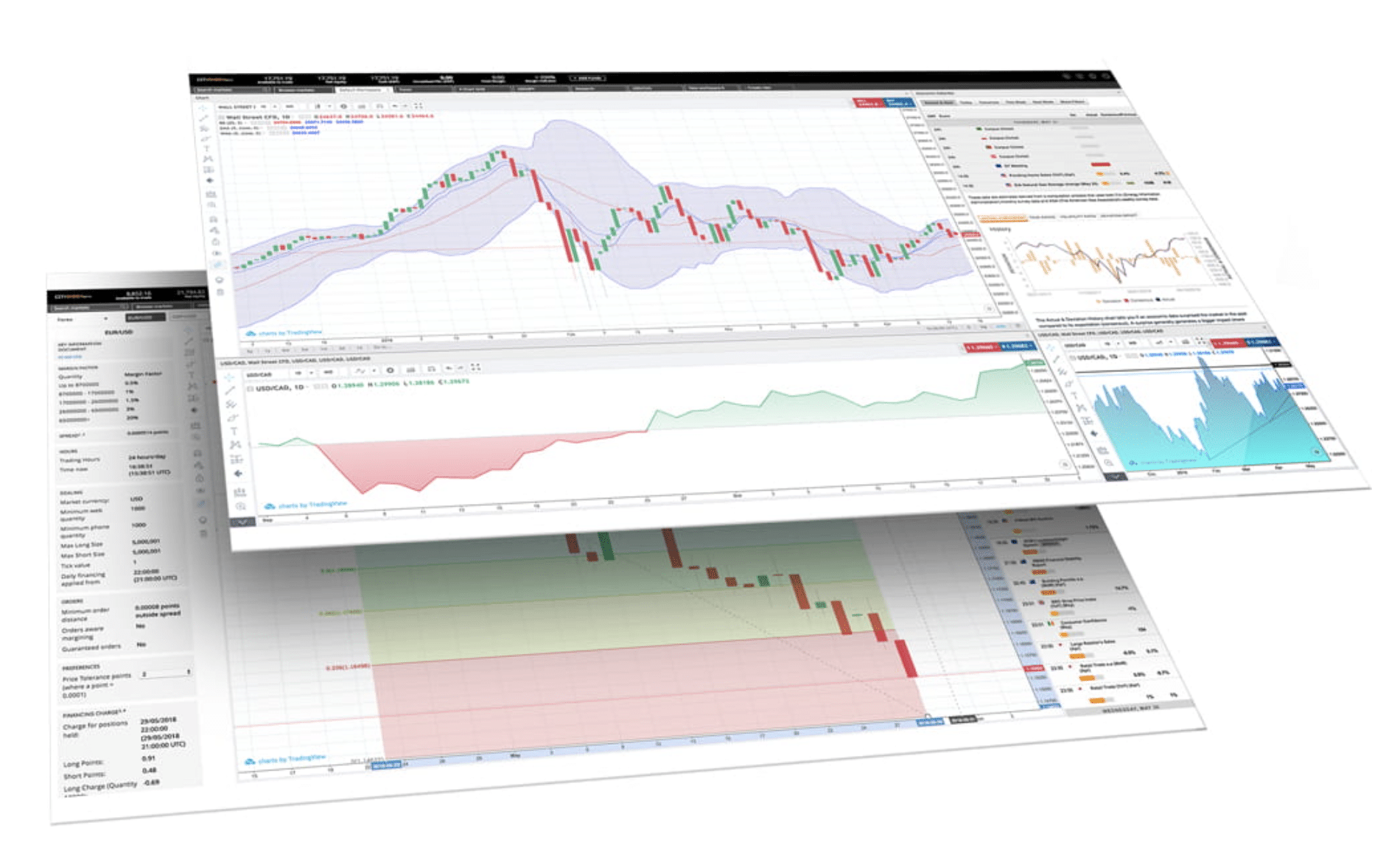 Moreover, you can fully customize your workspace by choosing which sections you want to be displayed. You can also resize windows, or drag and drop them to rearrange their position on your screen. Our City Index review found that the broker has included detailed video tutorials on how you can personalize its trading platform based on your specific needs.
City Index Mobile Trading
It would be surprising if an established broker like City Index did not offer a mobile trading platform. And this provider did not disappoint us and integrates the following features into its proprietary app:
Flexibility to trade CFDs and spread bets via your phone
Access live TradingView charts and 60 technical indicators via the app
Access all supported markets, including that of forex
Full compatibility with MT4, and ability to make deposits and withdrawals
Set up price alerts and notifications for your watchlist and other market developments
As you can see, the City Index mobile app allows you to take advantage of all the features that come with the web trader and MT4 platforms but while on the go.
City Index Demo Account
Our City Index review team found that users can apply for a demo account on this platform. This grants you unlimited access to over 12,000 markets for a duration of 12 weeks. In addition to this, demo accounts come with a balance of 10,000 GBP in paper money, allowing you to trade risk-free.
However, note that this demo platform is not a part of your main City Index profile. Instead, you have to apply for it separately. As such, if you think you require more time to prepare and practice, you can open another demo account. You can choose between CFDs /spread betting on web trader or MT4.
Moreover, these demo trading accounts reflect the real-time pricing on thousands of markets including stocks and indices. You also gain access to all the features of City Index, including technical indicators and charts.
City Index Payments
As an established brokerage, City Index facilitates a few different payment methods for you to fund your account.
This includes:
Debit cards including Visa, MasterCard, Maestro, and Electron
Credit cards including Visa, MasterCard,
PayPal
Bank transfer
You should also take note that the funds can be deposited only in the base currency of your account. However, in some cases, your trades will be carried out in a different currency such as USD. In this scenario, City Index will automatically convert your money and charge you a small fee along the way.
City Index Minimum Deposit and Withdrawal
City Index does require you to meet a minimum deposit to set up your account. However, our research team found that the platform recommends that you fund at least 100 GBP so that you can meet the minimum margin requirements.

Additionally, if you are funding via PayPal, you have to make a deposit of at least 10 GBP. When it comes to withdrawals, the minimum amount is either 100 GBP or your entire account balance, whichever is lower.
City Index Fees
In this section of our City Index review, we will outline the main fees and commissions that you will come across when using this provider to trade.
City Index Commissions
City Index does not charge a commission when you trade spread betting markets. When it comes to CFD trading, you will have to pay fees for the shares market, and not for any other assets.
This is calculated as follows:
UK shares: 0.08% or 10 GBP minimum
European shares: 0.08% or 10 EUR minimum
Australian shares: 0.08% or 5 AUD minimum
Asian shares 0.08% or 10 SGD minimum
US shares: 1.8 cents per share or 10 USD minimum
Apart from commission, the other common fee you will come across is the spread, which we discuss next in this City Index review.
City Index Spread
City Index charges both fixed and variable spread, based on your chosen market.
Fixed spread does not change as per market conditions such as volatility and liquidity. This can also vary based on the trading hours.
Variable spread fluctuates based on the different market factors. In this case, City Index charges you both the minimum as well as the average spread for a defined time.
As you can imagine. the spread varies not only from one market to another but also between two securities. So, our City Index review team thought its best to include the minimum you will pay on each asset class.
Indices – Minimum fixed spread of 0.3 points
Forex – Minimum variable spread of 0.5 points (fixed on selected pairs)
Commodities: Minimum spread of from 0.06 points
Shares: Minimum spread of 0.1% on UK Shares, and 4 cents on US shares
Metals: Minimum spread of 0.3 points
Bonds: Minimum spread of 0.02 points
Interest rates: Minimum spread of 0.03 points
Options: Minimum spread of 4 points
However, we suggest that you read the fine print of City Index disclosures as the fees can vary drastically. For instance, while gold can be traded with a minimum spread of 0.3, copper will cost you 40 points. This here is a huge difference in fees within the category of metals.  Moreover, the platform only lists the minimum and not the average range which is applicable on several markets such as forex.
City Index Deposit and Withdrawal Fees
City Index does not charge you any fees to fund your account, no matter which method you choose. Making withdrawals are also free. However, it can take up to five business days for the payment to be completed.
City Index Other Fees
Apart from commissions and spreads, our City Index review found that you can also expect to be charged a variety of operational costs by this broker. This includes:
Overnight financing charges: +/- 2.5% depending on whether you go long or short
Forex overnight financing: Calculated separately
Back to base currency conversion: +/- 0.5%
Inactivity fees: vary depending on your base currency; 12 GBP, 15 EUR/USD/AUD/CHF, 20 CAD/NZD
There might be additional fees depending on the specific assets. For instance, dividend adjustments vary on US and UK markets, as the applicable laws are different. Similarly, you also have to pay a premium on guaranteed stop loss orders, which are calculated entirely based on your chosen security. In other words, you need to study the City Index terms and services thoroughly before signing up on this broker.
City Index Supported Countries
City Index has its operations based out of the UK, UAE, Singapore, and Australia and offers its services in over 130 countries across the world. However, there are certain countries whose residents are not permitted to open City Index accounts due to domestic financial regulations. This includes both the US and Canada.
That said, the vast majority of countries can access City Index. In case you cannot, you will be redirected to one of the sister platforms such as Forex.com or Forex.com US that supports derivatives trading. These also fall under the same company StoneX.
City Index KYC
Our City Index review team found that users are required to provide some personal details when signing up with this broker. This includes your full name, address, date of birth, and tax ID. You also have to mention which products you wish to trade and your experience. Moreover, note that you need to apply to become a trader on this platform.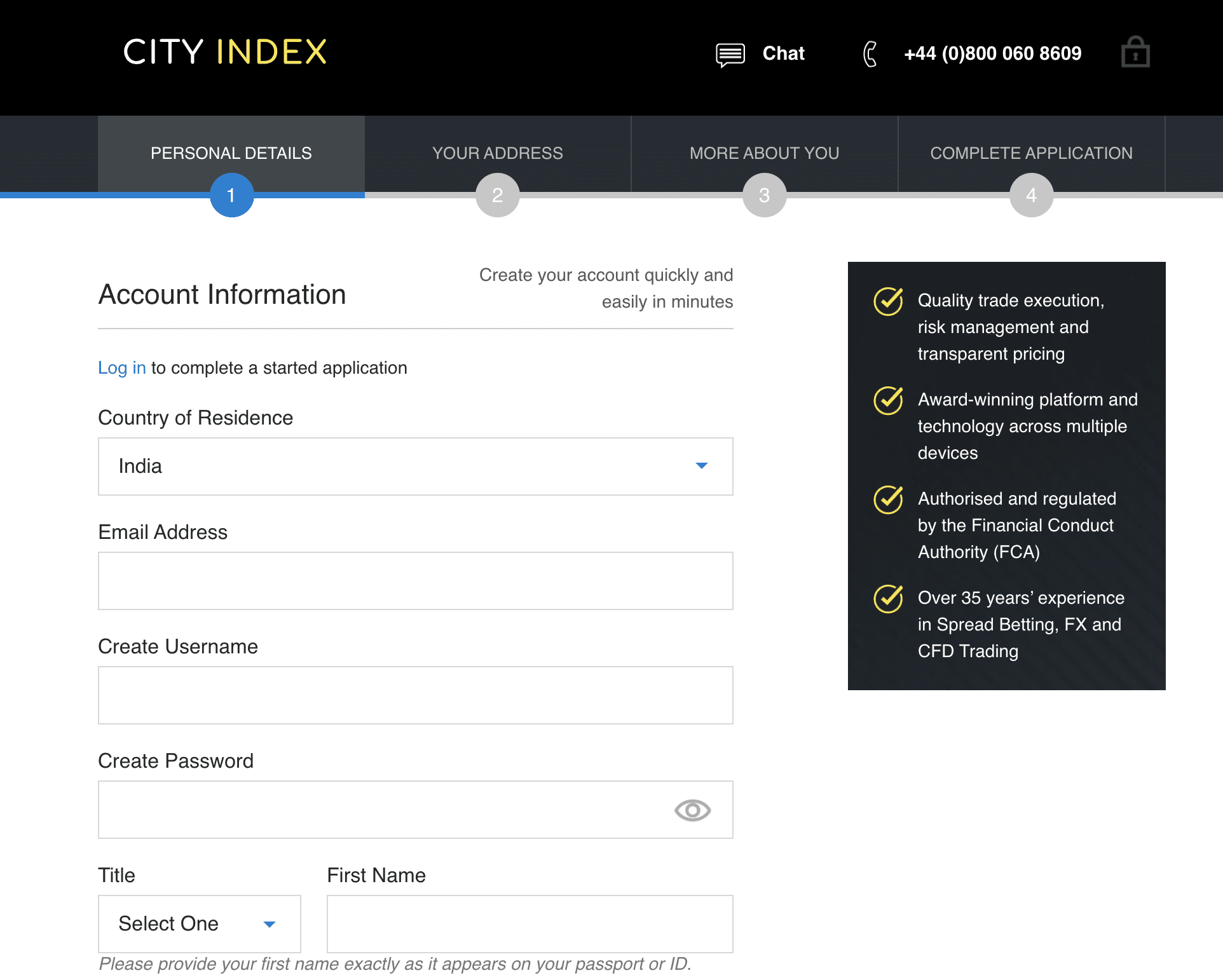 In the majority of cases, City Index does not require you to confirm your identity when you send in the application. However, sometimes, the platform might ask you to verify your personal details by providing supporting documents, such as:
Identity documents such as valid passport, national ID cards, and driving license
Proof of address documents such as a utility bill, tax bill, bank, or mortgage statement dated within the last three months
If the broker needs their documents, you will be contacted via email. Otherwise, City Index performs an online investigation to confirm your identity and you will be informed when you can start using the platform. This can take between a few hours to a few business days, depending on the speed of the verification process.
City Index Client Types
Apart from choosing between a CFD and spread betting account, our City index review also found that you can sign up as a retail, premium, or professional client.
In order to be a retail trader, you need to fulfill any eligibility criteria. You can sign up as an individual, or choose a joint profile in this case. If you want to open a corporate account, the company;'s current account should hold at least 50,000 GBP in balance.
City Index Premium Trader
Our City Index review found that this broker offers priority services to selected traders based on their activity on the platform. The benefits include:
Competitive fees
Dedicated relationship manager and risk management service
Negative balance protection
All you need to do to be eligible is to be an active trader on City Index and hold a minimum balance of 10,000 GBP. You can then contact the brokerage team directly, or wait to receive an invitation to become a premium client.
City Index Professional Trader
City Index also offers exclusive accounts for professional traders who are highly experienced. This means that you have access to broker-assisted dealing and have a dedicated client relationship manager.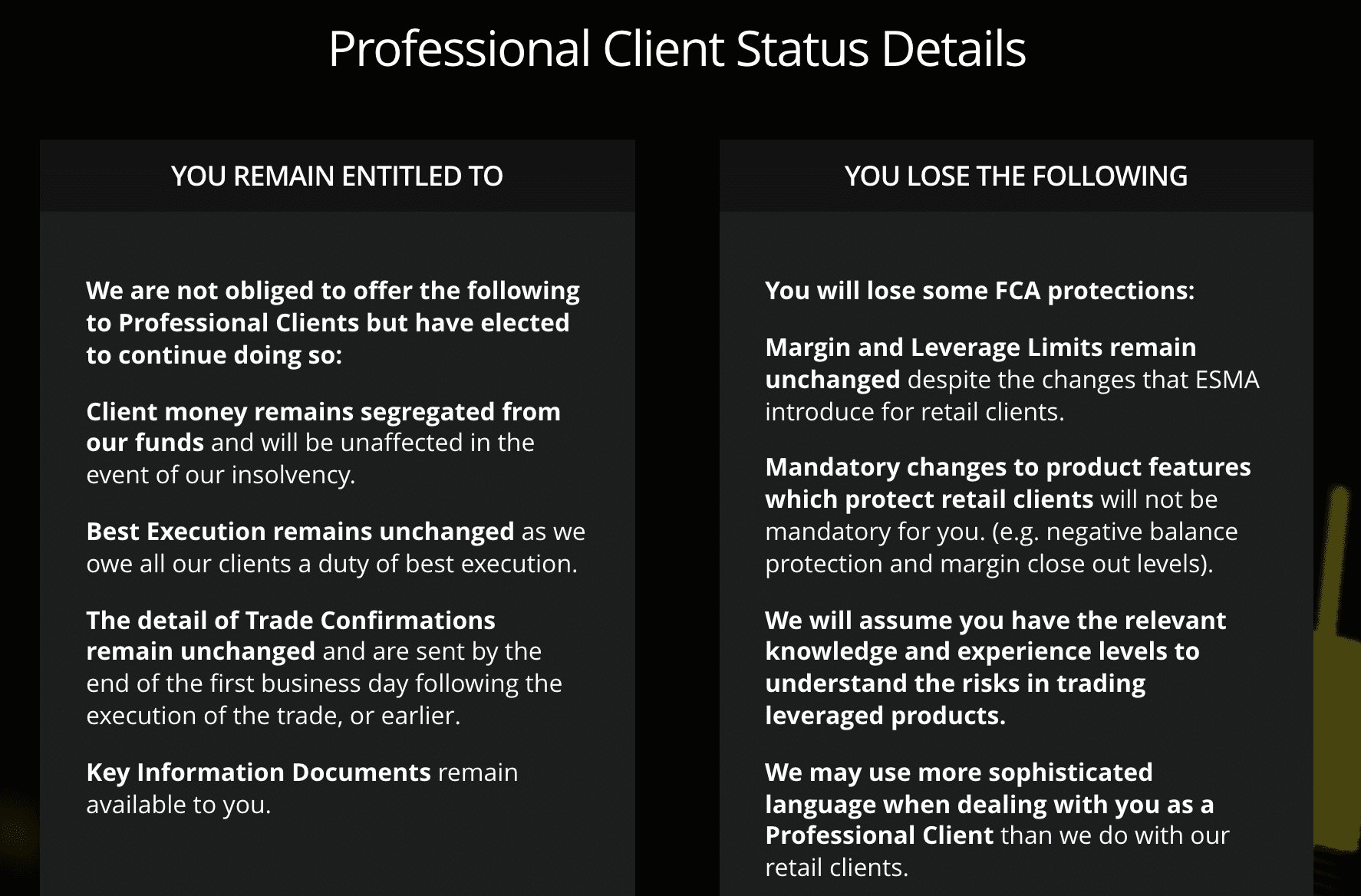 However, you need to meet two of the three following requirements:
An average of 10 large-sized transactions in every quarter over the last four
Have a financial instrument portfolio exceeding 500,000 GBP
Has work experience in a professional position in the financial sector and have traded leveraged products for at least 1 year
That said, if you choose to sign up as a professional trader, you also have to compromise on some features such as negative balance protection and lower leverage limits.
City Index Trading Tools
City Index has gone above and beyond in making sure that you have access to all necessary resources and educational materials to learn about trading. Here is an overview of the different tools available with the broker that can offer you insight into the markets:
SMART signals that come with an auto-populated trade ticket with suggested take profit and stop loss levels
Technical and fundamental analysis portal that shows whether a stock is undervalued or overvalued
Real-time news from third-party Reuters delivered directly to your trading platforms
Customizable economic calendar allowing you to track important market events
Expert market analysis and 65+ technical indicators
As you can gather, these resources can come in handy when strategizing or managing your orders. It also works in your favor that most of these tools are integrated right into trading platforms for you to access easily.
Is City Index Safe?
One of the first things that indicate the legitimacy of an online brokerage is the licenses it holds. If a platform is regulated by prominent financial bodies, you can be sure that it takes the protection of your funds seriously.
City Index is governed by three top-tier financial authorities in the world. Apart from the Financial Conduct Authority (FCA) in the UK, the broker is also regulated by the Australian Securities & Investment Commission (ASIC) and the Monetary Authority of Singapore (MAS).
This means that your money is kept in segregated accounts, separate from the company's funds.
Moreover, in the event of liquidation of City Index, clients may also be compensated with up to 85,000 GBP by the FSCS.
Overall, our City Index team found that this broker follows all the necessary guidelines and takes the protection of users' money seriously. However, it is important to understand that the insurance offered only extends to the funds, and not any of your positions. As such, it is critical that you are fully aware of the risks involved when trading highly speculative instruments such as CFD and spread betting.
City Index Customer Support
City Index has. a well-organized FAQ section that facilitates quick retrieval of information on most topics and services. If you need to talk to a customer service representative, you can also reach out through phone, email, or chat.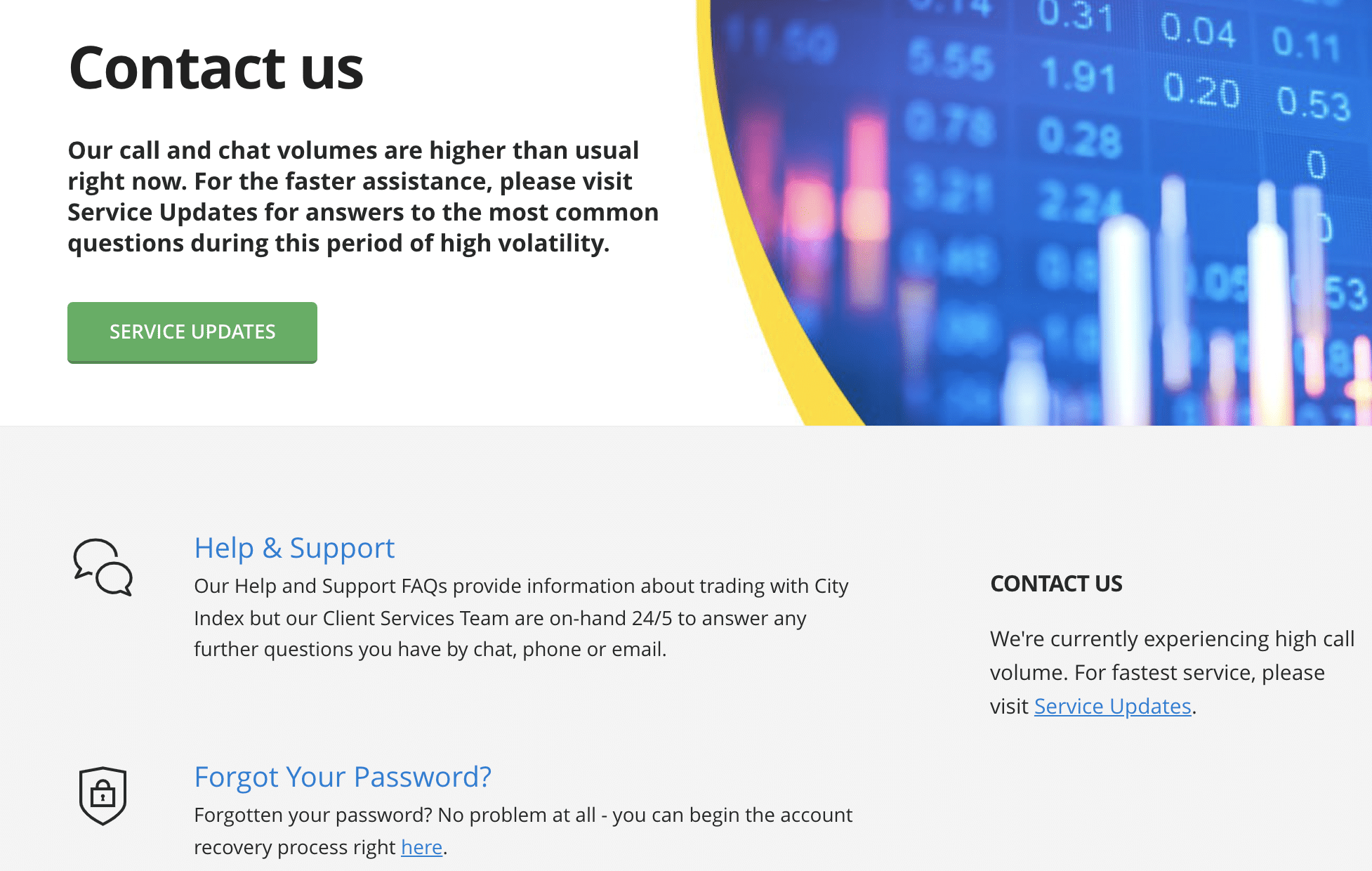 However, we found that these options can be unavailable if the site is experiencing high traffic. Needless to say, this can get tricky if you are seeking immediate attention to something. The broker is also active on social media channels, however, these are primarily used for promotion and marketing.
eToro vs City Index
From this City Index review, it is evident that the platform offers very attractive features for traders. However, you might be wondering how this broker compares against the other leading providers in the market.
If you want more insight to make a decision, we have compiled a comparison of City Index and eToro, one of the most popular social trading platforms in the world.
Safety and Regulation
We have already established that City Index is regulated by multiple authorities in different countries. However, eToro is not any further behind in this regard. This broker is also heavily regulated in the UK, Australia, and Cyprus. In addition, the platform is also registered with FINRA and authorized by the FCA to offer its services in the US.
User-Friendliness
Since City Index supports only trading, beginners might need some time to get familiar with the different markets, and orders. Moreover, CFDs and spread betting are highly speculative and are not considered as instruments that are appropriate for first-time traders.

In comparison, eToro works well for both investors and traders across all levels. You can invest in assets directly, or trade them using different order types depending on your expertise. Moreover, this broker also gives you access to demo accounts like City Index, so that you can practice trading before testing the real markets. 
Supported Markets
City Index is primarily an online brokerage for derivatives trading. In other words, you cannot use this platform to make traditional investments in stocks or indices. Moreover, this provider does not support cryptocurrencies, which is unfortunate since this is a market often sought after by traders these days.
In comparison, eToro allows you to not only trade CFDs but also make direct investments into any security. You can start buying stocks and cryptocurrencies with as little as 10 USD with this broker. You also get access to ETFs, which is an asset class altogether missing on City Index.
Fees
Based on our City Index review, the spread is the most important fee you are to be concerned with when using this broker. Additionally, commissions are only applicable for shares CFDs.
On the other hand, eToro charges you no commissions for stocks and ETFs. Other markets including commodities, indices, forex, and cryptocurrencies are provided on a spread-only basis, starting from 0.75%.
Passive Investment Tools
If you are looking to trade passively, then City Index is not the best brokerage to use. It offers you no such investment products. On the other hand, eToro comes with a Copy Trading feature, which allows you to follow experienced traders to have their positions repeated in your account. However, these will be executed only in proportion to the amount you invest, meaning you would still be in control of the stake.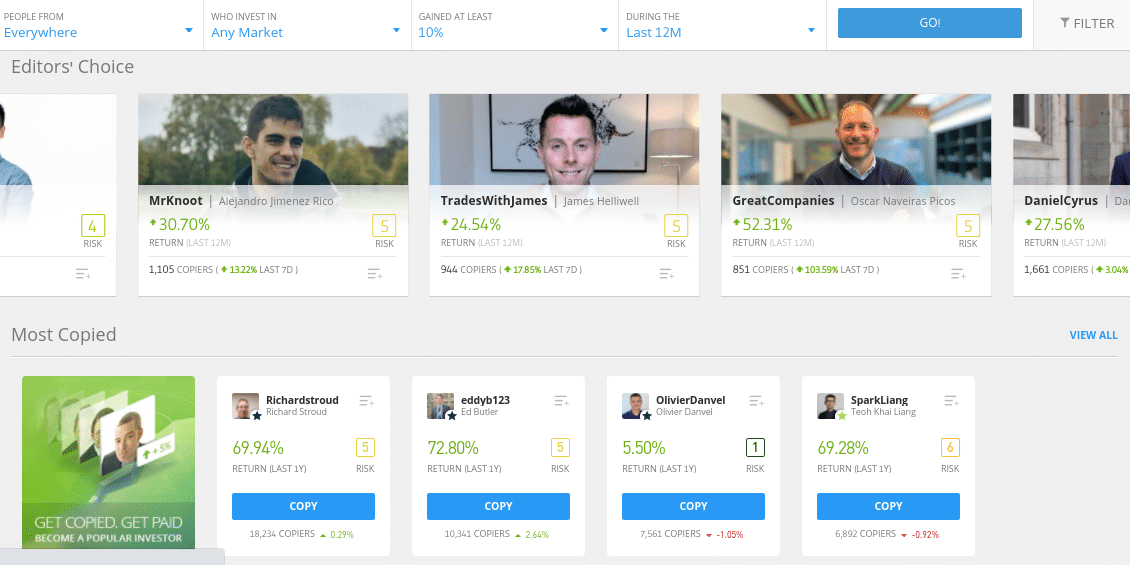 You can also choose to diversify on eToro passively, by choosing one of the predefined portfolios. These are handpicked by experts and rebalanced regularly. In other words, you do not have to worry about adjusting your investments based on market movements. 
City Index Review – Conclusion
Our City index review concludes that this broker provides you with a legitimate platform for you to engage in spread betting and CFD trading. It is heavily regulated and offers you tons of research tools and indicators. It is also beneficial that you can access multiple international markets at competitive rates.
However, one of the main disadvantages of City Index is that it does not support traditional investments. And trading derivatives such as CFDs can be highly risky, especially for beginners. In view of these, we suggest that you consider a broker like eToro that allows you to invest and trade multiple markets on a spread-only basis. 
eToro – Best Investment Platform
FAQ
Is City Index available in the US?
What fees does City Index charge?
How do you contact City Index?
What is the City Index minimum deposit?