CFTC Brokers – Best Online CFTC Brokers in 2021
In 1974, the United States government founded the Commodity Futures Trading Commission, also referred to commonly as the CFTC. The goal of the commission was simple: to protect and regulate all commodity and futures markets in the United States against fraud, malpractice, and abusive manipulation.
Consisting of five commissioners from various political parties all chosen by the President of the United States, the CFTC has seen great success over the last few decades and has closely monitored the actions on every futures and options market in existence. It supervises all the American companies which deal with commodities, SWAPs, futures and Forex through its tight regulatory guidelines. To be considered a proper CFTC broker, you need to follow strict guidelines and requirements. Therefore, not every broker is qualified. But which ones are the best in the realm of CFTC brokers? Which ones are worth your time, money, and energy?
Top 5 CFTC Brokers in 2021 – A Quick Overview
Of all the CFTC brokers you have at your disposal, these are the very best to choose from.
AvaTrade – One of the leading brokers in the world with over 200,000 customers.
eToro – A premiere trader that only requires a $50 deposit to begin
Capital.com

– A popular European company that has an easy opening process and great customer support

Fineco Bank – Well-established financial institution that allows you to trade and bank from one account
Libertex – A broker with over 30 different industry awards to its name
What Is a CFTC Broker?
The CFTC, formally known as the Commodity Futures Trading Commission, was prevented as a way to protect traders from the dangerous world of trading. Futures have been known to be particularly challenging and can pose a risk to traders, especially new ones who don't have much experience in the world of investing.
Therefore, the CFTC is a great idea and a wonderful tool that investors can use to make sure all choices they approach in the world of trading will be safe and sound. That doesn't mean they might not make a bad choice and lose money but it does mean that if a trader picks a CFTC broker, they can rest assured that it has gone through rigorous testing and observation to make sure that it works above the level and won't be ripping anyone off.
The CFTC is run by five commissioners of different political parties. While they are all selected by the president and confirmed by the senate of the United States, they do not bow down to political pressure and all choices they make and decisions they embark on are not influenced by anyone but the facts and their honest judgment about brokers and companies.
When you are investing in a future broker, you have enough to worry about when you are trying to find the right investments to make. Traders don't have the time or energy to devote to testing and investigating every single broker that comes alone. They need to know that they are protected and in good hands, even if they don't make the best picks when it comes to buying and selling. The CFTC is essentially a way to level the playing field and make sure that everyone is treated fairly and not preyed on by cruel and criminal enterprises that are looking to make money and rip off investors.
Best CFTC Brokers Reviewed 2021
Over the years, the CFTC has observed, investigated and eventually approved many brokers hoping to be certified. Today, there are hundreds of options for new investors to choose from and the sheer amount of choices can be overwhelming and may leave new investors feeling like there are just too many to sort through.
Each CFTC broker is slightly different when it comes to their options and their features and their prices. Although they all serve the same purpose – trading futures – they all have variations that are important to take note of because they provide investors with benefits and disadvantages. To help you decide which is the best CFTC-certified broker for you, we have examined the best of the best and have compiled this list of the CFTC brokers worth your time and money.
1. AvaTrade – Best of the Best CFTC Broker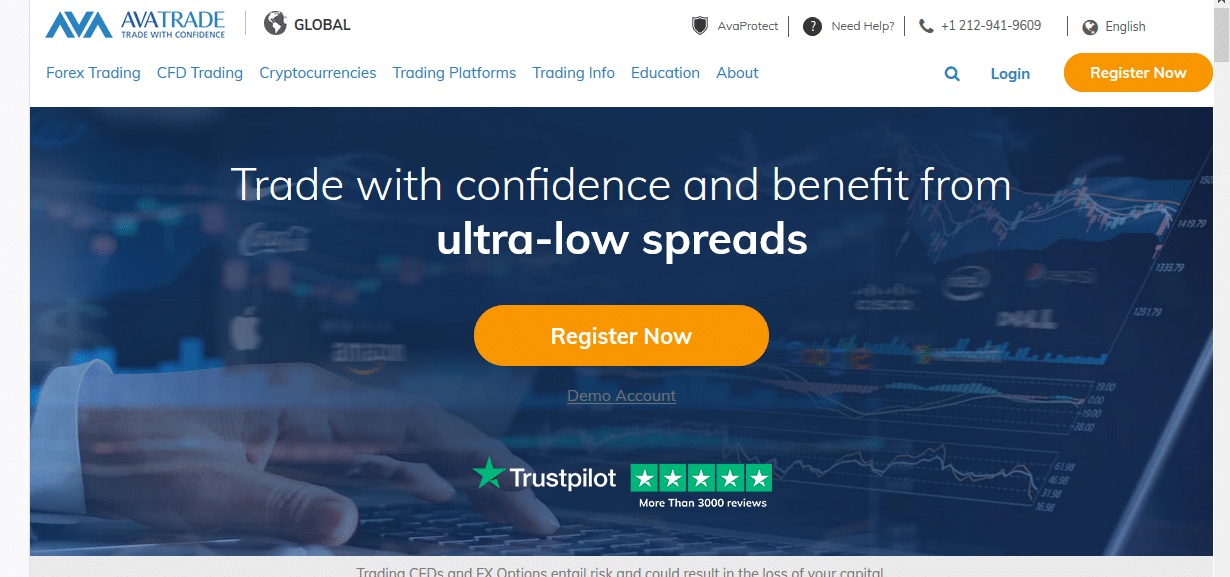 There is a reason that AvaTrade has become one of the biggest brokers in the world: people have come to rely and trust this company thanks to their deep selection and extensive choices. Not only has the CFTC signed off on AvaTrade, it has also been authorized by multiple other international agencies such as the Japanese Financial Services Authority, the Investment Industry Regulatory Organization of Canada, and the Australian Securities & Investment Commission.
AvaTrade was only founded in 2006 but it has made great progress in under two decades. Perhaps its most stunning feat so far has been its multiple apps and tools it has created for its customers. AvaTrade has produced by AvaTrade WebTrader and AvaOptions for its investors to us. Each of these options have been commended for their design and functionality. Customers have remarked that AvaTrade has always created apps and products that are responsive, easy to use, and also in-depth for both newcomers and seasoned traders.
AvaTrade also tried to spread insight to its traders with a daily video selection hosted on YouTube showcasing all of the latest and greatest trading and futures options for its clients. They also have a wide selection of articles for their customers, educational content that can help people become better adjusted to the world of futures trading and can give powerful knowledge.
For all of these reasons, AvaTrade has become one of the go-to options for any type of trader. Whether you are brand new in the world of investing or have been selecting futures and stocks for years now, AvaTrade has something to offer. Plus is easy to use and even good to look at too. AvaTrade not only works well, but it also looks great as well.
| | |
| --- | --- |
| Fees | No deposit fee, no withdrawal fee, $50 after 3 months of inactivity |
| Minimum Deposit | $100 |
| Speed of Withdrawal | Over 3 days |
| Spread Ranges | EUR/USD at 0.9, USD/JPY and AUD/USD at 1.1, GBP/USD and USD/CHF at 1.6, NZD/USD at 1.8, and USD/CAD at 2.0 |
| Deposit Methods | Bank transfer, credit/debit card, electronic wallets |
| Leverage Options | 1:400 |
Pros and Cons of AvaTrade
| | |
| --- | --- |
| Pros | Cons |
|  Dozens of videos to watch and articles to read to deepen client's knowledge |  Requires a $100 minimum deposit |
|  Strong functionality and attractive interface |  Large amount of inactive users |
|  Powerful apps that can be used off-site |  Does not allow cryptocurrency trading |
|  All trades are commission-free | |
2. eToro – Best CFTC Brokers for Account Types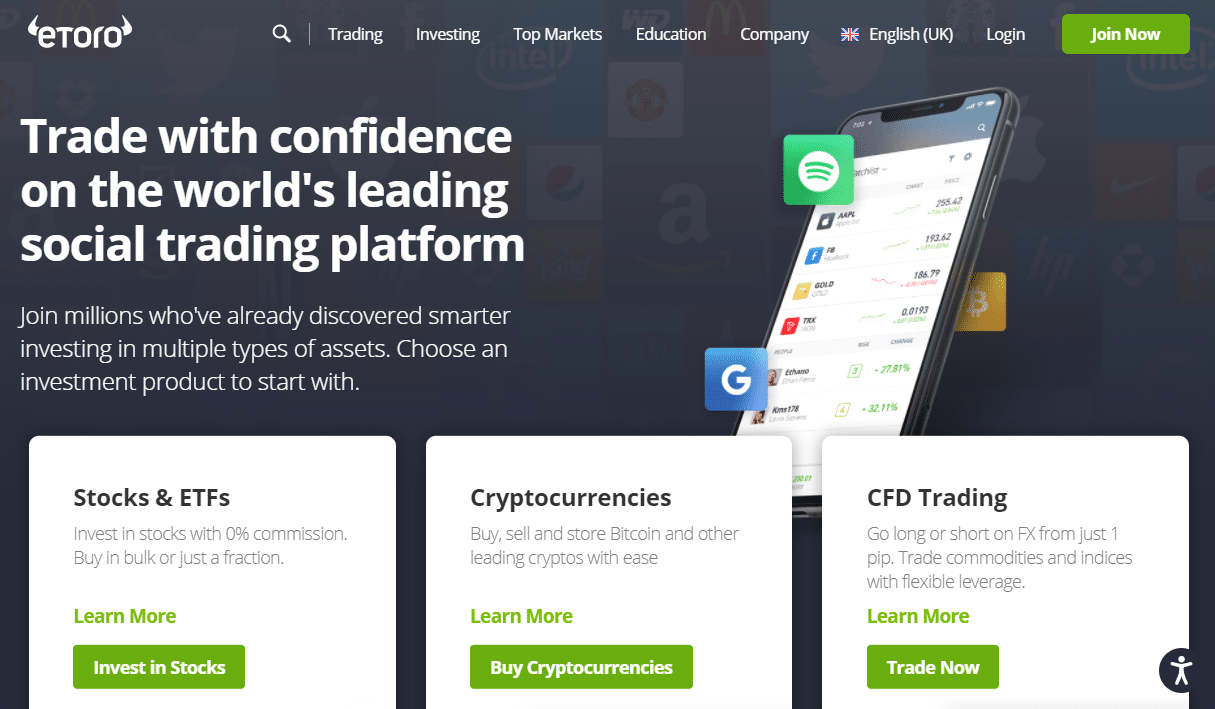 Even if eToro wasn't certified by the CFTC, it still would be a broker worth your time and one considered safe too. That is because eToro has put great emphasis on its clients' security over the years. They prohibit all sorts of illegal schemes such as hedging and scalping and run their service strictly and intently, letting very few scams slip through the cracks.
For that reason, and many others, eToro has established a large fanbase, especially among new traders and investors who are looking for a service they can rely on. eToro has also become a premier home for any investor who is interested in copy trading. What is that? Essentially, it is exactly what it sounds like: a way for a trader to mirror the moves and choices by other traders they admire, trust, and want to be like. Because of its intuitive interface and its functionality, copy trading has never been as easy as it is as eToro.
Speaking of the site's build, one that is universally praised about eToro is its intuitive and user-friendly platform. It runs like a dream and it looks terrific too. More importantly, it is easy to understand and even the most novice trader will be able to navigate through it with ease. One of its greatest features is the $100,000 in virtual funds that a new user gets. This mass sum of fake money allows a new trader to get to know the broker, the platform, and learn the ropes and how to truly manage and work the system.
eToro does not ask for any sort of commission on trades and offers over 1,000 tradable assets for its clients. It only asks for a minimum deposit of $200 in most cases and has a strong emphasis on social trading, including its copy trading options. That is why eToro has become so popular with so many traders, from the very experienced to the very new.
| | |
| --- | --- |
| Fees | $5 withdrawal fee, no account fees, $10 inactivity fee per month after one year, free stock and ETF trading |
| Minimum Deposit | $500 for personal, $10,000 for corporate |
| Speed of Withdrawal | 3 business days for bank transfers and 4 business days with debit card |
| Spread Ranges | 1.0 for EUR/USD to 5.0 for NZD/USD |
| Deposit Methods | Credit/debit cards, Paypal, Bank transfer |
| Leverage Options | Up to x5 |
Pros and Cons of eToro
| | |
| --- | --- |
| Pros | Cons |
|  Trading on eToro is commission-free |  Some offerings are limited based upon a client's location |
|  The $200 minimum deposit is manageable and not as expensive as other sites |  Limited cryptocurrency options for traders |
|  Copy-trading feature is great for new investors and can help build confidence |  Features in the United States are more limited than they are elsewhere. |
|  $100,00 in virtual funds to explore | |
3. Capital.com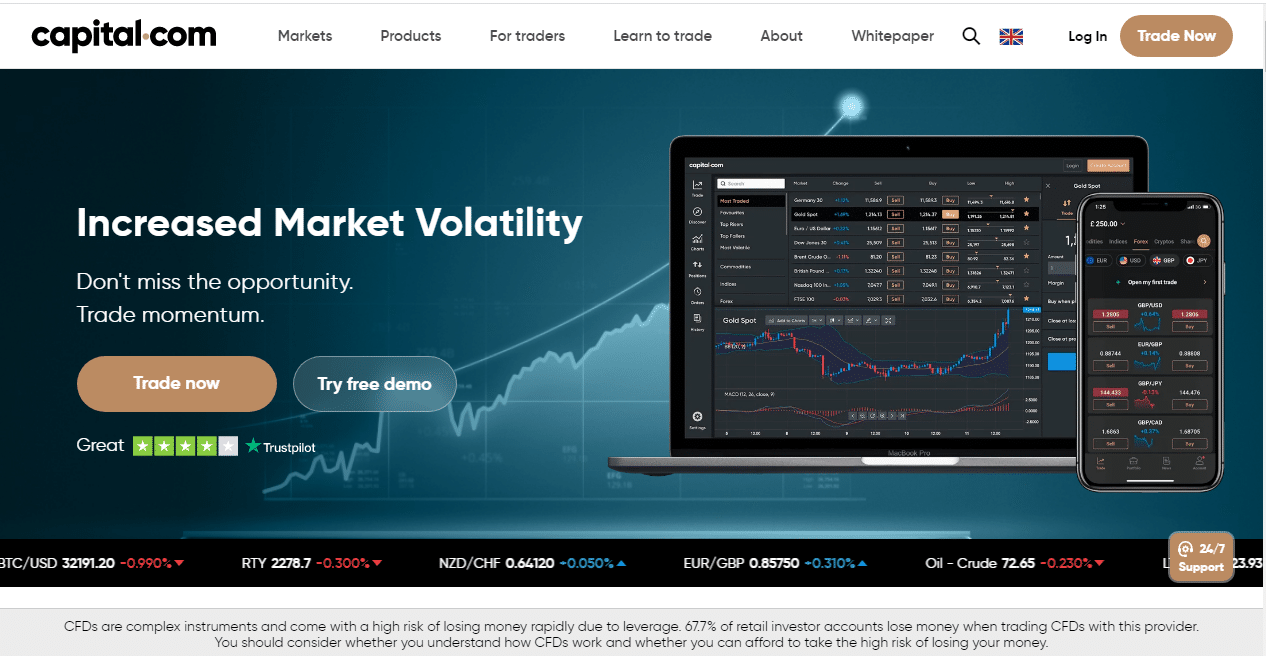 For traders who want to make the most of the wide and vast growing world of technology, Capital.com is a platform that needs to be examined. Additionally, investors are recommended to use it if they are looking for a premium user experience that runs smoothly and works well and also looks great too. Being at the forefront of technology, the broker has developed a intuitive mobile app that combines Artificial Intelligence with a user-friendly interface. This broker is among the few that uses this technology to help its traders and that's a great way to attract new traders and to set itself out from the competition.
While seasoned traders will love Capital.com, it is also recommended for new traders too. This is because Capital.com offers both training and support to all of its users. In fact, there is actually something called a "Learning Mode" for users. Someone trying out this mode can attend completely free webinars, partake in training courses, read in-depth guides, watch video tutorials, and download an education app. As you can see from these features, the broker seems to place a high value on investor education. It's as if Capital.com wants all clients using it to be premiere traders.
Plus, Capital.com isn't expensive – that is always a great benefit. The minimum deposit at the platform is just $20. Even a small investor can learn about trading on the platform by registering and putting that sum down. The broker allows withdrawals of even small amounts, because the minimum withdrawal is $50. This broker provides some of the best education and training in the industry. In order to keep its clients updated on the financial markets, Capital.com offers a variety of materials. Moreover, it also offers courses to help members improve their trading skills. Capital.com knows that the better clients are at trading, the more they will use the service and the more money they will put into it. Capital.com has seen so many other users flee other platforms and it understands that with more education, more traders will be better at investing and will stick around longer.
No commissions are charged to Capital.com's users. Moreover, its clients can maximize their profits due to its tight spreads. This broker offers excellent spreads for its standard retail accounts, starting at 0.6 pip, so traders can more easily realize profits.
The broker provides its customers with a smooth and easy-to-use experience. Users of Capital.com can leverage technology to conduct smart trading through their AI-based platform. With the platform, traders can access trading information, news, and support. The platform's intuitiveness and quality design show how much value is placed on the user experience.
The overall performance of Capital.com is the best of the brokers. In order to provide its clients with a seamless experience, the broker leverages technology. Trading on the company's proprietary platform is unique and enables traders to make informed decisions about their investments. User experience and extensive training have been key priorities for the company.
| | |
| --- | --- |
| Fees | No withdrawal or deposit fees, overnight fees based on leverage, no inactivity fee |
| Minimum Deposit | $20 for card, $200 for bank |
| Speed of Withdrawal | 5-7 business days |
| Spread Ranges | 0.9-1.3 |
| Deposit Methods | Debit/credit card, electronic wallet, bank transfer |
| Leverage Options | 1:30 |
Pros and Cons of Capital.com
| | |
| --- | --- |
| Pros | Cons |
|  Over 3,700 markets to choose from for all clients |  No US clients are allowed |
|  0% commission fees | |
|  Low minimum deposit | |
|  Strong technology and powerful user interface | |
4. Fineco Bank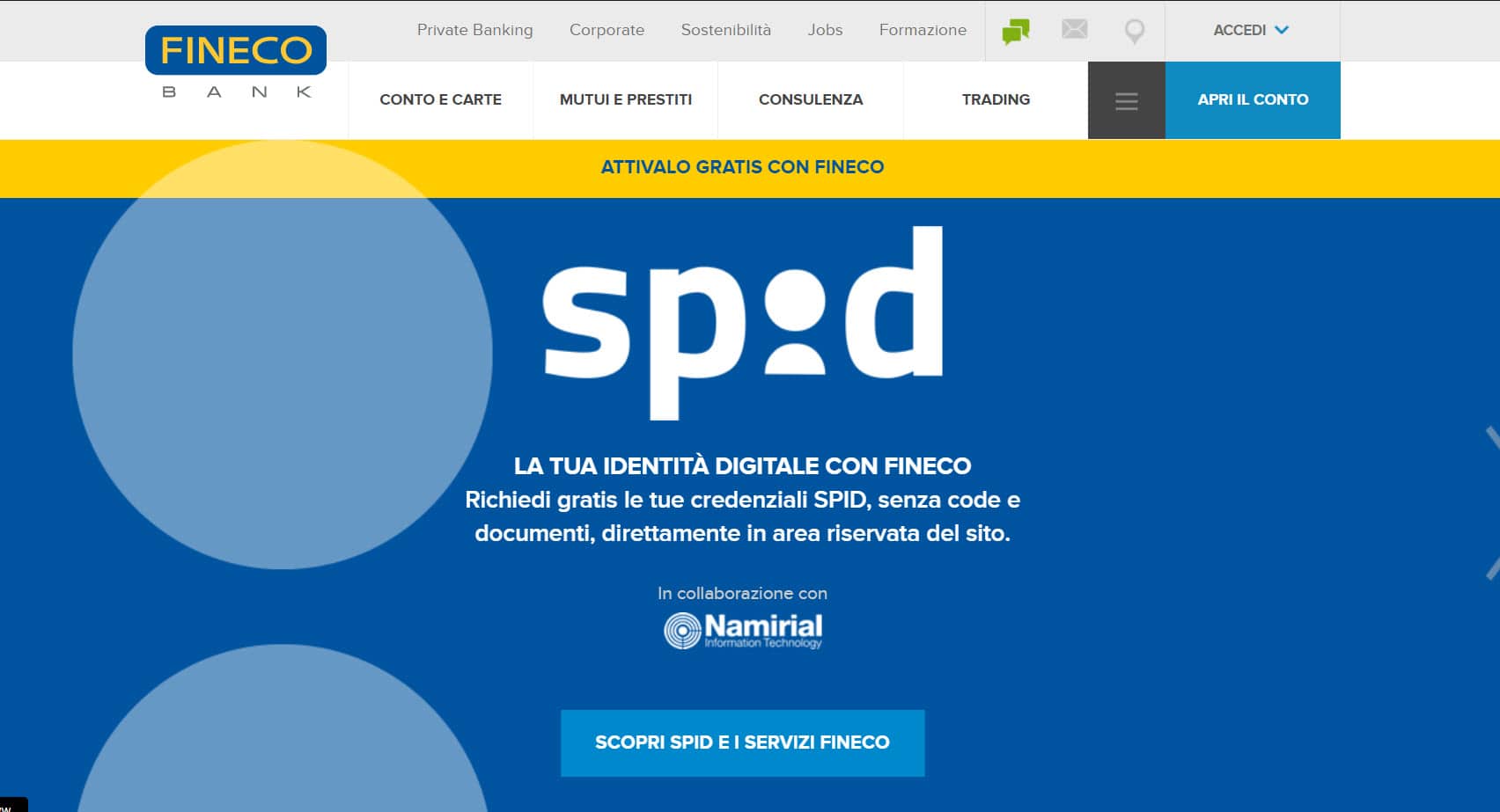 Ever since its creation, Fineco Bank has proven that it's one of the best options for anyone looking to do futures trading online. Since its founding in 1999, Fineco has been a pioneer in online trading. It is owned by Fineco Bank S.p.A. which only adds to its regard with many customers all over the world. Fineco's users can trade in over twenty-thousand financial instruments on over twenty-six global markets. There are three trading platforms at Fineco, including desktop, web, and mobile, and all platforms offer a range of news updates, analyses, and indicators.
Fineco takes special effort to not destroy your wallet, too. That is because it is competitively priced and that is appealing to new investors in the futures market. Traders who wish to save money before they trade might find Fineco's low fees, commissions, and spreads appealing. Currently, a single account with Fineco can be used to trade, bank, and invest. It is true that users are given a variety of options in the world of trading, right from the creation of their accounts. Fineco processes nearly 27 million trades a year. 5-star reviews on the Apple App Store and Google Play prove that customers really do like the mobile app provided by Fineco too.
In addition to offering low fees and no monthly or custody fees, Fineco also does not charge for market connectivity, activity fees, or minimum deposit requirements. Last but not least, the customer service of this firm deserves mention, as its customers report positive experiences with customer service. Altogether, these features add up to make Fineco one of the most appealing and user-friendly platforms for anyone looking to invest in futures and navigate the markets.
| | |
| --- | --- |
| Fees | No account or trading fees, some fees based on leverage |
| Minimum Deposit | $0 |
| Speed of Withdrawal | 1 business day |
| Spread Ranges | Within 1 point |
| Deposit Methods | Bank wire |
| Leverage Options | 100:1 |
Pros and Cons of Fineco Bank
| | |
| --- | --- |
| Pros | Cons |
|  Wonderful mobile app and platform |  Lacking in educational tools and training |
|  Low fees for transactions |  Bank wire transfers are only allowed |
|  Owned by a well-respected banking institution | |
5. Libertex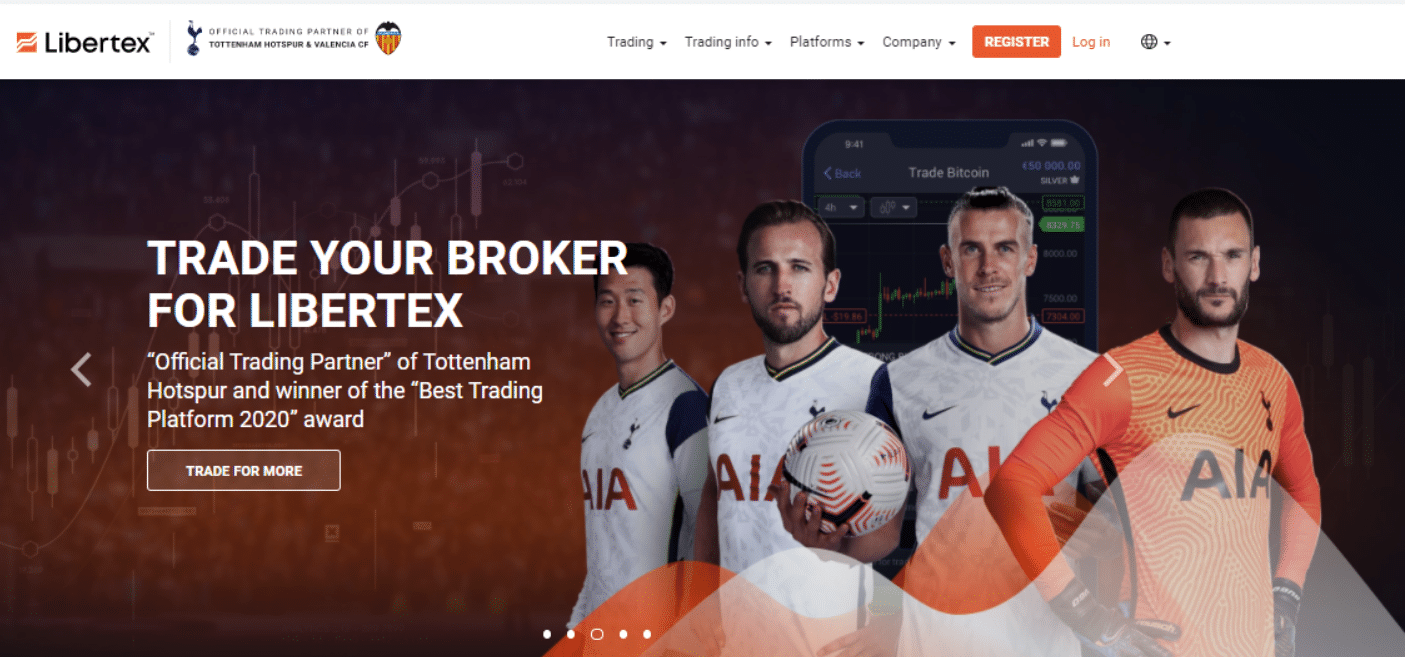 Libertex is now considered one of the best trading platforms in the world and has become one of the most popular options, especially for users in the greater European area. It has been around for more than two decades now and since its founding in 1997, Libertex has crafted a strong reputation among traders in markets all over the globe, thanks to its easy use, its trademarked trading portal and its wide array of tradeable assets.
Currently, Libertex now serves over 2.2 million clients in 110 countries. The platform has acquired a license to operate across the European Union which was given to it by the strict regulatory commission, Cyprus Securities and Exchange Commission. Because of the high standard that it has to pass, Libertex clients can be confident that it is passing tough and required regulations that ensure strong protection of any funds deposited.
Libertex also has its own trading platform that has received high marks from users all over the world. Libertex runs a copyrighted trading portal which is streamlined, easy to use, and also easy on the eyes too.
With a wide reach across the world, Libertex has clients from every corner of Earth and they all enjoy low commissions and a lack of expensive fees.
The patented Libertex trader platform offers a clean, smart interface with helpful options, including a Favorites window and News and Analytics ticker for pressing and important current events. This keeps users informed of the world at large and also allows them to trade freely and easily thanks to the intuitive nature of the platform. It feels like a one-stop-shop for trading and education about trading in the world of futures.
Libertex offers impressively deep arrays of assets to trade, available to all users no matter if they just got started or have been trading for years. Because of this, it is a great place for traders of all types to convene and further their experience and ability to trade futures.
| | |
| --- | --- |
| Fees | $5 per month on inactive accounts, no withdrawal or deposit fees |
| Minimum Deposit | 100 EUR |
| Speed of Withdrawal | 1 business day |
| Spread Ranges | Zero on accounts and instruments |
| Deposit Methods | Credit/debit card, bank transfer |
| Leverage Options | 1:30 |
Pros and Cons of Libertex
| | |
| --- | --- |
| Pros | Cons |
|  Low minimum deposit |  No copy-trading ability |
|  Smart and easy to use browser-based platform |  Lack of educational resources |
|  50% discount on commissions for new users | |
CFTC Broker Fees Compared
AvaTrade: $100 to open an account. $50 fee for three months of inactivity. Deposits and withdrawals are free of charge.
eToro: No fee to open an account. No commissions on trades. $5 fee to withdraw funds.
Capital.com: No fee to open an account. No inactivity fee. $0 deposit fee. $0 withdrawal fee.
Fineco Bank: No monthly fee. No deposit fee. No inactivity fee. The transaction fee varies depending on the region.
Libertex: $5 per month fee for inactive accounts with less than $10,000. Minor transaction fee and withdrawal fees are based upon the amount of the transaction.
CFTC Brokers – All You Need to Know
The most important thing for you to know about using a CFTC broker is that your money is safe, at least from predatory scams and criminals looking to get away with it. While the CFTC guarantees that all brokers it has signed off on have undergone extensive monitoring and examination, it does not guarantee that you won't make some sloppy or ill-advised moves in the market and lose some of your funds. That is just the nature of buying and selling and investing in the futures market.
The CFTC was created to make sure that no one would be taken advantage of on the market. For far too long, there were new investors who would be swindled by people looking to make money off of other people's misery. Time and time again, people would be robbed of their hard-earned income because of people posing as their ticket to market success. Because of this, the United States government decided to found the CFTC in the 1970s as a way to protect those who were just looking to properly invest and follow the rules and not be victims.
Since its inception, the CFTC has had a lot of success and has regulated a market that previously seemed like the wild west. It has enacted strict guidelines and restrictions that anyone with a CFTC certification has to follow. If a brokerage wishes to become valid in the eyes of the CFTC, they have to undergo a rigorous examination and need to apply for a license through them.
The CFTC also provides in-depth information and training to consumers so they can educate themselves and give even more of an advantage over anyone attempting to rip them off in the futures market.
When you are investing in a future broker that has been approved by the CFTC, you can bet that you will not fall into any scheme that will steal your money. That is the bottom line and the most important thing to keep in mind. There is a guaranteed level of safety, provided by the United States government, that is applied to all futures brokers that become approved by the CFTC. You can also be assured that the protection provided by the CFTC will continue, as it regularly audits and checks the brokers that have been approved and are part of it. That means that they all have to constantly adhere to the high standards they once met.
Simply put, the CFTC is not an easy regulatory authority to be licensed and regulated by. The organization has produced strict rules and guidelines brokers are required to follow in order to offer investments to Americans.
Key Factors to Choose the Best CFTC Broker for You
If you have decided that you want to get into the futures market and you want to do it safely, you will obviously choose a CFTC approved market, preferably one of the ones we listed above. Even though we have highlighted the five best options for you, there are others out there too, of course. When it is time for you to decide which is the best fit for you, you will be the only one in charge of making that call. But there are certain determining factors you should keep in mind when you are looking. If you want your investing career to be one that is easy and devoid of stress, you need to look out for yourself and spend the time weighing your options before settling on your final choice.
This is a big decision. Determining which CFTC broker you will be moving forward with will determine how easy your futures investing is. With all the different options, both good and bad, you can spend a lot of time picking apart every possible platform. To make it easier, let's look at the biggest factors that should play a part in helping you make that pivotal choice.
Easy of use
Whether you are a newcomer to investing or have been doing it for decades now, you still want to find a platform that is easy to use and won't stress you out simply by looking at it. This is doubly important in this day-and-age, when all trades are done online and each platform has its own look and feel. You want to find a platform that feels intuitive to you. There is a lot of data and analytics that go into every single futures trade that you will make. Simply put, there is a lot to look at and a lot to sort through and a lot to navigate through. You want a trading platform that isn't overly complicated and won't be difficult to understand.
When you think of a website or app that you are drawn to and use again and again, it is probably one that isn't hard for you to use. Companies put a lot of effort into making sure their sites and apps do not confuse users and are instead welcoming. The same is true for CFTC brokers. The easier they are to use, the more clients they will attract. When you find a web platform that has an air of ease to it, you have found one that values its customers and will likely focus again and again on providing them with a good experience in multiple ways.
Fees
This is perhaps the trickiest part of deciding which CFTC broker to use. Every different broker has its own fees. Some have very few fees, some have a number of them. But every broker will have a fee somewhere since it's how they make their money, after all.
The key is to find a broker that has the fees that are right for you. Are you curious about futures trading and want to dip your toe in but aren't sure if it's going to be for you? Then you probably want to find a CFTC broker that isn't going to charge you to open your account? Will you maybe be not using your account that often, possibly letting it sit for months on end? If that's the case then you will definitely want to avoid any broker that charges for inactivity. There are a whole slew of fees that you need to look out for and some that feel like bad fits for you. Think about the sort of trader you could be and then make sure the fees at any prospective broker will not punish you for that.
Availability of Assets
There are any number of futures on the market, any number of things for you to invest in. In fact, there are so many that it can be overwhelming.
Some people enter the market with a specific asset in mind, something they know they want to invest in. Sadly, not all platforms provide the same assets. Some are not available on some platforms, which can limit your access to your favorite assets and stocks. If you are entering into the futures market because of a specific asset, you will need to make sure that any platform that is catching your eye will allow you to trade it. If not, that won't be the right platform for you.
Education
Trading futures can be very confusing and can be a lot to take on. It can feel like going to school all over again. And part of being a good trader is being a smart one. But you can only be as smart as your education.
Thankfully, there are many brokers that provide users with educational resources so they can hone up on their skills and their knowledge about futures and trading. This is something important to look out for, a wonderful benefit that more and more platforms provide. Some give users videos they can watch, others give literature. Some have tutorials that are easy to follow and can give you a whole lot of insight into futures trading. When you are looking to select a CFTC broker for you, see what sort of educational materials they have at their disposal because this can be a major boost to you and the success of your trading career.
Step by Step Guide on Starting with a CFTC Broker
Step 1: Open Account with Avatrade
Sign in using social media or manually enter your details.
Step 2: Verify your ID
You will need to upload the back and front of a government-issued ID as well as bill with your name on it to verify your address.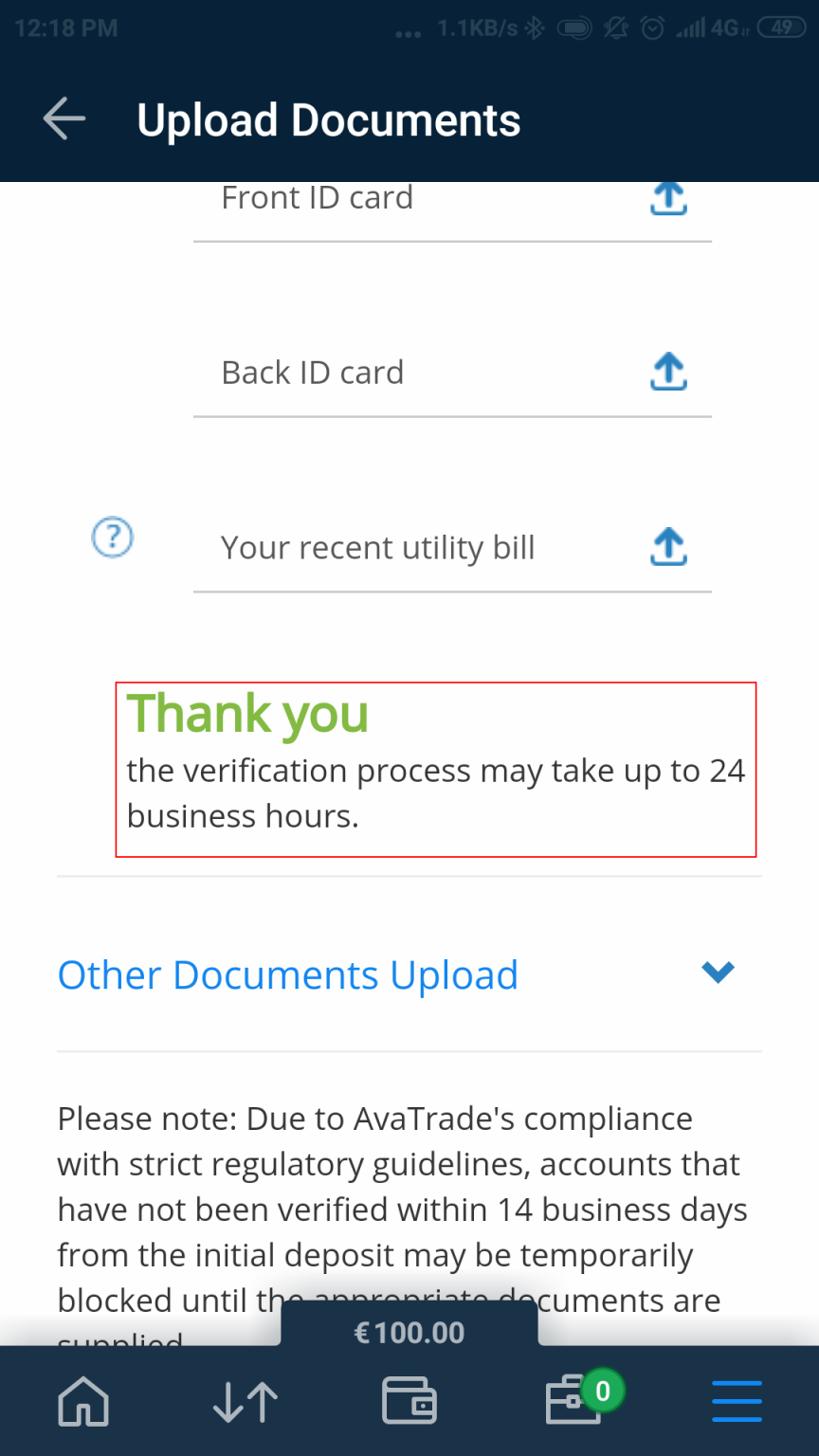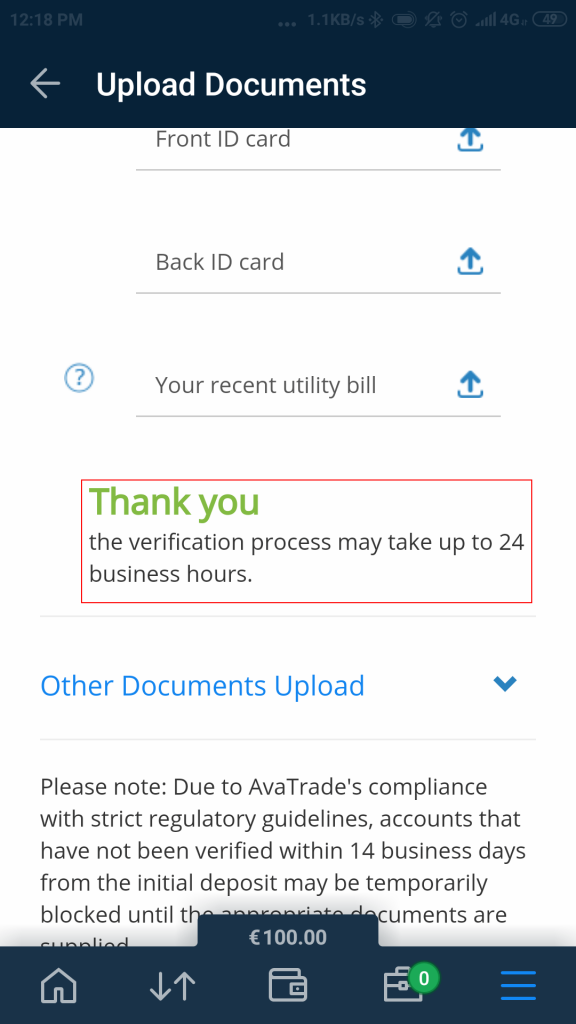 Step 3: Deposit
Make your first deposit using one of the options listed. Enter in your account details and the amount you want to deposit.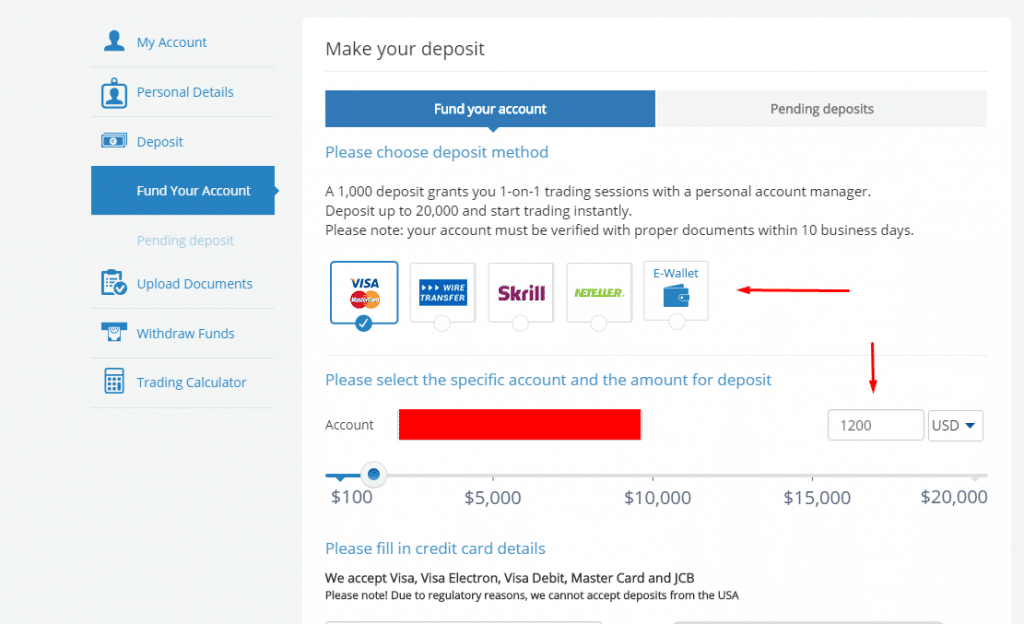 Step 4: Search for different markets
There are plenty of choices for you to make once your account is working. You can openly explore the markets and start to make decisions based upon which fortunes you want. Make sure you explore and discover how the markets work and how easy or complicated they are.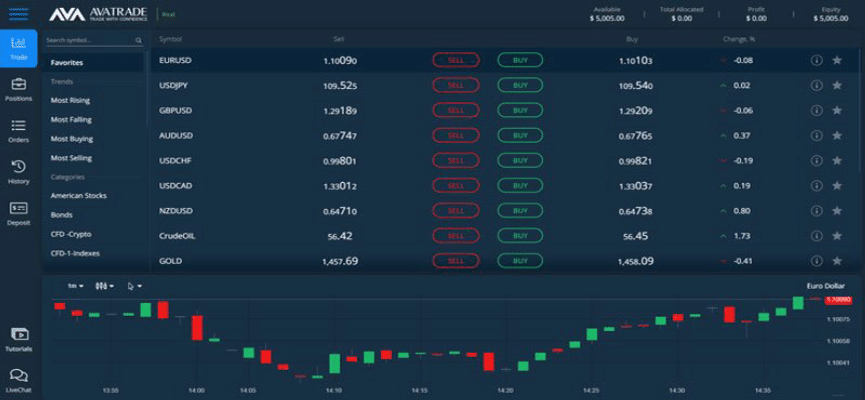 Step 5: Trade
Now that your account is up and working, you have the ability to finally make your CFTC-certified trades on the market and find the futures that are right for you and the ones most likely to make you some extra money in your pocket.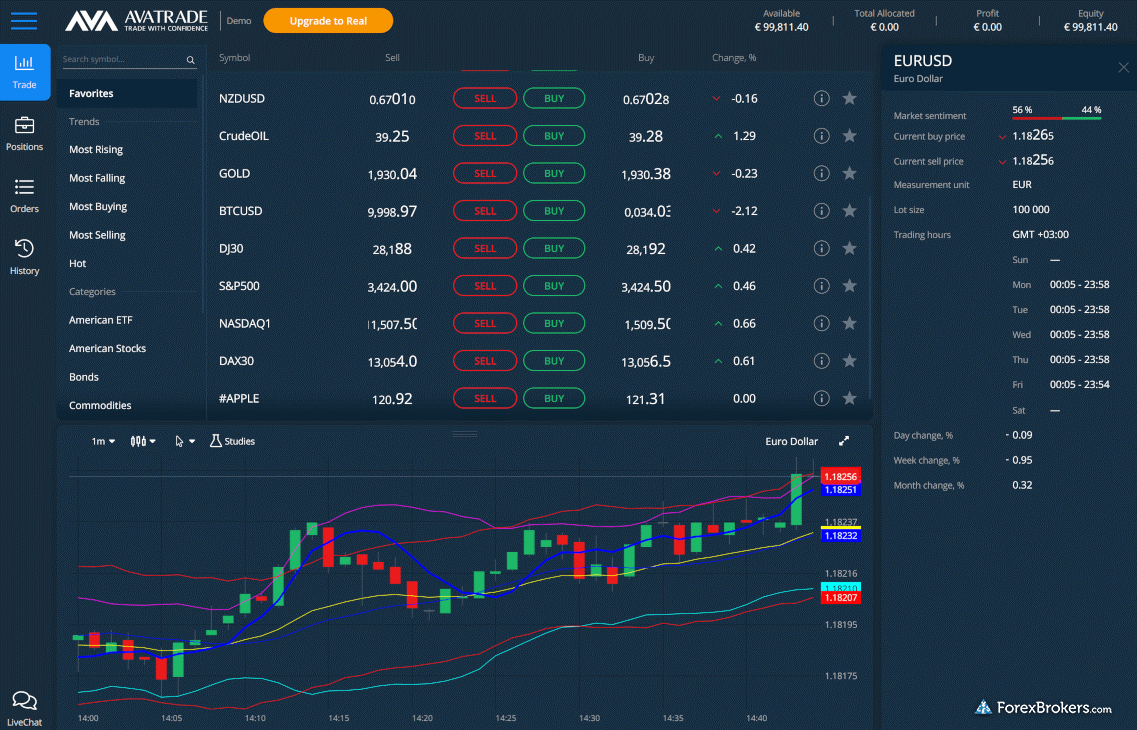 CFTC Brokers – Our Expert Conclusion
There are a lot of great CFTC brokers for new and old investors to participate in. Some are incredibly complicated and even overwhelming, with extra fees and limited functionality. Others are user-friendly and even fun, a wonderful way to be introduced to the world of futures trading. No matter what sort of trading, there is a platform that is right for you.
At the end of the day, the best option for a CFTC future trading platform is probably AvaTrade or eToro. These are the two most accessible for any type of trader, even if it's their first day on the market. Both ask for minimal transaction and various fees, both have interfaces that are easy to look at and even inviting, both have access to the most popular and well-regarded and most promising assets. Best of all, both are popular with other traders so you know that the word-of-mouth is good.
There are other extra features, like copy trading, that only make these platforms even better. That is the cherry on top of the already-delicious pies that are both AvaTrade and eToro. No matter your experience level, these platforms will serve you well as you explore the exciting and safe world of CFTC-certified trading.
No matter which platform you choose to use when you start investing, it is paramount that you use one that has gone through the rigorous and in-depth vetting process done by the CFTC. The rules and regulations created by this government agency are there for a reason and they will make sure that even the smartest and best of traders isn't taken advantage of and harmed in the open market place. A broker that hasn't been given the seal of approval by the CFTC is not one you want to do your business with.
Trade Now With Best CFTC Forex Broker – AvaTrade
FAQs
Are all of these brokers available across the globe?
How do I know if another company is CFTC regulated?
Can a broker do business without being CFTC regulated?
How big is the CFTC market place?
What is the Commitment of Traders report?