FOREIGN TRADE
The country has suffered from both the trade deficit as well as the balance of deficit over the years.
The major exportable commodities of the country are clothing and footwear, chemicals, machinery, paper products and hides. The exports partners of the country are Germany, Spain, France, UK, Italy and US.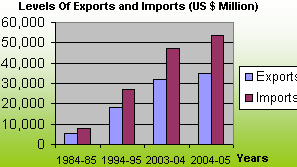 Importable items of the country are machinery and the transports commodities, chemicals, petroleum, textiles and the agricultural products.
The imports partners of the country are Spain, Germany, France, Italy, US, UK and Japan.

CONCLUSION

The country has joined the World Bank in the year 1961. It also joined the International Finance Corporation in 1966.
Joining in the European Union gave the country more opportunities for creating the world-class infrastructure in the country.