Brazil's economy is the largest in South America and the country boasts well developed agriculture, mining, manufacturing, and service sectors. Since 2003, Brazil has improved its macroeconomic stability, built foreign reserves, reduced debt, kept inflation rates under control and committed to fiscal responsibilities. After witnessing unprecedented economic growth in 2007 and 2008, the global financial crisis finally hit Brazil. Brazil's currency and stock market saw huge fluctuations as foreign investments dwindled, demand for commodity exports dried up and external credit increased. However, Brazil was one of the first emerging markets to stage a recovery, with GDP growth returning to positive levels. The Central Bank predicts growth of 5% in 2010.
The development activities undertaken by the has made it one among the ten largest economies over the world. The more concerned inflationary pressure on the economic activities has come under control in the recent years.
The services sector contributes a lot to country's economy followed by industrial sector. Major agricultural products in the country are coffee, soybeans, rice, sugarcane, and cocoa. Important industries are textiles, chemicals, iron ore, steel and motor vehicles.
Exports sector in the country has also relative importance. Major exportable items of the country are iron ore, cocoa beans, maize, sisal and tobacco. The country has huge deposits of minerals, iron, phosphates, manganese, uranium, copper, coal platinum and gold.
Brazilian Economy: GDP and Labor
The following chart shows Brazil's GDP (PPP) during 2007-2009. All figures are in US dollar trillion.
Brazil's GDP- official exchange range, according to the 2009 estimates, was US$1.482 trillion. The next chart shows Brazil's GDP-real growth rate during 2007-2009. All figures are in US dollar trillion.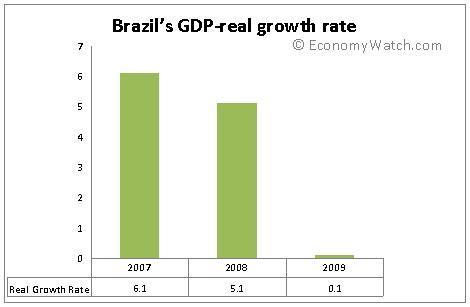 The next charts show Brazil's GDP-Per Capita and GDP- Sector Composition. All figures are in US dollar.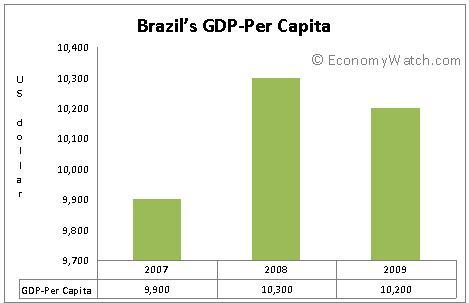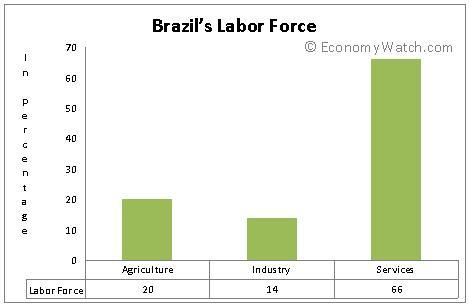 (All figures are in percentages in the above table)
Brazil's total workforce, according to 2009 estimates, was 95.21 million. The rate of unemployment in 2009 was 7.4%, down from the 2008 estimates when the rate was 7.892%. The following chart shows Brazil's labor force composition by occupation. All figures are in percentages.
G20
Brazil is part of the G-20, Group of Twenty.