FOREIGN TRADE
Major exportable commodities of the country are oil and gas, machinery and cotton.
The exports partners of the country are Germany, italy, Turkey, Russia, Georgia and France.
Important importable commodities in the country are fuel and energy, food and the capital goods. Important imports partners of the country are Russia, Germany, Turkey, China and Italy.
The following diagram shows the levels of exports and imports of the country.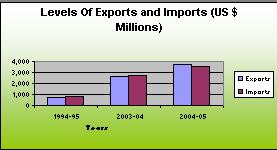 The following figures show the overall trade situation of the country.
2000
2003
2004
Merchandise trade (% of GDP)
55.3
71.7
83.7
Foreign direct investment, net inflows (BoP, current US$)
130.0 million
3.3 billion
3.6 billion
Long-term debt (DOD, current US$)
860.0 million
1.4 billion
1.6 billion
Present value of debt (% of GNI)
..
..
23.2
Total debt service (% of exports of goods, services and income)
5.8
6.6
5.2
CONCLUSION
Azerbaijan accepted the membership of the World Bank in 1992 and of the International Development Association (IDA) in 1995. The World Bank has adopted its Country Assistance Strategy for Azerbaijan for achieving high economic growth and maintaining stability.