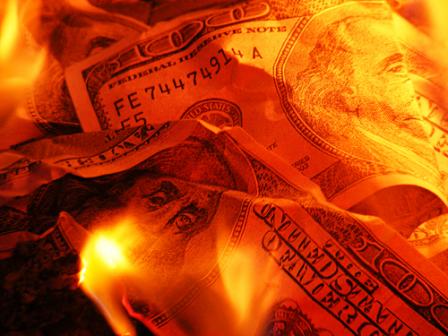 Emerging markets have been the darlings of global investors for most of the last decade. But the speculative flows into emerging markets have created highly leveraged investment and spending booms that are in danger of falling apart now that the "hot money" is close to drying up.
Few months ago, April to be precise, I wrote an article for a Nigerian news site titled, "Not Just by Monetary Easing". Therein, I warned on the need for emerging economies to be cautious of the hot money they are attracting, which is directly an offshoot of the quantitative easing taking place in some advanced economies like the US and Japan, and the generally loose monetary policy atmosphere globally. I went further to warn on the risk of it causing a bubble in the financial market, which could bust when the easy money stops.
Structural reforms, on the other hand I noted should be pursued to ensure long term growth, taking into cognizance the fact that monetary policy can only help in the short run. With Emerging economies witnessing huge portfolio inflows during that period in the atmosphere of the loose monetary stance in advanced economies, sentiment turned positive as stock indexes reached new highs in most emerging economies. Bond yields were moderate, inflation muted, foreign reserves soaring and exchange rates were stable except where they were intentionally manipulated to gain trade advantage. It was like Christmas, except we are still in summer.
That was of course before Fed chairman, Ben Bernanke decided to go hawkish in June, suggesting the fed could head for QE exit sooner than expected, signifying the grounding to halt of the $85 billion liquidity being pumped in monthly by the Fed. The reaction throughout the world was unexpected as investors moved to reposition their portfolios ahead of the coming hurricane. It triggered a major selloff in the equities markets worldwide, the Nigerian ASI which crossed 40,000 points in early June shed close to 3000 points in 5 days in mid June, declining by as much as 7.5 percent. Bonds prices also fell as investors exited, leading to a spike in emerging markets bond yields.
Commodities were not spared; Gold especially trading at record bearish zone. Over a trillion dollar liquidity was wiped off financial markets globally in the sell off that resulted after Bernanke's comment. Central banks in emerging economies moved in to protect local currencies from depreciating against the Dollars which of course resulted in huge downside on exchange reserve as inflation risk which was then formerly benign soared.
A similar scenario is ensuing now in most emerging economies as the reality of QE tapering is coldly dawning on investors with all optimism that it might still be extended further having waned. "The Taper is finally here and we should all start cashing in before it's too late" seems to be the phrase that best captures the emotion guiding investors in the financial markets of EM's.
Emerging markets currencies are now crashing as speculators gain foothold in the foreign exchange markets; the Indian Rupee is down 25 percent in just three months, the CBN have been conducting larger than usual WDAs auction to ease pressure on the Naira and the Brazilian Real has also not been spared as it has depreciated 20 percent since the beginning of the year. The Brazilian Central bank recently announced move to intervene in the foreign exchange market to the tune of $60billion to shore up the real value. For the first time since 2002, the bank pre-announced daily intervention plan.
The majority of these countries are still massive importers' and if currency depreciation is not checked; inflation will be imported which clearly justifies the hyperactivity of the central banks in the exchange markets. Bourses are still in correction and foreign reserves are falling. Bond yields are spiking and Russia's sale of 10-year bonds flopped after the government offered yields below what investors demanded.
The recent happenings in the emerging economies' financial markets should be ominous to the discerning as it means all the positive indexes and indices earlier achieved were not due to improving fundamentals but basically sentiment driven by QE in advanced economies. In short, markets have been pushed beyond fundamentals and merely reverting back to the position it ought to be, once again laying bare the major fundamental structural faults in these economies and promoting calls for structural reforms.
Related: Emerging Markets Heading For Stagflation-Lite?
Related: Are Global FDI Flows Entering A New Era Of "Asianisation"?
Being a policy maker in an emerging economy could be challenging. Having to adjust macroeconomic policies intermittently at the slightest hint of external shocks arising from monetary and fiscal activities as well as the business cycle fluctuations in advanced economies could be very thorny and this is in reality what policy makers in Africa and emerging economies of Asia and South America have had to grapple with overtime.
Difficult periods however should come with attendant desperate measures which could be painful to implement but also necessary. This is why aside concentrating on structural reforms, emerging economies policy makers should look towards implementing more unconventional monetary and fiscal policies to ensure steady and balanced growth.
The Central Bank of Nigeria's recent hike in Currency Reserve Ratio on public funds to moot inflationary pressure and draw back the excess liquidity in Commercial Banks is one of the unconventional tools that we've come to see in this unpredictable period. More of this type of unconventionally tools is needed. The possibility of imposing higher tax on hot money outflow and generally raising their exit barrier should also be looked into.
Yes, this may deter foreign investment since investors generally prefer highly liquid markets with low entry and exit regulatory barriers and tax constraint, but this might be needed to stem the tide of investment outflow and ensure stable growth. Policies are more effective when they are designed to prevent wide swings in trends of indices for a more even and balanced trend contour.
Structural reforms are difficult and painful to implement, the people of Eastern Europe and South America still tell of how grueling the "shock therapy" implementation was. The policy which was developed by American development economist, Jeffrey Sachs, to curb hyperinflation and structurally transform their economies' was viewed by critics then as being too severe. For the countries that patiently and painfully passed through the grueling exercise however, the benefits are there for all to see.
For more advanced emerging economies in the process of transition like Brazil, India and China who are already industrialized, they only need to start exploring other potentials for growth as their growth prospect now appears to be slimming. China's growth forecast has been cut to 7 percent this year while Brazil's growth figures have been fluctuating since the financial downturn in 2008; slowing down to 0.9 percent last year from 2.7 percent achieved the year before.
They should also look towards correcting social inequality, which is straining their polity. This should start by reforming the public sector to be more effective and corrupt free. As shown by the recent protest against public sector corruption in Brazil; people are still dissatisfied with the state of things. They can then build on this by exploring new growth potentials in manufacturing assured that their house is already in order.
For developing economies in Africa that are largely monotonous; depending on the export of one or two primary products exported unrefined for revenue, full blown structural reforms are needed to diversify their economic base. A primary product exporting economy is unsustainable and the long term prospect of prospering if the status quo is maintained is bleak, which is why government in this region should take bold steps to correct the structural faults impeding the economic diversification process. It is a painful process which requires a lot of political will and stringent measures needs to be taken.
Related: Can Sovereign Debt Markets Revive Their Safe Haven Status?
Related: Asia's New FDI Deal – Why China Isn't Losing Its Investment Appeal: Dan Steinbock
Political ties will be severed, ethnic warlords will whip up tension, corrupt government officials will go on the offensive and there will be public angst and revolts for what would be initially viewed as anti-people policies but like I noted earlier, these are challenging times that requires desperate solutions.
The clock is ticking and the economic emancipation leeway is gradually closing as every other continent is moving up the economic prosperity ladder. This is no time for ineffective, dithering, and lily livered government but bold and corrupt free ones who can lead their individual countries through structural reforms. Make no mistake about it, there is no other option and the consequences of dithering are dire, the earlier these long term solutions are embarked upon, the better.
By Abimbola Hakeem Omotola
Abimbola is the Editor-in-Chief of Economic Insight, the students' press outfit of the Department of Economics, Obafemi Awolowo University, Ile Ife Nigeria and Vice President/Director of Projects of REP-Africa, an Ile Ife based NGO which seeks to get involved in generation preservation.
Get more special features in your inbox: Subscribe to our newsletter for alerts and daily updates.
Do you have a strong opinion on this article or on the economy? We want to hear from you! Tell us what you think by commenting below, or contribute your own op-ed piece at editorial@economywatch.com