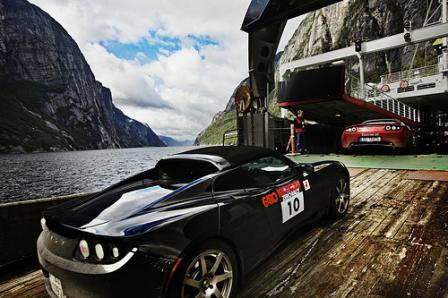 Thunder Road: Sparking a Revival for the Electric Car
Page 2 of 3
There is no longer any need for such defensive moves. Revenge of the Electric Car tells a different story of manufacturers waking up to the potential of the EV market in a world of soaring oil prices and heightened awareness of the need to reduce carbon emissions. Paine, however, says that environmental concerns are not the car-makers' chief concern.
"This revolution is not because of the environment," he said. "It's because they can make more money from selling them. For the consumer, EVs cost less money to drive, and as manufacturing costs amortize, and as battery prices come down, prices will get even more competitive. You might pay more for an electric car right now, but maintenance and fuel costs are much lower over five or 10 years. I also think oil prices are going up, which gives people more incentive to try these cars."
Related: High Oil Prices: Caught in a Sea of "Vicious Cycles"
The projection of positive ideas about modern, eco-friendly living onto the EVs has also helped to make them sexy.
"They have revived optimism about the future of the car and made it sexy again. EVs promise a re-sexification of the car," according to Paine.
The so-called 'revengers', who have embraced Paine's films, are certainly convinced about their cars' sexiness. One 'revenger,' who drives a Nissan Leaf EC1 in San Diego, called Joe Cesare, said: "I waited a year to receive it, but I was not disappointed...
"
It is truly a 21st century car. If I forget to plug it in, it emails me. If it gets low on charge, it calculates a route to the nearest charging station.
It has timers to charge during off peak hours and timers to pre-heat and cool the vehicle in summer and winter. If the car has been sitting in the sun for hours, I can turn on the A/C from my computer or smart phone. ie before I leave the building. I get instantaneous feedback about my driving habits, allowing me to drive smarter, stretch my mileage and reduce my costs. The telemetry is impressive and I have access to an incredible amount of data.
"This is the perfect commuter car for me. I live in San Diego, which has ideal weather conditions for an EV and, ironically, some of the highest gas prices in the country. Instead of filling my tank for $70, I'll be plugging in my EV in my garage for about $9. My cost is 4 cents a mile… no oil changes, no tune-ups, no transmission fluid, no air filter, no hassles."
Another sign of the steep upward curve in the market is the expansion of electric car-charging stations in the US. There are about 750, with 60% of those in California, according to the Energy Department. But that number is growing fast as retailers realise the commercial advantages of offering the facilities. For example, the retailer Walgreens has announced installations at 800 of its stores by the end of the year. Similarly, the superstore IKEA has plans to roll out charging stations at its US sites with partner ECOtality, as part of its $230 million EV Project with the Department of Energy (DOE) to install around 14,000 charging stations across the US.
The sites will be needed to satisfy demand if the electric car market grows at the rate predicted by Albert Cheung, a Bloomberg New Energy Finance analyst. He expects US sales of hybrid and electric vehicles to reach 1.6 million by the end of the decade, or 9% of all cars. By 2030, he says sales could reach 4 million vehicles.