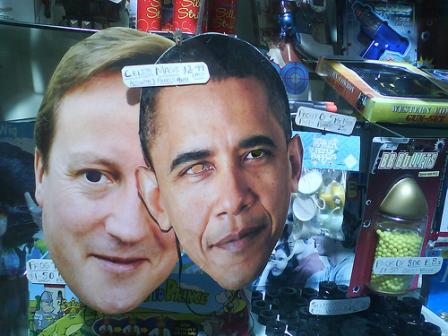 The UK & The US: Same Problems, Different Results
Page 3 of 4
Clearly, the two economies are closely tied together by over-dependence on the financial sector, which caused them to crash in 2008 and both nations have stuttered in their attempts to bounce back from the crisis. Growth, for example, has been disappointing. The UK's Office for Budget Responsibility recently said it expects GDP growth for the year to remain at 1.7%. The situation is only slightly better in the US, where the Central Bank predicts the economy will expand between 2.7% and 2.9% this year.
The $47,000 average American salary is higher than in the UK, where it is around $35,000, but the UK's unemployment rate of around 7.7% is slightly better than the US rate of about 9.1%. The unemployed in the US also suffer greater hardships.
"It's far worse to be unemployed in the US because the benefits are much lower, so unemployed Americans will take any work on offer," Dorling said.
Dorling points out that many other privileges which are taken for granted in the UK do not exist in the US. For example, there is no Federal law requiring a US employer to provide time off, paid or otherwise, to employees on nationally recognised holidays, whereas Bank Holidays in the UK are paid; and the US is also the only Western country which does not mandate paid parental leave. All female employees in the UK are entitled to 52 weeks of maternity leave, with compensation of around 40% of salary.
Related: The UK Economy
Related: The US Economy
"Although the UK has a much better safety net, benefits are being cut by the current government and people on benefits are seeing their living standards fall faster than anyone else in society," said Dorling. "We are heading towards the US model, but we aren't there yet. In the US, there are still around 40 million people on food stamps, which can only be exchanged for food."
Maternal death rates are also higher in the US than in any industrialised nation. An American woman is three times as likely as a mother in Ireland to die from pregnancy-related causes and twice as likely as in Britain.
Another interesting point of comparison is the level of personal debt, which is high in both countries, but worse in the UK, where average household debt is £56,000 ($89,000). The total UK personal debt at the end of May 2011 stood at £1.452 trillion ($2.24 trillion) and British families now owe a record 173% of their incomes in debts, whereas the level in the US is 136% of average household income (still very high).
When Americans do become bankrupt, it is often related to healthcare bills, which is rarely an issue in the UK, where the National Health Service provides free treatment. According to The American Journal of Medicine, medical bills are a major factor in more than 60% of personal bankruptcies in the US. Of bankruptcies caused by medical bills, about 75% involved individuals who actually had health insurance.
This is one reason why Obama's healthcare reforms are one of the most significant crusades of his presidency. Some elements of the Patient Protection and Affordable Care Act, which became law on 23 March 2010, have already kicked in. Insurance companies can no longer withdraw coverage, or deny coverage for children with pre-existing conditions, or impose caps on benefits. Children can also now stay on their parents' policy until they are 26. Some preventive treatments, such as mammograms, are now free.
The US Government also now provides temporary subsidies for small businesses to fund coverage for their workers. From 2014, two more important measures will take effect. One is the network of state insurance exchanges, which should enable individuals and small businesses to pool their buying power and drive the price of insurance down. The other is the 'individual mandate', obliging virtually everyone to buy insurance or face a fine. This should also drive costs down.