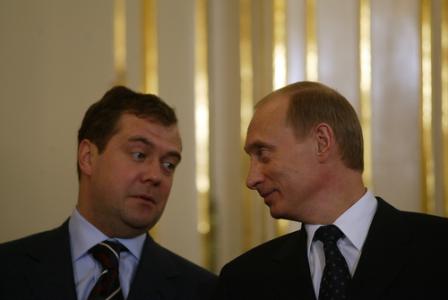 On paper, Russian President Vladimir Putin is fully committed to the privatisation of state assets. In May last year, he signed a decree calling for the sale of all state holdings in firms – outside of the defence and energy industries – by 2016. But since then, the pace of Russian privatisation has been languid at best. Part of the problem has been opposition from avowed statists, who count a close ally and adviser to Putin among their ranks.
Russia's attempt in the 1990s to "leap with one bound" from a Soviet style "ownership of the means of production" to a modern, capitalist, private ownership model for major assets was a huge success – if by success one means the transfer of some state assets at ludicrously low prices to former party bosses and apparatchiks, with the inevitable result of transforming the lucky few into billionaire oligarchs.
However, perhaps fortunately, the pace of privatization was not exactly breathtaking and the Russian state still owns vastly more than it should, assuming a commitment to a private enterprise model. When Vladimir Putin took office (again) as President last May, he announced his intention of pushing through a new privatization program, done properly this time, through the government divesting itself of chunks of its holdings via the Russian stock market, at competitive market prices.
On 16 April 2013, the Russian Ministry of Economic Development announced that it planned to sell a further 19 percent of the state owned oil giant, Rosneft, in order to help it meet Putin's privatization target, which aims to raise 427 billion rubles ($13.5 billion) from the sale of various state assets.
Privatisation Woes
The Rosneft sale is likely to be a ponderous affair and is unlikely to be pushed through this year. The government holds the shares via a state-owned company called Rosneftegaz. This is not the first time the government has sold a chunk of its holdings in the Russian oil major. In March, in a complex deal, BP acquired 5.66 percent of Rosneft via a purchase of that amount of shares from Rosneftegaz, with Putin' s blessing. The proposed 19 percent public offering would still leave the Government as the majority shareholder, with 50.5 percent of the shares. This is important because of a Russian law known as "On the Subsoil", in terms of which only companies that are more than 50 percent state owned are allowed to work on the Russian continental shelf (for the full story see Russia Beyond the Headlines). One minor hiccup is that Rosneft's president, Igor Sechin, has made it clear in the past that he is not in favour of privatization and has so far met all requests for comment on the proposed sale with a stony silence.
Related: Is BP Playing Russian Roulette For Arctic Oil?
Related: A New Era For Russia's Energy Strategy?
In 2011 the Russian government sold 10 percent of its stake in the state owned financial services giant VTB and according to the Russian media, the state plans to sell a further 10 - 25 percent of its stake in VTB in the months ahead. It also intends to sell between 7 percent and 14 percent of its stake in the diamond mining company ALROSA. These are clearly companies that in any western advanced economy would be 100 percent in private ownership so the Russian government's efforts here fall squarely into the "better-late-than-never" camp.
Putin is committed, at least on paper, to getting the state out of all its holdings in enterprises other than in the energy and defense sectors, by 2016. Medvedev, during his Presidency, said that he wanted to sell off up to $100 billion of state assets, but so far much remains to be done.
The foot dragging is understandable. Sechin is a close ally and adviser to Putin and an avowed statist who believes in a strong role for the state in the economy. Quite why anyone with a grasp of market economics would want that is hard to see, but if you grew up believing in state ownership of the means of production, privatization is a bit of a wrench.
Related: Kremlin Intrigues: Russian Economic Reforms or Clan Purges?
Related: Post-Soviet Russia Sees $764 Billion In Total Illicit Flows: Report
Related: To Russia With Love: Opportunities From Russia's Accession To The WTO
Another goal of Putin's, mentioned by The Economist is to move Russia up the World Bank's ease-of-doing-business ranking. Today Russia is ignominiously positioned at 112. Putin wants it to get into the top 20 by 2018. However, as the Wiki leaks saga showed, corruption in Russia is endemic and one of the first requirements for a successful private sector is confidence in the rule of law, in property rights and in a level playing field. Getting rid of the dead hand of the state would be an excellent step, but so would cleaning up the Russian system. Whether Putin is the right man for the job remains to be seen...
By Anthony Harrington
Anthony Harrington is an award-winning business and energy journalist, writing regularly for the Scotsman newspaper, the Glasgow Herald newspaper, Financial Director magazine, Pensions Insight magazine, CA Magazine, and a number of other publications. He won Business Finance Journalist of the Year 2006, Institute of Financial Accountants, and Journalist of the Year, State Street 2006 Institutional Press Awards, and was runner up in 2007 and 2008.
Russian privatization plans in wobbly mode is republished with permission from the QFinance Blog. Get the QFinance Dictionary of Business and Finance iOS app for a comprehensive guide to financial terms and expressions.