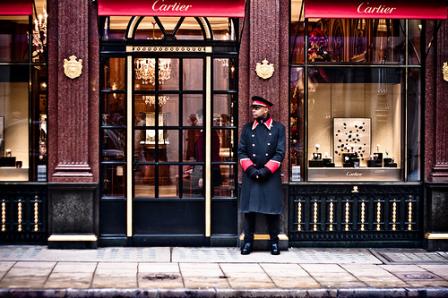 We are living in times of austerity: Economies all over the world are experiencing slower growth, and half of the eurozone economies are expected to shrink this year. In fact, not one major European country is expected to grow over 1 percent. Yet, the luxury market has managed to thrive despite all odds and it is showing no sign of slowing down. How can that be?
At the epicenter of the debt crisis, austerity is in vogue. From London to New York, governments are slashing budgets and raising unpopular taxes in the wake of runaway debt.
Last year, the Occupy Movement occupied the popular discourse, with Wall Street activists protesting the income divide between the "99 percent" and the ultra-rich, referred to by protesters as the "one-percent."
Related News: In Times of Austerity, Italy's Ministers Are Forced To Return Gifts
Related News: Putin Wants A "Vanity Tax" For Russia's Super-Rich
Related News: French Presidential Front-Runner Wants A 75 Percent Tax On The Rich
The issues surrounding executive remuneration and bonuses in the financial services sector have also reentered public discourse. Securities firms in New York made an estimated $13.5 billion in 2011, down sharply from $27.6 billion in 2010 – the second consecutive year of declining profit on Wall Street.
Facing such significant declines, even the banks and bankers are trimming their discretionary pay. According to the New York State comptroller, Wall Street's cash bonus pool fell by 14 percent to $19.7 billion last year, the lowest since 2008.
Related News: Wall Street to Cut Bonuses in 2012
Related News: Goldman Sachs Reports $2.1 billion Q1 Profit
Related News: It's Bonus Time At Goldman Sachs, How Much Are They Paying Out?
Yet, on the back of strong demand in Asia and other emerging markets, business is flourishing for luxury brands.
LVMH, the world's largest luxury goods group, has reported bumper sales of Louis Vuitton handbags and Krug champagne, in the latest sign that consumer confidence among the super rich remains robust.
According to LVMH, its group sales jumped 25 percent in the first quarter €6.58 billion from €5.25 billion a year earlier, and increased 14 percent stripping out currency fluctuations and acquisitions. Sales in Asia excluding Japan, and at constant currency rates, rose even faster, at 17 percent.
Fellow French luxury house Christian Dior also posted strong growth in both the United States and Asia, and maintained its European expansion rate despite the difficult economic environment. The company recorded a 25.5 percent increase in revenue for the first quarter of 2012, reaching €6.9 billion.
Its rivals, PPR, which owns familiar brands like Prada and Gucci, also said that its demand isn't abating. Yesterday, Chief Executive Francois-Henri Pinault said the company is looking forward to another good year of "brisk revenue growth", after its first quarter sales beat expectations.
Related News: Prada Earnings Leap By 74%
China Leads the Way
When the Beijing Auto Show opened on Monday, global luxury car manufacturers clearly had their sights on wooing and feeding China's voracious appetite for luxury cars, with the big names falling over themselves and offering bigger, flashier cars to Chinese consumers.
Bearing in mind that China's GDP per capita was only $5,414 in 2011, China has already become the world's largest auto market, amid weak European demand and tepid growth in the United States.
According to Morgan Stanley, China's first quarter luxury vehicle sales surged 36.7 percent year-on-year to 130,416 units, outperforming the overall market's 3.4 percent decline and the passenger vehicle segment's 1.3 percent drop.
Related News: Powered By Chinese Demand, Bentley Sales Soar in 2011
Related News: Biggest Share of Auto Sales Now in Emerging Markets
Related News: Volkswagen Confident Of Achieving Over 2 Million Sales In China This Year
On a broader scale, China is the world's second largest economy behind the United States, but according to McKinsey, China is on track to top Japan as the world's largest market for luxury goods in 2012.
Citing growing demand and declining consumption in Japan, McKinsey says that with luxury sales surging 18 percent annually, China's luxury spending boom is expected to hit $27 billion by 2015 – or a fifth of the worldwide total. In comparison, China spent just $10 billion on luxury items in 2009.
Speaking to CNN, Wendy Trevisani, portfolio manager said:
China's consumer is still in its infancy. It is true that exports and real-estate investment is softening, but consumer spending is growing pretty much without hesitation.
In fact, consumer spending is forecast to account for 43% of China's GDP growth by 2020, up from about a third currently, according to McKinsey. That's in line with the nation's current five-year plan, which aims to help the country become less dependent on exports and investment-led growth.
Attributing the boom to "greater sophistication", McKinsey said:
The Chinese are increasingly exposed to luxury goods through the Internet, overseas travel, and first-hand experience. As a result, they have become more discerning.
"The Luxury Industry Is Perhaps More Resilient Than It Was In 2008"
Despite the debt crisis, long-term prospects for the luxury market remain strong.
According to industry analysts, growth in Asia and Latin America, where European luxury-goods makers have been expanding their store networks, is reason for optimism.
Speaking to Bloomberg, CEO of Salvatore Ferragamo, Michele Norsa said that not only are these countries accounting for an increasing proportion of sales, Asian and Latin American tourists are also helping to boost demand in Europe and the United States.
For instance, luxury products tend to be 30 to 50 percent higher in China than in Europe because of a hefty government tax.
Norsa said:
The luxury industry is perhaps more resilient now than it was is 2008. The market is still very positive. Sure, there are some concerns, but we are getting used to being worried.
Anthony Belge, analyst at HSBC, however thinks the current growth levels in the luxury market are "unsustainable". Instead, he warns the real risk lies in whether the Asian consumer would be adversely affected by the global crisis.
But for now, with China and the rest of the emerging markets keeping the world economy afloat, and a slow but steady recovery in the United States, the luxury market should have little cause for worry.
In Pictures: The 10 Biggest Luxury Brands on the Planet
Related News: Bling to Your Ring: Luxury Retailer to Offer Solid Gold Phone For US$57,400