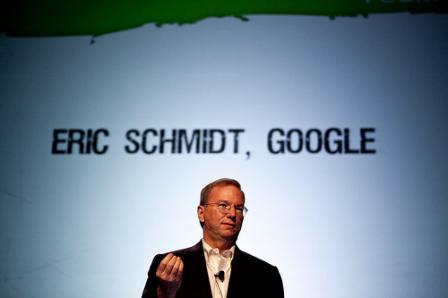 Few gave French President Francois Hollande any chance of success when he met with Google's executive chairman Eric Schmidt about compensating French media organisations for links on the Internet giant's search engine. But on February 1, the two parties reached a compromise solution, which may have resounding repercussions for the future of newspapers – and journalism in general – worldwide.
When – at the end of 2012 – President Francois Hollande of France invited Google's Eric Schmidt for "a chat" about the company's policies at the Élysée Palace in Paris, it represented a remarkable collision of power and values. Few people gave President Hollande a prayer in his battle to convince Schmidt to compensate French media organisations when Google linked to their content.
Many observers felt France's stance was ridiculous and retrograde. How could the traditional European nation state, so stiffly proud of its culture and protective of its uniqueness, control the uncontrollable Californian wunderkind, with its border-hopping corporate power?
But history shows one should never underestimate the French powers of diplomacy and the cynics were proved wrong. Although President Hollande did not get exactly what he wanted – which was to secure commission fees for French newspapers and agencies – his long negotiations with Google produced a compromise solution, which could have resounding consequences for the future of the media.
On February 1, at the Élysée Palace, Schmidt and President Hollande signed the new deal, under the terms of which Google agreed to help French news organisations to increase online advertising revenue. The search engine also set up a €60 million (US$81.8 million) Digital Publishing Innovation Fund to help publishers to monetise their Internet content.
Google also agreed to give French news organisations access to its advertising platforms, including AdSense and AdMob for mobile phones. This represents enormous advertising potential, according to Schmidt.
"Our search engine generates billions of clicks each month, and our advertising solutions – in which we have invested billions of dollars – will help them make money from that traffic," Schmidt wrote of the deal, on his Google blog.
Bruce Williams, co-author of the recent book, "The New Media Environment", said: "I applaud what France has done, which is to help to protect high-quality political information, which is a public good in a democratic society.
"France's struggle to make Google pay is connected to the desire of modern to police its own boundaries and resist corporate power. There's something very French about the battle. The French have a strong sense of their national culture and identity. They feel it's worth preserving, and it's only in that context you can have governments trying to do something like this. The problem in a more laissez-faire country like the US is that the debate over government action to support journalism is a non-starter. Most people would consider it a move towards fascism!"
Related: France Wants Google To Pay For Linking News
Related: Google An On-Line Advertising Monopoly Says France
Did Google Cause The 'Death' Of Newspapers?
What President Hollande was trying to protect was a newspaper industry in meltdown because its business model has collapsed. This holds pretty much for the whole of the Western world. Classified advertising, traditionally 30% to 40% of a newspaper's total revenue, has disappeared in a rush to online sites.
Almost as serious has been the defection of advertisers from the lucrative "display" ad category – the big ads for cars, banks, or airlines. Meanwhile, sales of newspapers have plummeted as a new generation has developed the habit of reading stories for free online. Prestigious papers, such as the New York Times and the Wall Street Journal, have pay-walled their content, but the strategy would not work for less well-known brands.
The media industry has not yet found a way to monetise its digital content, which is what makes the Google deal in France so potentially revolutionary. A good example of the dilemma is the predicament of England's prestigious The Guardian newspaper. The Guardian website is the third most popular newspaper site in the world behind The Daily Mail and New York Times brand, yet The Guardian Media Group made a pre-tax loss of £75.6 million (US$118 million) in the last financial year.
The plight of the industry deepened after the 2008-09 crisis, especially in the US. Many major newspapers went out of business, such as the Rocky Mountain News and the print editions of the Seattle Post Intelligencer and the Ann Arbor News. Others filed for bankruptcy reorganisation, such as Tribune Company, the Minneapolis Star Tribune, the Philadelphia Newspapers company, the Chicago Sun Times, the Journal Register Co., American Community Newspapers, Freedom Communications, Heartland Publications, Creative Loafing and the Columbian newspaper in Vancouver.
Europe has resisted slightly better, but there have been many casualties. France-Soir, France's populist newspaper, closed its print edition in December 2011 and its online edition stopped last summer after bankruptcy. In January 2012, La Tribune, the French financial daily, also dropped its print edition. Meanwhile, Spain has seen dozens of print publications close since the economic crisis. Even in Germany, which has had the strongest market, the newspaper crisis has given birth to a new compound noun: Zeitungssterben, or 'newspaper death'. In October, the major German news agency dapd, filed for bankruptcy protection.
The extent to which the Google deal brings revenue to the media in France remains to be seen. It is also not certain whether it will act as a precedent elsewhere. But Google cannot solve all the problems of the newspaper industry, according to Siva Vaidhyanathan, author of The Googlization of Everything (And Why We Should Worry) – a professor of media studies in the University of Virginia.
"Google has been demonised, but it is not the major problem for the media," he said. "Advertising is the problem and Google cannot solve that alone."
"No media organisation has yet found a way to make enough money out of advertising and that's because the economics of the web are a lot tougher. It's likely to be years before newspapers make money online and I don't know if they will be healthy enough by then."
Google's Global Dominance: Don't Be Evil?
The deal with France demonstrated Google's desire to assist the media rather than crippling it, Vaidhyanathan added.
"Google is very concerned about the health of journalism and the effect of the web so it has made a real effort to reach out to major news organisations and help to optimize their content. Google understands that if serious journalism disappears from the web, the web is not worth as much and neither is Google."
In 2011, for example, Google realised that content farm sites which 'scraped' other news sources for articles, then repositioned them in a new format, were featuring high up in their rankings. Google realised this was unfairly taking ad revenue from the original sites, so it adjusted its algorithms to favour the original publishers.
Though Vaidhyanathan says Google is not responsible for the declining fortunes of the press, he does believe the company has disproportionate power. He would like to see countries take collective action to restrict it.
"The question of power is a more important one reaching far beyond the world of journalism. Google controls the information we have about the world, whether we're searching for answers about science, politics, the global climate, or health. Google has tremendous influence over what we end up deciding is good, or true, or important. Yet, it operates in a completely opaque fashion. Its standards, methods and algorithms are not made public. We are asked to trust Google's judgement in all cases," he said.
Related: Infographic: Charting Google's Unstoppable Growth
Related: Interactive Infographic: How Google Changed The Face of The Internet
Fortunately, Google has no abused its position, yet. For the most part, it has cleaned up the web by favouring certain types of sites and hiding others. The action to downgrade 'scraper' sites was one example of Google's desire to honour its informal corporate slogan 'Don't be evil'. But even Google's enlightened policies may carry unintended consequences, Vaidhyanathan says.
"If Google says a news source is legitimate does that mean it is? Today, the Wall Street Journal may be a legitimate source, but what about a financial organisation, which is brand new, started by five friends, with a different tone?"
"Under Google's definition of a 'legitimate' news service, it might have no chance of rising through the ranks, so Google's policy has the downside of reinforcing the status quo," he said.
The answer to such perils is to diminish Google's hold over the search engine market, which is an astonishing 88.8% globally, around 90% in most of Europe and 86.3% in the US.
"Google has not abused its position, but who is to say that will continue? So it is very important we pursue competition policy against Google, when it has too much power over a market, or too much of a monopoly over certain sources of information. There should be penalties when it abuses its position," Vaidhyanathan says.
The Remaining Battlelines
In the US, regulators at the Federal Trade Commission (FTC) recently cleared Google of the anti-competitive practice of "search bias". The FTC said that internet giant does not unfairly harm competitors in the way it calculates how results should be displayed. But EU regulators are likely to take a tougher stance. EU Competition Commissioner Joaquín Almunia has suggested that the EC will require Google to change the way it displays results for its own products.
Almunia said it was his "conviction" that Google was "diverting traffic" from rival search engines because of the way the company "present their own services", according to a recent report by the Financial Times. He said that, although the Commission was still investigating, it was his "fear" that the activities amount to an abuse of Google's dominant market position.
Related: Google Faces Unwelcome Official EU Antitrust Scrutiny
Related: Antitrust Regulators Watching Google - Albeit Uncertainly
Vaidhyanathan believes that European regulators need to act in a systematic way to avoid the piecemeal approaches we have seen over the last couple of years. Google has repeatedly come under fire in Europe, he said, but there has been no coordinated effort to limit its power. Hence, there have been scattergun battles fought on all fronts.
Prosecutors in Italy, for example, handed out suspended six-month jail sentences to four Google executives, claiming that they were criminally liable for a video that was uploaded to Google, showing children mocking an autistic child. Although Google took down the video after being notified of it and the executives were unaware of the video's existence, they were still found guilty.
More spats with Google followed the Google Street view controversy when the company collected private information from public Wi-Fi networks in 2010. In Germany, city officials in Hamburg came close to prosecuting Google executives. Meanwhile, in the English village of Broughton, near Milton Keynes, residents attained international notoriety when they prevented Google cars from driving down streets to film them. It became known as 'The battle of Broughton'.
"This piecemeal approach doesn't get very far," said Vaidhyanathan. "I'd like to see a more comprehensive Europe-wide discussion about the appropriate way to regulate Google so the regulations don't go too far and damage an innovative industry that could be more competitive than it actually is. And to make sure there's the competition for rising competition."
Another major complaint about Google is its avoidance of tax. Google funnelled US$9.8billion of revenues from international subsidiaries into Bermuda last year in order to halve its tax bill. When quizzed about the arrangements, Eric Schmidt declared "it's capitalism" and we are "proudly capitalistic".
Google is not alone in squirreling away money on tax havens in Bermuda. It is, of course, standard practice for corporate giants who can influence government tax policies through lobbying. In 2012, Google increased its lobbying costs by 88% to US$18.2 million, moving it into the top 10 spenders seeking to influence the US federal government, according to the US Center for Responsive Politics.
"Google is among a number of US companies reducing its tax burden by hiding assets offshore, so Google should be made to pay more taxes to more governments than it does," said Vaidhyanathan.
"The US tax laws are set up to favour companies that send assets overseas. This is explicitly done because companies get to write the tax codes through lobbying. Governments still have a problem controlling Google's power and their tax policies, but that is not the problem with journalism. Advertising remains the problem."
By David Smith, EconomyWatch.com
Get more special features in your inbox: Subscribe to our newsletter for alerts and daily updates.
Do you have a strong opinion on this article or on the economy? We want to hear from you! Tell us what you think by commenting below, or contribute your own op-ed piece at editorial@economywatch.com