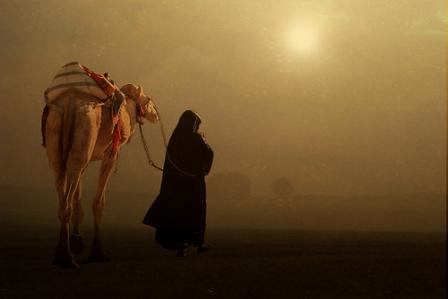 The World Bank has produced a massive 450 page report on the potentially devastating impact climate change is likely to have on Arab countries. This matters to everyone and not just from the standpoint that we should all empathize with and seek to relief suffering.
The harsher the conditions get, the more restive and radical the populations of Arab states are likely to become, with hugely destabilizing consequences for all of us.
When it comes to water and heat there is no question but that Arab countries have it tough, with way too little of the former and far too much of the latter, and global warming looks set to amplify both extremes.
The report's fundamental proposition is that over the next century global climatic variability is set to increase, and that as a result, Arab countries may well experience unprecedented extremes in climate. Temperatures may soar and rainfall might diminish. The report makes the point that adapting to changes in the prevailing climate is not a new thing for Arab nations. "For thousands of years, the people in Arab countries have coped with the challenges of climate variability by adapting their survival strategies to changes in rainfall and temperature," it says.
However, the starting position is a tough one. 2010 was the warmest year on record since records began in the late 1800s and 19 countries set new national temperature highs, including five Arab countries. Kuwait set a new record of 52.6 degrees in 2010 and another new record of 53.5 degrees in 2011. Water will be a growing problem:
"The Arab region has the lowest freshwater resource endowment in the world. All but four Arab countries (Arab Republic of Egypt, Iraq, Saudi Arabia and Sudan) suffer from "chronic water scarcity", and over half of countries fall below the "absolute water scarcity" threshold... Currently the region suffers a water deficit (demand is greater than supply) with increasing populations and per capita water use, demand is projected to increase further, by 60 percent, by 2045."
Related: The Dangerous New Era Of Climate Change: Jeffrey Sachs
Related: The Global Economy's Dangerous Myopia – Are We Ignoring Future Crises?: Joseph Stiglitz
Related: Fighting Climate Change – Why Current Solutions Don't Work: Gail Tverberg
Agricultural production has been increasing over the last two decades in Arab countries, but increasing droughts could well knock that rate of increase back and possibly reverse it altogether by 2050, the report claims.
The impact of increased heat on agriculture is also a serious concern: "This is alarming because almost half of the Arab region's population lives in rural areas, and 40 percent of employment is drawn from agriculture," the report says. To add to this, some 34 percent of the rural population is impoverished by World Bank standards, and unemployment is high, especially for women and youth.
This demand increase, in and of itself, has nothing to do with global warming. Where that comes in is through the fear that climate change will lead to less rainfall, less run-off to stimulate agriculture and less ground water to sustain the cities. Moreover, if agriculture takes a battering people will move in increasing numbers from agriculture to the cities, putting further pressure on diminishing water supplies. None of this is good.
However, the report does admit that so far, the evidence, that is, the observational data that could underpin climate change warnings, is somewhat sketchy for the Arab regions.
"Unfortunately, many observational and modelling gaps exist in the study of climate change in the Arab region. There is a real scarcity of data by comparison with other regions of the world. Under these circumstances, it is important not to fall into the trap of interpolating from global information and applying it to the region," the report admits.
There is a fair chance that initiatives currently underway will produce more comprehensive results for the Arab countries within the next two to three years. The authors of the report are confident that "most of the Arab region is becoming hotter and drier", but they admit that this is against a data backdrop that sees 100 percent variations in rainfall from year to year, with some years seeing no rain at all and others in which the rainfall is considerably more than the average.
However as things unfold, there are a large number of things that Arab countries can do today to mitigate the effects of water shortages, increasing heat, increased salinity of ground water and rising sea levels. In particular the "disconnect" the report finds between Disaster Risk Management (which generally lies with the ministry of the interior or civil defense, and Climate Change Adaption (which generally lies with the department of the environment, needs to be addressed since there are huge synergies between the two.
Related: Post-Arab Spring: Can The Arab World Revolutionise Their Economies?
Related: Premature Speculation: The Arab Spring Cannot Be Considered as Democracy's Fourth Wave. Yet.
There is a tremendous amount of work to be done the report says. Arab countries need to ensure that disaster risk reduction is a national and local priority with "a strong institutional basis for implementation". And these countries need to build "a culture of safety and resilience" to the "hotter, drier" scenarios, at all levels.
By Anthony Harrington
Anthony Harrington is an award-winning business and energy journalist, writing regularly for the Scotsman newspaper, the Glasgow Herald newspaper, Financial Director magazine, Pensions Insight magazine, CA Magazine, and a number of other publications. He won Business Finance Journalist of the Year 2006, Institute of Financial Accountants, and Journalist of the Year, State Street 2006 Institutional Press Awards, and was runner up in 2007 and 2008.
Arab countries to be hit hardest by global warming says World Bank is republished with permission from the QFinance Blog. Get the QFinance Dictionary of Business and Finance iOS app for a comprehensive guide to financial terms and expressions.