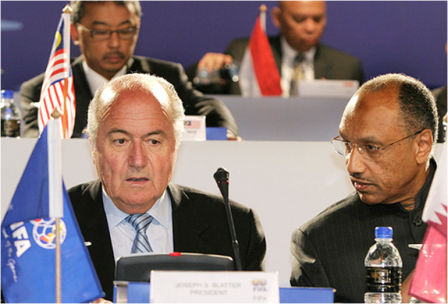 Corruption & Money: The Language of FIFA
Page 2 of 2
Markovits explained:
"The framework of Fifa is totally Catholic, meaning it's organised around one Pope. That means if you are banned, you are stigmatised. Let's say the Champions League decided Fifa was corrupt and decided to split off. Fifa would then say, 'okay, Rooney can no longer play for England, and you're not even allowed to call the games you play Association Football'. The new league would become a renegade construct. There's basically no exit from Fifa's cartel."
See the Slide Show >>> 10 Disgraceful Bookmaking Scandals
Markovits gave the historical example of the American Soccer League (ASL), which was effectively driven out of business when Fifa excommunicated it back in the 1920s.
"The ASL was more successful than the fledgling NFL in the 1920s and the standard of play was so high they were beating major English and Scottish clubs. But the ASL league decided not to allow its teams to play in the United States Football Association's Challenge Cup – something like the FA Cup in England.
"Three ASL teams entered anyway, including Bethlehem Steel, and in response, the ASL banned all three for violating league rules.
The USFA asked Fifa for a ruling and Fifa came down on the side of the ASL's three outlaw clubs, and excommunicated the ASL from international soccer. Basically, the USFA invoked the Pope and sealed the fate of the game in the US. The ASL was forced to become a renegade league. What this example shows is that the power of Fifa's sanctification is high. Of course, you can't compare the ASL with the Premiership today but who needs the headaches of having players banned and so on?"
This month saw another clear-cut example of Fifa's Papal power when its Emergency Committee banned Belize from competing in the qualifiers for the World Cup 2014.
It takes an understanding of Orwellian double-think to appreciate Belize's "crime". Basically, Fifa had been backing the local football boss, Dr Bertie Chimilio, for years, but the Belize Government suspected he was a corrupt official.
The Government accused Chimilio of banning opponents from elections so he could remain in perpetual power. They ordered the Football Federation of Belize to publish its accounts and hold transparent elections. When Dr Chimilio refused, the government said his federation "was no longer authorised to represent Belize".
On June 17, Blatter summoned FIFA's emergency committee, which ordered the Belize Government to stop "their severe interference". They banned Belize from playing further World Cup matches until the Government stops "interfering".
In a recent article about the Belize affair, the British investigative reporter Andrew Jennings - who has done much to expose Fifa's corrupt practices - wrote: "Who took the decision to suspend Belize? Fifa's Emergency Committee is comprised of Africa's Issa Hayatou (under investigation by the IOC for allegedly taking a $30,000 bribe), Paraguay's Nicolas Leoz (accused of taking five bribes totalling $730,000) and Sepp Blatter (accused of forwarding a bribe to former Fifa president Joao Havelange, and also being investigated by the IOC).
"Mohammed nin Hamman couldn't vote as he is suspended, accused of paying $1 million in bribes in this month's Fifa presidential election campaign. Oceania's David Chung is a new member and alongside him is Uefa's Michel Platini."
The stance taken by the Belize Government was unusually daring. Few football associations risk incurring Fifa's wrath and, despite widespread dissatisfaction with Blatter, he ran unopposed for re-election at the start of June.
Grant Wahl, a Sports Illustrated journalist, tried to stand against Blatter, but could not get the backing of a single one of the 208 football associations.
"I knew it would be difficult because nominating is a public act and a small country, which is dependent on Fifa's money, would risk losing that money if they went against the system. There are all sorts of things in the Fifa system of power which stop people like me being nominated," he said.
"I spoke to the President of the US soccer federation and it was clear they were not going to nominate me, or anybody else. I got in touch with other associations who are concerned with good governance – such as the Scandinavian ones, and associations who might be unhappy with Fifa as they were not chosen to host the World Cup, such as Australia. But no one would back a rival candidate to Blatter.
"England's FA was the only one to publically say they were not going to vote for Blatter, even though there was only one candidate. I just wish they had taken a stronger stance and nominated me, or somebody else."
Wahl's manifesto included a pledge to "do a WikiLeaks" and release every Fifa internal document to the public. He also intended to use the guidelines of the US Foreign Corrupt Practices Act to investigate corruption.
"But what I've learned is that as long as Blatter is bringing in money for Fifa – and they have a $1.2 billion surplus – there's not that much concern in most countries about the corruption. The recent Fifa Presidential election was covered in the English media, whereas other countries hardly mentioned it.
"But as a journalist I'd like to look more closely at some of Fifa's developmental programmes and see if the money is really going for soccer projects around the world. Money going into someone's pocket could be spent on developing the game," he said.
With the world's football associations powerless and football fans apathetic, there appears little chance of reform at Fifa.
"The system is designed to let people in power stay in power, so I'm sceptical that Fifa will reform itself. Blatter is talking big and saying he will make changes, but I don't see this happening unless the corporate sponsors put pressure on Fifa. They will only listen if they have a chance of losing money," he said.
This is not a forlorn hope. The increasingly negative media coverage, especially in Britain has embarrassed some of Fifa's billionaire sponsors. The powerful voices of Coca-Cola, Adidas, Emirates and Visa, have all expressed concerns.
A Coca-Cola spokesperson said:
"The current allegations being raised are distressing and bad for the sport."
And a Visa spokesperson added: "The current situation is clearly not good for the game. We ask that Fifa take all necessary steps to resolve the concerns that have been raised."
David Smith, EconomyWatch.com
Related: Illegal Bookies, Crooked Players & Asian Gangs