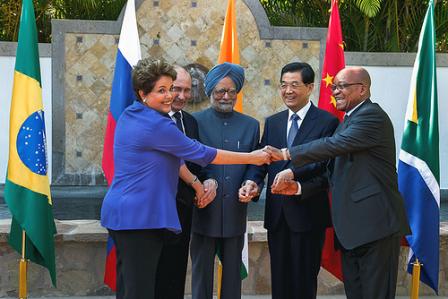 The statutes of a new development bank proposed by leaders of BRICS could be ready as soon as next year, as leaders of emerging economies plan to create a funding institution that can rival Western institutions such as the World Bank and the IMF, whom they accuse of bias and reflecting the interest of rich nations.
The unexpected announcement by BRICS leaders at its Durban conference in earlier in March to establish a parallel development institution to challenge the dominance of the IMF and World Bank must have ruffled a few feathers across the Western World.
The decision, according to South African International Relations Minister Nkoana-Mashabane, was made "as a result of the need to change the way business is conducted in international finance institutions".
The Bretton Woods Institutions – the World Bank and the International Monetary Fund (IMF) – have hitherto been enjoying a degree of monopoly in global development financing services. The IMF has for over half a century been the prominent multilateral global financial institution responsible for funding trade deficits and making macroeconomic policy recommendations to countries of the world. Meanwhile, the World Bank has been largely responsible for funding development projects in third world countries.
However, the fact that they are to a large extent owned and controlled by Western countries and their allies in Asia has made both institutions derided and denounced as neo-liberal imperialist organizations by several leftist regimes and intelligentsia in developing countries, especially in the South America and Africa continents.
Related: West Could Lose Business to China Because of Colonial Attitudes, Says Zuma
This is perhaps why the BRICS announcement is likely to have elicited joy among the conservative intelligentsia in these two continents. However, a cautionary note is necessary in order not to get lost in the euphoria: The road ahead will be thorny as the proposed bank will face series of challenges.
Earlier this year, CBN Governor Sanusi Lamido described trade relations between Africa and China as "a new form of imperialism", raising fears that the BRICS development bank would be hindered due to the blemished reputations of some of its prominent would be financers – China and Russia. Sanusi further declared that, "China – like the US, Brazil, Russia, UK, and the rest – is in Africa not for Africa's interest but its own".
Sansui's overt warning alongside the social media backlash that greeted Nigerian President Goodluck Jonathan's recent bilateral agreements in China should give advocates of the BRICS development bank sleepless nights. What the dissenting voices of African intellectuals, civil societies and social media are saying is crystal clear; China and the rest of the BRICS are trying to be the new imperial lords, but they are our peers and can be rivaled.
In essence, the combination of peer rivalry within the BRICS and between other developing countries might undermine the BRICS development bank in future if proper checks are not put in place. The question of whether the member counties have similar objectives is also likely to come up in future. Consider for example Russia's willingness to grant development facilities to North Korea or Syria (if Assad continues to hold sway) through the jointly established bank.
However, in as much as these factors will be a challenge to the Bank when established, the initiative should not be killed as therein lies several benefits. The "monopoly creates inefficiency" argument could be extended to multilateral global development financing and since a new development financing institution is unlikely to emerge from the West at this present period, the BRICS effort should be applauded. A robust and competitive global development banking structure, if place in the context of the Western free market ideology; will be good for developing economies. It will mean greater access to development facilities at cheaper rates.
Related: World Bank Keen To Work With New BRICS Development Bank
Related: BRICS Close To Creating Common Development Bank: Reports
Infrastructural development which the proposed BRICS development bank is expected to focus on is key, for African countries and indeed other third world countries development. ICT, energy, water and sanitation, education, health and transport infrastructures are major areas where development assistance is in order to overcome massive infrastructural deficit in the continent.
The World Bank pointed out in a 2007 report that the continent requires $75 billion (about 12% of the African continent GDP then) of infrastructure investment yearly to address its infrastructural deficit with. The African Development Bank in 2012 also reported that $93 billion is required every year till 2020 to close Africa's infrastructure gap. The question then is how African countries will source funds to address this critical infrastructure challenge in the wake of current volatility in commodity prices, which happens to be the major source of revenue for most African states. This is bearing in mind that foreign exchange earnings is needed to import capital equipments which will drive infrastructural development.
The World Bank has for several years been the largest multilateral financier of development infrastructure in Africa. The multilateral financing group committed over $12 billion into Sub Saharan Africa in 2012. The other multilateral giant in the continent; African Development Bank which began operation in 1966 has provided little competition to the World Bank as it contributes less than 6% of total development assistance to the continent (less than $50 billion as at 2007) and has had to grapple with shortages of fund which almost led to its collapse in 1995.
Several unilateral efforts by some advanced economies have, and are still being made to ease the infrastructural challenges facing countries in the continent. One of it is the Power Africa initiative which the U.S. President Barrack Obama announced during his recent visit to some African states. The efforts have however been inadequate partly due to pervasive corruption and the lack of the development facilities extended. No doubt, an alternative source of infrastructure development finance is needed to redress the infrastructural deficit of the continent.
This makes the over $4.4 trillion cumulatively held in foreign reserves by the BRICS nations a viable alternative funding source for development projects in African countries, even if just 1% of the reserve is committed to the project. If put to good use, the fund will in no small way assist in alleviating the problem of acute shortages of infrastructures in the third world in the medium to long term.
Related: Rumours Of The Death Of The BRICS Are Greatly Exaggerated: Dan Steinbock
Related: Can Foreign Policy Cure Africa's Dependency Syndrome?
There is no disputing the fact that the individual countries that makes up BRICS have their own challenges which could make their "paternal gesture" of funding developmental projects in other counties (while their own people are still suffering) seem like a no brainer. India with its uncontrolled population growth, poverty, human rights challenges and corruption presents a pathetic scenario. Brazil, India, China and South Africa have been unable to neither reduce poverty nor rid their public sector of pervasive corruption while still grappling with human right challenges. Russia is also notoriously known for corruption, racism and other human right problems.
However, they have valuable policy lessons that Africa can learn from and the huge success of their developmental projects cannot be discounted. Brazil, for example, has succeeded in lifting an estimated 35million of its citizens to the middle class while the country itself has gone on to become a key exporter of manufactured products. India's urbanization and technological development experience is also worth learning from while China's rapid sophistication and urbanization, even amid recent threats of slowdown and persistent human right concerns are still points of reference. This is not to overlook South Africa's giant strides in industrialization and Russia's technological and education infrastructural development.
In essence, it is not just loans and grants that other developing nations may stand to benefit from the BRICS development bank, but also their expertise in development management in the 21st century. The BRICS are no doubt luminaries among their peers and as such, other developing countries have a lot to learn from them.
However, the BRICS development bank should be wary of not committing the same mistake of concentrating power in the hands of few, which the IMF and World Bank have often been criticized for. BRICS leaders should be cognizant of including representatives of other developing nations in the decision making process of the development bank. It will not only ensure its acceptability among other developing countries but will also undoubtedly give it an edge over the World Bank in the continent. The would-be administrators of the bank should also ensure the bank is not hijacked for the purpose of making political diplomatic statements to the West at the slightest provocation, rather than focusing on the development issues at hand.
Related: Why The World Needs A BRICS Bank: Nicholas Stern, Joseph Stiglitz et al.
Abimbola Hakeem Omotola
Abimbola is the Editor-in-Chief of Economic Insight, the students' press outfit of the Department of Economics, Obafemi Awolowo University, Ile Ife Nigeria and Vice President/Director of Projects of REP-Africa, an Ile Ife based NGO which seeks to get involved in generation preservation.
Get more special features in your inbox: Subscribe to our newsletter for alerts and daily updates.
Do you have a strong opinion on this article or on the economy? We want to hear from you! Tell us what you think by commenting below, or contribute your own op-ed piece at [email protected]