Introduction
Textile industry plays a significant role in the growth of Indian economy and it is an important component of global trade. Textile industry accounts for about one third of India's total export earnings. It is regarded as the second largest industry of India and is the largest foreign export earner, accounting for 35% of the gross export earnings in trade. During 1992-93 and 2001-02, textile exports recorded an increase at a compound annual growth rate of 14.01%. Handloom and cotton are the two most significant sectors in textile industry. These two sectors together contribute the major portion of total textile export in India.
Textile industry generally includes manufacturers, wholesalers, suppliers, and exporters of cotton textiles, handloom, woolen textiles etc. This industry has the potentiality of generating a large number of employment opportunities. About thirty five million people are already engaged with this sector.
During April-March 1998-99, India's total textile exports were US $ 12533.1 million ( RS.52720.78 crores). During April-December 2000, readymade garments accounted for 40% of the overall exports of textile products in India, which amounted to US$ 3974.8 (Rs.180443.4 million). During the year 2001-02, total textile exports in India were worth US $ 10715 million. In 2005-06, textile exports in India were at $ 17 billion. According to the industry estimates, in 2007, the total value of the textile exports are likely to remain between $20 billion and $21 billion. This is about 4 % more than the previous year's exports of $ 19.7 billion.
The Synthetic and Rayon Textiles Export Promotion Council (SRTEPC) is an apex body founded by the Government of India to boost exports of Indian synthetic and rayon textile items.
Trading partners
Leading trading partners of India are Malaysia, Australia, Kazakhstan, USA, South Africa, Romania, Argentina, Egypt, Germany, Finland, and Turkey.
India's export to Malaysia
Malaysia imports various types of textile products from India to meet the requirements of raw materials for it's emerging garment industry. Malaysia's total textile imports are estimated to exceed US$ 1.5 billion annually. Malaysia's major importing products include woven man-made fiber fabrics, apparel accessories, textile yarn, knitted and crocheted fabrics, and women's apparel.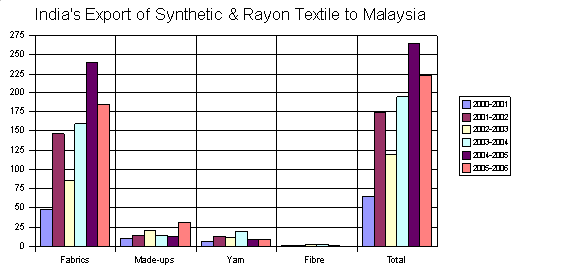 India's export to USA
USA is regarded as the largest textile and apparel market in the world, which amounts to over $200 billion annually. In 2006, about 45% of the U.S. market demand was met with imported products, which accounted for 20% of the overall global textile and apparel imports. In 2003, the total imports of clothing and textiles by USA was 80% (US $ 71 bn) and 20% (US $ 18 bn), respectively. Asia contributed the most, specifically India. India basically supplied readymade garments to USA.
India's export to Australia
Australia is considered as one of the most open textile markets in the world. Major textile imports include apparels and made-ups under chapter 62, 61 and 63, specifically polyester-cotton and polyester-viscose types. Bulk of cotton and hand-made fibers are also imported from countries like India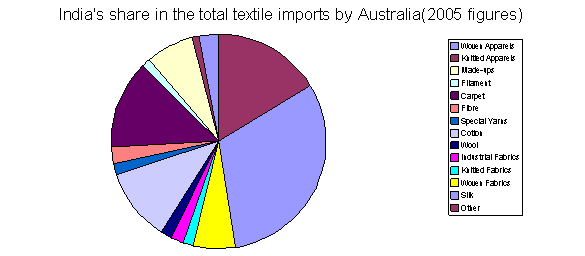 Indian exports of textiles to Germany (year 2005-06)
Germany can be regarded as one of the leading importers of Indian hand made fiber textiles. Germany is also an important market in EU (European Union), specifically for textile and clothing, with a total market size of about US $ 34 billion (in 2005).During 2005-06, the total German imports of textile products from India amounted to Rs. 4714.59 crores and in the same year, the total imports value of Synthetic and Rayon textiles from India amounted to Rs. 254.63 crores, showing a growth of 58.43% comparing to the performance of previous year.
Indian exports of textiles to EU (European Union)
EU overpowered USA as becoming the largest market for textiles and clothing in the world. Asia predominates the EU market in both clothing and textiles, with 30% (US $ 30 bn) and 17 % (US $ 8 bn) share, respectively. India is one of the leading suppliers of textile products to the EU market and ranked fourth, ahead of other textile exporters like Mexico, Bangladesh and Turkey, with a market share of 5.2% (US $ 0.45 bn).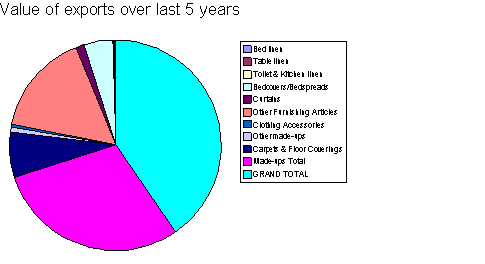 Current trendIndustry sources reveal that India's textile exports are likely to fall short by over 16% from the expected target. This is happening because of an increase in value of money and slowing down of investment. Shekhar Agarwal, chairman, Confederation of Indian Textile Industry opines that in 2007, the textile exports in India will not surpass $ 20.5 billion mark, witnessing a negative growth in exports, specifically in segments like garments. Garments accounts for about half of the overall textile exports by India. Agarwal also expressed his doubts about implementing the projected investment of Rs. 1,94,000 crore in the 11th Five Year Plan (2007-12). Source from Business Standard reveals that the Indian government is expected to export around 20 % more raw cotton than before.
Indian textile exports to USA and China are growing rapidly. B.K. Patodia, chairman of India's Cotton Textiles Export Promotion Council, expressed that China and India are speedily becoming the two biggest textile players in the world.
CRISIL (Credit Rating Information Services of India Limited), India's leading Ratings, Research, Risk and Policy Advisory Company predicts that India's textile export earnings will increase from USD 17 billion (FY 2006) to around USD 40 billion by FY(Financial Year) 2011.
Global Trade in Textile and Clothing
In 2003, the overall global trade in textiles and clothing amounted to US $ 385 billion, of which textiles alone contributed 43%. Developed countries contribute about one third of the total global exports of textile and clothing.